Wednesday, June 15, 2011
Congressman Luján Highlights SBA Loan Program to Help Businesses Impacted By Natural Gas Outage
Yesterday, Congressman Ben Ray Luján (NM-03) highlighted a disaster loan program through the U.S. Small Business Administration (SBA) that can help businesses recover from February's natural gas outage. Small businesses in counties that have been determined to be adversely affected by the disaster can apply for an Economic Injury Disaster Loan (EIDL) until March 12, 2012.
"Small businesses throughout New Mexico continue to face challenges as a result of the damage caused by the natural gas outage earlier this year," Congressman Luján said. "These loans can help New Mexico's small businesses rebuild and repair, and I am pleased that SBA has taken this additional step to help our communities with the recovery effort."
EIDL are working capital loans to help small businesses, small agricultural cooperatives, small businesses engaged in aquaculture, and many private, non-profit organizations of all sizes meet their ordinary and necessary financial obligations that cannot be met as a direct result of the disaster.
Luján wrote to the SBA in April following meetings with local small businesses to discuss the challenges facing businesses in Northern New Mexico in the wake of the natural gas outage. He encouraged the SBA to provide any additional assistance that was at its disposal in an effort to help impacted communities recover from the disaster.
The following counties have been included in the EIDL declaration: Bernalillo, Chaves, Cibola, Colfax, DeBaca, Guadalupe, Lincoln, Mora, Otero, Rio Arriba, Sandoval, Santa Fe, Sierra, Socorro, Taos, Torrance, and Valencia.
For more information, contact SBA's Disaster Assistance Customer Service Center by calling (800) 659‑2955, emailing disastercustomerservice@sba.gov, or visiting SBA's Web site at www.sba.gov.  Hearing-impaired individuals may call (800) 877‑8339.  Applicants may also apply online using the Electronic Loan Application (ELA) via SBA's secure Web site at https://disasterloan.sba.gov/ela.
June 15, 2011 at 03:00 PM in Business, Energy, Rep. Ben Ray Lujan (NM-03) | Permalink | Comments (0)
Tuesday, June 07, 2011
White House Meets with Business Leaders for New Economic Design for U.S Recovery
With lingering difficulties for the economy, members of the American Sustainable Business Council (ASBC) met with President Barack Obama's Economic Development teams last week to lay out innovative strategies and policies to build the U.S. economy.
ASBC met with Don Graves, from the President's Council on Jobs and Development, Greg Nelson, White House Office of Public Engagement, Ari Matusiak, White House Business Council, and representatives from the National Economic Council, Council of Economic Advisors and Domestic Policy Council, Department of Labor, Department of Treasury, and the Office of Science & Technology Policy.
The ASBC members presented their ideas and opportunities to help drive a new economy and put Americans back to work. Positions on issues include:
Small business access to capital
Realistic Tax Policy
Manufacturing in America
Energy
Healthcare
Opportunity to grow businesses while growing goods and services that meet the needs of communities and the environment.
This important engagement was in response to their interests not being represented by the U.S. Chamber of Commerce or the National Federation of Independent Business.
"ASBC represents over 100,000 businesses and more than 200,000 entrepreneurs, owners, executives, investors and business professionals committed to advancing a new vision and policies that build a vibrant, equitable, and sustainable economy, supporting the Administration and Congress to rebuild the economy," David Levine, Co-founder and Executive Director, said in a press release.
According to Allan Oliver, CEO of the New Mexico Green Chamber of Commerce, "The answer to today's stagnant economy is right in front of us: local communities taking advantages of the many opportunities of the clean energy economy. Our member businesses are already building profits and creating new jobs in these rapidly emerging industries."
"A key issue discussed during the meeting was guaranteeing small businesses access to affordable capital," said Frank Knapp with the South Carolina Small Business Chamber of Commerce (SCSBCC). "Boosting local economies by helping small businesses create jobs is a high priority."
Connie Evans, CEO of the Association For Enterprise Opportunity (AEO) explained, "If the economy is going to bounce back it must happen on Main Street. 'Micro' or very small business, represents more than 80% of all businesses in the U.S. If just 1/3 of all micro businesses hired one employee, the U.S. would be at full employment."
The New Mexico Green Chamber of Commerce is a member of the American Sustainable Business Council and represents over 1,100 businesses investing in people, protecting our air, land and water, and creating long-term profit. For more info, visit www.asbcouncil.org and www.nmgreenchamber.com.
June 7, 2011 at 09:27 AM in Business, Economy, Populism, Guest Blogger, Jobs, Obama Administration | Permalink | Comments (1)
Wednesday, May 11, 2011
5/13-14: Udall Continues Economic Development Tour in Curry, Roosevelt Counties
Senator Tom Udall will continue his small business and economic development tour of New Mexico on Friday with stops in Portales and Clovis. He will also attend the grand opening of the Clovis YMCA, and deliver the commencement address at Eastern New Mexico University (ENMU).
On Friday, May 13, Udall will meet with small business owners and leaders in Portales for an economic development roundtable discussion. The meeting will focus on the local economy, current federal involvement in the area, and potential legislative opportunities or federal programs to assist in continued economic growth.
Next, Udall will help celebrate the grand opening and ribbon cutting of the Clovis YMCA, the first YMCA in Clovis in more than 30 years. Udall will then participate in a Clovis and Curry County small business and economic development roundtable, where he will continue the discussion of how the federal government can help small businesses and communities grow and create jobs.
On Saturday, May 14, Udall will deliver the commencement address at Eastern New Mexico University. This year's graduating class is the largest in ENMU history.
The following is Udall's schedule:
Friday, May 13, 2011
Udall Participates in Portales & Roosevelt County Economic Development Roundtable
12:30 – 1:30 PM
Vines Italian Restaurant, 107 W 2nd St., Portales, NM
Udall Speaks at YMCA of Clovis Grand Opening and Ribbon Cutting
2:00 – 3:00 PM
YMCA of Clovis, 2300 N Main St., Suite 17
Udall Participates in Clovis & Curry County Economic Development Roundtable
3:30 – 4:30 PM
Chamber of Commerce, 105 E Grand Ave., Clovis, NM
Saturday, May 14, 2011
Udall Delivers Keynote Address at ENMU Commencement
10:00 AM – Noon
ENMU Greyhound Arena, 1500 S Ave. K, Portales, NM
May 11, 2011 at 11:08 PM in Business, Economy, Populism, Events, Sen. Tom Udall | Permalink | Comments (0)
Saturday, March 19, 2011
NM Green Chamber of Commerce Applauds Legislature's Passage of Clean Energy, Local Business Bills
The New Mexico Green Chamber of Commerce today congratulated New Mexico legislators for their continued investment in a clean energy economy and for initiatives supportive of local business and healthy communities.
"In the midst of budget challenges, the Legislature recognized that New Mexico's economic future lies in our world class solar, wind and geothermal resources, as well as continuing to invest in New Mexico's small businesses," said Allan Oliver, CEO of the New Mexico Green Chamber of Commerce. "Keeping New Mexico's Renewable Energy Portfolio standard strong, offering new means of clean energy investment, and maintaining limits on carbon pollution send a positive signal to our fast-growing renewable energy sector."
The Green Chamber commended the legislature for passing important measures that will support local businesses and agriculture, improve transparency around state incentives, and boost investment in clean energy:
Thinking Local First
SB19 In-State Business Procurement Advantage closes loopholes that gave preferences to out of state companies applying for state business and helps assure that the 5% in-state preference goes to New Mexico businesses. This bill will stimulate New Mexico business and could help create thousands more jobs for New Mexico owned companies.
SB 63 Government Food Purchasing Requirements sets modest targets for state government to purchase food from local producers-2% next year, 5% by 2014, and 10% by 2016. It only makes sense that New Mexico tax dollars should invest back into our local farmers and growers, and help boost our local economies.
Leveling the Playing Field for Small Business
SB 47 Tax Expenditure Budget will give state leaders the right information to determine which tax credits are helping business create jobs and which ones are not.
Building an Entrepreneurial Economy
SB 38 New Mexico Health Insurance Exchange Act will initiate a Health Insurance Exchange Act that will improve competition among health care providers and reduce health care costs for small businesses.
The Green Business Advantage
SB 237 Colleges in Energy Efficiency Bonding Act will enable higher education institutions to lower their costs and improve their energy efficiency through projects that create good-paying clean energy jobs.
Capitalizing on the Clean Energy Economy
SB 266 Energy Conservation Bonds creates qualified energy conservation bonds that may be issued by state and large local governments and gives them access to $20 million dollars with of federal bonds. This new bonding mechanism will help local governments initiate significant renewable energy and energy efficiency projects, which means good paying jobs across New Mexico. Each of these bills has been sent to Governor Martinez for signature.
"The New Mexico Green Chamber of Commerce and its 1100 member businesses strongly support each of these bills," Oliver states. "We urge Governor Martinez to sign these bills that support local businesses, boost transparency around state incentives, and continue investment into energy efficiency and clean energy."
The New Mexico Green Chamber of Commerce represents over 1100 businesses dedicated to a triple bottom line that invests in people, conserves our air, water and land, and creates long term profits. The Green Chamber seeks to unleash the creative force of business to bolster local communities and take advantage of new opportunities in a fast-growing clean energy economy. Learn more at www.nmgreenchamber.com.
March 19, 2011 at 04:03 PM in Business, Energy, Environment, Green Economy, NM Legislature 2011 | Permalink | Comments (0)
Wednesday, March 16, 2011
Sen. Keller's Job Creation Bill Goes to House Floor for Final Vote

A Senate bill to stimulate New Mexico business and pump thousands of jobs into the state is nearing the floor of the House of Representatives. Senate Bill 19 (SB 19), sponsored by Senator Tim Keller (D-Bernalillo-17), tightens qualifications and levels the playing field for businesses who want to take part in the In-State Business Procurement Advantage.
"Better leveraging our in-state requirements could mean the addition of more than 3,000 jobs for resident workers with New Mexico-owned companies, which might have otherwise gone to out-of-state businesses," Sen. Keller said.
The existing system is meant to give local companies an edge by granting them a five percent preference in pursuing state contracts. Sen. Keller said the system has been abused by out-of-state companies that only meet New Mexico tax residency requirements on a short-term basis before bidding on state contracts. SB 19 dramatically tightens requirements to make sure tax dollars go to New Mexicans.
Supporters of SB 19 believe the tighter residency requirements, additional oversight and increased enforcement will force out-of-state bidders to be more cautious about in-state requirements. Sen. Keller met with industry leaders from construction, contracting, real estate development, labor and professional services and with the agricultural community to create a broad consensus in drafting this legislation.
"New Mexico will be able to enforce a much-needed preference for our local business owners while encouraging entrepreneurship from farm work to professional services to construction management," Sen. Keller said.
Senator Keller's SB 19 passed out of the Senate on a 35 to 1 vote before heading to the New Mexico House. It received a unanimous "Do Pass" recommendation from both the House Business and Industry Committee (HBIC) and Judiciary Committee (HJC). The bill now goes to the House Floor for a final vote.
Take Action: Contact your representative and urge him or her to vote yes on SB 19.
March 16, 2011 at 11:19 AM in Business, Economy, Populism, Jobs, NM Legislature Special Session 2010 | Permalink | Comments (0)
Thursday, March 10, 2011
Stephen Jones: Looking Backward
This is a post by contributing writer, Stephen Jones, of Las Cruces.
Among the many architectural gems in the city of Chicago, a city of landmark architectural gems, stands a large stone home constructed in 1886 and designed by the Boston architect H.H. Richardson. Because of its open interior floor plan, the Glessner House is considered by many to be the first "modern home." Commissioned by John Glessner, a partner in Warder, Bushnell & Glessner, a 19th-century farm equipment manufacturer. The dichotomy between the home's flowing open interior spaces and rich wooden detail and its severe fortress-like, harsh-stone exterior, with a facade lacking of any large windows, is a striking, often unnerving experience to present-day tourists and other visitors to the building.
One of the most unusual features of the structure is a stark, brick-walled servants' corridor that runs the entire length of the exterior walls of the house and separates the interior of the home and the outer stone walls. The exterior windows along the corridor are mere arrow-slit openings only a few inches wide.
Glessner's fortress home was not so much a statement of avant-garde architectural tastes as it was a domestic military engine, conceived by design, by the architect, and intended to protect the Glessner family from the working people of Chicago. For all of their wealth, John Glessner and his neighbors on Prairie Avenue in Chicago were a frightened and miserable lot, virtual prisoners in their opulent homes.
George M. Pullman, the railway sleeping car manufacturer, and Glessner's immediate neighbor, was laid to rest at a secret midnight funeral, buried in a lead-lined coffin within a reinforced steel-and-concrete vault, under a slab of several tons of reinforced cement, due to fears that his body might be exhumed and desecrated by his angry employees. Marshall Field, the legendary retailer and another Prairie Avenue neighbor, lived in hiding, moving from his downtown businesses to his home in a dark, sealed carriage. His family, cooped up in their gilded-age mansion, lead lives more resembling the confines of a penitentiary than that of respected leaders of the community, a family wracked by scandal, murder and suicide.
Class Warfare
Just beyond their fortified homes were America's working people, and a state of virtual war. Beginning in March of 1886, as H.H. Richardson was designing the Glessner home, a series of labor conflicts spread through the streets of the city and culminated in a general strike on May 1, 1886. Four days later, violence between police and workers escalated to a bombing. Though the perpetrator, or their political intentions, were unknown, Marshall Field led efforts on behalf of the Chicago business community to hang eight innocent men. The "Haymarket Tragedy," as the event became known in the United States, set off world-wide pro-labor protests, and the events known as "Haymarket" to Americans have been commemorated internationally ever since, as May Day.
Conditions in Chicago were repeated in every major city that year, and deep into the plains. In 1886 alone, over 1400 violent strikes crippled the nation. 350,000 industrial workers struck in Cincinnati, Cleveland, Detroit, Milwaukee, and New York. Over 200,000 railway workers struck for seven months in states from Missouri to Texas, violently battling the hired vigilantes of the Union Pacific and Missouri Pacific railroads, the state militias west of the Mississippi and the Texas Rangers. The labor unrest spilled north into Canada and south into Mexico. Conflict also spread out onto the farms on the great plains, as Granger farmers called "populists" demanded the immediate nationalization of the banks and railroads.
Anti-Democratic Utopia
In the aftermath of 1886, Americans began to wrestle with the ongoing conflict between labor and business owners that threatened to turn the nation into Armageddon. A utopian novel by Edward Bellamy titled Looking Backward: 1887-2000, became the top-selling book of the era. Concerned with the incalcitrance of the special interests, the book envisioned an ideal future where labor and business lived in a world of perfect co-operative harmony. Largely forgotten today, Bellamy's novel spurred a mass movement of followers, and Bellamy Clubs organized thousands of chapters in all corners of the United States. If Bellamy's comforting vision of harmony between the classes attracted many, that projected harmony came at a very high price -- the abolition of American democracy -- which Bellamy thought corrupt.
Choosing Progressive Reform
Fortunately for all of us, Americans embarked on a substantially different path in the years following 1886, choosing progressive reform instead of the various extremist visions that devoured many of our sister nations. In choosing reform, Americans were able to bring labor and farmers together with business, and forge a prosperous nation for all Americans. One key to that prosperity, and a major one, was the recognition of America's unions.
Faced with the challenge of extremism, either the anti-democratic extremism of the corporate special interests, or the anti-democratic visions of people like Bellamy, Americans chose, at the beginning of the 20th century, to steer the nation onto a path of principled, democratic reform -- and back onto the sound republican vision of the Americans that had gone before them. "Friends," Theodore Roosevelt said, "our task as Americans is to strive for social and industrial justice, achieved through the genuine rule of the people."
Using the "bully-pulpit," Roosevelt took on the special interests and adopted the path of reform of the progressives. "I prefer to work with moderate, with rational, conservatives," Roosevelt said, "provided only that they do in good faith strive forward toward the light but when they halt and turn their backs to the light, and sit with the scorners on the seats of reaction, then I must part company with them."
Today's Radicalism
After some of what we have seen coming from the Republican Party and their corporate sponsors in the past few months, we would all be wise to spend a little time looking backward. We are right to be concerned about the extremist radicalism of the governments of Wisconsin and elsewhere -- including the Martinez administration here in New Mexico -- that seeks to replace moderate leadership with class, gender, ethnic and race hatred, against LGBT people, and to strip the unions of collective bargaining rights. This radicalism aim to turn back the clock a full century and a quarter, back to the dark world-vision of Glessner, Pullman, and Field.
We, as Americans, chose a different path in Roosevelt's time, and prospered as a nation for that vision. We need to pick up the torch and get back to basics, and to our genuine American values, again today.
To see more posts by Stephen, visit our archive.
March 10, 2011 at 10:57 AM in Business, By Stephen Jones, Contributing Writer, Corporatism, History, Labor, Progressivism, Right Wing | Permalink | Comments (2)
Friday, February 25, 2011
Transparency Advocate Susana Martinez Caught Red-Handed Holding Secret 'Small Biz' Task Force Meetings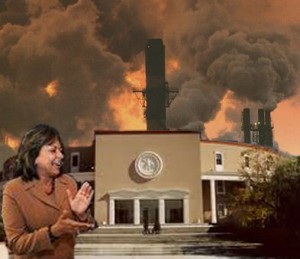 As the Susana Martinez administration begins to take hold, New Mexicans are getting a much clearer picture of what our new Republican governor and her cohorts are really all about. On the campaign trail, Susana talked non-stop about increasing transparency and accountability in government, about "cleaning house" and rooting out "corruption." Unfortunately, her behavior in office -- even in these early days of her administration -- has been rife with actions designed to please her oil and gas campaign donors, to collude with moneyed corporate interests behind the scenes to knock down common-sense regulations and to encourage an atmosphere of bigotry and dissension among our citizens.
And now, Clearly New Mexico has published a shocking two-part story about secret meetings and secretive plans by Susana Martinez's inaccurately named "Small Business Task Force" to stymie any and all current and future common-sense rules that ensure certain business entities will operate in a way that serves New Mexico's interests and protects our land, air and water.
In part one, Tracy Dingmann uncovers the upsetting truth about the operations, goals and membership of the Task Force. In part two, Dingmann reveals the disturbing recommendations made by the Task Force -- made up mostly of lobbyists for big business concerns who just happened to donate big bucks to Martinez' campaign. Here's just one of them:
The task force recommends that the Economic Development Department develop a secret "whistleblower complaint log and phone-based hotline" for businesses who want to complain privately about NMED enforcement of rules and regulations.
These two stories are must-reads for anyone who wants to learn more about the way in which the Martinez administration really operates. And it's not a pretty picture. Please, go read them in their entirety.
From misusing left-over campaign funds to pay for negative ads and intimidation tactics to drum up opposition to immigrants, to launching what amounts to a vendetta against the film industry in New Mexico, to nominating an Education Secretary without any real experience as a teacher or principle in public schools, to trying to foist a photo ID on voters without any proof there's a problem, to trying toabolish the Water Quality Control Commission, to unsuccessfully trying to appoint a climate denier and right-wing kook to head the Energy Secretary, to contracting with an education "consultant" team full of people with links to Jeb and George Bush but without a single New Mexican, to bungling a response to a nearly week-long natural gas outtage in Northern New Mexico, to issuing an executive order requiring state law enforcement officers to ask about immigration status, to advocates having to sue her administration to force her to publish legally created regulations related to greenhouse gases, dairy farm pollution and a green building code -- it's been one horror after another.
Isn't it time the mainstream media started really digging into the truth about the Susana Martinez administration? The new administration's honeymoon in the media should definitely be over. How about it Albuquerque Journal reporters, local TV news outlets and others? The blogs can't do all the work.
Photo courtesy of Chorizo Report.
February 25, 2011 at 11:54 AM in Business, Corporatism, Education, Environment, Susana Martinez | Permalink | Comments (4)
Thursday, February 17, 2011
Action Alert: Demand Dem Support for Rep. Maestas Tax Cut and Tax Credit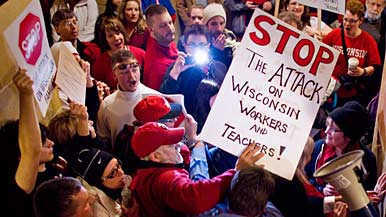 First they came for Wisconsin workers, then they came ...
Can we all shout out a hearty thanks to Rep. Antonio "Moe" Maestas (D-Albuquerque)? Moe just introduced his second tax bill, House Bill 581, on the House floor today. The legislation would allow start-up small businesses to claim a tax deduction for their first year in operation. Best of all, Rep. Maestas introduced House Bill 516 earlier this week, which would cut taxes on middle and lower income New Mexicans and return to a graduated income tax in New Mexico. I'm not kidding. Somebody actually has the fortitude to propose it!
Worker Tax Cuts
HB 516 amends the New Mexico tax code to a progressive scale that would cut taxes for individuals earning less than $96,000 a year. The new tax rates would be adjusted for the following tax brackets: 1% for individuals earning $12,000 or less, 2% for $12,000-$24,000, 3% for $24,000-$48,000, 4% for $48,000-$96,000, 5% for $96,000-$250,000, 6% for $250,00-$1,000,000, and 7% over $1,000,000.
The current tax rate for individuals in New Mexico is a flat rate of 4.9% -- which means many low-income and middle-class New Mexicans pay the same tax rate as our wealthiest citizens who have benefited from the Bush economy that has devastated so many working families. You can't tell me this is fair.
Is it just me, or should EVERY SINGLE DEMOCRAT in the NM House and Senate be supporting this bill -- HB 516 -- and speaking out strongly about its merits day in and day out?
Personally, I don't see how anyone can put a D next to their names and be against requiring our most well-off earners to pay their fare share. After all, this is a time when dwindling revenues, a dearth of decent-paying jobs and rising costs for things like gasoline and food are devastating not only workers and their families, but so many of the important things we value as Americans.
Like a quality public-school education for all. Like affordable and accessible higher education and training in the trades. Like a sensible safety net for our needy, unemployed, elderly, ill and disabled. Like treating our state workers and teachers like the valuable employees they are. Like infrastructure and capital improvement projects. Like schools and community centers and libraries and senior centers and parks. Like art and music in the schools. On and on and on.
If the richest among us cannot pay a few percentage points more in taxes at a time of economic upheaval for so many New Mexicans, what kind of citizens or human beings are they? And what kind of Democrats would refuse to push for this simple and common-sense return to a fair and graduated tax code?
I'm talking to you, Senators John Arthur Smith (Deming) and Tim Jennings (Roswell) -- for starters. These two claim they are Democratic leaders and yet they continually resort to right-wing framing, positions and rhetoric. Isn't it time to let them -- and every other Dem in the New Mexico Legislature -- know that a failure to advocate on behalf of core Democratic values like REAL support for the working class is unacceptable?
Join me in calling or emailing Dems in the NM House and Senate, especially those we know are faux-Dems at best, and telling them in no uncertain terms that it's put up or shut up time on HB 516, as well as our entire approach to the budget.
It may not make much of a dent in some of the thick skulls prevalent among certain narrow-minded power brokers up there at the Roundhouse, but the very least we can do is try. If nothing else, I think we should call out these traitors to the working class and Dem principles every chance we get.
Small Business Tax Credit
Rep. Maestas says the deduction created by House Bill 581 is an effort to encourage individuals to become small business entrepreneurs that can contribute to New Mexico's recovering economy. The Department of Taxation and Revenue would work with the Economic Development Department to determine the amount of the deduction awarded based on the number of individuals who file claims. Data from the economic impact of the deduction would be compiled by both agencies for Legislative review every four years.
"If a business can stay in the black for its first year in existence, then it can survive forever," Maestas said. "Small business is the backbone of New Mexico's economy and state government must do all it can to support small business start-ups."
Say it again, say it again, louder, louder!
February 17, 2011 at 03:48 PM in Action Alerts, Business, Children and Families, Economy, Populism, NM Legislature 2011, Taxes | Permalink | Comments (4)
Friday, November 19, 2010
Rep. Martin Heinrich Underlines Opposition to Extending Bush Tax Cuts to Wealthy, Support for Middle-Class Relief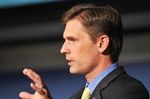 Bravo for sticking with the courage of our convictions: Yesterday, Rep. Martin Heinrich (NM-01) reaffirmed his unwavering support for fiscally responsible, middle-class tax relief. In a letter sent to House Speaker Nancy Pelosi, Rep. Heinrich stated that he remains committed to extending the expiring Bush tax cuts for individuals who make less than $200,000 and families who make less than $250,000, but he will not support extending tax cuts for millionaires and billionaires. 
"Some are suggesting we pass another budget-busting giveaway to millionaires and billionaires.  I cannot support such an unfair and fiscally irresponsible course of action," Rep. Heinrich stated in the letter. "We've seen the results of the 2001 and 2003 Bush tax cuts for the wealthy -- record deficits and a tax code that encourages wealth stagnation rather than innovation.  Returning to the same failed policies of the Bush administration, which took our country from surpluses to record debt, is completely unacceptable."
According to the Office of Management and Budget, the Republican-backed plan to extend the Bush-era tax cuts for the wealthiest few would blow a $700 billion hole in the deficit -- $36 billion of which would come next year.
"We can't pay down the Bush administration's debt and fund critical social programs like Medicare and Social Security if we're writing checks for $700 billion to the richest Americans like Donald Trump and Tiger Woods," Rep. Heinrich posted on Facebook earlier this week. "Anybody who's ever balanced a family checkbook can see through Republicans' wild claims."
The Facts on Job Growth and Tax Cuts
Although Republicans like to say that letting the tax cuts on the rich expire would cut job growth, nothing could be further from the truth. First of all, the Bush tax cuts for the wealthy have been in effect a long time now. Where are the jobs? Second, the kinds of "small businesses" that get the Bush income tax cut, via the owners filing individual tax returns, are not the kind of businesses that base their hiring on such things. As Steven Pearlstein, a Washington Post business writer, has said:
Only two weeks after the midterm election, it seems clear that the 2012 campaign has begun. For too many Republicans, the aim is to politicize policy, trash the institutions of government and intimidate anyone who might disagree with their radical ideology.

There's no better proof of that than the so-called debate over extending the Bush tax cuts on incomes above $250,000. Unable to defend more tax cuts for the rich, Republicans like to pretend that their real concern is for job creation, citing the fact that about half of all business profits now flow through partnerships and small corporations that are taxed at personal rates.

But look more closely at the argument and it turns out to be "largely bogus," according to Eric Toder, a former Treasury and IRS official who now works at the nonpartisan Tax Policy Center. Very few of those businesses earn more than $250,000 in profit, and those that do tend to be very successful hedge funds and law firms that are flush with cash and unlikely to be dissuaded from hiring extra employees or make new investments because of a 4 percentage-point change in the marginal tax. Because most hiring and investment can be done with pre-tax dollars, Toder said, the tax rate is largely irrelevant to those decisions. [emphasis added]
Pearlstein goes on to examine the minimal projected impact on the gross domestic product of allowing the tax cuts for the wealthy to expire, and suggests a better approach if job creation is the real goal:
The macro view, from the forecasting firm Macroeconomic Advisers of St. Louis, is that not extending tax cuts for high-income households would reduce gross domestic product growth by - drumroll here - two-tenths of one percent in each of the next two years. And the difference in the unemployment rate? A whopping one tenth of one percent!

These inconvenient truths, however, are simply ignored by Republicans, who would have us all believe that extending upper-income tax cuts is the most crucial economic issue we face - not just this year but for all time.

In fact, if Republicans were truly interested in reducing the deficit while stimulating private-sector job creation, they would have jumped to embrace the idea floated last week by Sen. Mark Warner, the centrist Democrat from Virginia: let high-end tax rates return to where they were during the Clinton years and use the $65 billion in additional income over the next two years for tax breaks for businesses that increase investments or hire new employees. After that, the extra revenue would go toward deficit reduction.
Finally, is there any evidence that the Bush tax cuts in toto created any substantial economic growth, as right-wingers like to assert? Not according to this Washington Post article, that includes a helpful chart.
Those tax cuts passed in 2001 amid big promises about what they would do for the economy. What followed? The decade with the slowest average annual growth since World War II. Amazingly, that statement is true even if you forget about the Great Recession and simply look at 2001-7.

... Is there evidence that the tax cuts led to a lot of entrepreneurship and innovation? Again, no. The rate at which start-up businesses created jobs fell during the past decade.
Dems Set to Play Hard Ball on Taxes
The latest Democratic plan would have both Houses acting on the tax cuts after Thanksgiving. Rep. Nancy Pelosi would hold a simple up or down vote only on extending the middle-class tax cuts, and let the tax cuts on our highest earners expire, as originally intended. It will be interesting to see if Republicans (and some Blue Dog Dems) will publicly vote specifically to hurt the middle class. Sen. Harry Reid is now suggesting he is open to having two votes after the holiday -- one on a Dem bill to keep the middle class tax cuts and one that might be offered by Repub Sen. Mitch McConnell to make the tax cuts permanent for all, including individuals earning more than $200,000 or families earning more than $250,000 per year.
As Greg Sargent at The Plum Line points out,
This is the sort of thing that gets you headlines that say you're playing "hardball."
According to The Hill,
Reid said he would hold multiple votes on extending just the middle-class tax cuts, a hard-ball political tactic not often used in lame-duck sessions, which lawmakers have traditionally struck compromises to mop up unfinished business.
More of this, please! As I mentioned at the top of this post -- we applaud Rep. Heinrich and every other Dem who will stand up tall and fight, with courage, for our convictions.
Also see this guest blog published recently on Democracy for New Mexico that argues convincingly that the tax cuts for the wealthy are not what is needed to create jobs.
November 19, 2010 at 03:07 PM in Business, Democratic Party, Economy, Populism, Jobs, Rep. Martin Heinrich (NM-01), Taxes | Permalink | Comments (4)
Friday, November 12, 2010
Guest Blog: We Didn't Vote for This
This is a guest blog by Frank Knapp, Jr., President and CEO of the South Carolina Small Business Chamber of Commerce.
Whether Americans voted for Republicans or Democrats in the mid-term election, one thing is clear: Voters were demanding that Congress focus intensively on job creation on Main Street -- not lobbyists and campaign donors from big business and Wall Street.
Apparently, many in Congress and President Obama, if recent reports are true, either didn't get the message or simply don't care now that the voting is over.
The top legislative priority of the newly "Tea Party-empowered" during the lame duck session is hardly what Tea Party insurgents had in mind. The proposal is to (1) increase the national debt by borrowing $700 billion to $1 trillion over the next 10 years; (2) spend the money on big, non-job producing tax cuts for the wealthiest 2 percent of Americans; (3) use small business as the excuse.
This bad-business proposal is now being pushed in Congress and the media by those advocating extending the Bush-era tax cuts to the top two income brackets. While proponents acknowledge that less than 3 percent of the taxpayers who would receive the tax cuts actually have some business income, they insist that these approximately 900,000 taxpayers are the very successful small business owners who will stop hiring and purchasing if they don't get their tax cut. Wrong, wrong, wrong.
First, almost all real small business owners are middle-class Americans with middle-class incomes. Walk down any Main Street and you won't find small business owners netting over $250,000 a year in profit (dollars remaining after the cost of employee wages and other business expenses are deducted from taxable income).
These middle-income, Main Street small businesses are the ones we really need to help create the new jobs to lift us out of this down economy. There is absolutely no evidence that the wealthiest small business owners create more jobs than those in any other tax brackets. As any small business owner knows, the number of employees does not correlate with profit.
Faux Small Business Taxpayers
So who are these mysterious high-income "small business" taxpayers in the top two brackets who Congress is considering borrowing hundreds of billions from foreign countries in order to give a tax cut?
Very few of them are what most would consider small business owners. They include partners in large corporate law firms, hedge fund managers, K Street lobbyists, high-powered consultants, Wall Street bond traders and the country's wealthiest millionaires -- all of whom claim some business income and thus are counted in IRS eyes as small businesses. These aren't "mom and pop" businesses, says Adam Looney, senior fellow at the Brookings Institution.
Not only are the vast majority of these 900,000 "faux" small business taxpayers not involved in job hiring decisions, the tax cut won't even cause them to significantly increase their personal spending to create the demand for new jobs.
The non-partisan Congressional Budget Office (CBO) evaluated 11 policy options in terms of boosting economic growth and creating jobs. It found that "policies that would temporarily increase the after-tax income of people with relatively high income...would have smaller effects because such tax cuts would probably not affect the recipients' spending significantly."
The wealthiest Americans are more likely to save their money from a tax cut rather than spend it, according to Moody's Analytics, Inc.
How Can We Create Jobs?
If we really want to give a tax cut that will create jobs, then we could cut employer payroll taxes on businesses that actually increase their workforce. The CBO estimates this would have six to eight times as much job-creating impact as an income tax cut. The policy the CBO found with the biggest bang for the buck is extending unemployment insurance. It would boost demand by providing income to people most needing to spend it in the local economy.
Alternatively we could create more customers for our small businesses through infrastructure projects, many of them long overdue upkeep or modernization, or keeping teachers and law enforcement officers working rather than laid off. The policy the CBO found with the biggest bang for the buck is extending unemployment insurance -- a direct infusion of money into local economies by people buying for their basic needs.
Increasing the nation's deficit while not saving or creating jobs is just more politics as usual in Washington where those with the most money get rewarded with even more money.
Congress needs to hear this loud and clear. These high-end tax cuts serve K Street lobbyists not Main Street shop owners. Politicians should not use us to justify a very bad business decision.
This guest blog is by Frank Knapp, who is also the creator and host of a 2-hour talk-radio show called U Need 2 Know, which airs weekdays in Columbia, and is a frequent op-ed contributor for South Carolina newspapers and national publications such as The Hill. Mr. Knapp serves on numerous committees such as the American Sustainable Business Council Steering Committee and the University of South Carolina Small Business Development Center Advisory Board and was previously Chairman of the City of Columbia's Small Business Regulatory Review Committee.
November 12, 2010 at 12:14 PM in Business, Corporatism, Economy, Populism, Guest Blogger, Jobs, Obama Administration, Taxes | Permalink | Comments (5)
Wednesday, October 20, 2010
Terry Brunner Guest Blog: 2010 Saw Record Funding for USDA Rural Development Projects

This is a guest blog by Terry Brunner, who is the State Director for USDA Rural Development New Mexico.
Many facets of our nation's economy need strengthening as we make our way through the economic recovery -- one of them is infrastructure. Improvements to our public systems, services, and facilities play a vital role in increasing economic activity.
During the fiscal year that ended on September 30, 2010, the United States Department of Agriculture (USDA) Rural Development New Mexico office provided $384 million in infrastructure and business investments across New Mexico through our programs. The American Recovery and Reinvestment Act (ARRA) played a large role in tripling our funding over previous years.
USDA investments made in wastewater treatment facilities, libraries, broadband and electric infrastructure (among other projects) provided immediate jobs in construction and some permanent positions. In addition to creating jobs, these investments help ensure the long-term sustainability of New Mexico communities by providing the infrastructure needed to improve our economy. Federal funding becomes increasingly more important as state and local governments contend with tight budgets.
Water and Wastewater
This fiscal year, USDA provided $54 million in funding for 28 clean drinking water systems and wastewater treatment projects in New Mexico. Some of these projects were small projects like the $56,000 grant provided to the Duranes y Gavilan water system in Rio Arriba County. Some were much larger, like the $26 million grant and loan provided to the Pueblo of Laguna. Imagine how life will change for Laguna Pueblo residents who lack water service for days or weeks and watch their water system's pipes burst an average of four times every day.
Broadband
Broadband infrastructure is crucial to the survival of our communities. USDA Rural Development provided a $9.6 million ARRA loan and grant to Penasco Valley Telecom in Artesia, NM. With these funds, broadband service will be extended to farms, ranches and small businesses in rural Southeast New Mexico that currently do not have service. Farming and ranching are more than ever high tech activities and access to the latest information on prices, transportation, weather and other important data provided through the internet is crucial to the success of the agricultural community and their efforts to remain competitive internationally.
Home Loans
Three and a half years ago, Mr. and Mrs. Thomas Yokom and their two young sons moved into a motor home after Mr. Yokom suffered a workplace injury which cost him his job in California. As they drove around the Southwest looking for a place to call home, they settled in Los Lunas, NM. The Yokoms qualified for and received a home loan from USDA to purchase a three bedroom home and 1/4 acre of land in Los Lunas. Since moving in, they've quickly become part of the fabric of that community -- the boys are involved in Cub Scouts and the family is getting to know their new neighbors. In FY '10, USDA Rural Development helped more than 11,000 New Mexico families like the Yokoms find a place to call home and make a living.
Investments in NM Businesses
USDA Rural Development also funds investments in New Mexico businesses. For example, we provided a $12,500 grant to Milk and Honey, LLC in Santa Fe, NM. They used the funds to improve the marketing and packaging of their soaps and lotions. The owner of this local business, Daven Lee, received strong responses to her growing product line from local and regional retailers. She hopes that with an increase in orders, she will be adding staff as soon as this winter.
Economic Recovery
These are just a few examples of USDA Rural Development's efforts in New Mexico during 2010. We not only helped foster individual businesses and helped people find a place to live, but we made critical infrastructure investments that hopefully lay the foundation for the future success and economic recovery of New Mexico's communities.
President Barack Obama appointed Terry Brunner New Mexico State Director for USDA Rural Development on September 9, 2009.
This is a guest blog by Terry Brunner. We've previously posted a number of stories about the activities of USDA Rural Development. You can see most of them here.
If you'd like to submit a piece for consideration as a guest blog, contact me by clicking on the Email Me link at the upper left-hand corner of the page.
October 20, 2010 at 02:42 PM in Agriculture, Broadband, Business, Economy, Populism, Energy, Guest Blogger, Housing, Native Americans, Obama Administration, Rural Issues, Water Issues | Permalink | Comments (1)
Tuesday, August 24, 2010
Udall: 5 NM Financial Institutions Get $2M+ to Help Struggling Communities

Senator Tom Udall (D-NM) today announced that five New Mexico financial institutions serving struggling communities have received a total of $2.08 million to support small businesses and spur local economic growth by expanding access to capital and affordable financial services.
The awards were distributed by the U.S. Department of Treasury's Community Development Financial Institutions (CDFI) Fund, which invests and builds the capacity of existing private, for-profit and non-profit community-based lending organizations that serve rural and urban low-income people and communities that lack adequate access to affordable financial products and services. A little goes a long way with the kind of small loans made by the financial institutions in the state that are on the receiving end of this funding.
"These funds will provide critical assistance to entrepreneurs and small businesses that are on the front lines as we continue rebuilding our economy and creating good jobs for New Mexicans," Udall said in a statement released today. "This is even more important in rural areas and other underserved communities, where access to capital is hard to come by, making economic recovery that much more of a challenge."
The New Mexico financial institutions receiving awards are:
$90,800 – ACCION New Mexico, Albuquerque. ACCION is a certified CDFI established in 1994 that provides small business and microenterprise loans and lines of credit, as well as development services in New Mexico, Arizona and Colorado.
$400,000 – Everyone's Federal Credit Union, Tucumari. The credit union is a certified CDFI established in 1954 that provides various consumer and lending products to three rural counties in New Mexico.
$750,000 – Homewise, Inc., Santa Fe. Homewise is a certified CDFI established in 1986 that provides financial products and services for home purchases and home improvements in targeted markets in New Mexico.
$750,000 – New Mexico Community Development Loan Fund, Albuquerque. The fund is a certified CDFI established in 1989 that provides financing and development services for micro and small businesses and affordable housing.
$97,898 – Tierra del Sol Housing Corporation, Anthony. Tierra del Sol is an emerging CDFI established in 1973 that provides first and second mortgages, gap financing, home improvement loans, and microenterprise and small business loans to targeted populations in New Mexico and El Paso County, Texas.
August 24, 2010 at 12:46 PM in Business, Economy, Populism, Finance, Investments, Housing, Sen. Tom Udall | Permalink | Comments (0)