« Thursday: Stop in at Coffee Kids Open House in Santa Fe | Main | Bingaman & Udall Report on Senate Version of Stimulus Bill »
Wednesday, January 28, 2009
Val Kilmer Donated to Nader for President, Even After Obama Clinched Nomination
Update: Also see Matt Reichbach's post at NMI for more on Kilmer's Naderista tendencies.
************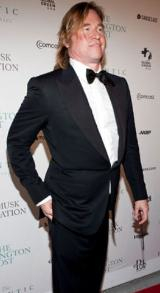 By now we've all heard about the periodic noises coming from actor Val Kilmer -- who resides on a 6,000-acre ranch near Pecos, New Mexico at least part of the time -- about the possibility of his entering the gubernatorial race here next year. It's not entirely clear whether he'd run as a Democrat or a third-party candidate.
The latest word on Kilmer's political ambitions came in a January 20th article in The Hill. Kilmer agreed with a reporter that "he was giving a 'strong maybe' for a run for governor" and said, "Actually, they've asked me to run for governor. People seem to want me to." He didn't specify who "they" are. The article notes that, Gov. Bill Richardson "publicly declared his support for a potential Kilmer candidacy last year."
Nobody really knows how serious the Doors-Batman actor is about jumping into the race to challenge current Lt. Gov. Diane Denish as Gov. Bill Richardson ends his second, and last, term. What we do know is that Kilmer has been registered to vote as an independent (unaffilated) in Santa Fe since 1992, but that he's never voted in New Mexico. You might say his bona fides in terms of New Mexico politics are questionable, at best.
$4,000+ to Nader: Now we also know that Val Kilmer donated more than $4,000 during the 2008 presidential cycle to none other than Ralph Nader, the perennial green and/or independent candidate for president. Even worse -- if you're planning to win the hearts and minds of New Mexico's Democratic voters -- Kilmer made contributions to Nader even after Barack Obama had clinched the Dem nomination.
Yesterday, I was noodling around at www.newsmeat.com, which includes a federal campaign contribution search engine, and happened to punch in Kilmer's name. Turns out Val donated last August to both the primary and general election campaign funds of Nader for President:
Kilmer, Val
Los Angeles, CA 90067
Self Employed/Actor Ralph Nader (IND)
President
NADER FOR PRESIDENT 2008 Lost
$600
general 08/15/08
Kilmer, Val
Los Angeles, CA 90067
Self Employed/Actor Ralph Nader (IND)
President
NADER FOR PRESIDENT 2008 Lost
$1,700
general 08/11/08
Kilmer, Val
Los Angeles, CA 90067
Self Employed/Actor Ralph Nader (IND)
President
NADER FOR PRESIDENT 2008
- $-1,700
primary 08/11/08
Kilmer, Val
Los Angeles, CA 90067
Self Employed/Actor Ralph Nader (IND)
President
NADER FOR PRESIDENT 2008 Lost
$4,000
primary 08/11/08
When the $1,700 refund is figured in, it looks like Kilmer's donations to Nader totaled $4,600, at least $600 of which went to his general election account.
Think about it. In a year when Democrats were fighting so hard to take back the White House, someone who says he'd like to be our governor was busy writing checks to support a candidate running against Obama. In the general election cycle. Inexcusable, isn't it? At least to me it is.
To see Kilmer's donations for yourself, just go to www.newsmeat.com and plug his name into the search. I checked the info at Open Secrets and came up with the same results.
Technorati tags: Val Kilmer Diane Denish Bill Richardson New Mexico New Mexico Governor Ralph Nader Barack Obama campaign contributions
January 28, 2009 at 02:31 AM in 2008 General Presidential Election, 2010 NM Governor's Race, Democratic Party | Permalink
Comments
Val Kilmer is an idiot. Don't even get me started.
Posted by: KathyF | Jan 28, 2009 3:08:38 AM
Thanks for reporting that. I have no problem with people contributing to whoever they want but don't come at election time and ask for my Democratic vote while contributing to third party candidates.
Posted by: VP | Jan 28, 2009 7:37:42 AM
is he bloated?
Posted by: mary ellen | Jan 28, 2009 8:15:04 AM
Whoever the hell is telling Kilmer that they want him to run for Governor is either sucking up to him really hard or is his mom. Quit embarrassing yourself and get back to being a washed up actor. But I forgot, that's what washed up actors do nowadays, run for office?!
Posted by: wanrey | Jan 28, 2009 10:03:21 AM
If he hasn't voted in New Mexico since 1992, why is he still on the rolls? I thought inactive voters were supposed to be purged after 4 years or so.
Maybe they kicked him off and he got back on, but why, if he never votes?
Posted by: Michelle Meaders | Jan 28, 2009 2:21:42 PM
Seems Kilmer identifies as being from LA, not New Mexico. Recalling when Nader was proclaiming no difference between Bush & Gore, Obama nailed it: "Ralph didn't know what he was talking about." Community organizers all over the country long ago became fed up with Nader's ego-obsessed campaigns to damage progressives with a chance of winning.
Let's face it, Nader hasn't gotten involved in any real issue campaign efforts in years -- decades! The real issue about Kilmer isn't whether he's an actor, but whether he's got a clue about what's going on. Being a Nader supporter in a year with a serious possibility to throw out a truly horrible incumbent party is not a good sign.
Now, having said all that, exactly what does Diane Denish stand for? When she put her "transition team" together, one of her two co-chairs was from LES, the nuclear waste reprocessing consortium that has come to NM after causing major community uprisings in Louisiana and Tennessee.
Bill Richardson has never been a guaranteed supporter of every environmental issue, but when he's with you he's with you, and will fight to the end. Environmentally, this Administration may be the best New Mexico has ever had. Gov. Bill, Ron Curry and Joanna Proukup deserve our solid thanks. Where has Diane ever been? I've never heard a peep out of her supporting many of these tough calls.
Maybe the Dems need a third choice instead of clueless and backsliding.
Posted by: Luther Weston | Jan 28, 2009 9:29:56 PM
I looked Kilmer up on Voter View and he is now a Democrat and voted in the presidential election using an absentee ballot.
The AP article that said he was registered as unaffiliated and had never voted in NM is dated September 13, 2008 so Kilmer must have changed his registration between then and the presidential election on November 4th, or he had changed it already and it didn't show up yet when the AP wrote the article.
Posted by: Old Dem | Jan 29, 2009 1:35:33 PM
Any progressive — even a Hollywood actor — running against the Democratic Party for governor of New Mexico would have my vote in a second.
Posted by: Mike | Feb 11, 2009 5:28:30 AM