« December 2008 | Main | February 2009 »
Saturday, January 31, 2009
Sunday: Rep. Ben Ray Lujan to Hold 'Congress on Your Corner' in Espanola
Rep. Ben Ray Luján (D, NM-03) will hold a 'Congress on Your Corner' on Super Bowl Sunday, February 1, 2009 to meet with constituents who are shopping and preparing for Super Bowl parties. Rep. Luján will hand out information about the analog to digital television transition that will take place on February 17, 2009. Rep. Luján will use the high traffic at The Center Market, at 745 N, Riverside Drive in Espanola on Super Bowl Sunday at Noon to reach out to as many constituents as possible.
According to a December study by Nielsen, Albuquerque is the least prepared media market among the top 56 media markets for the digital transition. As of December, in the Albuquerque media market, which includes much of the 3rd Congressional District, 13 percent of households are unprepared for the digital transition.
January 31, 2009 at 04:02 PM in Events, NM Congressional Delegation, Rep. Ben Ray Lujan (NM-03) | Permalink | Comments (0)
Sen. Lopez's SunCal TIDD Bill Passes First NM Senate Committee
According to a report in the Albuquerque Journal, SB 249, the controversial bill to grant TIDD funding for certain SunCal projects on Albuquerque's West Mesa, was passed by the Senate Corporations and Transportation Committee on Friday by a margin of 9-1. The only legislator to vote against the measure was freshman Sen. Tim Keller (D, 17-Albuquerque), who had this to say at the hearing:
"I think planned growth is good. My question is, 'Is it appropriate for a state subsidy?' It seems like it should stand on its own feet as a private investment."
The bill, sponsored by Sen. Linda Lopez (D, 11-Albuquerque), would allow SunCal to sell up to $408 million in bonds backed by anticipated future tax revenue to finance roads and other infrastructure. SunCal already has secured nine TIDDs from Bernalillo County covering 4,000 of its 55,000 acres on the West Side. A similar measure that would have allowed for the sale of more than $620 million in bonds failed to pass the Legislature last year.
TIDD funding was originally designed as a mechanism to encourage infill development within urban areas that need renewal -- not sprawl development in vast, open areas on the edge of the city. However, this tool is increasingly being used to bolster the projects of big developers that just happen to be tossing around "campaign contributions" and promising more. Who'da thunk it.
Voting for the bill were three of the Democratic Senators who voted with Republicans to reelect Sen. Tim Jennings as Senate Pro Tem, despite the fact that the Democratic Caucus had voted for Sen. Carlos Cisneros to fill the post: Sen. Lynda M. Lovejoy (D, 22-Crownpoint) Vice Chair; Sen. George K. Munoz (D, 4-Gallup); and Sen. John M. Sapien (D, 9-Corrales). Sen. Linda Lopez, who sponsored the bill, is not on the SCTC but she also voted for Sen. Jennings for Pro Tem. Jennings has long been an opponent of ethics and campaign reform.
SB 249 will go next to the Senate Finance Committee. The SFC is chaired by Sen. John Arthur Smith (D, 35-Deming), who also voted for Sen. Jennings for Pro Tem. Two other Dem members of the SFC, Howie Morales (D, 28-Silver City) and Mary Kay Papen (D, 38-Las Cruces), supported Jennings too. Get the picture?
See the Cocoposts here and here for more on the problems with TIDD financing. Gee, do you think the lawmakers backing the SunCal TIDDs realize there's a depression coming on? I guess that's irrelevant if you're making the kinds of deals that are going on behind the scenes with SunCal.
January 31, 2009 at 02:38 PM in Business, Corporatism, NM Legislature 2009, Sprawl Development | Permalink | Comments (7)
Rep. Teague Releases Numbers for Local School District Funding in Stimulus Plan
On Friday, Congressman Harry Teague (D, NM-02) joined administrators, teachers, and parents from Silver City and Cobre School Districts for a tour of Sixth Street elementary school. Afterward the Congressman hosted a roundtable to discuss K-12 education benefits in the stimulus package. Congressman Harry Teague also released the estimated school district funding figures for Southern New Mexico.
The district by district funding levels for Southern New Mexico in the stimulus bill are listed here (pdf).
"The teachers and administrators doing the day to day work of educating our youth should be the first to know how this money can be used to prevent further cuts and improve our infrastructure," said Congressman Harry Teague. "We need to quickly invest in our schools at the local level so that this downturn doesn't permanently cripple our economy."
It is estimated that the school districts in Southern New Mexico will receive a total of $122,634,000 in Title 1, IDEA, and construction and repair funding. Under the current plan Silver City Consolidated schools would receive $2.4 million and Cobre Schools an estimated $1.6 million.
The stimulus bill passed the House last week and will be voted on next week in the Senate.

January 31, 2009 at 01:18 PM in Economy, Populism, Education, NM Congressional Delegation, Rep. Harry Teague (NM-02) | Permalink | Comments (0)
Action Alert: Noon Rally Monday at Roundhouse for Domestic Partnerships
From the Coalition for Domestic Partnerships:
LET'S RALLY AT THE ROUNDHOUSE
FOR DOMESTIC PARTNERSHIP
MONDAY FEBRUARY 2nd at 12:00 NOON
East Side of Capitol
It's time to rally for fairness and equality
Followed by vote on SB 12 in Room 321
Come show your support for the Domestic Partner Rights and Responsibilities Act. We need lawmakers to SEE how many New Mexicans want this bill to pass. Come during your lunch hour and show support. Please bring all your friends and family!
Following the rally, the Senate Judiciary will vote on SB 12. We're asking supporters to go to room 321 for the Committee Hearing. There will be no testimony. This will be a historic vote! Please clear your calendar and come to the the Roundhouse on Monday, February 2nd at noon!
For more information call Jennifer Rose at 505-490-9058 or email dpcampaign@threesixtynm.com. Sponsored by the Coalition for Domestic Partnerships.
Also see my previous post on the domestic partnership issue.
January 31, 2009 at 12:54 PM in Civil Liberties, Events, GLBT Rights, NM Legislature 2009 | Permalink | Comments (1)
Friday, January 30, 2009
Action Alert: Help Needed Canvassing/Phone Banking Saturday on NM Domestic Partnership
From HRC: WE NEED YOU TO TAKE ACTION WITH US TOMORROW! On Monday, the New Mexico Senate Judiciary Committee is expected to consider the Domestic Partnership Rights and Responsibilities Act (SB12). Right now the vote is too close to call and we need you to act!
HRC, EQNM, and the ACLU need your help and your perseverance tomorrow as we walk the streets and light up the phone lines. Many of you have attended events with us in the past (Fire Party, L Word, Meet and Greet, Camp Equality, etc.) ... now we need your continued dedication!

WHAT: Canvassing with the Human Rights Campaign (HRC), Equality New Mexico (EQNM), and the American Civil Liberties Union (ACLU). (We will also be phone banking).
WHEN: Tomorrow, Saturday, January 31st - 10:30am (Training), 11am-3pm (Canvass)
WHERE: EQNM/ACLU Albuquerque Offices, 1410 Coal Avenue SW, 87104
WHY: To ensure we have the votes in the Judiciary Committee for a potential vote on Monday
HOW: RSVP by emailing me at Marybeth.lennox@hrc.org or by calling me at 607-760-4814 OR just meet us there tomorrow. (BRING FRIENDS!)
January 30, 2009 at 05:13 PM in Civil Liberties, Events, GLBT Rights, NM Legislature 2009 | Permalink | Comments (2)
(Updated) Saturday: ABQ City Councilor Rey Garduño Hosts District 6 Town Hall Meeting
Update: Those attending Saturday's Town Hall came up with a new name for the area: The International District. KRQE reports:
****************
City Councilor for District 6 Rey Garduño will be hosting a Town Hall Meeting, this Saturday, January 31st from 1:00 PM to 3:00 PM at the Cesar Chavez Community Center and sent along the info. The topic of discussion will be the "re-naming" of an area of the district. Click for FLYER (pdf). Pass it on.
Throughout the years, these neighborhoods have had a disparaging name for their communities. Now, through community voice and the beginning of redevelopment in the area, residents are ready for a fresh start.
There have been some ideas and opinions given about the new identity but the majority revolves around the diversity of the area. The common words are "International" or "Multi-Cultural" to describe the area.
The population is the most diverse in the City, and possibly the State. There are large segments of African-Americans, Asian-Americans, Chicano/a, Hispanics, Mexican-American, and Urban Native-Americans.
These neighborhoods surround the State Fairgrounds and Kirtland Air Force Base which attract visitors and service men and women from all around the world. Highland High School, the only High School in the area, has over twenty languages spoken on the campus. The area also houses many goods and services which are imported from other countries.
If there is considerable support, Councilor Garduño will sponsor a resolution simultaneously with State Senator Tim Keller, who will sponsor a memorial at the State Legislature, to have this area of Albuquerque no longer labeled by a derogatory term and ensure that community members have the right to name and create their own identity in their community.
January 30, 2009 at 04:55 PM in Events, Local Politics | Permalink | Comments (0)
Debbie O'Malley Mayoral Campaign Kickoff Celebration Set for 2/8/09
From Debbie O'Malley for Mayor: I am growing my campaign for Mayor of Albuquerque and I would be honored to have your support. Please join me at a Campaign Kickoff Celebration and bring your family and friends.

Sunday, February 8, 2009, 1 PM to 3 PM
At the home of Veronica Plaza and Bill Wagner
2531 Campbell Rd NW
(south of Candelaria Rd NW, west of Rio Grande Blvd NW)
Click for FLYER

I intend to participate in this campaign as a publicly-financed candidate. In accordance with city rules, I am raising "seed" money to get my campaign underway. I can accept $100 maximum contributions from individual Albuquerque residents until March 31. For more information, contact Marit Tully at 435-3513 or DebbieOMalleyForMayor@gmail.com.
This event is an opportunity to share ideas about creating a new vision for Albuquerque, together. We can do things like we always have or we can bring a new approach to moving this city forward. I know I can provide the new leadership we need. Please join me and bring your family and friends!

Thanks!
Debbie

PS: Can't make this event? You can still help grow my campaign by sending a check (maximum $100 per resident) to Debbie O'Malley for Mayor, PO Box 6993, ABQ, NM 87197.
January 30, 2009 at 04:25 PM in 2009 Albuquerque Mayoral Race, Events | Permalink | Comments (0)
Saturday: Feeding America Volunteer Training at Roadrunner Food Bank
Volunteer Interviewer Training for Hunger in America 2009
Date: Saturday, January 31, 2009, 10:00 AM - 2:00 PM
Location: Roadrunner Food Bank
2645 Baylor Dr. SE, Albuquerque, NM 87106
Volunteer interviewers participate, along with a team of 8 to 10 other volunteers, in the collection of field data for a local study on hunger. Ideal interviewers are friendly, speak English and/or Spanish and/or Navajo, are able and willing to follow specific interviewing protocols, and possess a high level of sensitivity and ability to work with people from a diverse background. Interviewers will conduct quantitative interviews from February through April 2009. Attendance at an interviewer training session is required. Contact Carmen at carmentierra@hotmail.com for more information and to register!
January 30, 2009 at 04:04 PM in Events, Poverty | Permalink | Comments (1)
NM Legislators: Please Consider This When You Vote on Domestic Partnerships
This started out as a comment to a story on NMI. I thought it might be worthwhile to publish an extended version here. I hope that any lawmaker considering how to vote on the NM Domestic Partnership Rights and Responsibilities Act might take the time to read it, think seriously about what I'm saying, and search his or her conscience as to the right thing to do when the bill comes up for a vote.
Many opponents of the domestic partnership bill now before the Senate Judiciary Committee (SB 12) are using the teachings of their particular church or their personal religious beliefs to defend the denial of civil rights under civil law to a minority segment of the population that is suffering greatly from a lack of access to legal protections that every citizen should be fairly granted. That segment of the population includes me, and my life partner of almost 20 years.
Nobody is asking anyone to abandon their religious beliefs or approve of GLBT relationships. What we are asking is that the constitutional guarantee to equal rights under our civil law system and the constitutional bedrock concept of the separation of church and state be upheld. Civil liberties mean that citizens have certain rights under the law even when there are profound differences of opinion on a matter among the citizenry.
Opponents of GLBT relationships obviously have a right to their opinions and a right to voice those opinions in the public and religious realm, as well as a right to live their lives accordingly. However, under our constitution, they should not have the right to deny my civil rights because their personal beliefs or those of some churches don't approve of my belief system. I am not a member of any of the churches that oppose domestic partnerships. Why should I be forced to obey their rules in living my life, and why should their rules be reflected in civil law that is applicable to all?
Using the logic being employed by many opponents of domestic partnerships, we should all be required to conform to the rules of whatever church or religious belief is embraced by the majority in any given place and time. Say we live in an area dominated, for instance, by Orthodox Jewish citizens. Should we then all be required by law to keep the Sabbath on Saturdays because the majority of people in the area believe that is the moral and religiously correct way to behave? I'm sure rational people would agree that would be an abuse of religion -- an abuse very similar to that being employed in the case of domestic partnerships, I believe.
To be a genuine American is to respect the religious beliefs of all -- but also to extend equal civil rights under civil law to all citizens. The domestic partnership act would extend very basic civil rights to a segment of the population that has been unjustly denied them. Domestic partnership rights and responsibilities have nothing to do with churches or religions, but everything to do with our right to live in America as every other citizen does -- sharing the same legal protections related to family, health care, inheritance and retirement that all other citizens enjoy.
I hope that lawmakers will put respect for equal civil rights for all before their own personal religious beliefs or those of their churches in voting on the rights that I and my partner of almost 20 years believe we deserve. Why do we deserve them? Because we are Americans living in a nation where the separation of church and state is one of our constitutionally defining principles. Why should we continue to suffer legal injustices because some religions or people don't believe the way we do? Is that really fair or consistent with the principles of our American democracy?
Think carefully, legislators, and please do the right thing for me, my partner and many others who live in New Mexico as members of a minority that has suffered much pain and deprivation in order to be who we are, live as who we are and keep our love and hope alive in the face of sometimes brutal treatment and discrimination.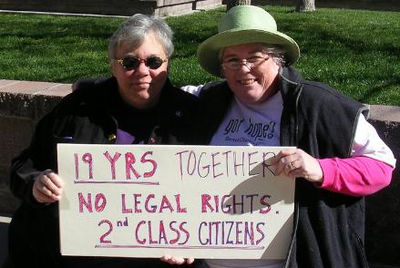 Us
My partner of 19+ years and I are aging. We're dealing with a number of health problems. We're aware that if Mary Ellen loses her job, my health insurance will end that day, because the vast majority of employers in New Mexico can't, by law, offer insurance coverage to domestic partners. We're trying to prepare for retirement down the road. We're wondering if our relationship will be respected within the ER, intensive care unit or coroner's office if something should go terribly wrong. We're considering how one of us could cope economically and deal with inheritance and similar issues if the other should become disabled or pass away.
Now, more than ever, we need the legal protections that most of you reading this take for granted. Please do what you can to help that happen. Please consider this matter with your head and your heart.
Thanks,
Barb and Mary Ellen
The domestic partnership bill passed the Senate Public Affairs Commmittee by a 5-4 vote this week, and is now before the NM Senate Judiciary Committee. It should be voted on sometime next week.
The Committee has 11 members. All four Republicans will surely vote against the bill. One Democrat, Sen. Richard Martinez, voted against the bill last year and has said he will do so again. One Democrat, Sen. Bernadette Sanchez, has indicated she is undecided. Five Democrats are thought to support the bill, although it's not completely certain that all five will vote yes. We need six votes to win.
January 30, 2009 at 12:51 PM in Civil Liberties, GLBT Rights, Minority Issues, NM Legislature 2009 | Permalink | Comments (5)
NM Voices for Children Applauds House Passage of Recovery Act
New Mexico Voices for Children has released a statement applauding Congress for passing H.R. 1, the American Recovery and Reinvestment Act.
"This economic recovery legislation will boost the economy and provide funding to help create jobs here in New Mexico," said Gerry Bradley, Research Director of NM Voices. "The Recovery Act provides necessary resources for the needy children and families in our state. The bill invests in a variety of programs that will alleviate some of the economic strain currently felt by children and their families," he added.
The recovery package invests significant federal resources in many of the programs and services that have been underfunded for the past decade. It includes many measures advantageous to families with children. NM Voices is particularly pleased with the following provisions:
Child Tax Credit: Lowers the earnings threshold from its current value of $8,500 to $0. Reducing the earnings needed to claim the credit could benefit 13.3 million more American children than under the current earnings threshold.
Nutrition Assistance: Provides a $20 billion increase to the Supplemental Nutrition Assistance Program (or Food Stamps) and makes all states eligible to participate in the Afterschool Feeding Program for At-risk Youth, which currently only serves eight states.
Child Care and Head Start: Provides $2 billion for the Child Care Development Block Grant allowing an additional 300,000 children to participate and $2.1 billion for Head Start, which means 110,000 low-income children will be able to access the program.
Medicaid (FMAP): Includes a provision that provides a temporary increase through December 2010 in the federal share of Medicaid payments totaling approximately $88 billion. This policy also applies to Foster Care and Adoption Assistance (so-called IV-E programs), which use FMAP to determine payment rates.
Unemployment Insurance: Increases payments by $25/week, and encourages modernization, which will allow more workers to claim benefits as more small businesses and large companies cut jobs.
Temporary Assistance for Needy Families: Offers states additional funds to help states manage burgeoning caseloads due to the recession.
According to NM Voices, the American Recovery and Reinvestment Act will provide long-term, responsible investments that will keep the nation's economy growing while at the same time improving the health, education and well-being of children. Millions of working families would be aided by changes to the child tax credit, gain access to child care such as Head Start and other early childhood opportunities, receive more widespread financial aid for higher education, receive youth job training, and be able to access more health care and nutrition programs.
"Congress made a critical investment in our children and families by voting for a recovery package that will help create jobs and invest in programs that will improve the well-being of children and families in these uncertain economic times. Investing in children not only makes good economic sense, but also gives our kids a real chance to succeed in school, work and life," said Bill Bentley, CEO of Voices for America's Children, a national organization of child advocacy groups.
"We're grateful to our new House representatives for supporting this important legislation. It shows that they understand the need for investment in our nation's greatest resource – our children," said Bradley.
The American Recovery and Reinvestment Act handily passed the U.S. House of Representatives 244-to-188. All three members of the New Mexico delegation voted in favor of the legislation. The Senate is expected to vote on the measure next Wednesday.
New Mexico Voices for Children is a nonpartisan, nonprofit organization advocating for policies to improve the health and well-being of New Mexico's children, families and communities.
2340 Alamo SE, Suite 120
Albuquerque, NM 87106-3523
505-244-9505 (p)
www.nmvoices.org
January 30, 2009 at 08:30 AM in Economy, Populism, Education, Healthcare, NM Congressional Delegation, Poverty, Youth | Permalink | Comments (1)
Thursday, January 29, 2009
Rep. Steinborn Introduces Memorial to Study Extension of Railrunner to Las Cruces
The Doña Ana County legislative delegates led by Rep. Jeff Steinborn (D-Las Cruces) have introduced a bill today calling on the New Mexico Department of Transportation to conduct a feasibility study to extend the Rail Runner to Las Cruces.
In a press release, Rep. Steinborn said, "The Rail Runner has already been extended to Santa Fe and coming from the second largest city in the state, we believe that Las Cruces should be the next extension on the line. Linking New Mexico north to south would provide enormous economic development statewide." He added, "This is a long-term project, but clearly Las Cruces has to make their desire to extend the Rail Runner known now. We stand united in making this happen in our community."
The bill is House Joint Memorial 26 – Rail Runner from Santa Fe to Las Cruces.
The joint memorial specifically asks that the department of transportation be requested to complete a feasibility study to determine possible routes, optimum frequency of trips and potential costs of extending the Rail Runner Express from Santa Fe to Las Cruces.
It also specifies that the study should create plans that can be set into action to maximize the use of possible funds that the federal government may make available in the future for public transit systems. And, further, that those plans should also consider the need to ease the congestion on state highways running from Santa Fe in northern New Mexico to Las Cruces in southern New Mexico to reduce the need for expansion of highways and the costs of maintaining those highways.
The memorial also directs that the feasibility study, when complete, be presented to appropriate legislative interim committees by November 2010.

January 29, 2009 at 05:56 PM in NM Legislature 2009, Transportation | Permalink | Comments (4)
Today's Must Read: The Realities of "Free" Trade
Harold Meyerson is one of my favorite political columnists, and his piece this week tells it like it is regarding the global financial crisis, tapping into the perspective of someone who helped establish our trade framework and who once expected it to have a positive effect on the U.S.
Meyerson discusses Robert Cassidy's now negative judgments about the impacts of "free" trade -- especially with China -- on the U.S. economy. Cassidy was the chief U.S. negotiator on China's 1999 market access agreement with the United States -- the document that was the basis for Congress's extension of permanent normalized trade relations to China, which in turn enabled China to join the World Trade Organization. I encourage you to read the entire column, but here are a few nuggets to get you started:
Speaking yesterday at the Economic Policy Institute, a liberal think tank, Cassidy noted how the promises made when the Clinton administration was promoting China's accession to the WTO have been turned on their head. "Claims were made that U.S. exports of goods to China would increase substantially," he recalled, "creating jobs in the higher-paying export sector." Instead, American manufacturers shuttered factories here and opened them in China, while China's undervaluation of its currency guaranteed that U.S. products would not be sold there. Indeed, Cassidy added, U.S. exports to China "consist primarily of raw materials" -- hardly the product of superior U.S. technology and production.

... the economic relationship between the United States and China is the linchpin of the global economy -- that is, a central cause of the global economic crisis. China produces and we consume; China takes the proceeds from our consumption and lends it back to us, not so we can produce more -- American multinationals would prefer the Chinese do that -- but so we can take on more debt and continue to consume.

... The next time we turn our attention to crafting a new linchpin for the global economy, Cassidy says, we need to do better. He contends that the new administration and Congress can invoke anti-dumping laws to mitigate the unfair competition that results from China's currency policy. More elementally, he argues, U.S. trade policy should be based on America's economic self-interest. It speaks volumes about the last couple of decades of U.S. trade policy that the man who negotiated many key points of that policy now thinks that they were calculated not to enhance our national interest but, rather, those of U.S. financial and corporate interests.
January 29, 2009 at 02:40 PM in Economy, Populism, International Relations, Media | Permalink | Comments (2)