Tuesday, November 04, 2008
Guest Blog: All Over But the Waiting

Rachel talks about Obama and what his election will mean
This is another guest blog by our friend Rachel N. Rodriguez of Albuquerque, who has been volunteering at the Albuquerque Nob Hill office of the Obama campaign for months. Also check out her previous guest blogs on her experiences with the Obama campaign here and here.
Well, I'm done. There's nothing more to be done but HOPE that all the work we've done will MAKE A DIFFERENCE. Now, I am just sitting and watching a lot of tv and monitoring far too many websites.
This most historic election morning began with a countdown to the opening of the polls. A little anxious, excited cheer was let out at 7 AM. So much resting on the outcome of this day, so I went back to that beautiful "Yes We Can" video to help calm and center me.
By 9 AM, I had the kiddos in the car, heading out to my first shift of "poll checking" for the Obama campaign. I won't explain that all here, but it was a piece of the GOTV that I was happy and proud to be a part of. And keeping busy today was key for me!
Most striking today, as the kids and I traveled back and forth between the Nob Hill Obama office and the polling place nearby and around the UNM/Nob Hill area – so much honking and excitement, signs and banners – for Obama. It was so moving. People connected with the campaign and people standing on street corners by themselves, encouraging their fellow citizens to vote.
What an amazing time we live in.
Rachel N. Rodriguez, rachelnrodriguez AT yahoo DOT COM
November 4, 2008 at 06:07 PM in 2008 General Election Voting, 2008 General Presidential Election, Guest Blogger | Permalink | Comments (1)
Voting in Ward 24A, Precinct 462, Albuquerque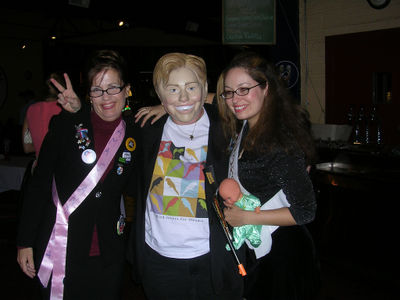 Hillary was sandwiched by two Palins at Kelly's last Friday
Mission accomplished! We voted at about 11:30 AM today at Sombra del Monte elementary as part of Precinct 462 in Ward 24A in the Northeast Heights in Albuquerque. Our ballots were numbered the 59th and 60th in our Precinct. No lines. No fuss. No muss. The optical scanner took each of our ballots on the first try. The scene was typical for our polling place on Election Day as so many in our area vote absentee and, this year, I'm sure many voted early. Sheesh, it felt good to finally fill in those circles on the paper ballot!
We drove past a few other polling places in the far and near Heights and it was a similar scene. A fair number of parked cars, but no lines. We also scanned the Plumbers and Pipefitters Hall and the office of the Democratic Party of New Mexico, both on San Pedro near Zuni. Lots of cars in the parking lots; apparent that many were out doing GOTV in the neighborhoods. Same thing at the Obama campaign office in Nob Hill, where there were tables set up outside for canvassers to check in and out.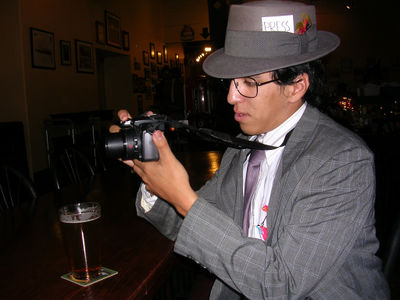 Clark Kent was out and about Friday too. Watch out for him at the DPNM party at the Convention Center tonight
In cruising around various neighborhoods, we saw WAY more Obama signs than McCain ones. There were also signifcantly more Tom Udall and Jason Marks signs than their opponents. There were fewer Heinrich signs, especially near polling places, where there were often lots of White signs packed together. 
We rode around Tim Eichenberg's district and saw his distinctive red signs all over the place, in a variety of sizes. We didn't see one single Diane Snyder sign. All rather surprising (and satisfying), considering how Republican much of the NE Heights has been in recent years. We even saw one car with a Republicans for Obama bumpersticker and traded horn beeps with the driver.
Mary Ellen's car is packed with stickers, but the only negative attention we got was from a toothless guy who put his head out his car window  and yelled at us to "stick it."
Tick, tock. Returns from Eastern states will start rolling in a bit after 5:00 PM Mountain time. Then the nervewracking count will begin. Check out the Daily Kos Election Guide or the Swing State Project map to see which states will be reporting early on.
Photos by M.E. Broderick. Do you recognize the costumed Democrats? Click to see more from the Obama Halloween gathering at Kelly's last Friday.
November 4, 2008 at 02:29 PM in 2008 General Election Voting, 2008 General Presidential Election, Obama NM Campaign | Permalink | Comments (3)
One More Time: Fired Up, Ready to Go
Go ahead and click it. You know you want to. Then go take advantage of your last chance to VOLUNTEER.
November 4, 2008 at 10:32 AM in 2008 General Election Voting, 2008 General Presidential Election, Music, Obama NM Campaign | Permalink | Comments (0)
Obama Ground Game in Action in Hoffmantown
Mary Ellen and I didn't vote early, even though we've encouraged folks to do just that. We like to go to our polling place in Hoffmantown in Albuquerque on election day, and we'll do so soon and let you know how it went.
We just had two very enthusiastic women at our door urging us to vote Obama. They were sporting big grins and were covered in buttons from all the candidates. They said the energy at the local Campaign for Change office on Menaul was ramped up to the max. We have Obama window and lawn signs, plus signs for Martin Heinrich, Tom Udall and Jason Marks out front, so the volunteers were pumped about that. We're easy marks, but they warned they'd be back if we didn't vote by this afternoon. The Obama ground game is rolling in the Northeast Heights!
We also had some Obama vols at the door this weekend, and a guy at our door yesterday at about 6:00 PM. We received another robocall from Obama this morning. Yesterday we had recorded messages from Barack (2), Michelle, Hillary Clinton, Joe Biden, Tom Udall (2), Jason Marks and, I think, Gov. Richardson and/or Lt. Gov. Diane Denish. It all starts to be a blur.
Voting today? What's your experience?
November 4, 2008 at 10:08 AM in 2008 General Election Voting, 2008 General Presidential Election, Obama NM Campaign | Permalink | Comments (0)
Howard Dean Says VOTE

Questions? Call 1-877-US-4-OBAMA
So many of us have been Howard Empowered since 2003, and today is when the profound benefits of his grassroots and netroots party building and 50-state strategy will -- if all goes well -- result in Democratic victories all around the nation, up and down ticket. The Obama campaign amplified, expanded and perfected many of the tools and tactics that emerged during the Dean campaign for president. As a result, a relative handful of activists has turned into a tsunami, thousands of small online donations turned into milliions and a minuscule blogosphere turned into a massive national phenomenon.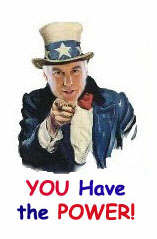 The netroots helped Dean get elected as DNC Chair. And there are now numerous former Deaniacs active in the Dem Party structure, chairing precincts and wards, serving on state and county central committees, representing progresssives on rules and platform committes and volunteering all over the nation. Dean supporters and staffers populate numerous campaign offices and many have run for office themselves. A ton of folks who got their political legs in the Dean campaign were elected as delegates to the Dem Convention in Denver in August, and Dean made sure that more bloggers than ever before were granted press credentials to cover the event -- including me.
Dean for America morphed into Democracy for America, and many of the Meetups that originated in 2003 continue today -- including the DFA-DFNM Meetup here in Albuquerque.
It's been a long, strange trip alright, an intense but rewarding roller coaster ride through the modern political landscape. When (alright, if) we win today it will be a dream come true for many, a reward for years of hard work and dedication. But it will also mean the start of another round of activism to keep our elected officials accountable, our government transparently righteous and much needed progressive policies on the front burner. It will require the recruitment and empowerment of even more grassroots and netroots activists. After a well deserved break, the work of democracy will begin again. We have made real progress in our quest to Take Our Country Back, but we've really only just begun. Are you ready?
November 4, 2008 at 08:56 AM in 2008 General Election Voting, 2008 General Presidential Election, Democratic Party, DFA, DFNM - Albq, MeetUp, Progressivism | Permalink | Comments (0)
Monday, November 03, 2008
(Updated) November 4, 2008: Where and When Do I Vote in New Mexico?
Update: According to Brian Colón, chairman of the Democratic Party of New Mexico, if you requested an absentee ballot and did not receive it, you can still vote today until 7:00 PM at your designated polling place. If you received your absentee ballot today or previously, you can drop it off at your polling site or your County Clerk Office.
If you have questions, contact the Democratic Party at 877-NM-CHANGE or nm.voteforchange.com.
***********
The polls are open tomorrow, November 4, 2008, from 7:00 AM to 7:00 PM. If you are in line by 7:00 PM, you will be allowed to vote. Most people do NOT need to present an ID as long as the voter says or writes his or her name, registration address, and year of birth when they sign in. If you'd prefer not to do that, you can present an ID. The only folks who need to show ID are first-time voters who registered by mail. You can read the rules about that here.
The easiest way to find your polling place is probably to enter your info at the Obama campaign's Vote for Change tool. You can also request a ride to the polls there.
In Bernalillo County, you can visit www.bernco.gov/wherevote/ to find the location of your polling place and see a sample ballot at the same time. In Albuquerque, you can also call the city's 311 number.
You can call your County Clerk's Office for your polling place or other election info.
You can check your registration and find your polling place at New Mexico's Voter View website.
You can see sample ballots for every county at the Secretary of State's website.
If you run into problems or have questions about voting, call the Election Protection Hotline at 1-866-OUR-VOTE. See my previous post for more info on that. You can get your polling place location from them or look it up here.
You can also call any of the candidate campaign offices or the Democratic Party of New Mexico. Google to find their websites where you can get their contact info.
November 3, 2008 at 08:23 PM in 2008 General Election Voting, 2008 General Presidential Election, Election Reform & Voting | Permalink | Comments (0)
Protect the Vote: 1-866-OUR-VOTE
There are rumors swirling that GOP operatives may attempt to suppress the vote tomorrow by slowing things down at polling places as they mount large-scale challenges to potential voters. As we know, the GOP machine appears ready to do almost anything, no matter how bogus, to try and win, legal or not. Be forewarned and ready to fight back.
Today, the NMI reports that, "A local private investigator was contacted by a man recruiting on behalf of the Republican National Committee, looking for private investigators to advise poll challengers on election day. The investigator, David O'Niell, says he's worried that RNC may be using private investigators to help with so-called vote caging, a method of vote suppression."
So, keep an eye out tomorrow for "dirty tricks" at your polling place -- and follow this advice from Common Cause if you spot or experience anything odd:
If you are heading to the polls tomorrow, please be sure to take this number with you: 1-866-OUR-VOTE (1-866-687-8683). This national, toll-free election protection hotline can help with any voting-related questions or problems you might encounter.

Before going to vote, please be sure to:

* Find out in advance where your polling place is. You can call 1-866-OUR-VOTE to find your polling place and confirm your registration, or look up your voting location here.
* Know what you need to bring to the polls. Check out our website for state-by-state voting information.
* Give yourself plenty of time to vote. Lines will likely be long in many places. 
You can help Protect the Vote by passing the 1-866-OUR-VOTE hotline number on to everyone you know who will be voting tomorrow. The national election protection coalition, which Common Cause is proud to be part of, is committed to making sure every eligible voter is able to cast a ballot, and every ballot is counted accurately. If there are problems on Election Day, we want to be able to get to the bottom of them as fast as possible.

Also, Common Cause will hold an hour-long briefing call on Election Day at 5:30pm eastern time for all members and activists to talk about what we're hearing and seeing around the country. We'll have representatives from our national office on the line to talk about big-picture trends, and our staff who are on the ground in states like Ohio, Florida, Colorado and North Carolina to give reports from the field. 

Please RSVP now, and we'll send you the toll-free dial-in information. We will take questions at the end of the call; however, please do not wait for this briefing call if you have a problem to report. Call the Election Protection hotline at 1-866-OUR-VOTE to relay any problems in your area.

Thanks for all you do,
Susannah Goodman
and the rest of the team at Common Cause

P.S. Here are a few more ways that you can help Protect the Vote tomorrow:

* TwitterVoteReport.com: Use your Twitter account, cell phone or any touch-tone phone to report on your voting experience. It's easy -- click here for more information about how to "Tweet Your Vote".
* MyFairElection.com: Rate your polling place and your experience of voting. Your rating and those of other voters will produce a real-time map of voting conditions throughout the country on November 4.
November 3, 2008 at 01:50 PM in 2008 General Election Voting, 2008 General Presidential Election | Permalink | Comments (1)
Saturday, November 01, 2008
NM-03: Albuquerque Journal Endorses Luján; Candidate Has Packed Saturday Schedule
The Albuquerque Journal today endorsed Democrat Ben Ray Luján for Congress in NM-03. You can read their their editorial below the jump.
As I'm sure you've noticed, this election season has been packed with campaign events, canvasses and rallies of all kinds, and now it's time for the last big push. Democrats will be out in force working hard in every race on the ticket from now thru election day, and NM-03 Congressional candidate Ben Ray Luján is no exception.
Today, on the last day for Early Voting (click to find locations and hours), Ben Ray will attend several Get Out The Vote events including an early vote rally with Los Angeles Mayor Antonio Villaraigosa, Senator Jeff Bingaman and Rep. Tom Udall. After the rally, Luján will cast his vote early and reach out to voters in Santa Fe. Check out his packed schedule:
Full Schedule: Saturday, November 1:
9:00-10:30 AM: Early Vote Rally, Los Angeles Mayor Antonio Villaraigosa, Sen. Jeff Bingaman, Rep. Tom Udall and Commissioner Ben Ray Luján, Democratic Coordinated Campaign Headquarters, Plaza del Sol Shopping Center, 720 St. Michaels Drive, Santa Fe
11:00-11:30 AM: Ben Ray Luján will vote at the Santa Fe County Clerk's Office, 102 Grant Ave., Santa Fe
11:30 AM-1:00 PM: Ben Ray Luján will visit the Santa Fe Farmer's Market and talk to attendees
1:00-3:00 PM: Ben Ray Luján will knock on doors of undecided voters in Santa Fe
3:45-5:00 pPM Ben Ray Luján will speak to canvassers at the Santa Fe Obama Headquarters and join them to knock on doors, Santa Fe Obama Field Office, 3494 Zafarano Drive, Suite B, Santa Fe
Albuquerque Journal Endorsement: November 1, 2008
3rd DISTRICT: Ben Ray Luján — There is a reason Luján dominated a tough, six-way primary battle for the Democratic nomination to the U.S. House seat in the 3rd Congressional District. Luján won 41 percent of the primary vote because he is a good fit for the district.
Back when the war in Iraq was the No. 1 issue on voters' minds, Luján was calling for an end to it — just like most northern New Mexicans. When the top issue switched to high gas prices and U.S. dependence on foreign oil, Luján favored renewable energy development over oil drilling. While that tends to track thinking in much of his district outside the Farmington area, he will need to be open to a "do it all" energy policy so essential to the nation's security.
A member of the Public Regulation Commission, he is on track with his suggestion that the national research laboratories should play a leading role in wind and solar energy technology.
Now, of course, the top issue is the economy.
With home values collapsing and job security shaken, the district needs an advocate in Washington who will be able to work with the House majority from Day One.
The Journal endorses Ben Ray Luján for the job.
November 1, 2008 at 11:05 AM in 2008 General Election Voting, Events, NM-03 Congressional Race 2008 | Permalink | Comments (2)
Friday, October 31, 2008
Today: LA Mayor Villaraigosa at UNM; Countdown to Change Halloween Party at Kelly's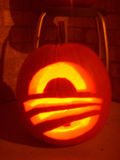 HALLOWEEN COUNTDOWN TO CHANGE PARTY AT KELLY'S TONIGHT WITH LA MAYOR ANTONIO VILLARAIGOSA: Tonight (Friday), 6-9 PM: Kelly's, 3222 Central, Nob Hill. Come party with us and the Mayor of Los Angeles before you head out for Halloween night! We know you have other parties to go to, but you can come stop by ours first! Food, music, drinks!! (Stickers and temporary tattoos!!) ALL AGES! More info at Facebook.
LOS ANGELES MAYOR ANTONIO VILLARAIGOSA AT UNIVERSITY OF NEW MEXICO: Campaign for Change table in front of the UNM Student Union. TODAY (Friday) at 3 PM! PLEASE JOIN US!! Come meet one of the nation's most respected and charismatic Mayors at UNM!
Matt Haney, Youth Vote Director, mhaney@nmforchange.com, 505-553-6860. Sign up to VOLUNTEER for the last four days!
October 31, 2008 at 12:41 PM in 2008 General Election Voting, 2008 General Presidential Election, Events, Obama NM Campaign | Permalink | Comments (0)
Saturday: Mayor Villaraigosa, Sen. Bingaman, Rep. Udall GOTV for Obama

MAKE A CHOICE!
LA Mayor Antonio Villaraigosa, joined by Sen. Jeff Bingaman and Rep. Tom Udall, will kick-off canvassing efforts in Santa Fe, get out the vote in Albuquerque, and encourage local residents to cast their ballots on the last day of Early Vote.
Voters can find Early Vote locations and polling places by coming into any Campaign for Change office, visiting their county clerk's office, going to www.voteforchange.com or calling 1-877-NM-CHANGE.
Saturday, November 1st:
9:00-9:45 AM, SANTA FE CANVASS KICKOFF
Santa Fe Campaign For Change Office
720 St. Michaels Drive, Suite 2L
11:00-11:45 AM, ALBUQUERQUE EARLY VOTE RALLY
Congress Heights Park (corner of Congress and Irving)
October 31, 2008 at 12:12 PM in 2008 General Election Voting, 2008 General Presidential Election, 2008 NM Senate Race, Events, Obama NM Campaign | Permalink | Comments (0)
I WILL VOTE (The Video); Saturday 11/1/08 Last Day to Early Vote
You might recognize three New Mexicans near the end of this video. Hi Michael - Hi Hector - Hi Debra! (Photos from the Dem Convention)
You have until 6:00 PM tomorrow, Saturday, November 1, to early vote in person. See my previous post for more info. Or you can text the word POLL and your zip code to MyTOM (69866) and they'll send you the address of your nearest early vote location. Or you can visit www.voteforchange.com, enter your info and learn where you can early vote.
October 31, 2008 at 10:01 AM in 2008 General Election Voting, 2008 General Presidential Election, Music, Visuals | Permalink | Comments (0)
Thursday, October 30, 2008
Friday: Meet Tom Udall Early Vote Events in Belen, ABQ
On Friday, you can meet U.S. Senate candidate Tom Udall at early voting events in Belen and Albuquerque. The first event will be at Rita's Restaurant at 221 S. Main St. in Belen from 8:30 to 9:30AM. The second will be held from 12:30 to 1:30 PM at Abuelita's Restaurant, 6083 Isleta Blvd. SW in Albuquerque.
October 30, 2008 at 06:45 PM in 2008 General Election Voting, 2008 NM Senate Race, Events | Permalink | Comments (0)