« Words With a Nice Ring: 'Obama Positioned to Quickly Reverse Bush Actions' | Main | It's a New Day »
Monday, November 10, 2008
SD 37: Rawson Goes Down to Defeat by Fischmann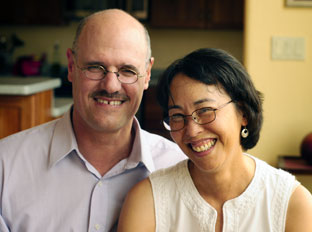 Steve Fischmann and wife Sandy
One of the most satisfying victories for Democrats has to be the defeat of longtime Republican State State Senator Leonard Lee Rawson, the Senate's minority whip, by Dem challenger Steve Fischmann in Senate Distict 37 in the Las Cruces area. Welcome to the New Mexico Legislature Senator-Elect Fischmann!
According to an article in the Las Cruces Sun-News, Fischmann won with a total of 13,131 votes or 51.1%, while Rawson got 12,587 votes or 48.9%. This tally represents unofficial results that now include almost all of the provisional and in-lieu-of ballots cast. Rawson has not yet publicly conceded defeat in the contest, and it's unknown whether he intends to pursue some kind of desperate legal action to try and muddy or overturn the results. I'm sure Rawson and GOP leaders are in shock over his loss.
You may recall that Rawson was supported by Dem Tim Jennings of Roswell, Senate President Pro-Tempore, in the form of a recorded robocall used in the waning days of the election. I've also heard that Jennings was featured in a radio ad defending Rawson, although that hasn't been confirmed. Jennings was soundly criticized by both Gov. Bill Richardson and Democratic Party of New Mexico Chairman Brian Colon for publicly advocating on behalf of Rawson in the closely contested battle between Rawson and Fischmann.  
Rawson was criticized on his ethics by opponents, including his involvement in obtaining a $100,000 appropriation to pave a road near a commercial development he owns that's located outside of the district he represents. Rawson was a high-ranking member of the Senate Finance Committee and served on a number of finance-related interim legislative committees.
Fischmann ran a campaign that stressed the need to better manage development, more closely monitor deals by the State Land Office, promote renewable and affordable energy, conserve New Mexico's unique public lands and increase access to health care in the state. He also supports ethics and campaign finance reform measures.
It will be fascinating to watch what will happen to Jennings' clout in the Senate given the backlash that's developed within the Dem caucus to his out-of-bounds support for a Republican candidate during a close election. Jennings relied on a coalition of Republicans and conservative Democrats to elect him Senate Pro-Tem.
Now Rawson has been replaced by a Dem, and reform-minded Dems Eric Griego and Tim Keller won Senate seats from status quo Dems James Taylor and Shannon Robinson. Also, Dem Tim Eichenberg defeated Repub Sen. Diane Snyder. And now it looks like Dem John Sapien has edged out Repub Sen. Steve Komadina. As a consequence, the balance of power within the State Senate is definitely in flux. Stay tuned.
Technorati tags:
November 10, 2008 at 09:29 AM in 2008 NM State Legislature Races, Democratic Party | Permalink
Comments
Jennings + Lieberman. He needs to be stripped of his leadership position stat.
Posted by: Proud Democrat | Nov 10, 2008 4:17:05 PM
Jennings has been pushing the envelope for a long time and helping his pals get bucks. He can't be allowed to keep his leadership post.
Posted by: L. Archuleta | Nov 10, 2008 4:26:49 PM
Good riddance to Rawson. All he did was look to take care of his friends and himself. He is like Shannon Robinson in that respect. Buh bye to both of them.
I met Fischmann and he should be an effective, honest lawmaker. That is a big improvement. We need more like him in SF.
Posted by: Roswell voter | Nov 10, 2008 6:09:20 PM
Post a comment