« Sunday in Denver: Confusion, Cops, But No Cigar | Main | Former Sen. Fred Harris: NM Superdelegate »
Monday, August 25, 2008
Monday: Dem Convention to be Gaveled to Order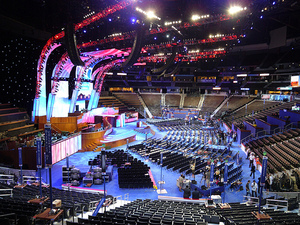 At long last, today's the day for the official opening of the Dem Convention in Denver, and we'll be on the floor with the New Mexico delegation. Here's a chart that shows where we'll be sitting. We have a great site on the floor of the Pepsi center right behind Indiana on the left-hand side if you're facing the stage, so keep an eye out. You can see where I think we'll be on the left side in that narrow section in the photo above of the Pepsi Center.
Michelle Obama is the headline speaker tonight, but many more notable Dems will take the stage starting at 3:00 PM MDT. Here's today's complete schedule for a day devoted to the theme "One Nation."
I'm very excited that Sen. Ted Kennedy is supposed to make an appearance here today during a tribute to his many acccomplishments and a speech by Caroline Kennedy. It's unclear whether Ted is well enough to speak, but we know if he can possibly manage it, he will. Either way, it'll be a moving, emotional moment and a chance to thank Sen. Kennedy for his long service to the nation.
Keith Little, Frank Willeto, Bill Toledo, Jimmy Begay of the Navajo Code Talkers Association will present the Colors. Former NM Attorney General Patricia Madrid will give the report on behalf of the DNC Platform Committee, probably around 5:00 PM our time.
You can watch rather minimal network coverage, more comprehensive cable news coverage, or watch it all gavel to gavel on C-SPAN TV or online, or on the official Democratic Convention site.
PS: We bumped into former Alabama Governor Don Siegelman today and managed to get a video interview. We hope to get it up later today or early tomorrow. As I'm sure many of you know, Siegelman clearly got railroaded by the Rove machine, which resulted in his conviction on trumped up charges. We'll also have some footage soon from this morning's NM Delegation breakfast, which featured a surprise appearance by Donna Brazile.

PSS: There are rumors going around that Bruce Springsteen and/or Jon Bon-Jovi will serenade Obama when he accepts the nomination at Mile High on Thursday. We'll keep you posted.
Technorati Tags:
August 25, 2008 at 12:52 PM in 2008 Democratic Convention, 2008 General Presidential Election, 2008 New Mexico Convention Delegation | Permalink
Comments
Post a comment