« NM-Sen, NM-02: Candidate Forums Set for Mescalero | Main | Gov. Richardson Calls 8.15.08 Special Legislative Session »
Saturday, July 19, 2008
Netroots Nation: Friday

Joe Trippi talks about where we stand
Well, it's Saturday and I'm finally getting around to posting some stuff about Friday at Netroots Nation. Better late than never! So much to do, so many people to talk to, only so much energy and then there's the dauntingly slow process of uploading photos and video. And the small matter of trying to be coherent after a day packed with politics.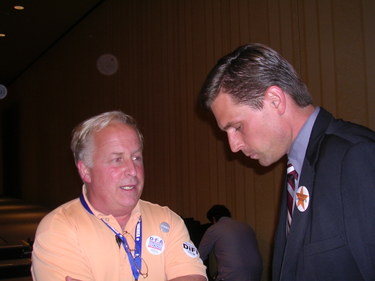 DFA's Jim Dean with NM-01 Congressional Candidate Martin Heinrich
We started Friday morning with a panel called From Dean to Obama: Four Years in the Internet Revolution with former Dean campaigners Joe Trippi, Zephyr Teachout, Karl Frisch (now of Media Matters) and Amanda Michel of Huffington Post's Off the Bus. These are some of the people who started it all and they had very postive things to say about where we're going. Hint: the change has just begun in bringing millions into netroots activism. The Dean campaign was like the Wright brothers. Obama's campaign is like the first trip around the moon. More to come that we can't even imagine now. Stay tuned.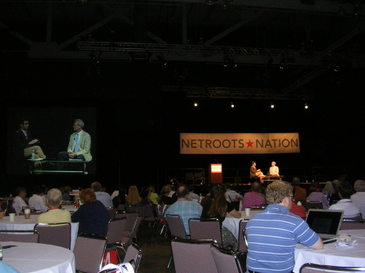 Sam Seder interviews former Gov. Don Siegel
Next up was Sam Seder's riveting interview with former Dem Governor (and former federal prisoner) Don Siegelman of Alabama. You can watch it here as live-streamed on Air America. It's definitely a must-see. The powerful injustice that is being done to this man by Karl Rove and a politicized Department of Justice should send chills down the spine of anyone who believes in the rule of law and our government's checks and balances. If it can happen to Siegelman, it can happen to anyone. Perhaps the saddest part is that the Democratic Congress is letting it happen without doing all it can to get to the bottom of this tragic case.
Visit DonSiegelman.org for an extensive archive of materials about Siegelman's case. Then make a point of going to http://ContemptForRove.com to urge your member of Congress to vote for contempt charges against Rove for refusing to honor a Congressional subpoena requiring him to answer questions about his role in the political targeting of Siegelman. Speaker of the House Nancy Pelosi will be answering questions at Netroot Nation tomorrow morning and you can rest assured she'll be asked to explain what she plans to do about Rove and the contempt charge he deserves.
Next up was a face-off between Markos Moulitsas of Daily Kos and DLC Chairman Harold Ford that was moderated by DFA's Executive Director Arshad Hasan. You can imagine who won. Ford was in tatters. Progressivism trumps Repub-lite "centrism" every time. At least at NN.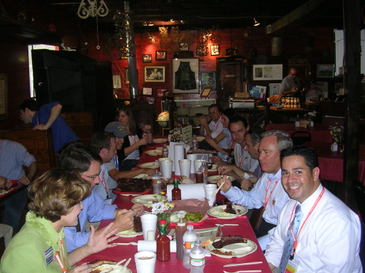 NM-03's Ben Ray Lujan (right) hosts luncheon for Congressional candidates and bloggers
Next came a luncheon at the Ironworks BBQ near the Convention Center that was organized by NM-03 Congressional candidate Ben Ray Lujan and his always on top of things staffer, Mark Nicastre. The event was designed to bring a small group of bloggers and candidates together for some relaxed dialogue.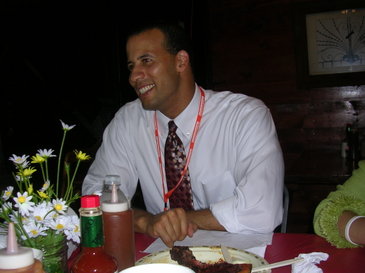 Dan Seals: charming, smart, Congressional Class '09
This event was a highlight for us as we happened to end up across the table from netroots champ Dan Seals, running for Congress in IL-10, and Annette Taddeo, a tough, progressive Dem who's challenging the 18-year Repub incumbent Ileana Ros-Lehtinen in FL-18. Nothing like eating sloppy BBQ with candidates to prompt candid discussions! These two were impressive indeed, strong on every progressive issue we raised. So were Jim Himes, trying to take down incumbent Repub Chris Shays in CT-04, and Russ Warner, who's battling the GOP incumbent in CA-26, David Dreier.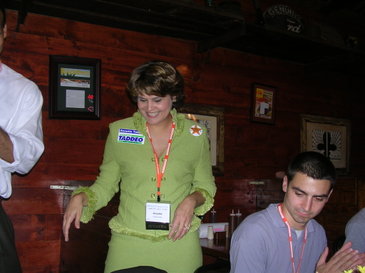 Annette Taddeo: South Florida's next Congresswoman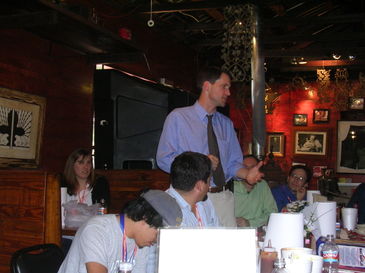 Jim Himes: Adios Chris Shays
I'll have more in the days to come on these candidates and the Netroots All-Star events from Friday. Right now, I'm going to relax a bit before more of Netroots Nation tonight. I feel I've earned it! Al Gore even made a surprise visit to speak to us this Saturday morning during Nancy Pelosi's event. It was exhillarating to say the least. More to come.
Technorati Tags: NetrootsNation08 NN8 Joe Trippi Zephyr Teachout Jim Dean Karl Frisch Howard Dean Martin Heinrich Ben Ray Lujan Sam Seder Don Siegelman Karl Rove Harold Ford Markos Dan Seals Annette Taddeo Russ Warner Jim Himes
July 19, 2008 at 05:13 PM in Netroots Nation | Permalink
Comments