« November 2006 | Main | January 2007 »
Sunday, December 31, 2006
Ending the Year with The Lynching
I couldn't end the year without tackling Saddam's "execution." We have come to this, and nobody in the mainstream media seems to have noticed. Dem politicos are silent. My thoughts exactly:
If you watch the video of the moments leading up to Saddam Hussein's execution, am I wrong that it bears a certain resemblance to the terrorist snuff films we've watched out of Iraq over the last three years? A dark, dank room. The executioners wear not uniforms of any sort, either civilian or military, but street clothes and ski masks. We now learn that the executioners were apparently taken from the population of southern Iraq, the country's Shi'a heartland, where Saddam's repression was most severe. And in an apt symbolic statement on what the Iraq War is about, two of the executioners who saw Saddam off started hailing Moktada al Sadr in Saddam's face as they prepared to hang him. Remember, al Sadr's Mahdi Army is the force the 'surge' of new US troops is meant to crush next year. That's where we are. --Josh Marshall, Talking Points Memo
This too:
I [once] watched the video of Berg's beheading and it literally made me sick to my stomach. Do not watch it. It's a barbaric, horrible display of inhumanity ... I'm sure the same people who couldn't stop watching that footage --- ostensibly because they were outraged by the atrocity --- are enjoying this footage of Saddam going to his death today. They aren't all that different. There's the same sense of frenetic excitement among the executioners, the same vivid emotion, the same fear in the soon to be executed man's face. I'm hard pressed to say how that kangaroo court and this rushed, chaotic execution represents something so different. Saddam was undoubtedly a guilty man --- but the execution was done with the same symbolic purpose --- and in much the same style --- as those psychos who executed Nick Berg on camera and then ghoulishly passed around the video to make their political point. -- digby at Hullabaloo
Tell me again about the "civilization" Bush keeps saying we are building there or protecting here. I seem to have lost all perspective.
December 31, 2006 at 08:36 PM in Iraq War | Permalink | Comments (4)
Dance of Life: 2007
This Mummers' Dance by Loreena McKennitt seemed perfect for part of a soundtrack for welcoming what so many of us hope will be a new year full of positive changes for the common good, for community and connection, for peace and reason, for justice and transcendence, for uniting in creative ways to view our problems and dreams with a fresh eye, with a stronger vision. There's a long tradition of mummer plays and dances, many involving the New Year. Maybe we need more of what's shown in this video -- playful yet somehow profound practices, ingrained deeply in the human persona over thousands of years, that knit people together. More role playing and joyfulness and rituals and rhythms and colors and art in our interactions, in our gatherings, in our imaginings. More flowing and floating, more drumming for momentum, more augmentation of the practical using the dramatic and the visceral.
We need something to jolt us out of our convention boxes, that seems clear. I hope we'll put some passion into shaping the events of 2007, as well as our responses to what emerges. I hope we'll try any and all tactics to break out of the traps of frustration and cynicism set by the forces of fear and destruction to convince us we're powerless, paralyzed, theirs. Let's dance together in life, of life, and nurture the energies of connection, of synergy, of tipping points, of transformation, wherever we may be in actual physical space. Then again, so much of who we are has to do with . Maybe all we need to do is move it up an octave....transcendent monkies! Happy New Year, 2007!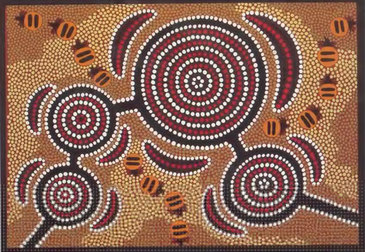 December 31, 2006 at 06:02 PM in Music, Visuals | Permalink | Comments (1)
2006 Lists: Best, Most, Tops, Predictions
Some best of, most whatever lists to browse as we savor the last of 2006 and open the door to 2007. With so many New Mexico roads still closed and so many streets still icy from our two-day record-breaking snowstorm, I imagine many will stay close to home tonight with lots of time to visit some of these:
Slate's Ten Most Outrageous Civil Liberties Violations of 2006
Netroots' Year in Review 2006 by firedoglake
Grist's David Roberts gives us the Top Ten Green Stories
Alternet offers the Most Popular Top Ten Lists of 2006
Jerry Ortiz y Pino's New Year's Predictions at the Alibi
Opinion Picks by Salon editors
The Alibi's Future is Now psychic predictions
The Huffington Post's Jane Smiley's Bingo Award for Most Informative Book of 2006
Riverbend at Baghdad Burning considers the madness that was 2006 in Iraq in her last post of the year
Crooks and Liars gives us Best Books of 2006 and Best Movies of 2006
The BBC reveals 100 Things We Didn't Know Last Year
Matacritic tabulates the Best Music of 2006 according to a range of critics, as well as lists from Billboard, Amazon, the New York Times and many others
Reuters' Best Pictures of the Year
Earthcam's New Year's Eve Webcams around the world
And if you still haven't gotten enough Albuquerque snow photos and comments, Duke City Fix is the place to go. Steve Terrell's Damien the Snowman series is also very cool.
Anyone else have any good New Year links?
December 31, 2006 at 05:20 PM in Current Affairs | Permalink | Comments (1)
The Real Iraq Surge = Death
"At least 80 Iraqis died in bombings and other attacks Saturday as they prepared to celebrate Islam's biggest holiday, their first without Saddam Hussein ... The military reported the deaths of six more American troops, making December the deadliest month this year for U.S. forces in Iraq ... Their deaths brought the December toll for U.S. troops to 109, making it the deadliest month of 2006 for American service members. Some 105 troops died in October ... At least 2,998 members of the U.S. military have been killed since the Iraq war began in March 2003, according to an Associated Press count." -- Yahoo News
REUTERS UPDATE 12.31.06: The U.S. military death toll in Iraq has reached 3,000, a grim and unwelcome milestone for President George W. Bush who is searching for a way to turn around the unpopular war even if it means sending more troops.
The Web site, www.icasualties.org, on Sunday listed the death of Spec. Dustin R. Donica, 22, on December 28 as previously unreported and said that 3,000 American military personnel had now died.
December 31, 2006 at 07:00 AM in Iraq War | Permalink | Comments (6)
Saturday, December 30, 2006
Free Online Video of 'An Inconvenient Truth' Now Available
You can now watch Al Gore's An Inconvenient Truth online, for free, courtesy of Climate Change Action. It's broken into nine parts. Another reason why we should ask all or friends, family, neighbors, coworkers, etc. to see it. Now. Also consider this.
December 30, 2006 at 09:04 PM in Environment, Film | Permalink | Comments (3)
Record Snows!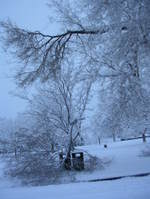 It's been snowing again in Albuquerque since yesterday morning, breaking records here and around the state. In our neighborhood in the NE Heights we have about 10-12 inches, making for some fabulous (and rare) sparkle scenes. People in colder, snowier parts of the nation might not be excited by these, but Albuquerque folks are always thrilled when it snows this much here in the high desert. We tend to get all mushy and romantic about it. Unless we're trying to drive somewhere that is....Last time I heard I-40 was still closed from here to the Texas border and I-25 from here to Colorado.
These are images from Mary Ellen's walks around the neighborhood last night and early this morning. She witnessed the fall of the big branch at our nearby park shown in the last photo and luckily wasn't standing closer when the weight of the wet, wet snow cracked it off and tossed it to the ground. (Click on images for larger versions.)
P.S. I see Duke City Fix has a link to a flickr photo group called Snow of the Century in Albuquerque that has a slew of fantastic shots taken by locals. Bravo!
And be sure to visit Taoseno FarrFeed's always riveting Fotofeed, which has a stunning collection of snow shots from Northern New Mexico spanning recent days. You can always visit Fotofeed via our link on the top right-hand sidebar on our main page.
There are even more snow shots at the Albuquerque flickr group worth a visit.
AREA FORECAST DISCUSSION
NATIONAL WEATHER SERVICE ALBUQUERQUE NM
257 PM MST SAT DEC 30 2006

RECORD BREAKING WINTER STORM CONTINUES TO PUMMEL PORTIONS OF NORTHERN NEW MEXICO. STORM TOTALS SO FAR ON THE ORDER OF 12-20 INCHES IN AND AROUND THE ABQ AREA WITH 18-26 INCHES IN AND AROUND SANTA FE. SOME PORTIONS OF THE EAST SLOPES OF THE SANGRE DE CRISTOS HAVE RECEIVED MORE THAN 30 INCHES OF SNOW. SNOW RATIOS APPEARED TO PAN OUT WITH 5-10 TO 1 FOR THE FIRST HALF OF THE STORM WITH 15-20 TO 1 FOR THE SECOND HALF. CAN ONLY IMAGINE IF ENTIRE STORM HAD BEEN ABOVE 10 TO 1. THE REAL HAZARD HOWEVER HAS BEEN IN AND AROUND THE CLAYTON AREA WHERE STRONG WIND AND HEAVY SNOW HAS CREATED DRIFTS TOPPING 10 FEET. WILL CONTINUE HEADLINES IN ALL AREAS WITH WRAP AROUND SNOWS AND DROPPED NORTHWEST PLATEAU...WEST CENTRAL AND SOUTHWEST MTNS. ADDITIONAL LIGHT TO MODERATE SNOWFALL ACCUMULATIONS ACROSS THE ABQ AND SAF AREAS ALONG WITH NE PLAINS OVERNIGHT WILL MAKE THIS STORM ONE TO REMEMBER FOR QUITE SOME TIME!
(If you missed them, here's some from our earlier post on the storm we had before Xmas and the icy aftermath.)
December 30, 2006 at 12:05 PM in Visuals | Permalink | Comments (3)
We Must Remember This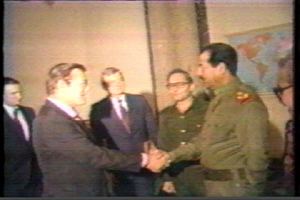 With all those of the hanging of Saddam circulating today, I think we should make a point of remembering this image of U.S. Special Envoy Donald Rumsfeld shaking hands with Hussein in 1983. Also check out this that travels down memory lane tracing America's relationship with Saddam. And don't miss today's post by Juan Cole, which summarizes the Top Ten Ways the US Enabled Saddam Hussein.
It's well documented that America provided Saddam's regime with intelligence and surveillance data for their war with Iran, as well as weaponry, bio-germs and WMD-related equipment, and who knows what other kinds of other help via the CIA over many years. Rummy's visit to Saddam occurred in an era when Iraq was using chemical weapons in attacks for which he later was indicted.
According to an article in the Guardian:
On November 1, 1983, the secretary of state, George Shultz, was passed intelligence reports of "almost daily use of CW [chemical weapons]" by Iraq.

However, 25 days later, Ronald Reagan signed a secret order instructing the administration to do "whatever was necessary and legal" to prevent Iraq losing the war.

In December Mr Rumsfeld, hired by President Reagan to serve as a Middle East troubleshooter, met Saddam Hussein in Baghdad and passed on the US willingness to help his regime and restore full diplomatic relations.

Mr. Rumsfeld has said that he "cautioned" the Iraqi leader against using banned weapons. But there was no mention of such a warning in state department notes of the meeting.
And the Washington Post reports:
Among the people instrumental in tilting U.S. policy toward Baghdad during the 1980-88 Iran-Iraq war was Donald H. Rumsfeld, now defense secretary, whose December 1983 meeting with Hussein as a special presidential envoy paved the way for normalization of U.S.-Iraqi relations. Declassified documents show that Rumsfeld traveled to Baghdad at a time when Iraq was using chemical weapons on an "almost daily" basis in defiance of international conventions.
...
The administrations of Ronald Reagan and George H.W. Bush authorized the sale to Iraq of numerous items that had both military and civilian applications, including poisonous chemicals and deadly biological viruses, such as anthrax and bubonic plague.
In addition to all the "help" we gave the regime prior to the current Iraq invasion, we can think about the noose tightening around Saddam's neck to the tune of at least a trillion U.S. dollars once all the costs are added up in this latest fiasco. And that's not counting the human value of all the lives lost or ruined by the war.
We made sure Saddam was hanged. We made sure Chile's recently departed butcher, Pinochet, was protected. Every time the same sorts of entitites gain financially. Every time innocent civilians suffer the brunt of the death and destruction. We help create the monsters, then we knock them down if necessary, "collateral damage" be damned. The war machine needs regular, generous feedings at almost any price -- morally or fiscally.
I strongly agree with Josh Marshall's take on the entire operation in Iraq. Excerpt:
This whole endeavor, from the very start, has been about taking tawdry, cheap acts and dressing them up in a papier-mache grandeur -- phony victory celebrations, ersatz democratization, reconstruction headed up by toadies, con artists and grifters ... this execution, ironically and pathetically, becomes a stand-in for the failures, incompetence and general betrayal of country on every other front that President Bush has brought us.

... This is what we're reduced to, what the president has reduced us to. This is the best we can do. Hang Saddam Hussein because there's nothing else this president can get right.
Finally, Robert Fisk weighs in, with his decades of wide, deep, personal experience in the region providing a special kind of clout reserved for onsite witnesses to history. See here and here.
December 30, 2006 at 09:56 AM in Iraq War | Permalink | Comments (0)
North Valley Pre-Legislative Forum Set for 1/4/07
North Valley Pre-Legislative Forum
Thursday, January 4, 2007, 7 to 9 PM
North Valley Senior Center - 3825 Fourth NW, ABQ
Invited guests include: Senator Dede Feldman, Senator John Ryan , Representative Ed Sandoval, Representative Rick Miera, Representative Teresa Zanetti, Senator Gerald Ortiz y Pino.
The 2007 Legislative Session begins on Tuesday, January 16, 2007. The session will last 60 days and many, many issues will be considered. The newspapers indicate that New Mexico will be able to address a lot of capital expense issues due to the continued larger than average state revenues. Will the issues addressed be the important ones? Will the spending be prioritized to address the important issues that really impact citizens of New Mexico or will "feel good or legacy items" take precedent over more important items?
What are the important issues for State Government? What health care changes are in the Governor's agenda? What changes are in store for our schools? What are your issues?
Attend the Forum! Find out what the Legislators have to say about North Valley issues and let them know what your opinion is!
If you have any questions or concerns for the Legislators send them back by email to Anvanews@aol.com and we will try to have them answered and we will get copies of them to the Legislators. Please share this information with your neighbors. Call 897-3052 for information. Sponsored by the Alameda North Valley Association.
December 30, 2006 at 09:55 AM in NM Legislature 2007 | Permalink | Comments (0)
Thursday, December 28, 2006
Edwards Joins Dem Prez Field, Hosts Live Online Town Hall Today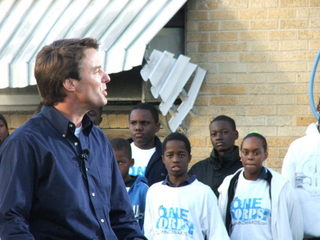 John Edwards officially announced his candidacy for president at a news conference this morning in the Ninth Ward in New Orleans, a fitting spot to launch a campaign that will focus on poverty and economic justice. CSPAN has the announcement video. My favorite line from the very informal speech: "Americans have to be patriotic about something besides war"
His new campaign website is at JohnEdwards.com/, where they'll be hosting a live online town hall meeting with Edwards today at 4:00 PM Mountain Time. He discusses his plans in this video, and here's a citizen vlog shot by one of his supporters at a clean-up event Edwards organized and helped with in the Ninth Ward yesterday.
Edwards joins two other Democrats who have formally announced they're running. Click for the campaign websites of Iowa's Tom Vilsack and Ohio's Dennis Kucinich. It's expected that a number of other Dems will jump in formally over the next couple of weeks, including our own Governor Bill Richardson.
December 28, 2006 at 12:53 PM in 2008 Presidential Primary | Permalink | Comments (1)
2006 Year in Review: Drum Major Institute
I like the year-end review produced by the Drum Major Institute, a progressive, populist think tank. Click to read or download the report, which emphasizes issues of social and economic justice -- sure to be major topics in the coming presidential race. It's broken down into the following categories:
The Executive Summary
The Best of Public Policy in 2006
The Worst of Public Policy in 2006
The State of the States (produced with Progressive States)
The DMI 2006 Injustice Index
Eye on the Right
DMI Interviews 8 People Advancing Progressive Public Policy in 2006
Hot List: The 2006 Required Reading List for Progressives
The Year in the Netroots
Voices of 2006
They deem 2006 'The Year of Systems Failure' because, "Most Americans were tired of the status quo—on the war, on the economy, on the lapsed ethics of those entrusted to represent our interests. The result: on Election Day, they rebooted, ready to try again."
Their choices for best national public policy this year? Legislation that would reverse the raid on student aid, protect access to the polls, shield troops from predatory lending, preserve a neutral internet, replace hunger with health and close the Medicare drug plan's donut hole.
I especially like their rundown on what right-wing think tanks are producing, as well as their Injustice Index, which includes these nuggets:
Wages that an average CEO earns before lunchtime: more than a full-time minimum wage worker makes in a year

Ratio of the average U.S. CEO's annual pay to a minimum wage worker's: 821:1

Percentage of women earning less than $40,000 per year who receive no paid vacation time at all: 37

Payment per episode that Donald Trump receives to host The Apprentice: $3,000,000

Estimated number of people lined up outside the new M&M store set to open in Times Square responding to ads for "on-the-spot" hiring for 200 jobs, 65 of which were fulltime: between 5,000 and 6,000. Starting salary that drew them there: $10.75 per hour

Number of households using credit to cover basic living expenses: 7 in 10

Amount in tax breaks and subsidies that last year's energy bill paid out to the gas and oil industry during a period of record profits and higher prices at the pump: $6 billion

Percent of African-American and Latino families that have zero or negative net worth, respectively: 31 and 38

Total Wal-Mart received in government subsidies, sometimes called "corporate welfare" by activists, in 2005: $3.75 billion

Percentage of the GDP that went to wages and salaries in the first half of 2006: 51.8

Time when the percentage of GDP belonging to wages and salaries was lower than in 2006, out of the 77 previous years for which these data are available: never

Percentage increase in out-of-pocket medical expenses for the average American in the past 5 years: 93

Estimated amount the U.S. would save each year on paperwork if it adopted single-payer health care: $161,000,000,000
December 28, 2006 at 11:48 AM in Economy, Populism, Public Policy | Permalink | Comments (2)