« Planning Meeting Set for Social Security Protest at Bush Event | Main | Uh Oh »
Sunday, March 20, 2005
Sunday Bird Blogging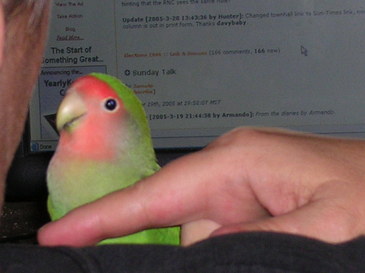 Bosco the peach-faced lovebird decided to join me for Sunday blog browsing this afternoon after we returned from a political rendezvous at Flying Star.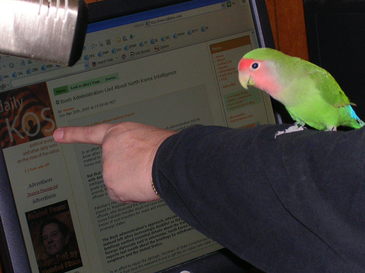 Bosco, like me, is a big fan of Daily Kos as you can see from the photo above. I'm pointing at the Kos logo to take Bosco's attention away from the face shot of Bug Man Delay down below. Every time Bosco sees that mug, he starts ranting and raving. Just like me. I guess you could say Bosco and I have alot in common, eh? (Click on photos for larger images.)
March 20, 2005 at 03:47 PM in Bird Blogging | Permalink
Comments
Bosco's got good taste. And you guys are doing a great job over there! Congrats on the recent successes. I wish I coulda joined you at Flying Star! Buddha Bowl with tofu--what better way to enjoy politics?
Posted by: Kathy | Mar 21, 2005 9:25:30 AM
Post a comment