« Albuquerque Count Our Vote Rally at Noon TODAY | Main | Richardson Slams Door on Recount Compromise »
Saturday, December 18, 2004
Picture of the Day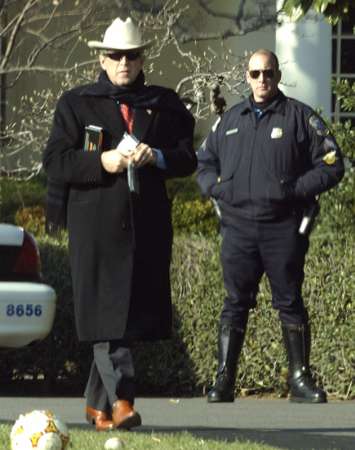 Something to help us remember why we are in this together, working so hard. What a fop.* I think the phrase "All Hat, No Cattle" was coined in his honor. Oilstore cowboy. Emphasis on the boy.
(Gracias to Digby at Hullaballo.)
*fop \FOP\, noun:
A man who is much concerned with his dress and appearance; a dandy.
Fop comes from Middle English fop, foppe, a fool.
[syn: dandy, dude, gallant, sheik, beau, swell, fashion plate, clotheshorse]
(From Dictionary.com)

December 18, 2004 at 09:36 PM in Visuals | Permalink
Comments
Your picture inspired this post. I figured you could use a laugh.
http://newvoiceofsensibility.blogspot.com/2004/12/conversations-with-george-w-bushs.html
Posted by: | Dec 20, 2004 4:20:11 PM
So glad I could be inspiring. So glad you could give me a chuckle! So sorry that Bush's hat is still riding the Fop O'the Year.
Posted by: barb | Dec 21, 2004 9:25:33 AM
Post a comment