« November 2004 | Main | January 2005 »
Tuesday, December 21, 2004
Happy Yule, and a Very Merry Winter Solstice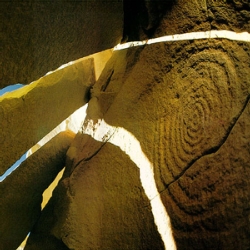 Winter solstice arrived at 5:42 AM (MST) today. Starting tomorrow, the days get longer and the nights get shorter.
Chaco Canyon was inhabited from the 9th century by people of the Anasazi (Early Pueblo) culture. Every year, at noon on the day of the winter soltice, light shining through stone slabs casts a wedge-shaped beam upon the center of a spiral etched into the rock (photo above). This spiral is believed to be a solstice marker created by this ancient culture. See the Solstice Project.
From the Odinist Forum: Except for the Nativity Scene and Christmas Mass, everything celebrated, practised and observed by Christians at the "Yule" (Winter Solstice) season, or so called "Christmas", was appropriated from Heathen/Pagan sources, i.e., the ancient Northern European, pre-Christian religion, in its various forms . . .

"Christmas" traditions with Heathen/Pagan origins…
Feasting
Gift giving
Singing
Tree decorating
Performing Religious Rites
Visiting Relatives and Friends
"Christmas" Parties
Eating "Christmas" ham
Eating "Christmas" Pudding
Drinking "Christmas" Punch
Father "Christmas" Reindeer
Burning a Yule Log
Hanging a "Christmas" Wreath
Hanging Mistletoe
Decorating with Holly
Lighting of Candles
The twelve days of "Christmas"
The word "Yule" or "Yuletide"
*****************
To celebrate Solstice Week, photographers all over the Earth are producing another World Wide Panorama. You can see their previous efforts. Photos for a winter's day. Enjoy.
December 21, 2004 at 01:23 PM in Current Affairs | Permalink | Comments (0)
Tell Blogpac What to Ask DNC Chair Candidates
Your chance to submit a question to the candidates for DNC Chair. From MyDD:
What would you ask a DNC candidate?

by
Chris Bowers
Blogpac plans to hold a series of group interviews with prospective candidates for DNC chair over the next few weeks. I want to know what you would like us to ask the candidates.
*******************
Note: Blogpac is described as:
Borne from those who spend their times online and embrace participatory media and politics, we will use online tools and technologies to further the cause of progressive politics in our nation.

BlogPac is, indeed, the first PAC to wage politics entirely online.

Here's a partial list of the bloggers behind BlogPac, those serving on the advisory board. Markos Moulitsas of Daily Kos, Jerome Armstrong of MyDD, Duncan Black of Atrios, Jeralyn Merritt of Talk Left, John Aravosis of AmericaBlog, Matt Stoller of BOP News, Anna of Annatopia, Jesse Taylor of Pandagon, Chris Bowers of MyDD, Steve Gilliard's News Blog & others that are aligned with the effort. We will have more info on the direction of BlogPac in the near future.
December 21, 2004 at 12:32 PM in Democratic Party | Permalink | Comments (1)
Desperately Seeking Senators
Progressive Democrats of America is asking progressives to urge Senators to challenge the Electoral College vote on January 6th. After you've read this post, go to the PDA website to take action, where they've made this easy to do.

From Progressive Democrats of America:

We all remember that early scene from Michael Moore's "Fahrenheit 911", where one African American after another stands up in the well of the House to challenge the Florida vote from 2000, only to be ruled out of order due to the lack of a single signature from a single Senator.

Not this time.

On January 6, 2005, the House and Senate will once again meet to consider the electoral vote count. And once again, that vote count is likely to be challenged by a group of progressive House members, who will make the case that the misallocation of voting machines (especially in Ohio), the abuse of provisional balloting in numerous states, and the refusal and/or inability to conduct the recount in an open and auditable manner in Ohio, in Florida, and in so many other key states, mean that the certified electors should not be seated.

This time, we want several U.S. Senators to join with them, to make a serious voting rights challenge that the entire world will hear. This time, we want so much polite-but-firm grassroots contact from progressive voters beforehand that a whole group of Senators will choose to stand up and fight for the voting rights of African-Americans, Latinos, and youth voters that the Republican Party targeted for disruption and disenfranchisement in the 2004 election.

This time, we want several U.S. Senators to join with them, to make a serious voting rights challenge that the entire world will hear. This time, we want so much polite-but-firm grassroots contact from progressive voters beforehand that a whole group of Senators will choose to stand up and fight for the voting rights of African-Americans, Latinos, and youth voters that the Republican Party targeted for disruption and disenfranchisement in the 2004 election.

Some who need to hear from us are new, such as Barak Obama of Illinois and Ken Salazar of Colorado. These new Senators could use cover from the new leadership of the Senate, especially Dick Durbin, who also hails from Obama's home state.

Some Senators depend on African American and Latino votes to be elected, and thus could be expected to stand up tall when voting rights issues are on the line, including Joe Biden of Delaware, Carl Levin of Michigan, Bill Nelson of Florida, Mary Landrieu of Louisiana, Jeff Bingaman of New Mexico, Barbara Mikulski and Paul Sarbanes of Maryland, Jon Corzine and Frank Lautenberg of New Jersey.

Senator Byrd of West Virginia was once a Klansman; but his eloquent leadership against the Iraq War has inspired us all, and he has the courage and fortitude to cap his career with an outspoken battle on behalf of abused African American voters. Senator Lieberman of Connecticut rightfully brags about his youthful efforts to register voters in the Old South in the 1960s; on 1/6/05, he will have the chance to demonstrate that his youthful idealism still survives.

There are Senators who are safe, and could do the right thing--like Chris Dodd of Connecticut, Daniel Inouye of Hawaii, Charles Schumer of New York, Jay Rockefeller of West Virginia, and Herb Kohl of Wisconsin.

There is Jim Jeffords of Vermont, an Independent who was brave enough to stand up to the Bush White House once before. There is Senator Lincoln Chafee, a Republican in a solid Democratic state, the namesake of Lincoln, a moderate caught in a far right party.

And, of course, there is John Kerry.

To remind them why they're in Washington, click here. Ask them to stand for every American's right to vote (and have it counted.)

Thank you for forwarding this action alert to your networks.

Standing tall in solidarity,

Tim Carpenter
Progressive Democrats of America
---
phone: (877) 368-9221
December 21, 2004 at 11:07 AM in Candidates & Races, Current Affairs | Permalink | Comments (0)
Monday, December 20, 2004
A Winnah!
A "gracias, muchacho" goes out to Jess of the local blog, Life Or Something Like It,for naming Democracy for New Mexico the Best Single Issue Blog. If you have a few minutes, go check out the rest of his awards and say hello to Jess. We've got to stick together in these frigid political times!
December 20, 2004 at 02:14 PM in Web/Tech | Permalink | Comments (3)
Foodboxes for Families
You may recall Dory and Elena presenting this DeanCorps idea at our DFA Meetup in Albuquerque this month. From Dory Shonagon:

Foodboxes for Families. This is a simple idea. Make up foodboxes for needy families and give them directly to the teachers and/or social workers in the schools, who know which families are most in need.
I have done this with one South Valley school and I think it is a great way to get food to the families, through the kids and teachers/social workers. This is espectially important at the end of the month, when food stamps run out, etc.
You can contact a local school directly and talk to teachers or social workers there. I would suggest picking a south valley school or one in a neighborhood where there is a high need for poor families.
I am also helping coordinate this by hooking teachers up with potential donors -- food or dollars for food. So if you need help doing this, please contact me. Or if you would like to contribute food or dollars for Foodboxes, please let me know.
We are trying to do this EVERY month, not just Christmas time. New Mexico has a large population of hungry kids. They need to eat every month, not just at Christmas time.
Please call or email me if you need help or information.
Dory Shonagon, 363-8488, dshonagon@earthlink.net
December 20, 2004 at 11:04 AM in DFNM - Albq, MeetUp | Permalink | Comments (1)
What Movie is Your Christmas Most Like?
Your Christmas is Most Like: A Charlie Brown Christmas
Each year, you really get into the spirit of Christmas. Which is much more important to you than nifty presents.
I guess I still haven't gotten over Time's choice of you know who for "Person of the Year." Or Richardson's refusal to allow even a limited recount. Or something. But I don't feel like posting anything political this morning. So instead I'm posting this silly quiz . And encouraging people to participate in our DeanCorps caroling tonight at various shelters in Albuquerque.
December 20, 2004 at 09:38 AM in Current Affairs | Permalink | Comments (0)
Sunday, December 19, 2004
Fop of Year is Now Time's Person of Year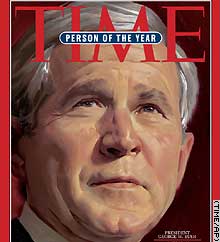 I can't even comment on this without spitting. Apparently we are now entirely in the new regime where facts and reality are irrelevant:
NEW YORK (Reuters) -- U.S. President George W. Bush's bold, uncompromising leadership and his clear-cut election victory made him Time magazine's Person of the Year for 2004, its managing editor said Sunday.
Time chose Bush "for sticking to his guns (literally and figuratively), for reshaping the rules of politics to fit his 10-gallon-hat leadership style and for persuading a majority of voters this time around that he deserved to be in the White House for another four years," Jim Kelly wrote in the magazine.
Personally, I think they should have used this picture for the cover: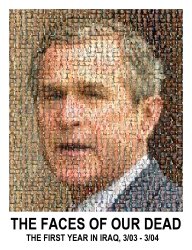 December 19, 2004 at 12:31 PM | Permalink | Comments (4)
Richardson Slams Door on Recount Compromise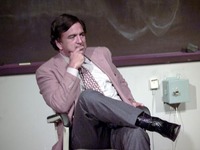 According to an article in this morning's Albuquerque Journal, Governor Bill Richardson has slammed the door on any compromise with the Green and Libertarian candidiates that would allow a partial recount in New Mexico's presidential election.
Richardson is quoted in the article as saying,
"I'm not accepting the compromise," Richardson said. "It's time to move on. Let them have a full recount, if they can come up with the money."
Ain't he sweet.
An appeal by the Green and Libertarian parties of the $1.4M advance payment requirement is before the NM Supreme Court. Although no hearing has yet been set, the court issued an order on Friday ordering the canvassing board to respond in writing to the lawsuit by Noon on Wednesday, December 22.
At a meeting of the Democratic Party of Bernalillo this past week, attendees got the Party line from Party officials about Richardson's decision on the recount -- he's doing the right thing by protecting New Mexican taxpayers from footing a million dollar bill for the recount! And there's no use fighting the decision because, well, you know why.
From the reactions of what seemed to be a majority of the crowd at that Party meeting, the Democratic Wing of the Democratic Party isn't happy, to say the least, about the responses of the DNC, Kerry and Richardson to the voting problems being uncovered and documented almost daily in several states. If the Democratic Party won't stand up for fair elections and against voter suppression, who will?
I think this issue is one that could have helped build a good working relationship between the mainstream Democratic Party and the grassroots activists, volunteers and small donors who gave uncountable hours of volunteer time and between $30 and $50 millon in donations to the cause during the presidential race. Instead, the dismissive positions taken by Richardson and others will only serve to push people away from supporting the Party and guarantee that people will reserve alot of their faith, money and sweat for helping progressive groups increase their clout and leverage. What other choice to do we have?
December 19, 2004 at 11:09 AM in Candidates & Races, Local Politics | Permalink | Comments (1)
Saturday, December 18, 2004
Picture of the Day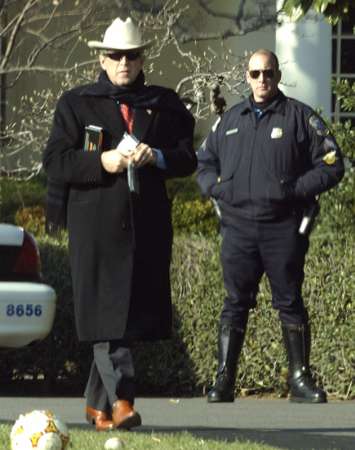 Something to help us remember why we are in this together, working so hard. What a fop.* I think the phrase "All Hat, No Cattle" was coined in his honor. Oilstore cowboy. Emphasis on the boy.
(Gracias to Digby at Hullaballo.)
*fop \FOP\, noun:
A man who is much concerned with his dress and appearance; a dandy.
Fop comes from Middle English fop, foppe, a fool.
[syn: dandy, dude, gallant, sheik, beau, swell, fashion plate, clotheshorse]
(From Dictionary.com)

December 18, 2004 at 09:36 PM in Visuals | Permalink | Comments (2)
Albuquerque Count Our Vote Rally at Noon TODAY
There's planning going on to have an Albuquerque version of the Count Our Vote rally that's happening at the Roundhouse in Santa Fe at Noon Sunday 12/19. In Albuquerque, the protest would be at the Federal courthouse downtown at Noon. For more information call Casey Reed, who's involved in the NM recount effort, at 505-344-8492.

UPDATE: The Albuquerque protest is on. Bring your signs and yourself to Lomas and Fourth Street downtown at the Courthouse at Noon.
December 18, 2004 at 02:27 PM in Events, Local Politics | Permalink | Comments (0)
Adios Moyers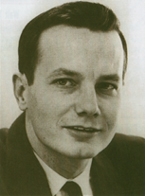 Last night Bill Moyers said goodbye to his PBS show "NOW" with a focus on the debilitating effects big media is having on our democracy. You can catch a rerun of his last show on Sunday morning at 8:00 AM in New Mexico, or read the transcript and other materials at the NOW website. Next season, NOW will be reduced to a half-hour program hosted by David Brancaccio.

Recently, Moyers won the Global Environment Citizen Award from the Ceter for Health and the Global Environment at Harvard Medical School. In his acceptance speech he gave a hair-raising assessment of where we stand today: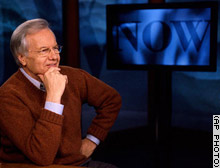 "One of the biggest changes in politics in my lifetime is that the delusional is no longer marginal. It has come in from the fringe, to sit in the seat of power in the Oval Office and in Congress. For the first time in our history, ideology and theology hold a monopoly of power in Washington. Theology asserts propositions that cannot be proven true; ideologues hold stoutly to a world view despite being contradicted by what is generally accepted as reality. When ideology and theology couple, their offspring are not always bad but they are always blind. And there is the danger: voters and politicians alike, oblivious to the facts."
If you're feeling sufficiently balanced and centered, give a read to his entire speech, entitled "Battlefield Earth."
December 18, 2004 at 11:44 AM in Media | Permalink | Comments (0)
Friday, December 17, 2004
Green Green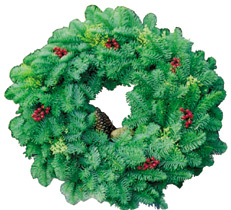 Passed along from Green sources by Eric Elison:
As of this writing, the Supreme court has not responded to our petition for a hearing.
In the meantime, the Green Party of Santa Fe would like to invite you all to our holiday party, Saturday evening, beginning at 4:30 PM, Dec 18, at the Commons, 2300 W. Alameda. It's pot luck, so if you have a favorite dish, please bring it along. If you want to stay over, please let us know as soon as possible, so we can make arrangements.
We really appreciate the enthusiastic response to the recount, and this is one way we say 'thank you'. Hope to see you there. For more info, call Rick Lass, 982-2478, 920-0540
************************************************************
Count Our Votes!

JOIN THE RALLY

At the State Capitol, Santa Fe, East Entrance

Sunday, December 19th, At Noon

SUPPORT THE RECOUNT IN NM

IF THE UKRAINIANS CAN DO IT

SO CAN WE

Find out how you can help support the NM recount
Find out what other States are doing
START ORGANIZING
Get educated,
be part of the process
FIND OUT WHAT YOU CAN DO

Speakers:
Paul Christie, PACE
Rick Lass: Green Party Santa Fe

Sponsored by: The Green Parties of Taos & Santa Fe, Veterans for Peace Santa Fe Chapter #55, and VerifiedVotingNM

Contact 505-776-2836 for more information.
December 17, 2004 at 12:37 PM in Events, Local Politics | Permalink | Comments (0)