« November 2004 | Main | January 2005 »
Friday, December 31, 2004
The Earth Feels Old Tonight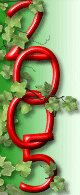 May Sarton's 1937 New Year's Greeting
The earth feels old tonight
And we who live and stand on the cold rim
Face a new year.
It is raining everywhere
As if the rain were mercy,
As if the rain were peace,
Peace falling on our hair.
Open your hearts tonight, let them burn!
Let them light a way in the dark.
Let them one by one affirm there is hope for a staff:
I say it will flower in our hands,
We shall go garlanded.
There is the fine fresh stuff of faith for a coat:
We shall go warm.
We shall go on by the light of our hearts.
We shall burn mightily in the new year.
We shall go on together.
O you who stand alone on the rim of the earth and are cold,

I salute you here!

(Information on May Sarton.)
You can watch live Earthcams at various locations on Times Square in NYC, including streaming video of the ball drop at midnight Eastern Standard Time. Also at this link are livecams in various cities across the nation and the world.
And as we bring in the New Year here in New Mexico, let's honor all those suffering from the Iraq War, the tsunami and other painfully sad occurrences, man-made or natural, with a moment of silence and an awareness of how privileged we are to be here welcoming another year.
December 31, 2004 at 04:06 PM in Current Affairs | Permalink | Comments (0)
ACTION ALERT: Call Senators TODAY to Challenge 1/6 Ohio Electoral Vote Count
Congressman John Conyers will be seeking senatorial support to challenge the January 6th electoral vote count. Our very own
Senator Bingaman is on that list of Senators that Conyers hopes to convince. This is important -- please click on link and sign. Our Senators and the U.S. House Committee on the Judiciary:
www.ContestTheVote.org
.
When Congress reconvenes in January, at least 14 members of the House of Representatives will challenge the validity of the
2004 election. They will request an immediate investigation into many problems and irregularities encountered in the election.
According to the Electoral Count Act of 1887, one Senator and one House Representative are required to contest an election
prior to inauguration. We have the representatives; we still need a senator. Please let your senators know that you want them to
stand up with House Representatives and contest the vote.
The signed petitions will be delivered to each senator in person by a coalition of representatives from a variety of concerned
organizations and individuals. We will also deliver copies of signed petitions from all states to the U.S. House Committee on the
Judiciary to encourage them to hold formal hearings on the 2004 election.
To insure a debate in Washington, D.C. re: the legitimacy of Ohio's count, we need Senator Bingaman to challenge the
Electoral College Delegation. Contact the Senator Bingaman's office ASAP and ask him to support the Conyers effort. Ask Sen.
Bingaman to speak up on January 6th and
"
to object to the counting of the Ohio votes, due to numerous unexplained irregularities in the Ohio presidential vote, many of which appear to violate both federal and state law."
Senator Jeff Bingaman
FAX (202) 224-2852
PHONE (202) 224-5521
Capitol Switchboard 1-800-839-5276
www.senate.gov/~bingaman
(for email using his form)
senator_bingaman@bingaman.senate.gov
(for email without his form)
Faxing him would be best at this point.
This is also the time to call Bingaman's field rep in your area.
You can find the numbers for the Senator's field offices
here
.
(Thanks to Andrea Sterling for the heads up.)
December 31, 2004 at 02:59 PM in Candidates & Races, Local Politics | Permalink | Comments (0)
Give Now
These photos from DigitalGlobe show the waterfront area of Banda Aceh, Indonesia before and after the tsunami:
Before: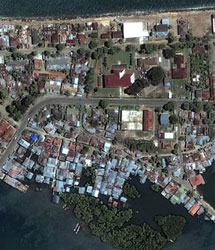 After: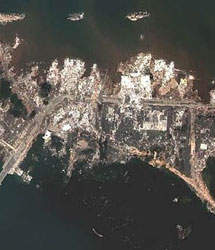 Google and Amazon are making it easy to donate. Even the price of a New Year's Eve drink can be a meaningful donation in this region of the world. You know what to do.
December 31, 2004 at 12:23 PM in Current Affairs | Permalink | Comments (0)
Thursday, December 30, 2004
Two Good Links on Vote Problem News and Actions
VotersUnite.org has up-to-the-minute news from many sources on voting and election problems and actions. This organization has produced a Summary Report on NM Election Data.
No Stolen Democracy is a clearing house for information on getting Senators to refuse to certify the electoral vote and also has information on related protests and other actions.
December 30, 2004 at 12:35 PM in Candidates & Races, Current Affairs | Permalink | Comments (0)
More On How to Help Tsunami Victims
The Washington Post has an excellent list of organizations that are accepting donations to help the victims of the tsunami in Asia. Click through to the continuation page below for a complete listing.
In Albuquerque, all banks will be collecting donations for the aid efforts in response to a request by Mayor Chavez and the local Red Cross. Residents will be able to inform any bank teller that they want to the contribute to the American Red Cross South Asia Disaster Fund. Many retailers and other businesses are also expected to participate.
According to an article in the Albuquerque Journal, here are some other places where donations are being accepted:
Archbishop Michael Sheehan has sent a letter to the Archdiocese of Santa Fe's 93 parishes, requesting a special collection for survivors on Sunday.

The Amma Center in Santa Fe is accepting donations. Known as the hugging saint, Amma's ashram in Kerala, India, provided shelter and food for more than 10,000 evacuees from nearby villages. Send donations to The Amma Center, P.O. Box 4820, Santa Fe, N.M., 87502.

Donate to the American Red Cross, Mid-Rio Grande Chapter, 142 Monroe NE, Albuquerque, N.M. 87108.

Donate to South Asia Tsunami Relief, SAWSO, The Salvation Army National Headquarters, 615 Slaters Lane, Alexandria, Va., 22313.

Donate to United Way of Central New Mexico, 2340 Alamo SE, Second Floor, Albuquerque, N.M., 87106.
Some Web sites, such as the Network for Good, allow people access to listings of U.S.-based charitable organizations in a searchable database. Amazon.com also enables users to route donations to organizations from its homepage.
More information about donations to humanitarian organizations can be found on the U.S. Agency for International Development's Web site, www.usaid.gov.
Donors can also call the Center for International Disaster Information at 703-276-1914.
Action Against Hunger
247 West 37th St.
New York, NY 10018
212-967-7800
http://www.actionagainsthunger.org
ADRA International
Asia Quake Fund
12501 Old Columbia Pike
Silver Spring, MD 20904
800-424-ADRA (2372)
http://www.adra.org
Air Serv International
6583 Merchant Place, Suite 100
Warrenton, VA 20187
http://www.airserv.org
American Jewish Joint Distribution Committee, Inc.
DC-South Asia Tsunami Relief
P.O. Box 321
847A Second Ave.
New York, New York 10017
212-885-0832
http://www.jdc.org
American Jewish World Service
45 W. 36th St., 10th Fl.
New York, NY 10018
212-736-2597
http://www.ajws.org
American Red Cross
International Response Fund
P.O. Box 37243
Washington, D.C. 20013
800-435-7669
http://www.redcross.org/
AmeriCares
88 Hamilton Ave.
Stamford, CT 06902
800-486-4357
http://www.americares.org
Association for India's Development Inc.
AID Zone 3
P.O. Box 4801
Mountain View, CA 94040-0801
http://www.aidindia.org
Baptist World Aid
Asia Tidal Waves
405 North Washington St.
Falls Church, VA 22046
703 790 8980
http://www.bwanet.org/bwaid
B'nai B'rith International
B'nai B'rith Disaster Relief Fund
2020 K. St. NW
7th Floor
Washington, DC 20006
212-490-3290
http://www.bnaibrith.org
Brother's Brother Foundation
1200 Galveston Ave.
Pittsburgh, PA 15233
412-321-3160
http://www.brothersbrother.org
CARE
151 Ellis St. NE
Atlanta, GA 30303
800-521-CARE
http://www.care.org
Catholic Relief Services
209 West Fayette St.
Baltimore, MD 21201
800-HELP-CRS
http://www.catholicrelief.org
Christian Children's Fund
Child Alert Fund
PO Box 26484
Richmond, Virginia - 23261-6484
800-776-6767
http://www.ChristianChildrensFund.org
Christian Reformed World Relief Committee (CRWRC)
South Asia Earthquake
2850 Kalamazoo Ave. SE
Grand Rapids, MI, 49560
800-55-CRWRC
http://www.crwrc.org
Church World Service
PO Box 968
Elkhart, IN 46515
800-297-1516
http://www.churchworldservice.org
Direct Relief International
27 South La Patera Lane
Santa Barbara, CA 93117
805-964-4767
http://www.directrelief.org
Food for the Hungry
Asia Quake Relief
1224 E. Washington St.
Phoenix, AZ 85034
800-2-HUNGERS
http://www.fh.org
Friends of the World Food Programme
P.O. Box 11856
Washington, D.C. 20008
http://www.friendsofwfp.org
International Aid
17011 W. Hickory
Spring Lake, MI 49456
800-968-7490
http://www.internationalaid.org
International Medical Corps
Tsunami Emergency Response
1919 Santa Monica Blvd., Suite 300
Santa Monica, CA 90404-1950
800-481-4462
http://www.imcworldwide.org
International Relief Teams
Asia Earthquake/Floods
3547 Camino Del Rio South
Suite C
San Diego, CA 92108
619-284-7979
http://www.IRTeams.org
International Rescue Committee
PO Box 5058
Hagerstown, MD 21741-9874
877-REFUGEE or 733-8433
http://www.theIRC.org
Latter-Day Saint Charities
Welfare Services Emergency Response
50 East North Temple Street, Room 701
Salt Lake City, Utah, 84150-6800
801-240-3544
ldscharities@ldschurch.org
Lutheran World Relief
South Asia Tsunami
700 Light St.
Baltimore, MD 21230
410-230-2700
http://www.lwr.org
MAP International
P.O. Box 215000
Brunswick, GA 31521
800-225-8550
http://www.map.org
Mercy Corps
Southeast Asia Earthquake
Dept. W
PO Box 2669
Portland, OR 97208-2669
800-852-2100
http://www.mercycorps.org
Operation Blessing International
Operation Blessing Disaster Relief Fund
977 Centerville Turnpike
Virginia Beach, VA 23463
800-730-2537
http://www.ob.org
Operation USA
8320 Melrose Ave. 200
Los Angeles, CA 90069
800-678-8876
http://www.opusa.org
Oxfam America
Asian Earthquake Fund
PO Box 1211
Albert Lea, MN 56007-1211
800-77-OXFAM
http://www.oxfamamerica.org
Plan USA
Asia Disaster
155 Plan Way
Warwick, RI 02886
800-556-7918
http://www.planusa.org
Project Concern International
Asia Tsunamis Press List
5151 Murphy Canyon Road
Suite 320
San Diego, CA 92123
858-279-9690
http://www.projectconcern.org
Project HOPE
Asia Tsunami Response
255 Carter Hall Lane
Millwood, VA 22646
800-544-4673
http://www.projecthope.org
SAWSO (Salvation Army World Service Office)
South Asia Relief Fund
615 Slaters Lane
Alexandria, VA, 22313
800-SAL-ARMY
http://www.salvationarmyusa.org
Save the Children USA
54 Wilton Road
Westport, CT 06880
1-800-728-3843
http://www.savethechildren.org
Southeast Asia Relief Fund
Donations can be sent c/o The Jewish Federation of Greater Washington
6101 Montrose Rd., Rockville, Md. 20852.
In the memo line of your check, write: SDG05DRT.
Stop Hunger Now
SE Asia crisis
2501 Clark Ave, Suite 200
Raleigh, NC 27607
888-501-8440
http://www.stophungernow.org
Tsunami Relief Inc.
9302 Lee Hwy.
Fifth Floor
Fairfax, Va. 22031
703-934-6922
US Fund for UNICEF
General Emergency Fund
333 E. 38th St.
New York, NY 10016
800-4-UNICEF
http://www.unicefusa.org
World Concern
Asia Earthquake and Tsunami
19303 Fremont Avenue North
Seattle, WA 98133
800-755-5022
http://www.worldconcern.org
World Emergency Relief
2270-D Camino Vida Roble
Carlsbad, CA 92009
760-930-8001
http://www.worldemergencyrelief.org
World Vision
P.O. Box 70288
Tacoma, WA 98481-0288
888-56-CHILD
http://www.worldvision.org
December 30, 2004 at 12:05 PM in Current Affairs | Permalink | Comments (0)
NM Phantom Vote Problems Make Buzzflash
A reader contribution on Buzzflash describes the problems in NM with "phantom votes." Read it here.
December 30, 2004 at 01:13 AM in Candidates & Races, Local Politics | Permalink | Comments (0)
Wednesday, December 29, 2004
Two Opinions on Dean's Chances to Chair DNC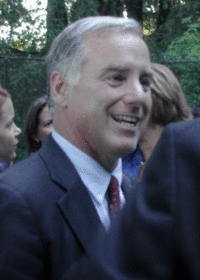 The recent push by Rep. Nancy Pelosi and Sen. Harry Reid to insert ex-Indiana Rep. Tim Roemer into the race to chair the DNC has resulted in very negative responses in the blogosphere. Roemer is strongly anti-choice on women's reproductive rights and trends to the right on many issues. Just what we need: anti-choice Reid leading the Dems in the Senate and anti-choice Roemer leading the Party.
Steve Gilliard has a scathing post on his News Blog about all this. It's well worth a read, Here are a couple of excerpts:
What everyone in DC is fearing, but what is increasing clear, is that it's Howard Dean's job to lose. If there was a vote, he'd win in a landslide. DFA and other groups are already praising his name to the skies. Simon Rosenberg is probably the compromise candidate, but either way, Dean brings cards unheard of into the DNC chair debate, namely massive popular support. Now, the Dems can ignore him or shove him aside, but they risk triggering a real civil war. They still want to have business as usual when it is clear that will no longer suffice.
[. . .]
The threat I would take seriously is the threat to withhold funds. The DNC was able to raise money in the streets, unprecidented. If they push a loser like Roemer, someone who's also pro-gutting Social Security, as head of the party, then why would I or anyone else raise a dime for them? What would they stand for?
Jerome Armstrong of MyDD responds to Gilliard with this:
Everyone I talk to inside the DNC understands the value of Dean as DNC Chair. The DNC works, it works well, and it can work even better. If we took a vote of those working inside the DNC, Howard Dean would win the Chair hands down, on the first vote. So, this isn't a problem of the DNC as an organization not wanting Dean, it's the Democratic Party's current leadership that doesn't want change.

Regardless, I think this is Dean's to win if he is willing to force it to a vote, because enough DNC Members are not party to the disconnect happening with our leadership. Pelosi and Reid do not have a veto vote for the DNC Chair. If anything, for the DNC Members to vote in defiance of their wishes, would show a vote of "No Confidence" in the Democratic leadership in Congress.

I do believe that we the people bought this party, and that we own it; but that doesn't mean we get to run it. To do that, we've got to win it over. And I believe that will happen in February, but if it doesn't, it's a public vote, and accountability at the state level will begin. Regardless of what Pelosi or Reid or the ASDC or the DGA desire, the Democratic Party is going to be radically reformed to represent the people- from the bottom clear to the top.
What do you think?
December 29, 2004 at 10:51 AM in Democratic Party | Permalink | Comments (6)
Tuesday, December 28, 2004
NM Recount Goes Back to Court
From the Common Dreams News Wire:
NEW MEXICO -- December 28 -- Attorneys for Green Party presidential candidate David Cobb will file a Notice of Appeal on Tuesday from a District Court decision which rejected Cobb's request to start the New Mexico recount without paying the entire cost of it in advance. Last week the New Mexico Supreme Court declined to hear the case. Since the Supreme Court did not rule on the merits of the case, it can be heard by the New Mexico Court of Appeals.
[. . .]
"We believe the law is on our side and look forward to a full recount of the presidential vote. There are still many unanswered questions about provisional ballots, missing votes and the integrity of voting machines which don't produce a paper trail. The people of New Mexico deserve to know that their votes will be counted fairly and accurately," said Cobb.
On Tuesday, Cobb and Badnarik's attorneys will also be notifying the New Mexico Secretary of State, the Attorney General and the Clerks for all of New Mexico's 33 counties, that the Notice of Appeal prevents them from "opening and clearing" voting machines throughout the state.
"Although, generally, voting machines can be cleared 30 days after the official certification of the vote, New Mexico law is clear that this can't happen when a recount has been initiated. The candidates have paid the deposit for the recount and we expect it to go forward, so any adjustment to the machines would be clearly inappropriate until the recount has been concluded," said Lowell Finley, one of the attorneys representing the candidates.
For more information about the Cobb-LaMarche campaign and its recount efforts in New Mexico and Ohio, see http://www.votecobb.org.
December 28, 2004 at 09:45 PM in Candidates & Races, Local Politics | Permalink | Comments (0)
Cartoon Logic
Mr. Fish's political cartoons for Harper's for December. View 'em and weep:
(Thanks to John McAndrew for the links.)
December 28, 2004 at 04:04 PM in Visuals | Permalink | Comments (0)
UPDATE: NM Counties to Begin "Clearing" Voting Machines?
UPDATE: According to a post on Democratic Underground, the attorneys of record (Lowell Finley, John Boyd, David Garcia) filed an appeal to the original suit in District Court (different from the Supreme Court case and still open for appeal) and sent letters to the SoS and each of the 33 county election directors to make sure the machines could not be purged. As long as there's an active recount request, it's illegal to erase the previous election without a court order.
In addition, an ABC News affliate is reporting :
Green and Libertarian presidential candidates are still pursuing their legal fight for a ballot recount in New Mexico and plan to take their case to the state Court of Appeals. Lawyers for Green Party candidate David Cobb and Libertarian candidate Michael Badnarik say they intend to file a notice of appeal with the court.
Also, the Bernalillo County Clerk has now stated that the voting machines won't be cleared until the Supreme Court rules on the recount. Apparently it's all in the lawyers' hands now, so it's been requested that we stop calling county clerks and the secretary of state's office at this time. As it stands, the machines are being protected until the courts respond to the recount suits.
December 28, 2004 at 10:03 AM in Candidates & Races, Local Politics | Permalink | Comments (1)
Monday, December 27, 2004
The Latest Anti-Dean Candidate for DNC Chair
House Minority Leader Nancy Pelosi, Senate Minority Leader Harry Reid and possibly Gov. Bill Richardson are pushing ex-Indiana Congressman and 9-11 Commission member, Tim Roemer, as the new anti-Howard Dean candidate for DNC Chair. Daily Kos has an excellent diary on Roemer, which includes this recitation of his voting record:
Voted YES on banning human cloning, including medical research. (Jul 2001)
Voted YES on banning Family Planning funding in US aid abroad. (May 2001)
Voted YES on federal crime to harm fetus while committing other crimes. (Apr 2001)
Voted YES on banning partial-birth abortions. (Apr 2000)
Voted YES on barring transporting minors to get an abortion. (Jun 1999)
Voted YES on Constitutional amendment prohibiting Flag Desecration. (Jul 2001)
Voted NO on funding for alternative sentencing instead of more prisons. (Jun 2000)
Voted YES on more prosecution and sentencing for juvenile crime. (Jun 1999)
Voted NO on maintaining right of habeus corpus in Death Penalty Appeals. (Mar 1996)
Voted YES on making federal death penalty appeals harder. (Feb 1995)
Voted NO on raising CAFE standards; incentives for alternative fuels. (Aug 2001)
Voted NO on banning soft money donations to national political parties. (Jul 2001)
Voted NO on allowing suing HMOs, but under federal rules & limited award. (Aug 2001)
Voted NO on Prescription Drug Coverage under Medicare. (Jun 2000)
Voted YES on banning physician-assisted suicide. (Oct 1999)
Voted YES on deploying SDI (Star Wars). (Mar 1999)
Member of Democratic Leadership Council. (Nov 2000)
While still in the Congress, Roemer also voted against the 2001 Filcher Amendment, which would have stopped any funds from going towards Social Security "privatization." He is strongly anti-choice in regard to women's reproductive rights.
Chris Bowers at MyDD (with 5 million readers) has this to say about Roemer as DNC Chair:
Unless Roemer publicly, loudly and completely repudiates his recent position on Social Security, he is utterly unacceptable as DNC chair. Mark my words: if Roemer becomes chair without doing this, I will actively encourage all progressive activists to donate and volunteer to third-party groups instead of and at the expense of the DNC. The Fainthearted Faction has no place in the Democratic leadership.
As for me, if Roemer gets the nod I won't be giving one red cent to the DNC, regardless of whether or not he reneges on his Social Security position. At a time when it's essential for the Party and its candidates to take strong, Democratic stands on every issue, THIS is the guy that alleged liberal Nancy Pelosi is pushing? Oh, these insider Dems are scared to death to have an honest and unabashed DEMOCRAT running the DNC, arent' they?
What's your take on all this?
December 27, 2004 at 12:43 PM in Democratic Party | Permalink | Comments (3)
Help Tsunami Victims
With more than 23,000 33,000 59,000 100,000 116,000 135,000 155,000 people killed in Asia and many more injured, with millions homeless or without food, shelter or clean water, now is the time to open up our hearts and pockets to help the victims of the earthquake and tsunami. Here are links to organizations that are helping now and that will be helping for many months to come:
Save the Children
Oxfam
UNICEF
Relief Web
CARE
Doctors Without Borders (Medcins sans Frontiers)
Caritas
Red Cross
World Vision International
December 27, 2004 at 11:57 AM in Current Affairs | Permalink | Comments (0)