« September 2004 | Main | November 2004 »
Sunday, October 31, 2004
When You're Feeling Frazzled
When your election volunteering and worrying and fatigue and rollercoaster emotions are getting you frazzled, here's the help line that can make you chuckle. Help is on the way! Click here for relief. (Thanks to John McAndrew for the pointer.)
The next thing to do is read this letter from one of Josh Marshall's readers at Talking Points Memo, just to share in remembering what America is really all about. Halleluja.
October 31, 2004 at 02:25 PM in Current Affairs | Permalink | Comments (1)
Sound Off! Jan Lincoln on Free Speech and Civil Rights
The Bush administration has made me start to really look around me. This past week, due to my catching a panel discussion on C-SPAN, I found a new television station. It is not listed among the channels available on my Dish list, but the moderator on C-SPAN gave the channel number. It is FSTV, Free Speech TV, 9415 on Dish Satellite TV. They have a news program called Democracy Now!

Last night on Democracy Now! was a story about two women getting arrested at a Bush rally. Their crime was to sit quietly in the audience, wearing t-shirts saying "protect my civil rights." They never spoke to anyone and did not speak out or in any other way draw attention to themselves. When did it become a crime to wear a t-shirt?

Why aren't violations of basic American liberties like this being reported in the mainstream media?

The moderator on Democracy Now! intervied Greg Palast, a BBC investigative reporter and showed his recent news film on the shenanigans going on disenfranchising voters. This, too, is a story not being covered in depth in the media. I did see a brief glossing of it on Washington Week on PBS last night, but even there the discussion did not include the extent of the different techniques. And how many people see Washington Week anyway?

I'm just a citizen, lost out here in the mass of the American population getting more and more demoralized. Bush's agenda is working very well for me. I am afraid now. Unfortunately, I am petrefied at what he and his cronies are doing to the America I love.

Drowning here in Ruidoso,
Jan Lincoln
P.S. I have felt pretty isolated here in Republican country, but this past week Kerry/Edwards signs have been popping up all over Ruidoso. Imagine my wonder and surprise! All fingers are crossed for Tuesday.
October 31, 2004 at 11:27 AM in Sound Off! | Permalink | Comments (1)
Two-Day Wesley Clark Tour of NM Starts Today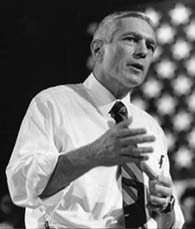 From the DPNM: On Sunday, October 31, General Wes Clark will begin a two-day tour of New Mexico to urge voters to cast their ballots for the Kerry-Edwards ticket.
Clark, a graduate of the U.S. Military Academy who later became a four star general, will highlight the reasons why John Kerry will make a better commander-in-chief than George W. Bush.
SUNDAY 10/31:
2 PM: WES CLARK HOSTS A GOTV RALLY -- ROSWELL
VFW Post 2575, 327 North Main
4:30 PM: WES CLARK HOSTS A GOTV RALLY -- LAS CRUCES
Conference Center Best Western Mesilla Valley Inn, 901 Avenida de Mesilla

MONDAY 11/1:
10:45 AM: CLARK HOSTS GOTV RALLY -- HOBBS
Hobbs Airport
1:45 PM: U.S. SEN. BINGMAN JOINS CLARK FOR GOTV RALLY -- ALBUQUERQUE
Kerry-Edwards Coordinated Campaign HQ
3301 Central Ave. NE
October 31, 2004 at 10:25 AM in Candidates & Races, Events | Permalink | Comments (0)
Saturday, October 30, 2004
Rock the Plaza, Rock the Plaza
Bill Clinton and Teresa Heinz Kerry packed the Santa Fe Plaza today. To the rafters, if the Plaza had rafters. To the windowsills. And the Plaza does have buildings with windowsills apparently wide enough to serve as viewing platforms. They don't call this the Land of Enchantment for nothing. The evidence: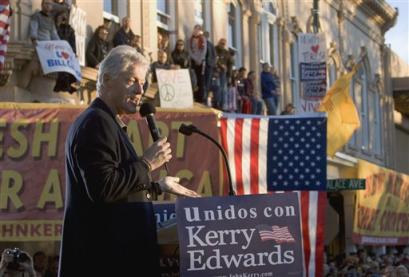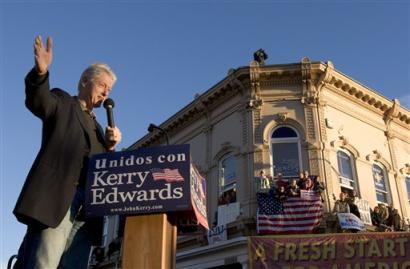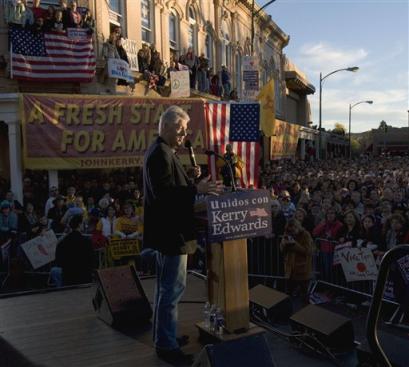 (AP Photos/Jake Schoellkopf)

October 30, 2004 at 10:02 PM in Candidates & Races, Events | Permalink | Comments (0)
Virtual Halloween for the Volunteer Crowd
We know that most people are busy volunteering for the final push to the election, and that many have had no time to buy a pumpkin and carve it. A shame, really, since we have such a wonderful array of Democratic, anti-Bush and pro-Kerry pumpkin stencils to choose from (see earlier post). So in an effort to provide the volunteer masses with a chance to express their creative, Halloweenie selves, I offer a virtual pumpkin that can be virtually carved for a virtual Halloween celebration.
If you find you do have some time to whip together a costume for Halloween, this is the place for the (and, I dare say, the most tasteless) of the year. To end your cyber-Halloween adventure with a giggle, there's all kinds of fun available at Halloween Site. Have a boo-tiful Halloween!
October 30, 2004 at 11:36 AM in Visuals | Permalink | Comments (2)
Al-Qaqaa Explosives Timeline
A blog by michael in chicago at Joe Trippi's Change for America site provides a useful graphic timeline he created for the events surrounding the disappearance of explosives at Al-Qaqaa in Iraq. Here's his .
October 30, 2004 at 10:25 AM in Events | Permalink | Comments (0)
Ann Richards Added to ABQ Moms for Kerry Rally Today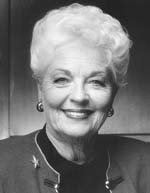 Ex-Texas Governor Ann Richards has been added to the speakers at this afternoon's Moms for Kerry Rally. For information on the rally, check out our original post on this event. It will take place at 1:00 PM, Saturday, October 30th, at Tiguex Park at Mountain Road and Rio Grande, across from the Natural History Museum in Albuquerque.
Check out the Moms for Kerry website here. To sign up for this event, click here.
October 30, 2004 at 09:25 AM in Candidates & Races, Events | Permalink | Comments (0)
Friday, October 29, 2004
Photo of the Day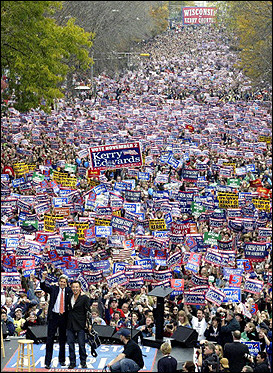 Wow, look at that crowd of 80,000+ in Madison, Wisconsin yesterday for The Boss's rally with Kerry! Daily Kos has a diary about the event, with this and even more terrific photos of Bruce Springsteen, Kerry and the massive crowd. Bruce liked the rush so much, he's continuing on to Florida with Kerry.
You can read what Bruce had to say at the rallies about the choices we face in a poignant article by John Nichols in The Nation online. One quote:
"Paul Wellstone," the singer repeated, as the tension broke and the crowd began cheering. "He said the future is for the passionate and those who are willing to fight and work hard for it. Well, the future is now. And it's time to let your passions loose." Now, the applause was swelling. "Let's roll up our sleeves," Springsteen shouted above the roar of approval. "That's why I'm here today -- to stand alongside Senator Kerry and to tell you that the country we carry in our hearts is waiting, and together we can move America towards her deepest ideals.
We are gonna win this thing. All the good mojo, all the positive passion, all the hard-working unity is on our side. The truth is on our side.
(Here's a video of Springsteen at the Madison rally.)
October 29, 2004 at 01:04 PM in Candidates & Races, Visuals | Permalink | Comments (0)
Sample NM Ballots
Because so many people seem to be searching for a sample ballot for Tuesday's election, I thought I'd highlight where you can get a copy online. The League of Women Voters of New Mexico provides sample ballots for Albuquerque/Bernalillo, the Greater Las Cruces area, Santa Fe and Los Alamos, as well as information on various statewide races, bond issues and constitutional amendments. There are also links to pro and con examinations of the issues and candidate-specific information. Click here for their website.
For links to polling places and all kinds of useful information about voting in New Mexico, be sure to check out the "Voting" topic down a ways on the left-hand sidebar on this page.
Pumpkin Politics
I'm also seeing alot of search engine activity looking for stencils for Kerry and Bush pumpkins. An earlier blog post has the goods.
October 29, 2004 at 12:21 PM in Candidates & Races | Permalink | Comments (0)
Good Reads
There seems to be a plethora of good reads out there in medialand. Here's a few of them:
Maureen Dowd skewers Dr. Cheneystein and the ghoulish nature of BushCo.
Frank Rich ponders Fear Fatigue in the faltering action movie that is the mythic script of the Bush administration.
Thomas Friedman pounds Bush for slashing a Hole in the Heart of the world.
The Washington Note features a rather shocking portrayal of the negative views of our troops toward Bush and their senior officers in A Soldier's Story: Voting for Bush Won't Help Us.
A Salon article reports that a NASA photo analyst has determined that Bush wore a device during the debates. The physicist says that imaging techniques prove the president's bulge was not caused by wrinkled clothing.
Finally, a blogger called ABQ John posted a good story on the Kerry blog about the rally in downtown Albuquerque Tuesday night.
(Thanks to John McAndrew for the heads up on the NYT columns.)
October 29, 2004 at 12:04 PM in Media | Permalink | Comments (0)