« Domenici's Hand-Picked Successor Announces Senate Run; What Will Pearce Do? | Main | (Updated) Heinrich Comments on Wilson's U.S. Senate Announcement; Click to Endorse Him »
Saturday, October 06, 2007
Eric Griego to Run for NM State Senate in District 14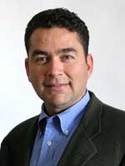 I'm very pleased to learn that former Albuquerque City Council member Eric Griego, who last ran for office in 2005 against current Mayor Marty Chavez, has decided to run for a State Senate slot in District 14. Griego, a Democrat, was born and raised in the District and resides there now. The seat is currently held by Democrat James G. Taylor.
Griego spent the last two years working on community economic development issues for the State of New Mexico. Recently, he accepted a position as Executive Director of the non-profit advocacy group New Mexico Voices for Children.
Griego says he's increasingly convinced that real progressive reform can only happen at the state level because of the current political logjam in Washington that makes it difficult for Congress to pass meaningful legislation. One of his major focuses will be campaign and ethics reform. As an City Councilor, Griego sponsored a referendum that voters approved by a hefty margin that made Albuquerque the second city in the nation to publicly finance local elections. He wants to champion similar reforms at the state level so that candidates with the most special interest money will no longer have the advantage.
Griego said health care reform is another important issue he hopes to tackle as a State Senator. New Mexico has the second highest number of uninsured people in the country, and Griego believes we can't wait for Washington to solve the problem. "New Mexico must lead the country in implementing universal, comprehensive, affordable health care for all of its citizens," said Griego.
Stay tuned. The official kick-off of Eric's campaign is expected next month.
October 6, 2007 at 01:32 PM in 2008 NM State Legislature Races | Permalink
Comments
Great we need more TRUE BLUE Progressives in the State Senate.
I hope he gets elected.
Posted by: JD | Oct 6, 2007 8:59:55 PM
So what exactly is it James Taylor does to make money--I mean, other than being in the Legislature? Seriously, what does he do to support himself? Legally, I mean. Anybody know?
Posted by: Just Asking | Oct 6, 2007 9:57:28 PM
His Legislative page says he is a "Recreation Specialist". What on earth is that? By the way, wasn't Mannie Aragon his mentor?
Posted by: Michelle Meaders | Oct 7, 2007 9:36:05 AM
This is Mannie Aragon's old district isn't it? Time to get rid of the old machine politicians that have caused the Democratic party so much trouble and elect a real reform Democrat. We can't just hope Eric Griego gets elected we have to work for it.
Posted by: Red or Green | Oct 7, 2007 10:49:49 AM
I love Eric as well but to go after another Democrats seat in the South Valley who is doing a good job is nothing more than a Political old school Movida based on vindictiveness. Eric should set his sites on a bigger prize like the 1st CD, so we can have a competitive primary process and avoid anointing a so called "Progressive" candidate for the 1st CD. We need a candidate from the Democratic wing of the party who can take and hold the south valley which is the key to wining the 1st CD. Oh! by the way if you don't know already the south valley is loyal to Manny Arragon and for those of you who don't like it, remember Richard Romero ? he lost the South Valley to Heather Wilson twice because he burned Manny. I am personally waiting for a real Democrat like Al Park to jump into the race and unite Dems for victory in the 1st CD.

Posted by: FDR DEMOCRAT | Oct 8, 2007 2:28:18 PM
Post a comment