Monday, October 27, 2008
NM-02: Candidate Forum Set for 10/28 in Mesquite
Mesquite Community Action Committee 
And Southern New Mexico PACE Host 
CD 2 Candidate Forum 
Candidates for U.S. Congress in District 2 
Harry Teague and Ed Tinsley 
Facilitated by New Mexico State University Professor 
Dr. Jose Z. Garcia 
Tuesday, October 28, 2008, 6:00 PM
 # 1 Firehouse Road, Mesquite, NM
Come join voters in Mesquite and from surrounding communities to have an opportunity to meet and ask questions from one of the potential Congressmen for Congressional District 2. For more information call 575-233-3084.
October 27, 2008 at 09:21 AM in Events, NM-02 Congressional Race 2008 | Permalink | Comments (0)
Friday, October 24, 2008
True Blue New Mexico: Last Chance to Help Our Congressional Candidates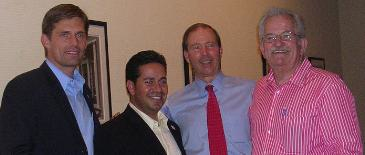 Martin Heinrich, Ben Ray Lujan, Tom Udall, Harry Teague
Daily Kos is running a series called "Listening to the Locals," and today they're featuring New Mexico. Matt from NM FBIHOP  did the excellent diary and it's now front-paged on Kos. Check in here, add your comments and, most importantly, donate a few bucks to the cause! I know many of us are pretty tapped out now, but even $5 or $10 can make a real difference as we count down to election day.

Click on image to donate!
We really CAN win these races this year. As I'm sure you've all noticed, the energy on the ground here is outrageous and all the candidates, their staffs, the DPNM coordinated campaign and the tons of volunteers are working their butts off. I've never witnessed anything like it.
But as Matt says, it can be difficult to raise the kind of money needed by all the candidates in a state that's so huge, but which has a small population. Our Congressional Districts are so HUGE -- especially NM-02 where Harry Teague is running. The state of Pennsylvania would fit inside its boundaries with room to spare. That's a lot of ground to cover in terms of travel, voter contact and advertising budgets.
We've never had all four seats up for grabs at the same time -- let alone a presidential race to boot -- so donations, especially late in the game, can be hard to come by. All the campaigns need our help to battle in the last days against the smears of the GOP and Freedom's Watch.
Over the course of this election -- from the primaries on -- Matt and I have gotten to know the candidates very well as they've all been highly accessible, open and available to bloggers and everyone else. We've come to know them on a first name basis, and I know many of you have too.
I'm sure Matt will agree that Tom Udall (U.S. Senate), Martin Heinrich (NM-01), Ben Ray Lujan (NM-03) and Harry Teague (NM-02) are not only effective candidates and true Dems, but top-notch human beings as well. Honest, caring, dedicated to change, fun, smart and great to talk to. They are with us, all the way. They are one with our hopes and dreams. They will work hard in Washington for the things we care deeply about. But first we have to make the last push to help them win their races.
So I urge you to do what you can to help make New Mexico a Blue State in '08. We are SO close to having a True Blue New Mexico and your donations can be instrumental in ensuring our success. You can give to all our Congressional candidates on the page, as well as to Obama. 
However, we're making a special push today for Martin Heinrich in NM-01 and Harry Teague in NM-02 because they are both in very tight battles -- where the GOP and shady groups like Freedom's Watch are very active.
Please given what you can, not matter how small, to bring our candidates down the home stretch. And thanks for all you do and have done for months and years now -- all of you!
October 24, 2008 at 01:04 PM in 2008 General Presidential Election, NM-01 Congressional Race 2008, NM-02 Congressional Race 2008, NM-03 Congressional Race 2008, True Blue New Mexico | Permalink | Comments (4)
Monday, October 20, 2008
NM-02: Tinsley's "Hometown" Mayor Endorses Teague

Gov. Bill Richardson and Harry Teague discuss the NM-02 race at a recent matanza in Valencia County (Video by M.E. Broderick)
According to an announcement today from the Harry Teague for Congress campaign, Sam Hammons, the Mayor of the Village of Capitan, today endorsed Democrat Harry Teague in the NM-02 race. Teague's opponent, Republican Ed Tinsley, claims that a ranch in Capitan is his primary residence, even though Tinsley's business office and his $2.5 million home are located in Santa Fe, outside the 2nd District. Mayor Hammons said he supports Teague, a former Lea County Commission Chairman, because of his deep roots in Southern New Mexico and his commitment to fight for working families in these tough economic times.
"I know Harry Teague will represent Capitan well," Hammons said. "Harry has lived in Southern New Mexico for 49 years and understands the needs of working families because he started as someone who took a lunch pail to work everyday. Ed Tinsley may own a ranch here, but I think he is out of touch with Southern New Mexico."
To learn more about Ed Tinsley's primary residence in Santa Fe, please visit TinsleySantaFeHome.com.
Technorati Tags: Harry Teague NM-02 Bill Richardson Democrats Ed Tinsley Capitan Sam Hammons
October 20, 2008 at 11:23 AM in NM-02 Congressional Race 2008 | Permalink | Comments (0)
Friday, October 17, 2008
NM-02: Harry & Troy Teague and Gov. Richardson to Rally Early Voters Saturday
Tomorrow, New Mexico Gov. Bill Richardson, Congressional candidate Harry Teague and his son Troy Teague will visit communities throughout the 2nd Congressional District of New Mexico to rally voters to hit the polls before the Nov. 4 Election Day. Harry Teague, who is running to replace outgoing U.S. Rep. Steve Pearce, together with his wife, Nancy, voted early in Lovington on Wednesday to celebrate their 39th wedding anniversary. Gov. Richardson will join Harry and Troy Teague at four separate events tomorrow (Sat., October 18):
Sunland Park: Early Vote Rally with Harry Teague and Gov. Richardson at 9:15 AM at the Sunland Park Senior Center, 1000 McNutt Rd., Suite H

Las Cruces: Early vote rally at 12:30 PM at Albert N Johnson Park; Corner of N Main and Picacho Ave.

Alamogordo: Alamogordo Arts and Entertainment Early Vote Rally at 2:15 PM at Alameda Park, 1021 White Sands Blvd.

Los Lunas: Early vote rally at 3:40 PM at the parking lot in front of Michael Sanchez's law firm, 505 Main St. SW.
October 17, 2008 at 12:45 PM in Events, NM-02 Congressional Race 2008 | Permalink | Comments (0)
Sunday, October 12, 2008
(Updated) NM-02: Tinsley Penalized by IRS for Failing to Turn in Employee Payroll Taxes

Update: An October 14, 2008 article in the Albuquerque Journal confirms that Ed Tinsley was penalized for not paying IRS employee withholding taxes for one of his restaurants. The Journal also reports that Tinsley, after much legal wrangling, ended up having to pay penalties and interest totalling $65,000 out of the original $122,000 levied by the IRS. Tinsley's attorney claims Tinsley "paid the price for the slow pace of the IRS in resolving the issue." These Republicans -- always blaming someone else instead of owning up to their own lack of accountability.
************
A recent AP story had this to report about Ed Tinsley, the GOP Congressional candidate in NM-02, who often cites his education and experience as the owner of K-Bob's steakhouses as something that has prepared him well to serve in Congress:
Small details matter to rancher Ed Tinsley, the Republican nominee in the 2nd Congressional District race.

He'll pore over contracts, analyzing fine print to ensure he understands what he's studying. It's a trait Tinsley attributes to his law school training; an asset he feels will serve him well in the House of Representatives.

"It will help me formulate positions and understand how the system works," he said. "You learn to understand parts of contracts, the terms. That's important when you start looking at legislation."

... "The legal education and the short time I practiced taught me what I'd call a critical way of thinking," said Tinsley, a member in the New Mexico and Texas bars.
Run-In With the IRS
Problem is, despite his degrees in accounting and the law, Tinsley's actions don't always show careful attention to detail, or to the letter of the law. And it's clear that he has sometimes been neglectful of his business and legal oversight responsibilities -- as demonstrated by a run-in with the IRS over non-payment of employee payroll taxes at one of his restaurants. At least that's what I get from two legal documents: K-Bob's Appeal of a Notice of Determination concerning an IRS collection action and the U.S government's Answer to the K-Bob's appeal (PDFs).
I'm no lawyer, but it certainly appears that in US District Court of New Mexico Case No. CIV-06-0309, Tinsley was penalized $122,000 by the IRS for failing to turn in payroll taxes for the periods ending 9/99, 12/99, 3/00, 9/00, 12/00, 6/01 and 12/01. How did that happen?
A guy who says his legal and accounting abilities are a perfect match for what's needed in Congress somehow "forgot" to make sure that all of his restaurants were complying with federal tax laws for more than 20 months? Moreover, Tinsley delayed paying the more than $122,00 in fines and penalties for six years by means of extended legal wrangling. Among other things, he filed an appeal against the IRS collection action, and evidently failed to show up for a hearing he scheduled with the IRS to discuss a settlement.
Tinsley's Lame Excuses
It seems that the IRS determined Tinsley did not make any payments for two years after he learned about the tax debts. In 2005, the IRS finally threatened to seize his company's assets to pay off what Tinsley owed. At that point, Tinsley filed an appeal to the IRS determination on the collection action. Get this -- he claimed that an IRS agent had instructed him to stop making payments on what he owed. No way said the IRS.
Tinsley also made lame excuses for his failure to pay the payroll taxes, saying the finances of the restaurant in question were in "chaos" and that its manager was incompetent. For some reason, it took Ed many moons to figure that out. It apparently took him even longer to admit he was wrong and fork over all the money he owed, including the interest and penalities he ran up by dragging his feet and failing to follow proper procedure.
The case documents show the IRS claimed Tinsley knew about the debt back in 2000. Ed, on the other hand, says he had no idea until two years later, in 2002. The self-described master of details had no idea this was going on?
Documents also show that Tinsley finally did pay most of the payroll taxes themselves, but he dragged his feet on the fines and penalties. How dare the IRS punish him like other people for failing to pay his taxes on time? I guess Ed believes that a guy who owns a 15,000 acre ranch in Lincoln County and a home in the exclusive Las Campanas development in Santa Fe deserves special treatment.
Tinsley Thinks He's Special
Just the sort we need more of in Washington. You know the story -- the rules are for other people to follow, not self-important guys like Edward R. Tinsley III. Eddie got caught breaking the rules, but instead of quickly admitting he was accountable for his actions and making things right, he kept on delaying and trying to wriggle out of the consequences.
Tinsley has long fought fiercely against raises in the minimum wage. Evidently, handing over the taxes deducted from his employees' paychecks to the IRS is another distasteful matter to Tinsley. Seems like Tinsley has a habit of advocating against things that benefit ordinary people and seeking to pile up more for himself and his wealthy friends. It's a common trait of many right-wingers like Tinsley. His self-serving ways mirror those of the people most to blame for the global financial crisis we're suffering through right now.
We need to keep Tinsley -- and every other candidate like him -- as far away from the Halls of Congress as possible. He wants to serve the people alright, so long as they're his kind of people -- people with means who shouldn't be expected to follow the same rules that ordinary folks have to follow. He's so special -- you know.
Technorati Tags: Ed Tinsley NM-02 IRS K-Bob's steakhouse Republicans taxes payroll taxes tax penalties
October 12, 2008 at 08:17 PM in Economy, Populism, Government, NM-02 Congressional Race 2008 | Permalink | Comments (2)
Thursday, October 09, 2008
10/10 Reception: Help New Mexico be a Blue State in '08
From Brian Colón, DPNM Chair: WIth less than 30 days until the election, there is no time to hesitate. The time to act is now! Democrats have known for months what the media is just starting to figure out -- that New Mexico is not only going to play an important role in sending Barack Obama to the White House, but for the first time in a long time, we have the opportunity to send an all-Democrat delegation to Washington, D.C. But in order to send Barack Obama to the White House, Tom Udall to the Senate and Martin Heinrich, Harry Teague and Ben Ray Lujan to Congress, we need each and every New Mexico Democrat to get involved. We need your support to make sure we get every Democrat out to the polls for this historic election:


Blue State in '08
Governor Bill Richardson
Lt. Governor Diane Denish
Chairman Brian S. Colón
cordially invite you to a fundraiser
Featuring Senate and Congressional Candidates
Congressman Tom Udall
Martin Heinrich • Harry Teague • Ben Ray Lujan
Help us to fund our Get Out the Vote Efforts to ensure
VICTORY in '08
Los Poblanos Inn & Cultural Center
4803 Rio Grande Blvd NW, Albuquerque, NM
Friday, October 10, 2008
Reception • 7:00 PM • Host Photo Reception • 8:00 PM
Requested Contributions: Hosts $1000 • Guests $50
RSVP to Beth Adams @ 505-830-3650 or beth@nmdemocrats.org
Or Buy an e-Ticket
If you can't make it, please don't miss this opportunity to contribute to the party to help us turn New Mexico into a Blue State in '08. Click to donate online.
Technorati Tags: Bill Richardson Diane Denish Brian Colon Tom Udall Martin Heinrich Harry Teague Ben Ray Lujan Democratic Party of New Mexico
October 9, 2008 at 09:14 AM in 2008 General Presidential Election, 2008 NM Senate Race, Democratic Party, NM-01 Congressional Race 2008, NM-02 Congressional Race 2008, NM-03 Congressional Race 2008 | Permalink | Comments (1)
Wednesday, October 08, 2008
NM-02: Teague, Tinsley Candidate Forum Set for 10/9/08
New Mexico Public Broadcasting and New Mexico First are hosting a Candidate Conversation at KRWG (Milton Hall) at New Mexico State University in Las Cruces on Thursday, October 9, 2008, at 7:00 PM with NM-02 Congressional candidates Harry Teague (D) and Ed Tinsley (R). The forum will be aired on the following public broadcasting stations at 7:00 PM tomorrow:
Albuquerque
KANW FM 89.1
KNME TV 5
KUNM FM 89.9
Las Cruces
KRWG TV 22
KRWG FM 90.7
Portales
KENW TV3
KENW FM 89.5
Technorati Tags: debates Harry Teague Ed Tinsley New Mexico First NM-02 New Mexico Public Broadcasting
October 8, 2008 at 10:04 AM in NM-02 Congressional Race 2008 | Permalink | Comments (0)
Sunday, October 05, 2008
Monday: Join Harry Teague for Free Community Dinner (and Football Too) in Belen
Come Join Harry Teague for a Free Community Dinner!
Bring your Family and Friends and
Meet Harry Teague, NM-02 Candidate for Congress
Monday October 6, 2008, 6:00-8:00 PM
At the Sheriff's Posse in Belen, 10 I-25 By-Pass
Free Food and Football too!
October 5, 2008 at 06:13 PM in Events, NM-02 Congressional Race 2008 | Permalink | Comments (0)
Friday, October 03, 2008
NM-02: Kos' Research 2000 Poll Has Teague Up 4 Points Over Tinsley
You may have seen this by now, but I wanted to highlight it anyway. Front-paged at Daily Kos today. An internal poll from last month had Teague up by 5. This race is definitely one Dems can win. Go, Harry, go! Yowsa.
So which campaign are YOU volunteering for this weekend? Time is tickin'.
October 3, 2008 at 04:07 PM in NM-02 Congressional Race 2008 | Permalink | Comments (1)
NM-02: Cook Report Upgrades Race to "Toss Up" and "Top Tier Race"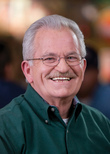 The Harry Teague campaign reports that the Cook Political Report, an independent non-partisan publication that analyzes political campaigns, yesterday upgraded the Congressional race in NM-02 from "Lean Republican" to "Toss Up." Teague, the Democratic nominee, is running a strong race and presents the best chance for the Dems to retake the seat in 28 years.
The Cook Political Report upgraded the race citing Harry's ties to the Southern New Mexico and his strong record as a businessman, as well as GOP candidate Ed Tinsley's poor record as a Washington lobbyist. According to Cook (subscription only):
"Democrats say Tinsley's time spent advocating for the National Restaurant Association's interests in Washington will turn off rural southern New Mexico voters. While this district's conservatism should provide Tinsley a boost, insiders say he has run a less than perfect campaign.

... Meanwhile, Teague has tied his business credentials to the district's roots, emphasizing his direct experience with oil and the issue of energy. A Hamilton Campaigns poll taken in September for Teague's campaign showed the Democrat ahead 46 percent to 41 percent. Democrats may still have a better shot at picking up the politically friendlier 1st CD open seat, but this is now a top tier race as well."
October 3, 2008 at 10:59 AM in NM-02 Congressional Race 2008 | Permalink | Comments (0)
Thursday, October 02, 2008
NM-02: New Teague Ad - Can You Believe This Guy?
This is the third TV ad for Harry Teague, the Dem who's battling Ed Tinsley for the Congressional seat in New Mexico's Second Congressional District. Tinsley's been running attack ads, and this is the Teague campaign's head-on rebuttal that's being aired district-wide. It's a powerful one that sideswipes Tinsley's attempt to paint Teague as being against gun ownership, and goes on to criticize Tinsley's troubling record on taxes and his shenanigans as a Washington lobbyist. I love the ending where the narrator asks viewers, "Can you believe this guy?" And then answers: "Ed Tinsley. Not for us. Not one of us." You can read the script for the ad below the fold.
Harry Teague is a True Blue New Mexico candidate. Please donate or volunteer your time to his campaign to help turn NM-02 from Red to Blue in November. This is definitely a race we can win.
"Wrong" 30 Second Script:

Harry Teague: I'm Harry Teague and I approve this message.

Announcer: Ed Tinsley's attack ads are just wrong. At eight years old Harry Teague went hunting with his father, starting a tradition of support for gun ownership. So why is Ed Tinsley falsely attacking Harry Teague?
Maybe it's because while pushing tax cuts for the wealthy, he also took $52,000 of our tax dollars to raise horses.
Or as a Washington lobbyist, he gave $120,000 to nine corrupt or indicted politicians.
Can you believe this guy?
Ed Tinsley: Not for us. Not one of us.
Technorati Tags: Harry Teague Ed Tinsley political ads NM-02
October 2, 2008 at 12:52 PM in NM-02 Congressional Race 2008 | Permalink | Comments (0)
Wednesday, October 01, 2008
NM-02: Internal Poll Shows Teague Leads Tinsley 46-41%
The campaign of NM-02 Congressional candidate Harry Teague has released the results of a recent internal poll conducted by Hamilton Campaigns that shows Teague leading his GOP rival, Ed Tinsley, by five points. Here's the text of the memo issued by Hamilton Campaigns:
Key Findings Harry Teague now leads Ed Tinsley in the race for Congress in New Mexico's 2nd Congressional District. Democrat Harry Teague leads Republican Ed Tinsley by 5 percentage points (46% Teague – 41% Tinsley -- 13% undecided). In previous polling, Teague trailed Tinsley by -3 percentage points.
Bottomline

Harry Teague has taken the initiative in the early part of the general election campaign to strongly define his image to voters. In other years and with other candidates, winning in this district could be difficult, but Harry Teague has put himself on solid footing to defeat Ed Tinsley and turn New Mexico's 2nd Congressional District from red to blue.

Footnote: This memo is based on a survey of 500 registered voters who are likely to vote in the November 2008 general election in New Mexico's 2nd Congressional District. Hamilton Campaigns conducted telephone interviewing September 2-5, 2008. The margin of error for a sample of this size is ±4.4 percentage points, at the 95% confidence level.
No questions or crosstabs on this survey have yet been released, and I don't know of any independent polling done on this race. However, it's noteworthy that Tinsley's campaign hasn't released any of their internal polling results, which tells me this race isn't going very well for the GOP contender. Teague can definitely win this race. We need to help.
Technorati Tags: Harry Teague Ed Tinsley polling
October 1, 2008 at 12:02 PM in NM-02 Congressional Race 2008 | Permalink | Comments (0)