Tuesday, September 13, 2011
CWA: Governor Susana Martinez's Dangerous New Agenda Raising Red Flags
Cuidado! The Communication Workers of America (CWA) Local 7076 in Santa Fe released the following statement today strongly warning that the agenda of Governor Susana Martinez increasingly appears to be headed towards imposing union-busting measures on government workers that are even worse than those we've seen in other states. And her misguided agenda, pumped by the infamous Koch brothers via ALEC, could also lead to a system of growing cronyism and political patronage. A must-read column:
Is New Mexico the latest battleground for ideologically-motivated union-busting?
In an apparent egregious political miscalculation (and despite surefire warning signs coming out of Wisconsin and Ohio) New Mexico appears next in the line of states battling over the voice of middle-class state workers. At the behest of Governor Susana Martinez, New Mexico appears dangerously close to forcing through a power-grabbing contract with its employees — a contract that, if approved, is likely to have serious consequences for the rise of public corruption and cronyism in the state. This most recent case of government overreach has left political observers and New Mexicans alike wondering whether the state will play host to the next showdown over basic workers' rights.
A System of Cronyism and Political Patronage: New Mexico workers are not unfamiliar with the brand of government overreach Susana Martinez has proposed in the most recent round of negotiations. State employees are already restricted in what they are allowed to negotiate for — they're currently prohibited from bargaining for pensions; and have in the past been forced to take furlough days, pay cuts, and heavier workloads with little say in the process.
Martinez's demands go even further, and if implemented, have dangerous implications for the escalation of corruption and cronyism in New Mexico State Government. Among her proposals:
Sick Days: Workers will be prohibited from using sick days to care for an ailing spouse or child.
Flex scheduling: a system that allows workers to rearrange schedules or request make up hours in case of an emergency — will be abolished.
Annual Reviews: A total elimination of annual performance evaluations. Under Gov. Martinez's proposals, evaluations will take place only when a supervisor chooses to conduct them. The right of workers to challenge negative performance evaluations — a favorite tool of managers wishing to engage in retaliatory action against workers — will also be eliminated.
Outsourcing: The Governor has requested, through her contract proposal, free reign to outsource as many state jobs as possible to the private sector, allowing her to reward her largest private sector contributors with lucrative public contracts.
Not even Gov. Walker in Wisconsin, whose anti-union policies drew hundreds of thousands of protestors to the state capitol for weeks, or Ohio's Governor Kasich, who will face a popular referendum on his anti-collective bargaining in November, attempted to remove so much from state workers. Gov. Martinez's proposals translate into a near-feudal public employment system, where upper-level managers possess exclusive, un-checked control over workload, performance reviews, discipline and preferential treatment.
Mirroring Wisconsin and Ohio: These days adopting or copying the anti-worker policies of Governors Walker and Kasich in Wisconsin and Ohio would strike any keen political observer as foolish and politically risky — no matter how dire a particular state's economic projection. This summer both Governors have found themselves and their parties in real danger of losing significant political support after forcing anti-collective bargaining, pension-slashing legislation through their state's legislatures. Their critical mistakes — leading to the loss of two Republican seats in the Wisconsin state senate and the potential renegotiation of SB 5, the anti-collective bargaining law Kasich carefully shepherded through the state legislature — now appear as obvious warning signs; helpful indications of what not to do as a state leader.
Gov. Martinez seems to have missed that memo. Her administration is currently attempting to negotiate a new contract with the state's employees that far "out-Walkers" what the Wisconsin Governor himself shepherded through the state's legislature. Policies like the ones she's proposing have no doubt been deemed politically toxic by governors of other states, but for some reason the Governor seems intent on fully silencing the voices of the state's workers.
Unseemly Influences: A number of outside forces have helped to shape Martinez's new direction. During the 2010 campaign cycle, the infamous Koch brothers — notorious for their close ties to ALEC (the American Legislative Exchange Council) and for their principled donations to ideologically extreme right-wing Governors, causes and national-level elected officials — contributed $10,000 to the Martinez campaign. Martinez also received $1.3 million from the Republican Governor's Association, who themselves took over $1 million from the Koch brothers.
But it's not just Martinez's campaign contributions that make for obvious ties between her administration and the outside right-wing groups most known for tampering with state legislative activity. State political blog Clearly New Mexico reported earlier this year that "error-ridden language from a bill crafted by the billionaire Koch Brothers and served up as a template for a number of states" had recently surfaced in the New Mexico state Legislature. The legislation — a near replica of one of ALEC's model bills, provided to state legislators for a small membership fee — would have pulled the state out of the Western Climate Initiative (a regional pact formed in 2007 to reduce the effects of climate change).
In an odd and unlikely coincidence, withdrawing from the WCI also happens to be listed as one of the top recommendations of the Governor's Small Business-Friendly Task Force, which appears to recommend Martinez "revise or rescind virtually every pending environmental" regulation "and a number of existing ones." [Clearly New Mexico, March 17, 2011]
Possible VP Impact: Gov. Martinez's high approval rating and sound victory over Democrat Diane Denish in her 2010 race for Governor has led members of both the state and national media to consider her a top contender for the Republican Vice-Presidential Nomination. However, if Wisconsin and Ohio serve as any indication, Martinez's anti-worker proposals have the potential to severely damage her image and thus impact her chances of receiving the nomination. Both Walker and Kasich watched their popularity plummet after instituting union-busting legislation and now face nasty uphill political battles months after passing their respective bills.
Such ideologically extreme anti-worker proposals have the potential to define Gov. Martinez to a broad swath of people to whom she may be unfamiliar — in a way that has the potential to be unfortunately damaging in 2012. Hard talk around unions may be what works in a GOP primary and might prove popular with the GOP's ideologically extreme base — but what's important for the general election and the vice-presidential nod is another thing altogether.
September 13, 2011 at 04:40 PM in Jobs, Labor, Right Wing, Susana Martinez | Permalink | Comments (0)
9/17: MoveOn New Mexico to Rally for Jobs, Not Cuts! at the Roundhouse in Santa Fe
From MoveOn New Mexico:
MoveOn New Mexico announces a rally to launch a Contract for the American Dream, a blueprint for fairness and human dignity. Join us for A Rally for Jobs, Not Cuts! on Saturday, September 17, at 1:00 PM at the the Roundhouse, East Side, facing Old Santa Fe Trail in Santa Fe. The New Mexico Legislature is in special session to deal with redistricting and other matters, and we'll be there to ask Gov. Susana Martinez and her crony legislators -- WHERE ARE THE JOBS?
When Susana Martinez ran for Governor, she promised to create jobs for New Mexicans. Since then she has done nothing but destroy jobs –- laying off teachers, getting rid of public employees, cutting film incentives. She has protected the tax loopholes of the oil industry, corporations and super rich contributors, while underfunding the public services we need. Pass on info on this rally to your friends, neighbors and family. Bring a sign and support this effort for our great state of New Mexico!
Co-sponsors of the rally include: MoveOn New Mexico; the Northern New Mexico Central Labor Council (NNMCLC); the American Federation of State, County & Municipal Employees (AFSCME); the Communications Workers of America (CWA) and 1199 National Union of Hospital and Health Care Employees.
MoveOn New Mexico comprises thousands of citizens who believe in a simple ideal: liberty and justice for all Americans. Although we hear daily that poor and middle-class members of our society must sacrifice more, we know this is wrong. Not only is it morally wrong, it will not work.  
Only investments in infrastructure, housing, 21st-century renewable energy jobs, public education and universal health care will help us emerge from the great recession. To pay for this rebuilding of the American dream, we propose fairer tax rates and the end to the wars in Afghanistan and Iraq. When the rich and large corporations pay their fair share, it will be possible to strengthen and expand Social Security and Medicare without reducing benefits. 
The MoveOn family of organizations brings real Americans back into the political process. With over 5 million members across America — from carpenters to stay-at-home moms to business leaders — we work together to realize the progressive promise of our country.
For more information contact: Steven Mayes, 505-795-3698, bookravens@gmail.com. 
Contract for the American Dream partners: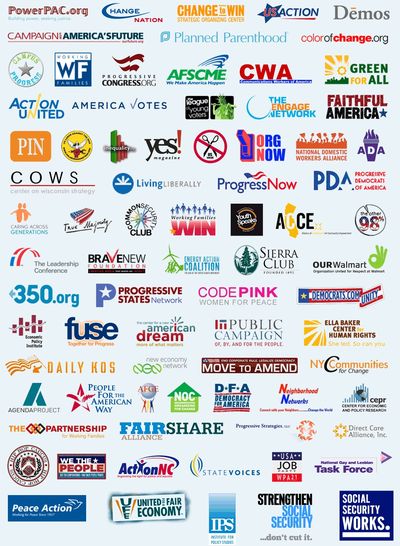 September 13, 2011 at 07:54 AM in Economy, Populism, Events, Jobs, Labor, NM Legislature Redistricting 2011, Santa Fe, Susana Martinez | Permalink | Comments (0)
Friday, September 09, 2011
9/10: NM Public Employees and Allies March to Defend Fair Labor Contracts, Expose Hidden Agenda of Gov. Martinez
From CWA Local 7076, AFSCME Council 18:
Public Employees and their allies will march in Santa Fe on Saturday, September 10th, from 11:30-12:30 PM to deliver our message, "Support Public Employees and Services, Negotiate Fair Labor Contracts," and expose the hidden agenda of the Martinez Administration. We will be marching from 2010 Cerrillos Road to the State Personnel Office at 2600 Cerrillos Rd. (meeting in front of Jambo Café, 2010 Cerrillos, at 11:30, walking down Cerrillos to State Personnel Office, 2600 Cerrillos for 12-Noon event).
Saturday, Public Employees will be joined by the family of New Mexico Labor Unions, AFL-CIO, New Mexico Federation of Labor, IATSE, AFSCME, N.M. State Legislators, MoveOn.org, Working America, Interfaith Worker Justice-NM, Sierra Club, northern N.M. Central Labor Council, 1199 Nurses Union, IWW Albuquerque General Membership Branch, and more.
Over 10,000 New Mexico CWA, AFSCME and FOP Union Public Employees are public safety officers, teachers, nurses, social workers, environmental scientists and regulators, Dept. of Health Scientific Lab employees, transportation and corrections workers, park and monument rangers and museum staff.
September 9, 2011 at 04:43 PM in Economy, Populism, Events, Jobs, Labor, Susana Martinez | Permalink | Comments (0)
Thursday, September 08, 2011
Photos: Union Supporters Celebrate Labor Day at Tiguex Park in Albuquerque

Click for photo album
Thought you'd enjoy seeing Mary Ellen's photos from Monday's Labor Day celebration at Tiguex Park in Albuquerque sponsored by the Central New Mexico Labor Council and hosted by New Mexico unions members and supporters. Lots of food, fun, and entertainment were available for attendees who visited booths, mingled with politicos and sought out the shade on a hot summer day. As we all know, celebrating and supporting the power and scope of unions is incredibly important given the continuing attacks on workers and worker rights by the tea party and GOP. Solidarity Now!
September 8, 2011 at 10:19 AM in Events, Holidays, Labor | Permalink | Comments (0)
Monday, September 05, 2011
Guest Blog: To Protect New Mexico's Middle Class, Labor Day Must Be Every Day
This is a guest blog by Cayetano Trujillo of the American Federation of State, County and Municipal Employees (AFSCME). It has also been signed by additional union leaders listed below.
Labor Day isn't at all about the past, it's about today. It's about working hard to level the playing field to keep our state's middle class healthy, to keep it a reality and not just a dream that lower-income families may only aspire to reach. It's about building on a vision for New Mexicans and our families. Labor Day is every day and every tomorrow.
Need proof? Look at this troubling example of what's happening today with negotiations between state employees and the state of New Mexico. In the opening bargaining sessions, the state last month made it clear that it wants to rip us back into a dark past when patronage and favoritism was always put first before public services quality, when, in the last dark decades of New Mexico's state government, the patronageS and good ol' boy systems reigned supreme. We had thought we had overcome this, but clearly not.
Since the mid-1980s, except for a brief period, state employees formed unions and participated in collective bargaining with the state. During these years, employees won guarantees of fairness at work through negotiations. We overcame a long tradition where state workers – whether nurses or social workers, environmental scientists, road maintenance employees, police or public safety workers – had no voice over our jobs, over favoritism or over patronage.
Through these contracts, employees brought an even-handed, enlightened form of management to our state government and it benefited citizens. It ensured that experienced, dedicated employees, who actually care about their work and our needs, wouldn't be subject to the mere whims of every newly appointed director or manager, or political appointee.
This day, however, appears to be over.
In recent weeks, all three unions met at the bargaining table with Gov. Susana Martinez's representatives, a contracted firm called Management Associates, to reopen our respective contracts. Here is what we were told: Remove everything in your contracts.
The words "fairness" and "equitable" have to go. How to get paid, when to take time off, even when you keep your job, will have no rules. Decent obligations, like bereavement paid time off or sick leave to care for your children or spouse, are over. Any process that makes our labor-management relationship productive so government can be more productive, they're gone.
The intent of these proposals can't be clearer; those who rush to protect us, heal us, fix unsafe roads and bridges or improve our water and air, are not priorities. These are the members of middle-class and working-poor families who have struggled to bring security and hope to our communities.
We're not Wisconsin, Ohio, Florida or Michigan. But the idea that everything middle-class families have strived for needs to be attacked and restrained hasn't been limited to those states. It's a growing agenda and apparent in the actions of our state at the bargaining table today.
Ask someone who works to improve the lives of New Mexico's families in any way, in any fashion, whether Labor Day or any other day representing the civil and human rights of our communities is a day that is past, and they will say no. Labor Day is every day and every tomorrow.
That's why we're standing up against this attack on New Mexico's state employees. By example, and by design, our state government needs to stand up for our hardworking middle class, starting with those who work to make our state and communities a better place to live.
This is a guest blog by Cayetano Trujillo. It has also been signed by Connie Derr, Robin Gould and Jana Smith-Carr, and David Heshley, all lead negotiators for, respectively, the American Federation of State, County and Municipal Employees; Communications Workers of America (CWA); and Fraternal Order of Police (FOP). Together, these unions represent more than 10,000 New Mexico state employees.
To submit a piece for consideration as a guest blog, contact me by clicking on the Email Me link at the upper left-hand corner of the page.
September 5, 2011 at 11:30 PM in Children and Families, Economy, Populism, Guest Blogger, Holidays, Jobs, Labor, Susana Martinez | Permalink | Comments (1)
Eric Griego: Honoring Workers With My Record, Principles and Commitment
This is a guest blog by Eric Griego, Democratic candidate for Congress in NM-01.

Today as we celebrate Labor Day, I express my sincere respect and admiration for the men and women of the Labor movement who have worked tirelessly to protect all American workers' dignity. All workers in this country have benefited from efforts by unions to gain safe working conditions, fair treatment at work, a fair or at least minimum wage, and the right to collectively bargain. I stand proudly behind my record of fighting for workers and their families even when it got tough as a State Senator, former Albuquerque City Councilor and now as a Democratic candidate for Congress.
My values in public life come from my own experience as a poor kid growing up in a tough neighborhood raised by a single parent. Because FDR, LBJ and other Democrats pushed for programs like Head Start, universal public education, civil rights, Pell Grants and decent wages, I was able to succeed despite my humble beginnings[i]. To realize the American Dream, hard work is important but not enough. Every kid and every family, not just the richest and the most powerful few, need to have the opportunity to succeed. That is why I am running for Congress and why I support the Labor Movement.
In 2004-05, I worked closely with then City Councilor Martin Heinrich and other pro-worker members of the Albuquerque City Council to increase the minimum wage so that the city would become a better place to work and make a living[ii] [iii]. Unfortunately, Republicans and corporate lobbyists opposed the increase, and ultimately we had to settle for a much smaller increase that was not indexed to inflation[iv].
In 2002, I led the fight in the Albuquerque City Council against efforts to solve a short-term budget crisis by firing nearly 400 employees[v]. I stood shoulder-to-shoulder in solidarity with our workers and the public employee unions to save most of the jobs, fend off an aggressive push to fire workers, cut their benefits and freeze their wages.
In the State Senate, I led efforts to protect collective bargaining for workers involved in public projects and to make sure prevailing wage laws were not undermined[ii] [iii]. I was also one of only a few state senators who fought the Governor, Republicans, and sadly, even some of our own Democratic members, when they pushed numerous proposals that would have reduced and undermined public pensions that exist to provide retirement with dignity for our public servants[iv]. And I stood in solidarity with AFSCME, AFT, IAFF and others during the legislative session to fight to protect our teachers, firefighters, nurses and other public employees from Republican and conservative Democratic efforts to cut their jobs, wages and benefits[v].
I am proud to be endorsed locally and nationally by the International Brotherhood of Teamsters[vi] and the American Federation of State, County and Municipal Employees (AFSCME), the Progressive Change Campaign Committee (PCCC)[vii], and by most of the strongest pro-worker elected officials in the state, including: Senators Jerry Ortiz Y Pino and Cisco McSorley, Representatives Miguel Garcia and Eleanor Chavez (the Chair and Vice-Chair of the House Labor Committee), and City Councilors Ike Benton and Rey Garduno [viii] [ix].
Unfortunately, too many Democrats cannot be trusted to support our middle class and working families, let alone to be on the frontlines leading the vanguard, when the fighting gets tough to protect workers and jobs against powerful anti-worker forces and cynical conservatives. There are huge corporate and political interests working to preserve power and money for the rich. When I'm in Congress, I will take on the elites to pass an economic plan and create jobs for the middle class, not the corporate few. I'll win these fights just as I have in Albuquerque and also work hard to pass the Employee Free Choice Act. I will keep doing what I have always done: fight for those who made our country great, the working men and women of America.
**********
Notes:
[i] [One Nation in California, 9/27/10]  Griego was in Head Start as a child himself. He is a defender of social service programs that benefit early youth.

[ii] [Santa Fe Reporter, 2/22/11] Collective bargaining has become a hot button issue in New Mexico since Walker took away workers' rights to negotiate in Wisconsin. State Senator McSorley (who endorsed Griego) sponsored a bill to protect workers. Public employees make up a quarter of the New Mexico work force, and under a Republican Governor, there is a real possibility that unions will come under fire. 

[iii] [Democracy for New Mexico, 2/22/11] Griego spoke at a rally in Santa Fe declaring how important workers' rights are. He derides corporate greed and sympathizes with Wisconsin workers.

[iv] [Associated Press, 3/16/11] Griego tried to salvage pensions through revenue increases in March, 2011 budget talks. The NM Senate ultimately approved a budget that would force workers to pay more for their pensions as the government lowered its contributions. Workers will need to pay an extra 1.75% into their pensions for two years.  Supporters of the increases claimed it prevented layoffs or furloughs.

[v] [Democracy for New Mexico, 2/25/11] Griego took part in a public debate defending public workers against cuts.  Griego favored increasing revenue, along with other progressive NM politicians and AFSCME. Griego and others pointed to closing tax loopholes as a source of revenue.  See Endnote 24 for Griego's support of IAFF and fire fighters.

[vi] [Democracy for New Mexico, 6/6/11] Teamsters international and local endorsed Griego.

[vii] [NMPolitics.net, 6/23/11] PCCC endorses Griego.

[viii] [Democracy for New Mexico, 6/16/11] State senators McSorley and Jerry Ortiz y Pino endorse Griego. As do House Representatives Miguel Garcia and Eleanor Chavez. Albuquerque City Councilors Isaac Benton and Rey Garduno also endorsed Griego.

[ix] [Democratic Party of New Mexico, 6/29/11] Fundraiser attended by state politicians to support Griego.
************* 
This is a guest blog by Eric Griego. If you'd like to submit a piece for consideration as a guest blog, contact me by clicking on the Email Me link at the upper left-hand corner of the page.
To see previous posts on the 2012 NM-01 congressional race, visit our archive.
September 5, 2011 at 01:00 PM in Eric Griego, Guest Blogger, Holidays, Labor, NM-01 Congressional Race 2012 | Permalink | Comments (1)
Sunday, September 04, 2011
Otero County Democrats Kick Off Labor Day Weekend (With Photos)

Click for photo album
Contributing writer Stephen Jones checks in with more on-the-ground coverage from Southern New Mexico.
Otero County Democrats gathered for their 7th Annual Labor Appreciation Breakfast at the Alamogordo Women's Club Saturday morning. The gathering brought out a large mix of organized labor rank and file union members and local Democrats.
"They told me there weren't any Democrats over here," said keynote speaker State Senator Mary Jane Garcia, "obviously they were mistaken." Garcia, who represents a district in neighboring Doña Ana County took on a wide range of topics in her address to the group ranging from legislative redistricting, to social promotion in schools, and her unwavering support for issuing drivers licenses to undocumented workers. She also stressed her work against domestic and community violence, and talked about the killings of women south of the border in Juarez.
Also addressing the group was Evelyn Madrid Erhard, who has recently announced she is running for the New Mexico 2nd Congressional District seat, and whose appearance at the Alamogordo event marked an important rollout for her freshly launched campaign outside her home county. Erhard is a long time neighborhood leader from  Mesilla. "For all but two years of the past thirty years we've been represented by Republicans in this district, first with Joe Skeen and now with Steve Pearce, and we've gotten nothing in return from them," she said, "I promise to change all that."
Other speakers included Carter Bundy of AFSCME, Otero County Chair Wally Anderson, and Stephanie DuBois who has organized each of the past seven Otero County Breakfasts. In addition to raising funds for the Otero County Democratic Party the group raised money for the ongoing efforts to turn back attacks on organized labor in Wisconsin.
Photos by Stephen Jones. To see more posts by Stephen, visit our archive.
September 4, 2011 at 06:16 PM in By Stephen Jones, Contributing Writer, Democratic Party, Events, Labor, Otero County | Permalink | Comments (3)
Saturday, September 03, 2011
9/5: Labor Day Celebration in Santa Fe-Where Are The Jobs, Susana?

Click image for larger version
September 3, 2011 at 12:45 PM in Events, Holidays, Jobs, Labor | Permalink | Comments (0)
Thursday, September 01, 2011
Guest Blog: Destructive Actions of Gov. Susana Martinez Even Worse Than Reported in NY Times
This is a guest blog by Paul Singdahlsen, a member of the CWA 7076 Executive Board in Santa Fe, NM. It's written in response to the recent New York Times article by Marc Lacy entitled, "New Mexico Governor Rushes to Undo the Agenda of Her Predecessor," published on 8/29/11.
As a citizen of New Mexico, and labor activist, I am compelled to respond to Marc Lacey's piece from 8/29/11 on Governor Susana Martinez.
This puff piece paints a rosy picture of yet another in a destructive line of right-wing Texas billionaire-backed puppets out to privatize all government services. She is setting out to undo not only the previous administration's negative actions, as briefly summarized in the article, but many, many of the positive changes, as well.
One critical piece of information that your readers need to know about this governor is the fact that her actions have landed her administration in front of the state Supreme Court five times already, including: by the state legislature for overstepping her bounds with specific pieces of legislation, by a national immigrants rights group for illegal actions regarding immigrants, and by 100 local unions for her unilateral and constitutionally illegal firing of the entire Public Employee Labor Relations Board, which settles disputes between the administration and state employees. She has lost every case.
Foremost among these positive changes Martinez is attempting to undo is the right for state employees to collectively bargain for better wages and working conditions.
She has hired, with state taxpayers money, a union-busting contractor to head the management side of the table in current contract negotiations. The current proposal by the state sets out to gut the contract that state workers have fought long and hard for the past 25 years, eliminating most of worker's rights and fundamentally destroying all the union locals representing state service providers.
The governor has also been waging a constant campaign against the environment since her election last year, including rolling back sustainable building codes, making oil drilling less safe by trying to change the 'pit'(drilling waste storage) rules, and denying the existence of climate change. This is especially remarkable given that we are in what every meteorologist and climatologist now refers to as a megadrought.
She continues to make attempts to privatize public education in New Mexico, firstly by firing 33 public employee service providers in the Public Education Department and trying to replace them with more expensive contractors, and now continuing to work with the corrupt and criminal contractor FEE (the misleadingly named Foundation for Excellence in Education) in her efforts to eliminate state-run education services.
As always, following the money is revealing: Martinez' election campaign had contributions of $450,000 from Texas billionaire Robert Perry, the same person who funded the 'Swift Boat' ads during Senator Kerry's presidential campaign, as well as major contributions from the Koch brothers.
It is imperative that the New York Times reports, or at least makes the attempt to report, on all sides of a story.
This is a guest blog by Paul Singdahlsen. To submit a piece for consideration as a guest blog, contact me by clicking on the Email Me link at the upper left-hand corner of the page.
September 1, 2011 at 08:03 AM in Climate, Energy, Environment, Guest Blogger, Immigration, Labor, Regulation, Susana Martinez | Permalink | Comments (5)
9/5: Union Labor Day Celebration at Tiguex Park in Albuquerque
From the New Mexico Federation of Labor:
Those of you in ABQ, head on down to Tiguex Park on Labor Day, Monday, September 5. We will celebrate Labor Day with food, fun, and entertainment. Bring your banners and wear your union shirts to show your support for labor and what Labor Day means. Bring your chairs, blankets, and families. We'll be serving hot dogs, hamburgers, and non-alcoholic drinks. Kids games will be everywhere for the little ones to enjoy! This event is free and everyone is welcome! Click for flyer.
The event will be from 12 PM to 4 PM. Corner of Mountain Road and 19th Street NW (near the Albuquerque Natural History Museum, Albuquerque Art Museum, and Explora). Click for map. Sponsored by the Central NM CLC.
September 1, 2011 at 05:18 AM in Events, Holidays, Labor | Permalink | Comments (0)
Friday, August 26, 2011
UFCW Endorses Martin Heinrich for U.S. Senate in New Mexico
The United Food and Commercial Workers (UFCW) have announced their endorsement of Martin Heinrich. "UFCW joins a growing list of labor unions backing the candidate in his race for the U.S. Senate in New Mexico," the Heinrich campaign said in a statement released today.
"I'm deeply honored to have the support of the hard-working men and women of UFCW," said Heinrich. "As I fight to create jobs and recover our economy, I'm always thinking about the people I meet around New Mexico who deserve someone working as hard on their behalf as they work every day."
In a statement endorsing Martin, Greg Frazier, president of UFCW in New Mexico, said, "Our members are middle class, hard-working New Mexicans. Martin is one of us, and he has gone to bat for regular working people here in our state. That's why our members voted to endorse Martin and pledge to do everything we can to ensure that he wins the Democratic nomination for Senate."
August 26, 2011 at 01:33 PM in 2012 NM Senate Race, Labor, Rep. Martin Heinrich (NM-01) | Permalink | Comments (4)
Wednesday, August 24, 2011
ABQ Buyer's Remorse Event Asked Where Are The Jobs, Susana Martinez?

Click for photo album
This is a report by Mary Ellen Broderick, along with her photos and videos from the event.
Working America staged an interesting event last week at the Workforce Connection building in Albuquerque. It was called Buyer's Remorse -- targeting people who voted for Governor Susana Martinez and asking whether they were sorry for it now. Those with buyer's remorse could submit ballots expressing their views. Susana promised to focus on job creation, but so far has done nothing of the kind. There was a steady flow of people coming and going out of the Workforce Solutions building that day and, I am sure, every day given our high unemployment rate. Does Gov. Martinez care?
Where Are The Jobs, Susana?
If you are one of the many people who are out of work in this state, it is very depressing. There is little to no relief in sight. People at the Workforce Connection site that day were commiserating and weighing their options. Of course there were activists there holding signs, and many passersby honked their car horns in support of them. However, the surprise to me was how many average people were going out of their way to sign the Buyer's Remorse card and put it in the ballot box to show their disgust with Gov. Martinez's inaction.
People were asking one another, "How long are you out of work?" And, "What are you doing to find work"? Not many were smiling.
Unemployment in New Mexico
It's now obvious that the numbers of people leaving the state entirely to find work are growing. Right now, if you look at the statistics regarding unemployment in New Mexico, you would say we are not doing too bad. However, those statistics don't take into account how many have already left the state, or have just quit trying to find work that is nonexistent.
Here is a map of unemployment levels in the country. New Mexico does not look that bad at an unemployment rate of 6.7% -- except that the data does not include the terminally unemployed or the under-employed, and doesn't describe the long-term damage to the state caused by talented people leaving to find work elsewhere.
Even if you manage to hold onto your present job or find a new one, your income is probably not keeping pace with the cost of living. Here is an interesting calculator that tells you how much a dollar bought in 1980 vs. 2011. So, $1.00 in 1980 would buy the same as $2.74 today. Did salaries increase at the same rate? 
There is an abundance of information at the Bureau of Labor Statistics. Get lost in the data, and think about what a horrific decline we are in. And then think about the weak actions our politicians are taking to fix things. In DC and Santa Fe, our elected officials seem focused like a laser beam on ... cutting budgets ... the worst thing you can do in a terrible recession. They seem bent on getting rid of jobs, not creating any.
Other discussions at the event were related to things we don't immediately realize are impacted by high unemployment and budget cutting -- like the all-important DUI program in New Mexico. The state has laid off people that help to implement this vital program. Many agencies that serve the disabled and help them find employment have also experienced large staff reductions:
The woman in this video sums up the unemployment crisis quite nicely, and stresses that New Mexican's need to speak out more strongly:
Fiddling While Rome Burns
As an unemployed American and New Mexican myself, I am increasingly scared and worried. I am an architect by profession. There is no public money flowing for design, construction or renovation of public buildings like schools, libraries, senior centers. The private sector is not building anything either, and banks are still not lending to fund needed projects. Everything is on hold. And architects in New Mexico and elsewhere are still being laid off -- not hired.
Unbelievably, New Mexico did not even pass any capital outlay funding this year, leaving it to the final hours of the session. This important bill -- which impacts the livelihood of many people in the state -- got sidetracked by silly political squabbling led by Gov. Martinez, and didn't even get a vote. Next time, I suggest our NM legislators vote on and pass the capital outlay bill at the same time as they pass their feed bill. It's just as important if not more so!
In addition, Gov. Martinez has put a moratorium on all higher education construction, which is yet another nail in the coffin. Susana also put the brakes on the movie industry. She has not kept her word about focusing on creating jobs. Instead, she is still talking day in and day out about eliminating driver's licenses for foreign citizens who reside here, and making wild claims about terrorists crossing the border and massive "voter fraud" taking place without providing any significent proof. Cut, cut, cut -- spending state employees, teachers -- is still the mantra with this bunch. And there is no end in sight.
Meanwhile, we are STILL spending 2 billion dollars a week on the Iraq Afghanistan wars. Imagine what 2 billion a week would do for the US economy. Now is the time to speak out in every way we can to get politicians moving on jobs, jobs, jobs -- and to demand that they stop putting so much time into minor but devisive issues that are meaningless BS meant solely to stir people up and get them hating -- and voting for right wingers.
August 24, 2011 at 09:07 AM in Economy, Populism, Jobs, Labor, Susana Martinez | Permalink | Comments (3)