Tuesday, May 08, 2012
House Majority Moves to Cut Children's Health Insurance Program, Could Have Devastating Effects for Uninsured New Mexico Kids
In an effort to stave off the bipartisan agreement to cut federal spending that was signed into law last year, the U.S. House Energy and Commerce Committee passed a measure that would take away an important incentive program that has helped thousands of uninsured children in New Mexico gain access to health care.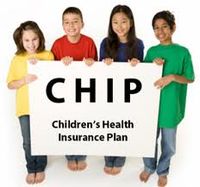 The measure would eliminate a pay-for-performance incentive plan that rewards states for doing an exemplary job of connecting uninsured kids to coverage. New Mexico has received over $18 Million for efforts in the Richardson administration to cut red tape barriers and reach out to eligible but uninsured children through the Children's Health Insurance Program (CHIP). An estimated 31,500 more uninsured children were connected with coverage.
The incentive plan is one of several successful strategies that have brought the number of uninsured children in America down to a record low. New Mexico made significant progress as the number of uninsured children dropped by 10% from 2007 to 2010.
Background: Created by the Children's Health Insurance Program Reauthorization Act (CHIPRA) of 2009, the bonuses reward states for demonstrating concrete success in enrolling low-income uninsured children in state Medicaid funded plans. To qualify, states must adopt one of a series of measures that simplify enrollment in coverage and reach enrollment targets. To date, the bonuses have worked exactly as intended - rewarding states for tackling the challenge of making sure that the lowest-income children in this country are connected to coverage.
During this recession, CHIP and Medicaid have been hard at work helping families unable to afford private health insurance to secure coverage for their children. When kids are healthy, we all win "they are more likely to grow and learn in school, and their parents have peace of mind that an asthma attack or accident won't send them to the emergency room and break the bank."
Connecting eligible but uninsured children to coverage is a high priority for the Obama Administration. HHS Secretary Kathleen Sebelius has called on leaders at every level of government and the private sector to find and enroll the nearly five million uninsured children who are eligible for Medicaid and CHIP through her "Connecting Kids to Coverage" challenge.
There are still an estimated 50,000 children in New Mexico who are eligible for Medicaid coverage but are not yet enrolled.
Bill Jordan, Policy Director for New Mexico Voices for Children said: "It would be shameful for the U.S. House of Representatives to terminate the bonus program and remove one of the incentives for states like New Mexico to enroll more kids in Medicaid.  Insurance coverage not only contributes to their health but it helps kids stay in school and focus on their studies, instead of missing school and being distracted by medical issues that could have been treated."
May 8, 2012 at 04:05 PM in Children and Families, Education, Healthcare, Youth | Permalink | Comments (0)
Wednesday, April 11, 2012
A Bad Prescription for New Mexico
New Families USA report shows how Ryan budget would slash billions in funding for Medicare, Medicaid here in NM.
Attached are two papers by Families USA outlining the costs to Medicare and Medicaid under the Ryan budget recently passed by the U.S. House of Representatives.
This budget is bad news for the more than 320,000 New Mexico Medicare beneficiaries and the thousands of working poor who cover their children with Medicaid.
http://familiesusa2.org/assets/pdfs/budget-battle/Republican-Budget-and-Medicare.pdf
Explains that House Republicans would harm both current and future Medicare beneficiaries by replacing the program with a voucher system and making substantial benefit cuts. The report also provides state-level data on the prescription drug savings that enrollees would lose under this proposal.
http://familiesusa2.org/assets/pdfs/budget-battle/Republican-Budget-Slashes-Health-Programs.pdf
Explains how the Republican proposal would affect the states. It provides state-level data on the federal funding each state would lose, the additional burden on taxpayers, and the rise in the number of uninsured residents.
April 11, 2012 at 10:23 AM in Healthcare, Medicaid | Permalink | Comments (1)
Monday, March 19, 2012
Health Groups to Parents: Affordable Care Act Can Be Real Life Saver
Event information provided by New Mexico Voices for Children.
Presentations at PB&J Family Services to illustrate benefits of health reform for kids
Community health advocates will speak to parents and staff at two Peanut Butter and Jelly Family Services locations this week, highlighting the benefits of health care reform for children and families. PB&J works with at-risk children, helping them grow and develop to their full potential in nurturing families within a supportive community.
Under the Affordable Care Act, children can no longer be denied health insurance coverage because of pre-existing conditions. Also, insurers must cover comprehensive screenings and preventative care for children—including well-child visits—with no co-pays. More child-specific benefits will come online in 2014.
The educational forums will be held this Tuesday and Wednesday at PB&J locations in Bernalillo and Albuquerque's Southeast Heights.
These educational forums are part of a series of events celebrating the 2nd anniversary of the passage of health reform this week.
WHAT: Educational Forums
WHO: Peanut Butter and Jelly of Albuquerque, Health Action New Mexico, New Mexico Voices for Children, Know Your Care NM
EVENT ONE
WHEN/WHERE: Tuesday, March 20, 10:15am, at PB&J of NM, 255-A Camino Del Pueblo in Bernalillo
EVENT TWO
WHEN/WHERE: Wednesday, March 21, 10am, at PB&J of NM, 206 San Pablo SE, Albuquerque
March 19, 2012 at 04:02 PM in Children and Families, Events, Healthcare, Obama Health Care Reform | Permalink | Comments (0)
Saturday, March 17, 2012
3/19: New Mexico Seniors to Rep. Steve Pearce: We LOVE the Affordable Care Act!
Seniors to present letter to Pearce's Las Cruces and Los Lunas offices to mark 2nd Anniversaryof Affordable Care Act
On March 19,2012 – In recognition of the 2nd anniversary of passage of the Affordable Care Act health reform law, leading senior-citizen advocates from Southern New Mexico will present a letter on behalf of seniors to Rep. Steve Pearce at his offices in Las Cruces and Los Lunas on Monday, March 19. 
The letter highlights many of the senior benefits of the Affordable Care Act, underscoring just how important the legislation has become for seniors across New Mexico.
As aresult of health reform, every New Mexico senior on Medicare – some 316,000 people – are now eligible for new, free-preventative care services such as flu shots and colonoscopies. More than 20,000 New Mexicans have benefitted from prescription drug donut-hole coverage, helping them pay for costly medications.
These presentations to Rep. Pearce are part of a series of events celebrating theanniversary of the passage of the Affordable Care Act the week of March 19-23.
WHO:  NM Alliance for Retired Americans, Know Your Care New Mexico
WHAT:  Presentation of letters on the benefits of the Affordable Care Act to Rep. Pearce
WHERE:  The district offices of Rep. Pearce in Las Cruces and Los Lunas
Las Cruces Office, 570 N Telshor Blvd, LasCruces, NM 88011
Los Lunas Office, 3445 Lambros Loop NE, Los Lunas
WHEN:  March 19, 2012,  Las Cruces Presentation 11 a.m., Los Lunas Presentation 2 p.m.
March 17, 2012 at 10:40 AM in Events, Healthcare, Obama Health Care Reform, Senior Citizens, Steve Pearce | Permalink | Comments (0)
3/19: HHS Assistant Secretary for Aging in Albuquerque to talk to seniors about new Affordable Care Act benefits
Kathy Greenlee will visit North Valley Senior Center, help seniors celebrate the 2nd anniversary of landmark health-reform law
On March 19, 2012 – Assistant Secretary for Aging Kathy Greenlee will be in New Mexico on Monday to visit with Seniors at North Valley Senior Center in Albuquerque from 11 a.m. to 1 p.m.
Greenlee will be in New Mexico to help local seniors celebrate the two-year anniversary of the Affordable Care Act with a birthday cake and brief presentation on the benefits New Mexico seniors can now enjoy as a result of health reform.
Such benefits include a wide range of free preventative care services, prescription-drug donut-hole assistance and coverage for people with pre-existing conditions.
This event is part of a series of events celebrating the anniversary of the passage of Affordable Care Act the week of March 19-23.
WHO: HHS Assistant Secretary on Aging Kathy Greenlee
WHAT: 2nd Anniversary of the Affordable Care Act celebration presentation at the North Valley Senior Center.
WHERE:  North Valley Senior Center, 3825 4th Street Northwest, Albuquerque
WHEN:  11 a.m., March 19, 2012. 
March 17, 2012 at 10:30 AM in Events, Healthcare, Obama Health Care Reform, Senior Citizens | Permalink | Comments (0)
Monday, March 05, 2012
A Checkup on Americans' Views of Healthcare Reform from the LA Times
This article on Healthcare was passed on to democracyfornewmexico and we feel it is a good description of a complex topic. There's a lot of disinformation about the measure that President Obama signed into law almost two years ago, so a closer look at what it does and doesn't do is in order.
It's been almost two years since President Obama signed healthcare reform into law. And even now, it seems most Americans still have no clue as to what was approved or how it works.
A USA Today / Gallup poll released this week shows that almost three-quarters of us think a requirement for nearly all people to buy insurance — the so-called individual mandate — is unconstitutional. About 70% of poll respondents say the reform law hasn't affected them personally. Roughly a third of Americans say the changes won't make any difference for their family, and 38% say they'll make things worse.
Only 24% of respondents say they expect the reform law to improve things.
It's not my intent to take sides here. There are some things about the law that I like (such as guaranteeing coverage to all, regardless of medical condition), and some that I don't (not enough attention to curbing sky-high costs; millions left uninsured).
But in the interests of cutting through some of the disinformation out there, let's take a closer look at what this law actually does and doesn't do.
"People don't seem to understand that the healthcare reform law already has a very significant impact on their lives," said Shana Alex Lavarreda, director of health insurance studies at UCLA's Center for Health Policy Research.
For example, she said, Medicare patients are now entitled to free preventive care, as well as more comprehensive coverage of prescription drugs. And there are other changes that touch virtually everyone in everyday ways.
"If you walked into a restaurant and looked at the calorie counts on the menu, and if you changed your order as a result, you were affected by the healthcare reform law," Lavarreda observed. "The law put those calorie counts in place."
California has required such info on menus since 2009 for chain restaurants with 20 or more locations. The reform law applies that same standard on a nationwide basis.
What about some of the bigger issues highlighted by the Gallup poll? First, the notion that an individual mandate may be unconstitutional. More specifically, the U.S. Supreme Court will be tackling the question of whether Congress has the right to impose such a mandate nationwide.
Proponents such as Harvard law professor Laurence Tribe say this falls under well-established precedents for Congress to do whatever is "necessary and proper" to regulate interstate commerce. Allowing people to remain uninsured yet still be assured emergency care merely shifts medical costs to others.
"There's no right to force a society to pay for your medical care by taking a free ride on the system," Tribe said during a debate at Harvard last year.
Critics say Congress is overstepping its authority by requiring people to buy a product they may not want. "The bill requires everyone to buy health insurance whether they seek healthcare or not," Georgetown University law professor Randy Barnett said at the same debate.
Reform backers counter that it's not as if lawmakers are holding a gun to people's heads and forcing them to be insured. Rather, most people who aren't covered through their jobs would have to buyinsurance or face a fine of up to 2.5% of household income.
For those pulling down $60,000 a year, that's as much as $1,500. If you're cool with paying such a sum instead of buying discounted coverage from a private insurer, as will be the case when online"insurance exchanges" open for business in 2014, that's your business.
The key point here is that health insurance works effectively only when everyone's in the risk pool — young and old, sick and well.
A mandate is what makes feasible the reform law's guarantee of coverage of everyone, no matter what their medical condition. Without a mechanism to expand the risk pool, many people would naturally wait until they need insurance before buying coverage.
This would cause premiums to skyrocket and make insurance even less affordable and accessible than it is now. Anyone who opposes a mandate, therefore, needs to accommodate this outcome in some other way, such as maintaining the current system of allowing insurers to pick and choose whom they'll cover.
More than two-thirds of respondents to the Gallup poll say the reform law hasn't affected them personally. In reality, it almost certainly has — they just don't know it.
As UCLA's Lavarreda noted, calorie counts on menus are a modest example of how everyone is touched by the law. Another is a requirement that insurers provide coverage through family plans for young people up to age 26.
According to the Census Bureau, almost a quarter of the nation's more than 311 million people are under 18. That's nearly 75million young people. It's unclear how many others are between 18 and 26, but we're clearly talking millions of young adults.
In other words, even if you don't have kids of your own, you almost surely know someone who does. The fact that health coverage is now available to these young people represents a significant change for people you may care about.
Moreover, it affects you directly by bringing more young and healthy people into the system, thus keeping your own rates down. It doesn't get more personal than that.
As for the 34% in the Gallup poll who say healthcare reform won't make any difference, not to mention the 38% who say it will only make things worse, I'm not sure where such sentiment arises.
The reform law extends coverage to roughly 30 million people who currently lack insurance. That can only mean fewer uninsured people seeking emergency treatment, which can only mean lower overall medical costs and insurance premiums.
By any measure, those are improvements over our current situation of about 50 million people lacking coverage and family insurance rates that are as much as $1,500 higher annually because of the cost of treating the uninsured, according a study by the advocacy group FamiliesUSA.
The healthcare reform law isn't perfect, and I respect people's right to criticize or oppose it. But it helps to know the facts.
The facts are these: Our current system is broken. The reform law addresses a number of things that need to be fixed. It also leaves many issues outstanding (not least, projected multitrillion-dollar deficits for Medicare in coming decades).
We still have much to discuss. The discussion would be much improved if people looked past knee-jerk ideological positions and actually thought things through.

For a change.
To read the article By David Lazarus as published on March 2, 2012 click here.
March 5, 2012 at 11:22 AM in Healthcare, Obama Health Care Reform | Permalink | Comments (0)
Friday, February 24, 2012
HIV/AIDS Interview With CD1 Candidates; Guest Blog by Marshall Martinez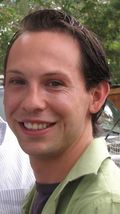 Following is a guest blog by activist Marshall Martinez.
Roughly a month ago, I wrote a guest post on Democracy for New Mexico about Federal HIV Policy issues.  (that blog can be found here.)
After writing that blog, I interviewed the 3 Democratic candidates for the First Congressional District house seat about these same issues.   The goal of this post is not to endorse any of the candidates.  It is not intended to portray any candidate in a better or worse light than the others.  My goal is purely to remind the public of the importance of this issue, and relay to the public the thoughts of my local candidates and elected officials on this oft-forgotten issue. 
In 2012, HIV continues to have a deadly grip on our society and there are many ways that the federal government can help us avoid necessary deaths and transmission of this virus.  This issue will be near the top of the list of considerations I use when choosing my candidates for the June 5th Primary and November 6th General Elections.  I implore you to put them somewhere on your own list, as well.
I interviewed Michelle Lujan Grisham—current Bernalillo County Commissioner and former Secretary of the NM Dept. of Health; Eric Griego—NM State Senator and former ABQ City Councilor; and Marty Chavez—former NM State Senator and Mayor of ABQ.
My first topic of discussion with the candidates was a relatively black and white issue: Syringe Exchange Ban on a federal level.  This ban works much like the "Global Gag Rule" prohibiting any federal funding to be awarded to any organization that also provides clean/new needles to IV drug users to help prevent transmission of HIV and other blood-borne pathogens.
All three of the candidates immediately answered this question the same, they would approach such an issue from a public health perspective.  They understood that morality and politics have no place in this particular debate, as we are simply putting more people at risk because we as a society have judged their behavior as unworthy of protection.  Chavez called the issue a "low hanging fruit" for the conservatives who believe they could easily win on an issue that is hard to explain to the average voters,  Griego stated that the issue "needs to be de-politicized" and Grisham stated that the "ideology behind the issue is inappropriate and irresponsible."
Criminalization of HIV-positive people is a major issue in the US.  Many states have laws that criminalize or increase the severity of crimes based on HIV status.  There is no doubt the goal of this was to reduce transmission because of malice or negligence, but we now know as advocates that is not the outcome achieved. In discussing this issue, Grisham immediately said we need to do more work on education about the issue, since this is still a problem.  She also insisted that we focus our energy on prevention, rather than continuing to spend resources enforcing criminalization statutes.  Griego said the first step in addressing these issues is to think about public health; once we have discovered what works to expand public health, we do the "right thing," regardless of fears or feelings of morality.  Griego also said we can count on him not to support criminalization in New Mexico if any were to be introduced.  Chavez, while questioning the role of the federal government in state laws on criminalization, pointed out his record as a state senator—sponsoring the difficult and often trailblazing legislation at the time, including his law that finally outlawed spousal rape in NM.  The connection he made was that, though de-criminalizing HIV might not be popular even today, it's the right thing to do and he would be happy to support it. 
The issues get a bit more difficult, having to navigate budget/revenue issues and healthcare reform, while keeping the discussion focused on HIV policy.  The candidates didn't have a difficult time, but I sure did.  AIDS Drug Assistance Program (ADAP) is funding used to help low-income and underinsured people living with HIV afford their medications.   States face budget cuts in every area and some states have already begun to develop waiting lists for ADAP funding, preventing thousands of Americans from accessing the life-saving medications they need.  Grisham immediately made connections that I didn't have to draw for her: "treatment of the virus is prevention of the virus. We have to set the framework for priorities in our nation's budget, which means we have to stop having the conversation as a budget conversation and have it as a policy conversation as well."  Chavez explained that we have severe budget issues in this nation, drawing the picture of borrowing .42 for every dollar spent from foreign investors.  Griego drew the largest distinction on this particular issue, pointing out that he supports more broad changes to healthcare policy in America, rather than tweaking a still broken system.  Griego was quick to demonstrate that there are many barriers to making HIV medications—and all life-saving/improving medication more affordable—including but not limited to patent laws, HMO/pharmaceutical formulary revisions, and our lack of better high risk insurance pool policy or "public option" in Federal Healthcare Reform.    It's not easy to parse budget, healthcare, and HIV Policy issues clearly.  Each candidate demonstrated a different understanding and approach to these issues, though all agree clearly that access to HIV medications is our moral obligation.  
Rounding up the conversations, I discussed prevention methods and their funding, how to make this issue more "sexy" on a societal level, and my own less frequently discussed issue of doctors giving positive test results without knowing or considering the emotional and psychological weight it has on the patient.  The three candidates had much to say on these topics, though each of them were flattering and supportive in a similar fashion—telling me that the work I am doing is helping to raise the public profile of HIV Issues.  I appreciate the flattery guys, but let's not add to my already growing ego!!!
In all seriousness, each of the candidates approached this topic more conversationally, bringing in much more of their individual experiences and ideas about policy overall. 
Griego pointed out his success with a Public Safety Tax for the city and creating programs that are geared toward prevention, his recent accomplishments on Addiction Issues in the South Valley and understanding a community approach to prevention and healthcare overall.  Griego has a wonderful grasp on community based approaches to healthcare and especially prevention techniques for multiple issues, including HIV.  Coming from a community that is close-knit and knows that positive relationships can have a huge impact the prevalence for higher risk behaviors, he understands that approaching high risk behaviors with our youth is the key to creating a healthier generation and or target of reaching a Generation without AIDS, soon.  
Chavez has a lengthy legislative and executive history with many policies of which to be proud.  He reminds us of the creation of the "311" system in Albuquerque, which is all about relaying information to people in Albuquerque, and points out that in a digital age, when technology puts information at the tip of or fingers there is no reason that we can't create more easily accessible information and resources for doctors, patients and average citizens regarding HIV.  He also pointed out that I do not know if our current Representatives' or Senators' offices would be able to direct a caller to information on testing, preventing or accessing counseling for HIV, if he were the CD-1 Representative his office will be able to direct constituents to HIV Information.  
Grisham has much public health information to backup her understanding of these issues.  She pointed out that we ought to create incentives for medical schools to develop curriculum that helps students deliver HIV positive test results with care for the emotional and psychological aspects.  Grisham also understands, with incredible nuance the need and benefit of evidence-based prevention methodology.  With such rich background in Public Health, Grisham is able to speak eloquently to the need to have full policy discussions around these issues, rather than trying to pull the larger issue away from the budget, prevention or healthcare debate. 
It is fair to say that we are very fortunate to have such understanding, compassionate, and morally sound Democrats running in the First Congressional District, at least with Regard to HIV Policy.  Whether it is Mayor Chavez speaking with remorse and grief over the loss of friends in the 80s and 90s to this horrific plague; Senator Griego speaking with passion to the abilities we have to prevent and even eradicate this plague from our society with the strength of a community-based approach to healthcare; or Commissioner Lujan-Grisham delving deep into the intricate details of policy and public health, ready to debate with the most conservative personality backed up by evidence; we are blessed in the First Congressional District. 
All three candidates promised they would continue to research, discuss, advocate for, and champion the issue of HIV prevention and treatment.  I challenge you, as voters and constituents in this district, to hold these candidates accountable to their promises; I will continue to do so to the best of my ability.  This is an issue of moral and fiscal obligation in our time, 30 years after the onset of this plague, and we must band together to eradicate it from our world.  
February 24, 2012 at 09:25 AM in AIDS/HIV, Eric Griego, Guest Blogger, Healthcare, Martin Chavez, Michelle Lujan Grisham, Public Policy | Permalink | Comments (2)
Thursday, February 02, 2012
Health Reformers to Guv Martinez: Don't Whiff on Great Opportunity to Create Health Insurance Exchange This Session
Health-reform advocates today called on Governor Martinez to allow Sen. George Munoz's health insurance exchange legislation to be debated this legislative session.
Munoz's Senate Bill 278 can be found here.
A health insurance exchange is a competitive health-care marketplace where the uninsured, underinsured and people in the individual and small-group market will be able to buy affordable health coverage under the nation's health-reform law, the Affordable Care Act.
Each state has been tasked under the law with creating their own version of an exchange. If a state fails to create an exchange, the federal government will create one for it. In New Mexico, Governor Martinez appears to be opting to bypass the Legislature and create an exchange via Executive Order.
"What is potentially troubling here is that the Governor's early plans for an exchange give insurance company representatives a prominent role in governing the exchange and setting rates," said Barbara K. Webber, Executive Director of Health Action New Mexico. "I can think of no situation where putting an industry in charge of setting its own rates would benefit consumers and working-class New Mexicans. It would be like the fox guarding the henhouse."
Health-reform advocates support more health-consumer voices on the exchange and see Munoz's bill as an excellent opportunity to have a discussion about the exchange and give the public a voice in the debate about how the exchange is structured.
"We are simply asking for Senator Munoz's bill to be allowed to be heard," Webber said. "All New Mexicans will be better off if the exchange is created through an open Legislative process rather than behind closed doors via Executive Order. The public deserves a debate on this important issue that will impact tens of thousands of New Mexicans."
Health-reform advocates are asking the members of the public to call Governor Martinez at 505-476-2200 and ask her to allow the Health Insurance Exchange issue to be heard this legislative session, which ends Feb. 16.
February 2, 2012 at 11:40 AM in Action Alerts, Healthcare, NM Legislature 2012, Obama Health Care Reform | Permalink | Comments (1)
Tuesday, January 24, 2012
Medicaid Action Day at Our Roundhouse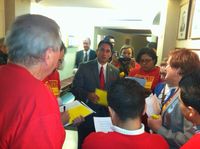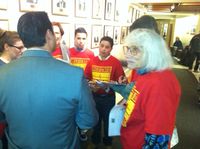 Above are photos of medicaid recipients speaking with Sen. Morales
"More than 70 Medicaid advocates today visited the Legislature and Governor's office, asking policymakers to protect this vital health-care program that serves more than 550,000 New Mexicans, many of whom are children.
Many of the advocates at today's Medicaid Lobby Day at the Roundhouse are recipients of the health program designed to cover the poor.
Advocates and recipients are concerned about Governor Martinez's plan to redesign Medicaid, fearing the governor will push to implement co-pays, which will hurt working families.
The photo below is a meeting held at the Governors office to discuss their concerns.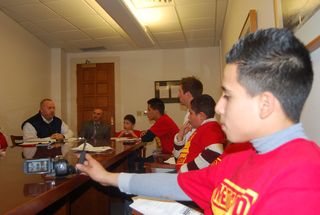 "Too many New Mexico families are in the impossible position of choosing between food and rent or food and electricity," said Roqui Jones, a Medicaid supporter. "To add Medicaid co-pays onto this burden would be disastrous as people work to lift their families out of poverty and create better lives for their kids."
Medicaid Lobby Day was sponsored by several New Mexico organizations representing thousands of New Mexico Medicaid recipients. These include: OLE New Mexico, New Mexico Alliance for Retired Americans, New Mexico Center on Law and Poverty, Know Your Care New Mexico, LULAC, NM CIR/SEIU, Albuquerque Health Care for the Homeless and Mi Via Moving Forward."
January 24, 2012 at 02:37 PM in Children and Families, Healthcare, Medicaid, NM Legislature 2012 | Permalink | Comments (0)
Saturday, December 17, 2011
Study Confirms What New Mexicans Have Known for Years - Most Medical Research on Chimpanzees is Unnecessary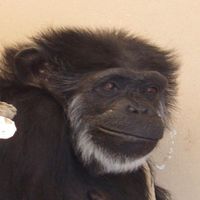 Meet Flo
Flo is 54 years old and is one of 170 chimps still at the Alamogordo Primate Facility. Her medical history dates back to 1972, see this link for an Overview of Flo's Medical Records. She was anesthetized for blood draws countless times, she had four babies all taken from her right away so they could be used for other often needless research, and she had several escape attempts during one of which she was shot.
On December 15, 2011 the Institute of Medicine (IOM) issued a report: Chimpanzees in Biomedical and Behavioral Research: Assessing the Necessity. to read the IOM summary and report follow this link. Our NM Senators who were leading the charge for the chimps retirement and the people speaking out against more research for chimps like Flo, followed up with a letter to the NIH requesting the report be adhered to, DFNM has a separate post of the Senator's statements regarding the report.
Guest Blog from Laura Bonar:
Following is a guest blog from Laura Bonar, Program Director of Animal Protection of New Mexico(APNM). APNM and Laura were instrumental in getting the Alamagordo chimps a repreive from more hedious testing. APNM sees more lies and falsehoods within the NIH document released in response to the report from IOM,  Download Chimp Study Reveals NIH Deception.
For nearly two decades, Animal Protection of New Mexico has been working to protect New Mexico's chimpanzees, our closest genetic relatives, from abuse in government-funded research. Last year's announcement that the federal government wanted to force 200 sick, ailing chimps into more testing and put an end to jobs in our state prompted a massive public outcry. The Institute of Medicine's chimp study results, actions from our elected leaders, and agency response show that when people commit to work together, we can accomplish meaningful change!
Finally, an independent study confirms what New Mexicans have known for years: most medical research on chimpanzees is unnecessary, and there is little to no relevance for chimps in research in this day and age. The National Institutes of Health has suspended funding for all future chimp research projects and will reevaluate all current funding.
We cannot rest until 54-year-old Flo and her colleagues are permanently retired and wasteful spending on cruel, ineffective research is ended. Thank you especially to Senator Tom Udall for leading the request for an independent study on the need for chimp research and for this week signing on to cosponsor the Great Ape Protection and Cost Savings Act! Senator Jeff Bingaman supported these efforts and joined with Senator Udall to urge the NIH to adopt report recommendations and protect New Mexico's chimps from further harm. Congressman Martin Heinrich sponsored the bill even before tremendous public outcry and was a consistent and outspoken champion, and Congressman Ben Ray Luján spoke out in 2010 and cosponsored legislation in 2011. Without the diplomacy and commitment of Governor Bill Richardson to stand up to the National Institutes of Health in 2010, this historic moment would not have been possible.
But this stepping stone for chimps and effective medical research is truly a people's victory. Public support should bring political support, God bless the optimists among us who won't give up even in bleak times!
Other Good Coverage
Here is a good article and video summarizing the years long effort of saving the chimps by our local KRQE.
And on a national level an article in Discover Magazine. A wonderful realization is stated in the Discover Mag article: "The recommendation is a reflection of our growing realization that chimps may be capable of self-awareness, empathy, grief, and happiness, and may possess basic morality as well as a culture; Brandon Keim, who has covered chimp research extensively for Wired, notes that some scientists have begun to think they should qualify as nonhuman people. Subjecting them to disease, pain, and psychological trauma in the service of research thus has grown to seem ethically dubious, especially after it was revealed that the NIH planned to send 209 chimps who had been allowed to retire from medical research back into the lab and that an NIH division had illegally bred captive chimpanzees." DFNM suggests following many of these links they are very interesting and informative.
December 17, 2011 at 09:36 AM in Animal Protection, Guest Blogger, Healthcare, Regulation | Permalink | Comments (3)
Tuesday, December 13, 2011
NM-1: Nurses Union Endorses Eric Griego for Congress
New endorsement information from the Eric Griego for Congress campaign:
Today, Democrat Eric Griego (NM-1) announced his endorsement by the District 1199NM National Union Hospital and Healthcare Employees union's executive board.
The union's president Fonda Osborn cited Griego's "long history of advocating for labor and working families" for endorsing him.
As State Senator and former Albuquerque City Councilor, Griego has fought tirelessly to protect Medicaid and improve healthcare for seniors and working families.  Griego has made protecting Social Security, Medicare and Medicaid a centerpiece of his congressional campaign.
"I'm proud that nurses and other healthcare workers are standing with me to fight for better patient care," Griego said.  "I look forward to continuing to fight for better healthcare for seniors, children and working families as New Mexico's next U.S. representative."
About Eric Griego: Eric Griego is running in the open seat for New Mexico's First Congressional District.  He is leading the Democratic field in the total number of local and national political endorsements, money raised, and total number of contributors with more than 12,000 donors.  As a State Senator and former Albuquerque City Councilor, he has earned a reputation as a bold progressive champion for working families, seniors and children.
Griego has built a broad Democratic coalition with strong labor, environmental and grassroots support.  He is endorsed by groups such as the Progressive Change Campaign Committee, MoveOn.org Political Action, the Sierra Club, League of Conservation Voters, AFSCME, Teamsters, and numerous other local and national progressive leaders and organizations.
More information about his campaign can be found on his website: www.griegoforcongress.com.
December 13, 2011 at 01:51 PM in Candidates & Races, Eric Griego, Healthcare, NM-01 Congressional Race 2012 | Permalink | Comments (0)
Thursday, December 01, 2011
Guest Blog for World Aids Day: Why Medicaid Matters in the Fight Against HIV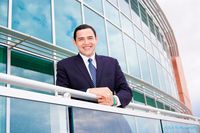 This is a Guest Blog provided by Jacob Candelaria: A native of Albuquerque, New Mexico, Jacob Candelaria is a graduate of the Woodrow Wilson School of Public and International Affairs at Princeton University, and the current President/CEO of Equality New Mexico and the Equality New Mexico Foundation.
Since the onset of the global HIV/AIDS pandemic in the 1980s, 60 million people have been infected and over 25 million have died. This is a disease that recognizes no national borders, nor race, gender, age, religion or socio-economic status. HIV/AIDS is and remains a global problem, and one that continues to seriously impact the health of New Mexico communities and families.
In New Mexico, the State Department of Health estimates that in 2009 over 1,300 people were living with HIV, and an additional 2,000 were living with AIDS. In that same year, 152 New Mexicans were newly diagnosed with HIV/AIDS.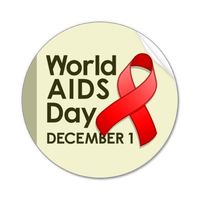 On this World Aids Day, we take the time as a community to remember those who have died, seek to empower those who live with the disease, raise awareness, and support those individuals and organizations that actively search for a cure.
To be sure, Medicaid deserves our thanks for the role it plays in the fight against HIV, the virus that, if left untreated, leads to the development of AIDS. As a primary source of healthcare coverage for those with HIV, it is critical that Medicaid remain fully funded at the state level and that an expanded Medicaid program, as required by federal health care reform, be as accessible as possible to those struggling with HIV who will become newly eligible for Medicaid coverage in 2014.
Major Source of Coverage
Medicaid is a federal-state program that provides health insurance coverage to low-income children.  While poor kids comprise nearly two-thirds of those enrolled in Medicaid, the program is also an important source of coverage for a smaller number of very poor and medically needy adults.
Across the United States and in New Mexico specifically, Medicaid is the primary source of health insurance coverage for HIV patients. A recent study by the Kaiser Family Foundation found that 47% of all HIV patients with health care coverage get it through state Medicaid programs. Health insurance matters because having consistent and uninterrupted access to affordable, comprehensive medical services (especially anti-retroviral drugs that are essential to staving off disability and death) is critical to managing the disease and thereby sustaining both quality of life and indeed life itself.
The sad reality of current Medicaid rules, however, is that they generally require  an adult with HIV to be very poor and very sick before they can qualify for assistance. This is because most adults with HIV qualify for Medicaid by virtue of being "medically fragile" or "disabled." Or, in other words, they are at a point where the disease has made it nearly impossible for them to work or live independently.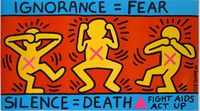 From a public health perspective, this just doesn't make sense as we are essentially telling those with HIV who can't afford private health insurance that they must let their disease get worse before they can access the healthcare they need through Medicaid.
Expanding Coverage for those with HIV through Federal Healthcare Reform
Beginning in 2014, all individuals under the age of 65 that are below 133% of the federal poverty line will qualify for Medicaid coverage. For a family of four, this means earning less than $29,726 per year. This expansion is expected to provide healthcare coverage to an additional 22 million low-income Americans, including over 200,000 working New Mexicans.
The Medicaid expansion will also extend coverage to many with HIV, particularly those who are not yet disabled. By determining Medicaid eligibility solely on the basis of income, federal healthcare reform will provide many struggling with HIV the opportunity to secure healthcare coverage without having to wait until they become very sick and disabled.
Moving forward, state policy makers charged with implementing federal healthcare reform should keep in mind the important role that Medicaid plays in the fight against HIV and ensure that all people that are newly eligible for Medicaid are able to access the medical services they require.
For Medicaid to continue as an important source of coverage for those with HIV, the state needs to make the right decisions, not only when it comes to rules and regulations that determine what medical services those with HIV receive, but also by guaranteeing that Medicaid is fully funded at the state level.
December 1, 2011 at 10:09 AM in AIDS/HIV, Guest Blogger, Healthcare | Permalink | Comments (0)