Monday, May 07, 2012
Senator Sanchez Announces $23.5 Million State Grant for Los Lunas High School Construction
On May 4th, Senate Majority Leader Michael S. Sanchez (D-29-Valencia County) announced today a $23.5 million grant from the state Public School Capital Outlay Council for the first of two construction phases to rebuild 75 percent of Los Lunas High School.
"The Los Lunas community has worked closely with the school district and the state to develop a new facility that will offer our students and teachers a first rate learning environment now and in the future," Senator Sanchez said. "It's been an effective team effort, with the state providing 80 percent of the construction funding, contingent on local matching funds of about $5.9 million."
Construction is expected to begin in early June, with the demolition of half the high school, and the construction of two new multi-story buildings. New facilities will include a cafeteria and kitchen, classrooms, science lab, vocational lab, computer lab and offices. Existing buildings will be renovated to include new fire protections systems, plumbing and electrical systems, along with new interior walls, ceilings and floors. This first phase of construction will be completed by late fall of 2013.
A second construction phase, to replace most of the remaining facility, will begin in early 2014 for completion by summer 2015. The current gym, auxiliary gym and performing arts center will be preserved.
"The current high school campus has had ten or eleven additions and renovations over the years," said Senator Sanchez. "As a result, program design and the use of space at the high school weren't optimum, which this design and construction will correct. The new facility will be safer and more functional…and will deliver the educational program that our community determined that it needs."
The new high school will have classroom space for 1,500 students in grades 9 through 12, while the core of the campus will be built to accommodate 1,800 students. Current enrollment is 1,358 students.
May 7, 2012 at 01:29 PM in Democrat, Economy, Populism, Education, Jobs, NM Legislature 2012 | Permalink | Comments (1)
Friday, May 04, 2012
Martinez Administration's Latest attack on State Employees and Teachers
In Latest Attack, Governor Martinez Suggests "Drastic Changes" For Public Employee Pensions
See Independent Source PAC for complete article with additional links:
At the Special Meeting of the New Mexico State Board of Finance presided over by Governor Susana Martinez on Monday, Apr 30, 2012, the latest prong of attack on public employee families and the educational community seemed to be ramping up.
During a presentation by Pension Fund officials that was supposed to be about ways to routinely keep these funds solvent, Martinez fueled the political rhetoric by stating it was "impossible" for the pension fund to remain solvent without "drastic changes."
The Governor called on her favorite 'attack General,' Finance Board member Robert Aragon, to provide a preview of the Martinez Administration's 2013 strategy to further vilify public employees, whether they be state workers or teachers.
In a manner reminiscent of the December 20, 2011, State Finance Board meeting during which Martinez and Aragon personally orchestrated the final step in awarding of a rigged contract worth over a Billion dollars for her campaign contributors from Louisiana, Aragon once again took the starring role suggesting at various times, in a rambling diatribe, that the retirement system in New Mexico was 'immoral' and 'unethical.'
He also claimed that payments into the system by the employer, the state, were draining money from the classroom, ignoring the arguments of the retirement fund representative that such payments are part of the cost of classroom education.
Essentially Mr. Aragon and the Governor are suggesting that teachers and other public employees should get used to the idea that their compensation package is about to be reduced in the upcoming 2013 legislative budget session.
The discussion was joined by the Secretary of Finance Administration, Tom Clifford, when he hinted at a Martinez Administration proposal to change from a defined benefits plan to a defined contribution plan as he felt the only way the pension boards were addressing solvency was by increasing rates when they should be looking at changing the benefits side of the equation. In other words, reducing benefits and changing the eligible age for those benefits to kick in.
The Governor followed with a question, that was as much a statement of intent, asking if there was any language in the
New Mexico Constitution expressly prohibiting such a change. Not that adhering to the Constitution has ever been of concern to Martinez when she wants her way.
That another attack on public employee compensation is in the works was further evidenced by the orchestration of this meeting, as other Martinez Board appointees chimed in with their suggestions that state and school employees have been getting significant increases in compensation in the last several years, oh and that public employees have safe jobs and don't have to worry about losing them. (Are these guys living in a parallel universe, or what?)
At one point Aragon led a line of questioning claiming third grade reading levels were down, and that teacher pay increases were part of the problem.
It is clear that Martinez education and finance policy makers are pointing to a more privatized type pension system.
This coincides with a mind-set leading to more privatization of government services, as evidenced in recent reporting by Independent Source PAC and the Santa Fe Reporter, of Martinez appointees sending millions of New Mexico dollars to out of state companies.
This is a link to the Board meeting, the attack on public employees begins about 30 minutes into the meeting.
May 4, 2012 at 10:30 AM in Education, Independent Source PAC, Susana Martinez | Permalink | Comments (0)
Thursday, April 19, 2012
State Rep. Rick Miera on Romney's Secret Plan to Cut Education in New Mexico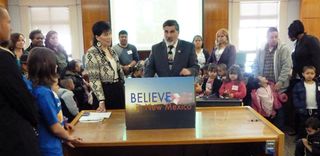 Photo above from Rep. Sheryl Williams Stapleton.org
At a high dollar fundraiser on Sunday night in Florida, Governor Romney revealed that he's got a secret plan to make deep cuts in programs essential to the middle class, like education, in order to fund his $5 trillion tax cuts for the wealthiest Americans.  From his policy positions to his taxes, this recent revelation continues a long-standing pattern of secrecy from the Romney campaign.
While presidential candidates of both parties have for decades disclosed many years' worth of tax returns, Romney will not share with the American people the returns he gave to Senator McCain as he was being considered for Vice President.  Romney has failed to explain why he opened a Swiss bank account, established a corporation offshore in Bermuda or provide tax returns that could shed light on those actions.  The Romney campaign continues to refuse to disclose his major fundraisers, although President Obama, President Bush, and Senator McCain all did.  These inactions further a pattern of secrecy that began as he exited the Governor's office, when his staff walked out the door with records that will now never be shared with voters.
"Throughout this campaign, Mitt Romney has tried to play by a different set of rules," said State Representative Rick Miera, a longtime champion on education issues.  "Americans have always expected to be able to review a presidential candidate's records and plans, and be given the chance to lift up the hood and kick the tires.  It's time for Governor Romney to come clean."
In New Mexico, Romney's secret plan to "gut" the Department of Education will have a significant impact on thousands of children and families.  New Mexicans rely on the Education Department to help provide a quality public education, including help for thousands of special education students and Pell Grants and student loans to help thousands students receive the critical support they need to access and afford college.
"Every child in New Mexico deserves a quality education and Romney needs to be honest with students and families," said Miera. "When President Obama took office, he made education a national priority, working to make college more affordable so students can access the education they need to compete in the global economy.  If Mitt Romney has a different plan for education, Americans deserve to know what it is."
April 19, 2012 at 07:30 AM in Education, Mitt Romney | Permalink | Comments (3)
Tuesday, April 17, 2012
Letter from the American Federation of Teachers to Gov Martinez and Not Yet Approved NM Education Secretary Skandera
Dear Governor Martinez:
As an educator, a citizen of New Mexico, and a leader elected to represent my fellow educators, I am writing to express my objections to any attempt to reform teacher and principal evaluations through the rule-making process.  New Mexico's NCLB waiver application clearly states that changes in the way we are evaluated will be based on legislation – that legislation did not pass.
We teach our students that our government is purposely structured to create a balance of power between the three branches of government.  We teach that it is  the job of the legislative branch to pass laws, and the duty of the executive branch to enforce those laws.  The rule-making process is intended only to clarify existing law. In our constitutional system the executive should not be involved in rewriting law and should respect the separation of powers our founders established.
We believe that changes in the teacher evaluation system can be a powerful tool for positive change.  High-quality, thoughtful evaluation systems can change public education for the better.  Misguided evaluation approaches, like those based heavily on standardized test scores, will not.  The effect on schools, and more importantly on the students we serve, will be harmful.
The proposed system bases evaluations 50% on standardized tests, and will result in the worst outcomes for our students, including:
Increasing reliance on inadequate measures of student learning.
Entrenching an educational system that contradicts a focus on developing students' deep conceptual understanding, which is the intent of the Common Core Standards that New Mexico has adopted.
Maintaining a system that creates judgments based on unreliable test data, and which never really gives teachers meaningful feedback—and gives no relevant feedback to those teachers in non-tested grades/subjects.
"Effective" teaching will be based on just teaching to a bad test, rather teaching to the standards and using professional judgment to meet the needs of our students.
We know our pass/fail evaluation system needs reform, as it provides little or no feedback that a teacher can use to improve, and does not correctly identify those who are struggling or ineffective. However, if standardized testing is used as the dominant measure of teacher effectiveness, without incorporating authentic assessments of student learning that professional educators have the wisdom and experience to develop and conduct, teaching will not improve and student learning will not advance. Our union has a better way.
US Secretary of Education Duncan stated, "As New Mexico implements these reforms, it is important that all stakeholders are at the table and their voices are heard. We encourage the Governor and her team to work closely and in a bipartisan manner with the legislature, and to fully include educators, community and tribal leaders and parents in the process of advancing these reforms.
Ignoring our input, as well as that of our lawmakers, would only further prove that our state is, in fact, no longer functioning as a democracy.
Submitted by the following AFT NM Executive Officers and Local Presidents: to see all signatures and original letter Download Letter to the Gov here.
April 17, 2012 at 07:00 PM in Education, Susana Martinez | Permalink | Comments (0)
State Senate Candidate Michael Padilla Announces Full Support For Early Childhood Education Funding Reform
From Michael Padilla, Candidate for NM State Senate, District 14.
New Mexico has a real opportunity to get our children excited about learning at a very young age by properly funding early childhood programs across New Mexico. Simply by investing a very small portion of the state's permanent land grant fund, this can become a reality. In this year's legislative session there were two bills making their way through the legislature (HJR 15 and SJR9) that could have positively altered the face of New Mexico for decades. These bills would not only have had the impact of getting our children off on the right foot for the rest of their lives, but would have also had a lasting effect on our economy. This legislation would have pumped hundreds of millions of desperately needed new dollars into the struggling New Mexico economy over the next decade. In addition, the return on investment for high quality early childhood programs has conservatively been estimated by the Nobel Prize winning economist from the University of Chicago, Dr. James Heckman to be 10% per year, per child for the rest of that child's life. Certainly, even Senators Papen and Smith can understand that this is the best investment we can make for New Mexico.
The key objective of this legislation is to take a portion of New Mexico's permanent land grant fund and commit it solely to high quality early childhood programs across the state. The fund itself will not shrink, only grow at a less rapid rate. The return on investment, however, will be enormous and have multiple positive benefits. In addition, this legislation has a sunset clause after ten years as well as multiple safe guards and mechanisms to stop this initiative if it is not achieving its objectives. This is good government and something that all business people should fully embrace.
As a business owner, I've supported numerous economic development initiatives funded by the State. Some have proven successful and others have been complete failures. Many of these programs have focused on tax breaks for large out-of-state corporations that promise new jobs. Unfortunately, the jobs never seem to materialize in the numbers promised and often don't last more than a few years. This legislation will create jobs for decades because we begin to truly develop a quality workforce from the earliest opportunity, which will ultimately help New Mexico become significantly more competitive when it comes to recruitment of new business to New Mexico. Companies are looking for the best and the brightest workforce and this legislation will develop such a workforce across New Mexico, not for the short run, but for generations.
Other positive residual effects of this legislation will be reduced dropout rates, increased earning potential for future generations, reduced crime and many others community benefits.
Governor Martinez and the Democratic legislature should work together in a bi-partisan fashion to make this a reality as soon as possible.
April 17, 2012 at 10:21 AM in 2012 Legislature Races, Candidates & Races, Education | Permalink | Comments (0)
Friday, April 06, 2012
SWOP Mailers in the News (Again)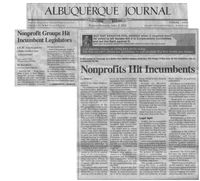 Since January, SWOP and our friends at the Center for Civic Policy have communicated directly several times with New Mexicans about Senate Bill 9, which addresses corporate tax loopholes. Prior to the session, we sent mailers to constituents of key legislators who sit on powerful legislative committees, to let their legislators know that they supported the bill. In a victory for New Mexicans, SB9 passed the NM Legislature this year, requiring "big box" corporations to pay income taxes on profits made in New Mexico. Unfortunately, though, Governor Susana Martinez vetoed the bill.
To follow up on the session, we communicated with the constituents of the legislators who didn't listen on SB 9, when it mattered most. One of those legislators, Sen. Phil Griego, voted 'no' on passing it out of the Senate Corporations Committee which he chairs. Griego has voted 'no' many times before, making the bill dead in the water once it made it to his committee, year in and year out. This year, enough legislators voted to let it pass on to the floor, despite Griego's efforts. When SB 9 made it to the floor, Griego himself voted for it. We felt it was important to let his constituents know how Griego voted in committee. It's a story not only about SB 9, but about the important steps in the journey of a bill becoming law. It's important for New Mexicans to know not only the positions their legislators take in very public floor votes, but also in crucial votes being made in committee rooms.
Once again, the Albuquerque Journal decided to highlight our educational efforts in an article about whether or not nonprofits should have the right to speak freely about public official's actions on key policy issues. Unfortunately, the article leaves out our history of public education, year in and year out. But it does point out the clear legal victory we achieved in 2010, when a federal appellate court upheld our right to free speech. SWOP has been sending out educational mailers to New Mexicans almost every year throughout our history, and our membership has always supported these endeavors. Transparency in government will always be opposed by elected officials who carry water for large corporations, and we appreciate your support in our right to educate New Mexicans.
April 6, 2012 at 08:48 AM in Current Affairs, Education, NM Legislature 2012 | Permalink | Comments (2)
Thursday, March 15, 2012
Is the Conservative Rio Grande Foundation Acting as a Front to Violate New Mexico Law?
The following is an article from Independent Source PAC. Please follow this link for additional background information.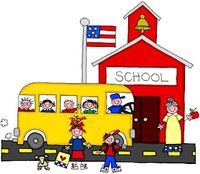 By law, for-profit companies cannot manage charter schools in New Mexico. The law clearly state, "the governing body shall not contract with a for-profit entity for the management of the charter school." (NMSA 1978 22-8B-4R).
As ISPAC previously reported, an investigative series by the Miami Herald on Florida charter schools found that for-profit management companies receive as much as 70% of a charter school's entire operating budget. The money that pays these for-profit companies is siphoned away from local public school budgets that might otherwise be used to pay for teacher salaries, books, and other supplies.
The recent actions of Paul Gessing, president of the Rio Grande Foundation, raise serious red flags. Among the concerns is if the Rio Grande Foundation is attempting to skirt the law by serving as a front to a for-profit management company in order to operate charter schools here in New Mexico.
Gessing recently submitted notices of intent to start four "virtual" charter schools under the banner of New Mexico Connections Academy.
A non-publicly operated charter school needs a non-profit entity designated as management. The Rio Grande Foundation has taken on that role. The New Mexico Connections Academy and the Rio Grande Foundation even share the same P.O. Box. Gessing is listed as the applicant on behalf of the charter schools and describes his experience to operate a charter school as "President/Parent/Advocate for Choice in Education". What is lacking is his experience in the area of school administration.
Doug Turner, a Rio Grande Foundation board member, is an advertising executive and one-time Republican gubernatorial candidate. He also happens to be the board President of the New Mexico Coalition for Charter Schools.
The Rio Grande Foundation's role in the application process is clear. But who is really going to run the school? Gessing, Turner, and the other board members have no relevant experience.
New Mexico Connections Academy "has plans to engage Connections Academy of New Mexico, LLC an operating affiliate of Connections Education LLC…for curriculum, technology, and other services under the terms of the professional services agreement (also known as a management contract)."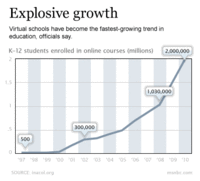 Connections Education LLC is the second largest for-profit manager of "virtual" charter schools in the country, second only to K12Inc. Connections is owned by Pearson Education, a British company that is one of the largest for-profit providers in the country of "educational materials, technologies and assessments".
In 2011, Pearson's North American Education Division made $4.03 billion in revenue with a net profit of $771 million dollars.
On the notice of intent, Gessing listed two "advisors". One is a lobbyist working for Pearson Education and the other a lobbyist working for Connections Education. It appears evident that New Mexico Connections Academy will be run by a for-profit management company in an apparent violation of state law.
An important question to be asked is if the Rio Grande Foundation received money from Connections Education/Connections Academy to assist the for-profit company in gaining access into the New Mexico education market.
The Rio Grande Foundation conceals its sources of funding. In the past, the Rio Grande Foundation has received funding from shadowy privatization groups such as the Cato Institute and the State Policy Network, two sponsors of the American Legislative Exchange Council ("ALEC"). ALEC is a heavy force behind the push to hand private companies our tax dollars.
Connections Education is a privately held company that does not disclose how it spends its money either. Based upon actions by the Pearson operated non-profit foundation, the Rio Grande Foundation may be getting funding from Connections or Pearson for providing them with a toehold in New Mexico.
Pearson's foundation is experienced with this kind of underhanded deal. They are currently under investigation by the New York State Attorney General's office for allegations of influence pedaling and bribery.
Connections has been in the front lines of moving taxpayer dollars out of neighborhood schools and into the hands of private companies. Mickey Revenaugh, the vice president and co-founder of Connections Academy, was the co-chair of the ALEC Education Task Force. Back in June 2004, Revenaugh and officers from K12Inc, co-wrote ALEC's model virtual school bill which is backed by Governor Susana Martinez and her Public Education Secretary Designate, Hanna Skandera.
Connections operates a slew of "virtual" charter schools in which the students do not attend neighborhood schools, but rather take classes by computer from their homes. This is the next possible violation of New Mexico state law.
According to New Mexico law, "a charter school shall be nonsectarian, nonreligious and non-home based public school." (NMSA 1978 22-8B-4J)
As part of its sales pitch, Connections offers to provide the technology necessary for elementary school kids to work from home. That cost to them is pennies compared to the profit they make from public education dollars. Connections makes even more money by ensuring that any school they operate also pays for its curriculum and testing materials.
But how effective is this "virtual" home schooling?
Connections Academy operates Texas Connections Academy, which is described as "a for-profit company that contracts with the Houston Independent School District to run the cyber-academy."
Texas Connections Academy students performed 20% BELOW the state average on standardized tests. In addition to being illegal in New Mexico, there is little evidence that kids do any better in a "virtual" home school setting.
The National Education Policy Center at the University of Colorado just released a major study on full-time virtual academies. The study labeled these programs "a convergence of home schooling, charter schools and online content providers."
The study found that there is no reliable data to show that these full-time "virtual" academies produce better results than neighborhood schools. They do, however, siphon off valuable resources from local public schools.
These for-profit management companies are turning our kids into lab rats using unproven education approaches for the sole purpose of making a lot of money.
March 15, 2012 at 10:18 PM in Education, Independent Source PAC | Permalink | Comments (2)
Monday, February 20, 2012
Where We Go from Here - Stay Involved
The following video and recap is from OLE NM - Here are some thoughts from just a few of the parents who spent countless hours at the Legislature this past month, fighting for Early Education.

We must stay involved, it does make a difference. It is for the children. Our future. Si Se Puede!
Dozens of OLE members and allies stayed at the Legislature late into the night on Feb. 15th to watch the Senate Finance Committee vote down our proposed Constitutional Amendment to save Early Education with money from the State's Land Grant Permanent Fund. The vote was 6 to 5, with Senators John Arthur Smith, Mary Kay Papen, Sue Wilson Beffort, Carroll Leavell, Rod Adair, and Steven Neville opposing the bill.
Please call and thank the Senators who supported the bill:
Senator Howie Morales,(505)986-4863
Senator Gerry Ortiz y Pino,(505)986-4380
Senator Nancy Rodriguez,(505)986-4264
Senator Carlos Cisneros,(505)986-4362
Senator Pete Campos,(505)986-4311
This defeat certainly means parents, kids, and early educators still have tough months ahead, but it does not mean this fight is over. Scores of our parents and kids from all over the state spent countless hours at the legislature and on the phone, talking to legislators. We passed 4 committees, twice as many as we did in 2011. We turned several key "No" votes into "Yeses." We are stronger, wiser, better known, and better positioned now to save Early Education by pursuing other actions and continuing to press this proposal next year
February 20, 2012 at 04:57 PM in Children and Families, Education, NM Legislature 2012, Youth | Permalink | Comments (0)
Session's Over, How Are The Children? Recap of the 2012 NM Legislative Session
The following recap is from the NM Voices for Children.
Early Care and Education
Despite great support from across the state, two joint resolutions (HJR-15, Rep. Rick Miera and SJR-9, Sens. Michael Sanchez and Cynthia Nava) that would have allowed voters to fund early learning programs out of the Land Grant Permanent Fund, did not survive the committee process. A small amount of new funding for early learning programs was added to the annual budget, but it only brings overall funding back to 2010 levels. (See funding breakout below.) Sadly, these critical programs and services still receive about 1% of the state's $5.6 billion general fund.
Health Care
Medicaid received an increase in funding, but it was only enough to cover inflation. Enrollment for children has remained flat, but no new funding was added to enroll more eligible but uninsured children. Our thanks to Rep. Ray Begaye for his hard work on this issue. The Developmental Disabilities Waiver did get an increase of $2.7 million to help provide services to some of those on the waiting list. 
Legislation to create the state's health insurance exchange (required by the Affordable Care Act) did not pass. You may recall, a compromise exchange bill passed in the last session but Governor Martinez vetoed it. The Governor still plans to set up the exchange through executive action, which the Legislature is likely to oppose. A number of Memorials asking for studies or oversight did pass, but do not carry the weight of law.
Closing the Corporate Income Tax Loophole
A perennial bill (SB-9, Sen. Peter Wirth) to close a loophole that multi-state corporations can use to avoid paying income tax on their New Mexico profits finally passed! Unfortunately, it was amended so that it applies only to big-box retailers, which means some of the worst offenders—big banks—will still be able to take their self-appointed tax breaks. Still, this bill does help to level the playing field for local businesses and also lowers the corporate tax rate for everyone by .1%. The Governor has threatened to veto this important legislation, so please CALL her office (505-476-2200) and urge her to SIGN it!
Bills We Supported
A joint resolution (HJR-28, Rep. Miguel Garcia) to place a constitutional amendment on the ballot, allowing voters to have the state's minimum wage increase with inflation failed.
Legislation (SB-1, Sen. Michael Sanchez) that would have provided additional consumer protections for homeowners facing foreclosure failed.
Memorials urging Congress to correct the Supreme Court's Citizens United decision passed. New Mexico is the second state to pass such legislation.
Bills We Opposed
Several bills to require voter photo identification failed.
Attempts to repeal of the law allowing undocumented immigrants to get a driver's license failed.
Legislation to reinstate the death penalty failed.
Legislation to redefine marriage in order to prohibit same-sex marriage failed.
Legislation to enact a Single Sales Factor Formula for computing corporate income taxes failed.
Legislation that provides a tax break for the construction and manufacturing industries—and could cost the state $31 million over two years—passed.
Increased Funding
New Mexico's state SNAP (Food Stamps) supplement was appropriated enough money to provide a minimum of $25 in additional benefits.
The food bank fresh produce distribution program got an increase of $100,000.
Native American Youth suicide prevention programs got $100,000.
The Housing Trust Fund got an additional $3 million.
The TANF program (Temporary Assistance to Needy Families) got $700,000 to restore work-related expenses for TANF clients.
ECE Funding Breakout
NM Pre-K received $4.6 million in additional funds, split between CYFD and PED.
Home visiting/parent coaching received an additional $1 million.
Child care assistance received an additional $3.6 million, enough to serve an estimated 800 of the 5,900 children on the waiting list.
The T.E.A.C.H. scholarship program received an additional $150,000.
Thank you for all your phone calls this session and for your ongoing support of NM Voices' work to prioritize kids and families in our state!
February 20, 2012 at 04:31 PM in Children and Families, Education, NM Legislature 2012 | Permalink | Comments (0)
Sunday, February 19, 2012
An Open Letter to New Mexico Governor Susana Martinez
From Independent Source PAC:
Education is not the criminal justice system. Punishing eight-­‐year-­‐old children and their parents, as if they have committed their third strike, is wrong.
We all share the desire to improve public education. While your political machine will seek to spin your agenda's failure, it will not work just as the robo calls and email blasts failed during the session.
Senator Linda Lopez's education bill included an extensive remediation process to ensure proficiency in not only reading, but math as well. It encouraged parental involvement in a child's education and did not punish children who are English language learners or who simply don't test well.
What Senator Lopez's bill lacked was vindictiveness, no punishing children or their parents because they have more difficulty than other children in attaining proficiency. It also lacked politicization. Had you been willing to strike an appropriate compromise with Ms. Lopez, you would have had the remediation program you claimed was at the heart of your bill. And we all would have supported it.
You were sold a bill of goods about the Florida education agenda. It is wrong for New Mexico. It is not tailored to our divergent culture and laws. Its only goal was to score political points nationally with the privatizers.
The same holds true for your choice of education secretary. All of your other appointments were confirmed. She had over a year to learn about New Mexico and its minority-­‐majority population, its unique bilingual history and laws and to reach out to those stakeholders to involve them in the education reform process.
She did not.
As Representative Begaye so eloquently said your bill went" against the principal of the belief of native people, that a community makes a child whole. Where everyone comes together. It will make the child think he's a failure."
Ms. Skandera sought to shut parents out of the education process in conflict with the Indian Education Act and the Hispanic Education Act, both of which are unique to New Mexico. She eliminated the rural education bureau, the education technologies bureau and decimated the bilingual education bureau and the Indian Education Division. Such things apparently were not important to her, and you went along with it.
There is a difference between political campaigns, with their robo calls and email blasts, and governance. A willingness to punish eight-­‐year-­‐old kids and their young parents has no place in governance.
February 19, 2012 at 11:49 AM in Education, Independent Source PAC, NM Legislature 2012, Susana Martinez | Permalink | Comments (4)
Tuesday, February 14, 2012
House Passes HB 249/251: Teacher and Principal Evaluations
The House passed a compromise plan to evaluate teachers and principals across the state by a vote of 57-9. The bill combines many proposals that were submitted, including that of Rep. Rick Miera (D – Bernalillo – 11). The result that will now head to the Senate is a combination between the House Labor and Human Resources Committee Substitute for House Education Committee Substitute for HB 249 and House Education Committee Substitute for HB 251.
The committee substitute will create a working council to develop a comprehensive teacher and principal evaluation system that ties a number of measures and factors to teacher and principal effectiveness.
Rep. Miera said, "The state teacher and principal effectiveness evaluation system shall include a focus on measures of student growth and achievement that are valid and reliable, common and uniform, and not solely based on a single state assessment."
February 14, 2012 at 08:41 PM in Education, NM Legislature 2012 | Permalink | Comments (0)
Wednesday, February 08, 2012
Hanna Skandera's Shameful Record and Callous Disregard for Minority Education
A companion piece to the video; ISPAC Dissects Hanna Skandera's Record on Minority Education
Hanna Skandera has had over a year to demonstrate that she is fit to serve as New Mexico's Education Secretary. She has failed to do so. Her top failure—she made no attempts to work with New Mexico's minority and bilingual education community. It is not even benign neglect. It is pure disdain for our multicultural values.
Governor Susana Martinez, supposedly the national GOP's bridge to Hispanic voters, seems to be perfectly fine with her choice of Hanna Skandera. Perfectly fine with allowing Ms. Skandera to run New Mexico public education by ignoring laws and the state constitution as they pertain to minority and bilingual education.
Read the companion piece to our video, Hanna Skandera and Minority Education: A Bad Mix on our website http://independentsourcepac.org/
Independent Source PAC Executed Director, Michael Corwin, stated, "that when it comes to minority and bilingual education Secretary Designate Skandera's actions regarding minority education speak far louder than her platitudes." From her "disregard for the Indian Education Act of 2003, her decimation of the Bilingual Education Bureau, her efforts to force English only on Spanish and Native American language speakers and her ignoring achievement gaps among racial and ethnic groups in her application for a No Child Left Behind Waiver, Skandera has shown she just does not get the importance of minority and bilingual education in our multicultural state", Corwin said.
February 8, 2012 at 10:10 AM in Education, Hispanic Issues, Independent Source PAC, Minority Issues, Susana Martinez | Permalink | Comments (3)