Monday, January 10, 2011
Guest Blog by Kathryn Carroll: On Rep. Gabrielle Giffords, My Congresswoman
This is a guest blog by Kathryn Carroll, who is a twenty-six year resident of Tucson, Arizona. Prior to moving to Tucson, she resided in the Hudson Valley of New York, where she served two terms as an elected member of the Town of Poughkeepsie Town Board. She has also been involved in the state and local chapters of the Democratic Party of New York and Arizona.
Representative Gabrielle Giffords is my Congresswoman. I am very proud to say that I have voted for her in all three elections that she has been a candidate in the 8th Congressional District of Arizona, and served as a volunteer in her last two campaigns. She is the best Representative that this District has ever had, and I have lived in this District for nearly 26 years.
Congresswoman Giffords does not fit the mold of most members of Congress who many complain show up at election time when your vote is needed, and then forget about their constituents until election time rolls around again. No one will argue that Gabby Giffords, as she is affectionately called, is one of the hardest working members of Congress. Her constituents are, and always have been her first priority. She returns to her District almost every weekend and when Congress is not in session to conduct town hall meetings and meet with constituents. The carnage that took place on Saturday was just such an event which she calls "Congress on Your Corner." You all have no doubt read and heard the details of this tragedy and the innocent lives which were taken as a result of one deranged individual who, from reading passages on his social networking sites, took the rhetoric and hatred spewed in what has become a politically charged atmosphere which preaches hatred and distrust of all government actions.
The 8th Congressional District of Arizona had been a Republican stronghold for over 20 years, starting with the election of Republican Congressman Jim Kolbe, who took office in January, 1985, to what was then the 5th Congressional District, just six months before we arrived in Tucson. Redistricting resulting from 2000 census, when Arizona gained additional seats, turned it into the 8th District.
During the 22 years that he served this District, Representative Kolbe faced token Democratic opposition and was easily re-elected in spite of the fact that this District has arguably the highest Democratic enrollment in the entire state of Arizona. In December, 2005, Kolbe announced that he would not seek re-election in 2006. Gabby Giffords, who was serving her second term in the Arizona State Senate, did what most politicians do not do. On January 9, 2006, with one year left on her term, she resigned her seat and announced that she would seek the Congressional seat being vacated by Kolbe. She resigned because she felt that she could not do justice to her constituents by serving in the Senate while seeking another office. This ethical action is a far cry from your newly elected Governor who just completed an eighteen month campaign while collecting a taxpayer-funded salary. However, comparing the ethics of my Congresswoman to your new Governor would yield volumes, and, furthermore, Martinez does not belong in the same sentence, let alone article with the gracious, ethical, fair-minded and classy Gabrielle Giffords.
Gabby won both the 2006 and 2008 elections rather handily with token Republican opposition. Her re-election campaign this past year, however, was much different. The Republicans and the tea partiers were determined to win back this seat. The Republican primary brought out numerous candidates who represented various ideologies of the Republican Party, including an unknown tea party-backed candidate by the name of Jesse Kelly. From the beginning it was evident that it would be a very nasty campaign, but it went beyond decency and civility once the tea party candidate won the Republican primary. The Republicans and the tea party right-wingers were relentless in their attempts to trash her voting record and paint her as a far left-wing liberal, primarily because of her support for the new health care legislation. The truth of the matter is, Gabby Giffords is perhaps one the most centrist Democrats in Congress - even a little too far right of center for many of us progressives. All one has to know is that she is a member of the Blue Dog Democrats to realize that Gabby Giffords is not a raging liberal, as the Republicans tried, without success, to pin on her voting record. To her credit, she never backed down, but instead maintained a gracious and cordial tone to her campaign.
There were signs during the campaign which gave pause for some to wonder if her safety might be in danger even then. There were numerous incidents, such as opponents wielding weapons at rallies, and, like other Democrats throughout the country, her district office was vandalized following her vote for the health care legislation.
However, perhaps the most egregious and appalling indication was a campaign event scheduled to take place on June 12, 2010 by her opponent, Jesse Kelly, which advertised on the Pima County Republican website and elsewhere as:
"Get on Target for Victory to November - Help Remove Gabrielle Giffords from Office - Shoot a fully automatic M16 with Jesse Kelly."
If it was intended as a joke, it was a very bad joke, and had no place in a civil society or a democratic campaign. What was perhaps most appalling is that the Republican Parties of both Pima County and Arizona voiced not one word of disapproval or opposition to the tenor of this event, or the message it was intended to deliver. Not the Republican Senators McCain and Kyle, the Republican Governor Brewer, nor any Republican local or state elected officials voiced any outrage. The event was eventually canceled after the local Arizona Daily Star pointed out that Jesse Kelly was evidently not bothered by the Sarah Palin controversy involving her detailed list of targeted races which she marked in crosshairs and urged her followers to "reload" and "aim", as he was planning his own "shootout". Congresswoman Giffords was one of Palin's "targeted" districts.
When word came Saturday that she had, indeed, been shot with a semi-automatic rifle, we could not help but think back to how her opponent invited all to "help remove" her from office with a "fully automatic M16". It appears that this one individual took him very seriously, but his weapon of choice was a semi-automatic Glock 9 equipped with an illegal extended magazine.
When Gabby's 75-year-old wheelchair-bound Father was wheeled into the University Medical Center on Saturday following the brutal attack on his daughter, he was asked by a New York reporter if his daughter had any enemies. His response was quick - "Yes, the Tea Party".
As Representative Giffords lies in a drug-induced coma fighting for her life, we can only hope that she will have a full and complete recovery with no debilitating life-long brain damage, but the predictions for anyone with a brain injury is that the rehab will be long and painful. Will it take this kind of tragedy and the loss of six innocent individuals, all of whom were present only to meet and talk with their Congresswoman, change the discord in this country? Predictions are that those responsible for the high pitched rhetoric will continue without skipping a beat, because those who spew this hatred live in total denial that their public words and actions might have consequences. The reality is, they will never accept any responsibility for the root causes of what prompted a deranged government-hating individual to put into action the veiled threats of the Sara Palins, the Glenn Becks, the Rush Limbaughs and Jesse Kellys of this world on a warm January morning in Tucson, Arizona.
This is a guest blog by Kathryn Carroll, who retired recently as a licensed real estate broker following a 40 year career both in New York and Arizona. Prior to that she worked in administrative positions, including IBM and Dartmouth College. She writes, "my love affair with your beautiful State of New Mexico began several years ago and continues to this day."
BW Note: Arizona Rep. Raúl Grijalva posted on his Facebook page today that folks wishing to send well wishes to Congresswoman Giffords, her family, or the victims and their families, should please email giffordswellwishes@gmail.com.
To submit a piece for consideration as s guest blog, contact me by clicking on the Email Me link at the upper left-hand corner of the page.
January 10, 2011 at 04:40 PM in Border Issues, Crime, Guest Blogger, Right Wing, Susana Martinez | Permalink | Comments (4)
Saturday, January 08, 2011
Senators Jeff Bingman and Tom Udall; DPNM Chairman Respond to Attack on Rep. Giffords, Others
U.S. Senator Jeff Bingaman issued the following statement, following the shooting of Rep. Gabrielle Giffords and others in Arizona:
"This is a tragic assault on Congresswoman Giffords, her staff and her constituents. Like all Americans, I extend my sympathies to the families who lost loved ones in this tragedy, and hope that Congresswoman Giffords and everyone who was injured in this terrible incident can recover."
U.S. Senator Tom Udall released the following statement on the tragic shooting that included U.S. Representative Gabrielle Giffords in Arizona today:
"Gabby has been my friend and colleague for years. Not only is she remarkably intelligent, Gabby is a warm and compassionate individual. Today, she was answering her call to public service when these unspeakable acts of violence took place. Gabby, her staff and all of the victims of this horrific act are my family's thoughts and prayers."
Javier M. Gonzales, Chairman of the Democratic Party of New Mexico released the following statement regarding the attack on a constituent event being hosted by Arizona Representative Gabrielle Giffords earlier today in Tuscon:
"I ask all New Mexicans to keep Congresswoman Gabrielle Giffords, her family, staff and the victims of this tragedy in their thoughts and prayers as they struggle through this difficult time. We are a nation based on laws and discourse and this act is both unconsionable and tragically heartbreaking."
"I am truly heartbroken from today's events and pray for the victims of this senseless act, both the deceased and those fighting for their lives."
January 8, 2011 at 04:39 PM in Crime, Democratic Party, Sen. Jeff Bingaman, Sen. Tom Udall | Permalink | Comments (18)
Rep. Luján Statement on Arizona Shooting Involving Rep. Gabrielle Giffords
Congressman Ben Ray Luján of New Mexico's Third District released the following statement today on the Arizona shooting and the news that Congresswoman Gabrielle Giffords was among those injured.
"I am shocked and deeply sadden at the news that my friend and colleague Gabrielle Giffords is among those shot today in a senseless act of violence. For four years, Congresswoman Giffords has served her constituents with distinction. She is a dedicated public servant who cares deeply for the people of Arizona. My thoughts and prayers are with Rep. Giffords and the family and friends of all those injured and killed in this heinous act."
January 8, 2011 at 03:22 PM in Crime, Rep. Ben Ray Lujan (NM-03) | Permalink | Comments (0)
Rep. Martin Heinrich Issues Statement on Shooting Involving Congresswoman Giffords
U.S. Representative Martin Heinrich (NM-1) released the following statement today after news that Congresswoman Gabrielle Giffords and others were shot at an event in Tucson, AZ this morning:
"Congresswoman Gabby Giffords is a friend of mine, a tireless advocate for military families, and one of the most talented Democratic leaders of my generation. While we do not yet have all the facts, an assassination attempt of this nature is an attack on our democratic process itself. My thoughts and prayers go out to her, her husband and family and to all the victims and their families."
January 8, 2011 at 02:24 PM in Crime, Rep. Martin Heinrich (NM-01) | Permalink | Comments (1)
Wednesday, December 29, 2010
Gov. Bill Richardson: Billy the Kid Pardon Decision by Friday; No Additional Pardons or Commutations
Governor Bill Richardson issued a statement today saying he continues to review documents and public input related to a potential pardon for Billy the Kid. (Click to see the petition for the pardon submitted by Albuquerque attorney Randi McGinn.) Gov. Richardson reiterated that he will announce his decision before he leaves office on Friday.
The governor's office received 809 emails and letters commenting on the proposed partial pardon by the December 26 deadline for submittal cited on a special web page about the case. Of those, 430 backed the pardon while 379 were against it. 
E-mails debating the issue came from all over the United States and beyond, including England, Japan, France and New Zealand, said Richardson's deputy chief of staff, Eric Witt.

"This has clearly generated a lot of interest globally," Witt said.

He said responses, pro and con, came from people familiar with the legend of Billy the Kid as well as from people knowledgeable about the territorial era and the Lincoln County War, in which the Kid and Brady were on opposite sides.
No Other Pardons or Commutations on Tap
Other than the possibility of that pardon, Richardson said he will not grant any other pardons or commute any other sentences before leaving office.
"I believe that requests of this nature must be fully vetted and investigated by the appropriate agencies to ensure that I do the right thing for those who request clemency as well as the citizens of New Mexico," Richardson said. "While I appreciate the urgency from those who have made last-minute requests for pardons, I do not have adequate time to thoroughly review them before leaving office."
December 29, 2010 at 04:03 PM in Crime, Gov. Bill Richardson, History, Legal Issues | Permalink | Comments (0)
Friday, December 17, 2010
Gov. Bill Richardson Asks for Imput on Billy the Kid Pardon Petition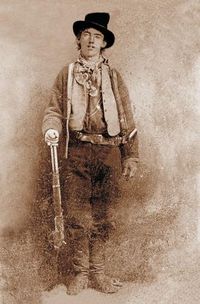 Yesterday, Governor Bill Richardson announced his office has received a formal petition for the pardon of Billy the Kid which he will consider and make a decision on before the end of the year. Governor Richardson is seeking input on the petition and has set up a website and email address where history buffs, experts, other interested parties and the general public can weigh in on its merits (see below).
According to a statement released by the governor's office, the petition centers around the widespread belief that Territorial Governor Lew Wallace promised Billy the Kid a pardon in return for damning testimony The Kid gave during a murder trial. The petition is narrow in scope and does not argue for a blanket pardon of all of Billy the Kid's activities. The petition can be read by logging onto this page.
"As someone who is fascinated with New Mexico's rich history, I've always been intrigued by the story of Billy the Kid and, in particular, the alleged promise of a pardon he was given by Territorial Governor Lew Wallace," Governor Richardson said in a written statement. "I will diligently review this new petition and all the facts available regarding an agreement between Billy the Kid and Governor Wallace before rendering any decision."
Governor Richardson has heard from many people over the years who believe the pardon issue deserves to be revisited. In an effort to clarify the issue, the administration has been reviewing the historical record surrounding these events through various documents, accounts, personal interviews and other materials.
Independently, nationally prominent trial attorney Randi McGinn was designated to review both the history and prior petitions to ascertain whether there was sufficient basis for the matter to be seriously considered. Ms. McGinn, a New Mexico resident and western history enthusiast, agreed to undertake this voluntarily and at no cost to taxpayers. After concluding her review, Ms. McGinn submitted a formal petition on December 14, 2010.
Governor Richardson will be accepting written comments regarding the pardon petition until December 26th. You are asked to limit comments to the contents, events and pleas contained in the petition. Those interested can log onto http://www.governor.state.nm.us/btk.php, email btk.comments@state.nm.us. or mail their comments to:
Office of the Governor
State Capitol
490 Old Santa Fe Trail
Santa Fe, NM 87501

ATTN: Eric Witt-BTK
"I look forward to hearing what others have to say about the petition. I also hope that this will spark renewed interest in New Mexico's history and how the days of Billy the Kid and the Lincoln County War helped shape our state," Governor Richardson added.
December 17, 2010 at 11:36 AM in Crime, Gov. Bill Richardson, History, Justice, Legal Issues | Permalink | Comments (6)
Thursday, August 26, 2010
NM Sen. Mary Jane Garcia Denies Susana Martinez's Role in So-Called 'Baby Brianna' Child Abuse Legislation

Susana Martinez's "Baby Brianna" ad
New Mexico State Senator Mary Jane Garcia (D-Doña Ana-36) issued a press release late this afternoon dedicated to what she calls "setting the record straight" about GOP gubernatorial candidate Susana Martinez's claim of responsibility for passage of legislation Martinez has been calling the "Baby Briana Act." Martinez has been making claims in a political ad that has been airing frequently over the past several weeks about her intimate, three-year involvement with a bill enacted in 2005 that provides for a life sentence for deadly child abusers (see above).
Senator Mary Jane Garcia was, in fact, the sponsor of a bill (SB 166), entitled "Life Sentences for Deadly Child Abuse," that was passed by the New Mexico Legislature and signed into law in 2005. In today's statement, Sen. Garcia states unreservedly that the only real involvement she believes Martinez had in the entire three-year process was her attendance at "a house committee and senate committee as SB 166 was debated" in 2005, the year it finally passed. Sen. Garcia also makes it clear that the bill in question was never called the "Baby Brianna Act" because her legislation was meant to protect all of New Mexico's children.
Sen. Garcia's statement closes with this request directed at Susana Martinez:
I encourage Susana Martinez to stop misrepresenting her role in SB 166 and stop exploiting the murder of Briana Lopez in her campaign. Please let that little angel rest in peace.
Below in text and here in PDF format is the entire statement released by Sen. Mary Jane Garcia about Susana Martinez's claims about her involvement in the legislation. It's powerful, and certainly damning in terms of Martinez's lack of honesty, ethics and sensitivity in trying to use this matter to gain political points -- especially coming from the bill's sponsor. 
August 26, 2010, Senator Mary Jane Garcia Press Release:
I want to set the record straight.
After the 2002 murder of Briana Lopez, an infant from Las Cruces, I set out on a mission to pass a law that would protect New Mexico children from criminal child abuse. I worked diligently for three years, bringing people together, negotiating, and listening, to different stakeholders with the goal of passing legislation that would be acceptable to the majority of my colleagues. An early attempt failed to pass. During the three year period I was moving forward with legislation, I was never contacted by Susana Martinez with input.
During the past month I have been contacted by numerous people asking me to comment on Martinez's political statements that claim credit for the "Baby Briana Act." There is no such law titled the "Baby Briana Act."
The law, to which Martinez is referring, is SB 166 which I sponsored in the 2005 regular legislative session. It was signed into law by Governor Richardson. The title of the signed legislation, SB 166, is "Life Sentences for Deadly Child Abuse." The name of Briana Lopez or baby Briana Act does not exist in the statute. It was never my intention to put the name of any child on the bill because it was done for all children in New Mexico.
In 2005, during the debate of SB 166, there were countless advocates from around the state that supported the legislation and testified during the committee hearings in Santa Fe. Martinez claims she had worked for three years on the legislation; however, it was only in 2005 (the year the bill was passed) that I remember her in Santa Fe, merely observing in a house committee and senate committee as SB 166 was debated.
In my opinion, campaign advertisements should not depict the gruesome details of the murder of a child in order to score political points and get votes. There are a myriad of issues that voters are anxious to hear about from both gubernatorial candidates. The public wants answers—straight answers—not political rhetoric and sound bites.
I encourage Susana Martinez to stop misrepresenting her role in SB 166 and stop exploiting the murder of Briana Lopez in her campaign. Please let that little angel rest in peace.
Respectfully,
Mary Jane Garcia
August 26, 2010 at 06:44 PM in 2010 NM Governor's Race, Children and Families, Crime, Ethics & Campaign Reform, Political Ads, Susana Martinez | Permalink | Comments (22)
Monday, August 02, 2010
State Senator Tim Keller Champions 8/3 National Night Out and Community Policing

From Senator Tim Keller:
August 3rd, National Night Out, has a rich history in New Mexico's International District. Multiple neighborhood associations will be holding block parties or events where neighbors can come together for safer and healthier communities. The International District's modern history includes large-scale community policing efforts driven by community members who decided to proactively help police make our community safer. Today many areas in our district are continue to improved in no small part because of these community policing efforts.
National Night Out has been a symbolic show of community unity in the face of crime. It has provided meaningful working session for leaders to organize citizen policing efforts with law enforcement.
As the economy continues on shaky ground, crime will be an ongoing challenge. Knowing your neighbors and your law enforcement officers has proven time and time again to be a very effective crime fighting weapon. I hope others can join the many celebrations in our community this Tuesday.
I will be joining Albuquerque's International District to host the following events:
La Mesa: A potluck starting at 6:00 PM on August 3 at Mesa Verde Community Center.
South San Pedro and Elder Homestead: August 3, 6:30 PM to 9:00 PM, at Wilson Park, Anderson and San Pedro SE, with live music, car and bike show and good food!
East Central/Manzano Mesa Area: Albuquerque's finest will host the community on August 4 starting at 6:00 PM in a celebration with food and festivities at 12800 Lomas NE; more info at (505) 332-5240.
Trumbull Village: Will have a celebration in late Sept or October.
Others: contact your local Home Owners Association or Neighborhood Association.
Further details can be found at here.
National Night Out is a community-police partnership held the first Tuesday of every August since 1984 sponsored by the National Association of Town Watch in the United States and Canada. It aims to increase awareness about police programs in communities, such as drug prevention, town watch and other anti-crime efforts. Initially communities held lights-on vigils. Now, many communities hold block parties, festivals and other events to help bring neighbors together.
Democratic State Senator Tim Keller represents District 17 in Albuquerque, which includes the
August 2, 2010 at 03:49 PM in Children and Families, Crime, Events, Law Enforcement, NM Legislature 2010 | Permalink | Comments (0)
Sunday, August 01, 2010
8/2: Join Telephone Town Hall with Rep. Harry Teague on Crime and Public Safety

Congressman Teague listens as Jayann Sepich speaks at briefing on Katie's Law in Washington, DC
From the office of Rep. Harry Teague:
This Monday, August 2nd, from 6:15 to 7:15 PM, Congressman Harry Teague (NM-02) will host a Telephone Town Hall for people across southern New Mexico to discuss efforts to keep New Mexican families and communities safe. Teague will also give constituents an update on his national Katie's Law legislation. The event will give constituents across the district the opportunity to ask questions and share with Congressman Teague their concerns about crime prevention and public safety in New Mexico. Teague will be joined on the call by federal and local law officials, as well as Jayann Sepich, the mother of Katie Sepich and a champion of the legislation.
Harry Teague encourages any of his constituents who are interested in joining the Telephone Town Hall to contact his office at 1-888-9-TEAGUE to get details on how to participate.
The Katie Sepich Enhanced DNA Collection Act (H.R. 4614) is a bipartisan bill that encourages states to use forensic DNA as a means of solving and preventing violent crimes. Specifically, it promotes the practice of collecting DNA samples from suspects of certain felony crimes upon their arrest, at the same time their fingerprints are taken. The bill was introduced in February of this year, and passed the House with overwhelming support on May 18.
Katie's Law is named for Katie Sepich, from Carlsbad, New Mexico. Katie was 22 years old when she was brutally raped and murdered in Las Cruces, New Mexico. If New Mexico had at that time required a DNA sample to be taken upon arrest, Katie's killer would have been caught three months after the murder when the murderer was arrested for another predatory crime. Instead, the killer was released back onto the streets, and it was three long years before he was finally apprehended again and linked to Katie's murder. Congressman Teague worked with Katie's parents, Jayann and David Sepich of Carlsbad, to develop the law.
Monday, August 2nd
WHO: Congressman Harry Teague
WHAT: Telephone Town Hall on Keeping New Mexican Communities Safe - An opportunity to share ideas, ask questions of Congressman Harry Teague about his national Katie's Law legislation

WHEN: 6:15-7:15 PM MDT
August 1, 2010 at 12:26 PM in Crime, Law Enforcement, Rep. Harry Teague (NM-02) | Permalink | Comments (0)
Monday, July 26, 2010
Bingaman and Udall Report $3.5M for NM Safety and Justice Initiatives in Appropriations Bill
U.S. Senators Jeff Bingaman and Tom Udall today released a statement applauding a spending bill working its way through the Senate that contains $3.5 million for New Mexico projects to support at-risk youth, reduce recidivism and cut crime across the state. The Senate's version of the fiscal year 2011 Commerce, Justice and Science bill has cleared the Senate Appropriations Committee and is now ready for full Senate consideration.
Click for a listing (pdf) of New Mexico funding items contained in the Commerce, Justice and Science appropriations bill.
The measure contains more than $1.1 million in funding for projects requested by the senators to assist at-risk youth across New Mexico, including $200,000 for Big Brothers Big Sisters to expand mentoring services to low-income, rural, Hispanic and Native youth statewide, and $500,000 for early intervention services for at-risk youth through the New Mexico Juvenile Justice Continuum.
"This spending bill invests in New Mexico's youth and supports important law enforcement initiatives throughout the state. We will work to ensure this funding will remain in place as this bill continues to work its way through Congress," Bingaman said in a written statement.
"If we can steer at-risk New Mexico youth toward a positive path, we open doors to opportunity that will allow them to reach for their dreams," Udall said in commenting on the legislation. "These programs give at-risk teens and young adults help when they need it most."
The bill also would fund completion of the third phase of the Doña Ana County Simulcast Radio Initiative, which will coordinate and improve the responses of multiple agencies responsible for emergency services.
July 26, 2010 at 05:59 PM in Crime, Justice, Law Enforcement, Sen. Jeff Bingaman, Sen. Tom Udall, Youth | Permalink | Comments (0)
Thursday, July 15, 2010
NM Rep. Moe Maestas, House Candidate Joel Davis Speak Out For Innovative Approach to Budget Challenges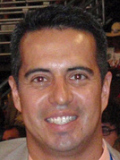 State Rep. Moe Maestas, D-House District 16 (right), and Democratic candidate for Representative in House District 44, Joel Davis, held a joint press conference yesterday afternoon at the Metropolitan Courthouse in downtown Albuquerque. They discussed the fiscal problems facing the State of New Mexico -- and how innovative thinking and collaboration can produce effective solutions.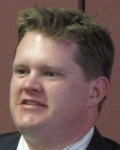 First off, Davis (left) pointed out that, "most of the fiscal problems are related to the downturn in the local and national economies." In other words, New Mexico is suffering from the same kind of budget shortfalls being encountered in virtually every state in the union. The solution? Thinking out of the box on ways we can more effectively utilize the funds we have.
Treatment vs. Incarceration
Maestas and Davis explained how an important piece of legislation, which passed the New Mexico House this past February by a margin of 34-31, could help do just that. Unfortunately, HB 178, sponsored by Rep. Maestas and known as the Substance Abuse & Crime Prevention Act, never got a vote in the Senate as time ran out on the session.
That's sad, because passage of the legislation could result in significant budget savings -- money that could be used to support other critical law enforcement functions that are now suffering from damaging funding gaps. The legislation would provide nonviolent drug offenders with an opportunity to receive treatment rather than incarceration -- avoiding the high costs associated with jail and prison time. Rep. Maestas says he'll reintroduce the bill in the 2010 legislative session.
"This bill, if enacted, would free up approximately $20 million that could more effectively be allocated for prosecutors who already have scarce resources to combat violent crime," Rep. Maestas said.
Just the Facts, Ma'am
Here are some eye-opening facts on this issue cited by Maestas and Davis:
Non-violent offenders make up more than 60% of the prison and jail population. Non-violent drug offenders make up about 25% of all offenders behind bars.
While the overall population of the United States increased by 33% since 1980, the prison population has increased by more than 350%.
The average annual cost to incarcerate an individual in New Mexico State prisons is $30,000/per year; the average cost in a New Mexico detention facility is $20,440.
The average annual cost of substance abuse treatment in New Mexico is $1,295 per person.
Why Davis Supports the Bill
Davis said he supported the treatment option legislation before he was a candidate for the House because of its potential to save the state money. Now, one of the primary focuses of his campaign is on coming up with better ways to spend state dollars and more equitable ways to distribute the burden of taxes.
"As Moe stated, we need to look at more innovative ways to solve our problems with shrinking revenue and the need to better serve our citizens. The Substance Abuse & Crime Prevention Act is one of those measures."
A Personal Perspective and Lessons Learned
Davis explained that he also has a personal perspective on the issue.
"I was an assistant DA in Sandoval County. I understand the need to be tough on violent crime. I also understand that part of correcting bad behavior is to offer hope for a more productive life if you get your act together. And that is not something I just read in a book or heard someone say -- I know it from personal experience," he said.
"When I was a young man, a young Marine," Davis continued, "I saw all the hard work and pride I put into my first three and a half years of service to my country go down the drain because I experimented with marijuana -- and shortly after that I got a DWI. But because of my family and the values I was taught, I realized that if I owned up to my mistakes -- made no excuses and took my medicine -- I could get my life back on track."
"That was almost fifteen years ago," Davis explained. "I went back to college. I studied hard. And then I applied to Law School. Studied hard again for three years and then took the Bar -- and I passed. I got on with my life because some people cared and helped direct me. It was tough, but it paid off."
"I have never forgotten those lessons, Davis said. "And I think more people today need to know that there is always a solution to problems ... there is always a way to correct bad behavior ... correct mistakes."
According to Davis, "Rep. Maestas' bill is one way we can help some people start down the road to recovery and becoming active, responsible members of their community. And what is also encouraging is that we can save money at the same time ... despite what the obstructionists and naysayers would have you believe."
"It is easy to say NO to everything ... it doesn"t require any work or any serious thought. But some of us feel it is about time legislators start coming up with answers and solutions, not just excuses and slogans," Davis said.
Creating An Ongoing Opportunity for Brainstorming
Maestas and Davis want to begin a discussion now on potential ways to address the shrinking resources in state government -- including trying to reapportion some resources, save on others and provide equitable new sources of income for necessary state services. The two Dems said yesterday's press conference was the first in what they hope will be a series of press conferences and meetings held over the next few months. 
Joel and Moe are offering an open invitation to participate to those who are already serving in the state legislature and those running for the House. They stressed the importance of bringing ideas to the table now -- rather than waiting until January when everyone's backs will once again be against the wall.
The idea is to provide an opportunity for lawmakers and House candidates to offer ideas to be batted about, debated and amended. It's all about making an effort at being positive and proactive in trying to solve our problems -- instead of just copping out, throwing up our hands and complaining.
My Take
I gave Rep. Maestas major props for having the courage and smarts to introduce an excellent treatment option bill at this year's session -- and for having the fortitude to push on and get it passed by the House. Now we know that if we make sure Moe gets reelected in District 16, and we work hard to help Joel Davis grab the seat in District 44 from Republican Jane Powdrell-Culbert, the legislation will come up again with an even better chance of passing. And that's just the start of what could be one of the most important and ground-breaking legislative sessions in many years -- IF we hang onto power and capture even more seats.
I think we can all agree that we need more legislators like these two Dems -- who are willing to fight for the people and speak out on innovative ways to address the many challenges we face. The same old, same old just isn't a viable option anymore. But if we want "more and better Dems," as the saying goes, we have to support the candidates who are willing to step up to the plate and advocate for fresh, effective and inherently Democratic approaches to governing. We can start by volunteering and/or donating some bucks to the campaigns of Moe and Joel. Time's a'wasting.
July 15, 2010 at 03:05 PM in 2010 NM Legislature Races, Crime, Drugs, Alcohol, Economy, Populism, Law Enforcement, Legal Issues, NM Legislature 2010, Prisons, Corrections, Taxes | Permalink | Comments (4)
Monday, July 12, 2010
Latest Info on Emcore Shootings in Albuquerque
Also see my previous posts on this here and here.
Here's the latest AP story, with photos. According a report on KRQE covering tonight's 7:00 PM news conference with law enforcement officials and Albuquerque Mayor Richard J. Berry:
... Albuquerque Police Department Chief Ray Schultz said Reza knew his ex-girlfriend's routine and met her on the Emcore campus shortly before 9:30 AM. He shot her and another person outside the building killing the other person, Schultz said.

The woman, whose name has not been released, is in critical condition at University of New Mexico Hospital, he added.

Police were on the scene and entering the building within minutes of the first 911 call, which apparently drove Reza into an interior room where he shot himself to death, Schultz said. By then he had shot and killed a second person and wounded three others.

At the request of the families none of the victim's names will be released until sometime Tuesday, Schultz said.
Heroic actions on the part of employees may have saved lives:
During the shooting Emcore employees and delivery people fled the area, some of them taking refuge at Kirtland Air Force base next to the Emcore campus. Other employees helped shepherd colleagues into rooms while some aided the wounded.

"One thing here during the firing is a lot of heroic actions by employees of the building helping wounded employees, helping employees get to safe locations with the building," Schultz said.
Reza acted alone and was separated from the girlfriend he shot, with whom he once lived:
Investigators talking to witnesses and reviewing surveillance video quickly confirmed Reza was acting alone. He was armed with a handgun and reloaded at least once while firing more than 20 shots, Schultz said.

Reza apparently had been living in Albuquerque after separating from the girlfriend with whom he had two children. The children were found safe at a resident in Rio Rancho.
Ongoing domestic violence has been reported:
Police were waiting on a search warrant before entering his Albuquerque home and were beginning to interview people who knew the couple and might be able to outline the events of the last two weeks.

Schultz said the ex-girlfriend had told friends there was an ongoing domestic-violence situation she was planning to report to law enforcement. The also were issues over the custody of the children, he added.
July 12, 2010 at 08:42 PM in City of Albuquerque, Crime | Permalink | Comments (1)