Wednesday, April 25, 2012
Free Screening of the classic film Salt of the Earth
Free Screening of the classic film Salt of the Earth
Wednesday, April 25th 7PM
KiMo Theatre, 423 Central Ave NW, Albuquerque, NM 87102
Download Salt of the Earth Flier here

After 60 years of blacklisting, the movie they still don't want us to see. Pulls together the history, culture and politics of New Mexico in a dramatic and inspiring story.
The movie depicts the McCarthy Era strike by zinc miners in southern New Mexico and the struggle of women to achieve equality.
One of the greatest movies made in New Mexico, Salt of the Earth is on of only 400 motion pictures selected by the Library of Congress for the National Film Registry.
Please join the Progressive Voters Alliance of Central New Mexico for this very special event!
April 25, 2012 at 09:19 AM in Corporatism, Events, Film | Permalink | Comments (3)
Tuesday, April 24, 2012
Free Speech Not For Sale by Contributing Writer Lora Lucero
By Contributing Writer Lora Lucero.
The US foreign policy of using sanctions against Iraq in the 1980s-1990s and currently against Iran  is designed to be the kinder, gentler, antiseptic tool of aggression.  I heard last week from Richard Becker (ANSWER Coalition) about the impact of our sanctions on Iraq.  More than 500,000 Iraqi children died as a result of these sanctions.  And now we are following that same path in Iran.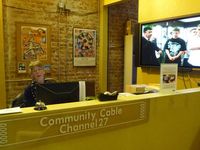 Where was Becker speaking?   Unless you attended the presentation at UNM on Saturday afternoon, you only would have heard him or seen the video "Genocide by Sanctions" if you watched the IndyMedia show on Albuquerque's public access TV Ch. 27 on Thursday evening (7-8 pm).  The mainstream corporate stations did not cover this serious discussion.  It didn't fit within the sanitized commercial programming of KOB, KOAT, KASA or KRQE.  The Albuquerque Journal certainly didn't cover it.
Albuquerque's public access channels 26 and 27 have been run efficiently and economically for thirty-plus years by Quote-Unquote but now city government may lock the doors and turn off the lights.  There is a very real threat that the community will lose its public access channels, the only media that provides free studios, equipment and training to the public so that our voices can be heard, and the stories we care about can be aired.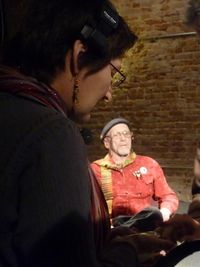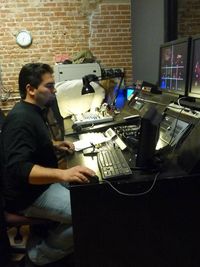 I naively thought public access channels were guaranteed by some FCC regulation, but in recent weeks I've learned there is a nationwide campaign by phone companies --- including AT&T Inc,  Verizon Communications Inc, and Qwest Communications International Inc. --- to move into the cable market.  They have their sights on PEG (public, education and government) channels.   Albuquerque is part of a much larger battle being waged in Los Angeles; Troy, NY; Tampa, FL; and elsewhere around the country.
The corporate takeover is a bit convoluted, but here's the skinny as I understand it today.  Comcast wants the cable TV channels which were reserved for public use in the ABQ/Comcast 2002 Franchise Agreement.  That agreement doesn't expire until October 2017, and it was codified as a city ordinance.   That means Mayor Berry and the City Administration cannot simply turn the keys over to Comcast;  the City Council must approve any amendments to the agreement first.  The battle is currently in the city council chambers where free speech advocates have eloquently pled their case.  The final decision is expected Monday, May 7.
The deal being secretly negotiated with the country's largest and most powerful cable television operator by the Berry Administration is the transfer of operating rights of six of the nine digital cable channels reserved for public use for a small fraction of their worth.  To illustrate the size of the giveaway, note that the last sale of two commercial channels approached $30 million, but the Comcast offer for six channels is reported to be a total of $250,000.
The arithmetic stinks, but so do the bedfellows.  Mayor Berry and the Administration bypassed the Cable Franchise and Hearing Board recommendation to award the public access contract to Quote-Unquote, by creating an ad hoc group which recommended that uPublic receive the contract – the same group that was effectively "gifted" the Education Channel 95 nearly a year ago but has kept the channel dark ever since.
Another fishy piece of this puzzle.  Rick Metz, President of uPublic, had a meeting with Rob Perry, the city's Chief Administrative Officer, prior to the city issuing the RFP to operate the public access channels.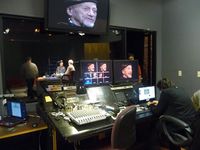 It appears to me that uPublic is the front man for Comcast in this "deal." If the City Council approves the amendment to the ABQ/Comcast 2002 Franchise Agreement and uPublic is awarded the public access channels, then the "deal" will strip ordinary citizens of a valuable 1st Amendment platform in Albuquerque.
This is CHINATOWN, only the battle is for broadband real estate, and not water rights; for freedom of speech, not a glass of water.  And many, many more cities around the country are also under siege, or have already lost to the Cable/Media giants.
Time for the public to rise up and tell the City Council that free speech in Albuquerque is not for sale.
April 24, 2012 at 06:14 AM in Corporatism, Government, Lora Lucero, Contributing Writer, Television | Permalink | Comments (3)
Friday, April 20, 2012
LasVegas, New Mexico, Adopts Community Bill of Rights; Bans Corporations from Fracking for Shale Gas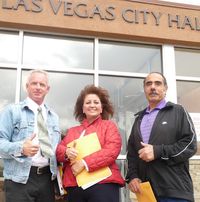 Photo to the right from Drilling Mora County. The three Councilors: Councilman Feldman, Councilwoman Tonita Gurule Giron and Councilman Romero voted in favor of the Ordinance.
"Revolutions always start small—we know that. The Abolitionists started with 12 kids in the 1840s.This one has started small as well with a handful of communities intent on turning the existing system upside down. Hopefully, if we move forward it will make it OK for others to follow in the path. And we must make that path by actually walking it."
Andrew Feldman, sponsor of "Las Vegas Community Water Rights and Self-Government Ordinance"

(Monday, April 2, 2012- Las Vegas, NM) In front of a standing-room only crowd of residents, by a vote of 3-1, the City Council, Las Vegas New Mexico enacted the Las Vegas Community Water Rights and Local Self-Government Ordinance, drafted by the Community Environmental Legal Defense Fund, which places into law a local Bill of Rights, including the right of all residents, natural communities and ecosystems to water from natural sources, the right of residents to unpolluted water for use in agriculture, the rights of natural ecosystems to exist, and flourish and of residents to protect their environment by enforcing these rights. Also enumerated is the right to a sustainable energy future, and the right to local self-government.
To protect these rights, the ordinance makes it unlawful "for any corporation to engage in the extraction of oil, natural gas, or other hydrocarbons within the City of Las Vegas and its watersheds, for any corporation to engage in the extraction of water from any surface or subsurface source within the City of Las Vegas and its watersheds for use in the extraction of subsurface oil, natural gas, or other hydrocarbons, to import water or any other substance…used in the extraction of oil, natural gas, or other hydrocarbons, into the City of Las Vegas or its watersheds for use in the extraction of subsurface oil, natural gas or other hydrocarbons within the City of Las Vegas and its watersheds."
It is now also unlawful  "for any corporation…to deposit,store, transport or process waste water, produced water, frack water, brine or other materials, chemicals or by-products used in the extraction of oil, natural gas, or other hydrocarbons, into the land, air or waters within the City of Las Vegas," or to "use a corporation to construct or maintain infrastructure related to the extraction of oil, natural gas, or other hydrocarbons within the City of Las Vegas or its watershed."
The process for adoption of this local law was punctuated by drama. On February 15th Council member Andrew Feldman introduced the bill and the Council voted unanimously to advertise the ordinance and to place it on the agenda for a final hearing and vote on passage at the regularly scheduled March 21st Council meeting.
Mr. Feldman stated: "Along with the City of Pittsburgh, this is how we change federal law, folks. It starts at the bottom. We do this, and other cities do it. It starts a ball rolling that hopefully will not stop. We change our laws in this great country that protect us instead of protecting corporations."

At the hearing, no one spoke in opposition to the proposed law, but numerous voices rose in support. From the 115 community members in attendance, some spoke eloquently of the revolutionary nature of this bill. Local proponent for the ordinance Miguel Pacheco commented "This is a time we have to take a stand. This is not going to be easy, but it is the right thing to do. Our congress is holding us back. Our federal government makes the wrong choices for us in many instances. That's why this ordinance gives rights to nature, to us human beings. It elevates life. It puts corporations down where they should be. This ordinance is protecting innocents, all those who can't speak for themselves. Profit is not what human beings are about.  We need to care for one another, to take care of our environment, future generations and all living life forms."

Lee Einer of Las Vegas stated that "Our minds have been colonized, just as our land has been colonized. We live with in a legal framework that considers corporations to be persons, and Mother Nature to be property. I think that's strange! I think we have it backwards! I think Mother Nature is a person!  I think corporations are property! I think it's time to construct our laws differently."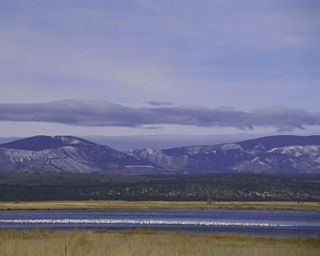 Photo above: Las Vegas NM National Wildlife Refuge
Mayor Alfonso Ortiz waxed eloquently in favor of the proposed law, saying: "Be serious about what is going on here. We are challenging the establishment, federal laws. If people are looking for profit--money isn't going to mean anything if we have no drinking water. It's not just important to vote for this ordinance, but to follow through and make sure other communities do as well.  If we pass this, we will set a model for the county to pass it easily, for Mora County to pass it easily--and hopefully other counties--we need to emphasize this to the New Mexico Association of Counties and the Municipal League."

However, at the meeting on March 21st, Council and community members were dismayed to learn that the mayor and Alfonso Ortiz and the City attorney, David Romero, decided to omit the question from the agenda, so that a vote could not take place. Residents were told there would be a second hearing and a motion for a second advertisement only.

At that meeting, the mayor, who stands for re-election on April 17th, stated "I feel very comfortable with the ordinance. I just want you to understand it…we're not against it. We're in favor of it. You're dealing with friends. It's a given we want to do the right thing. I'm already convinced. The ultimate goal is that the ordinance passes."
Mr. Romero had this to say: "I'm in full favor of working with you to strengthen this ordinance. The administration is not against this ordinance."
None-the-less, a vote was prevented. There was further discussion and testimony from community members and against the protests of the mayor and city attorney, a unanimous vote by Council scheduled a special meeting for the vote on adoption within two weeks, prior to the upcoming election. And again, the agenda was manipulated and the special meeting scheduled for three weeks out, rather than the two weeks voted upon by Council. Supporters of the ordinance discovered the change and notified the bill's sponsor, Council Member Andrew Feldman, and the meeting date was corrected to April 2nd.
At the April 2nd meeting, with more than 100 residents in attendance, as well as Karin Forster, attorney and executive director of the New Mexico Oil and Gas Association, the mayor and city attorney exposed their opposition to the ordinance publicly.

Mr. Romero stated that the ordinance "is preempted by state law and it has language which implies if this law is challenged, the city could consider seceding from the union or acting as a sovereign nation. That type of language in any ordinance is inappropriate. I would like to note that does not mean that from what I've heard that the average person is against the ordinance… And there is a 2nd part: the Community Bill of Rights… that section is just out of bounds with the laws as we know it…I feel so strongly about this that if it is passed by the council, under my oath as city attorney, I may have to challenge the issue myself as part of my duties to…"
At this point the attorney's comments became inaudible as the residents shouted "Resign, Resign!"
Mayor Ortiz stated, "I'm concerned about this ordinance because of the significance…If we were to look at this ordinance and look at elements of it, and maybe include some things, exclude some things…I think that the majority of the people are in favor of it, but there's little flaws, little clues in there that can be readin different ways…"
When the vote came, Councilor Tonita Gurule Giron voted yes, Councilor Vince Howell no, Councilor David Romero voted yes, and Councilor Andrew Feldman voted yes.
After the vote the New Mexico Oil and Gas Association's Karin Forster told the city attorney the oil companies would be filing suit against the City of Las Vegas.
As a final "protest" against adoption of the ordinance, the mayor has so far refused to sign it, although he has no legal authority to halt or veto the law.

The Community Environmental Legal Defense Fund, located in Chambersburg, has been working with people in Pennsylvania since 1995 to assert their fundamental rights to democratic local self-governance, and to enact laws which end destructive and rights-denying corporate action aided and abetted by state and federal governments.
April 20, 2012 at 01:06 PM in Corporatism, Fracking, Land Issues, Water Issues | Permalink | Comments (6)
Thursday, April 19, 2012
Senator Sapien and Insurance Agent to State Farm: ALEC not right for me, you or New Mexicans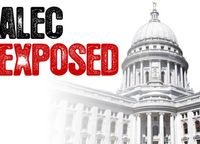 Earlier today DFNM had a post up regarding a challenge NM Senate Candidate Ben Rodefer had for existing Senator John Sapien of Senate District 9. Rodefer was asking Sapien to sign this anti-ALEC Pledge to rebute ALEC and it's pushing of legislation on to States like NM. In case you have not been following this story many major corporate fat cats are dumping ALEC right now. Glad to see Senator Sapien is standing up for the people of New Mexico.
The following links describe ALEC and describe this anti-ALEC campaign. And to read the previous dfnm post on this matter see here.
Below is from ProgressNow New Mexico.
Earlier this week, ProgressNow New Mexico called on New Mexico's state legislators of both parties to join legislators and companies across the country in denouncing ALEC, the shadowy corporate special interest group behind legislation like the deadly "Stand Your Ground" laws and voter suppression laws across the country.
To date, twelve household name companies, including Coca-Cola, Pepsi Co, Kraft and Mars have abruptly cancelled their memberships in ALEC, as have many state legislators across the country.
This afternoon, New Mexico's State Senator John Sapien, who is also a State Farm insurance agent, replied to our action by releasing a public statement calling on State Farm to follow suit. 
"Over the past several weeks I have been speaking with State Farm urging the company to reconsider their relationship with the American Legislative Education Council (ALEC).  In light of model legislation and the impact that we have seen of similar legislation adopted in other states it is time for relationships with ALEC to be reconsidered.  The suggested solutions to issues in which ALEC has supported are not right for New Mexicans."...   
…While Senator Sapien has never been a member of ALEC.  His exposure to the organization on a social level and the negative results in other States, provides a basis for calling on State Farm and his fellow legislators to withdraw support of ALEC. 
Pat Davis of ProgressNow NM issued this statement in response to Senator Sapien's release:  "We commend Senator Sapien for standing against ALEC and for challenging his own corporate headquarters to do right by New Mexicans.  We hope other state legislators will follow suit and answer our call to end their association with ALEC."
The American Legislative Exchange Council, ALEC, is a corporate-funded group which provides model legislation to legislators to advance conservative political positions across the country.
April 19, 2012 at 07:02 PM in 2012 Legislature Races, Candidates & Races, Corporatism, ProgressNow New Mexico | Permalink | Comments (5)
Rodefer Issues Challenge to Sapien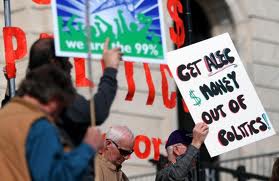 "Sign the New Mexico Anti-ALEC Pledge!"
There is an ongoing Country wide abandoning of the ALEC ship including major corporate supporters such as Coke and McDonald's to Politicians republicans and democrats. Please follow this link if you want to read more about ALEC and what they are about.
Yesterday, Ben Rodefer issued a challenge to State Senator John Sapien to sign the New Mexico Anti-ALEC Pledge. Rodefer is challenging Sapien in the Democratic Primary election for State Senate District 9.
The American Legislative Exchange Council (ALEC) is a corporate and conservative funded think tank that creates model legislation for companies such as Phillip Morris Corporation, Pharmaceutical Research and Manufacturers of America, R.J. Reynolds Tobacco Company, State Farm Insurance Companies, Cargill, Inc. and others. ALEC's funding comes from sources such as the Charles G. Koch Foundation (of the Koch Brothers), ExxonMobil, the Coors family and others.
Rodefer stated, "New Mexicans deserve better than ALEC, which has tried hard to push anti-New Mexico legislation through our legislature. It's time we stood up to ALEC. I have fought long and hard against ALEC-like legislation so we can protect consumers, protect our environment and protect New Mexico's working families from well-funded but misguided insurance, oil and tobacco companies."
Rodefer continued, "I urge my opponent, State Senator John Sapien, who has a long history of supporting ALEC-like bills, to immediately repudiate both ALEC and his previous support for ALEC-type bills, and sign my New Mexico Anti-ALEC pledge."
Sapien, who was reported to have attended an ALEC dinner as recently as January 2012 (http://www.progressnownm.org/blog/2012/01/occupy-alec-progressnow-nm-was-there.html), introduced legislation in 2012 to let big, out-of-state corporations make up their own rules and choose their own tax rates. He is supported by and has taken thousands from big, out-of-state corporations and powerful lobbyists, including Chevron, Philip Morris, Walmart, Conoco, and Helena Chemical.
Sapien is a State Farm insurance agent, and the State Farm Insurance Companies are a longtime defender of ALEC and have benefited from ALEC's model legislation designed to strengthen the insurance industry (http://www.prwatch.org/news/2012/04/11439/state-farm-insurance-claims-no-fault-bankrolling-alec).
April 19, 2012 at 12:00 PM in 2012 Legislature Races, Candidates & Races, Corporatism | Permalink | Comments (4)
Saturday, April 14, 2012
New Mexicans Deliver 3,000 Petitions to PNM Demanding Investment in Clean Energy, Decrying Large Corporate Profits and Dirty Coal Plants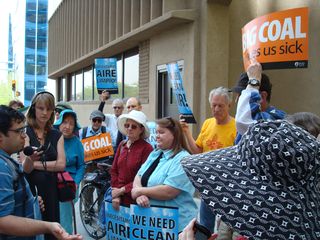 Photo Above: Juan Reynosa with SouthWest Organizing Project (SWOP) addressing the crowd outside P NM
On Tuesday, April 10, dozens of New Mexicans rallied outside Public Service Co. of New Mexico (PNM) headquarters demanding that the utility begin directing their large corporate profits towards clean energy instead of relying on old, dirty coal-fired power plants. Members of environmental, health, Native American, and community groups including the Sierra Club, SouthWest Organizing Project, Dine CARE, 350NM, and CREDO Action rallied outside the building at noon, then delivered more than 3,000 petition signatures addressed to PNM CEO Pat Vincent-Collawn. PNM spokesperson Valerie Smith accepted the petitions on the company's behalf.
"New Mexicans are upset that PNM is raking in huge corporate profits while operating dirty, dangerous coal plants and hiking rates," said Shrayas Jatkar, Sierra Club organizing representative in New Mexico. "It's time for PNM to claim responsibly as the state's largest utility, and invest in New Mexico's abundant sun, wind, and efficiency resources."
The petition signatures were collected online in response to a recent report from the organizations called "Perspective on PNM," which found that since 2008, PNM's electricity rates have increased by 41 percent, adding $250 per year to the average residential ratepayer's bill. At the same time, the report revealed that PNM directed 79% of the revenue from rate increases towards corporate profits, and less than 6% to efficiency and renewable energy programs.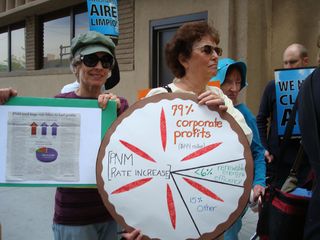 Photo Above: Sierra Club members Sallie McCarthy and Susanna de Falla demonstrate against PNM's practice of prioritizing profits ahead of clean energy investments.
"While PNM funnels huge profits to its Wall Street shareholders, New Mexico's working families are struggling," said Juan Reynosa, organizer with SouthWest Organizing Project. "The bonuses given to PNM top brass are related to an increase in profits for shareholders, but they contrast sharply with the rate increases imposed on New Mexico families."
The Perspective on PNM report revealed that, despite a corporate profit increase of 2500% – $144 million – between 2008 and 2010, PNM continues to fall short of meeting the state's requirement that utilities provide 10% of their electricity from renewable energy sources by 2010. PNM currently provides just 7.3% of its power from renewable sources. Moreover, PNM achieved savings of just 1.6% from energy efficiency programs through 2010, below the 5% target of New Mexico's Efficient Use of Energy Act.
In response to the report, the Sierra Club and CREDO Action collected more than 3,000 online petitions from New Mexicans telling PNM CEO Vincent-Collawn, "PNM should invest its earnings in real clean energy solutions rather than dirty coal. I urge you to protect New Mexicans' health by submitting a renewable energy plan to the Public Regulation Commission that exceeds the minimum requirements set forth in the NM Renewable Energy Act." The petitions also asked that PNM ramp up investment in clean energy and efficiency programs like its Solar Incentive Program that will create jobs, cut pollution, and save people and small businesses money in New Mexico.
PNM currently operates and owns 46% of shares in the San Juan Generating Station in Farmington, which burns dirty coal, exposing Navajo communities and other local residents to toxic pollutants like nitrogen oxides and climate-disrupting carbon pollution. San Juan Generating Station also threatens New Mexico's water security, consuming twice as much clean water annually as the city of Santa Fe. PNM also owns shares in the nearby dirty Four Corners coal-fired power plant.
"The San Juan Generating Station and nearby coal mine have been making us sick, threatening our livelihoods, and desecrating our sacred sites for far too long," said Donna House with Dine Citizens Against Ruining our Environment. "It's shameful that PNM insists on a cheap and dirty plan for regional haze to keep this outdated coal-burning power plant running, while Navajo Chapters have passed resolutions calling for a transition from coal to clean energy."
Executive compensation was also an issue raised by the activists on Tuesday. Last Friday, April 6, PNM granted Vincent-Collawn a $1 million bonus for performance.
Deirdre Smith with 350NM outlined the issue, saying, "It's shameful that PNM burdens us ratepayers with the costs of dirty coal energy, while PNM CEO Pat Vincent-Collawn just cashed in literally a million dollars, and PNM pours hundreds of millions into the US Chamber of Commerce. While PNM flouts state mandates for efficiency and clean energy, it is ratepayers and taxpayers who are subsidizing their pollution. We would rather invest toward New Mexico's transition to clean, renewable energy, saving ratepayers money, cleaning our air and water, and combating the climate crisis."
April 14, 2012 at 03:24 PM in Corporatism, Energy, Environment | Permalink | Comments (0)
What if GE Paid Their Fair Share in Taxes?
Just think how the republicans would vote to repeal this unfair tax matter in this state? They would vote NO. Even with the facts displayed so clearly. Even if their own children would have a better life with GE paying their fair share the Republicans in office now in this state would vote NO.
From AFSCME: If GE paid their fair share in taxes (instead of taking advantage of loopholes to pay next to nothing), they would have owed an average of $2.67 billion in federal taxes over the last 10 years according to a report by Citizens for Tax Justice. That amount of revenue could pay the wages for 56,000 fire fighters, or 95,000 school bus drivers, or 56,000 police and sheriff's patrol officers, or 39,000 registered nurses, or 53,000 librarians, or 107,000 teachers assistants.
AFSCME just launched an info graphic today, which shows what our communities would do with the $2.67 billion dollars that GE is NOT paying in taxes. Take a look at www.afscme.org/taxday. 
April 14, 2012 at 08:54 AM in Corporatism, Economy, Populism, Jobs, Taxes, Unions | Permalink | Comments (0)
Friday, March 23, 2012
Civic Engagement Effort Fosters Values of Transparency, Accountability and Fairness
It's a truth that should be self-evident – but it cannot be restated often enough.
New Mexicans deserve transparency and accountability – especially when it comes to votes cast on vital issues by their elected lawmakers. Typically, however, legislative decisions on complicated issues like tax policy fly under the radar of media scrutiny and public perception.
The last legislative session offers a perfect example with the historic effort to close that monstrous corporate tax loophole which allows out-of-state Big Box retailers to avoid paying income tax on the massive profits they earn in our state.
The Monstrous Corporate Tax Loophole
To be clear, calling it historic is not a nod to hyperbole. The bill to eliminate this massive corporate tax giveaway (Senate Bill 9 – the Corporate Fair Tax Act) succeeded in passing both houses of the New Mexico legislature this year after eight previous attempts over the last decade had met with failure. In fact, those prior bills usually failed because they were killed in the committee process.
Two committees in particular have proven to be a particular problem.
Tax reform bills must run what at times seem to be two impassable gauntlet -- the Senate Corporations and Transportation and the House Business and Industry Committees. And always, a phalanx of corporate lobbyists are posted at these gauntlets, standing guard to protect entrenched power and privilege. Their inordinate influence at the Roundhouse can make them into something akin to an extra-constitutional "third house" of the legislature.
But this year was different. These obstacles were surmounted and the bill passed! This was a landmark event and a time for celebration.
For this was the year legislators that got the message from their constituents – an newly informed citizenry who understood the fundamental value at stake in this fight – it was the value of basic fairness for New Mexico families and for our local businesses who had been placed at a competitive disadvantage.
Oh, and let's not fail to mention that SB9 actually cut taxes for New Mexico business corporations and that it was a net job saver as well?
For every one job created by a big box retailer like WalMart, 1.4 jobs are lost to existing local businesses that downsize, according to a University of California-Irvine study.
Alas, the celebration was short-lived, for on March 6th SB9 crashed into the last redoubt of corporate power and influence – the Governor's office. On that day Governor Susana Martinez vetoed SB9. Once again, New Mexico was left as one of the only remaining Western states to still permit itself to be taken advantage of by corporate greed.
What this means, of course, is that the fight for tax justice will go on a little longer. Rest assured that the bill will be coming back in the 2013 legislative session.
Check your mailbox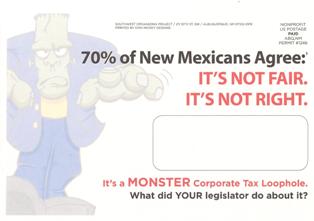 And this is precisely why constituents of a number of New Mexico state legislators are this week receiving post-session follow-up educational mailers that explain the fate of Senate Bill 9 and how their particular senator or representative voted on the bill, and encourage them to engage these lawmakers in a continued dialogue about tax policy and budget priorities.
New Mexico's Center for Civic Policy (CCP) and the SouthWest Organizing Project (SWOP) have proudly partnered to produce these mailings. Our two organizations share a core mission that obligates us to educate the public about policy issues that impact their lives and to foster greater civic engagement with the policy-making process and elected officials.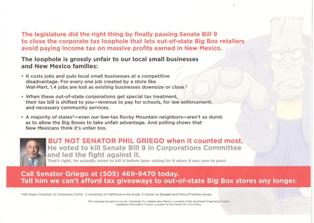 This effort is part of our ongoing commitment to civic engagement.
Prior to the legislative session, CCP and SWOP distributed another set of educational mailers to the districts of legislators who sat on those key committees that would hear and vote on SB9. To say that we were overwhelmed by the enthusiastic response to those pre-session mailers is an understatement. Those mailers contributed to generating hundreds of constituent phone calls to legislators during the session. And those phone calls made a difference.
We learned an inspiring lesson. Civic engagement (aka democracy in action) works! Legislators responded. Senate Bill 9 passed.
Civic Engagement Works
Democracy is never easy. It requires eternal vigilance and careful attention. And a constant learning and re-learning.
Another lesson worth relearning is that we must never forget that most legislators are seriously well-intentioned individuals who do care about the common good. New Mexico's unpaid citizen legislators make considerable sacrifice to serve.
Nevertheless, we cannot stress enough the importance of our lawmakers hearing from their folks back home on the issues that impact the everyday lives of working families – because if they don't get that call, the only voice they will hear at the Roundhouse when it's time to vote is that of the corporate lobbyist whispering in their ears.
The incentives to do the wrong thing are ever-present. And sadly, herein lies another essential lesson.
All too often we see lawmakers succumb to lobbyist pressure (not to mention the inducement of campaign contributions). Thus, they take the easy way out. And it's this go-along-to-get-along S.O.P that enables bad outcomes when it seems like nobody back home is really paying attention to the fuzzy policy details and that nobody really cares.
However, we're pleased to report that people do care. And on the issue of the out-of-state, corporate tax loophole, polling released by the Green Chamber of Commerce shows that 70% of New Mexicans care a great deal!
The people just need accurate and complete information. And, above all, they need that spark of an idea that helps them realize that their participation can actually make a difference. Then they will act.
Maez-Gibson is chief executive officer at the Center for Civic Policy, and Garduño is co-director at the SouthWest Organizing Project.
March 23, 2012 at 06:23 AM in Corporatism, Jobs, NM Legislature 2012, Public Policy, Taxes | Permalink | Comments (0)
Wednesday, March 07, 2012
NM Green Chamber Expresses Disappointment with Governor Martinez' Veto of Senate Bill 9

The New Mexico Green Chamber of Commerce expressed its deep disappointment with Governor Martinez' veto of a measure to close a tax-loophole that allows "big-box" companies to claim their profits in states that don't have corporate income tax. New Mexico is the last Western state that allows "big-box" companies to use this loophole to avoid taxes and shift the tax burden onto the backs of Main Street business.
Senate Bill 9 (SB9), sponsored by Senator Peter Wirth of Santa Fe, was approved by a bi-partisan vote in the 2012 New Mexico State Legislature, after nearly a decade of attempts. Martinez' veto means that New Mexico small businesses will continue to pay more in corporate income taxes than their out-of-state "big box" competitors.
"Vetoing SB9 keeps New Mexico owned businesses at a disadvantage against big-box stores," said Doug Zilm, NMGCC member. "As a grocery store manager, who pays his fair share of taxes because I'm part of this community, I'm terribly disappointed the Governor would protect this tax loophole for out-of state corporations. I'm worried that the Governor doesn't support the small businesses that support New Mexico."
Small businesses across New Mexico compete every day against out-of-state corporations and across the nation, small businesses have generated 65% of net new jobs over the last two decades. Whereas according to a 2007 study by UC Irvine, Clark and Cornell University, for every 1 job created by a store like Wal-Mart, 1.4 jobs are lost as existing businesses downsize or close.[1]
On Monday more than 50 small businesses submitted a letter to Governor Martinez asking her to sign SB9 (http://library.constantcontact.com/download/get/file/1104335014834-205/NMGCC+Letter+to+GovMartinez.pdf)
If signed into law, SB9 would have lowered taxes on all corporations and mandated that out-of-state corporations with retail spaces more than 30,000 square feet in size report their combined earnings from all subsidiaries for tax purposes. Without mandatory combined reporting, many choose to file at alternative corporate addresses in states with no corporate taxes.
[1] www.newrules.org/retail/neumarkstudy.pdf by David Neumark (University of California-Irvine), Junfu Zhang (Clark University), and Stephen Ciccarella (Cornell University), IZA Discussion Paper No. 2545, Jan. 2007
March 7, 2012 at 11:54 AM in Business, Corporatism, NM Legislature 2012, Susana Martinez, Taxes | Permalink | Comments (0)
Tuesday, March 06, 2012
Susana Martinez Stands with Large Out of State Corporations over NM Small Businesses
New Mexico Small Businesses and Families Disappointed In Governor's Choice to Coddle Out-Of-State Corporations By Continuing Unfair and Unsound Tax Giveaway.
Today, Governor Susana Martinez vetoed Senate Bill 9, the "Corporate Fair Tax" bill, sponsored by Senator Peter Wirth of Santa Fe. As approved by both legislative chambers, the bill would have closed a loophole for "big box companies," lowered corporate income taxes, and leveled the playing field for New Mexico small businesses.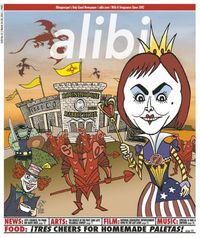 This cartoon sketch run in the Alibi April 2010 drawn by Lalo Alcaraz, could not be more true about Martinez. The Queen and her jesters outside the Roundhouse castle walls. Perfect image.
In a not so surprising but very disappointing move today Governor Martinez choose to favor big-box stores like Walmart and BestBuy over our NM stores like Baillos and many other NM businesses. In her statement she distorts the meaning of the bill which was discussed and vetted within the 30day session. Please read the bills history here, right from the legislative website, you can read what each committee did to the bill as far as amendments and who voted for the bill. It was a huge success to have this bill go through to floor votes in both the house and senate and pass in each chamber.
After nearly a decade of legislative attempts, the bill was approved by a bi-partisan vote in the 2012 New Mexico State Legislature and had been sitting on the Governor's desk for signature. Senator Wirth has been introducing the bill for the nearly decade. Senator Wirth deserves much appreciation from NM business's and citizen's for his relentless fight for tax fairness. He knows the history of the bill and can respond back to the opponents constant trickery of try this try that. Peter Wirth calmly says, "Good idea that was in the version in year 2008. And the republicans did not agree with that suggestion then." (paraphrasing). In Senator Wirth's statement of disappointment over Susana vetoing this good legislation. Senator Wirth says he will continue to fight for this bipartisan tax reform in future legislative sessions.
We are being taken advantage of
New Mexico is the last Western state that allows "big-box" companies to use this loophole to avoid taxes and shift the tax burden onto the backs of Main Street businesses. Thousands of calls were directed to the Governors office from her own citizens requesting her to sign this fair tax legislation. She has shown her true cards with this veto folks. She is not for small business. She is not for the struggling businesses and families in New Mexico. Martinez and every legislature who did not sign onto this bill is NOT for NM period. Pic to right by NM film sindication.
These large companies go to great extremes to not pay taxes in the community they are selling in. Wal-Mart, for example, created a holding company in Delaware for the purpose of transferring income in order to avoid income tax liability under New Mexico law. http://www.santafenewmexican.com/Opinion/myview/My-View--Michael-Mellon-Wirth-s-tax-bill-presents-dilemma-for-g
On Thursday, March 1, 2012, a coalition of community organizations submitted 5,000 signatures of New Mexicans urging the Governor to sign SB9. http://www.abqjournal.com/main/2012/03/01/north/gov-pressured-on-tax-measure.html
On Monday, March 5, 2012, the New Mexico Green Chamber of Commerce delivered a letter from 52 local businesses from around the state urging Governor Martinez to sign Senate Bill 9. http://www.nmgreenchamber.com/ChooseSmallBiz.
The SB9 also Lowered Taxes
A poll by Project New America demonstrated 70% of New Mexico voters support closing tax loopholes for out-of-state corporations while lowering the corporate income tax for all businesses that pay their fair share of taxes.
http://archive.constantcontact.com/fs071/1104335014834/archive/1109437937206.html
The NM Green Chamber of Commerce released this video outlining the impact of SB9 on small businesses: http://www.youtube.com/watch?v=0OSa4g9dPoA&feature=youtu.be
March 6, 2012 at 06:42 PM in Corporatism, NM Legislature 2012, Peter Wirth, Susana Martinez, Taxes | Permalink | Comments (4)
Tik Tok (not just a Ke$ha song!) Sign SB9 Susana!
From ClearlySK:
Let's talk a little about the Governor's role after the legislative session!
Contact the Gov and tell her you want SB9 to get passed!
Online: http://www.governor.state.nm.us/Contact_the_Governor.aspx
On the phone: 505-476-2200
March 6, 2012 at 11:04 AM in Corporatism, NM Legislature 2012, Susana Martinez, Taxes, video | Permalink | Comments (0)
Monday, March 05, 2012
52 NM Small Businesses Urge Governor Martinez to Sign SB9
Still no firm clear direction or information (only rumors) on what Susana will do with the SB9 bill which was passed this session and is waiting for her signature to become law. The law proposed is clear; you either support big box stores like Walmart to not pay their fair share of taxes to our state OR you support our local businesses who are paying their fair share of taxes to this state.
Many organizations are pushing for this tax fairness bill that has been being introduced in the Legislature for almost a decade. This important bill finally passed the Legislature, it is a no brainer that it helps the people of New Mexico, let's see which side of history our Republican Gov comes down on.
Below is the most recent release from The New Mexico Green Chamber.



Revenue Neutral Bill Closes Loophole for "Big Box" Stores and Lowers Taxes for Small Business
Today the New Mexico Green Chamber of Commerce delivers a letter from 52 local businesses urging Governor Martinez to sign Senate Bill 9, which will close a loophole for "big box companies," lower corporate income taxes and level the playing field for New Mexico small businesses.
"Small businesses from Alamogordo, Las Vegas, Las Cruces, Silver City, Albuquerque, Santa Fe and Taos are asking Governor Martinez to support their business and sign this bill," said Allan Oliver CEO NM Green Chamber of Commerce. "New Mexico small businesses are major job creators in our state and need a level playing field to compete with "big-box" stores."
SB9 Video.m4v www.nmgreenchamber.com/ChooseSmallBiz
Text of the letter is below:
Every day, New Mexico's small businesses compete with "big box" stores. But the playing field isn't level. "Big box" companies can claim their New Mexico profits in states that don't have corporate income tax, such as Delaware. New Mexico is the last Western state that allows "big-box" companies to use this loophole to avoid taxes and shift the tax burden onto the backs of Main Street businesses like mine.
Over the past 17 years, the small business community has generated 65% of net new jobs across the country.* For every $100 spent at a local business like mine, $45 returns to our community, compared with only $14 from big-box stores.* While big box stores on average cost taxpayers $468 per 1,000 square feet, small businesses generate a net annual surplus of $326 per 1,000 square feet.*
After nearly a decade of attempts, a bi-partisan vote by the New Mexico State Legislature approved Senate Bill 9 (SB9) to level the playing field for New Mexico's small businesses against "big box" stores like Wal-Mart, Home Depot and Best Buy. That legislation is now sitting on Governor Martinez' desk for signature.
We, the under-signed small business owners of New Mexico, respectfully urge Governor Martinez to sign SB9 into law, lowering our taxes and leveling our playing field against out-of-state "big box" corporations.
Click here to view PDF of letter with signatures. View the letter on our website: http://www.nmgreenchamber.com/
March 5, 2012 at 07:59 PM in Corporatism, NM Legislature 2012, Peter Wirth, Susana Martinez, Taxes | Permalink | Comments (0)