Friday, May 11, 2012
Please Join LGBTQ Community Leaders & Friends To Support One of our State's Young Leader Senator Tim Keller
Many of the social decisions facing the Country are being passed down to the States Legislatures. The LGBT community had an inspiring week with President Obama coming out in full support of marriage equality. However as he said in his statement, something to the effect that he agrees this should be decided by each state. So with this direction our country is taking on LGBT rights, the right to choose rights, contraception rights too now. Now more than ever we must elect a strong legislative body.
A young dynamic leader like Senator Tim Keller is precisely the type of leader we need to be electing into our state legislature. Please attend this fundraiser for Senator Tim Keller this evening. And if you cannot attend please donate to his reelection campaign. Click here to Download TK4NM 2012 GLBT invite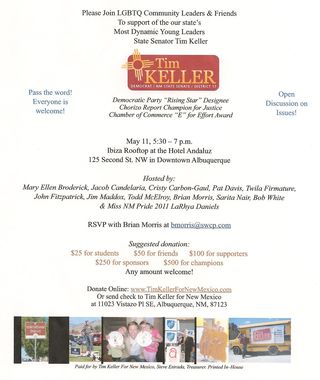 May 11, 2012 at 10:31 AM in 2012 Legislature Races, Candidates & Races, Civil Liberties, GLBT Rights, Tim Keller | Permalink | Comments (0)
Wednesday, May 09, 2012
President Obama: "Same Sex Couples Should Be able to get Married"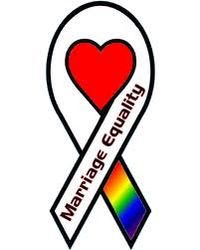 Exciting news for the gays and lesbians today, May 9, 2012. The President of the United States declared that "same sex couples should be able to get married." President Obama made this statement on ABC. ABC has a great write up about the interview and the timeline of Obama evolving acceptance of same sex marriage.
To go right to the video cut and paste this link into your browser: http://news.yahoo.com/video/us-15749625/29242313
"I have to tell you that over the course of several years as I have talked to friends and family and neighbors, when I think about members of my own staff who are in incredibly committed monogamous relationships, same-sex relationships, who are raising kids together; when I think about those soldiers or airmen or marines or sailors who are out there fighting on my behalf and yet feel constrained, even now that 'don't ask, don't tell' is gone, because they are not able to commit themselves in a marriage, at a certain point I've just concluded that for me personally it is important for me to go ahead and affirm that I think same sex couples should be able to get married," Obama told Roberts in an interview to appear on ABC's "Good Morning America" Thursday.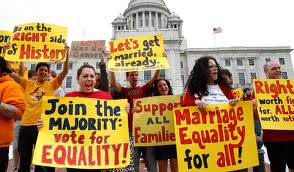 Meanwhile the Republicans remain on the wrong side of history. Republican Romney made this statement today " I do not favor marriage between people of the same gender, and I do not favor civil unions if they are identical to marriage other than by name." Romney made his statement in Colorado. You can see his interview along with video here: http://kdvr.com/2012/05/08/romney-to-speak-on-energy-in-fort-lupton-wednesday/. Also, Huff post has a great article here regarding today's Marriage Equality developments.
After last nights North Carolina vote to write into their constitution that marriage is between a man and woman. This comes as welcome news. Here is a link to another Huff Post article describing the vote which occurred in North Carolina yesterday. It looks like this hateful vote yesterday in NC could have spurred the POTUS on to come out in favor of same sex marriage. So maybe there is a silver lining to this horrible result in North Carolina.
As for me, a lesbian having a committed relationship for 23 years only to have Barb pass away only 4 1/2 short months ago, I feel regret and joy with this historical news. Regret that Barb and I could never marry, regret that we could not share in each others life savings in social security as committed married couples can. Regret that when I picked up my lovers death certificate, it said "Never Married" which is the biggest slap in the face of all, because Barb was the most committed loving protective partner marriage could ever find. Most of all regret Barb is not here to enjoy President Obama's words of acceptance with me.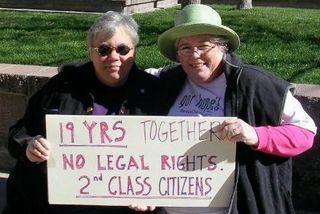 Barb and I: 4 years ago at rally on civic plaza abq protesting against CA Prop 8.
Joy for young lovers and old lovers. Joy that we are one step closer to normalization of our relationships. Joy that the children of these couples are one step closer to being accepted. Joy that gay and lesbian couples know that our President Obama sees us and hears us, acknowledges us. We are accepted as part of the committed to another loving human community.
This truely is a "It gets better" day.
May 9, 2012 at 03:29 PM in Civil Liberties, Democratic Party, GLBT Rights, Human Rights, Obama Administration, Republican Party | Permalink | Comments (8)
Wednesday, May 02, 2012
Republican Senate Candidate Heather Wilson Says "She Can Tolerate the Bullying of Gay Kids"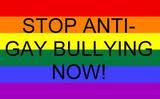 There has been very little media coverage of the statement made by the New Mexico Republican Candidate for Senate Heather Wilson. She recently went on record with an out of touch position regarding the bullying of gay kids.
At a forum in Otero County, Heather ridicules Sen. Al Franken's bill he introduced SB555; the Student Non-Discrimination Act . From Al Frankens website:
"The proposed bill establishes a comprehensive federal prohibition against discrimination and bullying in public schools based on sexual orientation or gender identity. Specifically, the bill would forbid schools from discriminating against LGBT students or ignoring harassing behavior. Fifty years of civil rights history shows that similar laws are effective in preventing discrimination from happening in the first place. Like other civil rights laws, SNDA would prompt schools to avoid liability by taking proactive steps to prevent the discrimination and bullying of students protected by the bill."
"While federal civil rights statutes clearly address discrimination on the basis of race, color, sex, religion, disability, and national origin, they do not explicitly include sexual orientation or gender identity. As a result, LGBT students and parents have limited legal recourse for this kind of discrimination."
The video above shot by American Bridge captures Heather Wilson's entire response to her tolerating of LGBT bullying. Be sure to read her words accompanying the video. She goes on to say it is the parents responsibility to make the kids stronger. No mention of the fact that the harassing and bullying by the bullies is bad. She goes on to say: "It is a act that would criminalize harassment or bullying in schools...of...of a...of children who...uh...mm...who are gay or who-it criminalizes bullying."
Heather sounds like a bully herself in this video. Her final statement in the video of the proposed Franken bill: "it (the bill) actually punish children and say that it's prohibited to express an opinion with respect to homosexuality in the schools...um I just think that's wrong..." Can she really believe what she is saying? So many pauses, and ums and ahs, she is condoning the right of young kids to mock and hurt other kids due to their homosexuality. It is OK for kids to make fun, harass, mock, even hit a fellow student that is maybe gay or lesbian, bisexual or transgender. Imagine the outrage if Heather was admitting this same condoning of bullying of other minorities to say hurtful/hateful words causing emotional and at times physical violence.
Imagine the other Matthew Shepard's, the torturing and the killings Heather Wilson is allowing to have happen, due to uncontrolled rage and hatred towards LGBT people. Bullying today results in a hate crime tomorrow, very easily. Just remember Matthew Shepard.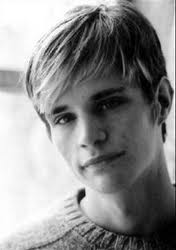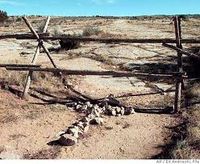 Heather is merely spouting the hatefilled Republican party line. She even calls the bill Franken introduced an "Agenda". Sure we all know the code for "gay agenda." The radical gay agenda which is teaching young people to not hate themselves and to survive the Heathers of the world. Code that prohibits the bullying of young kids, and not having these young kids carry with them self hatred for their lives because of being lesbian or gay. With so many LGBT bullying induced LGBT suicides being in the news currently, it is unconscionable Heather Wilson could say this and not be held accountable.

Heather obviously has not heard of the; "It Get's Better" campaign. In Heather's world it would be "It gets worse." Bullying is real, it hurts, it changes lives, it affects many, it kills, it is wrong and should be stopped at a young age, not condoned by our elected officials. Watch some of the videos recorded on the It Get's Better link above. These are real people on these videos all reminding young people that your life will get better.
Who knows what Heather's sexual preference is? There have been rumors for years that she had a woman lover in Washington DC., was even seen in lesbian bars. The rumor is her husband is gay as well, and their marriage is one of convenience. Honestly, Heather is kind of butchy and her hubby is kind of fem. It is conceivable this could be a marriage of convenience. But how would we ever know and to be clear "not that being gay is a bad thing."
Also, when ever we can bring up the "Heather Wilson cover-up for her husband scandel" we must. Remember how Heather was caught and admitted to lying about removing a file of information regarding her husband and what he did to warrant a CYFD file. A previous post on this website describes this Heather cover-up and can be seen here. What ever her husband did she did not want anyone to see it and this CYFD file has never seen the light of day. One can just assume the contents of the file would have derailed the Heather Wilson train to power.
The Huffington post covered this admittance by Heather Wilson to tolerate the bullying of LGBT kids. You can read the Huff post piece here.
The only local TV news coverage was done by KOAT TV channel 7, their coverage is here. It is appalling that the republican candidate for the United States Senate has the audacity to say this. It is made worse that no main street media has covered this outrageous statement.
May 2, 2012 at 04:18 PM in 2012 NM Senate Race, Civil Liberties, GLBT Rights, Heather Wilson, Republican Party, Youth | Permalink | Comments (2)
Tuesday, April 17, 2012
House Leaders Join Call for Freedom to Marry Plank in 2012 National Democratic Platform
Today more than half a dozen Democratic Congressional leaders signed onto Freedom to Marry's Democrats: Say I Do campaign calling for a freedom to marry plank in the 2012 national platform of the Democratic Party. The signers include three key contenders for the US Senate from swing states: Tammy Baldwin (D-WI); Shelly Berkley (D-NV); and Martin Heinrich (D-NM). Additional new signers include Ranking Democrat of the House Judiciary Committee John Conyers (D-MI); Judiciary Committee member Mike Quigley (D-IL); former Democratic Congressional Campaign Committee Chair Chris Van Hollen (D-MD); and Representative Jared Polis (D-CO).
These latest members of Congress to call for a freedom to marry plank join House Democratic Leader Nancy Pelosi, Obama campaign co-chairs Charles Gonzalez (D-TX) and Jan Schakowsky (D-IL), co-chairs of the Congressional Progressive Caucus Keith Ellison (D-MN) and Raul Grijalva (D-AZ), and lead sponsor of the Respect for Marriage Act Jerrold Nadler (D-NY), and many others.
Evan Wolfson
, founder and President of Freedom to Marry, released the following statement:
"This latest group of Democratic Congressional leaders to call for a freedom to marry plank in the 2012 national Party Platform reflects the diverse majority of Americans across the country who support the freedom to marry. The support from members of Congress running for state-wide office in swing states shows that there is nothing to fear in being on the right side of history – happily, support for the freedom to marry is not just the right thing to do, it's the right thing to do politically."
The Democratic Party supports the full inclusion of all families in the life of our nation, with equal respect, responsibility, and protection under the law, including the freedom to marry. Government has no business putting barriers in the path of people seeking to care for their family members, particularly in challenging economic times. We support the Respect for Marriage Act and the overturning of the federal so-called "Defense of Marriage Act," and oppose discriminatory constitutional amendments and other attempts to deny the freedom to marry to loving and committed same-sex couples.
Public opinion data
show that 69 percent of Democrats support the freedom to marry, as well as 59 percent of Independents and 53 percent of Americans overall (Gallup, May 5-8 2011). A recent NBC/Wall Street Journal
poll
(Feb. 29 through March 3, 2012) shows that voters who supported President Obama in 2008 are 8 times more likely to support a candidate who supports the freedom to marry than a candidate who opposes (40% to 5%); Democrats are more than 4 times more likely to support a candidate in favor of the freedom to marry (39% to 9%); and Independents are 2 times more likely to support a candidate in favor of the freedom to marry (22% to 11%).
***
Freedom to Marry is the campaign to win marriage nationwide. We are pursuing our Roadmap to Victory by working to win the freedom to marry in more states, grow the national majority for marriage, and end federal marriage discrimination. We partner with individuals and organizations across the country to end the exclusion of same-sex couples from marriage and the protections, responsibilities, and commitment that marriage brings.
April 17, 2012 at 11:41 AM in Civil Liberties, Democratic Party, GLBT Rights | Permalink | Comments (0)
Thursday, April 12, 2012
ACLU Sues Roswell for Violating Christian Preachers' Right to Free Speech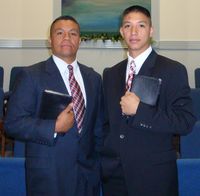 Today, the American Civil Liberties Union (ACLU) of New Mexico filed a lawsuit against the City of Roswell, NM, alleging that police officers repeatedly violated the First Amendment free speech rights of two local street preachers, Joshua and Jeremy De Los Santos. Joshua and Jeremy are brothers and members of the Old Paths Baptist Church in Roswell, where Joshua is the pastor. Both believe they have a duty to boldly preach the Gospel in public, and both regularly do so in publicly owned spaces. However, the Roswell Police Department (RPD) has arrested both brothers multiple times for expressing their sincerely held religious beliefs in public, as is their right under the First Amendment.
"Our right to express our religious beliefs is among the most precious of American freedoms," says ACLU-NM Executive Director Peter Simonson. "Freedom of speech and religion means that any person can express any religious belief, no matter how unpopular, in public without fear of arrest or government harassment. Today, the ACLU is standing with the De Los Santos brothers to affirm and defend this right in Roswell."
In the past two years, Roswell police officers have arrested Jeremy De Los Santos five times for preaching in public and arrested Joshua twice for the same activity. In every case, the charges against the plaintiffs were dismissed by a court of law.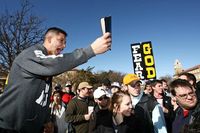 The De Los Santos brothers allege that the Roswell police falsely arrested them without probable cause for exercising their First Amendment right to Free Speech on public property. The brothers also claim that RPD confiscated phones, cameras, camcorders and a bullhorn, some of which have not yet been returned.
Jeremy De Los Santos also claims that RPD officers used excessive force on two occasions. On September 24, 2010, RPD arrested Jeremy for preaching outside in the church parking lot. Before placing Jeremy in the squad car for transport to the local detention facility, an officer sprayed pepper spray or a similar chemical agent in the back seat, making it difficult for Jeremy to breathe. On Memorial Day, 2011, RPD officers again arrested Jeremy as he attempted to preach at a public event held in a park. After RPD booked Jeremy into jail, they handcuffed him behind his back and shackled him to the wall in a painful stress position.
"The Roswell Police Department's mission is to serve and protect everyone in their community, even the people they disagree with," says ACLU-NM Staff Attorney Ed Macy. "Arresting people for publicly preaching their religious beliefs tramples on the Constitutional guarantees that the Roswell Police Department officers took an oath to uphold."
The complaint was filed in U.S. District Court by ACLU-NM Staff Attorney Edwin Macy and ACLU-NM Managing Attorney Laura Schauer Ives.
A copy of the legal complaint is attached here: Download De Los Santos v Roswell.
April 12, 2012 at 02:49 PM in Civil Liberties, Religion, U.S. Constitution | Permalink | Comments (3)
Monday, February 13, 2012
"He's Baaack" Rep. "Chucky" David Chavez Re-Introduces HJR-22
In the words of Ellen Degeneres: The Haters are my motivators!

Our friend Rep. "Chucky" David Chavez is baaack with his hate legislation, HJR-22. He is going to re-introduce the legislation tomorrow.
Please come and defend your LGBT brothers and sisters, aunts and uncles, friends and colleagues, our right to love whom we want.
What: House Consumer and Public Affairs committee hearing on HJR 22
When: Tuesday, February 14th at 8:30 am
Where: The Roundhouse, Santa Fe, room 315.
Caving under peer pressure and the hubris of the haters, the accused wife abuser, and divorcee has decided to re-present the bigotry hate anti equality legislation.
Following is the exact language from HJR22: "Marriage in this state shall consist only of the union of one man and one woman. A marriage, civil union or similar relationship entered into by persons of the same sex that is recognized by another state or foreign jurisdiction is void and shall not be recognized for any purpose in this state. In the exercise of the state's police power and recognizing the state's strong interest in governing the relationships between married persons, the provisions of this section shall apply retroactively."
How fitting for Valentine's Day. Are the haters that full of disdain? We are humans. We pay taxes. We pay social security and everything you pay for. The difference is we don't get the spousal benefits. So for example haters let me be clear; when your partner, lover dies as mine did recently,the survivor gets no social security benefits which the loving partner has paid into their whole life. And we at the state level aren't even talking about that one huge benefit that helps the surviving spouse, social security benefits.
To Mr"Chucky" David Chavez you may think you can kill homosexuality, or people of the same sex loving each other dearly and passionately. But you Can't. My partner died 8 weeks ago of toxic cancer. I love her more now than I did then. Together for 23 years and my love has continued to grow. While I took care of her the weeks before she died, helping her into bed, helping her eat and drink, helping her do all things, our love for each other grew. Explain that one to me? Homosexual lesbian love growing even after death. Love grows if you have the capacity to love. Yep you and your haters were successful and never letting Barb and I marry, but our love was so big and strong it could survive without the piece of paper and benefits that go with it and even grow after her passing. Can you imagine that haters? Mr Smothermon what does the Legacy Church say about that strong of love? Are there words for that strong of love between two people who happen to be women?
Watch the following video of a Republican Washington State Legislator.
Tonight, the evening before Valentine's day, I say go pick on some one else. Go clean up your own life of divorce and who knows what else. And to all the intimidators, shaming you back into reviving this hate bill go help some people in need. Spread some love.
We are minding our own business. Living and dying and loving eachother. Leave us alone. You are nothing but a bully and a hater over pure outstanding love.
February 13, 2012 at 07:38 PM in Action Alerts, Civil Liberties, GLBT Rights, Human Rights, NM Legislature 2012 | Permalink | Comments (3)
Thursday, February 09, 2012
Sponsor Pulls DOMA Less than 24 Hours from Hearing and A Word from Ellen
In another victory for civil rights and all New Mexico families, Valencia County Representative David Chavez (R) withdrew HJR 22 from consideration today, ending his attempt to rewrite New Mexico's constitution to prevent the recognition of marriages between committed couples of the same sex.
Last week, ProgressNow New Mexico launched a campaign for New Mexicans to send Chavez's their own stories of loving and committed relationships which deserve protection.  Residents from across the state sent Chavez emails and late today, ProgressNow announced that it was preparing to deliver those stories in person to Chavez during tomorrow's House Consumer & Public Affairs Committee where the bill would be heard.
But late this afternoon, Committee Chairperson Gail Chasey announced that Chavez had withdrawn the bill from consideration.
"This has been a big week for equality across the country, and I'm glad to see New Mexico join the fray," said Pat Davis, ProgressNow NM's Executive Director. "We applaud those who stood up for marriage opportunity! Now, let's get back to legislation that put's Representative Chavez's constituents back to work."
New Mexico's defeat over DOMA comes in the same week that the US Court of Appeals in the 9th Circuit ruled California's anti-gay marriage Proposition 8 unconstitutional and on the same day that Washington State's legislature approved a measure to award full marriage equality to all couples.
Here is a great link of Ellen Degeneres talking about Prop 8, and her latest sponsor JCPenney and her traditional values. For sure worth watching! Best line " My haters are my Motivators"!
February 9, 2012 at 10:25 AM in Civil Liberties, GLBT Rights, NM Legislature 2012 | Permalink | Comments (1)
Wednesday, February 08, 2012
Anti-Equality Action Alert: Rep. David Chavez's "super-DOMA" Bill to be Considered Thursday
Anti-equality legislation designed to inhibit the free exercise of civil rights will be considered Thursday in the House Consumer and Public Affairs Committee. Rep. David Chavez is sponsoring a bill that seeks to re-write the New Mexico state constitution so as to exclude committed same-sex couples from enjoying marriage equality.
Last week we told you about Chavez's bill and began a letter writing campaign telling Rep. Chavez not to create second-class citizens in New Mexico. Scores of concerned citizens sent letters to Chavez voicing their opposition to his bill. (Add your voice to our letter writing campaign by clicking here.)
Chavez's HJR 22 is know as a "super-DOMA" bill, as it seeks to apply the federal provisions of the Defense of Marriage Act, which denies marriage rights to same-sex couples, to the New Mexico state constitution.
Recently, the withering movement of anti-equality activism by politicians like David Chavez has taken a number of blows. Here are a few of the most obvious indications that intolerance in America is waning:
ProgressNow New Mexico is encouraging concerned citizens to attend the House Consumer and Public Affairs Committee meeting and voice their support for marriage equality. The committee will meet on Thursday, February 9 at 1:30pm in room 315 of the Roundhouse.
And, if you haven't already, we encourage you to send Rep. Chavez an email letting him know that you believe in healthy, committed relationships, not second-class ones. ProgressNow NM will be presenting the letters to Chavez and other members of the committe during the hearing.
February 8, 2012 at 03:16 PM in Action Alerts, Civil Liberties, GLBT Rights, NM Legislature 2012, ProgressNow New Mexico | Permalink | Comments (1)
Tuesday, February 07, 2012
Great News for Love Today, CA Appeals Court Finds Prop 8 Unconstitutional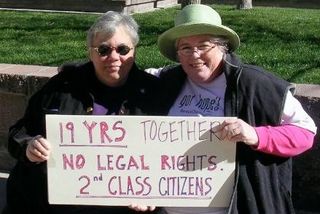 The picture above was taken in early 2009
at an Abq. protest of Prop 8.
I only wish Barb was here to revel in this victory for love with me. We must keep on pushing for civil rights for all. Let's not have other couples loose each other in death prior to celebrating their lives together in love and commitment.  
I am going to link to a few articles that explain the history and the ruling today in detail.
The NOH8 campaign is a website specifically designed to follow California Prop 8, you can find the coverage here.
American Foundation for Equal Rights (AFER)is leading the fight for the freedom to marry and equality under the law, AFER is the sole organizational sponsor of the groundbreaking federal court case to overturn California's Proposition 8.
And the Courage Campaign. Adding to the information today that the opponents were trying to get Judge Walker thrown of the case cause he is gay, but no on that measure as well. From the Prop 8 Trial tracker:
Prop8TrialTracker.com has received the 9th Circuit's opinion in Perry v. Brown that Proposition 8, the 2008 voter-enacted ban on marriage equality in California, is unconstitutional. In addition, the appeals panel ruled that the proponents of Prop 8 did have standing to pursue their appeal of Judge Walker's decision striking down the marriage ban, and upheld District Court Judge Ware's decision denying a stay to throw out Walker's ruling because he is gay. The ruling on constitutionality was divided on an 2-1 vote, with Judges Stephen Reinhardt and Michael Hawkins voting to strike Prop 8 down, and Judge N. Randy Smith voting to uphold the ban. The ruling regarding standing and the motion to throw out Judge Walker's decision was a unanimous 3-0 vote
The Decision can be read following this here.Read up NM State Rep.Chavez, who is currently embarking on his own Prop 8 look alike for the State of NM. Chavez has proposed legislation regarding outlawing marriage of loving couples. He too wants to put love out to a vote to New Mexicans to change the Constitution saying marriage is illegal for same sex couples, and Chavez goes further to say that anyone in another state who is married is not welcome here with their marriage. Is this what New Mexico is about? This diverse state? This matter is being challenged through the courts, and the answer is coming out the same, lesbians and gay men have a right to marry. Marriage is a piece of paper which joins two in love and commitment in the eyes of society.
Also, here is a message to the Legacy Church Pastor Mr. Smothermon: The LGBT community also has a right to work, anywhere we want to work. Take note protoge Dan Lewis running for Congressional District 1.
Next will be the United States Supreme Court, I am sure the haters will not quit on this one.
This used to be a good ole chant: We're here, we're queer, get used to it!
DFNM has done several other posts while following this campaign of hate. See one here.
February 7, 2012 at 12:35 PM in Civil Liberties, GLBT Rights, Justice, Legal Issues | Permalink | Comments (2)
Thursday, February 02, 2012
Hypocrite Rep. David Chavez Continues his Push to Amend the Constitution to Oppose Gay Marriage
Representative David Chavez released documents this morning crying foul about a post which Democracy for New Mexico put up yesterday. A link to that post is here. A quick recap of the post; Rep. Chavez introduced House Joint Resolution (HJR22) on Jan. 24, 2012. Rep. Chavez explains this is a "Call for a constitutional amendment to abolish same-sex marriages, and allow voters to decide this issue". Yesterday this blog highlighted some disturbing past marriage matters of Mr. Chavez which would make Mr. Chavez less that an expert when it comes to the loving commitment of marriage and the vows that accompany it.
Rep. Chavez this morning sent out a document titled "State Rep. Chavez Blasts Organizations for Spreading Misleading Information." Here is page 1 and page 2 of the document. Within this document he mentions and attaches two other items. One is a document titled "Stipulated Order of Dismissal" dated Oct. 28, 2010, attached here, and the other is this audio recording released on the day before the 2010 election, Download ChavezExWifeRecording_(2010).
Democracy for New Mexico is attaching a copy of the legal documents which were the basis of our story yesterday. One is the first page of the "Petition for Order of Protection from Domestic Abuse" here, and the first page of the divorce filing here. There are plenty more papers in the pile of court documents, but these should suffice on the relevance to the assertion that Rep. Chavez has no right leading a charge about the marriage rights of others.
It is no surprise Rep. Chavez is asking for a retraction of the statement posted here yesterday. We are sure it is embarrassing to have your dirty laundry aired to the public. However, I see no reason to retract anything, it is a fact your wife petitioned the court of Valencia County to protect herself from you on October 14, 2010. She signed the papers drawn up with a clerk, and notarized at the courthouse. It also is no big surprise that 14 days later when Mr. Chavez was asked to appear in court, that an agreement was hatched out having Mrs. Chavez drop the petition she filed 14 days earlier saying she was afraid of you. In the court papers attained of the Oct. 14 filing under the question - Do you consider the respondent (Mr Chavez) to be dangerous? Mrs Chavez answered  "he has threatened me and taken my belongings."
Rep. Chavez asks us to believe Mrs. Chavez divorce attorney filed these misleading documents as a ploy, as part of their divorce proceedings. Again if this is true what right does your marriage and abuse of marriage allow you the audacity to judge others desire to get married. The thought that one would have to go through such deception to divorce, to fake abuse, please don't judge other peoples love.
The question still remains is Mr Chavez an expert on marriage when his own attempt at marriage ended in divorce? What gives Rep. Chavez the right to lead the charge on judging who other people can marry in this state?  Perhaps Mr. Chavez could learn a thing or two about commitment and love and caring from some loving gay and lesbian relationships.
Rep.  Chavez states in this release " All I want is for the people of NM to have a say in whether our state recognizes same sex messages." (He meant marriages I presume. Although I personally love same sex messages too.) So, HJR 22 will just put the right for loving gay couples to marry out to the citizens of NM for a vote. Maybe we should just put it out for a vote to the citizens of NM whether Mr. Chavez should be allowed to marry again. Let's ask the citizens of NM if you should have the right to marry?
Putting people's rights out to a public vote is not American. American values are founded on all citizens are created equal and shall have equal protection under all laws. Would the African American struggle ever been won if it had gone out for a popular vote to the people of the country at that time. That is when leaders are needed, to lead the people to what is fair and just. Not the public mob mentality.
For the record: The acceptance of gay marriage in the state of NM was polled in mid- December 2011. You can see the DFNM post here. The polling is showing a shift of acceptance of NM citizens supporting the rights of gay people to marry or join into a union of some account. 
Across the Country the acceptance of gay marriage is rising steadily, especially among the young voters. This Freedom to Marry article here explains the acceptance trend. Acceptance that homosexuality is a natural thing. As natural as being a lefty instead of a righty. At one time not long ago if you were a child and showed hints that you were a lefty you would be beaten into using your right hand. That is no longer what parents and teachers and rule makers do. Now a days we accept a person that is a lefty as a lefty, it is considered natural. One day being gay will be treated as such, just a natural behavior. No big deal, no stigmatising, no harassing.
Other states in the union that have passed Marriage Equality, Gay Marriage, or Same sex Marriage laws are listed within this HRC link.
Regrettably , Representative Chavez was accurate in his stating 29 states have passed laws banning gay marriage some even banning civil unions. Please see this Wikipedia article to see these facts.
Let's not have New Mexico be another one of these states of discrimination against the LGBTQ community.  Note the rise of these states passing these bans on same sex marriage is directly proportional to the rise in acceptance.
Lastly, ProgressNow NM wrote a piece on this topic. And launched the following:
ProgressNow New Mexico is encouraging New Mexicans to send letters to Chavez calling on him to promote legislation that promotes loving healthy relationships instead of creating second-class ones.  The online effort, launched at ProgressNowNM is active now.
We will end with the following quote from San Diego's Republican Mayor Jerry Sanders- a chair of Mayors for the Freedom to Marry-  "Allowing loving and committed couples to join in marriage has benefits not just for couples and their families—but also for society.  Marriage encourages people to take responsibility for each other, provides greater security for children, and helps our country live up to its promises set forth in our founding documents. These are important values for a strong society, and we should encourage them." 
February 2, 2012 at 09:10 PM in Civil Liberties, GLBT Rights, NM Legislature 2012 | Permalink | Comments (1)
Wednesday, February 01, 2012
The Hypocrisy of Rep. David Chavez to Question Other People's Right to Marriage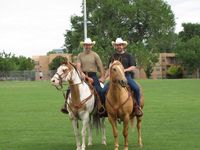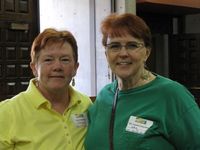 Warning: Loving gay and lesbian (same sex) homosexual couples above have possible marriage certificate from another state. Consider these couples armed with love and dangerous with commitment to each other.
On the other hand: Accused domestic abuse predator is on the loose in the roundhouse making laws. This law maker and accused law breaker wants to make love and commitment illegal. Furthermore, if you are in love do not bring your healthy loving commitment to this state of New Mexico.
The Ultimate Hypocrisy
Representative David Chavez felt compelled to introduce a Defense of Marriage Act (DOMA) Resolution during this short 30 day session. House Joint Resolution 22 (HJR22) was introduced by Rep. David Chavez on 1/24/12. This resolution is certainly not germane to the budget of the state of New Mexico.  This resolution is introduced for the sole purpose of discrimination and bigotry of a segment of our population, of which I am a part of.
Following is the exact language from HJR22: "Marriage in this state shall consist only of the union of one man and one woman. A marriage, civil union or similar relationship entered into by persons of the same sex that is recognized by another state or foreign jurisdiction is void and shall not be recognized for any purpose in this state. In the exercise of the state's police power and recognizing the state's strong interest in governing the relationships between married persons, the provisions of this section shall apply retroactively."
Representative David Chavez has no respect for the institution of marriage. He is a failure on the topic by all accounts. Records show Rep. Chavez was accused by his wife of Domestic Abuse in mid October 2010, the beloved wife of Rep. Chavez filed a "Petition for order from Domestic abuse", and a "Petition for Dissolution of Marriage" on that very same day in October 2010. The loving couple were joined in "Holy Matrimony" on July 27, 2006. Under the eyes of God, and the blessing of their community and family, these two humans entered into the institution of holy matrimony. Their marriage or "civil union" lasted 4 years and 2 months.
I suggest Rep. Chavez leave his hands off any definition of marriage since he obviously does not understand marriage and is a failure in understanding the commitment and love and trust.
Many people know Barbara, my partner, lover, soul mate, passed away a short time ago. Barb and I were together 22 years. Through thick and thin, through sickness and health till death do us part, type togetherness. More of a marriage than Rep. Chavez may ever be able to even recognize. I am grateful for this love I shared with Barb. It is hard to find and work through all the matters when two people join hearts. But we did it. Why - because we loved each other. Because we believed in working together and communicating and showed each other respect.
What really got to me was when I picked up Barb's death certificate, and under marital status it said "Never Married". Never Married after 22 years, never married because of hypocrites like Rep. Chavez. Never married because of the hate filled rhetoric of too many. Never Married because of the desire for some to use the gay marriage issue as a divisive tool to get their own agenda across. Never married because of closed minds and hearts.
Lastly, I would like to see the reaction that a heterosexual, male female couple would have if when they crossed into the state of New Mexico's their marriage would dissolve. Poof gone. Kaput.
There is no date on the Legislative website that this HJR is being heard and in what committee and when. Please call your legislature and say this has no business being heard. Discrimination is not part of America's values.
February 1, 2012 at 11:15 AM in Civil Liberties, GLBT Rights, NM Legislature 2012 | Permalink | Comments (3)
Wednesday, January 25, 2012
Republican Rep. David Chavez Introduces DOMA Bill and to Amend Constitution
Here we go again. More hatefilled bills being introduced at this 2012 Leg. Session. I do not see how it is germane for this session, since all bills introduced should be tied towards financial matters. Let's see if the Governor allows it. The bills name is HJR 22 you can read it here.
Equality New Mexico has launched a petition for Rep. Chavez to withdraw his DOMA Amendment. Please sign petition here.
Several states have passed marriage equality, we are going the wrong way here people. Please help us defeat this bill.
January 25, 2012 at 04:46 PM in Civil Liberties, GLBT Rights, NM Legislature 2012 | Permalink | Comments (3)