Wednesday, October 29, 2008
The State of the Election (and Me)
You may have noticed that I've been concentrating on posting info on candidate- and election-related events. You may also have noticed that I'm still not keeping up with the explosion of events that are happening all over New Mexico as we count down the six days left before the November 4th election. Democrats are swarming to early voting events, polling places, canvasses and phone banks. Our candidates are all making the final push for money and volunteers. Get out the vote is the imperative. GOTV is IT.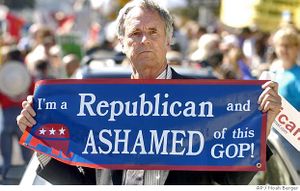 Meanwhile, the Republicans are concentrating almost entirely on slinging mud, trying to create doubts about our candidates and attempting to suppress voting in any way they can, no holds barred. Truth, ethics, fairness, facts? Not much of that on the R side of political spectrum as a tsunami of change builds and threatens to swamp Republicans up and down the ticket in almost every state -- even the red ones like Indiana, Montana, North Carolina, Virginia and more.
The Morally Bankrupt GOP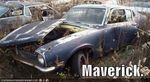 The GOP and its candidates are running scared, rudderless and desperate -- and their last-ditch efforts are taking on the gothic tones of a horror movie, the anti-logic fog of a dadaist work of art (without the irony). Without any appealing policies and few positive, attractive candidates, the Repubs have given up on winning on the issues and plunged into the realm of outrageous smears, illegal tactics, baseless innuendo and outright lies.
The Rove-Limbaugh-wingnut buzzwords are parroted everywhere among their ranks, calling our candidates socialists, Communists, fascists, redistributors in chief, elites, eco-terrorists, extremists, pals of domestic terrorists, scary, outsiders and worse.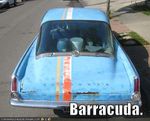 The "voter fraud" hounds are on the loose again, digging up fake "evidence," intimidating voters at their homes, using Drudge and Fox to flog their false claims and insulting community activists like ACORN.
They've been busy in battleground states trying to "purge" legitimate voters from the rolls in the tens of thousands and hold up the registrations of tens of thousands of new voters. They've been orchestrating vile robocalls, airing crazy ads, distributing phony election information and sending out viciously dishonest direct mail pieces.
The Good News? IT'S NOT WORKING
This time, it's not working. At last, it's not working. And candidates, activists, organizations, the Party and voters are fighting back. Lawsuits are being filed against the perpetrators, like "voter fraud" pusher Pat Rogers, his hired-hand private investigator and the New Mexico GOP. We're challenging the massive purge projects, and winning in the upper courts. Our candidates are refusing to take the bait, and are staying cool, loose and rational -- continually turning the focus back to the issues, where we're winning on almost every single one with Americans.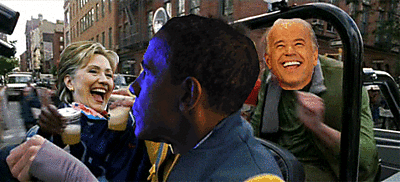 The Dems are on the right track. Electing more Repubs would keep us on the wrong track. These are the memes that are predominating among the voting public. Turning the page. Making a new start. Daring to try something new and different. Basing votes on the issues, not the scare tactics. Hoping. Uniting. Working hard to make it real. Winning.
Enough Is Enough
I know I'm not alone when I say I've had enough of the hate mongering, the veiled racism, the vapid insults, the accusations that we're not REAL Americans or patriotic, the nasty lies and the desperate, unethical measures being employed by the GOP and its minions. I find I can't even bring myself to write about it anymore, except generically. To probe and report every instance of the GOP's wrongdoing takes too much energy and brings too little return.
We all know what they're doing, and what they've been doing in every election in the past decade or more. They're just doing it with more vehemence and with even fewer ethical considerations this time around -- if that's possible. Because they know their neo-con, anti-regulation, screw the middle class concoction has been deconstructed, defrocked, thoroughly discredited and rejected. They know they're gonna lose, big time. And they just can't quite believe it. But as Honest Abe once said, you can't fool all of the people all of the time. Voters have wised up, mindful of the awful consequences of the Bush years that are crashing down on America, and the world.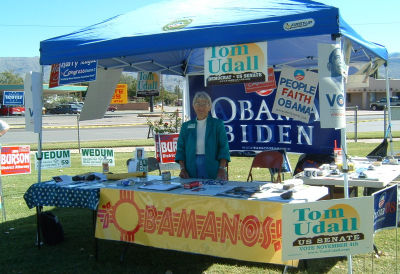 Onward to the Finish Line
So, anyway, I guess I'm gonna stick mostly with helping to publicize the events we can attend, the actions we can take, the info we need to help our GOTV be the best it's ever been. If you want the latest details on the latest outrages, the latest attack ads, the latest "voter fraud" garbage etc., it's easy to find elsewhere in this era of the internet. Thank goodness. As for me, I'll mostly keep plugging along with the tedious calendar items, the event announcements, the press releases and the recaps of gatherings for now.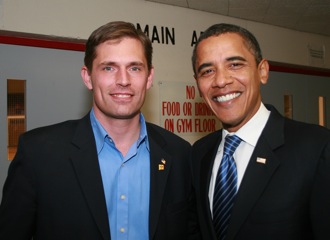 I've been blogging and we've all been meeting and working and pushing for grassroots activism and progressive Democratic gains since 2004 now -- and we're coming into the home stretch of what could really be our time, our mandate, our widespread victories. The only thing left to say is: vote early, volunteer, donate, don't let up, go to rallies, bring your friends, show up. They could still steal it. They could still pull something that works. We could still lose, so keep the pressure on.
Six days, six days, six days. We have to do whatever we can to elect Barack Obama, Tom Udall, Martin Heinrich, Ben Ray Lujan, Harry Teague, Jason Marks, Rick Lass, Victor Raigoza, Tim Eichenberg, Jeff Steinborn, Mimi Stewart, Maggie Toulouse Oliver, Bill O'Neill, Steve Fischmann and more. (Who am I forgetting?) It's now or never.
PS: Talk about timing. I just received a nasty robocall from the RNC "on behalf of John McCain," warning me how Obama is "dangerously inexperienced" and droning on about his intent to sit down with terrorists and side with all the wrong people. Ha. If they're robocalling the likes of me -- a Democrat since day one -- they must REALLY be panicking.
PSS: I just learned that people in ARIZONA are getting the same robocall. My, my. McCain's home state.
October 29, 2008 at 03:54 PM in 2008 General Election Voting, 2008 General Presidential Election, 2008 NM Senate Race, 2008 NM State Legislature Races, 2008 PRC Election, Democratic Party, John McCain, NM-01 Congressional Race 2008, NM-02 Congressional Race 2008, NM-03 Congressional Race 2008, Progressivism, Republican Party | Permalink | Comments (3)
10/29: Meet Tom Udall at Campaign Events in Bernalillo, ABQ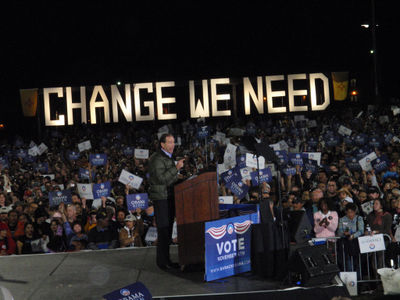 Udall speaking at Saturday's Obama Rally at UNM
Today U.S. Senate candidate Tom Udall will hold an early vote rally at The Range Café in Bernalillo followed by a rally at Central New Mexico Community College and a meet and greet at the Ladera Golf Course on Albuquerque's West Side:
BERNALILLO TOWN HALL & EARLY VOTE RALLY
Wednesday, October 29th, 12 – 1 PM
The Range Cafe, 925 Camino del Pueblo
CENTRAL NEW MEXICO COMMUNITY COLLEGE RALLY
Wednesday, October 29th, 1:30 – 2:15 PM
CNM Student Services Building
900 University Blvd., Albuquerque
LADERA GOLF COURSE MEET & GREET
Wednesday, October 29th, 5 – 6 PM
Ladera Golf Course Event Room
3401 Ladera Drive NW, Albuquerque
Photo by M.E. Broderick. Click on image for larger version.
October 29, 2008 at 09:51 AM in 2008 General Election Voting, 2008 NM Senate Race, Events | Permalink | Comments (0)
Tuesday, October 28, 2008
10/29: Join Tom Udall & Martin Heinrich for West Side Candidate Meet and Greet; Free Food and Mariachis
Please join
Martin Heinrich and Congressman Tom Udall
for a Candidate Meet and Greet
with Free Food and Mariachis!
Wednesday, October 29 at 5:00 PM
Ladera Golf Course, 3401 Ladera Drive NW, ABQ
For questions, or to RSVP, contact Cristina at: (505) 203-4843 or mctrutanich@nmdems08.com
October 28, 2008 at 09:09 AM in 2008 NM Senate Race, Events, NM-01 Congressional Race 2008 | Permalink | Comments (0)
Monday, October 27, 2008
Guest Blog: Fear and Lies? Hope and Organization? Your Choice!
We're pleased to have another guest blog by Land of Enchantment, who diaries regularly on Daily Kos where this piece first appeared:
We've all heard the whispered smears.
(Psst! Obama's an Arab. He's a secret Muslim. He's a terrorist.)
The stuff of anonymous emails and nutcases in some whipped-up crowd frenzy. Yup, we've all heard about them. But here in New Mexico, it's also getting handed out by Republicans, together with John McCain campaign flyers, right in front of the Republican Party office. Holy Cow!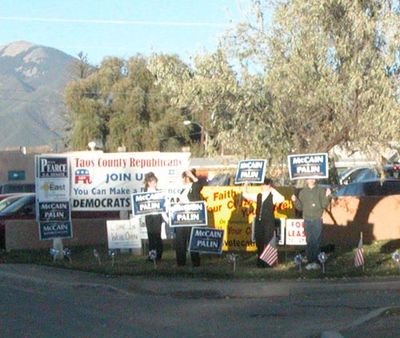 I knew they didn't have much principle. But there's at least some stuff one would think they'd leave to the anonymous emails, and not attach themselves to it. Wrong again!! But let me, too, give a little context as to what else was going on in the small mountain town of Taos this past weekend.
THE RALLY
Anyhow, I was driving through town this afternoon, on my way to a rally in Kit Carson Park. Rep. Tom Udall appeared, along with Democratic candidate for NM-03, Ben Ray Lujan. It was a fun time, and there was music and plenty of laughter, and hugs. Too bad my favorite picture of Rep. Tom Udall - soon to be Senator-elect Udall - cut the top of his head off. Oh well!!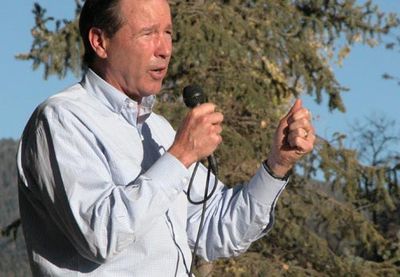 And here's a group shot of staffers for Ben Ray Luján for Congress and Tom Udall for Senate. Saw a lot of them at the Taos Pueblo GOTV rally last Thursday night (watch for a diary called "Blue Lake Republicans" soon), and will see them again at a rally in the mountain village of Peñasco tomorrow. But they had to rush out this afternoon to get to Albuquerque for Obama's rally there this evening. Then back to the north again tomorrow. Luckily, we've been mostly snow-free so far this season, except for way up around timberline, so the roads haven't been hazardous: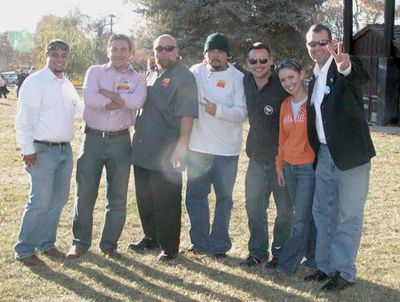 BIG CANVASS DAY
I stopped off at the Combined Campaign Office on my way, and there were as many people out canvassing today as there were at the rally. Which is cool. There's a young lady, high school student, who took a workshop with our very own dK Mindoca, and who's doing a bang up job. She's recruited 35 high school kids to volunteer for the Obama campaign. They're so fresh and enthusiastic, it really lifts the spirit. Here's a few of them about to head out canvassing today: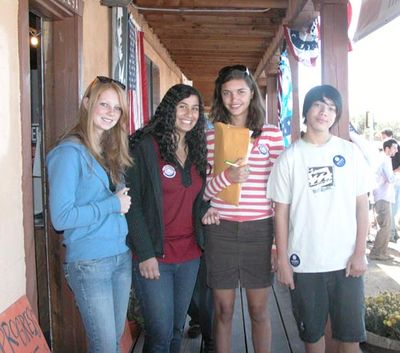 LOCAL REPUBLICANS TODAY
Our local Republicans are pretty much outnumbered. And they have a bit of an enthusiasm gap. The Democratic combined campaign office is open from 9am to 10pm, 7 days a week. The GOPs? Not so much: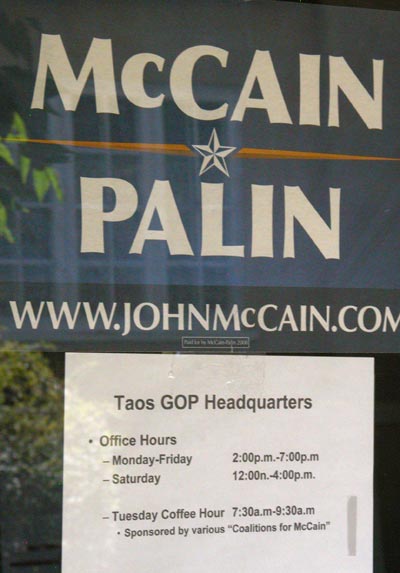 And imagining how nice it will be to crush their spirit, I was thinking how I'd be driving past their GOP HQ on my way from the office to the rally in the park this afternoon. I decided that if they were out waving signs, I'd pull over and give 'em a copy of that GOP Death List thingy - mess with their heads a little. Why not? And so I did. While I was handing it over to a woman with a gigantic cloud of hair accented with sparkles (no kidding!), a younger, blonder creature tossed some literature in my front seat. I took off without looking at it.
When I did? Holy cow! There was one of these - not remarkable. Typical slick campaign tree-waster. Slightly interesting it's in green. Nothing more than that: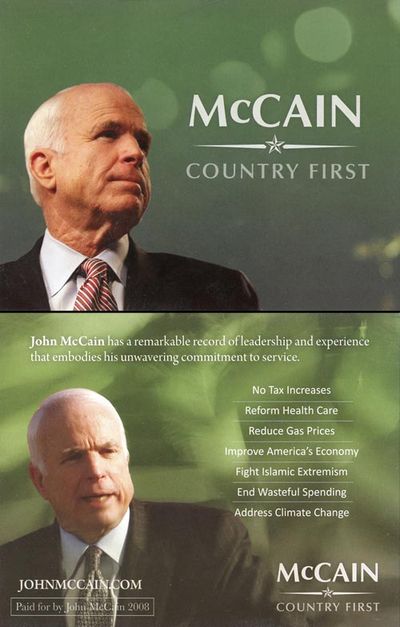 THE SMEAR
But then, there was a flyer with THIS cover. Holy cow!! Local party chair wasn't much interested. Local weekly newspaper political reporter not interested either, but then she's accused me of forging "evidence" in the past, so not much to be expected there. But check out what people waving McCain signs, right in front of the Republican Party office in Taos, were handing out at about 3pm this afternoon:
Say what? And the contents were exactly all the crap that's been traveling around via anonymous email. Except this time, the Republicans were owning it! Handing it out to passing cars directly in front of their office. I don't need to include the content, but I've scanned it, and so you can click through to learn how Obama wasn't really born in America, and he was a practicing Muslim till he was 31, and other such nonsense. Wow!
If it were in a movie, it would almost be funny. But since there's real harm been done, and more to be prevented, it must be taken more seriously than that. So I scanned and it's being submitted up the chain of command in the campaign. And canvassers and phone bankers will be warned that this kind of nonsense is afoot.
WE'RE GONNA WIN
From the rally in the park today.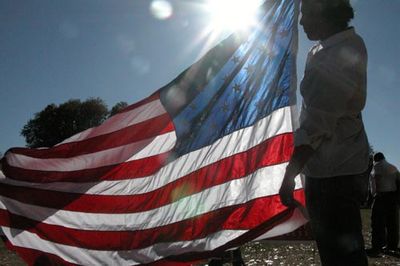 There wasn't a huge crowd, mebbe a coupla hundred all told - and it was spread out, with many picking spots in the shade around the edge of the park. And music playing pretty much the whole time, too. There was a pretty strong union presence there, too. At least for our small rural town: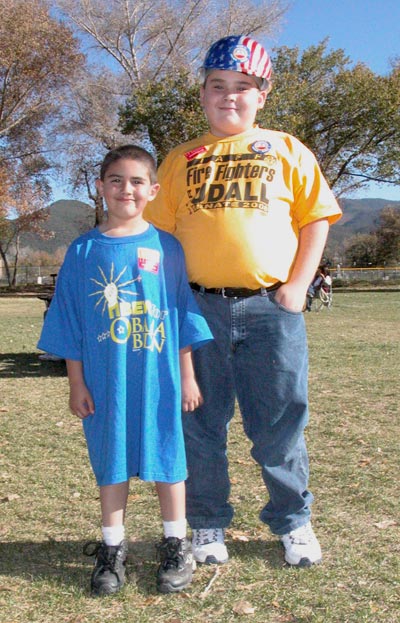 And there were lots of family groups. too:
And I had a little chat with the guy who wrote and performed our wonderful local GOTV song: He was in the canvassing crowd at the office. (The embed's in the tip jar...)
Meanwhile, the young lady with the curly hair is the one that's organized the 35 high school kids, many of them too young to vote yet, to volunteer for Obama campaign. The girl's got a future! (That's her proud mom on the right...)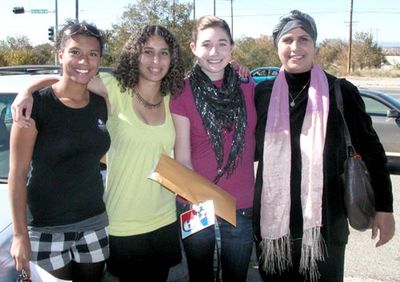 And in the end? These kids are gonna win - the ones full of life and creativity and inclusiveness rather than lies and meanness and fear. And we can all remember what Obama often says: We don't need to go there. We just need to make sure to vote. And to get others out to vote, too.
This is a guest blog by Land of Enchantment. If you'd like to submit a piece for consideration as a guest blog, contact me by clicking on the Email Me button on the upper left-hand corner of the page.
October 27, 2008 at 12:36 PM in 2008 General Presidential Election, 2008 NM Senate Race, Guest Blogger, John McCain, Local Politics, NM-03 Congressional Race 2008 | Permalink | Comments (8)
Saturday, October 25, 2008
Sunday: Udall, Heinrich Host Pre-Debate BBQ Rally at Udall HQ
On Sunday, Rep. Tom Udall, our U.S. Senate candidate, and Martin Heinrich, our NM-01 Congressional candidate, will host a barbeque and pre-debate rally at Udall's campaign headquarters in Albuquerque.
The two candidates will rally volunteers as they prepare to grill their opponents in the upcoming debates. Heinrich is scheduled to debate Darren White Sunday evening from 4–5 PM on KOAT-TV. Udall will debate Steve Pearce from 6–7 PM, also on KOAT. The debates are co-sponsored by the Albuquerque Journal.
BARBEQUE AND PRE-DEBATE RALLY
Sunday, October 26th, 12:30–2:00 PM
Udall Campaign Headquarters
3311 Candelaria NE, Suite B, Albuquerque
Photos by M.E. Broderick.
October 25, 2008 at 10:41 AM in 2008 NM Senate Race, Events, NM-01 Congressional Race 2008 | Permalink | Comments (0)
Friday, October 24, 2008
Saturday: Join Tom Udall at GOTV Events in Pojoaque, Espanola, Taos
Squawk! Dig Udall's new Polly ad
Saturday, U.S. Senate Candidate Rep. Tom Udall  will get out the vote with events in Pojoaque, Española and Taos. Udall will start with an early voting town hall event at the Roadrunner Café in Pojoaque.
From there, a group of bikers organized by Rick Blear of the United Association of Plumbers and Pipefitters union will lead a motorcycle escort for Udall from Pojoaque to an early voting rally at Ohkay Casino north of Española. Udall will cap the day with a rally at Kit Carson Park in Taos.
POJOAQUE EARLY VOTING TOWN HALL
Saturday, October 25th, 1 – 2 PM
Roadrunner Cafe
US Hwy 285, Pojoaque Valley, NM
RIO ARRIBA MOTORCYCLE RALLY
Saturday, October 25th, 2:15 – 3:15 PM
Ohkay Casino Conference Center
US Hwy 68 (2 miles north of Española, NM)
TAOS EARLY VOTING RALLY
Saturday, October 25th, 4 – 5 PM
Kit Carson Park
Off Paseo del Pueblo Norte (north of the Taos Plaza)
October 24, 2008 at 11:32 AM in 2008 General Election Voting, 2008 NM Senate Race, Events | Permalink | Comments (0)
Monday, October 20, 2008
10/21: Tom Udall to Tour in Dona Ana County, Alamogordo
On Tuesday, October 21, 2008, US Senate candidate Tom Udall will hold campaign events in Hatch, Las Cruces, San Miguel, and Chaparral in Doña Ana County, capping the day with an early voting rally in Alamogordo.

Udall will start with a tour of the areas in Hatch devastated by flooding in 2006 and the FEMA housing still being used by some residents there. Udall will be joined by Hatch Mayor Judd Nordyke and Doña Ana County Housing Authority Executive Director Tom Hassel.

In Las Cruces, one of the top ten retirement communities in the nation, Udall hold a meet and greet with seniors at the Munson Senior Center. Next, Udall will visit San Miguel to learn about the Tres Manos Program, a micro-enterprise development program targeting low-income families. In Chaparral, Udall will meet with locals at the Wright Ranch before travelling to Alamogordo for an early voting rally. See details below:
HATCH FLOOD AREA AND FEMA HOUSING TOUR
Tuesday, October 21th, 9 – 10:20 AM
B&E Burrito, 300 Franklin St., Hatch, NM

MUNSON SENIOR CENTER MEET & GREET
Tuesday, October 21th, 11 AM – 12 PM
Munson Senior Center, 975 S. Mesquite St.
Las Cruces, NM
SAN MIGUEL TRES MANOS EVENT
Tuesday, October 21th, 1:30 – 2:15 PM
Youth Development Building
19030 Hwy. 28, San Miguel, NM
CHAPARRAL MEET & GREET
Tuesday, October 21th, 3 – 4 PM
Wright Ranch, 150 W. Lisa Drive
Chaparral, NM
ALAMOGORDO EARLY VOTING RALLY
October 21st, 5:30 – 6:15 PM
Maximinos Restaurant, 2300 N. White Sands Blvd.
Alamogordo, NM
October 20, 2008 at 03:04 PM in 2008 General Election Voting, 2008 NM Senate Race, Events | Permalink | Comments (0)
Thursday, October 16, 2008
New NM Rasmussen Polls: Obama Up By 13, Tom Udall Up By 20
New Rassmussen polling is encouraging indeed.
U.S. Senate race in New Mexico: Tom Udall 57% - Steve Pearce 37%. Two weeks ago it was Udall up 55-41%.
Udall earns favorable reviews from 64% of the state's voters, up eight points from the previous survey. Pearce gets positive ratings from 43%, unchanged over the past two weeks. Udall attracts support from 88% of Democrats and enjoys a two-to-one advantage over Pearce among unaffiliated voters. Pearce is now supported by just 75% of Republicans, down from 82% earlier.
And after Udall's strong showing in last night's debate with Pearce on KOB-TV (video here and more on debate at Udall blog), I wouldn't be surprised if Tom's lead stays in double-digit terroritory until November 4.
Presidential race in NM: Obama 55% - McCain 42%. As in other former swing states that are turning more Blue by the day, Obama's lead has expanded dramatically over the past two weeks, when Rasmussen had Obama up by five points, 49-44%. The victory train is about to leave the station and McCain's not on it:
Overall, Obama is viewed favorably by 59% of New Mexico voters, McCain by 54%. However, 46% of New Mexico voters have a Very Favorable opinion of Obama while just 28% say the same about McCain. Twenty-seven percent (27%) have a Very Unfavorable opinion of Obama and 29% view McCain that negatively. McCain and Obama are essentially even among white voters while the Democrat has a 17-point lead among Hispanic voters. Obama leads by 15 among women but trails by eight among men.
And how about this regarding the Obama's up-trends nationally:
Currently, Obama has the edge in every state won by John Kerry in 2004. Of the states won by Bush that year, McCain is trailing in four, and five others are considered toss-ups. As a result, Electoral College projections now show Obama leading 255-163. When "leaners" are included, Obama leads 300-174. A total of 270 Electoral Votes are needed to win the White House.
We can't let up, but we can imagine! Say it with me: 19 days!
Technorati Tags: Rasmussen polling presidential polling New Mexico Obama John McCain Tom Udall Steve Pearce NM-Sen
October 16, 2008 at 02:42 PM in 2008 General Presidential Election, 2008 NM Senate Race, Obama NM Campaign | Permalink | Comments (4)
NM-Sen: New Tom Udall Ad is Moving, Humbling
Words can't really express what this ad is about. Just watch it. And remember what this election is truly all about. You know what to do.
October 16, 2008 at 01:48 PM in 2008 NM Senate Race, Veterans | Permalink | Comments (1)
Wednesday, October 15, 2008
NM-Sen: Udall Leads Pearce 58-40% in Lastest SurveyUSA Poll

Rep. Tom Udall talks about the economy at a recent Blue State in '08 reception in Albuquerque
Go Tom! A new SurveyUSA Poll conducted for KOB-TV on October 12-13, 2008 in New Mexico has Dem Tom Udall leading Repub Steve Pearce 58-40% among 568 likely and actual voters, with a margin of error of plus or minus 4.1% and only 2% undecided. A similar SurveyUSA poll released two weeks ago had Udall beating Pearce 58-39%.
Udall was in the majority among men and women and all age groups. Pearce captured 76% of Republican votes. Udall had 86% of Democratic votes and was ahead by 4 points with independents. The candidates split 49% to 49% among white voters, but Udall got the support of 73% of Hispanic voters. Udall beat Pearce with moderate voters 69-29%. Udall was ahead of Pearce with those who had already voted early by a 65-32% margin and was leading with likely voters 57-41%. In Bernalillo County, Udall is beating Pearce 59-38%. In the rest of the state Udall is winning by 57-41%.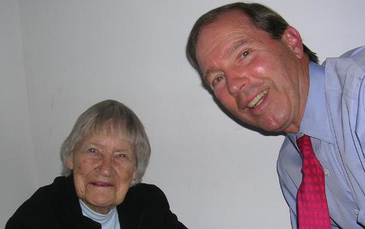 Tom Udall with longtime progressive activist (and Deaniac) Jeanne Carritt, Blue State in '08 reception
Photo and video by M.E. Broderick.
October 15, 2008 at 12:31 PM in 2008 NM Senate Race | Permalink | Comments (0)
Tuesday, October 14, 2008
NM-Sen: Udall at Back-to-Back Student Events Today at UNM
Dem U.S. Senate candidate Tom Udall will host back-to-back events today, October 14, 2008 at UNM in Albuquerque. They'll focus on addressing issues important to students and encouraging participation by young people in the upcoming election as well as Tom Udall's record of doing what's right for New Mexico. First up, Tom will hold a town hall meeting discussion today at 11:30 to 1:00 PM at the UNM Student Union Building. That will be followed by a get out the vote rally at the UNM Student Union Building Theater from 1:30 to 3:00 PM.
October 14, 2008 at 10:51 AM in 2008 NM Senate Race, Events | Permalink | Comments (0)
Thursday, October 09, 2008
10/10 Reception: Help New Mexico be a Blue State in '08
From Brian Colón, DPNM Chair: WIth less than 30 days until the election, there is no time to hesitate. The time to act is now! Democrats have known for months what the media is just starting to figure out -- that New Mexico is not only going to play an important role in sending Barack Obama to the White House, but for the first time in a long time, we have the opportunity to send an all-Democrat delegation to Washington, D.C. But in order to send Barack Obama to the White House, Tom Udall to the Senate and Martin Heinrich, Harry Teague and Ben Ray Lujan to Congress, we need each and every New Mexico Democrat to get involved. We need your support to make sure we get every Democrat out to the polls for this historic election:


Blue State in '08
Governor Bill Richardson
Lt. Governor Diane Denish
Chairman Brian S. Colón
cordially invite you to a fundraiser
Featuring Senate and Congressional Candidates
Congressman Tom Udall
Martin Heinrich • Harry Teague • Ben Ray Lujan
Help us to fund our Get Out the Vote Efforts to ensure
VICTORY in '08
Los Poblanos Inn & Cultural Center
4803 Rio Grande Blvd NW, Albuquerque, NM
Friday, October 10, 2008
Reception • 7:00 PM • Host Photo Reception • 8:00 PM
Requested Contributions: Hosts $1000 • Guests $50
RSVP to Beth Adams @ 505-830-3650 or beth@nmdemocrats.org
Or Buy an e-Ticket
If you can't make it, please don't miss this opportunity to contribute to the party to help us turn New Mexico into a Blue State in '08. Click to donate online.
Technorati Tags: Bill Richardson Diane Denish Brian Colon Tom Udall Martin Heinrich Harry Teague Ben Ray Lujan Democratic Party of New Mexico
October 9, 2008 at 09:14 AM in 2008 General Presidential Election, 2008 NM Senate Race, Democratic Party, NM-01 Congressional Race 2008, NM-02 Congressional Race 2008, NM-03 Congressional Race 2008 | Permalink | Comments (1)