Monday, November 10, 2008
Elections Have Consequences

Are you as tired as I am (already) of the admonitions coming from the right and the pundits warning that Democrats should, essentially, shut up about winning the election and go about maintaining the status quo? More specifically, the "dare-you-tos" are aimed at any and all Dems with the nerve to want to institute the policy changes they ran on -- as this would be too "partisan" and "devisive."
Among those whose candidates lost this time around -- often by double digits -- it's de rigeur to suggest that the prudent thing to do is pretend the election was too close to declare a Dem mandate of any kind. And that therefore the Dem president and Dem-dominated Congress should stick to "centrist" policies and initiatives -- i.e. they shouldn't attempt to rock the proverbial boat. You know, that right-wing-constructed ship of state that's been listing so dangerously since Bush and company took the helm.
I'm afraid not.
We won, and we're going to work like hell to get our progressive agenda enacted, adopted, executive ordered and signed into law whenever and wherever possible. Politics and governing are all about power blocs colliding. When elections are won, there are consequences both for the supporting blocs that were victorious and those that were defeated. It is always so.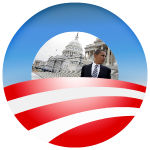 A New Kind of Politics
When Obama talks about a new kind of politics, it doesn't mean he wants members of the victorious power blocs to lie down and avoid fighting for their principles and positions. It means he intends to lead with as much dignity and civility as he can muster, seeking out common ground when possible.
Obama clearly wants to operate with much more transparency and good will than Bush did, reaching out to all sides and encouraging national discussions about important issues and initiatives. But the fact remains -- voters rejected the conservative, neocon, deregulation policies that have long dominated the Republican Party and its candidates. No two ways about it. The failures precipitated by right-wing Republican views and values have caused a u-turn in the nation's political psyche. The pendulum has swung.
Obama has promised that divergent opinions will be sought and carefully considered on their merits. However -- and this is a big however -- he is just as clearly signaling that the principles that guide him, and the positions those principles shape, will be at the forefront of the discussions and negotiations. They will be pushed. Hard. With measured, but steely, determination. Obama means to act quickly and decisively on key elements of his change agenda, make no mistake about it. And others who ran on the Democratic change message will do the same. As Obama has frequently said -- this is our moment.
How Will Obama Govern?
I think Obama will excel at framing issues in a way that is conducive to gaining widespread support for what he will present as common sense, practical and pragmatic positions. He'll use his street smarts, his abundant political capital and his positive personality to persuade, convince and unite Americans behind him. His governing process will be focused on building support, not ordering conformity or issuing in-your-face threats.
We can expect that the substance of his governing will be all about creating progressive solutions to the problems we face. His administration cannot and will not be about more of the same, or thinking within the box. It must, by necessity, be centered on breaking out of the constraints of the past to explore and pluck solutions from a new coalition, a new generation of Americans. The Obama alliance is populated with demographically diverse individuals who are aching to take on the new and synergistic challenges we face with fresh thinking and 21st century approaches. The prevailing energy flow is toward the future, not the past.
The New Middle
When Obama and the Dems are urged to govern "from the middle," we must remember that the middle has moved dramatically, as demonstrated in the 2006 and 2008 elections. Policies and positions once deemed "to the left" are now expressive of the mainstream of American thought.
By large margins, for instance, Americans have made it clear in polling and elections that they want the government to push for universal health care, as quick an exit from Iraq as is feasible and sensible, an enlightened renewal of our public education system, the separation of church and state and a return to accountability and balanced oversight of our financial sector, business and workplace operations. Americans clearly want our policies to reflect a genuine understanding and acceptance of the fact that greenhouse gases are dangerous to our future and that of the planet's climate.
Americans want us to pursue a green technology revolution as a primary goal. They want domestic surveillance to be overseen by a court, torture to cease, Guantanamo to close and the Geneva Conventions and other treaties to be honored. 
There's a mandate for returning fairness and progressiveness to our tax policies, asking more from those whose incomes -- earned or otherwise -- rise to the top. A healthy majority of Americans want greedy speculation tamped down and reasonable regulations adopted to level the financial and corporate playing fields. Gaming of the system and speculative manipulations of markets must be reduced. Americans want jobs, and policies that encourage their creation here and discourage companies from moving them elsewhere.
Perhaps most of all, Americans want government to shore up what long made America a place of unparalleled opportunity and economic mobility -- its once strong and thriving middle and working classes. Enough with granting every selfish wish and desire to the cream of the investor class or the rich elites at the helms of multinational corporations. We need nourishment for those who work for a living, including access to quality health care, education and financial opportunities, affordable housing, a sensible safety net and fair wages, benefits and working conditions.
Bottom Line
Candidates who strongly advocated on behalf of Democratic principles, values and positions won. Those satisfied with a continuation of the extremist ideologies of the right wing of the Republican Party lost. There will be consequences. There will be legislation passed that reflects who won and who lost. The negotiations with adherents of right-wing principles and positions will take place within a Democratic framework, not on their turf. Common ground will be sought from a Democratic vantage point, not a neocon, corporatist or theocratic one.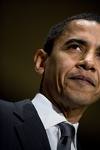 Obama will no doubt work hard and skillfully to persuade and convince those initially opposed to the changes that they're necessary and make sense. He will surely seek as much consensus as possible for the changes that will be wrought in our body politic. But make no mistake, Obama and other Democrats in Washington and in the statehouses of the nation will be pursuing, as much as possible, a progressive, forward-looking, 21st century agenda informed by essentially liberal ideas and values. After all, it was Democratic candidates running on Democratic positions who won on November 4th. And elections have consequences.
Obama centrist middle bipartisan 2008 election Democratic progressive left right presidency
November 10, 2008 at 03:08 PM in 2008 General Presidential Election, Democratic Party, Government, Obama Transition, Progressivism, Republican Party | Permalink | Comments (2)
It's a New Day
I'm sure you can't forget Will.I.Am's Yes We Can video song about Obama that burned up YouTube during the presidential campaign. Even if you want to. It's now permanently implanted in the public consciousness. And now that Obama is officially President-Elect, Will.I.Am has a new one, commemorating the victory. I doubt this one will have the huge impact of the first, but it's only natural that Will would want to celebrate the next phase of our battle for change. Don't we all.
November 10, 2008 at 09:59 AM in 2008 General Presidential Election, Music | Permalink | Comments (1)
Saturday, November 08, 2008
Message from State Auditor Hector Balderas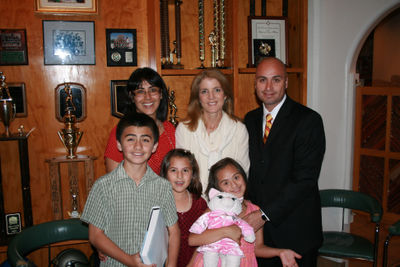 Hector and family with Caroline Kennedy
when she visited NM to campaign for Obama
This is a guest blog by New Mexico State Auditor Hector Balderas, who worked hard and long all over the state to help elect Barack Obama and Democrats up and down the ticket. If you were following my posting of campaign and GOTV events, then you saw Hector's name over and over again. I'm sure many of you got to meet Hector over the course of the campaign season. If you did, I'm sure you'll agree that he's a smart, dedicated and caring human being, as well as one of the Dem Party's rising stars in New Mexico.
This week, our nation witnessed a historic election. Record numbers of New Mexicans and Americans throughout the country exercised their right to vote and actively changed the course of this nation.
I had the privilege of traveling throughout New Mexico the last several months in support of President-elect Barack Obama. From Raton to Las Cruces, Albuquerque to Las Vegas, I witnessed first-hand the best of the American spirit -- a commitment to stand up when times are tough and fight for the future of our country.
I wanted to personally thank you for your hard work and dedication. Together, we must continue to work on the very important issues that face America and build a stronger state and nation. Through our commitment, we will create a lasting legacy that we can be proud of for future generations to come.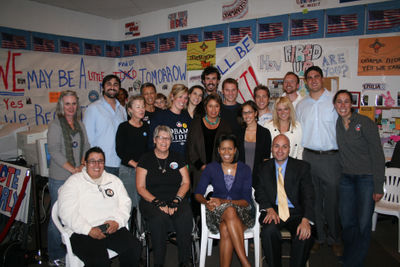 Hector and Santa Fe Obama volunteers
during surprise visit from Michelle Obama
November 8, 2008 at 04:44 PM in 2008 General Presidential Election, Guest Blogger, Obama NM Campaign | Permalink | Comments (4)
Thursday, November 06, 2008
Obama's Electoral Map: Expanding Blue

Daily Kos Electoral Scoreboard
Doesn't it look pretty? Gotta love that New Mexico - Colorado span! Note that North Carolina has just been added to the Blue part of the map. With only a few provisional ballots left to count, Obama leads in NC by a sliver of a margin -- 49.9% to 49.5%. Obama leads McCain by 14,053 votes out of about 4.3 million cast. This gives Obama a whopping 364 Electoral Votes to McCain's paltry 163. Bush won NC by 12% in 2004.
We're still waiting on Missouri and its 11 Electoral Votes. McCain will probably take the state as he's leading by 5,868 votes with only about 7,000 provisional ballots left to count. That would break the long run of MO as a bellwether state in presidential elections. Since 1904, Mo has sided with the winner every time but once, when the state went for Adlai Stevenson over the victorious Dwight Eisenhower in 1956. By the way, New Mexico has also served as an accurate presidential bellwether -- siding with the losing candidate only twice since 1912. That was in 1976 and 2000.
If you go to the larger map at Kos, you can switch to the years 2000 or 2004 and see how much it's changed, in our favor. You can also see similar maps for U.S. Senate and House races.
November 6, 2008 at 12:02 PM in 2008 General Election Voting, 2008 General Presidential Election | Permalink | Comments (1)
Wednesday, November 05, 2008
Blue Blowout in New Mexico

State Treasurer James Lewis at Dem Victory Party,
Albuquerque Convention Center:
Of the people, by the people, for the people. A clean sweep.
I don't even know where to begin writing about this. I don't think it's totally sunk in yet. Intense emotions bubble to the surface. Sharp realizations of the extent of our victories puncture my thoughts. But I haven't yet grasped the true enormity of the change that was set in motion yesterday in precincts large and small as the people came out in huge numbers to end the bleeding and start the healing.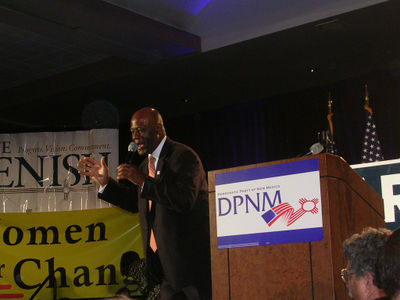 James Lewis riffs on victory
All I can say is, we did it. Yes we could, and we did. WE DID! It's almost beyond my comprehension at this stage, but we turned our state into a True Blue New Mexico and took our country back from the forces of ruin. The corner is turned. The change is coming. Positive messages beat negative smears. Hope defeated fear. And the painful shackles of the Bush-Cheney-Rove years are broken at last. Can you believe it?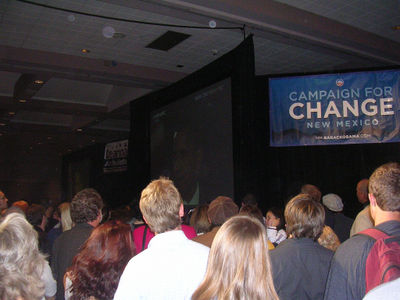 The crush of people at victory party witness Obama speech
I mean, people, New Mexico's entire Congressional delegation is BLUE! And the victory margins were substantial. We didn't edge them out -- we ran the table in every race. Check out these preliminary results for NM as of 9:39 AM today:
President NM
56.7% Barack Obama
42.0% John McCain
U.S. Senate
61.2% Tom Udall
38.8% Steve Pearce
NM-01
55.4% Martin Heinrich
44.6% Darren White
NM-02
55.7% Harry Teague
44.3% Ed Tinsley
NM-03
56.8% Ben Ray Lujan
30.4% Dan East
12.8% Carol Miller
I'll be writing more today on each of these races and on other contests around our state and our nation. But for now, I'm having trouble just absorbing what went down yesterday -- and beginning to discern its meaning and power. Bravo, New Mexicans. Bravo Americans. The Change We Need is coming. And it's coming from inside every one of us.
Photos and video by M.E. Broderick. See more photos from last night and more videos.
November 5, 2008 at 10:38 AM in 2008 General Presidential Election, 2008 NM Senate Race, NM-01 Congressional Race 2008, NM-02 Congressional Race 2008, NM-03 Congressional Race 2008 | Permalink | Comments (3)
Tuesday, November 04, 2008
March to Blue in New Mexico (with Updates)
I give up on updates. We're winning EVERYTHING!
MSNBC and ABC call New Mexico for Obama!!!!!!!
ABC calls Ohio for Obama!
Brian Sanderoff calls NM-03 for Ben Ray Lujan!
Fox and Sanderoff call Udall for US Senate!
November 4, 2008 at 07:28 PM in 2008 General Election Voting, 2008 General Presidential Election, 2008 NM Senate Race, NM-01 Congressional Race 2008, NM-02 Congressional Race 2008, NM-03 Congressional Race 2008 | Permalink | Comments (3)
Guest Blog: All Over But the Waiting

Rachel talks about Obama and what his election will mean
This is another guest blog by our friend Rachel N. Rodriguez of Albuquerque, who has been volunteering at the Albuquerque Nob Hill office of the Obama campaign for months. Also check out her previous guest blogs on her experiences with the Obama campaign here and here.
Well, I'm done. There's nothing more to be done but HOPE that all the work we've done will MAKE A DIFFERENCE. Now, I am just sitting and watching a lot of tv and monitoring far too many websites.
This most historic election morning began with a countdown to the opening of the polls. A little anxious, excited cheer was let out at 7 AM. So much resting on the outcome of this day, so I went back to that beautiful "Yes We Can" video to help calm and center me.
By 9 AM, I had the kiddos in the car, heading out to my first shift of "poll checking" for the Obama campaign. I won't explain that all here, but it was a piece of the GOTV that I was happy and proud to be a part of. And keeping busy today was key for me!
Most striking today, as the kids and I traveled back and forth between the Nob Hill Obama office and the polling place nearby and around the UNM/Nob Hill area – so much honking and excitement, signs and banners – for Obama. It was so moving. People connected with the campaign and people standing on street corners by themselves, encouraging their fellow citizens to vote.
What an amazing time we live in.
Rachel N. Rodriguez, rachelnrodriguez AT yahoo DOT COM
November 4, 2008 at 06:07 PM in 2008 General Election Voting, 2008 General Presidential Election, Guest Blogger | Permalink | Comments (1)
Land of Enchantment Tonight
You can catch election updates all day and into the night at Clearly New Mexico, including live and archived video at US Stream.
I think Matt from New Mexico FBIHOP is going to be reporting in from everywhere on everything till the wee hours of the morning. You know how he is these days. Always on the move. His bro Paul will be holding down the fort at the HOP with election returns.
All the folks at the New Mexico Independent will be reporting up a storm tonight on election results near and far. And don't forget to see what Peter St. Cyr is saying (and who he's interviewing) tonight.
And of course, we'll be doing what we can to report to you as we CELEBRATE (we hope) the results of years of work on the part of so many.
November 4, 2008 at 04:56 PM in 2008 General Presidential Election | Permalink | Comments (0)
Voting in Ward 24A, Precinct 462, Albuquerque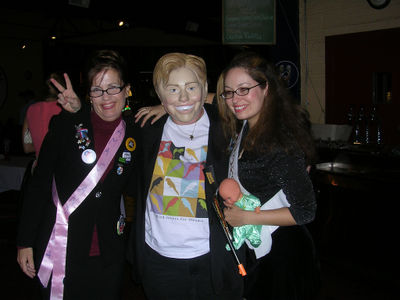 Hillary was sandwiched by two Palins at Kelly's last Friday
Mission accomplished! We voted at about 11:30 AM today at Sombra del Monte elementary as part of Precinct 462 in Ward 24A in the Northeast Heights in Albuquerque. Our ballots were numbered the 59th and 60th in our Precinct. No lines. No fuss. No muss. The optical scanner took each of our ballots on the first try. The scene was typical for our polling place on Election Day as so many in our area vote absentee and, this year, I'm sure many voted early. Sheesh, it felt good to finally fill in those circles on the paper ballot!
We drove past a few other polling places in the far and near Heights and it was a similar scene. A fair number of parked cars, but no lines. We also scanned the Plumbers and Pipefitters Hall and the office of the Democratic Party of New Mexico, both on San Pedro near Zuni. Lots of cars in the parking lots; apparent that many were out doing GOTV in the neighborhoods. Same thing at the Obama campaign office in Nob Hill, where there were tables set up outside for canvassers to check in and out.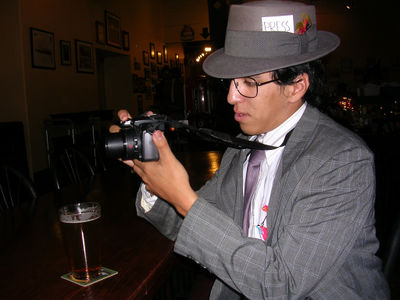 Clark Kent was out and about Friday too. Watch out for him at the DPNM party at the Convention Center tonight
In cruising around various neighborhoods, we saw WAY more Obama signs than McCain ones. There were also signifcantly more Tom Udall and Jason Marks signs than their opponents. There were fewer Heinrich signs, especially near polling places, where there were often lots of White signs packed together. 
We rode around Tim Eichenberg's district and saw his distinctive red signs all over the place, in a variety of sizes. We didn't see one single Diane Snyder sign. All rather surprising (and satisfying), considering how Republican much of the NE Heights has been in recent years. We even saw one car with a Republicans for Obama bumpersticker and traded horn beeps with the driver.
Mary Ellen's car is packed with stickers, but the only negative attention we got was from a toothless guy who put his head out his car window  and yelled at us to "stick it."
Tick, tock. Returns from Eastern states will start rolling in a bit after 5:00 PM Mountain time. Then the nervewracking count will begin. Check out the Daily Kos Election Guide or the Swing State Project map to see which states will be reporting early on.
Photos by M.E. Broderick. Do you recognize the costumed Democrats? Click to see more from the Obama Halloween gathering at Kelly's last Friday.
November 4, 2008 at 02:29 PM in 2008 General Election Voting, 2008 General Presidential Election, Obama NM Campaign | Permalink | Comments (3)
One More Time: Fired Up, Ready to Go
Go ahead and click it. You know you want to. Then go take advantage of your last chance to VOLUNTEER.
November 4, 2008 at 10:32 AM in 2008 General Election Voting, 2008 General Presidential Election, Music, Obama NM Campaign | Permalink | Comments (0)
Obama Ground Game in Action in Hoffmantown
Mary Ellen and I didn't vote early, even though we've encouraged folks to do just that. We like to go to our polling place in Hoffmantown in Albuquerque on election day, and we'll do so soon and let you know how it went.
We just had two very enthusiastic women at our door urging us to vote Obama. They were sporting big grins and were covered in buttons from all the candidates. They said the energy at the local Campaign for Change office on Menaul was ramped up to the max. We have Obama window and lawn signs, plus signs for Martin Heinrich, Tom Udall and Jason Marks out front, so the volunteers were pumped about that. We're easy marks, but they warned they'd be back if we didn't vote by this afternoon. The Obama ground game is rolling in the Northeast Heights!
We also had some Obama vols at the door this weekend, and a guy at our door yesterday at about 6:00 PM. We received another robocall from Obama this morning. Yesterday we had recorded messages from Barack (2), Michelle, Hillary Clinton, Joe Biden, Tom Udall (2), Jason Marks and, I think, Gov. Richardson and/or Lt. Gov. Diane Denish. It all starts to be a blur.
Voting today? What's your experience?
November 4, 2008 at 10:08 AM in 2008 General Election Voting, 2008 General Presidential Election, Obama NM Campaign | Permalink | Comments (0)
Howard Dean Says VOTE

Questions? Call 1-877-US-4-OBAMA
So many of us have been Howard Empowered since 2003, and today is when the profound benefits of his grassroots and netroots party building and 50-state strategy will -- if all goes well -- result in Democratic victories all around the nation, up and down ticket. The Obama campaign amplified, expanded and perfected many of the tools and tactics that emerged during the Dean campaign for president. As a result, a relative handful of activists has turned into a tsunami, thousands of small online donations turned into milliions and a minuscule blogosphere turned into a massive national phenomenon.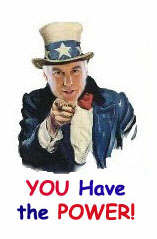 The netroots helped Dean get elected as DNC Chair. And there are now numerous former Deaniacs active in the Dem Party structure, chairing precincts and wards, serving on state and county central committees, representing progresssives on rules and platform committes and volunteering all over the nation. Dean supporters and staffers populate numerous campaign offices and many have run for office themselves. A ton of folks who got their political legs in the Dean campaign were elected as delegates to the Dem Convention in Denver in August, and Dean made sure that more bloggers than ever before were granted press credentials to cover the event -- including me.
Dean for America morphed into Democracy for America, and many of the Meetups that originated in 2003 continue today -- including the DFA-DFNM Meetup here in Albuquerque.
It's been a long, strange trip alright, an intense but rewarding roller coaster ride through the modern political landscape. When (alright, if) we win today it will be a dream come true for many, a reward for years of hard work and dedication. But it will also mean the start of another round of activism to keep our elected officials accountable, our government transparently righteous and much needed progressive policies on the front burner. It will require the recruitment and empowerment of even more grassroots and netroots activists. After a well deserved break, the work of democracy will begin again. We have made real progress in our quest to Take Our Country Back, but we've really only just begun. Are you ready?
November 4, 2008 at 08:56 AM in 2008 General Election Voting, 2008 General Presidential Election, Democratic Party, DFA, DFNM - Albq, MeetUp, Progressivism | Permalink | Comments (0)