« November 2008 | Main | January 2009 »
Wednesday, December 31, 2008
Beep, Beep: See Peter's Sneak Peak of New Mexico's Rose Parade Float
Peter St. Cyr has the scoop and a Pasadena slide show at his What's the Word blog. Go see Wile E. Coyote, his trusty A.C.M.E. rocket and the Road Runner -- and say hi and get well soon to Peter, who's been feeling more than a little under the weather. Could the timing be worse? Hope you feel better, Peter!
The Tournament of Roses Parade will air in Albuquerque starting at 9:00 AM on New Year's Day on KOB-TV 4, according to TV Guide.
December 31, 2008 at 08:55 PM in Current Affairs, Events, Visuals | Permalink | Comments (2)
In the Coming Year, Remember
The Peace of Wild Things by Wendell Berry
When despair for the world grows in me
and I wake in the night at the least sound
in fear of what my life and my children's lives may be,
I go and lie down where the wood drake
rests in his beauty on the water, and the great heron feeds.
I come into the peace of wild things
who do not tax their lives with forethought
of grief. I come into the presence of still water.
And I feel above me the day-blind stars
waiting with their light. For a time
I rest in the grace of the world, and am free.
(h/t to Mr. TH)
10, 9, 8, 7, . . .
Happy New Year from Barb and Mary Ellen!
December 31, 2008 at 07:01 PM in Current Affairs | Permalink | Comments (1)
Here's Where We'll Be Tomorrow: Richard Romero for Albuquerque Mayor
You are Invited to a
New Year's Day Celebration and Fundraiser!
Please Join Us!
at the home of
RICHARD ROMERO & MARGIE LOCKWOOD
907 Silver Ave SW, ABQ 87102
Thursday, January 1 from 2 to 4 PM
(light hors d'oeuvres and beverages will be provided)
$100 suggested donation - all contributions welcome
On January 1, 2009, join family and friends in support of Richard M. Romero as he forms an Exploratory Committee for his bid for Albuquerque Mayor.
Richard is a long standing supporter of clean elections and government reform and is proud to participate in Albuquerque's publicly financed system. During this 45-day exploratory phase, Richard is permitted to raise up to $33,280 in seed money. He can collect no more than $100 from individual Albuquerque residents.
Click for Invitation and links to RSVP. Go Richard!
Technorati tags: Richard Romero Albuquerque Mayor Albuquerque New Mexico
December 31, 2008 at 12:21 PM in 2009 Albuquerque Mayoral Race, Events | Permalink | Comments (2)
A New Beginning: 2009 Here We Come

Look Southwest Tonight (Click on image for larger version)
Tonight, just after sunset, a grand celestial show will commence. It will look like the sky map above:
A delightful display of planets and the moon will occur on New Year's Eve for anyone wishing to step outside and look up just after sunset.

Venus, brighter than all other planets and stars, will dangle just below the thin crescent moon in the southwestern sky. It'll be visible -- impossible to miss, in fact -- just as the sun goes down, assuming skies are cloud-free.

Soon thereafter, Mercury and Jupiter will show up hugging the south-southwestern horizon (just above where the sun went down) and extremely close to each other. Jupiter is very bright and easy to spot; Mercury is faint and harder to see, but it'll be apparent by its location just to the left of Jupiter.

Jupiter and Mercury will set less than an hour after the sun, so timing your viewing just after sunset is crucial. You'll also need a location with a clear view of the western horizon, unobstructed by buildings, trees or mountains.
If you're pondering our place in the universe and what's at stake as we move into the future, check out this post from the blog Restoring Mayberry for some exquisitely written thoughts to consider as we release 2008 and embrace 2009. (h/t to Maya at Suburban Guerilla)
I don't read much in the way of horoscopes any more, but the New Year often lures me back for a peek. The insights and predictions provided by an outfit called PlanetWaves are compelling, whether you're a believer in the Earthly impacts of celestial energies or not. I like their intro to the coming year, with its excitement about bursting through to the new, rather than fear about losing what was:
HAVE YOU NOTICED how dense it can be on this planet? The weighty energetic quality comes in several forms: the unwieldy nature of physical reality; the often foggy, sleepy quality of human consciousness; our obsession with the past; our burning need to conform to what others think we should do; and the peculiar way something done twice turns into a habit and anything said twice turns into the truth.

Then all of a sudden that heavy quality can vanish. Patterns that resisted change for years or decades yield to some mysterious force. Doorways open, opportunities emerge, synchronicity begins to dance and, by no conscious act of will, we can find ourselves living in a different reality.

With all things Capricorn, Aquarius and Pisces coming under the microscope in 2009 and well beyond, we are going to see change of a kind that Barack Obama's campaign writers could not even imagine.
The horoscopes they provide for sun and rising signs are aimed at helping us come out of hiding -- and abandon our no longer useful, hidebound habits -- so we can make the most of being alive right now. I like that. I think an attitude of openness and bravado will be much in demand as we confront the challenges of the coming upheavals and realignments that will bring either increased chaos or an alluring new balance to our affairs. Or both.
Happy New Year y'all. Progress, not perfection.
PS: What's the proper expression for the first decade of the 21st century? The zeros? The 00s? It's still hard for me to believe that we're moving rapidly towards the SECOND decade of the new millennium. Sometimes cliches have it just right: time flies.
December 31, 2008 at 11:37 AM in Current Affairs, Progressivism | Permalink | Comments (0)
Tuesday, December 30, 2008
Santa Fe's Campaign Trash Goes to Washington for Inauguration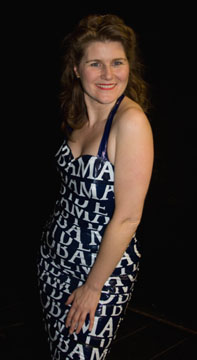 During a time of slow political news (and my own laziness), I thought I'd give you a chuckle with this nugget. Who knew that some of Northern New Mexico's campaign trash would end up at the Green Inaugural Ball in Washington in the form of "couture" recycled fashion? According to an article in the New Mexico Business Journal:
The "Campaign for Change Couture Collection" — the newest collection of high-fashion garments made from recycled materials by Santa Fe artist and environmental educator Nancy Judd — will be featured at the Green Inaugural Ball in Washington D.C. on January 17. The collection will also appear at a reception in the nation's capitol to honor the New Mexico Congressional delegation on January 19.

Garments in the collection are fashioned from discarded campaign materials that Judd, a dedicated Obama volunteer for six months, collected by "dumpster diving" behind the Obama campaign headquarters in northern New Mexico following the presidential election.
You can learn more about Judd's Campaign for Change Collection, as well as what she calls her Recycle Runway project, at her website. Recycle Runway is dedicated to the ingenious re-use of items tossed in the trash to create cleverly made, high fashion outfits that are displayed to get people thinking about creative recycling. Can't argue with that.
December 30, 2008 at 01:27 PM in 2008 General Presidential Election, Environment, Obama NM Campaign, Obama Transition | Permalink | Comments (0)
Monday, December 29, 2008
Piggies: What Was Your Bonus This Year?
December 29, 2008 at 05:14 PM in Business, Corporatism, Economy, Populism | Permalink | Comments (5)
Rep. Mimi Stewart to Intro National Popular Vote Bill; 76% of New Mexicans Support Ditching Present Electoral College System
In a recent survey (pdf) of 800 New Mexico voters by Public Policy Polling, 76% of New Mexicans favored a national popular vote to elect the President of the United States. The National Popular Vote proposal would guarantee the Presidency to the candidate who receives the most popular votes in all 50 states. New Mexicans are clearly in agreement that the electoral college, as currently configured, is no longer a fair mechanism for electing a president -- if it ever was. And one of our best progressive lawmakers is set to do something about it.
A National Popular Vote bill sponsored by Rep. Mimi Stewart (right) will be introduced during the upcoming 60-day legislative session, which begins on January 20, 2009.
"It's time for New Mexico to support a fair system that values every vote equally," Stewart said. "The current winner-take-all system allows for a candidate to win the Presidency without winning the most votes in all 50 states. Recent elections proved that the Electoral College system requires massive reform. I firmly believe that the National Popular Vote proposal is the right choice for our state."
Would All States Benefit? One of the most common criticisms of a switch to the popular vote in determining presidential winners reflects the perception that smaller and less populated states might lose some of the clout they have in the current electoral college system. I asked Rep. Stewart about this aspect of her bill, and she doesn't buy it.
"The argument that smaller states like New Mexico are at a disadvantage under this proposal is a false one," Stewart responded. "Our current system focuses on targeted swing states, limiting the participation of the vast majority of states with no guarantee of which states will be targeted from one election cycle to the next. The adoption of the National Popular Vote proposal is critical for all states, largely or sparsely populated, because it guarantees that every vote will be valued equally."
NM Poll Results Show Across-the-Board Support: In this month's New Mexico poll, the National Popular Vote proposal received overwhelming support from cross-sections throughout the state -- from Democrats and Republicans, women and men, Hispanics and Anglos, and across all age groups. The poll results also reflect similar trends in a recent national poll and the polls of 25 other states, all of which garnered over 70% public support for the national popular vote.
NM Results - Support National Popular Vote:
Democrat 84%, Republican 64%, Other 68%
Women 84%, Men 66%
White 73%, Hispanic 83%, Other 57%
18-29 yrs 73%, 30-45 yrs 73%, 46-65 yrs 78%, 65+ yrs 76%
What the Bill Would Do: The National Popular Vote bill would take effect only when enacted in identical form by states possessing a majority of the electoral votes—that is, enough electoral votes to elect a President (270 of 538). When the proposal is in effect, all the electoral votes from the states that enacted the bill would be awarded as a bloc to the presidential candidate who receives the most popular votes in all 50 states (and District of Columbia).
Progress Across the Nation: The National Popular Vote bill has been enacted by states possessing 50 electoral votes — 19% of the 270 necessary to bring the law into effect. The four states are Hawaii, Illinois, Maryland, and New Jersey. The bill has passed 22 state legislative chambers, including one house in Arkansas, Colorado, Maine, Michigan, North Carolina, and Washington, and both houses in California, Hawaii, Illinois, New Jersey, Maryland, Massachusetts, Rhode Island, and Vermont.
Popular Vote History: The United States has elected Presidents who haven't won the national popular vote in four of the nation's 55 presidential elections (and one in seven of the non-landslide elections). We all recall the 2000 election, when Al Gore won the popular vote but lost to George Bush on the basis of the Electoral College tally (as well as various underhanded acts). And a shift of a few thousand votes in one or two states would have elected the second-place candidate in five of the last 12 elections. A shift of 60,000 votes in Ohio in 2004 would have defeated Bush despite his nationwide lead of 3,500,000 votes.
"In my opinion, having a President elected once who hasn't won the national popular vote is one time too many," Stewart concluded. "We must do everything in our power to ensure it never happens again by adopting a fair system that fully empowers the voter to choose the President."
More Info: The poll (pdf) was conducted on December 16-17, 2008 by Public Policy Polling and has a margin of error of plus or minus 3.5%. For more information on the National Popular Vote, visit www.nationalpopularvote.com, check out this Wikipedia entry on the movement or see a backgrounder on the national popular vote issue offered by Common Cause.
Technorati tags: Mimi Stewart national popular vote electoral college presidential elections New Mexico New Mexico Legislature
December 29, 2008 at 01:05 PM in Election Reform & Voting, Local Politics, NM Legislature 2009, Public Policy | Permalink | Comments (8)
12/30: SWM and MEPJA Gaza Protests
From Stop the War Machine:
Protest the massacre in Gaza
Noon-2 PM, Tuesday, December 30, 2008
New Mexico Museum of Natural History and Science
1801 Mountain Rd, NW (in Old Town), Albuquerque, NM
We call for this demonstration on Tuesday as part of a national day of Action (see here) for peace and solidarity with the brave people of Palestine who are being massacred with weapons manufactured in large part in the U.S.A., and New Mexico. To that end we call for the city of Albuquerque and New Mexico to cut all ties with war profiteers like Lockheed Martin. For more information contact Stop the War Machine at 505-401-4808 or stopthewarmachine@comcast.net.
From Middle East Peace and Justice Alliance: Americans must speak out now so the world knows we stand with international law and human rights. On Tuesday, 12/30, there will be a candlelight vigil and press conference at the Federal Court Bldg. on Lomas between 3rd and 4th Streets in Albuquerque at 5:00 PM. Arrive around 4:45 PM. Bring candles. Wear warm clothes and anything that demonstrates solidarity with Palestinians. Please bring a poem you'd like to share and read. Pass this message on to all who might lend their support.
Albuquerque joins other cities in solidarity condemning Israel's bombing of Gaza. We call upon the Israeli government to halt air strikes and cancel the pending invasion! We call upon the U.S. government to withhold all aid, civilian and military, to Israel ($30 billion has been promised over 10 years) while Israel continues the bombing and siege on Palestine campaign!
December 29, 2008 at 11:39 AM in Events, International Relations, Middle East | Permalink | Comments (16)
Sunday, December 28, 2008
12/29: League of Women Voters to Host Discussion on Obama's Health Care Plans
From the League of Women Voters of Central New Mexico: Interested in health care issues such as: Medicare; SCHIP; cost of pharmaceuticals; cost of health care; expanding health care coverage and other federal health care issues? The Obama Transition Team has asked people to hold community meetings throughout the country, before December 31st, to give them input on the type of reforms they should institute.
HEALTH CARE DISCUSSION
ON PRESIDENT-ELECT OBAMA'S HEALTH CARE PLANS
Monday, December 29th, 2008, 3-5:00 PM
First Unitarian Church
3701 Carlisle Boulevard NE, Albuquerque
Sponsored by LWVCNM
For more information call 505-884-8441 or 505-994-0685, or visit the League's website at www.lwvcnm.org. You can also learn more about Obama's plans in this Health Care Community Discussion Participant Guide and this description
December 28, 2008 at 04:04 PM in Events, Healthcare, Obama Transition | Permalink | Comments (3)
Friday, December 26, 2008
Guest Blog by Bill Porter: Pro-Tem Tim Jennings and the Failed Leadership by 'Coalition'
This is an op-ed by Bill Porter, a Democrat who served in the New Mexico House of Representatives from 1991 to 1999 in HD 36 in Las Cruces.
If Sen. Tim Jennings (D-Roswell) is re-elected as President Pro Tem of the New Mexico Senate in January, what can we expect from our legislature? The answer is more of the same, despite the fact that voters said No loudly to that in the November elections.
A successful bid by Jennings would constitute a new permutation of the "Rule by Coalition" we have seen in New Mexico in the recent past: a Democratic Senate boss elected only through the backing of the opposing party and against the wishes of his own. It's a prescription for disaster.
Last month, residents of New Mexico voted overwhelmingly for change in the policies coming out of the legislature, and change of a more progressive sort. After all, three new progressive Democrats were elected over Republicans incumbents in the Senate -- boosting the Democratic membership to 27 -- and three in the house.
Current Pro Tem Tim Jennings, however, can only be selected for the position with the support of all 15 Republicans in the Senate, because a majority of his fellow Democrats have already rejected him in a caucus vote earlier this month in favor Sen. Carlos Cisneros. One reason they did so was Jennings' campaigning on behalf of arch-conservative Republican Leonard Rawson against progressive Democrat Steve Fischmann. Happily, Fischmann prevailed anyway.
Now Jennings says openly that he will fight to maintain his job as Pro Tem and leader of the Senate with the backing of the disciplined GOP caucus. And it could succeed.
What kind of policies would we get from a Jennings-led, "coalition"-style Senate? To answer that, consider the past as prelude to the future.
Sen. Tim Jennings holds a dubious legacy on state wildlife policies as the author of a 1997 law giving farmers and ranchers the right to slaughter wildlife that present a supposed "immediate threat" to livestock or crops. They are not even required to obtain permission from the state Fish and Game Department.
This cruel law encouraged one rancher in northwestern New Mexico to slaughter 39 pronghorn antelope by shooting them with a shotgun from his ATV because they were grazing in his "dormant" alfalfa field. The wildlife were maimed and left to suffer before they died -- sadly, a common occurrence across our state thanks to 'Jennings Law.'
States have authority to regulate the killing of wildlife by ranchers and farmers who fear depredation of their property by elk, deer, wolves or cougars. The key is to find a humane balance between the competing interests of wildlife management and the commercial needs of New Mexico's agricultural producers.
Tim Jennings, unfortunately, understands nothing of the need for such rational balance. A review of his record in the Senate reveals that Jennings has been driven by the desire to be well-compensated by taxpayers for his private commercial losses.
Repeated attempts to reform the worst aspects of 'Jennings Law' have failed thanks to the opposition of the law's author and his allies in a GOP "coalition." During one reform try in 2003, Jennings successfully amended the bill (which he went on to oppose) with a measure allowing "unlimited" compensation by taxpayers of ranchers like himself for "damages" caused by wildlife.
Another Jennings-led "coalition" effort in 2003 nearly derailed creation of the popular Rail Runner line from Belen to Santa Fe and its accompanying network of public transit. Legislation that created regional transit districts allowing residents the choice to invest in rail and bus, SB 34, narrowly passed the Senate over the opposition of Jennings and most Republicans. The coalition showed a remarkable lack of vision. New Mexicans strongly support alternatives to congested highways and CO2-producing auto emissions.
When New Mexico's legislature required utilities to invest in greater energy efficiency rather than in new coal and fossil-burning plants, the Jennings "coalition" stood alone in opposition. HB 305, passed earlier this year, was a strong consensus measure supported by consumers, environmental advocates and even the utilities themselves that guarantees the use of more energy-efficient appliances while lowering the future energy costs of customers.
Our state's history of "coalition"-run legislatures has been a failure because the "coalition" is far out of step with the desires of New Mexicans. We need new leadership reflecting the mandate given by voters to deliver progressive, commonsense solutions to some tough challenges our state will face in the months ahead. A "coalition" made up of the Republican caucus but headed by Tim Jennings is exactly what the citizens of New Mexico voted against.
This is a guest blog by Bill Porter, a Democrat from Las Cruces who served in the New Mexico House of Representatives from 1991 to 1999, in HD 36.
If you'd like to submit a piece for consideration as a guest blog, contact me by clicking on the Email Me link at the upper left-hand corner of the page.
Technorati tags: Bill Porter Tim Jennings Steve Fischmann Las Cruces, New Mexico Legislature wildlife Carlos Cisneros New Mexico fish and game Rail Runner
December 26, 2008 at 10:53 AM in 2008 NM State Legislature Races, Guest Blogger, Local Politics, NM Legislature 2009 | Permalink | Comments (8)
Thursday, December 25, 2008
Holiday Musical Treats
Jackson Browne and the Chieftains: Rebel Jesus (not Rick Warren's construction).
Marianne Faithfull and the Chieftains: I Saw Three Ships
The River: Joni Mitchell and Herbie Hancock
Willie Nelson: Pretty Paper
Christmas Tracks: Tony Bennett and Count Basey Orchestra (2008)
December 25, 2008 at 02:10 PM in Music | Permalink | Comments (1)
Wednesday, December 24, 2008
Happy Holidaze: Peace, Light, Love, Joy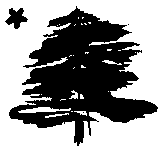 Have a happy whatever you are celebrating at this time of year, as the light begins pushing back on the long hours of darkness enveloping the world. Festivals of light are known by many names, in many parts of the globe, but the core values and goals of the celebrations are surprisingly similar.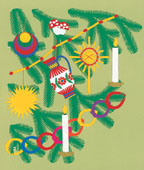 For untold centuries, this season has been a time of reflection, celebration, community and family gatherings, love, peace and joy -- and for firing up candles, yule logs, torches, menorahs, bonfires and anything else that overcomes the darkness and the cold around us. For ever-greens and pulsating colors and splashes of the life force that defy the rules of winter's long and hard and lonely hibernation cycle. Everything from outrageous rowdiness to sacred ponderings and everything in between.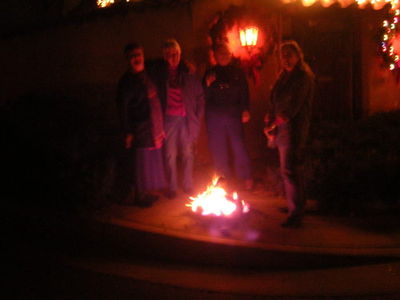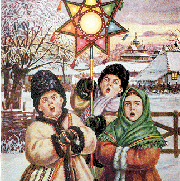 The flames have mostly turned electric, but the capacity of shared rituals of togetherness to muffle our vulnerabilities and turn our thoughts towards appreciating what we have, and our hearts towards embracing the goodness that's within the human spirit, is still central to the experience. Hope triumphs over fear. Love overcomes cynicism. Joy vanquishes the tribulations of daily life. At least for awhile.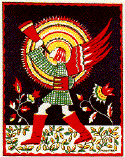 Enjoy your gatherings, no matter how large or how small. Eat, drink, give, get, share, hope, dream, laugh, cry, pray, sing, dance, remember. Most of all, love the one(s) you're with -- and celebrate this odd and riveting experience we call life on planet earth. Savor the music, the delicacies, the treats, the lights, the presents, the decorations, the warmth, the pagentry, the traditions, the bonds, the sustenance, the ties that bind and the love that softens. Be present. Be open. Look inward, and up. Be merry.
Technorati tags: Christmas holidays winter solstice traditions celebrations
December 24, 2008 at 11:41 AM in Food and Drink | Permalink | Comments (0)