« Clean Sweep in the Making? Albuquerque Journal Poll Has Obama, Udall, Heinrich, Teague, Lujan Leading | Main | Final Battleground Polls »
Sunday, November 02, 2008
Sunday Bird Blogging: O-Ba-Ma! O-Bos-Co! O-Sun-Ny!
Bosco the peach-faced lovebird has endorsed Obama for President. The other day we caught him chanting O-BAMA, O-BOSCO, O-BAMA, O-BOSCO to the neighborhood avians, promoting both himself and Barack. I guess he's secretly running for some elected office in Birdville. Could it be nest inspector? Toy marshal? We may never know. The bird world is usually mum on that kind of info. I've heard they're very wary about being intercepted by the (bird on a) wire tappers.
In the video above, Bosco seems more interested in pinching the feet off the rubber chicken than in giving a few love pecks to Obama. Don't let that fool you. He thinks the rubber chicken is a McCain supporter. And he's not pleased.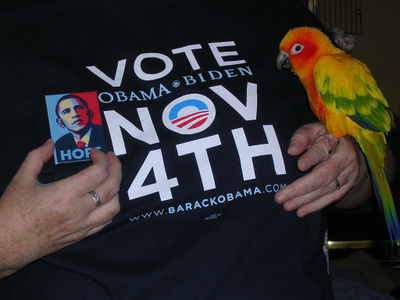 Sunny the sun conure also came out publicly for Obama in the avian media today. As you can see, he was very relaxed, even sleepy, at today's press conference. Well, he HAS worked long and hard for the grassroots group Squawking Parrots for Barawk, so I guess Sunny's entitled to take just a little break on a beautifully sunny Sunday in Albuquerque. No mercy for the humans though -- every second counts! What are YOU doing today and tomorrow and Tuesday to GOTV?
November 2, 2008 at 02:05 PM in 2008 General Presidential Election, Bird Blogging, Obama NM Campaign | Permalink
Comments
Your birds have great taste in picking a president. Squawk.
Posted by: Sun Conure DL | Nov 3, 2008 10:50:42 AM
Post a comment