« Hang In There: Slow Posting Ahead | Main | Gov. Richardson Announces Support for Election Day Voter Registration »
Thursday, November 20, 2008
Open Thread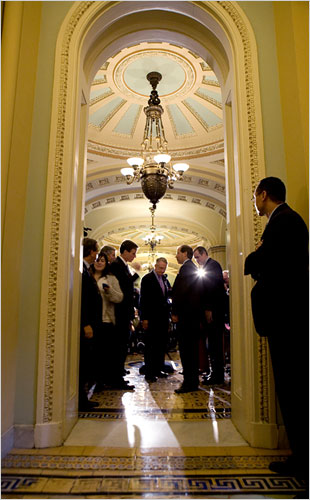 Senator-Elect Tom Udall in DC for orientation this week
Since I'll probably be at the hospital with Mary Ellen all day today, I put this up using auto-post so you'd have somewhere to write if you were so moved. Anything on your mind today? Click on Comments and type away. You must have SOMETHING to say. One thing I'm saying is that I think the choice of Arizona Governor (and Albuquerque native) Janet Napolitano to serve as Secretary of Homeland Security is a very good thing. And good riddance to the skeletal, scary Michael Chertoff. You can read about Napolitano's pertinent skills at emptywheel.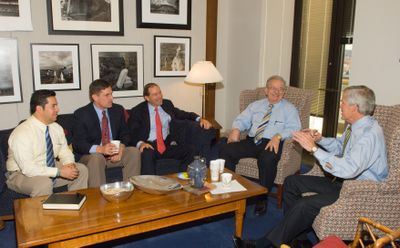 The True Blue New Mexico Congressional delegation: Ben Ray Lujan (NM-03), Martin Heinrich (NM-01), Senator-Elect Tom Udall, Harry Teague (NM-02) Sen. Jeff Bingaman in Jeff's office in DC
Photo of New Mexico delegation from Sen. Bingaman's website, taken by Congressional photographer John Klemmer. Click on photo for larger image.
November 20, 2008 at 01:00 PM in Open Thread | Permalink
Comments
I am here at a forum newcomer. Until I read and deal with the forum.
Let's learn!
Posted by: SeiciftClic | Dec 2, 2008 10:41:02 AM