« NM-02: Teague Names Adrian Saenz as Chief of Staff | Main | AP Reports It's Official: Gov. Bill Richardson Picked as Commerce Secretary »
Friday, November 21, 2008
NM-03: Luján to Hold Thank You New Mexico Town Halls Across District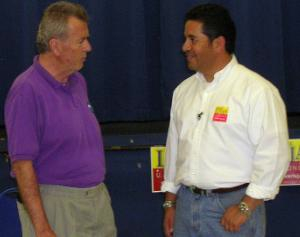 Ben Ray Luján (r) talks to voter at town hall before election
That Ben Ray Luján (or maybe I should start getting used to calling him Congressman Luján). He never stops. Fresh off his week-long trip to DC to attend the freshman orientation for new members of Congress, he'll be reaching out again to New Mexicans in the Third Congressional District -- starting on Monday.
Congressman-elect Ben Ray Luján just announced the schedule for his Thank You New Mexico Town Hall Tour to express his gratitude to the voters of New Mexico and to talk with them about the issues facing the state and the country:
"I'm excited to meet with the people of the district, thank them for their support and talk to them about the challenging issues facing our state and our country," Luján said.
As part of the Thank You New Mexico Tour, Luján will hold several regional town halls. Every town hall is open to the public. I know I'm going to try and go to one of them to hear Ben Ray's take on his week in Washington and his plans for the future.
Here's the schedule for his Thank You events:
Thank You New Mexico Town Halls:
For Mora, Colfax, San Miguel, Harding and Union Counties
Monday, November 24, 6-7 PM
Donnelly Library, New Mexico Highlands University
9th and National, Las Vegas NM, 87701
For Santa Fe, Rio Arriba, Taos and Los Alamos Counties
Tuesday, November 25, 6-7 PM
Santa Fe AFSCME Office
1406 4th St, Santa Fe, NM 87505
For Quay, Curry and Roosevelt Counties
Wednesday December 10, 2008, 5:30-7:00 PM
Carver Public Library
701 N Main Street, Clovis, NM 88101
For San Juan County
Friday, December 12, 2008, Time TBD
Location TBD, Farmington, NM
For McKinley County
Saturday December 13, 2008, Noon-1:00 PM
McKinley County Courthouse, Commission Chambers
207 West Hill Street, Gallup, NM 87301
For Sandoval and Bernalillo Counties
Saturday, December 13, 5-6 PM
Rio Rancho City Hall Council Chambers
3200 Civic Center Circle NE, Rio Rancho, NM 87144
During the election, Luján held Standing up for New Mexico Town Halls in every county in the District, allowing him to meet with voters and discuss the issues important to them. As a member of Congress, Luján will hold regular town halls to keep an open dialogue with the people of New Mexico.
Photo by M.E. Broderick.
Technorati tags:
November 21, 2008 at 02:35 PM in Events, NM Congressional Delegation, NM-03 Congressional Seat 2008 | Permalink
Comments
Post a comment