« Statehouse Dems Retain Leadership Team | Main | 12/6: Dem Women of Sandoval County Holiday Party »
Tuesday, November 25, 2008
Angela Chavez Guest Blog: The Day That Hope Won

This is a guest blog by Angela Chavez, who is in her second year at the University of New Mexico School of Law, where she participates in MALSA and NLLSA. She is also a Regional President of the Hispanic Bar Association's student division.
Prior to entering law school, Ms. Chavez worked for the Democratic Party of New Mexico, Governor Bill Richardson and Senator John Kerry. She is the current National Committee Woman for the Young Democrats of New Mexico. Angela was raised in Socorro. She is recently engaged to Joshua Adkins.
We will all remember where we were the day that hope won and the country elected Barrack Obama. I was in Albuquerque's South Valley poll watching. Many of my law school colleagues joined me in watching polls across our beautiful state. Below is a narrative of my experience. I hope to see even more volunteers for re-election in 2012!
I didn't have to go outside of the library of Harrison Middle School to know that it was a cold Fall day in the South Valley. Yellow and orange leaves blew through the door announcing each voter.
Some of the voters were viejitas with carefully applied lipstick. Before voting, they unwrapped their scarves to reveal that their hair was still perfectly curled despite the wind that you could hear through the windows. The viejitos came too. One man with brittle silver hair carried a thermos in his calloused hand and wore a black and blue flannel jacket. I imagined that the thermos was full of coffee and that he was on his way to work, or maybe to rake up the leaves that were piling up in his yard. The familiar smell of mentholato followed him out the door.
Many of the voters were young moms. They carried babies wrapped in soft blankets. Tiny red noses peaked out of the blankets, reminding me of the cold. The older kids wore puffy jackets and resembled waddling marshmallows with arms and tiny gloved hands.
An older mother came in with her teenaged daughter. Her daughter was wearing a polo shirt from a local restaurant. Her smile revealed sparkly braces and dimples framed by rosey cheeks. The young girl was so excited to vote that she didn't seem to care about the stain on her uniform. The mother was proud to announce, "It's my daughter's first time." My eyes felt warm and I had chills because I was trying to hold back tears.
My tears were prompted by pride and hope. I was proud to see that the cold did not keep people from voting. The continuous stream of female members of my own generation gave me a strong sense of solidarity. I felt like a member of strong brigade armed with the power to vote. Each vote cast by my sisters in arms was a vote for our future, a future that we would all share regardless of which political party prevailed. I felt like my generation recognized and accepted our responsibility to look forward and act now.
My hope came from the realization that our collective voice was growing and that in this election, the voice calling for change and better tomorrow was going to be too loud to be ignored any longer. This was going to be the election that defined our generation. By voting, we chose to define ourselves rather than allowing ourselves to be defined.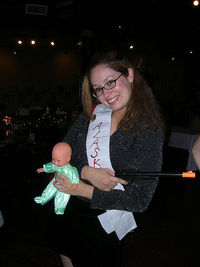 This is a guest blog by Angela Chavez. In addition to being a law student and one of the hardest working Democratic activists we know, Angela does a spot-on imitation of the infamous Sarah Palin -- as you can see from the photo at left taken this Halloween. (Had to use it!) Click on photo for larger image.
If you'd like to submit a piece for consideration as a guest blog, contact me by clicking on the Email Me link on the upper left-hand corner of the page.
November 25, 2008 at 12:30 AM in 2008 General Election Voting, 2008 General Presidential Election, Guest Blogger | Permalink
Comments
Those of us active in the Democratic Party remember Angela as one of the first field organizers that the DPNM sent down to SE NM, at the beginning of the Howard Dean 50-state strategy. Way to go Angela!
Posted by: Ellen Wedum | Nov 25, 2008 8:07:08 AM
great guest blog!!!
help us stay informed write more and again from your perspective of what is going on out there.
thanks warm soul angela.

Posted by: mary ellen | Nov 25, 2008 8:42:19 AM
Nicely done except for the spelling errors.
Posted by: | Nov 26, 2008 10:53:08 AM
Post a comment