« I WILL VOTE (The Video); Saturday 11/1/08 Last Day to Early Vote | Main | Saturday: Mayor Villaraigosa, Sen. Bingaman, Rep. Udall GOTV for Obama »
Friday, October 31, 2008
NM-03: Ben Ray Luján Featured on Obama Campaign's Latino Outreach Call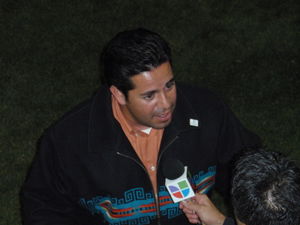 Luján being interviewed by Univision at UNM Obama rally
Bravo, Ben Ray. Not yet elected, but already on the national scene. Yesterday, Ben Ray Luján, the Demo nominee for Congress in NM-03, delivered remarks on the weekly Latino outreach conference call held by the Obama campaign. In the last conference call before the election, Luján joined Secretary Frederico Peña, Miami Mayor Manny Diaz, Geoconda Arguello Kline of the Nevada Culinary Union and Senator Obama to deliver remarks to call participants. Over two thousand Latinos are invited to participate in the weekly conference call.
Luján discussed Obama's half hour commercial that aired this week and mentioned the Albuquerque teacher who was highlighted.
"I want to tell you about one of the people featured in that ad," said Luján "Her name is Juliana Sanchez and she is from Albuquerque, New Mexico. She is a full time teacher, who needs to take on an additional job to help support her family in these tough economic times. She is working harder and harder, for what seems like less and less."
Luján also talked about the change that an Obama Administration will bring to the country and the state:
"A Barack Obama administration will bring change to Washington and will turn this around, and I look forward to serving in Congress to help Senator Obama bring that change to Washington and our nation," said Luján.
Luján encouraged conference call participants to keep working hard between now and Election Day.
"We only have a few days left," said Luján. "We need you to get on the phone, knock on some doors, drive people to the polls. What waits for us after November 4 is very exciting, but we will only get there with your help."
(Photo by M.E. Broderick. See more.)
October 31, 2008 at 11:47 AM in 2008 General Presidential Election, Minority Issues, NM-03 Congressional Seat 2008 | Permalink
Comments
Post a comment