« Last Chance to Sign Up for This Friday's Trick or Vote: Pass It On! | Main | Dems Win Presidential & Congressional Elections in New Mexico - at Bernalillo High School »
Wednesday, October 29, 2008
10/29: Meet Tom Udall at Campaign Events in Bernalillo, ABQ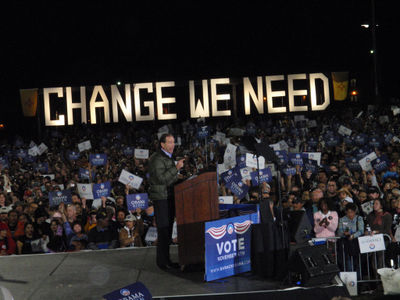 Udall speaking at Saturday's Obama Rally at UNM
Today U.S. Senate candidate Tom Udall will hold an early vote rally at The Range Café in Bernalillo followed by a rally at Central New Mexico Community College and a meet and greet at the Ladera Golf Course on Albuquerque's West Side:
BERNALILLO TOWN HALL & EARLY VOTE RALLY
Wednesday, October 29th, 12 – 1 PM
The Range Cafe, 925 Camino del Pueblo
CENTRAL NEW MEXICO COMMUNITY COLLEGE RALLY
Wednesday, October 29th, 1:30 – 2:15 PM
CNM Student Services Building
900 University Blvd., Albuquerque
LADERA GOLF COURSE MEET & GREET
Wednesday, October 29th, 5 – 6 PM
Ladera Golf Course Event Room
3401 Ladera Drive NW, Albuquerque
Photo by M.E. Broderick. Click on image for larger version.
October 29, 2008 at 09:51 AM in 2008 General Election Voting, 2008 NM Senate Race, Events | Permalink
Comments
Post a comment