« Obama: The Lighter Side | Main | Netroots Nation Thursday »
Thursday, July 17, 2008
Netroots Nation: Days 2 and 3, Quanah to Austin to Dean

Hey, hay!
We arrived in Austin last night about 9:00 PM, sticky, tired and hungry from the road. We're at the Hilton across from the Convention Center and netroots geeks are everywhere with their orange Netroots Nation gear, laptops and phones that do everything but prepare dinner. Libruls in Texas -- although Austin is a Blue enclave in the middle of a Red State that's reportedly turning Bluer by the day.
The last leg of our drive took us from Quanah to Wichita Falls, and then south on 281 for most of the way, through towns like Mineral Wells, Stephenville, Hico, Hamilton and Lampasas. Much of the area was dominated by classy horse facilities, hay fields and large ranches.
But there were still plenty of new and ancient grain elevators, antique and wrought iron shops, long-closed gas stations, bbq joints, examples of classic public architecture and oddities -- like the massive, abandoned Hotel Baker in Mineral Wells that apparently housed well-heeled visitors who came to soak in the healing spring water in days of yore.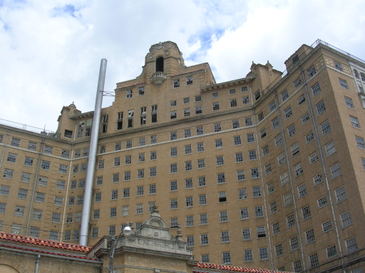 It's for sale: huge abandoned hotel in Mineral Wells TX
The horses were magnificent creatures of many breeds and there were foals in abundance, frolicking and kicking up their heels. Yee-haa! And goats, cattle, calves, sheep, milk cows, long horns, wild turkeys, pronghorns, hawks, chickens, roadkill armadillos and CAMELS (!) -- you name it.

Yes, those really are camels along the road. We saw a couple dozen in two different locations on 281.
Then onto 183A and I-35 and into the big city. And Austin is definitely a big city now. It's grown outwards and upwards significantly -- even since we were last here three years ago for a DemocracyFest convention.
I don't know yet whether it's managed to retain its funkiness, as the "Keep Austin Weird" teeshirts demand. Last time we stayed in the South Congress neighborhood at the famously quirky Austin Motel, where many musicians stay when they're in town. It had a whole different feel than we're getting here in the downtown convention-tourist area.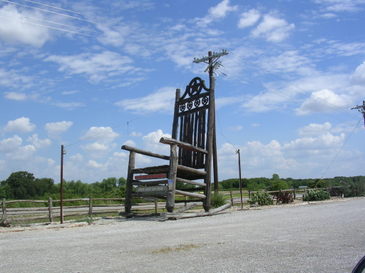 Biggest cedar rocking chair in the world
Today is filled with convention-goers swarming in from all over the nation, and a variety of small group caucuses so folks can connect. There are also films and tons of booths to visit in the Exhibit Hall. Check out the agenda. Tonight there's a readers and writers mixer with progressive authors and bloggers. Afterwards, DNC Chair Howard Dean gives the keynote and officially welcomes everyone to town. He usually gives quite a barnburner at events like this, so we're gearing up to cheer and stomp.
He'll be followed by Wesley Clark. I wonder if the General will have any more to say about McCain being a poor candidate for prez despite his military service. We heard Clark speak at last year's blogger convention and he was powerful and provocative. DFA is also having its caucus tonight and there's a celebration hosted by TX Sen. candidate Rick Noriega and the Texas Dem Party. Yowsa.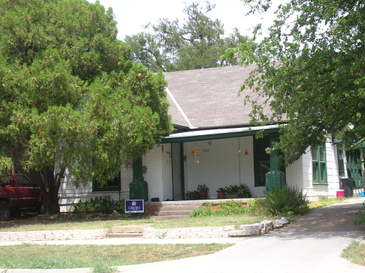 The first and only political sign we saw, for Obama in Mineral Wells. We saw very few bumperstickers of any kind anywhere. A sign that Bush and the GOP are unpopular even here?
Check in later. I'll try to find time to post a bit during or in between all the action. Maybe I'll do better than last year, when I was so involved in the workshops we attended, the speakers were were listening to, the people we were meeting and the entertaining sideshows that I didn't find much time to sit at the keyboard until I got back home. Not necessarily a bad thing! Gotta strike a balance ....
You can also check in at New Mexico FBIHOP for posts and podcasts from Austin by Matt. He's got a lot of energy and new techie toys. So much going on at once ... so many angles ... so little time.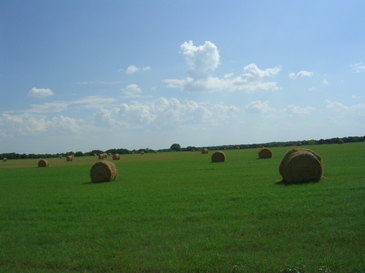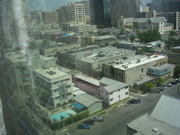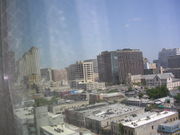 From the hayfields to Austin, including reflections of the oddly patterned, sheer curtains in our hotel room
Click on images for larger versions. Photos and videos by M.E. Broderick.
Technorati Tags: Austin Texas NetrootsNation08 NN8 Obama rural camels Mineral Wells oddities
July 17, 2008 at 12:15 PM in Netroots Nation | Permalink
Comments