« True Blue New Mexico: Martin Heinrich on the Case for Change | Main | NM Dem Party Demands That Pearce Return Tainted Money; GOP Going Off the Tracks? »
Tuesday, June 17, 2008
NM-02: Sen. Bingaman to Host Benefit for Teague
Sen. Jeff Bingaman is hosting a barbeque fundraiser on June 21, 2008 at A Lodge on the Desert in Las Cruces for NM-02 Congressional candidate Harry Teague. See below the fold for details.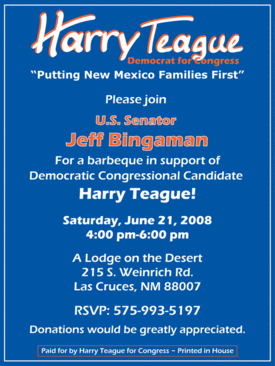 (Click on image for larger version)
Harry Teague is a True Blue New Mexico candidate. Give what you can.
Technorati Tags:
June 17, 2008 at 10:59 AM in NM-02 Congressional Race 2008 | Permalink
Comments
Post a comment