« January 2008 | Main | March 2008 »
Friday, February 29, 2008
Clinton vs. Obama: Compare and Contrast
Will.i.am's new video above vs. HRCin08's video below.
And then there's the Clinton campaign's new fear not hope phone at 3 AM TV ad:
Latest polling: Rasmussen on Texas and Ohio
Texas. 2/27. 503 likely voters. MoE 4% (2/24)
Clinton 44% (46)
Obama 48% (45)
Rasmussen has Obama in the lead in Texas for the first time, following other polling that gave Obama the lead days ago. Two weeks ago, Rasmussen had Clinton up by 16 points.
Ohio. 2/28*. 862 likely voters. MoE 3%. (2/25)
Clinton 47% (48)
Obama 45% (43)
February 29, 2008 at 08:00 PM in 2008 Presidential Primary, Music | Permalink | Comments (1)
NM-03: Luján Open House Sunday

From Ben R. Luján for Congress:
The Ben R. Lujan for Congress Campaign is hosting an open house from 2 to 6 PM, Sunday, March 2. We hope you'll join us, share your ideas and enjoy a bite to eat. Come talk with the candidate, see our new headquarters and learn about our campaign to bring New Mexico values to Washington!
WHAT: Grand Opening of Ben R. Luján for Congress Campaign Headquarters
WHERE: 1516 Paseo de Peralta, across from New Mexico Bank & Trust and next to Bulldog Gym
WHEN: 2-6 PM, Sunday, March 2
Click for Flyer
New Mexico Public Regulation Commissioner Ben R. Luján is running for the Democratic nomination for U.S. House District 3. Luján is a strong advocate for consumers' rights and expanded access to health care and is a leading proponent of renewable-energy development. His PRC district includes much of Northern New Mexico and many of the counties in the congressional district. For more information please call 505.988.2442 or visit www.benrlujan.com.
For more on the 2008 Congressional race in NM-03, visit our archive.
February 29, 2008 at 02:53 PM in NM-03 Congressional Race 2008 | Permalink | Comments (2)
NM-01: Repub Insiders Threaten Their Own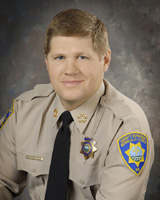 Must read: Dennis Domrzalski's post today about the threats received by Joe Carraro, Mark Boitano and Janice Arnold-Jones from Republican insiders warning them not to enter the NM-01 Republican primary -- or else. Powerful Repubs made it clear in no uncertain terms that current Bernalillo County Sheriff Darren White (right) was the annointed nominee chosen by insiders and that anyone challenging that decision would be the target of a smear campaign or worse. Now the New Mexico Attorney General's office is reportedly looking into whether they should launch a full-scale investigation into the threats against Carraro:
The New Mexico Attorney General's Office is checking out allegations that state Sen. Joe Carraro, an Albuquerque Republican, was threatened with a vicious smear campaign—including threats bring up and 20-year-divorce case an embarrass his children—if he went through with his decision to seek his party's nomination for the First Congressional District seat.

The AG's office is analyzing information to see if it warrants a full-blown investigation, said office spokesman Phil Sisneros.

"He (Carraro) has talked to the Attorney General about his concerns and his concerns have gone into the hopper," Sisneros said. "The usual process is that we determine if there is something actionable, if there is something we can do. It is an analysis of the information. It was just last week that we spoke to the senator."
Carraro has also reportedly contacted the FBI about the threats, which he deems to be "extortion":
He says the feds should be involved because some of the threats involved a former state Republican Party official who now works in Texas. "These people should be in jail the way they're threatening people," Carraro said.
As for the other two Repubs who considered entering the primary in CD-1,
State Rep. Janice Arnold-Jones, R-Albuquerque, and state Sen. Mark Boitano, R-Albuquerque, said they received similar threats when they were considering runs for Wilson's seat. Arnold-Jones said operatives threatened to go after her 20-year-old daughter, a student at the University of New Mexico.

Boitano, a legislator for 12 years, said he was informed through his campaign manager that he would be attacked for being a member of the Unification Church if he chose to run for Wilson's seat.
I wonder what New Mexico GOP golden boy and lawman Darren White thinks about the use of smear tactics, threats and what amounts to extortion by his political party against his potential primary challengers. You'd think he'd be up at arms considering his dedication to using stern "law and order" rhetoric and posturing, as have many other Repub candidates over the years. Is he up to the job of taking on the bottom feeders in his own Party who are using repugnant and perhaps even illegal tactics on his behalf? Maybe the AG's office and FBI will try to find out.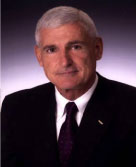 To get the full flavor of the warnings and threats made by NM GOP bigwigs, including State Chair Allen Weh (right), to the trio, you really must read Domrzalski's entire post. I guess Rove-style tactics have spread throughout the Bush-wing of the GOP and are used even within the Party against politicos who might dare to contradict the edicts issued from on high.
Dennis Domrzalski was a reporter for 24 years and is the co-host of the Eye on New Mexico Sunday morning TV talk show on KOB-TV, Channel 4.
February 29, 2008 at 12:10 PM in Crime, NM-01 Congressional Race 2008, Republican Party | Permalink | Comments (6)
If You're Not Part of the Solution, You're Part of the Problem
From the Democratic Party of New Mexico:
The Democratic Party of New Mexico is recruiting Neighborhood Leaders across the Land of Enchantment. The job of a Neighborhood Leader is simple and easy. You agree to take responsibility for contacting your friends and neighbors in your immediate area and talking to them about our Democratic nominees and the issues that matter most. If you are interested in becoming a Neighborhood Leader please contact Northern Field Organizer, Crystal Romero, or Southern Field Organizer, Miriam Diemer, by telephone at (505) 830-3650 or crystal@nmdemocrats.org and miriam@nmdemocrats.org.
We also need volunteers in our office to assist with data entry and reception duties. If you are interested in volunteering at the Albuquerque office please contact DPNM's Volunteer Coordinator, Buck Glanz, at 505-830-3650 or buck@nmdemocrats.org. We have three hour shifts throughout the day and we need your help. Please specify your availability.
DNC Trainings in New Mexico
There will be a series of trainings taking place next from Sunday, March 2nd thru Thursday, March 6th all across New Mexico focused on the Neighborhood Leader Program. Parag Mehta, Democratic National Committee Training Director will be heading up the curriculum for each of the events. Find a training near you and make a difference in your community:
To RSVP for any of the following trainings contact Crystal Romero at (505) 830-3650 or crystal@nmdemocrats.org.
Sunday, March 2nd, 6:00PM – 8:00PM
Western New Mexico University
MECHA Building
1000 W. College St., Silver City, NM
Monday, March 3rd, 7:00PM – 9:00PM
New Mexico State University
Hardman Hall Room 104
University Ave., Las Cruces, NM
Tuesday, March 4th, 6:00PM – 8:00PM
TBD
Las Vegas, NM
Wednesday, March 5th, 1:00PM - 2:00PM
UNM School of Law
Room 2401, 1117 Stanford NE
Albuquerque, NM
Wednesday, March 5th, 6:00PM – 8:00PM
UNM Student Union Bldg. Ballroom C
Central & Stanford
Albuquerque, NM
Thursday, March 6th, 12:00PM – 1:00PM
UNM Valencia Campus
Academics Room 101, 2800 La Entrada
Los Lunas, NM
Thursday, March 6th, 6:00PM – 8:00PM
New Mexico Tech
Cramer Hall, room 101
801 Leroy Place
Socorro, NM 87801
We look forward to working with you to make New Mexico a Blue State in 2008!
February 29, 2008 at 12:09 PM in Democratic Party, Events | Permalink | Comments (0)
Voters Excited at Tim Keller's Campaign Launch
City Councilor Rey Garduño (R) introduces Tim Keller at campaign launch
Democrat Tim Keller launched his campaign for State Senate in District 17 last Saturday at El Norteño restaurant in Albuquerque with an energized crowd in attendance. If you don't know about Keller, his background and his candidacy, you should. Be sure to check out his campaign website for all the details.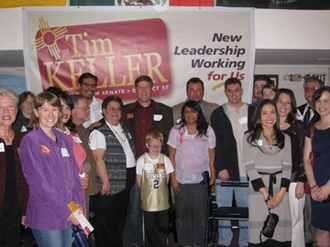 At last Saturday's campaign launch
We often talk about supporting challengers to the status quo in the NM Legislature, and this is a good opportunity to do just that. Whether you live in District 17 in the SE Heights or elsewhere, Keller's campaign would love to have you volunteer or make a small donation to the cause. Tim is running a grassroots campaign focused on lots of door knocking, reaching out to community organizations and contacting as many of the district's constituents as possible to listen to residents' concerns and talk about the issues.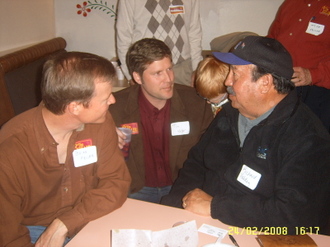 Tim (C) talking with supporters
Keller is finding that many constituents have had little or no contact with their current State Senator in recent years. One of Keller's aims is to change that dynamic and work on developing close and enduring two-way relationships with those he intends to serve. He believes many of the District's pressing needs have been neglected and that residents' voices have gone unheard on a number of issues for too long. Calls for change and renewal are being heard at all levels of politics this year, and I think Keller is an excellent match for the times. He'd bring fresh and creative ideas and energy to his District and to the Roundhouse.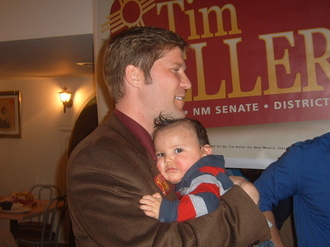 Tim with his littlest supporter, Mario Benavidez
A strong backer of ethics and campaign finance reform, Keller supports an independent commission to investigate complaints against state officials, publicly financed campaigns for legislative offices, campaign contribution caps and government benchmarking to bring measurable accountability. He has pledged to fight for affordable and accessible health care, better education, safer neighborhoods and new jobs.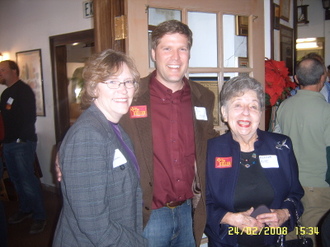 Tim with his childhood neighbors
The Dem nomination for State Senate in this district and others around New Mexico will be determined at the June 3, 2008 primary election. The incumbent Dem running in District 17 is Shannon Robinson.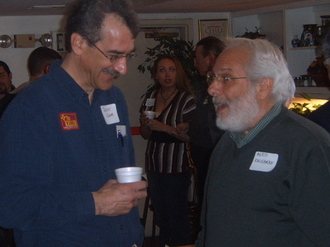 Dr. Javier Aceves, Dr. Norty Kalishman
Meet Tim at Thursday's Meetup
Tim Keller will be one of the speakers at the next Albuquerque DFA-DFNM Meetup on Thursday, March 6, at 7:00 PM at the Social Hall at the First Unitarian Church at Carlisle and Comanche. To join the group and/or RSVP for the Meetup click here.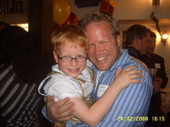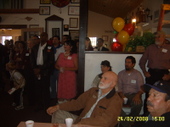 Above: crowd at campaign kickoff; members of Tim's family. Below: enthusiastic supporters; Charlie Bennett and Deanna Archuleta.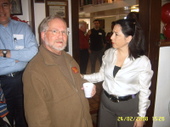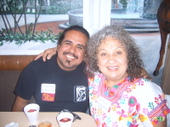 See my previous posts on Tim Keller's candidacy here and here. For additional coverage of 2008 NM legislative races, visit our archive.
February 29, 2008 at 10:25 AM in 2008 NM State Legislature Races | Permalink | Comments (1)
NM-03: Wiviott First on the Air With Campaign Ads

How Do You Say This Man's Name?


Meet Don Wiviott
A Dem primary candidate in New Mexico's Third District, Don Wiviott is challenging the field by being first up with TV campaign ads. The TV spots are designed to introduce Don to those in the district who haven't yet had an opportunity to meet him in person. One of them uses a humorous approach centered on Wiviott's name. The ads also touch on some of his progressive campaign themes including ending the Iraq war, cleaning up the environment and improving health care and education.
"Don is running for Congress to make a difference in people's lives and to bring real change to Washington," said Wiviott spokeswoman Caroline Buerkle. "We're excited to take this next step in our campaign and to communicate with even more voters about how he will bring progressive leadership in the tradition of Tom Udall to Washington."
Wiviott is out front in the fundraising department and it shows with this early ad purchase just weeks before the Dem Party's preprimary convention, set for March 15 at the Santa Ana Star Arena in Rio Rancho. The candidate has also been traveling the Third District to reach out to voters using a van, which you can see in one of the ads, that's powered by cooking oil from Santa Fe's Flying Tortilla restaurant.
The other candidates in the NM-03 Dem primary are PRC member Ben R. Lujan, former Secretary of the NM Indian Affairs Department Benny Shendo Jr., Santa Fe County Commissioner Harry Montoya, Dixon attorney Rudy Martin and Santa Fe attorney Jon Adams.
To read our previous coverage of the 2008 NM-03 Congressional race, visit our archive.
February 29, 2008 at 12:21 AM in NM-03 Congressional Race 2008 | Permalink | Comments (8)
Thursday, February 28, 2008
NM-03: Fire Fighters Endorse Luján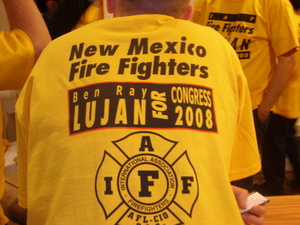 In a statement, the Luján for Congress campaign announced their latest endorsement:
Earlier this week the New Mexico Professional Fire Fighters Association announced its endorsement of Public Regulation Commissioner Ben R. Luján for the Democratic nomination to New Mexico's U.S. House District 3.
"Ben Ray Luján is well known by the state's fire-fighting community. He has always fought for the fire fighters, often behind the scenes and in ways that have had long-lasting positive effects on our profession," said union president Emily Kane.
"As chairman of the Public Regulation Commission, Luján has helped fire fighters extensively by creating a fire-fighter grant program which allows the fire departments in our state to receive special funding for projects which expand their capability and service to the public. This money would not be available if he had not had the wisdom to create legislation bringing all the excess Fire Fund money into this program," Kane said.
"Commissioner Luján is a strong supporter of Presumptive Disability for fire fighters, which is an important issue federally. The Fire Fighters Fairness Act HR 1142 is being worked on in Washington DC right now," she said. "He is well-versed in healthcare issues and will champion positive reforms to improve our nation's healthcare, a very important area of concern for fire fighters as both consumers and providers of healthcare."
"These heroes risk their lives every day for our safety. I am honored and privileged from the bottom of my heart to have their endorsement," Commissioner Luján said.
Last week, the International Brotherhood of Electrical Workers and all 18 unions of the New Mexico Building and Construction Trades Council endorsed Commissioner Luján. Luján is a New Mexico Public Regulation Commissioner and former PRC chairman. He has been a strong advocate for consumers' rights and better access to health care and a leading proponent of renewable-energy development.
February 28, 2008 at 02:40 PM in NM-03 Congressional Race 2008 | Permalink | Comments (3)
NM-03: Oddities in Actions of Candidate Jon Adams?
What's going on with attorney Jon Adams, a Dem who's running for Congress in NM-03?
Last week, Adams filed a reportedly incomplete legal challenge that doesn't follow the rules of civil procedure in seeking to disqualify most of the petition signatures submitted by green builder Don Wiviott, another Dem in the race. Adams allegedly didn't serve a summons on Wiviott, didn't name a plaintiff and defendant on his complaint and failed to join an indespensible party (the Secretary of State) in the action -- all basic legal requirements for such a challenge.
The petition signatures in question have been checked and certified by Secretary of State Mary Herrera as fulfilling the state's petition requirements. In response to Adams' challenge, Wiviott's lawyer has filed a Motion to Dismiss.
Previously, Adams alleged that Wiviott stole one of his political slogans and that Harry Montoya, another candidate in the NM-03 Dem primary, had pilfered one of his positions:
Adams has previously lobbed accusations at Wiviott, a Santa Fe developer. In December, Adams alleged Wiviott was calling himself a "Udall Democrat"— a label Adams said he coined.

At the same time, Adams accused another opponent, Santa Fe County Commissioner Harry Montoya, of stealing his position that military veterans should be "honored" and have good health care and services. Montoya responded that it was to be expected that Democratic candidates might have similar positions.
A former assistant attorney general who served from 2002-2004 under AG Patricia Madrid, Adams has been quoted as saying, "I practice law out of my living room" in Santa Fe. Last year, Adams was actively pursuing a Congressional seat in NM-01, while listing an Albuquerque address. On the day current NM-03 Rep. Tom Udall announce he'd enter the race for the U.S. Senate, Adams suddenly rented an apartment in Santa Fe and said he'd be running for Congress in NM-03 instead.
According to an article in today's Albuquerque Journal North:
Adams alleges most of the 2,132 voter signatures on Wiviott's petitions are invalid, largely because they came from people whose addresses don't match those listed on voter registration rolls.

The Wiviott camp calls that nonsense. Past court rulings have found that mismatched addresses are not a sufficient justification to challenge a voter's signature, Wiviott's attorneys argued Tuesday in a motion to dismiss Adams' complaint.

The motion also argues that Adams failed to specify which signatures he was challenging and failed to name a plaintiff or defendant on the appropriate place on the suit.

"A person should not have to guess as to whether or not they are parties to a lawsuit, and therefore the complaint must name parties in the caption," the motion states.

"We are confident that we have sufficient signatures and we are following the process," Wiviott spokeswoman Caroline Buerkle said Wednesday.
Adams had been a supporter of Wiviott's legal challenge to a recent law requiring candidates to garner the support of at least 20% of the votes at party pre-primary conventions to get on the primary ballot. A bill passed during last month's NM Legislative Session did away with the 20% rule, helping long-shot candidates like Adams who can once again gather more signatures to get on the ballot if they don't meet the 20% requirement. Ironic, isn't it, that Adams is now engaged in trying to get Wiviott -- who fought to get all candidates fair access to the ballot -- disqualified from the ballot?
To see our previous coverage of the 2008 Congressional race in NM-03, visit our archive.
February 28, 2008 at 01:00 PM in NM-03 Congressional Race 2008 | Permalink | Comments (8)
Health Action NM Presents Legislative Wrapup Tonight
From Health Action New Mexico:
Health Action New Mexico will host a Legislative Wrapup on health care reform and other related issues on Thursday, February 28, at 5:30 PM at the First Unitarian Church (Comanche and Carlisle) in Albuquerque. The panelists reporting will be:
State Senator Jerry Ortiz Y Pino
Ruth Hoffman, Lutheran Office of Governmental Ministries
Bill Jordan, New Mexico Voices for Children
Patrick Tyrrell of Health Action NM will be the moderator. The public is encouraged to attend.
February 28, 2008 at 10:26 AM in Events, Healthcare, NM Legislature 2008 | Permalink | Comments (0)
Tonight: Second Community Meeting of Friends of the Albuquerque Tribune
From FOAT Inc.: The Friends of the Albuquerque Tribune will hold a follow-up community meeting on Thursday, February 28, at 7:00 PM at the UNM School of Law, Room 2402. All interested members of the public are invited. (The Law School is located at Stanford and Constitution NE.)
An initial meeting, held prior to the publication of the Tribune's final issue on Saturday, was well-attended by a cross-section of citizens interested in maintaining media diversity in Albuquerque. Money was raised and volunteers committed. Thursday's meeting will continue discussions related to efforts to organize a cooperative to operate the Tribune, probably as a web-based 24/7 newspaper.
FOAT seeks support and guidance from the community of Albuquerque newspaper readers, staffers, and subscribers. Friends of the Albuquerque Tribune is a New Mexico not-for-profit organization recently founded for the purpose of maintaining the Albuquerque Tribune as an independent voice in Albuquerque.
Details of a cooperatively owned -- readers, employees,and community groups -- publication will be discussed this Thursday. This mostly on-line publication will be nonprofit, making it possible, and will emphasize a greener solution to a daily, comprehensive newspaper. Join the process! Pass it on. More information: Rosamund Evans, rosamund04@juno.com.
February 28, 2008 at 12:55 AM in Media | Permalink | Comments (2)
Wednesday, February 27, 2008
More Crocodile Tears Over "Failures" of Ethics Advocates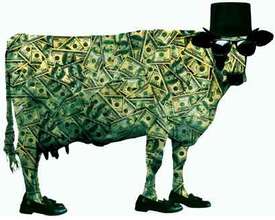 As background to this post, see Joe Monahan's latest piece about ethics and campaign reform, where he announces a silly contest. Next, check out what Marjorie at m-pyre has to say about it.
The cowardly Alligators-Afraid-To-Reveal-Their-Names are crying crocodile tears again over the alleged mismanagement of ethics and campaign finance reform by -- get this -- the reformers themselves. The reptilian view is that reform efforts have hit a brick wall because those pushing for change haven't been clear and focused about what they want. This alleged lack of clarity has confused the public so they don't know what to get behind. And it's just plain snookered the poor legislators who have been trying in vain to decipher the priorities of the reformers. Shame on the nonprofit public advocacy organizations that have been using ineffectual tactics and asking for too much at once -- according to the unnamed sources at Monahan.
Let's Have a Contest!

The solution -- who'd a thunk it -- is lurking out there in the mind of some college student in the form of a hip new plan to achieve campaign donation limits. All Joe and his Alligators have to do is bring the ideal plan to the surface by dangling a prize for the winning idea, open their jaws and snap it up.
Too bad Common Cause, the League of Women Voters, AARP and many other organizations that have long been working for change didn't think of that. Why talk to legislators, organize citizen lobbying efforts, urge constituents to contact their reps and vigorously promote the findings of two years of highly respected and publicized work by the Governor's Ethics Task Force -- when they could have just offered up $500 in prize money to entice a college student to come up with a winning advocacy plan!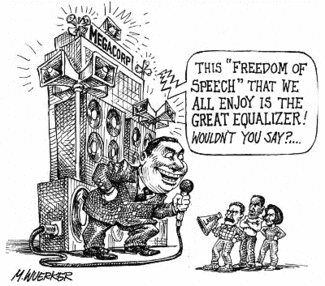 I think we should try this masterful approach with other legislative efforts that are wildly popular with voters but meet stubborn resistance from the Lobbied Ones. It's not that the Lobbied Ones are bought off by vested special interests or dominated by overly developed greed glands. It's that they're standing by waiting for a clever appeal -- a magic advocacy plan -- to inspire them to do their duty to the people they represent. All this time, powerful legislators have been pining to pass ethics reform legislation -- they've just been waiting to be approached with sufficient pizzazz.
Shaming the Status Quo


Well, there is one problem with the Alligators' blame-the-public-advocate campaign. It has absolutely no credibility in the real world. We can clearly see the forces working the puppet strings at the New Mexico Legislature. We've also noticed how happy the dancing puppets have become with things the way they are. We've seen the light because we've been paying more attention than ever before -- and the light is helping us to follow the money.
The public knows why ethics reforms have had trouble passing. Unquestionably, it's because the foxes (and alligators) guarding the henhouse don't want to change the status quo. They LOVE getting large donations from those with business before the Legislature. They LOVE to use that money to keep competitors from running against them so they can keep on voting against the will of the people. They LOVE having no limits on "campaign contributions" so they can string out an election win into decades of incumbency without merit. They LOVE operating in a state that lacks an ethics commission with the clout needed to root out and punish corruption. They've come to truly LOVE all the cash cows.

Nothing will make certain powerhouses in the Legislature -- and especially in the Senate -- change their minds on ethics reform unless they are absolutely SHAMED into it. They need to be called to account again and again for their refusal to clean up the present system. What we have now is essentially a Legislature where insider networks -- dependent on whats amounts to widespread graft -- operate with impunity to thwart the will of the people. It's a system designed to preserve the perks of incumbency and eliminate any risk of serious challengers emerging with the means to run against anti-reform legislators. The special interests love it. The patronage networks love it. Ordinary people suffer.
Obviously, Monahan and his nameless Alligators have concocted their silly contest to keep the pressure and attention off themselves and put it on those who've been working tirelessly for reform in the face of legislative arrogance. Unable to argue their case with convincing logic, they resort to mockery and farce.
This prime-the-pump system they're defending has worked like a charm for years -- but the people are now wising up and getting active. We've learned too much about how the game works to allow us to sit helpless any longer. We've witnessed the damage first hand when monied special interests call the shots. The destruction is displayed all around us. The crooked games must end.
What Can We Do?
Some of us are lucky enough to have ethical challengers to the status quo running in Dem primaries or the general election against business-as-usual legislators. Even if we don't live in the districts of the challengers, we can lend our time, make small campaign donations and spread the word.
If, like most voters in New Mexico, we live in State House and Senate districts with uncontested races, we can keep contacting our legislators day after day, week after week, month after month about reform. We can make it clear that anyone who keeps fighting ethics and campaign finance reform will be outed repeatedly for their shameful refusals to clean up the cesspool. And we can generously support advocacy organizations like Common Cause that lobby in a non-partisan way on behalf of the citizenry.
As with many issues, only strong public pressure is likely to result in success. We do know what to do. We just have to keep on doing it until we win some victories for the people.
Also see my previous post about the alligator swamp and complaints about ethics reform advocates.
February 27, 2008 at 12:20 PM in Corporatism, Crime, Ethics & Campaign Reform | Permalink | Comments (5)
Udall Asks Pelosi to Move Indian Health Bill to Top of House Agenda
In a statement released yesterday after the long-awaited Senate passage of the Indian Health Care Improvement Act, US Rep. Tom Udall (D, NM-03), urged House Speaker Nancy Pelosi to move the bill to the top of the House's agenda.
"Our nation's health care system is badly in need of reform," Udall wrote in a letter to Pelosi. "But nowhere is the issue of inadequate healthcare more acute and in need of improvement than on Native American lands and in the Indian Health Service agency."
The legislation, which passed the Senate today by a vote of 83-10, is the first substantial overhaul of the Indian health care system in over a decade. It would provide medical care to approximately 1.8 million American Indians and would authorize spending for the Indian Health Service (IHS) for the next 10 years.
Udall acknowledges the legislation does not remedy all of the wide-reaching problems in Indian Country, however, passing the bill will mark huge progress. "While S. 1200 is not a panacea that would immediately fix every one of the problems plaguing the access to care and the quality of care for Native Americans, it is an important and long overdue step towards modernizing the Indian health care system," he wrote.
To read the full text of Udall's letter click here.
According to published studies from the US Indian Health Service, IHS-served populations generally suffer from a higher incidence of illness and premature death rates than the U.S. population as a whole. The study indicates that in comparison with the general population, American Indians are 6.5 times more likely to die from alcoholism, 6 times more likely to die from tuberculosis, almost three times more likely to die from diabetes and 2.5 times more likely to die in accidents. To see the full study, click here.
Udall represents a district that is 19 percent Native American. He serves a Co-Vice Chair of the Congressional Native American Caucus and is a member of the Appropriations Subcommittee on Interior and the Environment, which appropriates funding for the Indian Health Service.
February 27, 2008 at 08:58 AM in Healthcare, Native Americans | Permalink | Comments (0)