« NM-Sen Race: Marty Chavez Disses Tom Udall, Others | Main | (Updated) Sunday Bird Blogging: Red Sox Nation »
Saturday, October 27, 2007
Ortiz y Pino Guest Blog on Blackwater: The Visigoths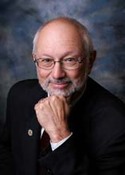 This is a guest blog by NM State Senator Gerald Ortiz y Pino (right), a Democrat who represents Senate District 12 in Albuquerque. This piece was originally published in Santa Fe Sun News:
When the full accounting of the worst excesses of the Bush (Junior version) administration is at last tallied by historians, I will not be surprised to find heading the pathetic inventory the inglorious adventures of that uniquely American institution, the Blackwater Company. In a way that is exquisitely appropriate, Blackwater may well become recognized as the perfect example of the Bush-Cheney administration in microcosm, W's ideal and exemplary "MINI-ME"; a band of clumsy mercenaries wreaking havoc everywhere they tread (even while making quite a bundle of money in the process).
They are our Visigoths, the armored warriors who've swept in mindlessly and knocked down the last props holding up the American Empire, the very Empire our hapless President was apparently attempting to deputize them to protect. If it were a soccer match, Blackwater would have just managed to score an "own goal"... one for the other side. Recognize, too, that Blackwater is not an aberration, an unfortunate mistake, one noteworthy precisely because it is so different from all else that is going on. Oh no! These guys are no glitch; they are actually the vision! They are what Cheney and Wolfowitz and Rumsfeld and the rest of that "New American Generation" crew had in mind when they talked about market forces and the "opportunity for regime change" and when they driveled-on about spreading American entrepreneurial capitalism across the globe. They saw the future and the future was ... Blackwater: another in the endless stream of governmental functions to be privatized; the endless chain of thefts from the public treasury for private gain; you know, the hallmark of all that Bush stands for! It's been so simple, really, to reverse the pumps.
It used to be Washington's task to bring money into the Government. No more. By the time they finally stagger away from their time at the trough, Dubya and his guys will have pretty well emptied out the Federal Government's cash reservoirs and filled their own and their buddies' up to the brim. What with Halliburton sopping up billions through creative bookkeeping of its non-activity in Iraq and dozens of corporations evading all tax liability by the simple expedient of listing their headquarters address off-shore in some businessman's tropic paradise; with Defense contractors, oil companies, major pharmaceuticals and money lenders all gorged just about to capacity from sucking up Federal largesse, it now turns out that (surprise!) there isn't much left in the accounts to actually run governmental services with. So there are plenty of villains to point at these days, no end to the larcenies being committed at public expense. Yet even among the ranks of all the many rogues with the foresight to cozy up to Republican elected officials and the willingness to exchange ethics for no-bid contracts, Blackwater stands out.
They all stink, of course; they all invite outrage, and they all should be made to pay the money back. But there is a clinging to this particular Virginia-based enterprise, this armed-muscle-for-hire company, an especially repugnant aroma that does set it apart even among the other opportunists and jackals that avidly fatten themselves at the expense of the miserable. You see, these guys are not just hired guns, mercenaries willing to serve whoever signs their pay vouchers. They fancy themselves as being our privatized Armed Forces: the ultimate in out-sourcing of essential governmental functions. And unfortunately, the President seems to agree with them.
Thus, when thugs in the employ of Blackwater commit murder, assault, mayhem and similarly impolite other forms of behavior during their stay in Iraq, as described so numbingly by Reporter Jeremy Scahill in his just-published book on the company called, simply, Blackwater, it is not the corporate investors in the company who will feel the heat of Iraqi outrage, it is the American people who will be blamed.
This is what the Romans learned the hard way over sixteen hundred years ago.
Those darned mercenaries are more trouble than they are worth. Not only can they prove difficult to control, but you have to bear the weight of all the errors they make. They are not independent of those who hire them. The illusion is that it is easier to pay big bucks for contractors to do the dirty work than to recruit, train and supervise your own troops. That is the illusion to which the current occupant of the White House has fallen prey. That is why we now have more private contract manpower in Iraq than we have troops (200,000 versus 170,000), even if we don't keep close tabs on their deaths -- must be a clause in their employment contract or something, a kind of "you don't have to mark my passing" authorization. But it is starting to look like even the Iraqi government (whose puppet strings we routinely jerk just to remind them who's boss) has finally tired of the arrogance and blood-letting of the contractors. The general populace did so long ago, of course. But then the general populace tired of all of us long ago, so it's no use asking them.
The government, though, now wants Blackwater gone; removed; their contract ended. They will soon be forced out of Iraq, I assume. But that will end neither the Bush entanglement with mercenaries in Iraq nor the profitability of Blackwater. Some other company of soldiers of fortune will fill their shoes, with little or no change in how badly we are served by using unaccountable and uncontrollable troops like that. Blackwater itself will scoop up some other juicy contract for work somewhere else in the world: Afghanistan, Mississippi (yes, they were there during Katrina), Darfur -- wherever there's a buck to be made and a code of ethics to be ignored. Blackwater is the Bush doctrine: private gain squeezed from public coffers. Now it is up to us, the American people, to decide if we are going to tolerate what it represents. Abu Ghraib, Guantanamo and Blackwater are three very smelly pieces of inheritance to pass on to our children.
They don't deserve it. We must turn away the Visigoths.
This is a guest blog by Democratic NM State Senator Gerald Ortiz y Pino. Guest blogs provide readers with an opportunity to express their views on relevant issues and may or many not reflect our views. If you'd like to submit a piece for consideration as a guest blog, contact me by clicking on the Email Me link on the upper left-hand corner of the page.
October 27, 2007 at 10:54 AM in Books, Corporatism, Crime, Guest Blogger, Iraq War, Military Affairs | Permalink
Comments
Once again, Mr. Ortiz y Pinoi has written a brilliant piece, right on target! If I weren't so afraid, the Bush-Cheney actions would be laughable, they are so inept.
Posted by: Diane | Oct 28, 2007 6:03:55 AM
Sen. Ortiz y Pino is one of our best. He "gets it" on all the issues and sees the real situation we find ourselves in. We need more writers and people in office like Jerry.
Posted by: JJ | Oct 28, 2007 2:54:55 PM
Post a comment