« Glenn Greenwald Talks Telecom Immunity | Main | New Book Parties & Discussions: Community Organizing »
Tuesday, October 30, 2007
(Updated) Martin Heinrich to Live Blog on Daily Kos Today at 5:00 PM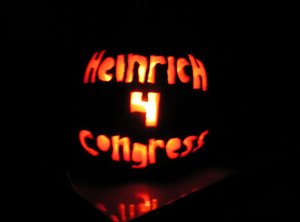 Photo and pumpkin carving by Ambrosia Ortiz
UPDATE: Click the direct link to Martin's diary on Kos.
************
Visit the national blog Daily Kos today at 5:00-5:30 PM Mountain Time when NM-01 Congressional candidate Martin Heinrich will be live blogging, taking questions and comments in a diary. Check back here as 5:00 PM nears and I should have a direct link to his diary. If you go to the main Daily Kos page at 5:00 PM you can also look for Martin's diary link yourself, in the right-hand sidebar under the heading Recent Diaries, and click on it to enter the thread.
This will be a critical quarter for Heinrich's campaign fundraising. He needs strong numbers to continue demonstrating that he's the best candidate in the race for the Dem ticket. Many small donations can become a powerful force in maintaining the momentum he needs, so consider contributing a few bucks now via the Heinrich DFNM Netroots page at ActBlue. You can also mail donations to the Heinrich campaign office at 2118 Central Ave. SE, #71, Albuquerque, NM 87106. Checks should be made payable to Martin Heinrich for Congress.
The other announced candidates in the NM-01 Dem primary are atttorney Jon Adams and former Secretary of NM Public Health, Michelle Lujan Grisham. Former Attorney General Patricia Madrid, who ran against Heather Wilson in 2006, has decided not to enter the race.
To read our previous coverage of the NM-01 Congressional race, visit our archive.
October 30, 2007 at 08:59 AM in NM-01 Congressional Seat 2008 | Permalink
Comments
Martin's gotta raise alot of cashola to get the attention of the money people in the Dem party. We also need to push him to the attention of the FPers on Kos. This is a big race. Winnable seat and, MAN!, would I be proud to have Martin in Congress.
Posted by: Taos Resident | Oct 30, 2007 9:51:43 AM
You can say that again. We need to get all our friends and family to support Martin. If we all give a few dollars and some volunteer hours, I know Martin can win this thing!
Posted by: Jane | Oct 30, 2007 10:02:51 AM
Hey! My name is spelled with an "s." You can tell Martin has serious fans when they are willing to put two hours into carving a pumpkin for him. -Ambrosia
Posted by: Ambrosia | Oct 30, 2007 10:15:06 AM
Hi Ambrosia - I made the correction. You better tell the folks over at Martin's blog to do the same as that's where I got the incorrect spelling.
Great job on the pumpkin!
Posted by: | Oct 30, 2007 11:12:41 AM
Post a comment