« Jason Marks PRC Reelection Campaign Kickoff Set for Oct. 10th | Main | Madness: Threatening Lieberman-Kyl Amendment on Iran Passes »
Wednesday, September 26, 2007
Domenici's Approval Rating Takes Big Plunge; Wiviott & Dems Gain Momentum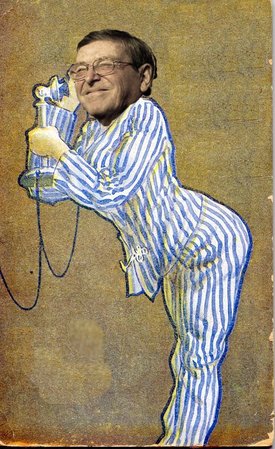 "Pajama Pete" Domenici
As you've probably heard by now, Sen. Pete Domenici's approval rating tumbled to 41% in the latest Survey USA poll commissioned by Albuquerque's KOB-TV. This is down from 52% who approved in Survey USA's August poll. Six hundred adults in New Mexico were surveyed by telephone for this month's poll during the period 09/14/2007 - 09/16/2007. Ominously, 54% disapproved of Domenici with only 6% not sure. The poll's margin of error is plus or minus 4.1%.
Dem State Party Chair Brian S. Colón weighed in on Domenici's falling numbers: "The people of New Mexico are clearly unhappy that Pete Domenici is more loyal to George Bush and his failed policies than to the families of New Mexico. This poll confirms that Domenici is in serious danger of losing his job when New Mexicans go to the polls next year."
Only 38% of women and 37% of Hispanics approved of Domenici, while a mere 34% of independents and 40% of moderates -- groups Domenici needs to win if he's to keep his seat -- approved of the job he's doing.
Down, Down, Down
Pete's numbers have generally been trending downward since last November when 68% approved. You can track the trend lines here. The number started dipping at the beginning of 2007, when 66% approved. In March 2007, his approval dropped to 57% as the U.S. attorney firing scandal story broke and Domenici was implicated in the firing of David Iglesias, the U.S. Attorney in New Mexico. The damage has continued as Domenici became the subject of a Senate Ethics Committee probe about his dealings with Iglesias and Pete continued to vote in support of Bush's failed policies in Iraq. Despite trying to distance himself rhetorically from the president's positions, Domenici hasn't really budged from his rubberstamping of Bush's policies. Tellingly, Bush traveled to Albuquerque in August to raise campaign funds for Pete.

Domenici's between a rock and a hard place on Iraq. If he sides with the Dems in trying to end the occupation, he may lose his conservative base in New Mexico. If he continues to stick with the sinking ship that is the Bush administration, he has a good chance of going down with it. Meanwhile, ads pointing out Pete's loyalty to Bush on Iraq, like the latest by Americans United for Change, will no doubt increase in frequency. And ad campaigns from the conservative side, like the one by the Swifboat-related "Freedom's Watch" that spent more than $200,000 recently on an ad buy supporting Pete, don't seem to be making a dent.
With Domenici being named to a recent list of the 22 most corrupt members of Congress, reports that the Senate ethics probe into his involvement in the Iglesias firing is heating up and rumors circulating about Pete's weakening mental and phyiscal health, you've got the makings of a perfect storm to take him down.
The Domenici camp has to be alarmed at the lastest plunge of more than 10 percentage points since last month. The rule of thumb is that an incumbent is in trouble if approval ratings drop below the 50% mark. Domenici's approval rating has never been as low as it is today during his lengthy career in the Senate, which began in 1972. Given his long-standing popularity with the majority of New Mexico voters, the numbers this month are truly shocking.
Wiviott and the Dems
On the other hand, would-be Democratic challengers have got to be encouraged by the lastest polling. Don Wiviott (above), who just yesterday held a meet and greet and free dinner at Ladera Golf Course on Albuquerque's West Side, is the major beneficiary right now. Wiviott, who's creating a growing buzz and has been very successful in raising campaign money via ActBlue, needs to show good fundraising numbers when the third quarter ends on September 30th. According to FEC rules, candidates must release their totals by October 15th.
As expected, some pundits and unnamed Dem sources have been repeatedly lamenting that a so-called "big name" candidate hasn't stepped up to run on the Dem side. In an election season characterized by deep distain for DC insiders and business as usual politicos, I think the time couldn't be more right for a run by someone outside the inner circle of power brokers -- especially someone with Wiviott's talents, positions and passion. Clearly, a large percentage of the electorate is looking for candidates with integrity who have solved real problems in the real world, not familiar faces who've spent decades bloviating for the cameras and raising campaign funds from all the wrong people.
Just because someone has made a "name" in politics doesn't mean it's a good name. In fact, in this era, it's the best known "name" politicians who have most often abandoned the needs of ordinary people and instead spent their time bowing down to big-monied interests and lobbyists. Do we need more of that in the U.S. Senate? I don't think so. If you agree, you're encouraged to donate a few bucks to the cause at Beat Back Bush New Mexico to improve fundraising numbers before the September 30th deadline for the quarter.
For our previous posts on the 2008 Senate race in New Mexico, visit our archive. Thanks to the Down With Tyranny gang for the graphic. Thanks to Terry Riley for the Don Wiviott video clip.
September 26, 2007 at 10:56 AM in 2008 NM Senate Race, Iraq War, U.S. Attorney Iglesias | Permalink
Comments
I had to work last night and wanted to go to the event at Ladera Golf Course... can anyone tell me how it was? Turnout?
Posted by: Westside Voter | Sep 26, 2007 2:44:12 PM
Bye bye Pete! I agree that we should be uniting around Wiviott. Hasn't everybody had enough of the same old same old politicians? We need some fresh ideas and energy not more of what we've been getting for months and months now from Democrats afraid to be Democrats or some of the cronies being talked about as possibles to run. Time to turn the page.
Posted by: Red or Green | Sep 26, 2007 3:15:20 PM
I met Mr. Wiviott for the first time last night. He is a good speaker, and he is clearly not a politician.
I think the blog is correct that it is time for a change, and Wiviott may be just the ticket we need.
People need to step up and volunteer. The time is NOW.
Posted by: bg | Sep 26, 2007 9:34:41 PM