« August 26-28: NM 'Iraq Summer' Campaign Comes to a Crescendo in ABQ | Main | Dem Senate Candidate Wiviott Weighs In On Domenici's Embrace of Bush »
Monday, August 27, 2007
Beat Back Bush New Mexico!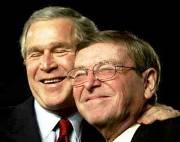 George Bush will be at a campaign fundraiser in Los Ranchos de Albuquerque today raising lots of money from Republican elites for "Pajama Pete" Domenici's reelection campaign. Last year Bush came to New Mexico and raised $375,000 for Rep. Heather Wilson the same way. Why? Domenici and Wilson have been among Bush's most loyal and obedient supporters, putting the neocon political agenda of Bush-Rove-Gonzales ahead of the real needs of New Mexicans, our troops, our Constitution, our environment, our health care system and our nation. Visits from Bush to raise big bucks for their campaigns are their reward, and a down payment on the continuation of his failed policies for years to come.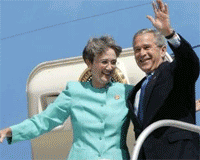 Over the next couple days, members and supporters of the Democratic Party of New Mexico, AFSCME, Democracy for New Mexico, the Iraq Summer campaign, Albuquerque Code Pink, the Sierra Club and Stop the War Machine, as well as ordinary citizens and grassroots-netroots activists, will be staging protests, honking horns and attending rallies and vigils to remind Bush, Domenici and incumbent Repub Rep. Heather Wilson where New Mexicans stand on the Iraq occupation and other Bush failures. We need to end the Bush-era horrors. To do that, we need to elect Democrats to office who will address the critical problems we face with fresh strategies based on honest analysis -- and with genuine integrity and energy.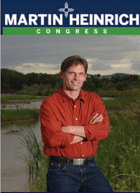 On this historic day when Attorney General Alberto Gonzales has finally resigned in disgrace and Bush is in New Mexico to thank Domenici for services rendered, we can start the ball rolling by joining the Beat Back New Mexico grassroots surge, sponsored by the Democracy for New Mexico and New Mexico FBIHOP netroots communities. To win, our candidates need the means to compete against Domenici, Wilson and the Bush-crony fundraising machine. We can help them do just that by raising thousands of small donations from the progressive netroots here in New Mexico and across the nation to fund change in America from the ground up.
Donate $5, $10, $20 or more right now at the Beat Back Bush New Mexico page at Act Blue and encourage your friends and family to do the same. Every single dollar counts when you donate to the campaigns of Martin Heinrich (above), who's running to take on Heather Wilson in New Mexico's first congressional district, and Don Wiviott (below), who's stepped forward to run against "Pajama Pete" Domenici.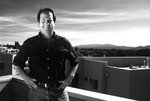 It's important to demonstrate and rally against the negative forces of Bush's disastrous presidency, but unless we do more to elect replacements for Bush rubberstamps like Domenici and Wilson, not much will change. Support Martin Heinrich and Don Wiviott NOW. Our ambitious goal is to raise $50,000 this week for each of their campaigns from thousands of activists dedicated to turning every state in the nation as BLUE as it can be.
While Bush is in Albuquerque's North Valley today collecting $1000 and $5000 donations from the few, and Alberto Gonzales is holding his resignation press conference, you can be an integral part of the New Mexico netroots effort to show the power of small donations from the many. Be a part of Beat Back Bush New Mexico. Click away.
NOTE: Also visit New Mexico FBIHOP for more on Beat Back Bush New Mexico.
August 27, 2007 at 10:16 AM in 2008 NM Senate Race, Beat Back Bush New Mexico, Democratic Party, Local Politics, NM-01 Congressional Race 2008 | Permalink
Comments
The Albuquerque Journal online has a short article about the protest today.
Posted by: barb | Aug 27, 2007 2:37:54 PM
Thank you all the people that went down on this monday morning to protest!!!
If you have not done some research about Wiviott yet, I suggest you do. He is a real strong candidate.
Go check him out then give him some cash!!!
Posted by: mary ellen | Aug 27, 2007 3:12:35 PM
There was high energy at the demonstration this morning on Rio Grande and it's great to see action for the candidates this early in the game. Even $5 helps.
Posted by: Old Dem | Aug 27, 2007 3:36:31 PM
I am up here in Seattle, and am glad you got out to protest Bush's visit. I was too sick to join the 800 people in Bellevue WA yesterday. I understand that Bush had to sneak in the back door of the hotel to aviod all the protestors.
Every single blogger should start their own actblue.com page for their favorite candidates. Hit up their friends, and other progressives to help you fundraise. I raised over $3,300 last cycle, and am off to a good start this time.
With actblue.com you can raise money, and track exactly how much you raised, and people can donate easily with credit cards.
http://www.actblue.com/page/takeourcountryback is my actblue page. Check it out.
Posted by: All Facts Support My Positions | Aug 28, 2007 7:29:49 PM