« Foley Case: Not the First Time Heather Wilson Tied to Youth Scandal Questions | Main | Progressive Voter Alliance of Las Cruces Hosts Successful Campaign Fair »
Tuesday, October 03, 2006
ABQ Police, Firefighter Unions & Mayor Chavez to Hold Public Endorsement Event for Madrid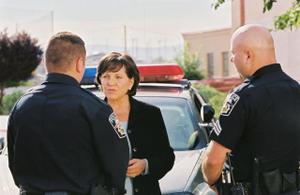 Patricia Madrid speaks with law enforcement personnel
The local unions for the Firefighters (IAFF: International Association of Firefighters) and Police (APOA: Albuquerque Police Officers Association) will appear at an event joined by Albuquerque Mayor Martin Chavez to publicly endorse the campaign of Democratic challenger Patricia Madrid (NM-01). AG Madrid will also attend and discussion will focus on law enforcement and safety issues. In the past, these unions have endorsed Republican incumbent Rep. Heather Wilson. This year, they see the need for a change.
The event will take place on Wednesday, October 4th, at 10:15 AM, at the Northwest corner of Albuquerque's Civic Plaza at 4th and Marquette, next to the amphitheater.
October 3, 2006 at 06:57 PM in Candidates & Races | Permalink
Comments
Oh, but I thought the local firefighters were "disenfranchised"?! Guess not... :-)
Posted by: < | Oct 3, 2006 8:49:43 PM
The Repubs are whining about everything. This is the way they get when they don't want to talk about the real issues and their party is going down in flames because of lying in just about every department. It is a big deal that both the firefighter and police unions in Albuquerque are for Madrid this time.
Posted by: Old Dem | Oct 4, 2006 9:03:01 AM
Post a comment