« Senator Lopez Sheds Light on Repub Distortions | Main | It Was 35 Years Ago Today »
Wednesday, May 04, 2005
DFA Meetups Today and Tomorrow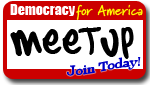 DFA - Democracy for New Mexico Meetups will be held in Santa Fe and Las Cruces tonight, and in Albuquerque Thursday night. Click on links in the Coming Events section of the right-hand sidebar on this page for event details or to RSVP.
Our Albuquerque Meetup will feature visits from Mayor Martin Chavez and District 7 City Council candidate Marianne Dickinson, as well as our honoring of citizen activists and NM legislators who were involved in the passage of the election reform bill, including Sen. Cisco McSorley, Sen. Gerald Ortiz y Pino, Rep. Danice Picraux and Rep. Ken Martinez. (Although Sen. Linda Lopez was invited, she'll be unable to attend because she's celebrating her mom's birthday.)
We'll also be hearing from Matt Henderson of ACORN about how we can help with their Living Wage project. State Democratic Party Resolutions Chair Mel O'Reilly will be reporting on events at the State Central Committee and Resolutins meetings this month and his views on where the Party should go from here. And of course we'll be hearing a number of announcements, including info on upcoming election reform fundraisers featuring investigative journalist Greg Palast. Come on down!
May 4, 2005 at 09:40 AM in DFA, DFNM - Albq, DFNM - Santa Fe, Events | Permalink
Comments
Post a comment