« Udall Nixes Senate Run, Joe Wilson Supports Wiviott | Main | Rep. Tom Udall Officially Announces He'll Stay in U.S. House »
Friday, October 05, 2007
Dennis and Elizabeth Kucinich to Campaign in NM Next Week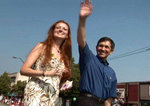 From Kucinich for President:
Presidential candidate, U.S. Congressman Dennis Kucinich will speak on Tuesday, October 9 at 6:00 PM at Smith-Brasher Hall on the (TVI) CNM campus at the SW corner of University and Coal in Albuquerque. Kucinich supports ending the occupation of Iraq, universal, single payer health care and impeaching Bush and Cheney.
Elizabeth Kuncinich will continue on in Albuquerque the following day, and will be giving her first campaign speech on behalf of her husband Dennis at Plumbers and Pipefitters Hall, Zuni and San Pedro at 6:30 PM on Wednesday, October 10. That same day at 9:30 AM she'll be holding a press conference with at the Center for Peace and Justice, 202 Harvard SE, Albuquerque.
Elizabeth will also be campaigning in Northern New Mexico. She'll participate in a tour and a small reception at Noon at Taos Pueblo on Thursday, October 11th. She'll also attend a reception at the Kachina Lodge in Taos from 2:00 to 4:30 PM that day and plans are being finalized for an appearance in Las Vegas, NM around 7:00 PM that evening.
For more information, contact Tony Isaacs, NM Volunteer Coordinator, at campaign@kucinichnewmexico.org, 505-776-2108, or Charles R. Powell at crp66@juno.com. Click for the national Dennis for President website and Kucinich New Mexico 2008.
October 5, 2007 at 11:32 AM in 2008 Presidential Primary | Permalink
Comments
Post a comment