« Sen. Feldman Guest Blog: Gun Control in New Mexico Has Been Lost Cause: NRA on Ascendant since 2003 | Main | Rich Americans Tell Congress to End Bush Tax Breaks for Top 2% »
Tuesday, July 24, 2012
NM Senator Udall Advocates for Constitutional Amendment at Hearing
From Senator Tom Udalls office: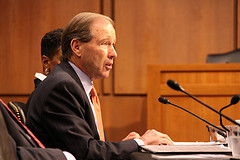 Photo above: Senator Udall testifying at hearing
At a committee hearing on Capitol Hill today, U.S. Senator Tom Udall (D-NM) built support for the constitutional amendment he is sponsoring to give Congress the authority to undo dangerous Supreme Court decisions like Citizens United and rein in the unprecedented flood of secret money in the campaign finance system.
"Money has poisoned our political system," Udall said. "We, as Americans, believe in government 'of the people, by the people, for the people' – and so we must work to put in place a constitutional amendment that will restore integrity to our elections and the legislative process."
 
Click above to see video of Udall at today's hearing.
In November 2011, Udall introduced S.J. Res. 29, a proposed amendment to allow Congress to regulate the raising and spending of money, including restricting independent expenditures by so-called "Super PACs". It would give the states the same authority to regulate campaign finance at their level. Udall's amendment currently has 23 cosponsors.
Legislatures in six states, including New Mexico, have called on Congress to send an amendment to the states for ratification. "Over the past few months, the unfair influence exerted by Super PACs has become abundantly clear to voters in New Mexico – and they are calling for campaign finance reform. Our Founders did not intend for elections to be bought and paid for by secret donors and special interests. My amendment simply puts our elections back in the hands of 'we the people'," Udall said.
At the hearing, Udall noted the long and bipartisan history of support for constitutional amendments dealing with campaign finance. Since 1983, bipartisan proposals similar to Udall's have been introduced in almost every Congress.
"James Madison argued that the U.S. Constitution should be amended only on 'great and extraordinary occasions'," Udall said. "I believe we have reached one of those occasions. I know amending the Constitution is difficult. And it should be. But I believe the growing momentum demonstrates that this is the right time for Congress to act," said Udall. "Our elections no longer focus on the needs and interests of individual voters, but are instead shaped by multi-million dollar ad campaigns funded by special interest groups with unlimited resources. Americans' right to free speech should not be determined by their net worth."
The hearing included testimony from other members of Congress and outside witnesses before the Senate Judiciary's Subcommittee on the Constitution, Civil Rights and Human Rights, was titled "Taking Back Our Democracy: Responding to Citizens United and the Rise of Super PACs".
Click here to view the legislative text of Senator Udall's amendment.
July 24, 2012 at 04:23 PM in Citizens United, Corporatism, Sen. Tom Udall, U.S. Constitution, video | Permalink
Comments