« 3/1 Meetup: One Good Reading of Lakoff and Hartmann Deserves Another | Main | 3/6: 100th Anniversary International Women's Day Celebration in Albuquerque »
Monday, February 28, 2011
Susana Martinez Repays Robert Aragon with Appointment to State Finance Board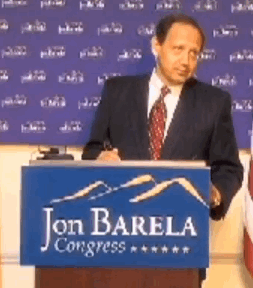 "Democrat" Robert Aragon backing Barela
On Friday, Republican governor Susana Martinez issued a press release announcing the nomination of Sherman McCorkle to the State Investment Council, as well as four individuals to serve on the New Mexico Board of Finance. Guess what? One of them is notorious Dem defector (or whatever he is these days) Robert Aragon, the cousin of former NM Senate Pro-Tem Manny Aragon. The other three are Thomas Tinnin of Albuquerque; Samuel Spencer of Hobbs and John Gasparich of Santa Fe.
Robert Aragon: Anything for Attention
You may remember that Robert Aragon, an Albuquerque attorney and former Democratic state lawmaker from 1979-87 who once served as Vice Chair of the House Appropriations and Finance Committee, made a big show of supporting the Martinez campaign last year. In fact, he headed the so-called Democrats for Martinez group, although it's difficult to understand how Aragon considers himself to be a real Democrat. He even voted for McCain over Obama.
Aragon also led a group of 12 other alleged Democrats in applying stickers to deface ballots at the Democratic Party of New Mexico's pre-primary convention last March. The stickers touted the candidacy Jon Barela, the Republican candidate for Congress in NM-01:
Aragon said Barela stickers were meant to protest progressive Democrats, who he said include Heinrich and who he claims are now controlling the state party.

"They are not Democrats; they are socialists," Aragon said.
Ten of the damaged ballots had names on them: Bernice Herrera, Kylee Aragon, Felix Nunez Sr., Leif Mendahall, Leif Mendahall Jr., Robert Aragon, Betty Garcia, Angie Muehller, Chris Romero and Robert Moss. Kylee Aragon is Robert's daughter and Robert Moss was at the time engaged to Aragon's other daughter, Ashlee. So it was a kind of Aragon family affair, and also a case of people getting elected to the DPNM's State Central Committee even though they are, essentially, supporters of the right-wing Republican agenda. How ethical. And childish. Aragon had previously been removed as a Democratic Party ward chair for publicly supporting and speaking at the campaign kickoff of Barela, which is against DPNM rules
Aragon's law firm was also identified as a contributor of $1,000 to the right-wing (allegedly nonpartisan) New Mexico Turnaround PAC, which was founded by oilman and then-NM Republican Party Chairman Harvey Yates. In the 2010 primary race, three Democrats received $4,000 apiece from the PAC. All three were running as challengers to incumbent Democratic legislators.
In House District 13 Matthew Archuleta got money ro run against Rep. Eleanor Chavez (Albuquerque), in House District 14 Michael Atler, received donations to run against Rep. Miguel Garcia (Albuquerque) and in House District 70, Barbara Casey got financial help in her run against Rep. Richard Vigil (Ribera). All of the challenges were unsuccessful. All three were known as candidates supported by big oil and gas interests, so I guess it's not surprising that Aragon supported Susana Martinez -- who got huge sums from such interests in her run for governor.
Irony
Last June, the Susana Martinez campaign announced she had been endorsed by the New Mexico Turnaround PAC and described the PAC this way:
NMTA supports a free market, capitalist economic system and understands that political corruption erodes the rights of the people, dissipates their public wealth and diminishes opportunities for private endeavors to flourish.
In the announcement, Robert Aragon, described as Vice President of the NMTA PAC, was quoted as saying:
We know that Ms. Martinez has a deep understanding that our state government has to provide a hospitable environment for businesses to thrive and for new companies to seek establishment here in the state. Improving the business climate is started by lowering taxes and by doing away with frivolous law suits and enacting comprehensive tort reform.
Rather ironic, to say the least, that a PAC supported by big oil and gas concerns, with their myriad lobbyists and deep pockets, would be described as anti-corruption fighters. Ryan Cangiolosi, who served as Susana Martinez's campaign manager and is now her Deputy Chief of Staff, was a board member of the NMTA PAC, as well as a business manager at the Jalapeno Corporation, one of Harvey Yates' businesses. What goes around comes around.
Susana Pays Back Aragaon
According to the New Mexico Secretary of State, Robert Aragon donated $5,000 to the Susana Martinez campaign on October 5, 2010, but the publicity he generated by his advocating for a Republican was no doubt worth way more to Susana. Now Robert Aragon is getting his payback for his campaign money and his other services rendered on behalf of Martinez. Oh, this can't really be called "pay to play," now can it? Isn't that what Susana has long said she is dedicated to getting rid of in politics? I guess it's all a matter of degree and who's doing the paying and the playing.
February 28, 2011 at 04:02 PM in Ethics & Campaign Reform, Finance, Investments, Jon Barela, Susana Martinez | Permalink
Comments
No wonder the scumbag didn't show up to the Ward and Precinct meetings. Mr. Aragon, just change your party affilition. Please!!
Posted by: Proud Democrat | Feb 28, 2011 4:25:41 PM
I feel so good about having Mr. Ethics and Transparency on the Finance Board! He reeks of ethics and transparency (in the upside down world).
Posted by: CC | Feb 28, 2011 5:12:12 PM
Santa Fe county clerk Valerie Espinoza supported Republican Diana Duran for Secretary of State. I wonder if she will be offered a job or receive help from Republicans for her new campaign to become a Public Regulation Commissioner ?
Posted by: Memba | Feb 28, 2011 10:30:59 PM
He is a democrat just like Jose garcia, former Democratic county chair in Dona Ana. Was on Martinez' team of demos for Susana. He then got a cool job from martinez. he also had the nerve to show up at the legislative Dinner this past January. We have someone similar in our county. he ran for office as a democrat. but in 2006 had been a republican. he attended our democratic meetings and was still registered as a republican. He finally changed back to democrat and then chose a republican as his under-sheriff, He now wants to run for county party chair. He said during the campaign after choosing a repuiblican running mate ,it is about the person not the party. my question, how do you want to run a party you obviously don't believe in.
Posted by: Stephanie dubois | Mar 1, 2011 9:51:48 AM
Stephanie is right about the formerly Republican registration of our sheriff candidate. But I have to say he worked really hard as a candidate and got the most votes of any Democratic candidate in Otero county, including the state-wide candidates. (He still didn't win. No Democratic candidate won in Otero county.)
Posted by: Ellen Wedum | Mar 1, 2011 12:56:50 PM
So what if he worked hard? What did he stand for? Right wing lies?
Posted by: Orey | Mar 1, 2011 3:01:58 PM
when the candidate was asked why he changed to republican, his answer was, I was trying to help out a friend. So, in other words he helped his friend by screwing our candidate. I know that he worked hard, we all did including Ellen Wedum.But we didn't choose republicans to run by our sides. If, as an officer of the democratic party I endorsed or chose or supported a republican, it would be grounds to have me removed from the party. My only real point in this is that we are in the fight of our life in 2012 and in my opinion, I think we should people in leadership that are true democrats that have no hidden agenda. The individual that I have talked about is not a bad person in anyway. Let's put the shoe on the other foot, do you think for one minute a republican would choose a democrat as a running mate. I don't think so.
Posted by: Stephanie dubois | Mar 1, 2011 3:42:00 PM
Robert Aragon has been a scumbag for a long time. I wonder if disgraced judge Ira Robinson will get a job with Susana too. He too supported her as a "Democrat" but he hasn't been one in real life for a long time. Funny how the "anti corruption candidate" keeps hiring people with shady pasts.
Posted by: Moonbeam | Mar 1, 2011 6:52:06 PM
This must be discussed at the State Central Committee Meeting . These folks could create a Tea Party Caucus within the Democratic Party !
Posted by: Memba | Mar 1, 2011 9:07:16 PM