« Sunday Chocolate Bunny Blogging | Main | Minimum Wage Raise: Are You Ready For the Blog-In, Because It's Time to Go »
Monday, April 17, 2006
Neil Young Records Anti-Iraq War Album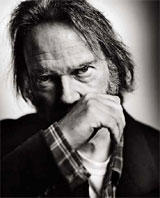 Leave it to Neil. Thirty-six years after he penned come ten new protest songs under the album title "Living With War." According to an article in The Independent:
It started as a rumour - gossip shared by fans on internet chat sites. Could it true, they asked? Could Neil Young, a cultural lodestone for a generation of country rock fans, really be turning his attention to President George Bush and the war in Iraq? Now Young himself has confirmed it. Not only has he recorded an entire album about the conflict, but in one of the songs he spells out who he thinks is to blame for the ongoing chaos and violence and what the consequences for that person should be. That track is called "Impeach the President".

"I just finished a new record - a power trio with trumpet and 100 voices," the 60-year-old says in a ticker-tape message posted at the bottom of his official website. "Metal folk protest? It's called Living with the War."

Further details about the album came from Jonathan Demme, the film maker who produced the recently released documentary Heart of Gold about the singer-songwriter. "Neil just finished writing and recording - with no warning - a new album called Living With War," he told the music magazine Harp by e-mail. "It all happened in three days ... It is a brilliant electric assault, accompanied by a 100-voice choir, on Bush and the war in Iraq ... Truly mind blowing. Will be in stores soon."

...His song urging that Mr Bush be impeached reportedly accuses him of "lying" and features a rap with the President's voice set against the choir singing "flip-flop" - an accusation Mr Bush and other Republicans aimed at John Kerry, the Democratic presidential candidate, during the 2004 election campaign.
More info available at Thrasher's Wheat and Young's official website. To get in the mood click play:
April 17, 2006 at 10:03 AM in Iraq War, Music | Permalink
Comments
Go Neil!!!
Can't wait to hear it.
Posted by: mary ellen | Apr 17, 2006 10:39:09 AM
Could it be that the antiwar and antiBush forces are finally emerging with enough power and focus to create a tipping point? Have our citizens finally had enough of the Republican lies, crimes, killing, hating and stealing? Now is the time to push even harder!
Posted by: Susan | Apr 17, 2006 11:17:28 AM
Let's hope we're getting somewhere. US troop deaths are already at 48 this month and we're just a little past halfway into it. See:
http://icasualties.org/oif/
2376 is the latest number on total US troop deaths. And the civilian Iraqi deaths are almost uncountable.
What are we fighting for? Mostly for the false pride of Bush and Rumsfeld if you ask me.
Posted by: Old Dem | Apr 17, 2006 12:23:33 PM
Great video clip. I think it's connected to Michael Moore's film Fahrenheit 911. I remember he used that song to close out the movie.
Posted by: Silver City Jan | Apr 17, 2006 2:10:27 PM
Hope it's good. Sounds like it's pretty stripped-down (except for the 100 voices), which bodes well. I've not been a big fan of Young's music over the years, but I respect the fact that he, somehow, has remembered that rock 'n roll is supposed to be prophetic, counter-cultural, anti-extablishment when the establishment is lethal, rather than a lucrative way to get your mug on magazine covers. I hope it comes out well in advance of the fall elections. Like tomorrow.
Posted by: John | Apr 17, 2006 4:25:53 PM
Post a comment