Wednesday, January 25, 2012
Indians Are On Cocaine: A Republican Perspective
The following is from Guest Blogger; Peter Moulson.
Those eager beavers who attended the hearing on Indian water rights in the House Energy and Agriculture committees may have taken aback by two voices pushing hard against the validity of Indian water rights. Apparently the Cocaine habit that Indians have from their dealer, the Feds, means they have too much of "our" water--so let's get the water back from the Indians.
Rep. Ezzell (R-Roswell) said that the federal government's fiduciary duty to honor its treaty obligations to Native Americans is "like a cocaine habit that we Americans just keep paying for no matter what."  What? Break Federal law to steal water rights for unspecified others?  We asked Rep. Ezzell if she would repeat her comments for us:
Of course anti-Indian language has been used for many, many years. It's all about the fact that we want whatever land and money that is not yet "ours". The intriguing linguistic connection here is that the Feds are at fault for feeding cocaine to the Navajo Nation (in this case), and if we white folks don't take their water (just to make things equitable) the world will be out of balance. The new balance will be provided by our Republican lawmakers if we give them the chance. Here is Rep. Bratton (R-Hobbs):
Of course they were both trying to make a bigger point, which was that the Navajo should not get any special benefit from federal water infrastructure investment in NW New Mexico because they didn't pay for it, "we did."
January 25, 2012 at 05:49 PM in Government, Guest Blogger, Native Americans, NM Legislature 2012, Water Issues | Permalink | Comments (6)
Saturday, December 10, 2011
Group Says: Fracking is not Healthy for Humans and Other Living Things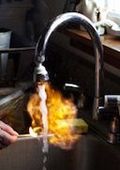 An international consumer advocacy groups has set its sights on clean water in New Mexico.
Food & Water Watch is concerned about hydraulic fracturing or "fracking" - a process used to extract natural gas from oil shale deposits. It's a practice the New Mexico organizer for the organization will be working to ban in the coming year. The group's state organizer, Eleanor Bravo, says fracking carries with it a host of dangers.
"The fracking fluid, which is injected at high pressure into the oil shale to release the natural gas, is laced with approximately 57 different carcinogens."
New Mexico Oil and Gas Association President Steve Henke acknowledges the use of carcinogens, notably benzene, in the fracking process. However, he expresses confidence that the water table is unaffected by hydraulic fracturing operations.
"Well, I absolutely do. As we drill through the fresh-water-bearing zones, there's at least two protective layers of steel casing and cement in that well bore that separate those fresh-water zones from any fluids coming in and out of the well bore."
Henke says history and monitoring have shown this to be an effective method for preventing commingling and creating protection for the water table during fracturing operations.
Bravo believes that's not enough. She points out that the fracking process is exempt from the Clean Water Act, and says an analysis of the chemicals used shows that as much as 50 to 55 percent of the fracking fluid remains in the strata, with the rest reclaimed as "produced water."
"Municipal water systems can't clean that kind of water."
Bravo adds the big concern is money, not the environment. She does not believe industry statements that the natural gas is simply a "bridge fuel" to tide the nation over until more alternative energy comes online.
"These oil and gas companies are poised to sell this natural gas to foreign countries. They're turning North America into the next Saudi Arabia."
Formerly part of Ralph Nader's group Public Citizen, Food & Water Watch will be opening an office in Albuquerque this month, adds Bravo.
December 10, 2011 at 11:55 AM in Environment, Fracking, Water Issues | Permalink | Comments (0)
Wednesday, October 12, 2011
Jobs: Obama Administration Announces Selection of Navajo Gallup Water Supply Project and 13 Others to be Expedited Through Permitting/Review Process
Yesterday, the Obama Administration announced the selection of 14 infrastructure projects around the country that will be expedited through permitting and environmental review processes. The administration says it's an important next step in its efforts to improve the efficiency of federal reviews needed to help job-creating infrastructure projects move as quickly as possible from the drawing board to completion. 
One of the 14 selected for expedition is the Navajo Gallup Water Supply Project, which will build two water treatment plants and deliver water through approximately 280 miles of pipeline, 24 pumping plants and numerous water regulation and storage facilities bringing a clean and sustainable water supply to the Navajo Nation in northwestern New Mexico. The Department of the Interior's Bureau of Reclamation will work to improve coordination between Federal and non-federal entities and to expedite land acquisition through the Bureau of Indian Affairs and Bureau of Land Management.
Congressman Ben Ray Luján of New Mexico's Third District applauded the move by the Obama Administration.
"During this difficult economic time it is critical that we move as quickly as possible to put people to work building and repairing our aging roads, bridges, and infrastructure," said Luján. "It is also important to provide a long-term municipal and industrial water supply for the Navajo Nation, the city of Gallup and the Jicarilla Apache nation. The latest step by the Obama Administration to expedite the permitting process for the Navajo Gallup Water Supply project recognizes the urgent need to not only spur job creation and economic growth, but to also provide our communities with a safe and reliable source of water," Luján added.
This announcement comes as a result of the Presidential Memorandum President Obama issued in late August at the recommendation of his Council on Jobs and Competitiveness. Through the Presidential Memorandum, the President directed agencies to expedite environmental reviews and permit decisions for a selection of high priority infrastructure projects that will create a significant number of jobs, have already identified necessary funding and where the significant steps remaining before construction are within the control and jurisdiction of the federal government and can be completed within 18 months.  
As the President's Council on Jobs and Competitiveness has highlighted, improving the efficiency and effectiveness of federal permit decisions and environmental reviews is one critical step the federal government can take to accelerate job creation. While many of these review processes are not under the control of the federal government -- state, local, and tribal governments are partners in the effort, as well -- the Obama Administration says it is committed to reforming the federal permitting and environmental review process to ensure that it runs as efficiently as possible while continuing to protect the health and safety of all Americans, and to preserve opportunities for public participation in federal decision-making.
The Administration will apply broadly the information gathered while expediting these projects to further improve the permitting process for all projects.  And as part of the Administration's commitment to efficiency and transparency, beginning at the end of November, the public will also be able to track the progress of projects under review through one central website.
Below is a list of the 13 other projects selected by those agencies, which represent diverse sectors of the economy and combined will support the creation of tens of thousands of jobs. 
Department of Transportation
Tappan Zee Bridge, New York: The Tappan Zee Bridge project will replace a deficient bridge that is a critical link in the regional transportation network. While the project is an ambitious one and construction will not begin for several years, improved coordination amongst multiple federal agencies will reduce the time needed to proceed from a Draft Environmental Impact Statement to a Record of Decision, potentially reducing the project timeline by multiple years. 
Crenshaw/LAX, California: The Crenshaw/LAX project will extend the Los Angeles County Metropolitan Transportation Authority's (LA Metro) existing Green Line light rail nearer to the Los Angeles International Airport and connect it to the Expo Line light rail. The Federal Transit Administration (FTA) is providing additional targeted technical assistance to shorten the approval time for this project by several months. In addition FTA and LA Metro will pilot FTA's new streamlined risk assessment approach for major transit projects to ensure risks and associated mitigation measures are identified and addressed promptly. 
Whittier Bridge, Massachusetts: The Whittier Bridge project on I-95 in Massachusetts will replace an existing bridge over the Merrimack River with a new, multi-modal bridge that will add lanes as well as bicycle and pedestrian lanes. The lead agency, resource agency and project sponsor will facilitate better coordination to accelerate permit review and approval within six months, including an agreed upon schedule for document reviews and establishing a process for dispute elevation and resolution. 
Provo Westside Connector, Utah: The Provo Westside Connector highway project in Utah will build a new arterial roadway between Provo Airport and Interstate 15 to improve roadway system linkage in southwest Provo, UT. By increasing coordination among federal and state agencies, permit review and approval can be expedited, saving six or more months.  This time savings will be achieved through an agreed upon schedule for document reviews and establishing a process for dispute elevation and resolution. 
Baltimore Red Line, Maryland: The Baltimore Red Line is a 14 mile rail transit line connecting the suburban areas west of Baltimore to downtown, the Inner Harbor and Fells Point areas, and the Johns Hopkins Bayview Medical Center Campus. This project has many outstanding permitting issues that will require substantial cooperation between a number of resource and other federal agencies. By engaging in early negotiations with all necessary federal agencies and optimizing coordination amongst the agencies this project will begin construction earlier than currently planned, potentially reducing the project timeline by two years.
Next Generation Air Transportation System Infrastructure Project, Texas: This Federal Aviation Administration (FAA) pilot project will create Next Generation (NextGen) aviation procedures, including the implementation of new, more efficient routes, for the two airports in Houston, Texas. These performance based navigation procedures must comply with internal FAA approvals as well as reviews under the National Environmental Policy Act. Integrating these reviews will expedite this project and studying the impacts of the new procedures will serve as a demonstration project for future NextGen procedural improvements. 
Department of Housing and Urban Development
Denver Mariposa Housing Project, Colorado: In connection with a HOPE VI grant from the Department of Housing and Urban Development, this project will revitalize a distressed housing project located in South Denver. Portions of the project are underway and HUD will expedite its Part 58 review and review of the Revitalization Plan for the next phases.
City Market at "O" Street, District of Columbia: Located in Washington, DC, City Market at "O" Street is a mixed-use property consisting of 400 market-rate residential units, 16,000 square feet of retail space and a 57,000 square foot supermarket with financing under the Federal Housing Administration (FHA) Section 220 insured mortgage program. In conjunction with this project and others, FHA has embarked on an effort to streamline the approval process for loans, including review of related federal permits and is working with the Advisory Council on Historic Preservation to expedite the National Historic Trust approval, subject to Section 106 of the National Historic Preservation Act. 
Department of Commerce
Arroyo Sequit Watershed and Qwuloolt Estuary Coastal Habitat Restoration Project, California: This habitat restoration project is composed of two activities. The first activity is the Arroyo Sequit Creek Steelhead Barrier Removal in California, which will involve construction activities to remove existing physical barriers, including two dry weather crossings and one check dam, along the Arroyo Sequit watershed in northern Los Angeles County, CA. The second activity is the Qwuloolt Estuary Restoration in Washington State and will involve restoration construction activities to restore 350 acres of currently isolated floodplain. The National Oceanic and Atmospheric Administration will work with the Army Corps of Engineers to expedite construction permits by up to one year, with the goal of beginning construction as early as 2012.
West Coast Coastal Habitat Restoration Project, California and Washington: This project is composed of four habitat restoration activities including Sears Point Tidal Restoration in California; Napa River Salt Marsh Restoration in California; Riverside Ranch Restoration in California; and the Salt Creek Estuary Reconnection in Washington State. The scope of these project activities will involve construction elements that will contribute to habitat restoration in these regions. This project will be expedited by up to one year by the facilitation of interagency resource coordination between the Army Corps of Engineers and the National Oceanic and Atmospheric Administration.
Department of Agriculture
Cleghorn Ridge Wind Project, California: This wind generation project by Cleghorn Ridge Wind LLC would consist of up to 52 wind turbine generators aligned in a general east-west direction along the ridgeline at Cleghorn Ridge, in the San Bernardino National Forest. USDA Forest Service, U.S. Air Force, and Federal Aviation Administration will cooperate to complete the review of this project by federal agencies in as little as 18 months, rather than the three years originally estimated.
Deerfield Wind Power Project, Vermont: This wind generation facility by Deerfield Wind LLC in the towns of Searsburg and Readsboro in the Green Mountain National Forest in Vermont would consist of 15 two-megawatt turbines.  USDA Forest Service is working to expedite a Final Environmental Impact Statement before December 2011.
Dakota Prairie and Little Missouri National Grasslands, North Dakota and South Dakota: USDA Forest Service is working with an expedited process for reviewing oil and gas applications for wells and ancillary facilities such as pipelines and power lines in the Dakota Prairie and Little Missouri National Grasslands. There are approximately 80 applications currently in file. The expedited process involves early coordination with the U.S. Department of Interior Bureau of Land Management and use of the 390 Categorical Exclusion provided under the 2005 Energy Policy Act.
Comprehensive Review of Infrastructure Best Practices
In addition to unveiling the projects selected for expedited review today, the Administration will also instruct agencies throughout the executive branch to gather comprehensive information regarding their reviews of infrastructure projects, and the best practices they have developed. The Administration says it will use that information to develop recommendations to further improve the efficiency, effectiveness, transparency and accountability offederal permitting and environmental review, without compromising the responsibility to protect safety, public health, and the environment, through measures such as adopting sector-specific guidelines for timely reviews of permitting applications; encouraging early engagement with stakeholders; coordinating federal reviews with those of state, local and tribal regulatory agencies; and instituting greater oversight of the overall process.
Some of the Key Steps Taken By the Obama Administration On Permitting Reform:
Yesterday's announcement is the latest in a series of "common-sense steps" the Obama Administration says it has taken to improve the efficiency and effectiveness of federal permitting and review. According to the President, these steps are helping to speed job-creation in the near term while increasing our competitiveness and strengthening our economy in the longer term. Just as importantly, the Administration says it has taken steps to also ensure that permitting and review processes continue to provide safeguards for public health and the environment while offering opportunity for constructive engagement by stakeholders.
A statement released by the Adminstration listed these examples:
Just last week, the Obama Administration announced it will accelerate the permitting and construction of seven proposed electric transmission lines. This move will speed the creation of thousands of construction and operations jobs while transforming the nation's electric system into a modern, 21st century grid that is safer and more secure, and gives consumers more energy choices. The public can track the progress of these and other transmission projects at http://trackingsystem.nisc-llc.com/etrans/utility/Search.seam. This effort is the latest achievement resulting from a 2009 agreement between nine federal agencies that has improved coordination among federal agencies, states, and other stakeholders involved in siting and permitting transmission facilities on Federal lands. 
In November 2010, the Council on Environmental Quality issued commonsense guidance for federal agencies on the use of categorical exclusions to improve the efficiency of the environmental review process under the National Environmental Protection Act. When used appropriately, categorical exclusions help agencies reduce unnecessary paperwork and delay, by using research and experience to identify in advance categories of activities, like routine facility maintenance, that do not need to undergo intensive environmental review because they do not have significant environmental impacts.
Over the past two years, the Department of Housing and Urban Development, Department of Transportation and the Environmental Protection Agency have worked together to promote sustainable communities. For example, by partnering with local governments, the development community, and other key stakeholders, these agencies have helped to identify and remove key barriers to sustainable design and green building in their permitting process by increasing awareness of local ordinances that impact design, renovation and maintenance of buildings and the sites at which they are located.
Earlier this summer, the President signed an Executive Order to promote the safe, responsible, and efficient energy resources in Alaska. The EO established a working group to facilitate coordinated and efficient energy development and permitting in Alaska while also ensuring that all proper environmental and safety standards are met.
October 12, 2011 at 04:08 PM in Economy, Populism, Environment, Jobs, Native Americans, Obama Administration, Regulation, Rep. Ben Ray Lujan (NM-03), Water Issues | Permalink | Comments (0)
Tuesday, September 27, 2011
New National Report: How Gov. Susana Martinez's Big Business Agenda Endangers New Mexicans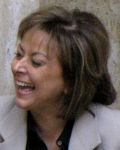 Just the facts! Food & Water Watch, joined by Conservation Voters New Mexico and the New Mexico Federation of Labor, today released a report (pdf) that outlines numerous examples of how Governor Susana Martinez has given special privilege to industries like oil and gas, industrialized dairy, homebuilders and mining -- at the expense of environmental protection and the local economy. The well-documented report also provide useful charts that demonstrate -- in no uncertain terms -- how and why the Martinez administration puts politics and campaign donor wishes ahead of the needs of New Mexicans and protecting our vital natural resources.
Immediately following a press conference that took place in front of the Capitol Roundhouse at 12:30 PM, the groups and other concerned New Mexicans hand-delivered the report to Governor Martinez's office and demanded that she give advocates for small business, working families and the environment a seat at the table that has otherwise been reserved solely for big industry.
"New Mexicans are fed up with Governor Martinez's secret task forces, industry appointments and decisions that do little to address the dire economic and environmental problems we face," said Food & Water Watch New Mexico organizer Eleanor Bravo. "We are here today to remind Governor Martinez that she works for us –- the residents of New Mexico -– and not the big industries that threaten our health, our environment, worker rights, and home-grown small businesses."
As the report says, "From the moment she became New Mexico's governor on January 1, 2011, Susana Martinez has worked overtime to dismantle key protections that the state put in place for the benefit of New Mexicans and the air, water and land they cherish ... Unfortunately, Governor Martinez, who swept into office with the help of campaign donations from oil and gas, mining, mega-dairy and other big industries, has demonstrated little restraint granting the wishes of those who want to see the state's environmental protections rolled back."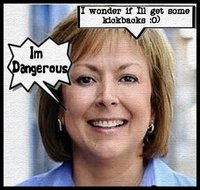 Big money talks -- and Susana Martinez listens. The report notes that oil and gas, industrialized dairy, mining and the construction industries all were big financial supporters of the Martinez gubernatorial campaign. Oil and gas gave more than $1 million to candidate Martinez, homebuilders and general contractors gave $621,000 and the livestock and dairy industry gave $267,900.
The must-read report, Private Profits, Public Threats: How Governor Martinez's Big Business Agenda Endangers New Mexicans (pdf), describes how in her first six months in office, Martinez has rapidly worked to roll back the rules and regulations that protect New Mexico's natural resources, public health and working families. It explains how her "Small Business-Friendly Task Force" does not truly represent small businesses, and how Martinez's big business agenda is particularly harmful to lower income, predominately Hispanic communities in New Mexico.
The report chronicles many examples of how Martinez has ignored the concerns of health and environmental advocates to favor the agendas of the big industries that gave hundreds of thousands of dollars to her gubernatorial campaign. Examples include:
Undermining pollution controls for factory farms
Attempting to abolish the Water Quality Control Commission
Paving over the Pit Rule that protects groundwater from oil and gas drilling waste
Pocket-vetoing local food procurement bill
Firing the State Labor Board
Vetoing unemployment benefits
"Governor Martinez has launched an aggressive attack on the safeguards on which New Mexicans depend to protect the water we drink and the air we breathe," said Sandy Buffett, Executive Director of Conservation Voters New Mexico. "In our view, her systematic dismantling of these safeguards threatens the security of our families and communities."
Bottom Line:
This chronicle of Governor Martinez's words and deeds during her first eight months in office makes her strategy quite clear -– she's taken campaign cash from big industry, she's appointed those industry players to key posts in state government and now she's cutting the protections that keep New Mexicans and their precious air, water, food and land safe from those industries.
The report and corresponding fact sheets in Spanish and English can be downloaded for free at the Food & Water Watch website.
Food & Water Watch works to ensure the food, water and fish we consume is safe, accessible and sustainable. So we can all enjoy and trust in what we eat and drink, we help people take charge of where their food comes from, keep clean, affordable, public tap water flowing freely to our homes, protect the environmental quality of oceans, force government to do its job protecting citizens, and educate about the importance of keeping shared resources under public control. See www.foodandwaterwatch.org.
September 27, 2011 at 11:44 PM in Energy, Environment, Food and Drink, Labor, NM Legislature 2011, Regulation, Susana Martinez, Water Issues | Permalink | Comments (0)
Sunday, August 21, 2011
45 More Arrests at Tar Sands Pipeline Protest at White House, Including Lora Lucero of Albuquerque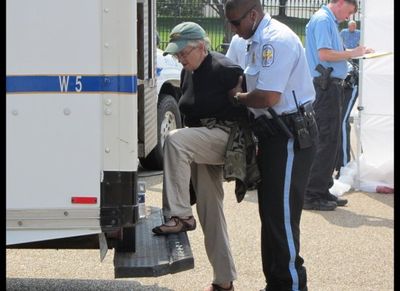 Lora Lucero being arrested in DC today. More photos.
Today, 45 more activists representing a variety of age groups and backgrounds were arrested in front of the White House as they participated in the second day of Tar Sands Action, a planned two-week exercise in civil disobedience to protest the planned Keystone XL pipeline from the filthy tar sands of northern Alberta down to refineries at the Gulf of Mexico. One of those arrested today was well-known Albuquerque grassroots activist Lora Lucero. On a status update on Facebook, Lora said, "I was arrested at the White House by the National Park Service police today. After booking and paying $100 fine, we were all released."
Bravo, Lora! Thanks for so ably representing us at one of the most important demonstrations in the green energy era! As anyone with a functioning brain knows, it's now or never if we want to stop the horrible impacts of fossil fuels on global climate in time to make a difference. Outside of Saudi Arabia, the tar sands of Alberta represent the largest remaining pool of oil in the world. As many have pointed out, it generally takes more energy to extract the oil from the tar sands than they provide, and even the process of extracting it is incredibly damaging to the environment in terms of air and groundwater.
Demonstrators are uging President Obama to refuse to sign a document that would permit the pipeline to cross our northern border. The President has the power to allow or stop the pipeline on his own. He does not need the approval of Congress, the State Department or any other governmental entity to do so. In other words, he has nobody to blame and no valid excuses to offer if he allows the pipeline -- which is needed by the massive and filthy tar sands operations in Canada if they are to remain financially viable.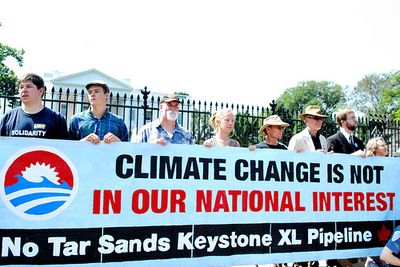 Click to sign a petition to the President. It says: "No to Keystone XL. The tar sands represent a catastrophic threat to our communities, our climate, and our planet. We urge you to demonstrate real climate leadership by rejecting the requested permit for the Keystone XL pipeline and instead focus on developing safe, clean energy."
All the way back to his campaigning days, Obama has often talked the green energy talk. Now it's time to see if he will walk the walk by refusing to allow the pipeline -- or if he will cave to vested fossil fuel interests. Bill McKibben, a key organizer of the protests, calls the Obama administration decision a referendum on the president's climate change record, noting the decision rests solely with the executive branch.
Yesterday, on the first day of the protest, more than 65 people committed peaceful civil disobedience at a sit-in in front of the White House and more than 50 were arrested and detained by U.S. Park Police. Those arrested on the first day included Bill McKibben, the prominent climate activist and founder of 350.org; Jane Hamsher, who founded the popular liberal blog Firedoglake; and Gus Speth, whose career includes co-founding the Natural Resources Defense Council and chairing the White House Council on Environmental Quality in the Carter Administration.
Addressing President Obama's power to stop the pipeline, McKibben said in Lafayette Square Saturday morning, "He doesn't have to go through the crazy climate deniers in Congress to be able to do the right thing. If Barack Obama mans up, says no to this thing, it will send a surge of electricity through all of the people that voted for him three years ago. It will be the reminder of why we were so enamored of this guy in 2008."
Despite previous promises to allow same-day releases of those arrested upon posting of bail, authorities decided to hold most of those arrested on Friday until at least Monday in order to deter more people from risking arrest. Talk about an ironic development:
The Park Police were especially concerned that sit-ins would continue during the week of events beginning on August 28 surrounding the dedication of a new memorial to civil rights leader Martin Luther King Jr., one of the greatest exponents of creative nonviolence.
Park Police must have changes their minds about this policy as those arrested today are reportedly being released after posting bail. 
More than 2,000 people from all 50 states and Canada have registered at Tarsandsaction.org to take part in similar sit-ins of 50-100 people everyday for the next two weeks until September 3. There's still time to sign up to participate or make a donation. You can send a message of support to demonstrators here.
For more information, see our previous post on this issue. You can follow continuing coverage on Daily Kos and http://www.tarsandsaction.org/
August 21, 2011 at 05:09 PM in Climate, Energy, Environment, Obama Administration, Water Issues | Permalink | Comments (0)
Saturday, August 20, 2011
(Updated) Bill McKibben: A Watershed Moment for Obama on Climate Change; White House Sit-Ins Start Today
Update: Click for photos from day one of the protest.
*********
Today, activists are gathering in front of the White House to urge President Obama to refuse to sign a certificate of national interest that's needed in order to allow the Keystone XL pipeline to cross the Canadian-U.S. border. The two-week protest will include sit-ins and other peaceful acts of civil disobedience. You can sign a petition to the President on this issue at the Stop the Tar Sands Pipeline action page. You can follow the action on the group's Facebook page. President Obama alone can stop this horror. No Congressional action is required, so he has no excuses this time.
By Bill McKibben: Ain't eBay grand? For $10 you can buy a sack of 50 assorted Obama '08 buttons, and that's what I've been doing. If you look closely, you might see them this weekend on the lapels of some of the global warming protesters holding a sit-in outside the White House.
Already, more than a thousand people have signed up to be arrested over two weeks beginning Aug. 20 — the biggest display of civil disobedience in the environmental movement in decades and one of the largest nonviolent direct actions since the World Trade Organization demonstrations in Seattle back before Sept. 11. (Among the first 500 to sign up, the biggest cohort was born in the Truman administration, followed closely by FDR babies and Eisenhower kids. These seniors contradict the stereotype of greedy geezers who care only about their own future.)
The issue is simple: We want the president to block construction of Keystone XL, a pipeline that would carry oil from the tar sands of northern Alberta down to the Gulf of Mexico. We have, not surprisingly, concerns about potential spills and environmental degradation from construction of the pipeline. But those tar sands are also the second-largest pool of carbon in the atmosphere, behind only the oil fields of Saudi Arabia. If we tap into them in a big way, NASA climatologist James Hansen explained in a paper issued this summer, the emissions would mean it's "essentially game over" for the climate. That's why the executive directors of many environmental groups and 20 of the country's leading climate scientists wrote letters asking people to head to Washington for the demonstrations. In scientific terms, it's as close to a no-brainer as you can get.
But in political terms it may turn out to be a defining moment of the Obama years.
That's because, for once, the president will get to make an important call all by himself. He has to sign a certificate of national interest before the border-crossing pipeline can be built. Under the relevant statutes, Congress is not involved, so he doesn't need to stand up to the global-warming deniers calling the shots in the House.
But the president does need to stand up to the fossil fuel industry, which has done its best to influence the decision. Since the State Department plays a role in recommending a decision, the main pipeline company helpfully hired the former national deputy director of Hillary Clinton's 2008 presidential campaign as its lead lobbyist. WikiLeaks documents emerged recently showing U.S. envoys conspiring with the oil industry to win favorable media coverage for tar sands oil. If you were a cynic, you'd say the fix was in.
Still, the final call rests with Barack Obama, who said the night that he clinched the Democratic nomination in June 2008 that his ascension would mark "the moment when the rise of the oceans began to slow and our planet began to heal." Now he gets a chance to prove that he meant it. In basketball terms, he's alone at the top of the key — will he take the 20-foot jumper or pass the ball? It's a rare, character-defining moment. Obama can't escape it simply by saying that someone else will burn the oil if we don't. Alberta is remote, and its only other possible pipeline route — to the Pacific and hence Asia — is tangled in litigation. That's why the province's energy minister told Canada's Globe and Mail last month that without the Keystone pipeline Alberta would be "landlocked in bitumen," the technical name for the heavy, gooey tar that is its chief export. Critics may argue otherwise, but Obama's call is key; without it, that oil will stay in the ground for at least a while longer. Long enough, perhaps, that the planet will come fully to its senses about climate change.
It's hard to predict what will happen. Earlier this summer Al Gore tossed up his hands in despair: "President Obama has never presented to the American people the magnitude of the climate crisis," Gore said. "He has not defended the science against the ongoing withering and dishonest attacks." Yet it's hard to give up on the image of the skinny senator from Illinois and the young people who were his most fervent supporters — young people who, according to pollsters, wanted a climate bill by a 5-to-1 margin. That didn't happen, of course; for now, the Keystone pipeline is the best proxy we have for real presidential commitment to the global warming fight.
Hence the buttons. Many of us will be wearing them while we sit outside his house, in an effort to show that we're not, exactly, protesting. We're trying to rekindle some of that passion from his groundbreaking campaign. We're trying to remind ourselves and the president how good it felt to be full of hope.
Bill McKibben is the Schumann distinguished scholar at Middlebury College in Vermont and has helped organize Tarsandsaction.org.
This op-end has been published in a number of newspapers including the Washington Post and the Albuquerque Journal.
Here are some resources to learn more about the Keystone XL tar sands pipeline project:
Canada and Its Tar Sands: What the Country Can Learn From Brazil About Protecting the Environment
Friends of the Earth factsheet
Solve Climate article on recent spills and approval process
National Geographic Photo Essay about the Tar Sands
Natural Resources Defense Council factsheet on Keystone XL
U.S. Climate Protests Shift to Blocking Keystone XL Pipeline Approval
August 20, 2011 at 07:26 AM in Climate, Energy, Environment, Obama Administration, Water Issues | Permalink | Comments (0)
Saturday, July 30, 2011
Latino Sustainability Institute: Cuts to Land and Water Conservation Fund Disastrous for Preserving New Mexico's Land and Water Heritage
The following is a statement from Arturo Sandoval, Executive Director of the New Mexico-based Latino Sustainability Institute, on the steep cuts to the Land and Water Conservation Fund proposed in the U.S. House of Representatives Interior-Environment Appropriations bill for fiscal year 2012:
"Some of the leaders in the House of Representatives are putting politics and their anti-conservation agenda ahead of the best interests of the people of New Mexico. The Land and Water Conservation Fund has not only preserved thousands of acres of public lands for recreation, it has also funded the protection of vital watersheds in New Mexico, including the Rio Grande and Chama Wild and Scenic Rivers as well as lands on all five of the National Forests located in New Mexico.
"Protecting vital water resources and preserving New Mexico's cultural heritage go hand in hand. By cutting the Land and Water Conservation Fund, we are threatening that heritage and the legacy of generations of Northern New Mexicans who acted as good stewards of these precious and rare natural resources."
"The Latino Sustainability Institute greatly appreciates the strong advocacy of Representatives Heinrich and Lujan as well as Senators Bingaman and Udall for the Land and Water Conservation Fund. We urge Congressman Pearce to also work to ensure the Land and Water Conservation Fund is well funded so that we may pass on to future New Mexicans a land and water legacy that we can be proud of."
Here is some background information and a one-pager (pdf) on what the Land and Water Conservation Fund means to New Mexico:
The proposed level of funding for the LWCF proposed in House FY2012 Interior-Environment Appropriations bill is $65.8 million, nearly 80 percent below the enacted level of $301 million for FY2011.
This week on the House floor, amendments passed by voice vote added an additional $25 million to LWCF for FY2012, bringing the total to $90.8 million, still 70 percent below 2011 levels and 90 percent below the authorized level for LWCF.
The LWCF is not paid for by tax dollars. Rather, it is funded by fees generated from off-shore drilling. So cutting the fund only hurts efforts to preserve wild lands and build local parks, pools and recreation spaces.
The LWCF represent a promise made to the American people in 1964. This Congress should not betray this long-standing commitment.
A telephone poll of 800 likely voters conducted during the week of July 10, 2011, found that an overwhelming majority -- 88% -- of voters support continuing to deposit fees from offshore oil and gas drilling into the LWCF. In 2009, 81% of voters supported continued LWCF funding.
Voters from all major segments of the electorate support continued funding for LWCF, including 93% of Democrats, 87% of independents, and 83% of Republicans, as well as 95% of Latinos, 88% of whites, and 85% of African Americans.
The poll was undertaken jointly by two research firms, one Republican (Public Opinion Strategies) and one Democratic (Fairbank, Maslin, Maullin, Metz & Associates). The poll's margin of error was +/- 3.46%.
July 30, 2011 at 10:14 AM in Economy, Populism, Environment, Land Issues, NM Congressional Delegation, Water Issues | Permalink | Comments (2)
Monday, June 06, 2011
MRGCD Board Candidate John P. Kelly: Keep the Valley Green

This is a guest blog by John P. Kelly, who is one of six candidates running in the June 7 non-partisan race for the Board of the Middle Rio Grande Conservancy District "MRGCD" in Bernalillo County. The MRGCD manages the network of irrigation canals, ditches, drains, levees, and diversion dams from Cochiti Reservoir to the Bosque del Apache, south of Socorro. It is funded by taxes paid by property owners who live along the river.  Only those property owners can vote in Tuesday's election.
There's no doubt Albuquerque is special place, and our river and green valley are part of the reason why. The Rio Grande is our region's life-giving water, what sustains and defines us. I was born and raised in Albuquerque, and grew up fishing in the clear ditches, catching carp, and sometimes trout. I value our Middle Rio Grande valley, our water, and long standing rural traditions.
Recently retired as the Executive Engineer at the Albuquerque Metropolitan Arroyo Flood Control Authority (AMAFCA), I chair the New Mexico Watershed and Dam Owners Coalition. I am running for the Middle Rio Grande Conservancy District (MRGCD) Board because I am passionate about serving and believe we must do a better job managing our water if we are going to "keep the valley green."
As our state's largest irrigation system, the Conservancy should lead in water management and making the most of every drop of this valuable resource in our desert environment. However, the Conservancy has fallen short in its mission. For far too long the agency has been run from within, with major issues hidden from the Board and public. Clashes over communication, conflicts-of-interest, and never ending lawsuits must end. It's going to take new leadership to reform the Conservancy District and tackle tough problems like managing our water in times of shortage, balancing urban and rural interests, and increasing accountability so we use our tax dollars responsibly.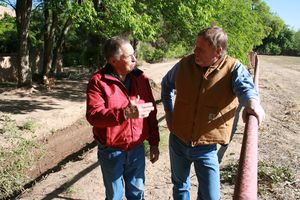 As a MRGCD Board Member, I will: 
Improve how we manage our water 
Balance rural and urban interests and the use of our canals and ditches
Stand up for increased accountability and efficient use of our tax dollars
I am honored to have the support of Senator Dede Feldman, Representative Bill O'Neill, City Councilor Debbie O'Malley, and many other prominent Democrats. Many of you know that Senator Feldman has been working for years to bring accountability to the MRGCD. She and I have worked together on issues involving the District, including legislation ultimately sponsored by Senator Linda Lopez, to create the Middle Rio Grande Levee Task Force.
The District should be accountable to all of its ratepayers. Bernalillo County ratepayers fund the majority of the MRGCD budget. Many of them are non-irrigators; they use the MRGCD system for walking, horseback riding, and enjoy the tranquility of the ditch network. As a Board member, I will be sure that the MRGCD rights-of-way are managed for multiple uses. These uses include pedestrians, equestrians, and wildlife habitat in the Valley. Neighborhood ditches should be preserved as they are, with access control preventing ATV and motorcycle use, while allowing pedestrians and equestrians to enjoy this lovely, tree-lined network of dirt paths.
The MRGCD works are 80 years old and the District has a responsibility to keep the system -- essentially running all the way from Cochiti Lake to Bosque del Apache -- functioning and in repair. A condition assessment of the MRGCD's irrigation and flood control infrastructure is needed, followed by a rehab program on the major structures - gates, levees, and main canals. Better maintenance and rehab can be carried out in a manner that respects the important environmental and aquifer recharge features of the MRGCD system. I believe that through better maintenance and rehab of the system, we can improve the efficiency of water delivery to farmers and improve our ability to meet the needs of future water supply of the Valley. As the region heads further into the ongoing drought, delivery of irrigation water and preserving agriculture in the Valley is critical.
As a Board member, I will re-establish the MRGCD Board's primary purpose of policy making, and will ensure that the MRGCD staff and legal team carry out those policies. In my role as Executive Engineer of AMAFCA, I was able to forge solutions among agencies for storm water management that addressed multiple needs: flood control, environmental stewardship, storm water quality improvements, and multi-use, ranging from passive and active recreation; to agricultural leases and community gardens within flood control ponds on the valley floor. I would like to bring this experience to the Board of the MRGCD.
Tuesday is Election Day
Finally, the MRGCD election process, where there are 47,000 qualified voters with less than 5% voter turnout, is in need of significant reform. I will support actions that will increase voter turnout, such as moving the election to coincide with other local elections, or mail-in balloting.
I encourage you to go to my website (www.kellyforthevalley.com) to find out more about me, my priorities, and voting.  Feel free to contact me at 362-1270. 
I would appreciate your support.
John P. Kelly
This is a guest blog by John P. Kelly. If you'd like to submit a piece for consideration as a guest blog, contact me by clicking on the Email Me link at the upper left-hand corner of the page. Publication of a guest blog does not necessarily mean that we agree (or disagree) with the points made.
June 6, 2011 at 10:41 AM in Candidates & Races, Guest Blogger, Water Issues | Permalink | Comments (1)
Friday, June 03, 2011
MRGCD Board Candidate Elaine Hebard: Keeping Promises and Meeting Challenges

This is a guest blog by Elaine Hebard, a Democrat who is running for the Middle Rio Grande Conservancy District in Bernalillo County. The MRGCD election is June 7, 2011.
My name is Elaine Hebard and I am a candidate for the Middle Rio Grande Conservancy District (MRGCD) Board. I'm running because, above all else, I want to ensure that those who come after us won't have to make ruthless 'either/or' decisions about who -- or what -- has the right to water in the future.
Various recent mailers have raised issues such as whether the District has adequately maintained levees and ditches, been receptive to recreational opportunities and been open about its financial managment. But what is omitted in these discussions is any sense of the urgency about our water resource itself.
Think about the person who responds to the tap on the shoulder while the pickpocket is lifting his wallet. Those issues come close to being distractions when compared to the overall health of our ecosystem and our water. The current drought highlights its tenuous existence. For decades, we have consumed more water than is renewably supplied, making up the deficit with groundwater. As an invisible deficit, consequences of living beyond our means may not show up by any specific date -- providing a useful excuse to office holders.
If we don't acknowledge the benefits that the District provides, then we won't be ready and willing to take steps to preserve it. We'll continue to transfer water from agriculture to urban uses without considering the overall effect such transfers have. We'll continue to act as if there will be new fonts of water to bail us out. We'll continue to think that there will be water in the ditches.
Anyone who seeks to serve as an MRGCD director needs a clear understanding of the conservancy's statutory responsibility to deliver irrigation water, and to provide drainage and flood protection to property in the Rio Grande floodplain. Equally important is an understanding of the tremendous pressure the District faces from increased urbanization, Endangered Species requirements, the uncertainty of water right ownership and priority, recreational use of MRGCD facilities, and increasingly rigorous standards for water quality and infrastructure safety. In addition, we can't forget that drought and climate variations are expected to further limit an already stretched water supply.
All who live in the middle valley are recipients of goods and services supplied by the MRGCD, not only those enduring original benefits, but many secondary amenities as well, from open space to habitat for wildlife. Unless there are concentrated efforts to defend both the water and the agency that conveys it, a day may come when there are no verdant ditches for walking, jogging or horseback riding; no valuable bonus of recharge from irrigation to help balance the regional water budget; and no longer the means to produce food locally.
To counter such a scenario, and to help direct conservancy policy toward the brightest possible future, I will work to:
Improve current methods of regional water accounting, and to resolve the issue of water right ownership;
Clarify title, right-of-way, easements, and maintenance responsibilities for community ditches in the conservancy's service area;
Ensure better MRGCD communication with all constituents through a neighborhood liaison program, and public service materials explaining the benefits of the MRGCD, and where to obtain information or help with conservancy-related issues.
Using my background in science, law, and planning, I've spent the past fifteen years learning about our water resource and its management in the Middle Rio Grande while helping to develop the regional water plan. That volunteer work provided me with insight into diverse and complex issues, and the opportunity to collaborate with all kinds of water users. I've served on a number of water advisory committees and commissions, both locally and throughout the state, and am a strong promoter of public education about water. In the past several years, I've coordinated public forums on the Rio Grande Compact, desalination, and aquifer recharge and recovery, to name just a few.
I would like to put my knowledge to work. I believe that changes to the oversight and administration of water resources are past due, and that the Middle Rio Grande Conservancy District is well poised to protect the values we all hold most dear.
Please help me stop the pickpocket rather than falling victim to ancillary taps on the shoulder.
Water is my passion. As you can see, I really can fit all the pieces together. For more information, please visit my web site, www.WaterSage.org.
Election Day is June 7. Please vote for me so that I can serve you!
Bernalillo County polling locations:
Raymond G Sanchez Community Center, 9800 4th Street NW
Los Ranchos City Hall, 6718 Rio Grande Blvd NW, Los Ranchos de Albuquerque
Valley High School, 1505 Candelaria Rd NW
4-H Center, 1500 Menaul Blvd NW
Washington Middle School, 1101 Park Avenue SW
Valle Vista Elementary School, 1700 Mae Avenue SW
MRGCD Board Room, 1931 Second Street SW
Rio Bravo Senior Center, 3910 Isleta Blvd SW
Polk Middle School, 2220 Raymac Road SW
Los Padillas Elementary School, 2525 Los Padillas Road SW
Isleta Elderly Center – Kiva Room, 79 Tribal Road 40 SW, Isleta Pueblo
This post is a guest blog by Elaine Hebard. If you'd like to submit a piece for consideration as a guest blog, contact me by clicking on the Emaill Me link at the upper left-hand corner of the page. Publication of a guest blog does not necessarily mean that we agree (or disagree) with the points made.
June 3, 2011 at 01:20 PM in Candidates & Races, Guest Blogger, Water Issues | Permalink | Comments (0)
Tuesday, May 31, 2011
Udall Cosponsors Bill to Use Green Infrastructure to Conserve Water
U.S. Senators Tom Udall (D-NM), Sheldon Whitehouse (D-RI) and Ben Cardin (D-MD) have introduced legislation to help address the nation's water challenges by encouraging the research, development and promotion of new green infrastructure technologies and designs, which use natural processes to combat polluted stormwater runoff. Companion legislation was also introduced Wednesday in the U.S. House of Representatives by Rep. Donna Edwards (D-MD).
As a statement released by Sen. Udall's office explained, in New Mexico and the Southwest, drought conditions continue to worsen from extreme to exceptional across the state, adversely effecting agriculture and causing high fire risks. The Green Infrastructure for Clean Water Act would promote green infrastructure to conserve water by helping to recharge groundwater acquifers. Other parts of the nation are suffering from extreme flooding, and green designs of water infrastructure also work to reduce flooding by limiting stormwater runoff.
"Water quality is an issue facing states across the country, but it is particularly urgent in the arid southwest and my home state of New Mexico, where extreme droughts are becoming the norm," Udall said. "By promoting greener design of stormwater infrastructure, we can create jobs, save on construction costs and increase groundwater re-charge that will enhance our water resources."
The Green Infrastructure for Clean Water Act defines "green infrastructure'' to mean stormwater management techniques that preserve, restore, enhance or mimic natural hydrology, such as green roofs, porous pavements and ground cover, or vegetated channels and detention areas that reduce the burden of storm water on wastewater infrastructure and the environment. A more detailed description and pictures of green infrastructure for stormwater can be found here.
The legislation would require the EPA's Office of Water to promote and coordinate the use of green infrastructure for stormwater management and accept these natural stormwater designs in its permitting and enforcement activities. EPA's regional offices would complete similar efforts tailored to the water quality conditions in different parts of the country.
The proposal introduced by the senators, who are all members of the Senate Environment and Public Works Committee, further authorizes technical assistance and project grants to local wastewater utilities for green infrastructure projects that take advantage of these alternative techniques to stormwater management.
The legislation also would establish up to five regional centers of excellence that would spearhead the research and development of new stormwater management techniques, which use soil and plant life to filter storm water polluted by sediments and chemicals on the surface before it reaches nearby bodies of water. The legislation does not create new regulatory requirements, but rather seeks to expand the options for communities to achieve clean water standards.
The bill is supported by a wide variety of organizations, including the National Association of Clean Water Agencies; Natural Resources Defense Council; American Rivers; American Public Works Association; Water Environment Federation; Center for Neighborhood Technology; Clean Water Action; and the Association of State and Interstate Water Pollution Control Administrators.
"Green infrastructure incorporates natural systems that can help supply clean water, reduce polluted runoff and sewer overflows, minimize flooding and enhance community health and safety. Proven solutions like planting trees and installing green roofs, rather than enlarging sewers, will also save communities money. This bill helps move our water management into the 21st century and gives communities the reliability and predictability they need in an uncertain future," said Andrew Fahlund, Senior Vice President of Conservation at American Rivers.
In New Mexico, supporting organizations include Amigos Bravos, the New Mexico Chapter of the American Society of Landscape Architects, Albuquerque-Bernalillo Water Utility Authority, and Upper Gila Watershed Alliance.
"As impacts from storm events increase with climate change, good stormwater management becomes the single most important factor in maintaining the health of New Mexico's rivers, and the communities that depend on them," said Brian Shields, Executive Director of Amigos Bravos. "Amigos Bravos applauds Senators Udall and Whitehouse for their leadership and vision in promoting the use of natural low-impact solutions to control the widespread damage caused by severe storm events, including polluted run-off."
In Rhode Island, the legislation is supported by the Narragansett Bay Commission.
"We applaud Senator Whitehouse and Senator Udall for their leadership on this important issue," said NBC Executive Director Ray Marshall. "We look forward to working with them in increasing the federal resources available for implementation of green infrastructure projects and in raising the profile of the many benefits these investments provide."
"From the devastating floods last year, to the health-based beach closures we face in Rhode Island after heavy rains, it's clear that we need improved techniques to handle storm water runoff.  When developers in our state incorporate green infrastructure into their projects, it results in infrastructure jobs, cleaner water, and higher revenues from beach tourism.  This bill builds on the progress made by Rhode Island and other states working to encourage green infrastructure," Whitehouse said.
"Stormwater runoff is the fastest growing source of pollution to the Chesapeake Bay and its rivers, negatively impacting the plants, animals and people that depend on it," said Cardin. "Promoting these new green infrastructure techniques is another critical way we can protect our nation's waterways and engage our communities in the effort." 
"Green infrastructure can reduce our energy consumption, create good jobs and promote environmental stewardship and long-term economic development. But more must be done to learn the best practices and incentivize future projects," Edwards said. "The regional centers established in this legislation will work with our communities to ensure that projects effectively manage stormwater flow and improve water quality, bringing us closer to a clean-energy economy and improving our outdated water infrastructure. I am proud to join Senators Udall, Whitehouse and Cardin in introducing this important legislation."
May 31, 2011 at 12:30 PM in Green Economy, Sen. Tom Udall, Water Issues | Permalink | Comments (0)
Monday, May 16, 2011
Navajo's Take Fight To Protect Water to Inter-American Commission on Human Rights
On Friday, the New Mexico Environmental Law Center (NMELC) and its client, Eastern Navajo Diné Against Uranium Mining (ENDAUM), filed a petition with the Inter-American Commission on Human Rights seeking to halt a uranium mining operation in the Navajo villages of Church Rock and Crownpoint, NM. They will conduct a press conference today, Monday, May 16, at 8:30 AM at the National Press Club in Washington, DC regarding the filing.
After 16 years of legal fighting, the New Mexico Environmental Law Center has exhausted all avenues offered by the U.S. legal system to overturn the mining license granted by the Nuclear Regulatory Commission (NRC) to Hydro Resources Inc. (HRI). Should HRI be allowed to mine, the drinking water for approximately 15,000 people will be contaminated.
"The HRI license marks the first time that any mining company in the U.S. has been federally authorized to mine uranium in a community drinking water aquifer," says Eric Jantz, NMELC attorney. "This aquifer provides the sole source of drinking water for the mostly Navajo community members represented by ENDAUM. By granting this license, the NRC has failed to uphold its mandate to protect the health and safety of all Americans."
HRI has stated its objective is to begin mining in Church Rock by mid-2013, and the threatened community has few options left.
"ENDAUM's best hope is to encourage the executive branch of the federal government to intervene to oppose this license," says Larry King, an ENDAUM board member. "Efforts over the past 15 years at the federal level have failed to engage officials and regulators about the impact this mining will have on the community's health and water supply. We have to fight in every legal venue to prevent this mining from taking place."
The petition seeks remedies for the violation of the Navajos human rights and requests that the Commission recommend to the United States to take restorative measures including:
• The NRC should suspend HRI's materials license until such time as HRI has remediated the radioactive surface contamination on Church Rock's Section 17, and the United States has taken significant and meaningful steps to remediate the abandoned uranium mines within the boundaries of the Church Rock Chapter;

• That the NRC require HRI to submit comprehensive baseline groundwater quality and other hydrological, geological and geochemical data, subject to a public hearing;

• That the NRC rescind HRI's license for the Church Rock Section 17 and Unit 1 sites which are subject to the Navajo Nation's ban on uranium mining and processing;

• That the NRC or other appropriate administrative agencies prohibit forced removal of Petitioner Larry King and his family from Church Rock Section 17 or forced disruption of his subsistence grazing practices or cultural activities.

"Multiple international human rights treaties say health is a human right. The NMELC and our clients agree, and by licensing uranium projects in drinking water aquifers, the U.S. government has failed to protect the Navajo community's human rights," said Jantz. "New uranium mining will further desecrate Navajo communities across the reservation already suffering illnesses and death because of legacy mining and waste."

May 16, 2011 at 12:31 AM in Legal Issues, Mining, Native Americans, Nuclear Arms, Power, Water Issues | Permalink | Comments (0)
Friday, April 22, 2011
Terry Brunner Guest Blog: Today We Recognize Earth Day
This is a guest blog by Terry Brunner, who serves as the State Director for USDA Rural Development in New Mexico.
Forty-one years ago, a group of dedicated citizens decided to take action to make their local communities cleaner and healthier, and from this spirit, Earth Day was born. Since then countless Americans have made a positive impact on our planet, and now President Obama is calling on all of us to pitch in.
As a result, thousands of people throughout the country are volunteering in their communities today and throughout the month of April. To recognize Earth Day, I'll be in Ruidoso, NM on behalf of the United States Department of Agriculture (USDA)-Rural Development. We'll be touring a recently constructed $8.7 million wastewater treatment plant financed by the USDA with funds from the American Recovery and Reinvestment Act. Their new wastewater plant will help prevent groundwater contamination that could occur without proper sewage treatment and protect one of our most basic needs -- clean drinking water.
Earth Day reminds us of the critical role we all play in protecting the Earth. Every day we face serious challenges to our nation's natural resources: climate change, air and water pollution, loss of open space, and a lack of connection between our nation's population and the great outdoors.
We have a strong appreciation for the environment in New Mexico. We're surrounded by natural beauty and we understand that it's a large part of what makes us who we are. It's simply our natural instinct to not only protect it but make sure that we are able to enjoy it for many years to come.
This idea isn't lost on the citizens of Ruidoso and Lincoln County. They're working on the long-term sustainability of their communities in and around the Lincoln National Forest. Not only have they completed work on a new wastewater facility, but today they will be holding a Lincoln County Renewable Energy Conference. It is a great opportunity to hear from renewable energy providers and experts in the field about how we can better use renewable energy to power our homes and businesses.
Utilizing the power of resources like the sun and the wind in a place like New Mexico just makes common sense. It provides an economic benefit for those who want to save on energy costs and reduces our need to draw from finite resources.
Earth Day provides a terrific opportunity to lead by example and show our children and grandchildren things they can do every day to protect the Earth. So I urge everyone to use today to reflect on what we can do in our daily lives to support the preservation and restoration of our important natural resources.
This is a guest blog by Terry Brunner. If you'd like to submit a piece for consideration as a guest blog, contact me by clicking on the Email Me link at the upper left-hand corner of the page.
April 22, 2011 at 11:53 AM in Environment, Guest Blogger, Rural Issues, Water Issues | Permalink | Comments (3)