Friday, May 15, 2009
More Photos from Outside the Obama Town Hall in Rio Rancho
Folks complained in the comments thread of my post on the teabagger photo of the day from yesterday's town hall with President Obama that the online Journal didn't show any demonstrators outside the venue who weren't of the teabag variety. In response I decided to post a few more photos Mary Ellen took of the various demonstrators who showed up around Rio Rancho High School. It was a more diverse (and smaller) group than either the Journal or some of the TV new reports acknowledge. (Click on photos for larger versions.)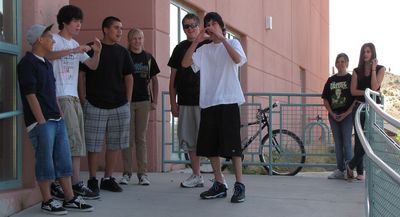 RRHS students give the Big O for Obama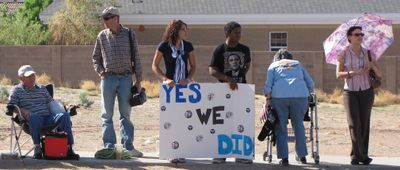 And then there's the photo from yesterday sent to me by a friend that kind of sums up the teabagger thing in my mind: Impeah Now!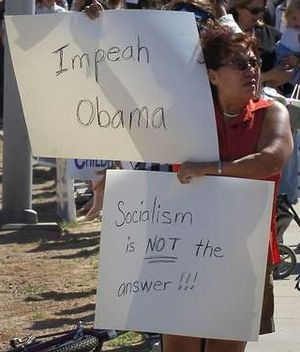 May 15, 2009 at 11:19 AM in Events, Local Politics, Obama Administration, Visuals | Permalink | Comments (5)
Thursday, May 14, 2009
(Updated) Photos: Obama Town Hall at Rio Rancho NM
Update: You can now see all of Mary Ellen's photos from the townhall at our Flickr account.
**********
I'll be selecting and uploading photos from President Barack Obama's appearance today in Rio Rancho, New Mexico as they get processed. More to come as I update this post. All photos by M.E. Broderick. Click on images for larger versions.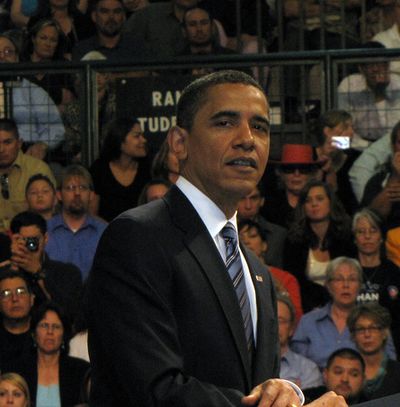 President Obama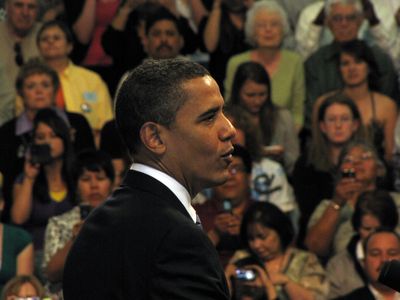 President Obama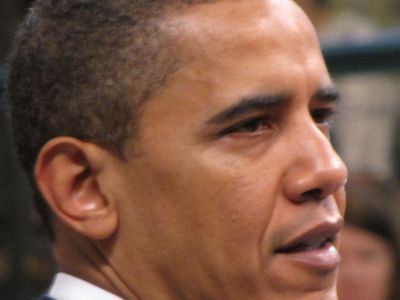 The President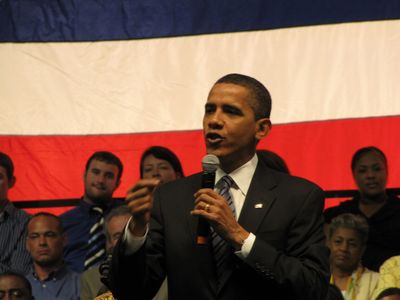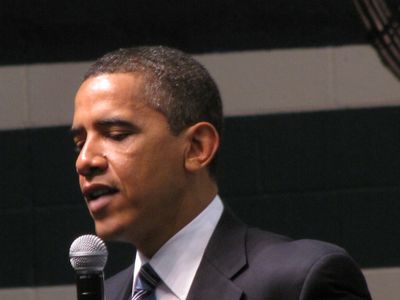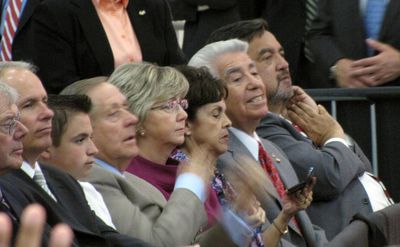 ABQ Mayor Marty Chavez, Herb and LG Diane Denish, Speaker Ben Lujan and wife, Gov. Bill Richardson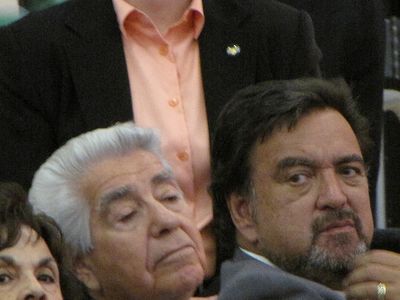 NM House Speaker Ben Lujan, Gov. Bill Richardson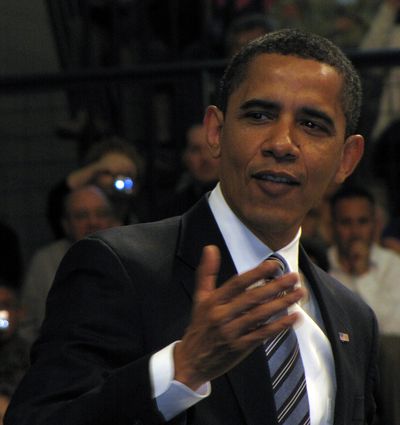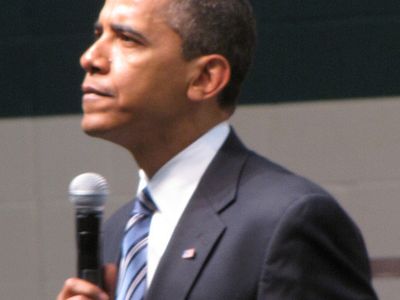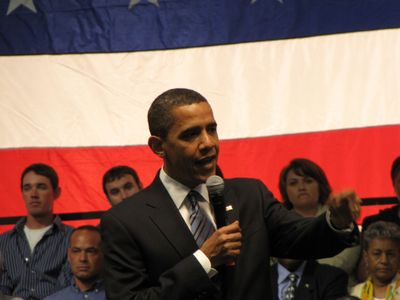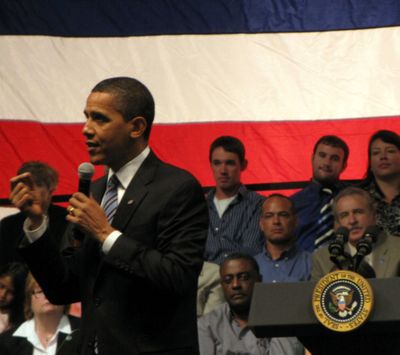 Obama, Presidential seal on podium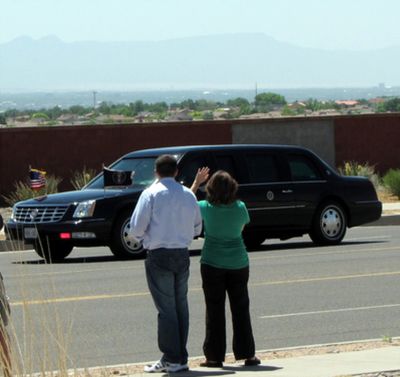 Presidential limousine leaving Rio Rancho HS
May 14, 2009 at 02:27 PM in Business, Economy, Populism, Events, Obama Administration, Visuals | Permalink | Comments (3)
Thursday, May 07, 2009
Gov. Bill Richardson Does the Stanky Legg in Acoma NM (with Video)
Okay, I'm just back from a five-day vacation near Gila NM and I'm not (yet) in the mood to get very serious -- even though there sure was a lot of stuff that erupted while I was gone. I can and will be commenting on at least some of that over the next couple days as I regain my blogging legs. In the meantime, there's Governor Bill Richardson doing a gubernatorial version of a dance called the Stanky Legg with GRAMMY-nominated Lumbee Indian singer-songwriter Jana Mashonee at a recent party in Acoma.
I wouldn't know the Stanky Legg from a chicken leg, but I'm taking the word of someone who emailed me the link to this video today and explained that the Stanky Legg is an "insanely popular urban/hip hop dance." Enjoy.
May 7, 2009 at 02:13 PM in Local Politics, Visuals | Permalink | Comments (4)
Sunday, May 03, 2009
Short Hiatus
Taking a break down near Gila, New Mexico. This is the late afternoon view from where we're staying. Magnificent. Due to the creek down below there are lots of birds -- cliff swallows, canyon towhees, doves, black chinned hummingbirds and one ruby throated, orioles, American goldfinches, ravens, hawks, others I can't name. A couple of horses roaming around. A few lizards. I swear I hear javelinas down by the water at night.
I'm mostly off the computer for now but I'll be back soon. (Photos by MEB. Click on images for larger versions.)
May 3, 2009 at 09:46 AM in Visuals | Permalink | Comments (1)
Saturday, April 18, 2009
Spring

Burgeoning buds


Lilac bush, sunflowers and Ganesh
Even though we had some fierce rain through the night and pea-soup fog this morning, we're enjoying a beautiful Spring day now with puffy, floating clouds in true blue skies. In that spirit, I thought I'd share a couple photos of the lilac bush we planted in our backyard a few years back. We're pleased to see the buds survived the recent spate of near freezing nights -- so far! (Photos taken this morning by M.E. Broderick. Click on images for larger versions.)
April 18, 2009 at 02:27 PM in Visuals | Permalink | Comments (0)
Wednesday, April 15, 2009
"Socialism" and Tea Bagging Day

Click on image for larger version
Those opposed to the anti-whatever teabagger parties should consider attending one or both of the counter demonstrations set for today in Albuquerque: Noon to 1:00 PM at the Main Post Office, hosted by New Mexico Voices for Children and others and 4:00 to 6:00 PM at the intersection of Louisiana and Montgomery, organized by Terry Riley.
These tea parties are hardly non-partisan events. While there's certainly a grassroots component here, these parties have been co-opted by a major America political party (the RNC's Web site allows for creating send-a-tea-bag post cards to Dem leaders) and an entire cable news channel (which has been promoting the events). The main Web site for the events today, Tax Day Tea Party, is funded by conservative groups, and a public records search shows it's registered to a conservative techie, Allen B. Fuller, who used to be a legislative correspondent for GOP Sen. Richard Shelby and who touts creating Web sites for Republican elected officials. Also reportedly involved in today's protest events are FreedomWorks, a conservative group founded by former House Majority Leader Dick Armey, and Americans for Prosperity. -- First Read
For a varied and in-depth look at who and what's behind today's teabagging events check out Save the Rich. The site has excellent links galore, including this one that outlines the involvement of Dick Armey and his "FreedomWorks." Firedoglake will provide lots of coverage today, as will many other sites.
April 15, 2009 at 10:46 AM in Economy, Populism, Government, Visuals | Permalink | Comments (0)
Sunday, April 12, 2009
The Pleasures of Peeps Shows

(Click on images for larger versions)
For your holiday viewing pleasure, here are the top 40 entries in Peeps Show III, the 2009 Peeps diorama competition. Haven't had enough? You can still view the 2008 and 2007 Peeps Shows hosted by the Washington Post. Not Peeps, but couldn't resist:
April 12, 2009 at 01:13 PM in Current Affairs, Food and Drink, Visuals | Permalink | Comments (0)
Tuesday, April 07, 2009
Photos of the Day: Ted Kennedy Tosses First Pitch at Fenway
Lookin' snappy. Senator Ted Kennedy threw the ceremonial opening pitch at the Boston Red Sox season opener at Fenway Park today, accompanied by much jubilation in the crowd. The Red Sox went on to beat the Tampa Bay Rays 5-3. The Kennedy family has a long relationship with the Red Sox going back to Ted's grandfather, former Boston Mayor John F. "Honey Fitz" Fitzgerald, who also served two terms in the U.S. House. Honey Fitz and a friend started the first Red Sox fan club, the Royal Rooters, in a Roxbury bar called The 3rd Base Saloon.
April 7, 2009 at 07:15 PM in Sports, Visuals | Permalink | Comments (2)
Saturday, January 24, 2009
Santa Fe's Soulcatcher Studio Premiers Obama Photo Exhibit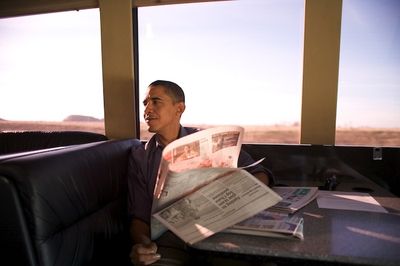 Morning Paper, Mt. Pleasant, Iowa 2007
Intimate and compelling images, aren't they? From Soulcatcher Studio: Soulcatcher Studio, in Santa Fe at The Lofts, is deeply honored to present the world premiere of Callie Shell's exhibition, Barack Obama: Road To The White House. Shell has spent the past two years photographing Obama as a contract photographer for Time magazine.

Soccer Ball, Santa Fe, New Mexico 2008
Shell's book, President Obama: The Path to The White House (Time Books) is currently on the New York Times Bestseller List. Previously she spent eight years at the White House as the official photographer for Vice President Al Gore.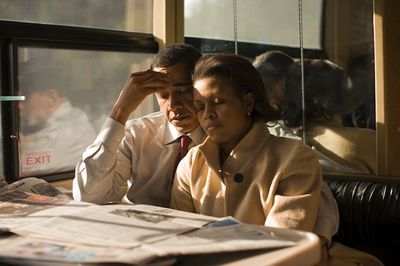 Primary Morning (On Campaign Bus), New Hampshire, 2008
More than any other photographer, Shell has been able to capture the private side of Barack Obama, behind the scenes and unguarded, in places where almost no one gets to see him. In the process she has become what one Obama staffer called "a member of the family."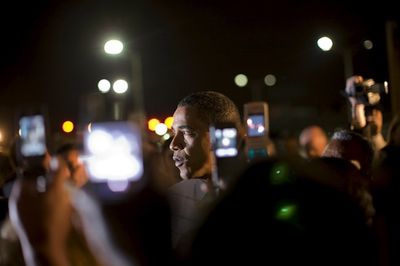 Cell Phones, Indianapolis, Indiana 2008
It is estimated that to date Shell has captured nearly 400,000 images of the Obama campaign and the events that surround it. This exhibition includes several previously unpublished images, along with many images that have become known around the world.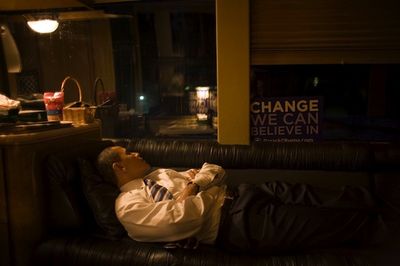 Asleep (On Campaign Bus), Between Derry and Salem, NH 2008
You can access the online exhibition here.
Visit us in Santa Fe at The Lofts. Open Tuesday - Friday, 10 AM to 5 PM, Saturdays by appointment. Sign up for our free monthly Email newsletter featuring artist news, special offers and much more. Just send us an Email at info@soulcatcherstudio.com that includes your full name and put "mailing list" in the message header.
Eric J. Keller, Director Soulcatcher Studio at The Lofts 3600 Cerrillos Rd., Suite 729D Santa Fe, NM 87507 (Map) Tel: 505-310-SOUL (7685) www.soulcatcherstudio.com
Technorati tags: photography Santa Fe New Mexico Barack Obama Soulcatcher Studio Callie Shell
January 24, 2009 at 12:33 PM in 2008 General Presidential Election, 2008 Presidential Primary, Events, Visuals | Permalink | Comments (0)
Sunday, January 18, 2009
Top Ten Bush Moments
There are so many to choose from, it must have been an ordeal to narrow it down to just ten. Adios, Georgie!
January 18, 2009 at 12:11 PM in 2008 General Presidential Election, Media, Obama Transition, Visuals | Permalink | Comments (2)
Wednesday, December 31, 2008
Beep, Beep: See Peter's Sneak Peak of New Mexico's Rose Parade Float
Peter St. Cyr has the scoop and a Pasadena slide show at his What's the Word blog. Go see Wile E. Coyote, his trusty A.C.M.E. rocket and the Road Runner -- and say hi and get well soon to Peter, who's been feeling more than a little under the weather. Could the timing be worse? Hope you feel better, Peter!
The Tournament of Roses Parade will air in Albuquerque starting at 9:00 AM on New Year's Day on KOB-TV 4, according to TV Guide.
December 31, 2008 at 08:55 PM in Current Affairs, Events, Visuals | Permalink | Comments (2)
Monday, December 15, 2008
Photos: Today's Albuquerque Snowstorm

snow on shrub with red chile garnish

bare trees, grey light, oh yeah, it was a cold night
(must be of a certain age)
As any New Mexican knows, we get very excited about snow here, especially in areas like the Albuquerque Metro Area where precipitation -- especially the frozen white kind -- is scarce, and short-lived when it hits the ground. Here are a few photos we took late this afternoon around our house in the Northeast Heights. Go ahead, jingle some bells. (Click on images for larger versions.)

snow on sun

snow falling on spruce (not cedar)

snow in walled yard
See more photos from this set.
December 15, 2008 at 06:22 PM in Visuals | Permalink | Comments (1)