Saturday, January 30, 2010
Stephen Jones - High-Speed Rail: A Sound Investment
This is a post by contributing writer, Stephen Jones, who is a progressive political activist and a resident of Las Cruces, New Mexico.
On Thursday, following the State of the Union Address, President Obama and Vice President Biden flew to Florida to announce the stimulus awards for the President's high-speed rail initiative. Conservatives predictably wailed. Even supporters of high-speed rail have complained that the $8 billion dollars is far too little to initiate a real high-speed rail system, and that most of the funds will simply be used to upgrade and improve existing Amtrak service corridors.
Despite these criticisms, progressives should wholeheartedly applaud this effort by the Administration to move the nation into the 21st century. Besides the rising cost of oil and the obvious environmental reasons for developing passenger rail, high-speed service makes a world of economic sense. China is spending $300 billion to build 16,000 miles of high-speed track by the end of this decade to move people and ideas around. The Shanghai Maglev line already reaches 267 miles per hour. By comparison most American passenger trains have a 79 mph speed limit. Only the Acela train-sets in the Washington-Boston northeast corridor reach beyond 100 mph.
To keep up with the rest of the world, we can't be left waiting at the station, so to speak. The reality of the matter is that the gridlock in both the air and on the highways on the east coast have made high-speed rail more imperative than ever, and in most of the other heavily populated centers in the United States demand for rail outstrips availability. Whatever anyone inside the D.C. beltway believes, seats on Amtrak are hard to come by all over the place, not just in the Northeast Corridor. The same is true for California and the Midwest, where rail ridership has tripled in 6 years. In traffic-weary California voters have mandated their cash-strapped leaders to build more rail and free their lives from expensive fuel and time-wasting gridlock.
The decision by the Obama Administration to give Florida's proposed 84-mile Orlando to Tampa line the highest award was a smart move. Florida's project has already acquired the right of way to build the 168 mph line, and a shovel-ready construction project means jobs. It also represents a boon to Florida's tourism industry. The California and Illinois grants also make sense. These high-speed rail projects are also underway and the grants will keep them on target to completion.
But what about our existing passenger rail infrastructure? While Amtrak is a favorite whipping-boy of the right, the fact is that if the nation's rail passenger carrier were an airline it would be the nation's fourth largest, and unlike United and Delta, Amtrak is still gaining ground. Even long-distance services are on the rise for the first time in decades. As a result of successive Republican administrations trying to slowly strangle it to death, Amtrak is so pressed that it hasn't got the equipment to keep up with demand.
Whether passenger rail works or not ought to be obvious. California, Illinois, Oregon and Washington are good cases in point. To meet demand the State of California was forced to contract with Canada's Bombardier Corp. independently of the U.S. government to build trains for the Golden State's Amtrak service when Congress failed to appropriate the funds Amtrak needed to keep up.
When Illinois decided to subsidize additional trains, largely through the efforts of Senator Dick Durbin and far-sighted Democratic allies back home, ridership tripled. With more service available between Chicago and St. Louis, and other Illinois destinations, ridership went through the roof. It didn't matter that the equipment Amtrak had to offer was not exactly their best; Illinois riders wanted more. To avoid the equipment issue, Oregon and Washington turned to Spain's Talgo Corporation, a high-speed train manufacturer, to upgrade service in the Northeast. Ridership skyrocketed.
Confronted with ridership figures in these high-density corridors, conservatives generally resort to attacking Amtrak's long-distance trains. In reality, these once-a-day trains cost little and deliver a lot. Anyone who's taken Amtrak's Empire Builder across the northern tier can tell you about the crowds that wait to board the once-a-day train at places like Minot, North Dakota and Wolf Point, Montana. Amtrak keeps these remote states economically viable. Before he retired from the Senate, Trent Lott of Mississippi was one of Amtrak's biggest supporters, not because he was fond of trains, but because the price of an airline ticket between Jackson, Mississippi and Atlanta, Georgia is about the same as the cost of heart surgery. Without train service Mississippi might drop off the map.
Governor Bill Richardson's lasting legacy will be the New Mexico Railrunner. Critics may say that Railrunner service is off to a shaky start, but in the long run the commuter train will help meet this State's transportation needs and help attract the high-paying jobs that New Mexico needs. We need to urge our lawmakers to keep the service at its current levels, including weekends.
The Railrunner can also become an important feeder route for future expansion of New Mexico rail. Amtrak service already exists across the northern tier of the state and a new or upgraded line between Amtrak's Raton, New Mexico station and Pueblo, Colorado Springs and Denver, Colorado could become a meaningful high-tech corridor connecting Albuquerque/Belen with Denver and beyond.
Representative Jeff Steinborn has urged new service between El Paso and Las Cruces. We need to continue to explore this and other possibilities for expanding rail in our state.
China is spending billions on rail to prepare for the coming century. If the United States intends to maintain its competitive advantage economically, we need to rebuild our rail infrastructure or learn to start speaking Cantonese.
Wouldn't that just thrill Tom Tancredo!
To read more posts by Stephen Jones, visit our archive.
January 30, 2010 at 03:12 PM in By Stephen Jones, Contributing Writer, Finance, Investments, Transportation | Permalink | Comments (2)
Friday, January 08, 2010
Rep. Harry Teague's 'Solutions for Southern New Mexico' Tour Highlights Local Projects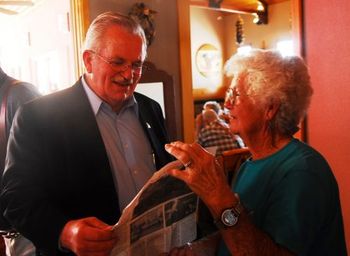 Rep. Teague listening to a constituent
Congressman Harry Teague has been traveling hundreds of miles within New Mexico's massive Second Congressional District (map) during the holiday recess to touch base with constituents. Besides listening to the views of those he's dedicated to representing, he's been spreading the word about the many projects he's helping to bring to the District during this era of economic challenges. Every dollar helps.
On Tuesday, January 5th, Rep. Teague stopped in Reserve, and traveled to Milan and Grants on Wednesday, January 6th, on his "Solutions for Southern New Mexico" tour. He continued to Socorro, Belen, Los Lunas and Bosque Farms on January 7th and 8th. During the weeklong tour Congressman Teague will visit all 18 counties in the 2nd Congressional District.
As part of his "Solutions for Southern New Mexico Tour," Congressman Harry Teague is hosting a total of 20 "Harry in Your Hometown" events to meet with constituents throughout the district. According to a statement released by his office, the events held to date have been well attended and Congressman Teague has discussed issues ranging from improving veterans services, to healthcare and the state of the economy. On the economy front, Congressman Teague has updated constituents on the work he is doing to invest in communities create jobs and help turn the local economy around.
In addition to investments from the American Recovery and Reinvestment Act, Congressman Harry Teague has worked with community leaders across southern New Mexico to secure funding for local projects, including:
Catron County:
Reinvesting in our Communities. The Village of Reserve received over $1 million from the American Recovery and Reinvestment Act. The funds, which Congressman Teague helped to bring to the city, were used for the rehabilitation of downtown Reserve, main streets and transportation enhancements.
Housing Improvement Projects. Congressman Teague worked with tribal leaders to secure over $1.3 million in stimulus funds for multiple housing improvement projects in the Zuni Pueblo. The funding went towards 15 projects that improved housing facilities and living conditions in the pueblo.
Cibola County:
Keeping Kids Safe. Congressman Teague worked to secure $350,000 in funding for Acoma Pueblo's Youth Mentoring Program. The funds will create a mentoring program for teenagers that have been identified as "high risk" by the Pueblo of Acoma tribal court system. The program aims to lower delinquency and related indicators such as substance abuse, violent behavior and truancy among Native youth and increase the number of high risk youth receiving mentoring. Teenagers involved in the program and high school peer mentors will have access to employment skills training and opportunities to experience adventure, skills-based activities intended to decrease risk factors associated with juvenile delinquency.
Increasing Transportation Resources. The Pueblo of Laguna received $96,250 through the American Recovery and Reinvestment Act to improve public transportation in the area. With the funding, the pueblo purchased an 8-passenger van with lift, a new bus shelter/garage for vehicles, and administrative office supplies.
Socorro County:
Furthering Space Innovation. Congressman Teague worked to secure $4 million for Smart Instrument Development at the Magdalena Ridge Observatory, operated in part by New Mexico Tech. The funding will be used to support the development and sustainment of smart, advanced instrumentation for imaging space objects. This is in support of the existing MRO mission and will advance the capabilities of the observatory, particularly in the area of Space Situational Awareness (SSA).
Strengthening Infrastructure. The Rio Grande Floodway project from San Acacia To Bosque Del Apache received $756,000 in funding to reconstruct approximately 44 miles of existing west side spoil bank levee located along the Rio Grande. The effort will enhance the protection of the Rio Grande Low-flow Conveyance Channel from Rio Grande flooding.
Valencia County:
Enhancing Local Law Enforcement. Congressman Teague worked with community leaders to secure $400,000 for the Valencia County Law Enforcement Uniform Records Management System. Instituting the technology for a uniform law enforcement records management system for Valencia County will benefit all Law Enforcement in Valencia County, including the municipalities of Los Lunas, Belen, Bosque Farms and Peralta. The technology will allow all officers with every agency in the county to use and access the same records management system from the computers in their cars.
Making Homes Energy Efficient. Central New Mexico Housing, Inc. was awarded $143,000 through the American Recovery and Reinvestment Act. The funding was used to provide weatherization assistance to 24 low-income home owners in Valencia County. The efforts aim to reduce energy consumption and improve energy retention-including installing insulation for homes and modernizing large appliances such as air conditioners and heating units.
January 8, 2010 at 01:06 PM in Children and Families, Economy, Populism, Housing, Law Enforcement, Native Americans, Obama Administration, Rep. Harry Teague (NM-02), Transportation | Permalink | Comments (1)
Friday, December 11, 2009
Recovery Act Funds Go to NM Tribal Communities for Energy Efficiency, Transportation
Senators Jeff Bingaman and Tom Udall announced yesterday that several New Mexico tribal communities will receive funding from the American Recovery and Reinvestment Act to improve energy efficiency and public transportation.
"New Mexico communities are putting their share of recovery funds to very good use, and in the process they're creating jobs. Some of this funding will help boost energy efficiency efforts, while other funding will be invested in key public transportation initiatives," Senator Bingaman said.
"The Recovery Act continues to provide significant investments in New Mexico's tribal communities in critical areas like energy efficiency and improved access to public transportation," Senator Udall said. "With this funding, these pueblos will be able to make improvements that will create jobs, save money and improve the quality of life for all their residents."
Five pueblos and the County of San Juan will receive more than $900,000 in energy efficiency grants through the Department of Energy for energy audits, building retrofits and to create financial incentive programs for energy efficiency improvements. They include:
Pueblo of Cochiti: $40,400

Pueblo of Isleta: $112,000

Pueblo of San Felipe: $102,200

Pueblo of Taos: $61,400

Zuni Pueblo: $267,500

San Juan County: $329,400
Additionally, the Department of Transportation released ARRA funds to:
Ohkay Owingeh Pueblo: $156,000 to purchase one van and one bus compatible with Americans with Disability Act standards.

Pueblo of Laguna: $200,000 to purchase capital equipment for the pre-engineering of streets, and for a portable building from the Department of Transportation.

Navajo Nation: $2.2 million to construct a bus maintenance facility and administration office complex in Fort Defiance.
December 11, 2009 at 09:10 AM in Energy, Native Americans, Obama Administration, Sen. Jeff Bingaman, Sen. Tom Udall, Transportation | Permalink | Comments (0)
Tuesday, November 17, 2009
NM PIRG Guest Blog: Campaign Contributions Greasing the Wheels for New Highway Construction?
This is a guest blog from New Mexico PIRG.
The nation has 73,000 crumbling bridges, but year after year startlingly few federal transportation dollars go to fixing them.
In 2008, for example, just a few months after the tragic Minneapolis bridge collapse which killed 13 and sparked alarm and outrage across the country, Congress directed only 74 of the 704 highway projects earmarked in the transportation appropriations bill to repair or maintain a bridge, tunnel, or overpass.
Only about ten percent of the projects, and about ten percent of the funding, focused on fixing the nation's crumbling infrastructure. Most of the $570 million went for new highways and other new construction.
Millions of dollars also flowed in another direction … from highway construction companies and the trade associations that represent them to the campaign coffers of elected officials in New Mexico and Washington, D.C.
Were those dollars "greasing the wheels" in our state and federal capitols?
New Mexico PIRG's new report, "Greasing the Wheels: the Crossroads of Campaign Money and Transportation Policy," looks at the 2008 transportation appropriations bill using data never before available, laying out the details of Congress' earmark requests. The report, released on Monday, also examines the campaign contributions from highway construction interests both here in New Mexico and nationally.
Here in New Mexico, there are 404 bridges that the U.S. Department of Transportation has deemed "structurally deficient." But in 2008, while 14 transportation earmarks were approved, totaling $8,268,000, only 3 were bridge repair projects.
"In our current political system, elected officials must raise huge sums of campaign contributions from major donors to win reelection," said New Mexico PIRG Advocate Katie Lobosco.
"In part because of this, we believe that transportation spending is skewed toward road-widening and new highway projects favored by developers, road builders and the other interests who make those contributions," she added.
"We need to clean up the campaign finance system so that lawmakers can focus on the needs of the public rather than their major donors," she concluded.
The report, "Greasing the Wheels: the Crossroads of Campaign Money and Transportation Policy," is available on the New Mexico PIRG website by clicking here, or you can download a pdf of the report directly.
This is a guest blog by New Mexico PIRG. If you'd like to submit a piece for consideration as a guest blog, contact me by clicking on the Email Me link on the upper left-hand corner of the page.
November 17, 2009 at 09:02 AM in Ethics & Campaign Reform, Guest Blogger, Transportation | Permalink | Comments (3)
Monday, October 12, 2009
FHA Awards $41 Million for Scenic Byways Including $356,000 for NM
U.S. Senator Tom Udall (D-NM) announced in a statement released on Friday that New Mexico will receive $356,000 in federal funding to improve scenic byways throughout the state. The funding comes from five U.S. Department of Transportation grants to help improve the travel experience along the roadways.
"New Mexico's scenic byways allow us to share our culture and history with residents and visitors within the state and I am pleased this funding will help promote them," Udall said.
New Mexico has 26 scenic byways that showcase some of the stunning scenery and historic sites found in the state, including the Billy the Kid Trail, El Camino Real, and historic Route 66. Scenic byways are selected based on archeological, cultural, historic, natural, recreational and scenic interest. Click for more information about New Mexico's scenic byways.
The funding will be for roadside markers, interpretive exhibits, and promotional materials designed to promote tourism as well as spark the interest of residents who live along the routes. See below the fold for a list of the projects to be funded.
Communities in 43 states will receive $40.7 million for 160 projects to improve and promote highways designated as scenic byways, Federal Highway Administrator Victor Mendez announced in a statement released late last week.
"I join Secretary LaHood in his commitment to protecting and promotings roads that are American icons," Administrator Mendez said. "We're proud to help tell each road's unique story."
Projects funded by the grants include improving visitor access to Chalk Bluff along the Crowley Ridge Parkway in Arkansas, a visitor contact station at Denali along the George Parks Highway in Alaska, and construction of pedestrian and bicycling facilities along scenic byways in Oregon.
Since 1992, the National Scenic Byways Program has awarded almost $388 million in funding for more than 2,832 state, tribal and nationally designated byway projects in 50 states, Puerto Rico and the District of Columbia.
The strength of this program is the voluntary, grassroots support of local advocates in communities throughout the country who nominate and promote outstanding roads for this recognition.
In New Mexico, federal funding is allocated for:
Signage for all of New Mexico's 26 byways: $165,000
Exhibits and Interpretive Services for the Interpretive Center at Tijeras Pueblo Archaeological Site (NM): $100,000
Geronimo Trail NM: Outdoor Adventures Brochure: $8,000
Billy the Kid Trail NM: Corridor Management Plan Implementation: $28,000
Salt Missions Trail (NM): CMP & Organization Development: $55,000
Click for a list of this year's grant recipients in 43 states.
October 12, 2009 at 11:24 AM in NM Congressional Delegation, Obama Administration, Sen. Tom Udall, Transportation | Permalink | Comments (2)
Monday, October 05, 2009
New Energy Economy Invites You to Vision Shift! Art in the Age of Climate Change
From New Energy Economy:
We cordially invite you to attend Vision Shift! Art in the Age of Climate Change. Vision Shift! is the product of a collection of organizations including New Energy Economy, Center for Contemporary Arts, McCune Charitable Foundation, New Cycle Foundation, Santa Fe Art Institute, Earth Care (Youth Allies Organizing Program), Earthworks Institute, Fine Arts for Children and Teens (FACT), Santa Fe Place, Warehouse 21, The Museum of Contemporary Native Arts, and the Institute of American Indian Arts (IAIA).
Vision Shift! Art in the Age of Climate Change will raise awareness around climate change and affect public policy while creating meaningful social change.
Santa Fe Mayor David Coss recently signed a proclamation declaring a Vision Shift! Art in the Age of Climate Change week. Vision Shift! opens October 8, 2009 at six venues in Santa Fe with more than 100 works and runs through November 30, 2009. We hope you will join us!
See below the fold for upcoming VISION SHIFT! EVENTS:
Thursday, October 8:
5-7 PM Kick Off Event, Santa Fe Place, 4250 Cerrillos Road. Santa Fe Mayor David Coss reads Vision Shift! Proclamation, music with DJ Anjali, and unveiling of the mural done by Bryan Dixon (Diné) working with Earthworks. Bryan's father worked underground in the coal mines in Farmington and knows all too well the negative impacts to his community from the reliance on fossil fuels. Info: 505-469-4060.

5:45 PM Littleglobe's Common Ground - Santa Fe Performance, Santa Fe Place, 4250 Cerrillos Road. Littleglobe's artistic director Molly Sturges and members of Littleglobe's arts and activism ensemble Common Ground - Santa Fe will lead a short interactive performance exploring our shared post-fossil-fuel future and the evolving collective mythologies that can get us there. Visit www.littleglobe.org. Info: 505-989-1437.
Friday, October 9:
5-7 PM Mapping a Green Future Opening, Center for Contemporary Arts, 1050 Old Pecos Trail. Curated by Lea Rekow. Mapping a Green Future is an exhibition that looks toward the promise of sustainability and the challenges we currently face. The connection between the automobile, life and air is explored through Andrea Polli and Chuck Varga's Cloud Car. Polli's weather station, Hello, Weather! attempts to de-mystify the collection and use of weather and climate. Bill Gilbert documents walking the grid, as topography and legalities allow. Jenny Polak negotiates border politics through a sound installation made from conversations with immigrant workers. Joan Myers' panoramic photography of power plants deals with industrialization's impact on the environment. CCA Info: 505-982-1338.

6 PM Director of New Enery Economy, John Fogarty Lecture - Building Local Economies and Solving Global Warming: Santa Fe is Ready to Lead, Center for Contemporary Arts, 1050 Old Pecos Trail. Opening John Fogarty's lecture, Littleglobe's arts and activism ensemble, Common Ground - Santa Fe, will do a short music and spoken worrd performance with guests J.A. Deane and Joel Glanzberg. Led by Littleglobe's artistic director, Molly Sturges, performers include ensemble members Jaime Figueroa, Brent Herrera, London Wilder, Audreyann Martinez, Acushla Bastible, Elisa Keir, and Adelma Hnasko.
5-7 PM Scout's Honour and Badland Exhibition Openings, The Museum of Contemporary Native Arts, 108 Cathedral Place. Scout's Honour is an exhibition which explores, among many things, environmental issues and relationship to land. Badland is an exhibit that is part of the statewide Land Art project and deals with environmental issues. Info: 505-983-8900.
Oct. 5 - Oct. 30:
Post-Fossil-Fuel Art Exhibition, Santa Fe Art Institute, 1600 St. Michaels Dr. This unjuried exhibition explores artists' visions for a post fossil-fuel world. Info: www.VisionShift.org.
Saturday, October 10:
5-7 PM FACT and Warehouse 21 Art Opening, Warehouse 21, 1614 Paseo de Peralta. Artwork from the Vision Shift FACT printmaking workshop goes on display at Warehouse 21 in the W21 Flying Cow Gallery. Info: 505-989-4223 x1 or ana@warehouse21.org

7:00 PM Spoken Word Performance, Award-winning slam poet Nolan Eskeets performs spoken word at W21.

7:10 PM Ed Mazria Lecture, Warehouse 21. Is it possible to achieve energy independence, solve climate change and revitalize the United States' economy with a single solution? According to Ed Mazria, Founder and Executive Director of Architecture 2030, it is. Mazria will deliver an eye-opening presentation of current climatic, energy and economic events, illustrating the magnitude of the challenges and opportunities confronting us today. Info for all Warehouse 21 events: 505-989-4223x1; ana@warehouse21.org
Friday, October 16:
10 AM-2 PM Live Feed from Bioneers, Center for Contemporary Arts, 1050 Old Pecos Trail. A repeat will be shown from 3 to 7 PM.
Saturday, October 17:
10 AM-2 PM Live Feed from Bioneers, Center for Contemporary Arts, 1050 Old Pecos Trail. A repeat will be shown from 3 to 7 PM.
Sunday, October 18:
10 AM-2 PM Live Feed from Bioneers, Center for Contemporary Arts, 1050 Old Pecos Trail. A repeat will be shown from 3 to 7 PM. CCA Info: 505-982-1338.
Saturday, October 24:
2-4 PM International Day of Climate Action. In observation of the 350.org International Day of Climate Action, Earth Care's Youth Allies Organizers will host an action to raise awareness about climate change and demand movement by political leaders to cap carbon emissions and reduce carbon dioxide in the atmosphere below 350 parts per million. The action will include a critical mass bike ride, march, and mass bus ride from CCA to the Roundhouse to leave a powerful message (both literal and figurative) for our leaders. Contact: youthallies@earthcare.org, (505) 699-1025.
Saturday, November 7:
12 PM The Museum of Contemporary Native Arts Members' Lunch, 108 Cathedral Place. Luncheon at the Museum of Contemporary Native Arts with Scout's Honor talk by exhibit curator Ryan Rice. Info: 505-983-8900.
October 1 - November 30:
Art-in-Transit, Santa Fe Buses. Art relating to climate change by Charles Strong will be displayed in the Santa Fe City Buses.
For more information, visit the websites of New Energy Economy and Vision Shift!.
October 5, 2009 at 10:41 AM in Arts, Children and Families, Climate, Energy, Environment, Events, Green Economy, Music, Native Americans, Santa Fe, Transportation, Youth | Permalink | Comments (0)
Friday, July 31, 2009
$3.1 Million in Recovery Act Funds to Pay for Transit Improvements in Santa Fe, Las Cruces
U.S. Transportation Secretary Ray LaHood today announced that $3.1 million in American Recovery and Reinvestment Act of 2009 (ARRA) funds for transit improvements in New Mexico. According to a press release, grants are being awarded as follows:
City of Santa Fe: $1.4 million for the purchase of two 30-foot buses, 60 shelters, and mobile security equipment.
City of Las Cruces: $1.7 million to purchase three 30-foot buses, equipment, and maintenance facility upgrades.
"The Recovery Act was put in place quickly to rescue the economy from the worst recession since the Great Depression and rebuild it for a stronger future," said Secretary LaHood. "Rebuilding the nation's infrastructure is a key part of that prescription for strength. It creates jobs today and builds a better, more sustainable economy moving forward."
"By quickly moving federal dollars to the cities and towns across the country, we are ensuring that our nation will have reliable and efficient transit systems for generations to come," he added.
Since President Obama signed ARRA into law on Feb. 17, 2009, grants totaling more than $4 billion have been made available for transit improvements throughout the nation.
"These funds are creating jobs now while investing in the future of our transit systems," said Administrator Peter Rogoff of the Federal Transit Administration (FTA). "The public's demand for transit service continues to grow, and these dollars will help meet that need."
The U.S. Department of Transportation has made $48.1 billion available for highway, road, transit, bridge, and airport construction and repairs nationwide. Of that, $22.5 billion already has been obligated to fund more than 6,832 approved projects in 55 U.S. states and territories.
July 31, 2009 at 11:16 AM in Economy, Populism, Las Cruces, NM Office of Recovery and Reinvestment, Obama Administration, Santa Fe, Transportation | Permalink | Comments (0)
Monday, July 20, 2009
ABQ Councilor Ike Benton Needs Our Help on Re-Election Campaign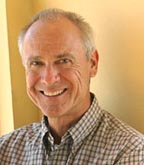 Albuquerque City Councilor Isaac "Ike" Benton is running for re-election in District 3. Ike currently serves as Council President. Last month, he was unanimously elected to serve as Chair of Rio Metro, the Regional Transit District Board, where he held the role of Vice Chair during the past two years. Councilor Benton, who served as Chair of the City's 21st Century Transportation Task Force in 2008, has been a leading advocate for providing comprehensive transit service ever since joining the City Council in 2005.
An architect by trade, Benton has also been heavily involved in legislation and other efforts related to issues like planning, zoning and sustainability. You can read about some of those here. And if you don't know much about Ike's background, be sure to read this. It's an interesting story.
As Councilor Benton explains in a new message to supporters, he is committed to open and ethical elections and has qualified for public campaign funding. Benton's challenger in the race, County Commissioner Alan Armijo, has decided not to pursue open and ethical financing. Instead, Armijo will have to depend on campaign donations from monied interests to conduct his campaign. You know what that can mean once a candidate gets into office.
According to Ike, he needs our help, not our money:
This campaign is not funded by the dollars of big-shot donors but rather the sweat and blood of the working families that I am honored to represent. I am not asking for your donations but for something much more precious: your time and energy. Our campaign doesn't have the cash coffers to hire a team of field mercenaries. We need our supporters to take the lead on contacting voters in the district, letting them know that with their support I will continue fighting for City Council District 3 neighborhoods and the best interests of the whole city for the next four years.
Join Us... There is Pizza in it for You! Please contact our campaign's Volunteer Coordinator and he will schedule you for an opportunity to help make phone calls, knock on doors, or help with our get-out-the vote effort during the week before the October 6th Albuquerque Municipal Election.
How to Sign Up to Volunteer. Call Peter Rice (Volunteer Coordinator): 559-0541 or Email: vote@benton4council.com.
Visit Councilor Benton's campaign website to learn more. You can also check out Benton's Facebook page and become a supporter.
July 20, 2009 at 12:24 PM in 2009 Albuquerque City Council Races, Environment, Ethics & Campaign Reform, Sprawl Development, Transportation | Permalink | Comments (0)
Thursday, July 09, 2009
$10.47 Million in Stimulus Funding Released for NM Transit Grants
U.S. Senators Jeff Bingaman and Tom Udall today announced that the U.S. Department of Transportation is releasing a total of $10.47 million from the American Recovery and Reinvestment Act (ARRA) for New Mexico transit projects.
"People throughout New Mexico depend on public transportation to get to and from work. I am pleased that the stimulus funds released today will help provide New Mexico residents with a safe and reliable means of transportation," Bingaman said in a press release.
"As gas prices increase, the demand for modern, efficient and low-cost public transportation continues to grow," said Udall. "Improving our transportation facilities around New Mexico will help ensure that our state can develop an up-to-date public transportation system to provide New Mexicans with the travel options they need."
Funds will be distributed as follows:
$790,312 for the City of Farmington to purchase four 32-foot-replacement trolley-type buses to replace vehicles that have exceeded their useful life
$340,000 for the City of Roswell to purchase two buses and two vans
$96,250 for the Pueblo of Laguna to purchase an 8 passenger van with lift; bus shelter/garage for vehicles; and metal file cabinet for internal office files
$112,096 for the Village of Milan to purchase a 14 passenger van with lift; 19 bus shelters with installation; and 19 bus stop signage with installation
$173,900 for the Village of Angel Fire to purchase three 12 passenger buses with 4-wheel drive and signage
$383,000 for the City of Clovis to purchase two Entervans; Bus shed; storage units; Concrete Flooring; Security Cameras for Facility; and On-Board Surveillance and GPS equipment
$130,323 for the Ben Archer Health Center in Las Cruces to purchase three ADA vans
$404,579 for the City of Carlsbad to purchase five vans; 30 bus stop signs; 30 posts; freight; paved parking area; and covered parking shelter
$286,200 for the Southwest Regional Transit District to purchase two 15 passenger buses with lifts; bus benches and shelters; and bus stop signs
$200,000 for the City of Hobbs to purchase two 12 passenger vans with lifts; construction/installation of bus shelters; and bus stop signs
$133,923 for the Ruidoso Downs to purchase three 14 passenger with lifts and radios and base stations/mobile radios
$750,000 for Los Alamos County to purchase a 31 passenger bus; one low floor 40 ft hybrid bus; and eight passenger shelters
$767,500 for the Navajo Nation to purchase two 45 passenger buses; 15 bus shelters; dispatch console; five radios/GPS communication; and five surveillance systems
$260,486 for Na'Nizhoozhi Center, Inc. in Gallup to purchase four Startrans buses; 13 bus shelters; includes labor and materials; and signage
$160,044 for the Zuni Entrepreneurial Enterprises, Inc. to purchase a minivan with lift; van/bus with 4 wheel drive and lift; 15 bus shelters with installation; 15 bus stop signage with installation; desktop computer; printer and three desks, three chairs, two cabinets
$344,626 for Zia Therapy in Alamogordo to purchase two 25 pass buses w/lift; bus stop benches w/shade top; 45 rotating transit tubes for bus stops signs; two way radios/antennas/all cabling; and three flammable storage units
$76,400 for the City of Portales for 1-ST5 14 pass Candidate II High Top; and 1-PV5 6 walk-on Braun Para transit van
$81,600 for the City of Las Vegas to purchase two Braun Para transit van PV5 with lift; a two way radio; and security cameras and monitoring system for transportation facility (interior/exterior ) as per safety and security recommendations - system consists of security cameras, DVR, monitors
$2.5 million for the Mid-Region Council of Governments for the Santo Domingo transit facility
$400,000 for Sandoval County to purchase eight bus shelters and information board
$636,000 for the Rio Metro Transit District to purchase two 30 ft bus and two 40 ft bus with lift, four bus shelters includes material, labor and maintenance
$130,323 for the South Central Council of Governments to purchase three ADA vans
$34,400 for the City of Socorro to purchase one Entervan uplander, six walk on vans and Bus Benches
$150,000 for the Town of Red River to purchase two small buses equipped with 4x4 and steel body each with lift
$507,500 for the Town of Taos to purchase four 20 passenger buses; a 10 passenger bus; six bus shelters and benches; two way radios
$72,200 for Torrance County to purchase one 15 passenger van w/lift; security fencing; alert/alarm system and telecommunication equipment
$44,337 for Golden Spread in Union County to purchase one 13 passenger van with lift; a PV3 12 passenger van no lift; sign for building
$128,245 for the Town of Belen to purchase three shuttle buses, 15 passenger with lift and fare box; 10 shelters; 25 benches; and a computer and printer
$110,000 for the Town of Los Lunas to purchase a 25 passenger bus with lifts; and a 15 passenger van with lift
$2,789 for the New Mexico Department of Transportation's Park and Ride
July 9, 2009 at 08:26 PM in Economy, Populism, Energy, NM Congressional Delegation, NM Office of Recovery and Reinvestment, Obama Administration, Sen. Jeff Bingaman, Sen. Tom Udall, Transportation | Permalink | Comments (0)
Richardson, Udall: NM to Partner with CO, TX to Pursue Funding for Study on El Paso to Denver High Speed Rail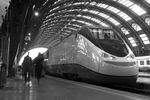 Governor Bill Richardson and Senator Tom Udall today announced in a press release that New Mexico is partnering with Colorado and Texas to take the initial steps in developing a high-speed rail corridor between El Paso and Denver running through New Mexico.
Congress has authorized up to eleven high-speed corridors across the U.S. Currently only 10 corridors have been designated. The three-state partnership is seeking the 11th designation and will be applying for federal funds to conduct a viability study.
New Mexico, Colorado and Texas could receive up to $5 million from the Federal Railroad Administration under the Passenger Rail Investment and Improvement Act of 2008 to study the viability of the El Paso to Denver High-Speed Rail Corridor. The three states will submit the joint pre-application for funds tomorrow, Friday July 10th.
"The Southwest should not be left out as President Obama seeks to build high speed rail networks across the nation," said Senator Tom Udall, a member of the Commerce, Science and Transportation Committee. "Today, you cannot get from Albuquerque to Denver by rail without changing trains in Los Angeles or Chicago and our regional railways run from East to West, with no North-South connections. This study will lay the groundwork to make a major improvement to public transportation in the Southwest and bring new opportunities for tourism and business growth in New Mexico."
"The overwhelming success of the New Mexico RailRunner is proof of the demand for more modern, efficient and environmentally friendly transportation options," Governor Bill Richardson said. "High-speed rail is the future of our country and is going to be a major boost to the economic vitality of the cities and states along its routes. With this designation, New Mexico will be in better position to meet the evolving economic, workforce, and transportation demands of the 21st Century."
Earlier this year, President Barack Obama launched an aggressive effort to develop a national network of high-speed passenger rail lines. The president unveiled a strategic plan identifying $8 billion in federal stimulus funds and a separate five-year, $5 billion investment as a down payment to jump-start the nation's high-speed rail lines.
We are one of the last developed nations to build a sophisticated high-speed passenger rail network. For instance, China, Japan, France and Spain already have very efficient high-speed rail networks. They cover hundreds of thousands of miles, providing access between big cities and small towns, spurring economic growth and cutting down on auto travel. An article published yesterday at Forbes.com provides a wealth of information on how other nations are investing heavily in new high speed technologies and systems.
"We are excited to partner with our Western neighbors on this exciting opportunity. High-speed rail has long been a conversation in Colorado, and this designation would provide the funding needed to further examine its feasibility," Colorado Governor Bill Ritter said. "There is a great deal of movement of people, goods and services along the Front Range and the entire Colorado-Texas-New Mexico corridor, and it is high time Congress designate a Western corridor. This designation would connect our communities, increase economic opportunities, create jobs, and lead Colorado's transportation infrastructure forward."
Even Texas Governor Rick Perry -- who just this past April seemed to be advocating for Texas to secede from the union due to his dislike for federal spending -- got into the act. "Improving and expanding our transportation infrastructure is vitally important in a state that grows by more than 1,000 people each day," Perry said. "As we look for more efficient ways to keep Texans moving, high-speed rail is an important option, which is why I am supportive of this and other high-speed rail projects across Texas."
July 9, 2009 at 12:19 PM in Green Economy, NM Congressional Delegation, NM Office of Recovery and Reinvestment, Obama Administration, Sen. Tom Udall, Transportation | Permalink | Comments (1)
Tuesday, June 09, 2009
'Cash for Clunkers' Bill Passes House with Support of NM's Three Congressmen
Have a clunky old vehicle that costs a fortune in gas costs? Would you like to take advantage of a deep discount to replace it with a vehicle that gets great mileage and is easier on the environment? Today, Congressmen Harry Teague, Martin Heinrich and Ben Ray Lujan voted for a bill that might help you do just that -- if your old vehicle and new new vehicle meet certain requirements.
New Mexico's entire House delegation voted in favor of a "cash for clunkers" program that passed the House today. The bill will allow consumers to trade in their old, gas-guzzling cars for vouchers worth up to $4,500 to help pay for new, more fuel-efficient vehicles. According to a statement released by the trio today, H.R. 2751, The Consumer Assistance to Recycle and Save Act, will spur the sale of up to one million more fuel-efficient cars and trucks nationwide, while stimulating the ailing auto industry and reducing our dependence on foreign oil.
The legislation provides rebates for cars and trucks in the following four categories:
· Passenger Cars: The old vehicle must get 18 mpg or less. New vehicles with improvement of at least 4 mpg will get a $3,500 voucher. New vehicles with improvement of at least 10 mpg will get a $4,500 voucher.

· Light-Duty Trucks: The old vehicle must get 18 mpg or less. New vehicles with improvement of at least 2 mpg will get a $3,500 voucher. New vehicles with improvement of at least 5 mpg will get a $4,500 voucher.

· Large light-Duty Trucks: The old vehicle must get 15 mpg or less. New vehicles with improvement of at least 1 mpg will get a $3,500 voucher or trade-in of a "work truck." New vehicles with improvement of at least 2 mpg will get a $4,500 voucher.

· Work Trucks: The old vehicle must be a pre-2002 model. New vehicles in the same or smaller weight class will get a $3,500 voucher.
"You can't teach an old car new tricks. Gas-guzzling cars put a strain on your wallet and the environment," said Congressman Martin Heinrich. "This bill would give consumers incentive to trade-in inefficient cars and trucks for a more environmentally friendly vehicle, which would stimulate car sales and increase the number of fuel-efficient cars on the road."
"There are a lot of miles of highway in southern New Mexico and many of my constituents drive long distances to see family, get to work or just to go to the grocery store and with the price of gas being on the rise daily travel can get pretty expensive," said Congressman Harry Teague "This program will allow constituents looking to save some money and upgrade to a more fuel efficient vehicle the chance to do so with some extra money in their pockets."
"The legislation helps families trade in their gas guzzlers for a more energy efficient car, which will help our economy and our environment," said Congressman Ben Ray Luján. "The program will benefit New Mexicans by assisting them in purchasing a car that is more energy efficient, cutting down on their gas bills."
The bipartisan legislation is supported by a broad coalition that includes the AFL-CIO, UAW, car dealers, the U.S. Chamber of Commerce and the National Association of Manufacturers.
June 9, 2009 at 07:07 PM in Economy, Populism, Energy, Environment, NM Congressional Delegation, Rep. Ben Ray Lujan (NM-03), Rep. Harry Teague (NM-02), Rep. Martin Heinrich (NM-01), Transportation | Permalink | Comments (4)
Wednesday, May 20, 2009
NM's Ramah Navajo Chapter First to Receive Economic Recovery Funds for Tribal Roads
US Transportation Department Secretary Ray LaHood announced in a statement released yesterday that the Ramah Navajo Chapter in northwest New Mexico became the nation's first Tribe to receive direct road repair funding from President Obama's American Recovery and Reinvestment Act (ARRA). The Tribe will receive more than $644,000 from the Federal Highway Administration (FHWA) to help resurface nearly 10 miles of Ramah Navajo Route 25 – also known as Veterans Highway – on the Tribe's 168,000-acre reservation.
"These funds will make dramatic improvements to some of the most rural roads in the nation, while putting people to work in an economically-distressed area," said Secretary LaHood in a written statement. "This project is a great reminder that investment in infrastructure is also an investment in people."
Through the ARRA, $310 million is available for the FHWA's Indian Reservation Roads (IRR) program. Federally-recognized Tribes are eligible to receive ARRA funding based on highway projects' estimated construction costs, volume of traffic along the route and the Tribe's current population.
The Ramah Navajo Chapter, represented by then-President Leo Pino, was among the first four Tribes to sign an IRR Program Agreement in 2006, which allows Tribes to work directly with FHWA for their IRR Program funding instead of contracting with the US Department of the Interior's Bureau of Indian Affairs.
May 20, 2009 at 09:41 AM in Economy, Populism, Native Americans, Obama Administration, Transportation | Permalink | Comments (0)