Thursday, July 14, 2011
Doña Ana County Seniors Call on Steve Pearce to Oppose Medicare Cuts
Contributing writer Stephen Jones checks in with more on-the-ground coverage from Southern New Mexico.
A determined group of Doña Ana County senior citizens and retirees called on Congressman Steve Pearce (R-CD2) at his Las Cruces office on Thursday morning. They were there to protest Pearce's vote for the Ryan budget plan, which would end Medicare, and to state their opposition to efforts by Pearce, southern New Mexico's representative in Washington, to slash funding for Medicare and Medicaid. The group met briefly with Eric Layer, Pearce's press secretary, and presented him with a large "return receipt" presented for Pearce's signature. The so-called "return receipt" asks Congressmen who voted for the Ryan plan to return their own government paid health insurance and join seniors on their own "in the private insurance market."
Layer also read a press release, issued by Congressman Pearce to the gathering, which states that claims that "this year's revenues will be more than enough to cover Social Security and Medicare" even if the debt ceiling is not extended.
Evelyn Erhard, a Las Cruces resident who helped organize Thursday's group, told Layer that she and her husband "would love to support local business," but are unable to do so due to high health care costs. "Even with Medicare we pay $17,000," Erhard said. "I'm glad Congressman Pearce has done well in the oil business," she added, "but I want him to know we are not all in that situation."
"Social Security and Medicare are not part of the deficit problem," said Deanna Barshinger. "They need to be treated separately from the deficit issue. I'm not even speaking for myself here," an emotional Barshinger added, "but I'm thinking of all my neighbors and fellow citizens who depend on Social Security and Medicare to live. We need to have people in Washington stop thinking politics and party and start thinking about people," Barshinger said.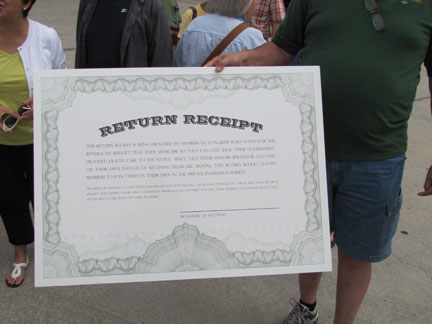 After the meeting, the outsized "return reciept" was presented to Eric Layer by Chris Cervini, a community activist from Albuquerque who was in Las Cruces as part of an effort to acquaint voters in New Mexico with the national Affordable Care Act. Cervini stressed the importance of protecting Medicare and Medicaid from cuts in Congress. Layer promised to forward a photo of the oversized document to Congressman Pearce, who is in Washington.
Photos by Stephen Jones. To see more posts by Stephen, visit our archive.
July 14, 2011 at 06:48 PM in By Stephen Jones, Contributing Writer, Economy, Populism, Healthcare, Las Cruces, Senior Citizens, Steve Pearce | Permalink | Comments (3)
Wednesday, June 29, 2011
Media Matters: Rep. Steve Pearce Lies to Elderly Constituent on Medicare Cuts in GOP Budget Plan
In a post on its Political Correction blog, national media watchdog group Media Matters reports that GOP Rep. Steve Pearce (NM-02) lied when an elderly constituent at a town hall meeting in his district asked him about the fact that Medicare privatization in the GOP budget plan "primarily affects women and the poor." In his response to the question, Pearce claimed there were no Medicare cuts in GOP Rep. Ryan's budget and that, in fact, only the health care reform law has cuts to Medicare:
CONSTITUENT: Medicare privatization and cuts in Social Security primarily affect women and the poor and I was wondering if there is any way that that can be addressed so that everybody feels some of the pain.

PEARCE: You bet, right now there is a lot of discussion going on about Medicare and all that was suggested. Frankly, under the Ryan plan, you can like it or dislike it, but under that plan there were no cuts proposed for Medicare at all. And then under -- there was no other plan suggested, the Democrats haven't suggested one, so right now there haven't been cuts. Now the health care bill that was passed last year, had 500 billion cuts to Medicare so you still want to be aware of that, Medicare Part A or part -- anyway Medicare Advantage is where the cuts were coming out of. So right now, I don't see any cuts at all for Medicare especially for people 55 and older. Again, those things are kind of lost in all the discussion, but nobody is suggesting we change the program for people who are in it.
Watch:
Rep. Pearce either didn't read the budget he voted for or he's lying to his constituents. The House-passed GOP budget calls for the repeal of the Patient Protection and Affordable Care Act, but keeps the $500 billion reduction in Medicare Advantage spending growth that Republicans decry as "cuts."
But the budget also goes much further. Contrary to Rep. Pearce's assertion that nobody over 55 would be affected, the GOP budget would reopen the Medicare "donut hole," cut Medicaid (which nine million poor seniors also qualify for), and almost double the cost that seniors have to pay out of pocket by 2022, eventually rising to a 68 percent increase in out-of-pocket costs. All that, and it only reduces the deficit by $155 billion because of increased tax cuts for the wealthy. As Rep. Pearce's constituent points out, and rightly so, the GOP budget does not spread the burden around, but instead focuses it squarely on current and future senior citizens. (h/t OLE)
Bottom Line: Rep. Pearce apparently believes it's OK to lie to his constituents in order to hide the fact that Republicans are dead set on cutting Medicare benefits. Is he ashamed of the policies he and his Party are supporting? If not, why isn't he telling the truth about the real consequences of the GOP budget plan?
June 29, 2011 at 09:33 AM in Healthcare, Republican Party, Right Wing, Steve Pearce | Permalink | Comments (0)
Tuesday, April 12, 2011
April Events to Support Social Security, Medicare, Medicaid in Las Cruces, Albuquerque
From NM Alliance for Retired Americans:
Greetings Social Security supporters. Tea Party got you down? Join us this month to learn about the political attacks on our treasured public programs -- Social Security, Medicare and Medicaid -- and be the best advocate you can be for a strong Middle Class in these dangerous times.
While the Repubs' budget proposals mock working families and try to balance the budget on our backs, we at the NM Alliance have been hard at work with our partners, OLE NM, the National Committee to Preserve and Protect Medicare and Social Security, and Social Security Works to mobilize our state against the lying liars who would shred our safety nets while enjoying public benefits for themselves.
Here's a calendar of events for the rest of April. Come on out and stand up for your public programs before it's too late! Spread the word!
Wednesday, April 13, Las Cruces area:
"Hands-Off our Social Security" presentations with our National Committee, OLE partners. Please spread the word. Click for information on how Social Security Works for New Mexico (pdf).
10:00 AM - 12 Noon: Dona Ana Community Center, 5745 Ledesma in Dona Ana, (575) 526-8807. Click for flyer (pdf).
1:30 PM - 3:30 PM: East Side Community Center, 310 N Tornillo Ave in Las Cruces, (575) 541-2304. Click for flyer (pdf).
4:00 PM: 570 N. Telshor in Las Cruces. We'll pay a visit to Rep. Steve Pearce's office
Monday, April 18, Albuquerque:
12 Noon: Tax Day Rally, 303 Roma NW, in front of Bank of America with our MoveOn partners. Celebrate your Tax Payer Pride on the public sidewalk!
Thursday, April 28, Albuquerque and Las Cruces - "Work Till You Die!" events*
12 Noon: In Downtown Albuquerque in front of the SSA office on 5th and Lead. Guest Speakers Sen. Jeff Bingaman and Rep. Martin Heinrich (invited).
12 Noon: In Las Cruces, rally in front of Rep. Steve Pearce's office. (What's up with his voting record on Social Security??? Show him that working families exist in New Mexico.)
*In case you missed the Alliance's award-winning parody commercial, "Work Till You Die," last year -- here it is again -- back by popular demand! Be sure to come in your work uniforms on April 28!
April 12, 2011 at 10:30 AM in Children and Families, Events, Healthcare, Senior Citizens, Social Security, Steve Pearce | Permalink | Comments (0)
Wednesday, March 23, 2011
Rep. Pearce Intros Bill to Exempt National Forest Logging From Environmental Laws

Mr. Destroy the Environment is at it yet again. Yesterday, Rep. Steve Pearce (R, NM-02) announced legislation — HR 1202, introduced late last week — that would exempt national forest timber cutting from all environmental laws. The bill would also require federal agencies to physically remove threatened Mexican spotted owls from their natural habitat and condemn them to so-called "sanctuaries." No, this is not a story published by The Onion, although it certainly sounds like it could be.
Champions of the environment think so too. "Congressman Pearce is well-known for his outrageous anti-environmental views, but this stunt really takes the cake," said Todd Schulke, a forest policy analyst at the Center for Biological Diversity. "This bill would sweep away decades of environmental protection, including the Endangered Species Act, as well as force the Mexican spotted owl into internment camps that Pearce calls sanctuaries."
It's currently unclear whether Pearce's bill would apply only to forests where Mexican spotted owls live or more broadly to all national forests, in the Southwest and beyond. However, Pearce did say that, "We can keep the spotted owl in sanctuaries. We can put a thousand or two thousand acres aside for a sanctuaries." Can you imagine?
And get this statement supporting the bill by Otero County Commission Chair Ronny Rardin: "It's not a democrat or republican thing, It's New Mexico," Rardin said. "If we don't or I don't do something now as a commissioner, It's going to die. I don't want to be the guy who didn't do anything. I am trying to fix the darn problem. I also do not want to be the guy who killed our species." [emphasis added]
Southwestern logging and the jobs it supported crashed in the mid-1990s due to market forces, mechanization of the industry and increased environmental protections, according the the Center. Since then there has been growing recognition of the need for forest restoration to safely reintroduce natural fire regimes, improve degraded wildlife habitat and facilitate community protection. Environmental groups, including the Center, have worked closely with the U.S. Forest Service and community groups, through efforts like the Collaborative Forest Restoration Program, to establish restoration projects and community-based businesses to help implement them.
"Congressman Pearce is hopelessly out of touch. There are a number of small forest-restoration businesses in communities he represents like Ruidoso, Silver City and Reserve. These businesses are already employing people and getting good restoration work done in the woods. The congressman should be looking for ways to support these people and that work rather than creating a new government program that promises failure," said Schulke.
The Mexican spotted owl was listed as threatened under the Endangered Species Act in 1993 as a result of habitat damage caused by decades of old-growth liquidation on federal forests in Arizona and New Mexico. The owl needs cool, dense southwestern forests, dominated by large trees, to survive.
To learn more about the Mexican spotted owl, click here.
March 23, 2011 at 03:11 PM in Environment, Land Issues, Steve Pearce | Permalink | Comments (6)
Thursday, March 17, 2011
Congressman Ben Ray Luján Urges Obama to Stick to Afghanistan Withdrawal Timetable
Congressman Ben Ray Luján of New Mexico's Third District joined with 80 of his colleagues yesterday to send a letter to President Obama urging him to stick to his plan to reduce troop levels in Afghanistan no later than July of this year. On October 7, 2010, the Afghanistan War entered its 10th year, becoming the longest war in American history. Click to read the the letter (pdf) and the complete list of signatories.
Given all the billions still being dumped into the hands of contractors and thieves in Afghanistan while Americans continue to suffer from joblessness and eternally escalating budget cuts, you'd think every single member of Congress who claims to be a Democrat would sign on to this letter. Unfortunately, way too many Dems have apparently vowed to stick with the President and the Pentagon on this one, regardless of the consequences here at home. As the letter notes:
Our nation's economic and national security interests are not served by a policy of open-ended war in Afghanistan. At a time of severe economic distress, the war in Afghanistan is costing the United States more than $100 billion per year, excluding the long-term costs of care for returning military servicemembers. At the same time, military and intelligence officials agree that Al Qaeda's presence in Afghanistan is diminished and that there will not be a military solution to resolve the current situation. It is simply unsustainable for our nation to maintain a costly, military-first strategy in Afghanistan.
Out-of-Control Military and War Spending
More than $100 billion a year means we are still pouring about $2 BILLION A WEEK into the corrupt sinkhole that Afghanistan has become. For what return? And this doesn't even take into account the hundreds of billions still being spent in Iraq and on our regular military budget. The President's FY 2012 base budget request for military spending is $553 BILLION, not counting the war spending. With the spending for Iraq and Afghanistan added in, the total is $671 BILLION.
In the meantime, the President and way too many Dems in DC are suggesting that we need to cut spending on things like Social Security, Medicare, Medicaid, education, funding to states in budgetary peril and more to reduce the deficit. The vast majority of Americans, however, believe that enough is enough:
The majority of the American people overwhelmingly support a rapid shift toward withdrawal in Afghanistan. In fact, a Gallup Poll released on February 2, 2011 indicated that 72% of Americans favor action this year to "speed up the withdrawal of troops from Afghanistan." Let us be clear. The redeployment of a minimal number of U.S. troops from Afghanistan in July will not meet the expectations of Congress or the American people.
Contact the NM Delegation
Let's thank Rep. Lujan for his courage and common sense on this issue, and urge Rep. Martin Heinrich (D, NM-01) and Rep. Steve Pearce (R, NM-02) to show some backbone on this issue and insist on the President keeping his word on our withdrawal from Afghanistan. As the letter says,
Mr. President, as you work to finally bring an end to the war in Iraq by the end of this year, we must commit ourselves to ensuring that our nation's military engagement in Afghanistan does not become the status quo. It is time to focus on securing a future of economic opportunity and prosperity for the American people and move swiftly to end America's longest war in Afghanistan.
Resolution Calls for Troop Removal
Today, the U.S. House will debate H. Con. Res. 28, a resolution proposed by Rep. Dennis Kucinich (D-OH) that calls for President Obama to remove troops from Afghanistan within 30 days of adoption, or if the president determines such a rapid withdrawal would be jeopardize the safety of U.S. troops, then delay the withdrawal to no later than the end of the year. As Rep. Kucinich has noted,
... while Congress "pulls unemployment benefits from suffering Ohio families and proposes slashing health care benefits, vital children's programmes and veterans' services all because we're 'broke,' it continues to fund a war that has cost us more than $455 billion (£282bn).

"The Centre for Arms Control and Non-Proliferation estimates that the wars in Iraq and Afghanistan cost the average US family of four almost $13,000 (£8,050) last year."
For more on the true costs and futility of continuing operations in Afghanistan, visit Rethink Afghanistan.
March 17, 2011 at 11:35 AM in Afghanistan, Economy, Populism, Iraq War, Military Affairs, Obama Administration, Rep. Ben Ray Lujan (NM-03), Rep. Martin Heinrich (NM-01), Steve Pearce | Permalink | Comments (1)
Monday, March 07, 2011
Heather Wilson: Entrenched GOP Insider/Moderate/Tea Party Right Winger Seeks Second Chance at Senate Seat
As former NM-01 Congresswoman Heather Wilson announced her candidacy for the Republican nomination for the U.S. Senate from New Mexico this afternoon, the Democratic Senatorial Campaign Committee (DSCC) unveiled a new webvideo (see above) on her time in Washington as part of the highly unpopular Republican establishment. (You can see Wilson's announcement news conference in two parts on Qik video here and here, thanks to reporter Peter St. Cyr of What's the Word.)
"Heather Wilson spent her career in Washington becoming part of the entrenched national Republican establishment and standing-up for the special interests," said DSCC Director Eric Schultz. "For years, Heather Wilson was part of the problem in Washington and now she wants to be sent back. Last time around, New Mexico primary voters rejected her and turns out they had good reason to."
Wilson served in Congress for more than ten years, becoming a fixture in national politics with strong ties to lobbyists, scandal and the broken ways of Washington. In her last attempt to run for the U.S. Senate, her political vulnerabilities proved insurmountable when she failed to survive a primary challenge.
Wilson's Independent Problem
Hard to tell what's going on this year in the New Mexico GOP but, according to recent polling by Public Policy Polling, Heather's main problem may be more with the state's independents than its hard-core Republicans in 2012. According to a PPP blog post today,
Last month we found her favorability with primary voters to be 71/18, and actually even better with conservatives at 74/14 than with moderates at 64/25. 35% wanted her to be the party's Senate candidate to 27% for Gary Johnson who continues to insist he's not running, 17% for Steve Pearce, 6% for Matt Chandler and Dianna Duran, and 4% for John Sanchez. Wilson may have Tea Party trouble further on down the line but coming out of the gate she is quite strong with Republican voters.
And those independents?
Wilson's real problem is with independents. New Mexico is a Democratic state. For a Republican to win statewide requires winning independents, and generally winning them by a lot. But they don't like Wilson. Her favorability with them is a 39/43 spread. In a hypothetical contest with her successor Martin Heinrich she trails with independents by a 22 margin at 50/28. Against the state's other Democratic Congressman, Ben Ray Lujan, she trails with them 46/33. Because of her issues with party-less voters she trails Heinrich by 11 points and Lujan by 8 points overall [emphasis added].
The Moderate-Tea Party Candidate?
Given the PPP polling results, it's rather ironic that former Republican land commissioner candidate Matt Rush said at today's announcement that Wilson is "the only candidate who can beat the Democrat." Doesn't look like it from the polling so far.
As for Matt Rush's credibility, he was caught lying about his education during his campaign. And his judgment? He made a video proclaiming that he was running to "reinstate a Christian nation." You may recall Rush also seems to think "the enemy" is any American who isn't dedicated to creating a "Christian nation."
This is the kind of discredited right-wing ideologue Heather selected to introduce her at today's announcement. Get the picture? I know, it's more than a little muddled in terms of how Wilson is trying to frame her political bent this time out. More than anything, it looks like she will be trying to be all things to all people -- and there's nothing voters seem to dislike more in the current political environment.
In the past, Wilson was forever trying to portray herself as a "moderate" Republican -- is there such a thing anymore? -- in order to capture independent votes in NM-01. However, now that the GOP, both here and nationally, has pretty much capitulated to the tea party lunacy of Michele Bachmann and Sarah Palin, Heather is very obviously trying to recreate herself as some kind of new face on the right-wing extremism circuit. But keep her "moderate" cred with independents. And hide the fact that she's really more Republican establishment than tea party revolutionary.
GOP Insider Posing as Tea Party Rebel?
Wilson seems to be getting help, or at least no challenge for now, from NM-02 Congressman Steve Pearce. Pearce, who's viewed as more "conservative," beat her in the last GOP primary for the Senate seat ultimately won by Tom Udall. He doesn't appear to be seeking the seat again this cycle, although if Wilson falters or doesn't pretend to be as right-wing as he is, he may step in. Heather's also tight with New Mexico's Republican governor Susana Martinez -- who thinks Arizona's Governor Jan Brewer is a role model and Sarah Palin's a gas.
Heather ran Martinez's transition team, so she's also probably in like Flynn with the GOP-Texas-DC big spenders and advisers who tell Martinez what to do, what to say and how to say it. They're not exactly anti-establishment, although they clearly like to pretend they are these days, given the tea party's growing prominence in right-wing politics.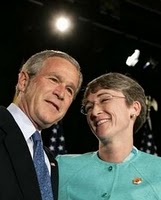 The Wilson-Bush Legacy
Wilson might have a hard time convincing the new-breed right wingers she's one of them, either. She's got years and years worth of connections to the old-hat, insider Washington establishment -- and a number of embarrassing snafus and ethically challenged behavior to explain from her days as a Bush-Cheney favorite:
Wilson Came to Washington in 1998. In 1998, Wilson was elected as a Republican to the One Hundred Fifth Congress by special election, to fill the vacancy caused by the death of United States Representative Steven Schiff, reelected to the five succeeding Congresses. [Wilson Biography, Biographical Directory of the United States Congress]
Bush Raised $375,000 for Wilson Re-Election Effort. President Bush headlined a June 16, 2006 fundraiser to Benefit Wilson's 2006 re-election campaign. The event, held at the Hyatt Regency cost $1,000 to attend while guests were given the opportunity to have a photo taken with the President for $5,000. [Albuquerque Journal, 6/17/06, Albuquerque Tribune, 6/17/06; AP, 6/17/06; Santa Fe New Mexican, 6/17/06]
Cheney Headlined November 2007 Wilson Fundraiser. In October 2007, Wilson announced that Dick Cheney was scheduled to headline a Wilson fundraiser to be held in November 2007. [AP, 10/13/07; National Journal's Congress Daily, 10/11/07, 10/17/07]
2008: Pearce Defeated Wilson For Republican Senate Nod. In 2008, Congressman Steve Pearce rattled the Republican Party in New Mexico by defeating Rep. Heather Wilson for the nomination to the U.S. Senate seat held by her mentor, Pete Domenici. The narrow victory of about 3,000 votes puts Pearce's name on the Nov. 4 general election ballot. [The Taos News, 6/05/08]
2007: Wilson Named One Of The Most Corrupt Members Of Congress. CREW (Citizens for Responsibility and Ethics in Washington) named Wilson to its annual list of the most corrupt members of Congress. They put her on the list because of her involvement in the US Attorney Scandal. [CREW Release, 9/18/07]
Wilson Received Over $65,000 in Contributions from Abramoff-DeLay-Cunningham – And Refused to Return All Of It. In September 2006, the Albuquerque Journal reported that Wilson had received over $65,000 in campaign contributions since 1998 from people and groups linked to disgraced lobbyist Jack Abramoff and former Republican Reps. Randall "Duke" Cunningham and Tom DeLay. Wilson received $50,000 from the DeLay's leadership PAC, Americans for a Republican Majority, between 1998 and 2005. Wilson returned or donated only some of the contributions. [Albuquerque Journal, 9/14/06]
Wilson Improperly Pressured US Attorney For Political Gain. According to former New Mexico US Attorney David Iglesias, Wilson contacted him on October 16, 2006, to pressure him to take action on a political corruption case, which she was using as political fodder against her opponent Patricia Madrid. Iglesias maintains that he received a second politically motivated phone call from Domenici approximately 10 days later. Wilson refutes this interpretation of the events, however. She claims that the calls were merely to check on the status of the investigation. [AP, 4/19/07]
Former US Attorney Iglesias: Wilson Made "Very Inappropriate" Call Regarding Sealed Indictments. According to an interview with David Iglesias in published in Vanity Fair in February 2009, "The first thing that came to mind were two very inappropriate phone calls that I got in October 2006. One was from Congresswoman Heather Wilson. She called me directly on my cell phone and was snooping around, asking about sealed indictments. I was very vague in my answer and basically gave her reasons why U.S. attorneys can seal something. She seemed very unsatisfied." [Vanity Fair, February 2009]
Wilson Serves On The Board Of Karl Rove's Crossroads GPS. According to a column written by Wilson for the Washington Times, "Heather Wilson is a board member of Crossroads GPS and was a member of the U.S. House of Representatives from New Mexico from 1999 to 2009." [Washington Times, 10/29/10].
Bottom Line: It will be fascinating to watch Heather Wilson speak out of three sides of her mouth, depending on who's in the room. Is she the GOP's latest tea party outsider rousing the ideologues to revolution, a "moderate" Republican who appeals to independents or a dyed-in-wool Beltway insider who fights for a GOP status quo that both modern Republicans and independents dismiss as more of the same old same old? Stay tuned.
March 7, 2011 at 05:24 PM in 2012 NM Senate Race, Heather Wilson, Republican Party, Right Wing, Steve Pearce, Susana Martinez | Permalink | Comments (8)
Tuesday, February 08, 2011
Extension of Patriot Act Surveillance Fails in US House: Heinrich, Pearce Vote Yes; Ben Ray Lujan Votes No
The Hill has the story. Vote was 277-148, but the way the vote was structured it needed 290 to pass, or two thirds. A total of 26 Republicans voted no, along with 122 Democrats.
The Republican bill would have extended elements of the Patriot Act and related legislation to continue surveillance of business records, individual terrorists as agents of foreign powers and roving wiretaps until December 8, 2011. Sadly, President Obama supported the bill. Even worse, he wanted a longer, three-year extension.
I'm disappointed that Rep. Martin Heinrich (D, NM-01) voted yes, along with Republican Steve Pearce (NM-02). Bravo to Congressman Ben Ray Lujan (D, NM-03), who voted no!
February 8, 2011 at 06:17 PM in Civil Liberties, Homeland Security, Rep. Ben Ray Lujan (NM-03), Rep. Martin Heinrich (NM-01), Steve Pearce | Permalink | Comments (3)
Wednesday, February 02, 2011
Steve Pearce Raids Columbus
This is a post by contributing writer, Stephen Jones, of Las Cruces.

Congressman Steve Pearce (R, NM-02), leading a group of Congressional Tea Party favorites, raided Columbus, New Mexico on Tuesday where the group met with residents at the Columbus Community Center. Columbus is a small border community just north of the Mexican border in southwestern New Mexico where Pancho Villa led a raid onto U.S. soil in 1916 during the era of the Mexican Revolution.
Joining the Pearce event at Columbus on Tuesday were Georgia Congressman Phil Gringey, Iowa Congressman Steve King, and California Congressman Ed Royce, all Republicans. Congressmen King and Gringey are co-sponsors of H.R. 140, the "Birthright Citizenship Act of 2011," an effort to overturn the 14th Amendment in the United States Congress. In his press release issued Sunday announcing the visit, Pearce claimed "I want to help get beyond the beltway rhetoric of border security, and work toward solutions that reflect the complexity of the problem."
If overturning the U.S. Constitution constitutes getting beyond the overheated "beltway rhetoric," it's hard to see how. Far from representing a reasonable borderlands voice on security issues, Pearce's new alliance with extremists like King and Gringey is anything but reasonable.  According to Congressman King, "The current practice of extending U.S. citizenship to hundreds of thousands of 'Anchor Babies' every year arises from the misapplication of the Constitution's citizenship clause and creates an incentive for illegal aliens to cross our border. The 'Birthright Citizenship Act of 2011' ends this practice by making it clear that a child born in the United States to illegal alien parents does not meet the standard for birthright citizenship already established by the Constitution."
Nothing could be further from the facts. The only constitutional "misapplication" showcased by the Congressional party is that of Congressmen Pearce's allies, Gringey and King. The 14th Amendment clearly states "All persons born or naturalized" are citizens of the United States. Birthright citizenship to all persons born on American soil was the clear intent of the framers of the 14th Amendment and subsequently strongly supported by the Supreme Court and other case law.
History of 14th Amendment
As we have frequently pointed out on Democracy for New Mexico, the issue of birthright citizenship was extensively debated in Congress by the authors and sponsors of the Amendment leading up to passage and ratification in 1866 and 1867, and their intentions made clear in their extensive speeches and writings.
In an address to Congress on March 9, 1866 Congressman John A. Bingham of Ohio, the Representative who drafted the original language of Section 1 of the 14th Amendment, specifically made his intent clear. Speaking in support of the proposed Amendment Bingham said, "I find no fault with the introductory clause [birthright citizenship], which is simply declaratory of what is written in the Constitution, that every human being born within the jurisdiction of the United States not owing allegiance to any foreign sovereignty is, in the language of your Constitution itself, a natural-born citizen; but sir, I may be allowed to say further, that I deny that the Congress of the United States ever had the power or color of power to say that any man born within the United States, is not and shall not be a citizen of the United States. Citizenship is his birthright, and neither the Congress nor the States can justly or lawfully take it from him."
As to whether birthright citizenship was to extend only to former slaves, and not to the children of immigrants, Bingham spoke forcefully for the language and for equal protection of the law for all persons within America's borders. He  asked opponents of birthright citizenship in Congress, "So you propose to allow these discriminations to be made in the States against the alien and stranger? Can such legislation be sustained by reason or conscience? With all respect to any gentleman who may be a supporter of it, I ask can it be sanctioned? Is it not as unjust as the unjust State legislation you seek to remedy? Your Constitution says 'No person,' not 'no citizen' 'shall be deprived of life, liberty or property without the due process of  law."
Missing the Point
Pearce, Gringey and King are off the mark on immigration, on constitutional intent, and they fail to grasp the real security challenges facing the border region, generally. Furthermore, if the Pearce-Gringey raid on Columbus was meant to highlight an historic event when Mexican nationals under General Villa entered the territory of the United States and shot up the town, the Congressmen seem to have missed the obvious historical analogy. Villa's 1916 raid had nothing to do with immigration into the United States but rather was an action, on Villa's part, to extract revenge against an American gun dealer who had illegally sold weapons and then cheated the Mexican revolutionary.
That gun dealer, Sam Ravel, had sold guns to Villa and other leaders of the Mexican revolution, and then failed to make good on the promised delivery to Villa's forces. Ravel's property was destroyed in the 1916 raid, though Ravel, who was in Albuquerque at the time of the raid, himself escaped harm. If Pearce and his allies King and Gringey are truly concerned with border security, they might begin by addressing the illegal gun sales from north of the border into Mexico that have destabilized the region and contributed to a northward flight of refugees from conflicts south of the border both in 1916 and in the drug-driven borderland crisis today. Unlike birthright citizenship, illegal gun-running by rogue weapons dealers is not protected by our Constitution.
While FBI statistics show a dramatic decrease in illegal immigration and criminal activity in the areas on this side of the border, as well as more deportations than ever before, the death rate in northern Mexico at the hands of drug cartels armed by illegal gun merchants from north of the border are higher than ever.
On the meaning and intent of our Constitution, specifically the birthright citizenship provision of the 14th Amendment, and its democratic guarantees of equal protection and due process, Congressman John Bingham, its original author, said in 1866, "Your Constitution provides that no man, no matter what his color, no matter under what sky he might have been born, no matter in what disastrous conflict or by what tyrannical hand his liberty may have been cloven down, no matter how poor, no matter how friendless, no matter how ignorant, shall be deprived of life or liberty or property without due process of law--in its highest sense, that law which and impartial, equal, exact justice."
We realize Representative Steve Pearce isn't the sharpest knife in the drawer, but Congressman Bingham's words and intent ought to be clear enough even for the Congressman from New Mexico's 2nd District to understand. 
To read more posts by Stephen Jones, visit our archive.
February 2, 2011 at 12:58 PM in Border Issues, By Stephen Jones, Contributing Writer, Civil Liberties, Hispanic Issues, History, Immigration, Minority Issues, Right Wing, Steve Pearce | Permalink | Comments (6)
Monday, December 13, 2010
Congressman-Elect Steve Pearce Hires Lobbyist as Chief of Staff
True to form, Republican Congressman-elect Steve Pearce (NM-02) has selected a lobbyist to serve as his chief of staff. Todd Willens is a lobbyist at Vitello Consulting, a firm that represents a number of interests, including a casino. Rather ironic, given the fact that the GOP's midterm strategy emphasized their alleged "outsider" loyalties, stand against "corruption" and "populist" leanings.
Pearce is not alone among incoming GOP representatives. According to an article on The Hill:
At least nine federally registered lobbyists have accepted offers to become chiefs of staff to newly elected Republican House members and senators, according to a review of press releases and media reports as well as interviews by The Hill.

The migration from K Street to Capitol Hill shows that at least some of the newly elected lawmakers are establishing strong ties to the Washington establishment, despite claims that the next Congress — and its class of Tea Party-affiliated outsiders — will shun the old ways of doing business.
Think Progress reports there are at least 13 lobbyists -- mostly from the energy industry -- being hired to serve incoming GOP House members. And they're quickly stepping up to the trough, holding big-dollar fundraisers at Capitol Hill bistros and corporate townhouses DC. As usual, the Republicans say one thing and do another:
It's now clear that House Republicans have launched an ambitious new effort, "Leave No Lobbyist Behind," where they hire special interest lobbyists to key positions that will develop the Republican agenda. Republicans have hired a lobbyist with "deep ties to K street" to run their Energy and Commerce policy, an earmark aficionado to partner with the Prince of Pork Hal Rogers on the Appropriations Committee and even an industry lobbyist to lead policy for the new Speaker-elect. Following their leaders' example, newly elected Republicans have gone to K Street to find their lobbyist/chief of staff, including Representatives-elect Raul Labrador of Idaho, Charlie Bass of New Hampshire, Steve Pearce of New Mexico, Jeff Denham of California and Robert Dold of Illinois.

"It's clear Republicans have told Washington special interests that they're 'open for business' as they leave no lobbyist behind while hiring congressional staff," said Jesse Ferguson of the Democratic Congressional Campaign Committee. "The major policy decisions Republicans make will be led by the same-old Washington special interest lobbyists watching out for CEOs and corporations, not what's best for America's families. Republicans ran on an agenda of changing Washington and now they're putting the same establishment lobbyists and the special interest back in charge."
Of course we shouldn't be surprised:
An MSBNC report during the campaign, among others, confirmed that the agenda House Republicans wrote for the 2010 campaign – called their "Pledge to America" – was authored by industry lobbyists. [MSNBC, 9/23/10]
December 13, 2010 at 01:49 PM in Corporatism, Republican Party, Right Wing, Steve Pearce | Permalink | Comments (1)
Sunday, October 31, 2010
Right Wing Horror Show: Susana Martinez, Steve Pearce, Jon Barela, Tom Mullins AND Karl Rove
See greedy, anti-working family monsters Steve Pearce, Jon Barela, Susana Martinez, Tom Mullins and Karl Rove mash it up as only teabaggers can. Kinky little buggers. Don't let them trick er treat at your house -- they have only monstrous tricks (and lies) up their sleeves ...
October 31, 2010 at 03:02 AM in 2010 General Election, 2010 NM Governor's Race, Jon Barela, NM-01 Congressional Race 2010, NM-02 Congressional Race 2010, NM-03 Congressional Race 2010, Republican Party, Steve Pearce, Susana Martinez | Permalink | Comments (1)
Wednesday, October 20, 2010
Steve Pearce Flunks the Interview in New Ad Campaign in NM-02
Yesterday, Accountability 2010 launched an aggressive advertising campaign to expose 2nd District U.S. Congressional candidate Steve Pearce's failed record in Washington. The broadcast and cable television ad (video above, text below) will run across New Mexico's 2nd Congressional District over the next two weeks.
The ad features a man interviewing former-Congressman Pearce about why he deserves his old job back in Congress. Reading through the Congressman's resume, the interviewer states: "Last time around you were named one of the most corrupt Members of Congress. Took $46,000 in Congressional pay raises. Voted against a $1,500 pay bonus for our troops."
Accountability 2010 is a newly-formed entity focusing on candidates who repeatedly sell out Main Street America to serve outside special interest groups. The group's website ties former Representative Pearce to a series of positions that it believes do not represent the interests of New Mexico's 2nd District.
The spot is the inverse of an ad Governor Bill Richardson ran during his 2008 presidential campaign, which featured a job interviewer reading Governor Richardson's positive accomplishments.
To learn more about Congressman Steve Pearce's failed record in Washington, visit: www.notpearceagain.org/.
Ad Transcript for "Steve Pearce: Again? Seriously?" (30 Second Spot):
INTERVIEWER: Congressman Steve Pearce, you've had this job before. Let's see, last time around you were named one of the most corrupt Members of Congress. [Citizens for Responsibility and Ethics in Washington, 9/18/2007]
INTERVIEWER: Took $46,000 in Congressional pay raises. [Legistorm]
INTERVIEWER: You voted against a $1,500 pay bonus for our troops. [HR 3289, Vote #554, 10/17/2003]
INTERVIEWER: Thanks, Steve. Thanks for coming in. We'll call ya.
V/O: Congressman Steve Pearce. Again? Seriously?
October 20, 2010 at 01:56 PM in NM-02 Congressional Race 2010, Political Ads, Steve Pearce | Permalink | Comments (0)
Thursday, October 14, 2010
Records Show Congressman Pearce Diverted Thousands in Taxpayer Funds to Pay for Travel on Private Planes Owned by His Companies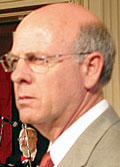 Uh oh. Financial records never released to the public by Steve Pearce (I wonder why) show that during his six years as the Congressman for New Mexico's 2nd Congressional District, Congressman Pearce diverted more than $17,000 in taxpayer funds to his own companies to cover the cost of flying in his personal private planes. This is the guy, remember, who insists he's dedicated to saving the taxpayers money. That's what he says, but his behavior while in office says otherwise.
Financial records show that between 2003 and 2006, Pearce charged taxpayers 14 times for flights on his personal private planes (registered to Gree, LLC/LTD and Trinity Industries Inc.) that were then charged to taxpayers for a total of $17,483 in "private plane travel disbursements," according to a statement and documentation released late this afternoon by the Teague campaign. The record of taxpayer payments to Pearce-owned companies was found in the Statement of Disbursements of the House as Compiled by the Chief Administrative Officer for the years 2003-2006.
"Congressman Pearce's history of corruption and hypocrisy is catching up with him. First we discovered that Pearce pocketed $46,000 in taxpayer-funded pay raises and now he's been caught paying himself over $17,000 in taxpayer funds just so he could fly around in luxury on his own private planes," Teague Campaign Manager, Dominic Gabello said. "This is just another example of the greed-driven behavior that has resulted in Congressman Pearce being named 'One of the Most Corrupt Members of Congress' -- TWICE."
Get the Facts:
Pearce Affiliation with Gree LLC
Gree LLC/LTD is listed on Congressman Pearce's Personal Financial Disclosure Forms filed between 2003 and 2010. The Corporations Bureau of the New Mexico Public Regulation Commission lists Congressman Steve Pearce and his wife Cynthia Pearce as Officers of Gree, LTD. There are no other officers listed.
Pearce Affiliation with Trinity Industries Inc.
Trinity Industries Inc. is listed on Congressman Pearce's Personal Financial Disclosure Forms filed between 2004 and 2010. The Corporations Bureau of the New Mexico Public Regulation Commission lists Congressman Steve Pearce as the President and his wife, Cynthia Pearce as the Secretary of Trinity Industries Inc.
Private Plane Travel Disbursements:
Congressional Private Plane Travel
Quarter 3 2003
Gree, LLC: $3,207.63
Quarter 4 2003
Gree, LLC: $1,738.09
Quarter 2 2004
Gree, LLC: $581.07
Quarter 3 2004
Gree, LLC: $1,585.04
Gree, LLC: $819.88
Gree, LLC: $810.93
Quarter 4 2004
Gree, LLC: $461.68
Gree, LLC: $572.13
Quarter 3 2005
Gree, LLC: $673.42
Quarter 1 2006
Trinity Industries, INC: $1,523.36
Gree, LLC: $1,363.30
Trinity Industries, INC: $1,135.75
Quarter 2 2006
Trinity Industries, INC: $457.50
Gree, LLC: $2,553.29
Total: 17,483.07
(Information provided by the Teague campaign.)
Fight Back: Arrogant and elitist, isn't it? That's why the DFNM blog has started an ActBlue page called StandWithTeague to support Harry Teague's battle against Pearce in this rough election cycle. With lots of outside money pouring into right-wing coffers here in New Mexico, we have to fight back.
If you can afford to donate $5, $10 or more to Harry's campaign, we'd be much obliged. Every dollar counts as we head into the final weeks before the election.
October 14, 2010 at 06:07 PM in NM-02 Congressional Race 2010, Rep. Harry Teague (NM-02), Steve Pearce, Taxes | Permalink | Comments (0)