Monday, February 09, 2009
Tell County Commissioners Your Thoughts on Development in Santa Fe County
From the New Mexico Environmental Law Center: The Santa Fe Board of County Commissioners (BCC) at their meeting on Tuesday, February 10th, will vote on the Interim Development Ordinance (IDO) proposed for Santa Fe County to establish a moratorium on new development for six months, with a six month extension option.
This moratorium is critical in order to allow communities the opportunity for input on an updated Santa Fe County General Plan. The General Plan update "will address affordable housing, economic development, sustainable development, alternative energy, natural and cultural resource protection, public facilities and services."
PLEASE ATTEND and LEND YOUR SUPPORT: The Meeting starts at 3:00 PM on Tuesday, February 10th; however, we were told by County Staff that the IDO matter would come up around 6:00 PM:
102 Grant Ave
Santa Fe, NM 87501-2061
(505) 986-6200
Meeting Agenda. Please note Agenda Item X.B. - a Resolution To Support an Act Recognizing the Inherent Authority of Municipalities and Counties To Regulate Oil and Gas Operations within their Jurisdictions
The Plan and The Galisteo Basin Oil & Gas Ordinance: This Plan is the broader framework for the Galisteo Basin Oil and Gas Ordinance, and essentially becomes the "constitution" for all future development activities:
Please Participate! Public input meetings are scheduled near you. See below for schedule or visit the project calendar. For more information, contact Robert Griego at (505) 986-6215, or visit the County website.
NOTE: El Norte meetings occurred last week.
El Centro Charrette
February 9-12, 2009
Santa Fe Community College Jemez Room
6401 Richards Avenue
Public Kick-Off Meeting
Monday, February 9; 6:00-8:00 PM

Public Open House
Tuesday, February 10; 9:00am-8:00 PM

Public Community Workshop
Wednesday, February 11; 6:00-8:00 PM
Galisteo Charrette
February 23-26, 2009
Galisteo Community Center
35 Avenida Vieja
Public Kick-Off Meeting
Monday, February 23; 6:00-8:00 PM

Public Open House
Tuesday, February 24; 9:00am-8:00 PM

Public Community Workshop
Wednesday, February 25; 6:00-8:00 PM
Estancia GMA Charrette
March 2-5, 2009
Edgewood Senior Center
Public Kick-Off Meeting
Monday, March 2; 6:00-8:00 PM

Public Open House
Tuesday, March 3; 9:00am-8:00 PM

Public Community Workshop
Wednesday, March 4; 6:00-8:00 PM
It is important for all citizens of Santa Fe County to participate in this General Plan Update process which is already underway. Please forward to friends and neighbors!
The New Mexico Environmental Law Center: nmelc@nmelc.org
February 9, 2009 at 05:05 PM in Energy, Environment, Events, Local Politics, Public Policy, Rural Issues, Santa Fe, Sprawl Development | Permalink | Comments (2)
Saturday, January 31, 2009
Sen. Lopez's SunCal TIDD Bill Passes First NM Senate Committee
According to a report in the Albuquerque Journal, SB 249, the controversial bill to grant TIDD funding for certain SunCal projects on Albuquerque's West Mesa, was passed by the Senate Corporations and Transportation Committee on Friday by a margin of 9-1. The only legislator to vote against the measure was freshman Sen. Tim Keller (D, 17-Albuquerque), who had this to say at the hearing:
"I think planned growth is good. My question is, 'Is it appropriate for a state subsidy?' It seems like it should stand on its own feet as a private investment."
The bill, sponsored by Sen. Linda Lopez (D, 11-Albuquerque), would allow SunCal to sell up to $408 million in bonds backed by anticipated future tax revenue to finance roads and other infrastructure. SunCal already has secured nine TIDDs from Bernalillo County covering 4,000 of its 55,000 acres on the West Side. A similar measure that would have allowed for the sale of more than $620 million in bonds failed to pass the Legislature last year.
TIDD funding was originally designed as a mechanism to encourage infill development within urban areas that need renewal -- not sprawl development in vast, open areas on the edge of the city. However, this tool is increasingly being used to bolster the projects of big developers that just happen to be tossing around "campaign contributions" and promising more. Who'da thunk it.
Voting for the bill were three of the Democratic Senators who voted with Republicans to reelect Sen. Tim Jennings as Senate Pro Tem, despite the fact that the Democratic Caucus had voted for Sen. Carlos Cisneros to fill the post: Sen. Lynda M. Lovejoy (D, 22-Crownpoint) Vice Chair; Sen. George K. Munoz (D, 4-Gallup); and Sen. John M. Sapien (D, 9-Corrales). Sen. Linda Lopez, who sponsored the bill, is not on the SCTC but she also voted for Sen. Jennings for Pro Tem. Jennings has long been an opponent of ethics and campaign reform.
SB 249 will go next to the Senate Finance Committee. The SFC is chaired by Sen. John Arthur Smith (D, 35-Deming), who also voted for Sen. Jennings for Pro Tem. Two other Dem members of the SFC, Howie Morales (D, 28-Silver City) and Mary Kay Papen (D, 38-Las Cruces), supported Jennings too. Get the picture?
See the Cocoposts here and here for more on the problems with TIDD financing. Gee, do you think the lawmakers backing the SunCal TIDDs realize there's a depression coming on? I guess that's irrelevant if you're making the kinds of deals that are going on behind the scenes with SunCal.
January 31, 2009 at 02:38 PM in Business, Corporatism, NM Legislature 2009, Sprawl Development | Permalink | Comments (7)
Friday, May 30, 2008
SD 14: What is James Taylor Hiding? Fails to Submit Campaign Donation Report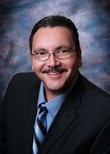 James G. Taylor (right), the incumbent Dem State Senator in District 14, has failed to submit his latest financial report on contributions to his campaign, which was due yesterday. He'll be charged with an ethics violation and fined, a price Taylor is apparently ready to pay in order to keep his last-minute donors secret until after Tuesday's primary election. He is in violation of the Campaign Reporting Act Statue 1-19-35, page 14, "Reports and Statements; late filing penalty; failure to file." The penalty for late filing of the report due the Thursday before an election is $500 plus $50 per day for each additional working day the report is late.
This isn't the first time Taylor has failed to meet a reporting deadline. He was nine days late filing his last required contribution report, originally due on May 12th. The Secretary of State extended the deadline until the 13th, and Taylor finally turned it in on May 22. For some reason, he's having a hard time following the rules.
Taylor is facing a strong primary challenge from former Albuquerque City Councilor Eric Griego. Griego is known for his support of well-planned and integrated "smart growth" -- development done in a manner that follows common sense guidelines, favors infill and doesn't produce harmful, overbuilt sprawl. In contrast, Taylor is clearly on the side of those who believe in giving big developers taxpayer-funded "tax increment financing" to build what they were already going to build -- and doing so without asking much in return in meeting standards for planning, design, timing, job development or anything else.
So what is James Taylor trying to hide by failing to file his latest financial report on time?
Connections with SunCal, Atrisco Oil and Gas
Could it that he doesn't want to call attention to generous campaign contributions from donors associated with Sun-Cal, Atrisco Oil and Gas and others pushing for taxpayer subsidies and against meaningful regulation of their massive projects proposed for the West Side?
As reported in an article in today's Albuquerque Journal, Atrisco Oil and Gas is going so far as to host a special picnic and rally tomorrow in support of certain incumbent candidates, including Taylor, who can be expected to back their business interests without restraint. Officials from SunCal will also address the crowd:
The Atrisco heirs organization, Atrisco Oil and Gas, is holding a picnic rally Sunday for legislators they endorse in coming elections. Along with letting three legislators with primary elections Tuesday speak, the company has invited three other legislators and West Side development company SunCal Cos. to address the crowd, Atrisco President Peter Sanchez said.
The rally is being questioned on ethical grounds:
Some community groups think the event, which is allowable under state law, is too big of a mix of corporate interest and state government.

"I don't think the question is whether it's legal, it's whether it's ethical," said Gabriel Nims, executive director of 1,000 Friends of New Mexico.

Steve Allen, Common Cause New Mexico executive director, said a large corporation spending money just before an election skews the playing field in politics. "It becomes dangerously close to the influence peddling the ordinary voter is skeptical of," he said.
[Nimms added] "What's so alarming ... is that it's so blatant in working to preserve the business interests of (Atrisco and SunCal).

... SunCal recently bought 57,000 acres from the shareholders of Westland, the corporate successor to the Atrisco Land Grant, for $250 million and has plans to develop it. Atrisco contracted with a company last year to begin searching for natural gas inside the property, as well.
A story by Barbara Armijo in today's New Mexico Independent also discusses tomorrow's rally for Taylor and two other incumbents:
The intra-party battle between the incumbents and their challengers appears, in part, to revolve around how to pay for development of West Side, specifically the idea of earmarking future tax revenue to pay for roads and water and sewer lines that will help SunCal develop its planned community. That is what is called for in creating a tax increment development district whereby future gross receipts taxes are used by SunCal to help pay for roads, water and sewer lines.

That means those tax dollars won't be available to the state in the future to help fund state programs, said Eric Griego, a former Albuquerque City Councilor and deputy state economic development secretary under Gov. Bill Richardson who is running against Taylor.

"I don't believe we should be giving tax dollars away to corporations that will be building there any way," Griego said. "It's unfair to the average taxpayer. Why are taxpayers paying for new infrastructure" where most of them won't live. Griego would prefer impact fees, he said.

... Shares of Westland were sold to SunCal in 2006, but as part of the agreement for the sale, former shareholders retained certain oil and mineral rights, which Atrisco Oil and Gas oversees. Atrisco has leases for three wells from Tecton Energy Corp., a Houston-based company, for natural gas and other mineral exploration on some of the 55,000 acres it sold to SunCal.
Support the Clean Government Candidate
If you'd like to support Eric Griego's campaign challenging James Taylor, he can use all the help he can get from now through Tuesday's primary. Click here to volunteer or make a donation. Griego's not getting big dollar donations from corporate concerns seeking favors, like Taylor apparently is. Griego can definitely win this race, but he needs our support to do it. To help change the business-as-usual politics we've seen way too much of, we need to actively support honest, ethical legislastive candidates with the gumption to challenge those entrenched in special interest politics. Do it now.
Technorati Tags: James G. Taylor Eric Griego Democrats primaries Albuquerque New Mexico SunCal Atrisco Oil and Gas tax increment finanancing TIF TIDD
May 30, 2008 at 03:46 PM in 2008 NM State Legislature Races, Corporatism, Ethics & Campaign Reform, Sprawl Development | Permalink | Comments (1)
Monday, April 21, 2008
(Updated) Tonight at ABQ City Council: Important Votes on TIDDs et al.
UPDATE: The measure to preclude TIDDs from being used to support sprawl development on Albuquerque's edges was defeated 5-4. All the Repubs voted against the change and only one Dem voted for it. Surprise, it was Marty Chavez's point guy, Ken Sanchez. See Coco for more on the story.
****************
I posted about this last week, but I wanted to give you another reminder: The Albuquerque City Council will be taking up a number of important items related to the environment and development at its meeting tonight at 5:00 PM at the Vincent Griego Chambers, Albuquerque/Bernalillo County Government Building, 1 Civic Plaza. We need to turn out in force to demonstrate our support for a number of important matters.
Besides bills related to toxic mining on public lands and conserving our limited water supply, tonight's agenda includes a critical item on those infamous TIDDs -- Tax Increment Development Districts. The measure to be discussed seeks to limit the use of such financing so that it does not subsidize sprawl growth at the city's edges. TIDDs were originally designed to encourage infill development in the city, not vast subdivisions far from our urban center.
You can learn more about TIDDs in an article by Marjorie Childress at the new online newspaper, The New Mexico Independent. (By the way, I expect that The Independent will quickly become a daily must-visit site for readers seeking aggressive -- but fair -- news coverge about everything from politics to the environment to poverty issues. Go see for yourself.)
Also, today's Albuquerque Journal features an op-ed about tonight's TIDD ordinance by ABQ City Councilors Isaac Benton, Michael Cadigan and Rey Garduño entitled, "Subsidizing Growth on Fringes of City Wrong Policy." Excerpts:
... Rapid development has increasingly occurred on the city's edges, contributing to New Mexico's rank as sixth in the nation for vehicle miles traveled per driver— about 18,500 miles per driver per year. Between 1980 and 2005, New Mexico's population grew by 48 percent, but our vehicle miles traveled grew by 112 percent. As a result, vehicle emissions are the fastest growing and second largest source of carbon dioxide emissions in the state.

Sprawling growth trends in Albuquerque also mean that the open space and working landscapes that we value in New Mexico are disappearing. Nationally, according to the American Farmland Trust, the United States loses 3,000 acres of farmland to sprawl every day.

Many other cities around the country have made decisions to increase affordable residential options in their urban centers and guide development toward vacant land within the city's core, where residents who need it most can access public transit to and from work.

... The city of Albuquerque, however, with the help of the state's Tax Increment Development District (TIDD) policy, has done the opposite by subsidizing sprawling "greenfield" development on the city's fringe.

Tonight, the Albuquerque City Council will consider an ordinance that would get us moving in the right direction by limiting the city's use of TIDDs.

Although originally used to incentivize urban infill development where revitalization efforts would not occur otherwise, TIDDs could fuel development on the outskirts, providing up to 75 percent of the district's incremental gross receipts and property tax revenues for up to 25 years.

By subsidizing the growth of development on the city's edges, state economists estimate that even more homebuyers and businesses will be lured out of the existing community and into the fringe developments, cannibalizing our urban core and increasing hazardous automobile emissions throughout our city.

... If we're going to reduce pollution and protect what we love about our community, we need to end incentives that drive development to our edges and instead promote smart, infill development and redevelopment. This ordinance will bring forward-thinking leadership to protecting Albuquerque's environment and quality of life.

Lauren Ketcham, director of Environment New Mexico, and Javier Benavidez of Conservation Voters New Mexico also contributed to this commentary.
Technorati Tags:TIDD, Tax Increment Development District, Albuquerque, New Mexico, Albuquerque City Council, The New Mexico Independent
April 21, 2008 at 02:55 PM in Corporatism, Environment, Government, Sprawl Development | Permalink | Comments (0)
Wednesday, April 16, 2008
Action Alert: Environmental Issues at Monday's ABQ City Council Meeting
From Environment New Mexico:
Fewer words spoken about politics are more important to remember than that quote from Tip O'Neill, longtime Speaker of the House in the U.S. Congress: "All politics is local." There's a great opportunity for progress on key environmental issues coming up at the local level next week -- right here in Albuquerque.
This coming Monday, April 21, the Albuquerque City Council* will be considering measures dealing with:
developer subsidies for sprawling subdivisions
toxic mining on our public lands**
conserving New Mexico's limited water supply
That's a lot to cover in one meeting, and we need your help! By attending next week's City Council meeting you'll be letting your Councilor know that you support the important environmental protections being considering and improve their chance of passage.
Please RSVP today for next week's City Council meeting and let me know you'll be joining me in standing up for New Mexico's environment by clicking here. Here are the details for the meeting:
WHAT: Albuquerque City Council meeting
WHEN: 5 PM, Monday April 21, 2008
WHERE: Vincent Griego Chambers, Albuquerque/Bernalillo County Government Building, 1 Civic Plaza, Albuquerque, NM, 87101 (map)
WHO: You and your friends and family that care about New Mexico's environment
We expect the meeting to last several hours and you'll be able to provide public comment on each bill by signing up in the back of the room. You'll also be able to meet up with other local Environment New Mexico members. Look forward to seeing you there!
Sincerely,
Lauren Ketcham
Environment New Mexico Advocate
LaurenK@environmentnewmexico.org
www.environmentnewmexico.org
P.S. Please feel free to share this message with your family and friends.
BACKGROUND
* For the agenda of the City Council meeting visit: here
** For more information on our work to protect public lands from harmful mining practices visit: here
Technorati Tags:Albuquerque, New Mexico, Albuquerque City Council, Environment New Mexico, mining, water
April 16, 2008 at 12:35 PM in Corporatism, Environment, Government, Local Politics, Sprawl Development | Permalink | Comments (0)
Monday, January 14, 2008
Mayor Chavez Caught in the Act of "Greenwashing"
I received the video above in an email awhile back when Albuquerque Mayor Marty Chavez was still running for the U.S. Senate. This seems like a perfect time to post it.
Everyone's jumping on the bandwagon, pointing readers to John Fleck's excellent exposé of Albuquerque Mayor Marty Chavez's greenwashing that appeared in Sunday's Albuquerque Journal, so I thought I'd join the queue (so to speak). Fleck documents the inflated statistics and exaggerations that were once displayed on the City of Albuquerque website's Albuquerque Green "Q" page. Turns out that Marty's nonstop bragging about Albuquerque being the greenest metropolis in the universe (or variations thereof) was mostly hot air, like much of what he boasts about as his accomplishments. He's good at paying lip service. Unfortunately, his assertions too often often fall a little short of the truth.
Chantal over at Duke City Fix, who used to work on city cyberspace projects, provides a screen capture and useful link to the "Q" page as it once appeared before it was taken down when Fleck started poking around for the facts. Cocoposts also weighs in, and SWOPblogger features the Journal article itself. Meanwhile, Eye on Albuquerque discusses this and other examples of the Mayor's tendency to distort statistics to suit his political needs.
Aren't you glad Marty Chavez had the sense to withdraw from the New Mexico Senate race? Let's hope he has the same sense to refrain from running for Mayor again, despite his recent decision to challenge the term limits that apply to the office.
Sprawl Isn't Green
Chavez has worked hard to portray himself as a "green" mayor. Undoubtedly, Chavez has done some positive things for the environment, but there's a lingering problem that won't go away. During his tenure as mayor he's been known as the area's number one cheerleader for out of control, unregulated sprawl growth and the developers who make huge profits from it. You can't be for sprawl development and be "green," now can you?
When planned growth strategies were being debated in Albuquerque and considered by the City Council, Marty did everything he could to fight against it or to water it down. Marty became known as a fighter for developer interests, whether it was a road through the Petroglyph National Monument or a roadway situated so it destroyed a cottonwood hundreds of years old. Marty even posed in a photo op showing him jubilantly helping to cut the tree down.
Then there's his strong support for Tax Increment Financing (TIF) in the form of TIDDs designed to financially reward West Side developers for gobbling up greenfields and replacing them with sprawl, all at the taxpayers' expense. Check out our previous guest blog by Gabriel Nimms of 1000 Friends of New Mexico for more on that.
If Marty Chavez runs for Mayor again in 2009, you can rest assured he'll be facing big-time challenges on the basis of his greenwashing alone. Then there's all the other stuff ....
January 14, 2008 at 02:38 PM in 2009 Albuquerque Mayoral Race, Corporatism, Energy, Environment, Sprawl Development | Permalink | Comments (3)
Monday, December 17, 2007
Tonight at ABQ City Council: Red Light Cameras & TIF
You may recall that the last Albuquerque City Council meeting was bereft of the erudite presence of Councilors Sally Mayer, Trudy Jones, Ken Sanchez and Don Harris, who had run away to Capo's restaurant because they were mad at Brad Winter for voting for himself for City Council President. In their absence, the remainder voted to approve Michael Cadigan's TIF amendment that would ban such funding for developments in "greenfields" on the edges of the city. They also passed Brad Winter's bill to suspend the red light camera ticket fines until Mayor Chavez's hand-picked task force reports on their study of the cameras' effectiveness in decreasing accidents at intersections. Mayor Marty has vetoed both bills.
Tonight the Council will take up attempts to override the Chavez vetoes on both bills. Any guesses on their success? Among other things, they're also scheduled to decide whether the City can charge those holding loud parties for the services of APD officers sent to break them up -- a bill proposed by Ken Sanchez. Of course the most compelling mystery about tonight's meeting is whether or not Sally Mayer can get time off from her new, beloved, $7 an hour part-time job at Kmart to make the meeting. Baited breath.
December 17, 2007 at 11:10 AM in Corporatism, Local Politics, Sprawl Development | Permalink | Comments (7)
Friday, December 14, 2007
Marty Chavez: If It Quacks Like a Duck ....
You know you have to check it out. (Be sure to listen to their smashing mp3.)
December 14, 2007 at 02:36 PM in Corporatism, Environment, Sprawl Development | Permalink | Comments (2)
Tuesday, December 11, 2007
Stop the TIDDs: Call Your County Commissioner Now
Mayor Marty Chavez vetoed the Albuquerque City Council's critical amendments of TIDD financing that would preclude their use for "green field" developments on the edges of Albuquerque. Tonight the Bernalillo County Commission has a chance to stop them. SWOPblogger has the story. Make a call now.
To read our previous coverage on this issue, visit our archive.
December 11, 2007 at 02:00 PM in Environment, Sprawl Development | Permalink | Comments (0)
Tuesday, December 04, 2007
Chavez Allies on ABQ City Council Desert Their Posts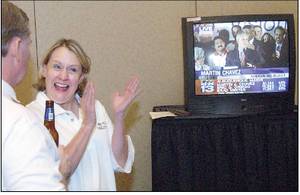 Councilor Sally Mayer cheering on Mayor Marty's victory in '05
Apparently the City Council allies of Albuquerque Mayor Martin Chavez would rather pout and throw tantrums than represent their districts and take up matters important to the community. Last night, Repub Councilors Sally Mayer, Don Harris and Trudy Jones, along with Dem Ken Sanchez, refused to attend the scheduled Council meeting. They said they were angry because Brad Winter allegedly changed his decision on who he supported for Council president. Ultimately, Winter ended up as the winner by a unanimous vote of the Councilors left at the meeting -- Debbie O'Malley, Ike Benton, Rey Garduno, Michael Cadigan and Winter himself.
The Mayor's clan headed off in a huff to Capo's restaurant in lieu of attending the meeting, and whined to the media that Winter is dishonest and lacking integrity because he didn't follow through on his alleged promises to vote for Mayer, and later Sanchez, for the Council presidency. Wah. I guess the political wheeling and dealing common to such battles for leadership was somehow shocking to their refined sensibilities. Or maybe they're sore losers just like their mentor Marty, who's running for the U.S. Senate and conducting a campaign so negative in tone it rivals those of the Bush people.
One factor figuring into the brouhaha is that the Council President would become the next Mayor of Albuquerque if hell freezes over and Marty Chavez wins his Senate bid. Marty and his minions, of course, would want one of their own to move up into the city's top spot. Clearly, Dem Councilors Debbie O'Malley, Ike Benton, Rey Garduno and Michael Cadigan find that outcome less than appealing as it would give the pro-sprawl forces the upper hand. As for Repub Brad Winter, he's been locked into a heated, often personal, battle with Chavez for years.
Red-Light Camera Fines Suspended
Despite the runaways, City Council business did proceed with only five councilors present. Winter's red light camera bill was passed by a margin of 3-2. The measure suspends the collection of fines generated by the unpopular intersection cameras until a study is completed in mid-January by a task force abruptly appointed by Chavez when he entered the Senate race. Cadigan, Winter and Garduno voted to suspend the fines, while O'Malley and Benton voted no.
TIF Banned for New Sprawl
A controversial Cadigan-sponsored measure, to preclude the use of Tax Increment Financing (TIF) to fund so-called "green field" development at the city's fringes, passed by a margin of 4-1. Voting for the measure were Cadigan, Benton, O'Malley and Garduno, with Winter voting nay. About 30 people showed up to testify about the proposed TIF changes, almost all of them supportive of the limitations.
TIF was originally proposed as a way to help encourage infill development, but is increasingly being sought to fund massive new developments on the city's fringes like those proposed by Sun Cal on the West Side -- exactly what the original legislation was designed to discourage. Cadigan's measure will limit the use of TIF for developed areas or areas where the financing tool has already been approved.
Many community activists, including members of 1000 Friends of New Mexico, New Mexico Voices for Children, the SouthWest Organizing Project and AFSCME, mounted a strong campaign in support of Cadigan's amendments to the current TIF requirements. And posts on many local blogs, including this one, encouraged readers to contact their Councilors to urge passage of the Cadigan amendements. See our previous post. Although we were successful, the fight is hardly over.
What Happens Next
Messages were quickly dispatched from the deserters' camp that they may well call up one or both measures for appeal at some future date, if and when they decide to return to their posts. Mayor Marty might veto both bills anyway, depending on how the political winds are blowing at the time. Stay tuned.
December 4, 2007 at 01:21 PM in 2008 NM Senate Race, Corporatism, Environment, Local Politics, Sprawl Development | Permalink | Comments (11)
Monday, December 03, 2007
ACTION ALERT: Stop Tax Increment Financing for Sprawl
The Albuquerque City Council Meeting where the bill that limits TIFF financing will be discussed is set for today at 5:00 PM in City Council Chambers in the basement of the City/County Building at One Civic Plaza. Please contact your City Councilor about this matter and attend the meeting if you can.
From 1000 Friends of New Mexico:
We are asking all 1000 Friends Albuquerque members and community allies to Take Action by contacting your City Councilor to urge him/her to stop allowing Tax Increment Financing on Albuquerque's edges.
This coming Monday, December 3, our Albuquerque City Council will consider a bill that limits Tax Increment Financing for use only to support urban redevelopment efforts in the city's core. 1000 Friends of New Mexico and a number of other community-based groups support this measure.
Why? Tax Increment Financing currently allows huge developments in outlying fringe areas to be subsidized to the tune of hundreds of millions of dollars. This subsidy robs economic activity, jobs, homeowners and vitality out of core neighborhoods. Learn more about Tax Increment Financing in ABQ.
Help 1000 Friends and other groups put a stop to another tax give-away to developers. Take Action now! Tell your City Councilor:
Keep Albuquerque neighborhoods', not billion-dollar developers', best interest in mind. Vote YES to prohibit Tax Increment Financing for vacant land at the edge.
Remember Albuquerque's $1.7 billion backlog in infrastructure needs in the already-built community. Fix-it-First!
Remember that home values, small businesses and economic activity in their districts are negatively impacted by subsidized growth at the edge.
For more - keep an eye out in the Albuquerque Journal for this Op-Ed, submitted recently by 1000 Friends and the SouthWest Organizing Project.
Please contact 1000 Friends of New Mexico at 848-8232 if you have any questions. We appreciate your time and your dedication to making Albuquerque a better place.
Sincerely,
Gabriel Nims, Executive Director
1000 Friends of New Mexico
Also see our earlier guest blog by Gabriel Nims.
December 3, 2007 at 09:13 AM in Corporatism, Environment, Local Politics, Sprawl Development | Permalink | Comments (4)
Wednesday, November 28, 2007
Guest Blog: ABQ City Council to Reconsider Public Subsidies for Large Developers at December 3 Meeting
This is a guest blog by Gabriel Nims, the Executive Director of 1000 Friends of New Mexico. He does a great job of explaining public financing tools for development called TIFs and TIDDs -- and how they are being used in ways that can be damaging to our communities, water supplies and economic future. He asks us to join 1000 Friends of New Mexico, the SouthWest Organizing Project, AFSCME , New Mexico Voices for Children and others in pushing for a reconsideration of the TIDD concept, as well as a proposed ban on their use in what are called 'green fields'.
The issue is on the agenda at the Albuquerque City Council meeting on December 3, 2007 in the form of amendments sponsored by Councilor Michael Cadigan. Please contact your City Councilor, State Legislator and Governor Richardson to weigh in on this issue.
The debate over growth and development in the Albuquerque region has taken a turn to the absurd over the past year with the emergence of a new set of crazy acronyms: TIF and TIDD.
Many will remember the political uproar over the Planned Growth Strategy, better known as PGS. The ire of development interests in the city was raised to the point where they felt compelled to create a political action group called CGA, or Citizens for a Greater Albuquerque, with the sole purpose of denying "no-growth" and "anti-Paseo" candidates seats on the City Council during the 2003 municipal elections. And lest we forget the infamous and now seldom-mentioned ABQPAC scandal.
But Tax Increment Financing, or TIF, and its little spawn, the Tax Increment Development District, TIDD, opens a new chapter in the book of urban growth-related acronyms. What these new acronyms mean and do is a very complicated story, which is why you may just be hearing about this for the first time. But allow me to explain as best I can. For deeper understanding of how TIF works check out publications from Good Jobs First Good Jobs First and the studies by FRESC in Denver.
What Is TIF?
TIF is an economic development tool available to developers in 48 states. TIF was originally conceived as a way to induce reinvestment in older, blighted areas deemed too risky or costly for private investors to improve.
It works like this:
an area (the District) is defined for (re)development;
a baseline of property and, as in New Mexico, gross receipts tax is established within the district;
a deal is cut between the developer and the taxing agencies that allows the developer to receive up to 75% of the increase (the Increment) in tax revenue resulting from the improvements and new economic activity within the District;
the developer is granted the Increment for up to 25 years to offset the costs of infrastructure (sewers, sidewalks, roads, etc) within the District.
Phew!-- Any questions?
New Mexico TIF law puts a new twist on this mechanism. Where other states try to limit the tool's use to redevelopment by applying strict criteria for demonstrating blight, New Mexico, with some nudging from developer lobbyists, requires a developer to simply demonstrate increased economic development, regardless of where a district is created, blight or otherwise.
Therein lies the rub.

TIDDs in Greenfields
In New Mexico, greenfields are only green for a few weeks after intermittent monsoons, but it's a commonly used term referring to the undeveloped expanses that surround our cities and towns. In Albuquerque, our greenfields of notoriety are Mesa Del Sol -- about 13,000 acres between the Sunport and Isleta Pueblo -- and Westland -- the whopping 55,000 acre former Atrisco Land Grant on the West Side. The developers, Forest City Covington and SunCal, respectively, are salivating over the chance to turn these greenfields into billions of greenbacks -- and they expect to use TIDDs to get as many greenbacks as they can.
The problem? Refer to step 2 above. In a greenfield, the baseline tax revenue is next to nil because nothing is out there. That means the Increment (step 3) is virtually the entire increase in revenue that will come from the District. For Mesa Del Sol, that translates to $500 million greenbacks from the state's cut of taxes that will be generated in just the first phase of the development. Mesa Del Sol will also get percentages of the City and County's gross receipts and property tax revenue. All of this cash to a developer for the next 25 years!
For perspective -- this represents the largest TIF arrangement ever allowed, in terms of land area and money, anywhere in the country. Wow. A new chapter in the urban development book, indeed! And a very dangerous one, too!
Dangerous Problems
Why? First and foremost -- it's the precedent this sets for how TIF is applied in New Mexico. You think Mesa Del Sol's deal is big? One only needs to look across the river to SunCal's 55,000 acres to anticipate TIDDs of even greater magnitude. And, not surprisingly, TIDDs are now popping up in other parts of the state.
So there will be a rush on creating TIDDs! From a state finance perspective, this is a very dangerous precedent. The state general fund, recently bolstered by oil and gas revenue, may soon find itself in a precarious position after millions in revenue from businesses and properties in these districts is captured by TIDDs, first in Mesa Del Sol, and likely by new developments all over. Even with the extra support from oil and gas revenue, the state can't find enough revenue to meet its current obligations. Transportation funding dried up this year, health care costs continue to rise and we can't find the money to build schools fast enough or pay enough to retain/recruit high-quality educational professionals.
Fast forward five years to this likely scenario: The state is strapped for cash -- the economy has slowed and oil and gas revenue declines. Oops! Millions of dollars of revenue needed by the state to cover the public's shared needs is tied up for the next 20 years in TIDD deals for developers laughing all the way to the bank. Faced with such a predicament, the state must choose to cut back on services, raise taxes or both.
It gets worse. TIDDs in greenfields can really hurt existing neighborhoods, small businesses and any hope of managing growth in sustainable ways. Because TIDDs can be created just on the basis of economic development, there is no limit on their magnitude. Mesa Del Sol will be an economic giant, subsidized with public dollars, competing directly with Albuquerque. As will SunCal's Westland, only a few notches bigger.
Imagine these areas as huge vacuums sucking jobs, economic activity, homebuyers and vitality out of the existing community. Recall one of the basic principles of the Planned Growth Strategy: to reinvest and revitalize the existing community as a priority over building brand new at the fringe. The PGS pointed to a $1.7 billion backlog in basic infrastructure needs within the city as justification for this approach.
Tell me how diverting the city's tax revenue to private mega-developers on the fringe will help us address this backlog, when what we currently receive is already not enough? When the city can't reach a 1000 officer police force because money is tight, how will we find the public safety professionals for these new fringe developments that, combined, are projected to grow the city from 550,000 population to 700,000 or more over the ensuing decades? Never mind all the other services the public expects to maintain a reasonable quality of life.
Oh yeah -- and where is the water?
The Response
By and large, developer requests for TIDDs have sailed through elected bodies at the state and in Albuquerque and the same will likely occur at Bernalillo County. Mesa Del Sol was the first out of the gate securing approval from the City and State for the creation of five TIDDs earlier this year.
With SunCal in the batter's box, West Side City Councilor, Michael Cadigan, was the first to decry "buyer's remorse" on the Mesa Del Sol deal and he quickly introduced a bill prohibiting the creation of TIDDs in greenfields last Spring. A series of deferrals and compromise drafts have led to final action on his measure at the upcoming City Council hearing on Monday, December 3rd, 2007.
Many groups including 1000 Friends of New Mexico, SouthWest Organizing Project, New Mexico Voices for Children, and AFSCME strongly favor prohibiting TIDDs in greenfields.
The development community stands by their arguments that TIDDs are a necessary 'incentive' to creating jobs and high-quality "new urbanist" communities. The developers have carefully constructed smoke and mirrors to demonstrate how wonderful and safe TIDDs for their developments will be. They've spared no expense hiring the best consultants, lobbyists and PR machines in the business, while placing sizable political contributions in the coffers of key office holders as extra insurance.
The reality is simply that state lawmakers have opened a Pandora's Box, with little idea of the long-term consequences of allowing TIDDs in greenfields.
What You Can Do
If you are outraged, confused and concerned all at the same time, then you know more than the majority of our lawmakers about the pitfalls of these seemingly harmless acronyms: TIF and TIDD.
Actually, I urge you to express your feelings to your elected officials, starting first with your City Councilor City Councilor, followed by your Legislators and even the Governor.
If you have any questions contact me at 1000 Friends of New Mexico.
Again, please take action by contacting your officials. Urge them to consider the consequences and keep the community's, not the developers', best interests in mind.
Gabriel Nims, Executive Director
gabe@1000friends-nm.org
505.848.8232
www.1000friends-nm.org
Editor's Note: This is a guest blog by Gabriel Nims, Executive Director of 1000 Friends of New Mexico. To learn more about this issue, watch KNME TV's show, New Mexico In Focus, this Friday night, November 30, at 7:00 PM, which will include a segment with Gerry Bradley from New Mexico Voices for Children discussing the issue of TIDDs and Councilor Cadiagan's proposed amendment.
Also see these informative posts on SWOPblogger that discuss the local TIDD situation:
Guest blogging provides readers with an opportunity to express their views on relevant issues and may or may not reflect our views. If you'd like to submit a piece for consideration as a guest blog, contact me by clicking on the Email Me link on the upper left-hand corner of the page.
November 28, 2007 at 01:38 PM in Corporatism, Economy, Populism, Local Politics, Real Estate Development, Sprawl Development | Permalink | Comments (1)