Monday, July 11, 2011
Dem Senate Candidate Hector Balderas Calls Out GOP's Heather Wilson for Refusing to Take Stand on Medicare
In an interview with POLITICO on Friday, GOP Senate candidate Heather Wilson continued to deflect questions about whether she would vote for Rep. Paul Ryan's plan to end Medicare as we know it. She told a reporter, "I'm not in the House of Representatives. This is not something that I have to vote on."
When pressed, Wilson took it one step further, indicating that she didn't need to take a firm stand on the proposal and deflecting blame to Senate Democrats, saying, "It's not my job to do Harry Reid's job here."
In response to Wilson's continued refusal to take a stand on protecting Medicare, State Auditor and Democratic US Senate Candidate Hector Balderas issued the following statement, challenging Wilson to stop weaseling on this issue:
With all due respect to Congresswoman Wilson, that answer is just not good enough. She's interviewing with the people of New Mexico for a job in the United States Senate. They deserve to know how she would act in that job.
In the last job she had serving the people of New Mexico, she voted for the policies that turned America's largest surplus into America's largest deficit and that led us to the brink of economic collapse and high unemployment. So it's even more important that people know this time if she would continue to support policies that are damaging to the economy like the Ryan plan to end Medicare as we know it.

The question is not that hard. If you got this job that you're applying for, would you vote yes or no on this plan? I don't believe the answer to deficit reduction or job creation is to pull the safety net out from under New Mexico's seniors, so my answer is no. Congresswoman Wilson, what's yours?
Come on Heather, fess up! You're either supportive of our seniors or you stand in agreement with the miserable plans of GOP leader Paul Ryan to undermine Social Security and punish seniors in order to protect lavish tax breaks for the wealthy and big corporations. Which is it? Are you ashamed of your position on this issue, or what? 
July 11, 2011 at 08:27 AM in 2009 Albuquerque City Council Races, 2012 NM Senate Race, Healthcare, Heather Wilson, Hector Balderas, Senior Citizens | Permalink | Comments (3)
NM-01 Congressional Candidate Eric Griego: Hands Off Social Security and Medicare
With multitudes of vulnerable New Mexicans and Americans up at arms about President Obama's announced intent to put cuts in Social Security, Medicare and Medicaid on the table during the current standoff in Washington over the nation's debt ceiling, Democratic Congressional candidate Eric Griego issued the following statement:
I stand with seniors, the disabled, and the working and middle class families of New Mexico in calling on President Obama and Congress to keep their hands off Social Security, Medicare and Medicaid as they negotiate a solution to the federal debt default crisis. While I support President Obama in his effort avert the catastrophic collapse of our recovering economy, any deal with Republicans that cuts Social Security, Medicare or Medicaid for New Mexico seniors and working families while failing to ensure that our nation's wealthiest are paying their fair share is entirely unacceptable.
In an email to supporters, Griego urged folks to keep the message going:
Can you share this message with your friends and ask them to join our campaign? Click here to share on Facebook. Click here to tweet this message:

Eric Griego is Standing up for Social Security--together we can protect these programs. Join us: http://griegoforcongress.com #NM01

Together, we can protect working families.
In the current political climate where more and more Democrats -- including our President -- seem to have abandoned the core values of the Democratic Party in favor of wishy washy platitudes and adoption of right-wing talking points, isn't it great to witness a Democratic candidate sticking up publicly for ordinary people? More of this please!
July 11, 2011 at 08:05 AM in Eric Griego, Healthcare, NM-01 Congressional Race 2012, Senior Citizens, Social Security | Permalink | Comments (2)
Thursday, June 23, 2011
ARA Action Alert: Tell Members of Congress No Cuts to Social Security
From the Alliance for Retired Americans:
Last week, the Wall Street Journal reported that AARP is willing to consider benefit cuts to Social Security. The Alliance for Retired Americans and our Strengthen Social Security allies are totally opposed to this position. 
Ed Coyle, the Executive Director of the Alliance responded, "The story in the Wall Street Journal -– which states that AARP supports cutting Social Security benefits -- makes it apparent to me that AARP is not representing their members on this issue. AARP does not speak for all seniors. There is no ambiguity on where the Alliance for Retired Americans stands on Social Security -- never has been, never will be. We are against Social Security benefit cuts. The current economic recession is all the proof we need to know that Social Security frequently is the only safety net that keeps millions of seniors in their homes with food on their tables."
This change in position by AARP could give political cover to those members of Congress who are wavering on this issue and may choose to support draconian cuts.
***Please call and email your Member of Congress and your Senators to tell them NO CUTS!!! *** SEE BELOW:
Send an email letter to your Representatives easily by clicking here.
Find your Representative's phone number here or dial the U.S. Capitol switchboard at (202) 224-3121.
SAMPLE PHONE STATEMENT
My name is _________ and I am a constituent. I am appalled that AARP is open to cutting Social Security benefits.  AARP does not speak for me. I urge you to stand strong against any cuts or changes to Social Security – period. There are many alternatives to strengthen Social Security besides cutting benefits. Raising the payroll cap, for instance.  Hands-Off Social Security!
Thank you for your participation!
Note: To get involved locally, contact the New Mexico Alliance for Retired Americans, President Barbara Pardo, email: NMSeniors@gmail.com, tel: (505) 266-2505, ext. 119.
June 23, 2011 at 11:23 AM in Action Alerts, Senior Citizens, Social Security | Permalink | Comments (0)
Tuesday, May 31, 2011
AP: Gov. Susana Martinez Plans to Cut Food Assistance to Elderly, Disabled
If you're following the mean-spirited and misguided actions of New Mexico Governor Susana Martinez and her supporters, you know it just keeps getting worse and worse. Today, the AP is reporting that the Martinez administration is proposing to end a program on July 1st that provides food assistance for about 4,000 low-income elderly and disabled New Mexicans. Martinez plans to end a state program that supplements federal food stamp benefits for the elderly and disabled to ensure they get at least $25 a month in assistance. No, I'm not kidding. It's that bad:
"As you can imagine, $12 a month for these households can mean a lot of food," said Patricia Anders, an attorney for the New Mexico Center on Law and Poverty. "That can be a whole basket, including whole grain bread, a dozen eggs, a box of cereal, a gallon of milk, a pound of apples, some frozen vegetables and some tuna. That's what we're taking away from the plates of our elderly, seniors and disabled folks every month by cutting this program."
In response, Scott Forrester, Executive Director of the Democratic Party of New Mexico, released the following statement.
"Cutting food assistance to the elderly poor during tough economic times is not a value shared by New Mexican's and the Martinez administration needs to stop this act of cruelty. From the Ryan budget that imperils Social Security and Medicare to this blatant attack on New Mexico's poor, New Mexicans are starting to see that Susana Martinez and the Republicans don't care one bit about the plight of our most vulnerable citizens during these tough times."
"Martinez had an opportunity to preserve these benefits for our struggling seniors, but chose not to take it. She could have closed a wasteful tax loophole that lets wealthy companies hide their profits. Now she's balancing the budget on the backs of the poor."
May 31, 2011 at 04:56 PM in Democratic Party, Food and Drink, Senior Citizens, Susana Martinez | Permalink | Comments (6)
Wednesday, May 25, 2011
Luján: Republican Plan to End Medicare As We Know It Doubles Out-Of-Pocket Costs for Seniors

Is this what New Mexicans and all Americans want? I don't think so. Congressman Ben Ray Luján (NM-03) highlighted a recently released report on the impact the House Republican plan to turn Medicare into a voucher program would have on out-of-pocket costs for New Mexico seniors. According to a report by the Congressional Joint Economic Committee, New Mexico seniors will pay more than twice as much in out-of-pocket costs in 2022 under the Republican plan.
"With many of New Mexico's seniors struggling to make ends meet, the Republican plan to end Medicare as we know it doubles the out-of-pocket costs for seniors that are living on a fixed income," Congressman Luján said. "This misguided plan will force seniors to pay more or see their benefits reduced."
Luján explained that the Republican plan leaves seniors to purchase private health insurance with a government voucher that will not keep pace with the rising cost of health care. As a result, New Mexico's seniors, who now pay approximately $4,600 in out-of-pocket expenses, will see those costs increase by more than $4,750 over the next decade as a result of the Republican plan.
It has also been estimated by the Center for Economic and Policy Research that 55-year-old Americans would have to save an additional $182,000 for retirement just to cover their health insurance costs should the Republican plan become law. The Republican plan also increases the cost of prescription drugs for those seniors already receiving Medicare by re-opening the donut hole in Medicare Part D. This provision alone would force 21,400 New Mexico seniors to pay $12 million more for prescription drugs next year.
May 25, 2011 at 08:35 AM in Healthcare, Rep. Ben Ray Lujan (NM-03), Senior Citizens | Permalink | Comments (0)
Tuesday, April 12, 2011
(Updated) Latest on FY 2011 and 2012 Budget "Negotiations"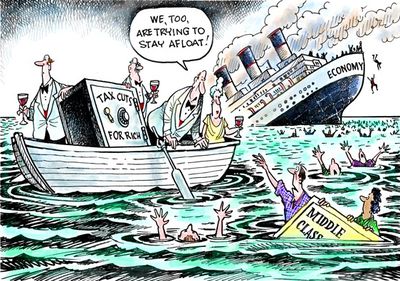 Click image for larger version
Update: More bad news. Just found out that another rider on the approved continuing resolution for FY 2011 "blocks the Interior Department from implementing a policy to protect pristine public lands from development. The rider ... prevents Interior from using funds to implement the wild lands policy through the end of this fiscal year, which ends on September 30." The wild lands policy was implemented late last year by order of Interior Secretary Ken Salazar. The new rider, okayed by Obama and Dem congressional leaders, essentially reinstates the Bush wilderness drilling policy. 
************* 
All politicos are for "transparency," at least until it's time for them to demonstrate some. Obama pledged to have a transparent government, but has left much to be desired in that department since he got elected. The agreed-to provisions of the FY 2011 budget deal he and the Senate leadership approved in secret last Friday are just another example of the kind of secrecy that's all too common in Washington.
First, the Congress signed onto another continuing resolution Friday, this time for six days, based on deal-making behind closed doors that pertains to actually passing the FY 2011 budget. The continuing resolution contained various "riders" and we're still not completely sure what they were.
News has dribbled out about a horrible rider to remove endangered species status for gray wolves in the Northern Rockies. Another bad one disallows the District of Columbia from using local taxpayer dollars to fund women's choice reproductive health services. And we also know about a couple that cancel parts of health care reform to do with low-income workers and the creation of non-profit alternatives in the health care exchanges that will be created by 2014. The Dems did manage to get rid of riders to defund Planned Parenthood and to limit the EPA's authority to regulate emissions.
Today, information has finally been released about the FY 2011 budget deal itself, which should to be voted on this week. Here's the AP rundown. According to an article by Ari Berman at The Nation,
We learned today that the budget agreement includes steep cuts to the Environmental Protection Agency (targeting programs that combat global warming and protect clean drinking water), international food aid and high-speed rail. Half of the $40 billion in cuts come from the Education, Labor and Heath and Human Services departments, for things like community development grants, HIV/AIDS prevention and low-income heating subsidies. The Pentagon will receive $5 billion more than it did in 2010. This agreement disproportionately harms lower-income and middle-class Americans while asking no sacrifice from the rich and powerful.
Ezra Klein has noted that "$39b in cuts would mean about 120,000 to 450,000 jobs lost." Just what we need.
Obama's Speech Wednesday
President Obama will give a speech to the nation tomorrow about the deficit and the federal budget. According to various leaks, he's expected to highlight the report produced by his deficit commission, better known as the Simpson-Bowles Catfood Commission for its many nasty proposals that will hurt seniors and low-income folks. You may recall that the report didn't receive enough votes among its members to gain the Commission's official approval, and a vote by the Congress. Yet it's considered by many to have the inside track on shaping the FY 2012 budget. In fact, just today, Rep. Chris Van Hollen came out in support of the report as a "starting point" to the negotiations, on behalf of House Dems. Not good news.
According to the Economic Policy Institute, the Catfood Commission proposal could cost us four million jobs over the next three years. "Premature implementation of austerity policies and slowing economic growth would mean two things: more job losses and less deficit reduction," EPI writes.
There are also rumors that the President will at least mention higher taxes for the highest income bracket(s) in some fashion. I highly doubt Obama and the Dems will seriously consider adopting many elements of the progressive alternative proposals for the FY 2012 budget that are out there because, you know, too many Dems seem to like their big dollar donors a whole lot more than their base these days. Money talks, and its influence weasels its way into every nook and cranny in Washington, in both parties.
My guess is that the Dems will end up proposing something they consider to be "in the middle" -- that is, something far to the right given that they're allowing Rep. Paul Ryan's extremist budget proposal to represent the right flank. If that's the right flank, expect the "center" to be the right of everything else we're hearing about. That's how Obama rolls.
Better Alternatives
However, you might send a message to President Obama and members of Congress that they should study the alternate proposals of Rep. Jan Schakowsky (D-IL), which would create new, higher tax brackets for Americans making more than $1 million a year, and The People's Budget, produced by the 80-member Congressional Progressive Caucus. Jeffrey Sachs, an economist and Director of the Earth Institute at Columbia University, provides some good commentary on that plan. Excerpt:
Their plan is humane, responsible, and most of all sensible, reflecting the true values of the American people and the real needs of the floundering economy. Unlike Paul Ryan's almost absurdly vicious attack on the poor and working class, the People's Budget would close the deficit by raising taxes on the rich, taming health care costs (including a public option), and ending the military spending on wars and wasteful weapons systems.

... The fact is that the People's Budget is the public's position. That's why it is truly a centrist initiative, at the broad center of the U.S. political spectrum. Ryan reflects the wishes of the rich and the far right. Obama's position reflects the muddle of a White House that wavers between its true values and the demands of the wealthy campaign contributors and lobbyists that Obama courts for his re-election. Many Democrats in Congress have also gone along with the falsehood that deficit cutting means slashing spending on the poor and on civilian discretionary programs, rather than raising taxes on the rich, cutting military spending, and taking on the over-priced private health insurance industry. Only the People's Budget speaks to the broad needs and values of the American people.
A Maddening Tendency
There's no definitive info out there yet as to what President Obama will propose in tomorrow night's speech at George Washington University. However, few are holding out hope for a truly Democratic frame on government spending, jobs and taxes to emerge in Obama's speech. As noted by Adam Serwer at The Plum Line:
... the President has displayed a maddening ideological tendency to locate himself between two perceived extremes, regardless of the merits of one position or the other. So because Republicans want to destroy the social safety net so they can cut taxes on top earners, and Democrats have vowed to stop them, the White House has, rather predictably, placed itself in the middle.

... I understand the limits of the bully pulpit, but if the White House can't draw a line and say No to this, what does it stand for?
As I noted in an earlier post, the Dem leadership has already caved to fighting the economic and budget battles entirely on Republican turf. Most Democratic-leaning economists believe it's economic suicide to cut spending during a continuing recession or, in this case, a worker recession. They contend more stimulus-type spending is needed to get money moving through the economy again and increase job creation. Unfortunately, that's off the table as Obama buys into the deficit hysteria so popular with the corporate media and right wingers alike.
April 12, 2011 at 02:21 PM in Children and Families, Corporatism, Economy, Populism, Government, Healthcare, Jobs, Obama Administration, Senior Citizens, Taxes | Permalink | Comments (1)
April Events to Support Social Security, Medicare, Medicaid in Las Cruces, Albuquerque
From NM Alliance for Retired Americans:
Greetings Social Security supporters. Tea Party got you down? Join us this month to learn about the political attacks on our treasured public programs -- Social Security, Medicare and Medicaid -- and be the best advocate you can be for a strong Middle Class in these dangerous times.
While the Repubs' budget proposals mock working families and try to balance the budget on our backs, we at the NM Alliance have been hard at work with our partners, OLE NM, the National Committee to Preserve and Protect Medicare and Social Security, and Social Security Works to mobilize our state against the lying liars who would shred our safety nets while enjoying public benefits for themselves.
Here's a calendar of events for the rest of April. Come on out and stand up for your public programs before it's too late! Spread the word!
Wednesday, April 13, Las Cruces area:
"Hands-Off our Social Security" presentations with our National Committee, OLE partners. Please spread the word. Click for information on how Social Security Works for New Mexico (pdf).
10:00 AM - 12 Noon: Dona Ana Community Center, 5745 Ledesma in Dona Ana, (575) 526-8807. Click for flyer (pdf).
1:30 PM - 3:30 PM: East Side Community Center, 310 N Tornillo Ave in Las Cruces, (575) 541-2304. Click for flyer (pdf).
4:00 PM: 570 N. Telshor in Las Cruces. We'll pay a visit to Rep. Steve Pearce's office
Monday, April 18, Albuquerque:
12 Noon: Tax Day Rally, 303 Roma NW, in front of Bank of America with our MoveOn partners. Celebrate your Tax Payer Pride on the public sidewalk!
Thursday, April 28, Albuquerque and Las Cruces - "Work Till You Die!" events*
12 Noon: In Downtown Albuquerque in front of the SSA office on 5th and Lead. Guest Speakers Sen. Jeff Bingaman and Rep. Martin Heinrich (invited).
12 Noon: In Las Cruces, rally in front of Rep. Steve Pearce's office. (What's up with his voting record on Social Security??? Show him that working families exist in New Mexico.)
*In case you missed the Alliance's award-winning parody commercial, "Work Till You Die," last year -- here it is again -- back by popular demand! Be sure to come in your work uniforms on April 28!
April 12, 2011 at 10:30 AM in Children and Families, Events, Healthcare, Senior Citizens, Social Security, Steve Pearce | Permalink | Comments (0)
Thursday, March 31, 2011
Prosperity Works Joins National Effort to Oppose Federal Budget Cuts
As Congress works to meet the April 8 deadline for a final budget deal for the fiscal year 2011, Prosperity Works will join direct service providers and advocates from around the country in Washington, DC to warn Congress about the impact of cuts that threaten economic security for families and elders. The groups will meet with Representatives Heinrich, Lujan and Pierce as part of a three-day organizing meeting hosted by Wider Opportunities for Women (WOW) -- a national organization that works to achieve economic independence for families.  
During the meeting, groups will also discuss a new report and measure for family economic security. The national Basic Economic Security Tables (BEST), to be released during the meeting, calculates the monthly income necessary for families to cover their basic expenses, including child care, housing, health care, and transportation, and prepare for the future, including saving for emergencies, home ownership, education and retirement. The report will provide new details on the role public programs for housing, child care and health care play in helping families make ends meet.  
"The House budget will hurt job growth and weaken the already tenuous ability of thousands of New Mexican families and seniors to make ends meet," said Ona Porter, President and CEO of Prosperity Works. "Cutting off the very programs that are helping families and seniors stay afloat is a short-sighted move that will stall our economic recovery as well as jeopardize the well being of families .
Leading economists are projecting a loss of 700,000 jobs nationwide if the most recent House spending bill for fiscal year 2011 (HR1) is enacted. The bill includes $61 billion in cuts, including billions of dollars in cuts to job training, education, elder assistance programs, such as:
$3.8 billion in cuts to Workforce Investment Act training programs, which have served 8 million people and place more than half of them in jobs in the past year;
Cuts to Head Start, special education (IDEA) and schools in low-income communities, which derail education programs and eliminate an estimated 72,000 jobs; 
44 percent cut to the Community Services Block Grant program, which provides nutrition, employment, health and other necessary services to over 20 million low-income people, including 5 million children, 2.3 million seniors and 1.7 million people with disabilities through 1,065 community action agencies nationwide;
Cuts to Low-Income Heating Assistance Program (LIHEAP), which millions of families depend on to stay warm in winter;
67 percent cut to the Section 202 senior housing program, which already has a two-year waiting list for seniors in need of affordable housing.  
"Job training programs are helping get millions of Americans back to work, and housing, heating and food assistance programs are helping support the millions more who have not been able to find a new jobs," said Ona Porter. "We need Congress to focus on a budget solution that helps grow, not undercut the middle class."
March 31, 2011 at 03:38 PM in Children and Families, Economy, Populism, Education, Healthcare, Housing, Jobs, NM Congressional Delegation, Senior Citizens, Women's Issues | Permalink | Comments (0)
Wednesday, March 02, 2011
How Dems Can Become Relevant Again, IF THEY DARE!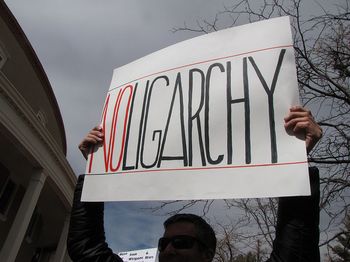 Sign at Santa Fe Save the American Dream rally
Economist Robert Reich has been turning out some phenomenal columns that delineate exactly what's wrong with the approach, framing and positions on economic issues of Dem "leaders," officeholders and President Obama himself. He's been expertly and clearly explaining our current economic problems, their cause and what we need to do to fix the deeply entrenched financial disparities.
Ordinary Dems out here in the real world are positively clamoring for the Dem establishment to wake up and smell the injustice -- and demand an end to the plutocratic and oligarchic scams that got us to where we are and that are still at work to make things even harder for working people generally, as well as government employees, teachers, seniors and children. We've seen hundreds of thousands of concerned citizens protesting in Wisconsin, Ohio, Michigan and in state capitols and major cities across the nation, including right here in Santa Fe.
The most-heard demands? Tax the rich! Tax the corporations! Stop cutting government funding for essentials because we're not forcing our financial elites to pay their fair share. Raise revenues! Meanwhile most Dem lawmakers in New Mexico and Washington DC just can't bring themselves to say the words "raise taxes on our highest brackets" lest some right-wing nut bag or media pundit call them names. Almost all we hear is the cop-out that "we all have to tighten our belts." Sorry, the working people in this country have already done that, in spades. Unfortunately, even those who agree we need to raise revenues appear mostly to be paying only lip service -- nothing changes in terms of budgets or legislation.
Reich's latest column tells it like it is on this disturbing and damaging situation. Again. Using FACTS. Definitely worth a read in its entirety, but here's a nugget:
Here's what Democrats should be saying:

Hike taxes on the super-rich. Reform the tax code to create more brackets at the top with higher rates for millionaires and billionaires. Absurdly, the top bracket is now set at $375,000 with a tax rate of 35 percent; the second-highest bracket, at 33 percent, starts at $172,000 for individuals. But the big money is way higher.

The source of income shouldn't matter - salary, wages, capital gains, other unearned income - all should be treated the same. There's no reason to reward speculators. (Don't penalize true entrepreneurs, though. If they're owners who have held their assets for at least twenty years, keep their capital gains low.)

And while you're at it, raise the ceiling on income subject to Social Security taxes. And bring back the estate tax.

Do this and we can afford to do what we need to do as a nation. Do this and you prevent Republicans from setting the working middle class against itself. Do this and you restore some balance to a distribution of income and wealth that's now dangerously out of whack.

Do this, Democrats, and you have a chance of being relevant again
Democrats in positions of power seem to be clinging to the illusion that we'll win in 2012 by standing mute whenever the huge and growing economic disparities in this country are mentioned. Or by siding with the supply-side, anti-government, anti-tax, anti-working class forces bought and paid for by the Koch brothers in some misguided attempt to appear "bipartisan" or "centrist." Or by "compromising" in a way that gives away the entire store to the opposition, even before negotiations begin.
They couldn't be more wrong. There's a growing and passionate people's movement in this country that won't take no for an answer anymore, that won't take the eternal nibbling away (if not gouging) of resources and services for the people while the plutocrats at the top are allowed to keep grabbing more, more, more. We need jobs. We need to rebuild our nation's infrastructure, schools, public buildings, senior centers, affordable housing assets and more. But to do so, we need Democrats to go all out for a return to economic and financial sanity. No more mewling, please. This is a homeland security emergency and the politicos better start seeing it as such, or they'll be out of a job wondering what hit them come 2012. Count on it.
Photos by M.E. Broderick.
March 2, 2011 at 02:51 PM in Children and Families, Corporatism, Democratic Party, Economy, Populism, Education, Jobs, Labor, Obama Administration, Poverty, Senior Citizens, Taxes | Permalink | Comments (13)
Friday, December 03, 2010
NM Seniors and Retirees Laud Defeat of Social Security Cuts (At Least For Now)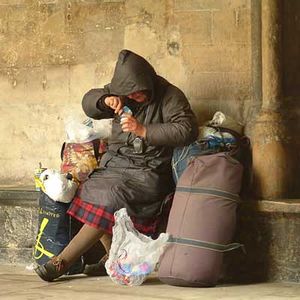 The (Let Them Eat) Cat Food Commission -- er, the National Commission on Fiscal Reform and Responsibility -- a bunch of mostly old, white "deficit hawks" appointed by President Obama to come up with "bipartisan" ways to decrease the federal deficit -- has failed to create a plan that 14 of its 18 members could support, as required. They didn't even bother to take a final vote. However, based on nonbinding statements, these members were opposed to the proposal: Reps. Jan Schakowsky (D-IL), Xavier Becerra (D-CA), Paul Ryan (R-WI) and Dave Camp (R-MI), Sen. Max Baucus (D-MT) and former SEIU President Andy Stern.
The draconian master plan, drafted at the direction of former Senator and crabby Republican codger Alan Simpson and Clinton retread Erskine Bowles, a hero of the old "centrist" DLC era, includes suggestions to cut Social Security benefits and raise taxes, slash discretionary spending including defense, eliminate the employer-tax exclusion for health care and the mortgage-interest deduction, and "does nothing in particular to deal with the resulting chaos in the employer-based health-insurance market or the housing market," according to Ezra Klein. Robert Reich has pointed out what's wrong the entire approach and Paul Krugman has described the utterly misguided priorities of the plan.
Token progressive member, Rep. Jan Schakowsky (D-IL 9), did come up with an alternate plan that focused more on raising revenues than on squeezing folks who've already been squeezed into near or full blown poverty by the global corporatist "free" trade Wall Street deregulated plutocracy on steroids economy we now have. Unfortunately, but not surprisingly, the poobahs at the top wouldn't give her the time of day, in a manner similar to the way in which single-payer heath care was "taken off the table" by fiat. We don't want to piss off the deep-pocketed campaign donor class, now do we?
In response to today's news, the following statement was issued by Barbara Pardo, President of the NM Alliance for Retired Americans:
"NM seniors and retirees temporarily dodged a bullet when Commission members today rejected their co-chairs' proposal to drastically cut Social Security benefits and increase the retirement age. We should never try to balance the budget on the backs of current and future retirees, particularly when Social Security has not added one cent to the deficit.
"Now that the Commission has closed its doors, we hope that we can have a more honest debate on federal spending. While it was encouraging to hear panel members acknowledge there is no link between Social Security and the deficit, it was also galling that many of the Commission members pushing draconian cuts in Social Security are also the ones leading the fight to extend tax cuts for the wealthiest Americans – which won't help working families in New Mexico at all.
"Social Security is one of America's greatest success stories, one that has kept generations of seniors out of poverty. In New Mexico, Social Security helps to keep nearly 17% -- over 335,000 -- of our seniors, retirees and people with disabilities out of poverty, and it contributes close to $4 billion to the NM economy in annual payments to these beneficiaries. We hope that today is the beginning of a new chapter in the debate on the future of the economic & retirement security in America, one that seeks to strengthen – not weaken – the economic well-being of millions of working families who are struggling to make ends meet.
"Social Security did not create our nation's fiscal problems, nor should it be used to fix them. Conservatives should stop lying about Social Security and tax the rich and save the Middle Class, instead. On behalf of the 13,000 members of the NM Alliance for Retired Americans, I want to thank the Commission members who had the courage to stand up for our nation's seniors, retirees and workers."
December 3, 2010 at 03:25 PM in Corporatism, Economy, Populism, Obama Administration, Senior Citizens, Social Security, Taxes | Permalink | Comments (1)
Tuesday, November 16, 2010
Guest Blog: The GOP's in the House ... It's Gonna Be a Cold Winter
This is a guest blog by Terry Schleder, the staff for the NM Alliance for Retired Americans and a longtime social & health justice advocate in NM. He holds a Masters degree in Public Health from UNM and has Labor in his blood and bones.
President Obama will be hearing from his Fiscal Commission soon about how to bring our national debt under control, and an early report by the co-chairs, Alan Simpson and Erskine Bowles, may give us a clue about what we're up against. Full-throttle class warfare may be coming our way in December, a war that pits the tax-breaks for billionaires against shrinking Social Security checks for seniors or disabled workers. This and other ugly economic show-downs are being tee'd-up as 2010 exits, and we'd best be paying attention or we'll surely lose our shirts.
If 14 of the 18 Commissioners agree on recommendations, they'll send them to President Obama on Dec 1. In prep for the worst-case scenario in our new Tea Party'd Congress, the Alliance for Retired Americans has been ramping up its educational and legislative campaign to mobilize workers, pre-retirees & seniors to press Congress to do the right thing. Will your union join us in NM? Even if you're not thinking about retirement yet, you should be, because cuts to Social Security now will hurt you later, when you can least afford them.
Seems we're in a new era of Congressional anti-tax hysteria and budget deficit fetishism that is trumping common sense, but it's really just a thinly veiled attack on workers and the Middle Class. This Commission should be concerned about getting back to genuine progressive tax policies - like ending Corporate & Gazillionairre Welfare - to change our current march toward a new Gilded Age, but the Chairs seem instead obsessed with severe spending cuts over moderate tax raises. Indeed, roughly 70% of the Co-Chair's report was for spending cuts while only 30% was about revenue increases.
Will the President and Congress choose to fight for a strong Middle Class if they get a Committee recommendation that places profit over people in the name of a balanced budget? And will they fight for workers now by extending our unemployment insurance, or by putting folks to work on our crumbling public infrastructure, for example? Will our lawmakers focus on our growing income inequality or will they continue to shamelessly ignore our real financial and moral crises… and scapegoat Social Security, Medicare and our new Health Reform law, instead?
These questions and more demand our attention and solidarity as 2010 draws to a close. Here's a list of things you, your organization and union can do now for a stronger Middle Class in New Mexico:
Hook up with your NM Alliance to get the facts about the budget's impact on workers and retirees. Affiliate with us at the statewide level so we can keep organizing for economic & health security for working and aging families. If you're not there yet, you will be soon;
Join our growing NM Alliance email listerve. Send us your email addy and stay informed on the latest actions, events and policy facts;
Call your U.S. Rep. and thank them for signing a pledge to protect Social Security and fight any retirement age-increases or privatization (The NM Alliance secured all 3 of our US Reps.' commitment to this pledge last month!);
Call both of our U.S. senators and ask them to cut Corporate Welfare, tax the superrich, and stay strong on no cuts, retirement age-increases, or privatization of Social Security. Remind them that our new Health Reform Law cuts the deficit by controlling health care costs, so they must stand strong on it. (With a "Public Option," we'd be saving even more. So why did the "fiscal conservatives" boot that out??);
A balanced U.S. budget doesn't take rocket science … it takes political courage and a promise to do the right thing for working Americans, once and for all.
Hey President Obama & Congress! Remember this when you get confused about who caused our budget problems: It's not Social Security, "It's the tax- breaks- for-Billionaires, Stupid!"
This is a guest blog by Terry Schleder. This article was published first in the NM Federation of Labor's Newsletter, November, 2010.
If you'd like to submit a piece for consideration as a guest blog, contact me by clicking on the Email Me link at the upper left-hand corner of the page.
November 16, 2010 at 02:09 PM in 2010 General Election, Corporatism, Economy, Populism, Guest Blogger, Healthcare, Obama Administration, Right Wing, Senior Citizens, Taxes | Permalink | Comments (6)
Wednesday, July 21, 2010
Congressman Harry Teague: No to Privatizing Social Security
Yesterday, Congressman Harry Teague (D, NM-02) stood up for seniors across the country in a speech on the floor of the House of Representatives. Amid partisan proposals to privatize Social Security, Teague emphasized the risks of subjecting workers' retirement security to volatile markets and of jeopardizing the social safety net that over 50 million Americans depend on.
"Americans who rely on Social Security to see them through their retirement aren't interested in privatizing the program and putting the financial security of their family and millions of Americans at risk," Teague said. "I am committed to protecting Social Security from those who would rather dismantle it and threaten the benefits and wellbeing of our seniors. I made a promise to the people of southern New Mexico to preserve Social Security and I will continue to work to maintain that pledge."
Teague's Republican challenger in the NM-02 race, former Congressman Steve Pearce, supported President George Bush's push to privatize Social Security when he represented New Mexico's Second District from 2003 to 2009. Other right-wing Republicans are still pushing privatization. Rep. Paul Ryan (R-WI), the ranking Republican on the House Budget Committee, and Devin Nunes (R-CA) introduced "A Roadmap to America's Future" that advocates the privatization of Social Security. Ryan has also floated a similar proposal regarding Medicare, suggesting that the program be replaced with private vouchers.
Voters should understand that if the GOP wins control of the House in the November election, Social Security privatization pusher Rep. Paul Ryan will be chairing the House Budget Committee. Talk about a nightmare scenario. As Robert Creamer points out in his recent article on The Huffington Post, "Dirty Little Secrets the Republicans Don't Want You to Know,"
The whole Republican crew wants to resurrect the failed Bush proposal to "privatize" Social Security. The defeat of Bush's privatization plan was the turning point in the Bush Presidency. It was all downhill from there. Yet -- whether it's to pad the investment accounts of their friends on Wall Street or because they are "private markets uber alles true believers" -- the Republicans want to try it again. Only this time retirees won't have to work very hard to imagine what it would have been like if their Social Security checks had plummeted in value the way their 401K's did when the market collapsed just two years ago.
Folks in New Mexico's Second Congressional District have a clear choice in November's election between a strong supporter and protector of Social Security -- Congressman Harry Teague -- and someone who agrees with former President George Bush and right-wingers in the U.S. House today that Social Security should be privatized -- the ultra-right-wing Steve Pearce.
July 21, 2010 at 08:53 AM in Rep. Harry Teague (NM-02), Senior Citizens, Steve Pearce | Permalink | Comments (0)