Friday, August 12, 2011
Demonstrators Protest Karl Rove's ABQ Fundraiser for Heather Wilson for Senate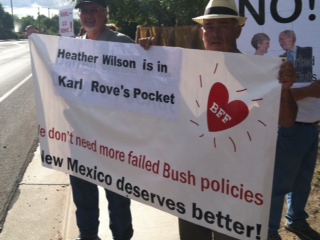 Karl Rove -- uncouth political strategist and GOP babysitter to the uncouth stars of the right wing -- who was once known as (George W.) Bush's Brain and referred to as "Turd Blossom" by Bush himself, headlined a fundraiser yesterday at the Tinnin residence in Albuquerque for none other than Mz. Heather Wilson, who's running for U.S. Senate now. Rove and Wilson became pals and co-conspirators of sorts during the time Wilson served as NM-01's congresswoman, and she joined former GOP Sen. Pete Domenici and worms like Mickey Barnett in trying to get rid of U.S. Attorney David Iglesias. Note that Barnett is one of the fundraiser's co-hosts. How sweet. It's like a reunion of the can Iglesias conspiracy ring.

Folks had to pay a premium of $1000 per person to get into yesterday's event -- but all the thousand-dollar donors also got a personally signed copy of Rove's book, Courage and Consequence. Who could ask for anything more, even though Media Matters points out the tome is rife with falsehoods? Hey, they're the falsehoods right wingers cling to, even today.
Naturally, New Mexico Dems couldn't resist demonstrating their distain for everything Rove-Wilson-GOP outside yesterday's event, and they did it with spirit and pizzazz. Check out the photos of some of the protestors with their pointedly critical signs. They had to make SOME dent in the attention-getting department with all those well-heeled GOP campaign pork providers, right? You betcha! (Oh wait, that's Sarah Palin's schtick.)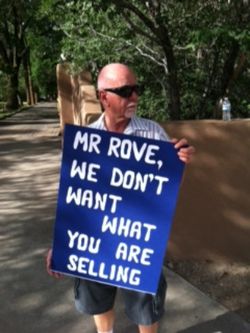 Blast From the Past
You may recall that Iglesias refused to pursue bogus "voter fraud" cases and allegedly wasn't working fast enough on certain corruption cases, and thus became an enemy of Wilson-Domenici et al. He was fired and eventually Wilson-Domenici got into trouble for pushing Iglesias to prosecute cases they perceived would help Wilson's chances at reelection.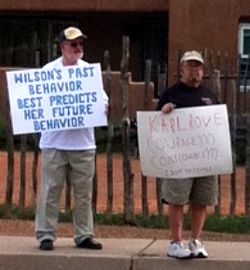 Although neither one actually received the punishments they deserved, you'd have to say their squeaky clean facades, constructed so carefully over the years, didn't look so squeaky clean anymore. Domenici ended up retiring -- claiming a malady that miraculously disappeared when he left office -- and Heather lost her seat to Dem Martin Heinich when she ran in the GOP Senate primary in 2008 and lost to the right-wingers' right winger, Steve Pearce.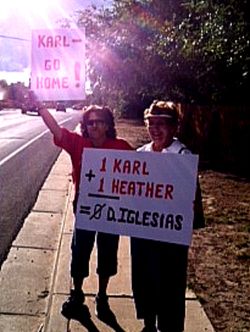 You can read more about the misadventures of Heather in he Iglesias case, as well as her real voting record, below. Always good to get the facts instead of the spin.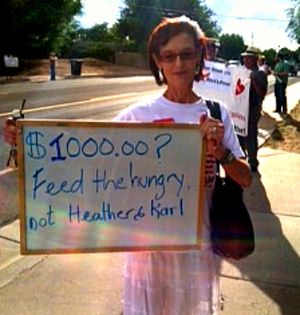 Why Rove for the headliner of this big bucks event? I guess Karl is considered a good money draw out here, and he does have those high-flying PACs that can easily pay for swoops into swing states when the time is right. Heather also clearly wants to rub elbows with right-wingers as much as possible to try to make the NM GOP base forget her long-time claims to being "moderate" when she believed that might help her reelection chances. Of course the truth is that she was a Bush-Cheney cheerleader through and through, so I'm sure it was easy to get Rove to make a trip to Albuquerque on her behalf.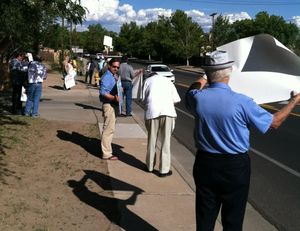 However, Rove is also persona-non-grata among Tea Party advocates. He has regularly insulted them and pointed out their stupidities, so I don't know how much the Rovey vibes will help her with the right-wing extremist/Tea Party wing of the NM GOP, which is expected to back her opponent -- current Lt. Gov. John Sanchez. Well, you take what you can get when you're Heather Wilson -- an old-hat candidate in an era when the GOP wants fresh meat for their rabidly extreme base voters.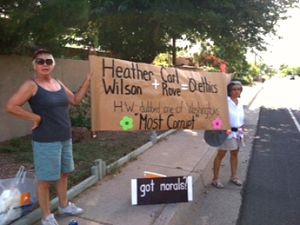 Heather Wilson on the Record:
In mid-October 2006, Wilson and Domenici each called Iglesias personally, asking him about the status of the courthouse corruption investigation and possible indictments of New Mexico Democrats. Iglesias, seeing the calls as unwarranted interference in a criminal case by elected officials, refused to give them any information. Iglesias later testified that he was "sickened" by the calls from Wilson and Domenici. [Politico, By John Bresnahan &Josh Gerstein, 8/12/09]
Judiciary Committee Chairman John Conyers (D-Mich.) called Iglesias's dismissal "the most egregious case of political abuse of the U.S. attorney corps" and said he has forwarded the information obtained by his panel, including depositions of Rove and former White House counsel Harriet Miers, onto a Justice Department prosecutor. [Politico, By John Bresnahan &Josh Gerstein, 8/12/09]
CQ also found that Wilson doesn't buck the president quite as much as she and her campaign handlers might like us to believe. Starting in 2001, CQ found that Wilson voted in support of Bush's stated positions on issues 88 percent of the time. In 2002, she supported the president 90 percent of the time, in 2003 her support level was 89 percent, in 2004 it was 88 percent. Only in the last year, 2005, did Wilson put some serious distance between herself and Bush, voting on his side of issues just 70 percent of the time. [Wilson Record a Maverick Streak, Not GOP Buckin' , ABQ Journal, by Michael Coleman, 3/12/06]
In 2001, Wilson voted with House Republican leadership 94 percent of the time, according to CQ. The following year, in 2002, that number dropped to 90 percent. In 2003, the number edged up to 91 percent, then dropped to 79 percent in 2004 and then 82 percent last year, in 2005. [Wilson Record a Maverick Streak, Not GOP Buckin' , ABQ Journal, by Michael Coleman, 3/12/06]
Democrats criticize Wilson for her decision to return only $10,000 of about $50,000 she received from Americans for a Republican Majority, or ARMPAC, a political action committee founded by DeLay. [Wilson Money Draws Criticism, ABQ Journal, by Michael Coleman, 9/14/06].  Tom Daley was eventually convicted of money laundering and conspiracy.
August 12, 2011 at 02:15 PM in 2012 NM Senate Race, Events, Heather Wilson, Karl Rove, Republican Party, Right Wing | Permalink | Comments (4)
Wednesday, August 03, 2011
Stephanie DuBois Guest Blog: Many Concerns About Today's Dem Party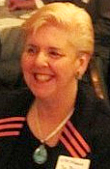 This is a guest blog by Stephanie L. DuBois of Tularosa, who is a life-long Democrat who recently ran for New Mexico Public Regulation Commissioner.
I am a 65-year-old Democrat and activist and have been for many years. I am presently the CD2 vice-chair for the State Democratic Party, my 5th term. I am a dog groomer and trainer. I am a certified mediator for Magistrate Court,volunteer. I have run for various offices unsuccessfully, but at least I made sure a Democrat was running. I am an American, a patriot and the daughter of a Pearl Harbor survivor.
I moved to Deming, New Mexico in 1978. I now live in Tularosa and have for 21 years. I had always been involved in politics in one way or another in my native state of New York -- not New York City but Long Island -- specifically, a town called Miller Place, three miles east of Port Jefferson where the ferry went to Bridgeport, Connecticut.
My parents and grandparents were Democrats and, at age 21, I registered as a Democrat as well. I have been a registered Democrat ever since. I have voted in any and all elections where I was eligible to vote -- school, county, city, etc. I have now lived in New Mexico for 33 years.
Ladies and gentlemen I don't know about you, but I am very concerned about our state and our state politics and the direction we are headed.
My county of Otero was pretty much Democratic when I moved here in 1990. Within what seemed to be overnight, we became and still are totally Republican and we now have the unsolicited voice of the bogus "tea party." To be fair, I do like the fact that they question their elected officials. They even go so far to give them ultimatums to make sure they carry out the tea party agenda. When the tea party demonstrates, they make sure to wear or carry a firearm to punctuate their position.
I have many concerns regarding voting, redistricting and the protection and security of our public records -- which should be just that, public. We, as Democrats (and I am talking about real Democrats -- not those who use the Democratic Party for their own personal gain but then embrace Republican philosophies and values), should be watching out for the good of our Party. I think our Party -- the Party of Roosevelt, Kennedy and Clinton -- has been infiltrated by moles, Republicans pretending to be Democrats who undermine our Party from within. Are there any real Democrats who will defend our values, civil rights, Social Security, Medicare, etc. out there now?
A couple of things are happening that really scare me -- and I don't scare easily.
Senator Rod Adair: Conflict of Interest
One is the acceptance by Democrats of a situation that allows a state senator to form a consulting company that bids on county contracts to draw their county lines as part of redistricting. He has received, just from two counties that I know of to date, $34,000. However, no one feels this is a conflict of interest.
Senator Rod Adair (R-Roswell), the senator in question, has also garnered contracts from at least two other counties that I know of. When questions about a possible conflict of interest were raised, the answer I saw was, it is a citizen legislature there are bound to be conflicts of interest because the legislators all have jobs outside of their elected positions. That quote was from Secretary of State Dianna Duran, who was a state senator working in the Otero County clerk's office for many years.
Dianna Duran: Answer These Questions
Now today, as Secretary of State, Duran has the power to turn 64,000 voter files over to the State Police to investigate possible voter fraud. She has by-passed the county clerks' offices as the most obvious place to check voter records and not cost tax payers any additional monies. The Democrats have not questioned the impact this will have on us the taxpayers and citizens of New Mexico.
Questions that should be asked include: Are these documents protected? Are they secure? Is your or my name among those documents under investigation? I think we, the people, have a right to know. The only information on a voter card that is not for public knowledge is the person's birth date and phone number. Everything else is public.
Dems Need to Speak Out Publicly
The office of Secretary of State is very powerful, as we found out in the selection of George W. Bush in the Bush/Gore election in Florida. Katherine Harris had a great deal of influence over that election and the eventual outcome with Bush being selected. We don't ever want this Secretary of State to have that kind of influential power.
In states across the country where governors are Republican and Republicans control the secretary of state offices, there is a movement to make sure that minorities and  Democrats generally have a much more difficult time voting. In these states they are instituting things like shortening the time you can register to vote and requiring picture ID. Some of these over-the-top requirements are akin to the old Jim Crow laws that were in effect requiring a poll tax for African Americans who wanted to vote.
We, as Democrats in New Mexico, need to stand together and speak out strongly to make sure that this Secretary of State is not going to run over our elections and make rules that will keep even one person from being able to vote. We can't do that by remaining silent.
I think we need press conferences letting the public know that the Democratic Party is not going to stand quietly by while Republicans and "tea baggers" take our rights away from us -- rights that our fathers and grandfathers thought they were fighting for. I think we should demonstrate in front of the Secretary of State's office and the Governor's office and let them know in no uncertain terms we are not going to stand for them messing with our voting rights.
We are Americans. We are patriots. We won't be silenced!
This is a guest blog by Stephanie L. DuBois. If you'd like to submit a piece for consideration as a guest blog, contact me by clicking on the Email Me link at the upper left-hand corner of the page.
August 3, 2011 at 11:20 AM in Democratic Party, Dianna Duran, Election Reform & Voting, Guest Blogger, NM Legislature 2011, NM Secretary of State, Otero County, Redistricting, Right Wing | Permalink | Comments (3)
Tuesday, August 02, 2011
Senate Passes Debt Ceiling Budget Bill: Statements by Bingaman, Udall, Balderas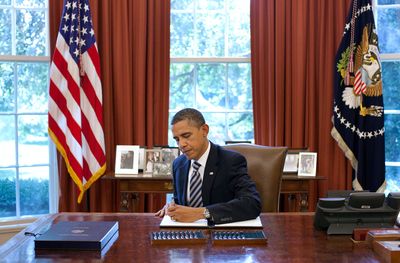 The U.S. Senate today passed S.365, the Budget Control Act of 2011, by a vote of 74-26. (On the House side yesterday, Congressmen Martin Heinrich and Steve Pearce voted yes; Rep. Ben Ray Lujan voted no.) I'm sorry to say that, like most Democrats in the Senate, Jeff Bingaman (D-NM) and Tom Udall (D-NM) voted for the legislation, although they both made it clear they weren't pleased about having to do so. Sen. Udall was particularly vocal on that point.
Only six Dem Senators voted no -- Gillibrand (D-NY), Harkin (D-IA), Lautenberg (D-NJ), Menendez (D-NJ), Merkley (D-OR), Nelson (D-NE) -- as did Bernie Sanders (I-VT). President Obama wasted no time in signing the bill in the Oval office after the Senate action (above).
Udall
Senator Udall delivered remarks on the Senate floor this morning prior to his vote. Below is the video of the speech, which Udall's office aptly entitled, "This Deal Stinks," and you can find the text version here. Excerpt: "As my friend, the good Senator from Vermont, said yesterday -– this package is 'grotesquely unfair and bad economic policy.' While I firmly believe we must take steps to rein in our deficit this package is far from the ideal way to do so."
Bingaman
Although Bingaman believes the plan is far from perfect, he said he decided to vote for it to avoid a national economic crisis.
"There are reasons to vote for this package and reasons to vote against it. One of my main concerns about this proposal is that it does not raise additional revenue. Every other deficit reduction package we've considered in my nearly 30 years in the Senate has contained both cuts and additional revenue, and that is the balanced approach I believe we should have taken in this case.
"The other major concern I have about this plan is the process by which it came together. I believe approving this proposal could embolden Members of Congress in the future to hold our economy hostage to their demands, and that is a dangerous precedent for the country.
"I decided to vote for this compromise legislation, however, because it prevents our country from going into financial default, which would be a catastrophe for the economy of the United States and the world.
"Finally, the package does accomplish long-term deficit reduction, which I believe needs to be accomplished. Now Congress must turn its attention to what should be our No. 1 priority: job creation."
Balderas
Democratic U.S. Senate candidate Hector Balderas said he would have voted for the bill because default would have been even worse, and released this statement expressing his views about the legislation:
"This plan is not a compromise. It's extortion by those in the Tea Party that would hold our economy hostage and force America to default on its obligations.
"But while I'm disturbed by much in this plan, default would have been far worse. I would have voted 'yes' in order to avoid historic default and/or a costly downgrade in our credit, either of which would have had a devastating economic impact on New Mexico families.
"The most disturbing part of all of this, is that we could have avoided this difficult fiscal situation in the first place. There's no question that we need to be serious about reducing our deficit. But we could have done it by taking a long-term, balanced approach that looked at strategic spending cuts, closing unfair tax loopholes for the wealthy, and actually growing the economy for the middle class. If people in Washington were serious about tackling the problem, they wouldn't have irresponsibly brought us to the brink of economic catastrophe just to score ideological points.
"Avoiding a default on our obligations is the bare minimum we expect from Washington. Economic disaster should never be threatened as leverage. But that's what Tea Party elements in Washington made it clear that they were willing to risk. They threatened Social Security and Medicare payments, veterans benefits, and even pay for our active duty military personnel. They've shaken confidence in the full faith and credit of the United States government. Their approach has resulted in both the the United States and New Mexico being placed on credit watch. Recent reports show that their approach actually cost taxpayers $1.7 billion in additional interest payments that wouldn't have been charged before this debacle began. And so this deal is the only way to protect New Mexicans from further damage from their fiscally and economically destructive approach.
"Now that we've averted this short-term crisis, it's time for Washington to actually fix the problem. We need to ensure that we are never on the brink of catastrophic default again. And we need to tackle our deficit in a responsible and balanced way. That means balancing spending cuts with real revenue, closing tax loopholes for the wealthiest Americans and largest corporations, protecting our safety net, and growing the economy by creating jobs. And the only way to create jobs is by being smart and investing in programs that will help more New Mexicans participate in our economy -- like investment in education, innovation, protecting unemployment benefits for those trying to get back on their feet, and helping small businesses grow and succeed."
Republican Senate Candidates
According to the National Journal, Repubican Senate candidate and former Rep. Heather Wilson released a statement opposing the bill, saying she is worried that the consequences to national security would be "severe."
"After all the debate surrounding this bill, in the end, it is just not good enough and I do not support it," Wilson said. "Our government still spends far more money than it takes in, and this bill does very little to change that. If we want a better bill, we need a better Senate."
As for the other two Republican candidates for Senate, Lt. Gov. John Sanchez was against it and Greg Sowards also said he would have voted no.
New Mexico Senate Majority Leader
State Senator Michael S. Sanchez released this statement yesterday about the debt ceiling deal and congratulating the President for his "strong leadership."
Official White House Photo by Pete Souza.
August 2, 2011 at 04:48 PM in Economy, Populism, Hector Balderas, Jobs, Right Wing, Sen. Jeff Bingaman, Sen. Tom Udall, Taxes | Permalink | Comments (19)
Monday, August 01, 2011
US House Passes Horrible Debt Ceiling Budget Deal Bill: Heinrich Votes Yes, Lujan and Pearce No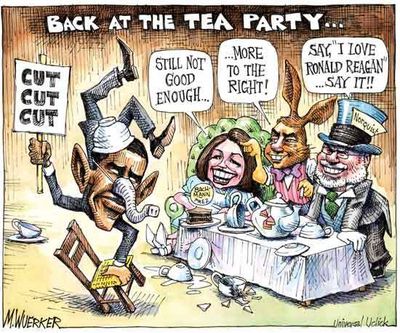 Source: Daily Kos
Today the U.S House of Representatives passed S.365, the Budget Control Act of 2011, by a vote of 269-161 -- not even close. A total of 174 Republicans voted yes, with 66 voting nay. Dem votes were evenly split 95 for and 95 against. Three Dems did not vote. During today's floor vote, just a couple of dozen Democrats voted for the bill at first, but once it became clear the  bill would pass, the rest joined in. Here's a chart with the breakdown. In a surprise appearance, Rep. Gabby Giffords (D-AZ) returned to the House floor for the first time since she was shot in the head by a gunman in Tucson, and she got a warm and enthusiastic welcome from her colleagues.
S.365 is the awful bill that was the result of a "negotiated deal" orchestrated by House and Senate leaders and the President that permits the government to raise its debt limits and thus avoid defaulting on payments for borrowed funds already spent. Inevitably, a US default would have had disastrous consequences in almost every area of the economy. Unfortunately, the fix has its own horrors -- like large spending cuts that will ensure that our "jobless recovery" economy stays stagnant or goes even farther downhill. No relief for working and middle class Americans anywhere in sight.
A bipartisan, six-member "Super Congress" will make many of the initial decisions on what exactly wlll be cut and by how much, and then the regular old Congress will get to vote on a purely up or down basis on the proposals. No filibusters or amendments allowed. If certain cuts and other provisions are not passed, complicated "triggers" will be automatically activated that will force across-the-board cuts in domestic and defense spending. Jared Bernstein has a decent rundown on what the legislation entails.
As I'm sure you know, Tea Party extremists (and their captive GOP hostages) in Congress basically commited extortion by threatening not to raise the debt ceiling unless all their demands for severe spending cuts coupled with absolutely no tax increases were met. These Tea Party lunatics, who held the government and Congress hostage until they pretty much got their way, have earned themselves a new monicker -- economic insurrectionists. That's exactly what they are.
How NM's Reps Voted
Dem Rep. Ben Ray Lujan (NM-03) and GOP Rep. Steve Pearce (NM-02) both voted against the bill. Click for Pearce's press release on his vote, and here's what Rep. Lujan had to say about his vote:
Republicans have led us to the brink, holding an increase in the debt ceiling hostage while running up deficits with tax cuts to millionaires and billionaires and two wars. For months I have urged my Republican colleagues not to take our country to this point.

Throughout this debate I have called for a balanced approach that reduces the deficit and provides certainty so our economy can create new jobs. We need a responsible approach to cuts and revenue. I believe that we cannot cut the deficit on the backs of the middle class and seniors. With a middle class that is slowly disappearing in our country and families struggling to make ends meet, I cannot accept a proposal that asks nothing from billionaires, the privileged few in this nation, yet fails to fully protect Medicare for our seniors. 

It is unfortunate that the debate over increasing the debt ceiling, which took place 18 times under President Reagan and seven times under President Bush, has turned attention away from what is first and foremost in the minds of the people of New Mexico – job creation and protecting Medicare. I hope that once the debate on the debt ceiling is addressed, the Congress will turn its full attention to creating jobs and putting people back to work.
I'm very sad to report that Rep. Martin Heinrich (NM-01) ended up supporting the bill today -- saying he did so reluctantly. He released this statement to explain his vote:
This was a difficult decision between two terrible choices: a flawed bill that raises the debt ceiling or allowing America to default and cause a deep recession.

Over the last several weeks, House Republicans have hijacked the very serious business of upholding the good faith and credit of our nation. We've clearly seen that Tea Party Republicans are willing to take our economy hostage just to score political points, but I'm not willing to do that. This agreement was necessary to avoid a global financial crisis, and I voted reluctantly to ensure that did not happen.
Rep. Heinrich also had this to say in an email tonight to supporters:
With the debt ceiling behind us, we can now turn our full attention to the issues that matter most to New Mexicans: job creation, strengthening Medicare, shoring up Social Security, ending the wars abroad and bringing our troops home. If we can get this done, our economy will be the better for it.

That is my focus. And that is what you deserve.
My Take
I personally don't see any good reason for Rep. Heinrich's yes vote. The President and the bill's other strong supporters didn't need Martin's vote for passage. It really didn't make any difference. But I imagine Heinrich did it to try and attract independent and moderate votes in his Senate run, as well as campaign donations from certain parties.
I highly doubt his support for this unbalanced, unfair, unseemly and damaging legislation -- which is expected to stall the economy even worse than it's already being stalled -- will gain him many Dem votes in the Senate primary. In fact, it could very well lose him a slew of Dem votes in the pre-primary and primary contests. I don't see how he did himself any favors by voting yes. I think it just makes him look weak and too reluctant to go against the President's wishes.
Liberal economists, progressives and others in the Dem base -- including me -- are absolutely livid about the entire process that got us to this point, including Obama's anti-Democratic framing of the issues. What's really maddening is that the debt ceiling could easily have been extended by the President and Dems last December, when we stlll controlled both houses of Congress. Or it could have been extended for longer when it was last extended. When asked why he wasn't pushing for the extension last December, Obama actually said that he didn't need to because he knew Republicans would be reasonable on the issue -- so there was no rush. If Obama really believed this, he has serious problems with reality and an unbelievably naive view of what the GOP is all about.
There WERE Alternatives
I agree with Glenn Greenwald, who has pretty firmly established -- using Obama's own words -- that the President has long wanted deep spending cuts and "entitlement fixes," and thought a debt ceiling confrontation could provide him with an opportunity to get a good many of them. Meanwhile he could still blame the Tea Party for having "forced" him to support the cuts. In other words, what are called "Obama's blunders" by people who still believe Obama is on their side are really clever, well thought out strategies designed to get the President what he wanted. In an email he wrote to blogger John Cole, Greenwald also laid out other ways Obama could have handled the debt ceiling issue without having to pay off the Tea Party to ransom the debt ceiling provision. Well worth a read.
August 1, 2011 at 08:48 PM in Economy, Populism, Jobs, Obama Administration, Rep. Ben Ray Lujan (NM-03), Rep. Martin Heinrich (NM-01), Right Wing, Steve Pearce | Permalink | Comments (12)
Sunday, July 31, 2011
Rep. Raul Grijalva: I Will Not Support the Emerging Debt Deal! (Dem NM Delegation and Candidates Mute Except for Eric Griego)
There's at least one real Democrat left in the House -- the courageous and proudly liberal Raul Grijalva. I personally will not vote for any Democrat who votes for the "deal" that gives away the store on every core Dem value and extracts nothing of value in return. The "deal" contains provisions that are incredibly anti-working and middle class, anti-everything we believe in. Yet Obama and others are painting it as a victory for "compromise" despite the horrific content of the "compromise."
Obama has made a habit of putting process -- which he and his handlers think makes him look like a sensible, balanced centrist -- over content. Anyone even scanning the content that's emerging on this deal can clearly see that it will create an expanding nightmare for ordinary Americans for decades to come. It is profoundly anti-Democratic, and even anti-democratic with its "Super Congress" provisions and horrendous triggers. And yet I predict almost all of our Dem elected officials and candidates will tout it as a huge victory. Nothing could be further from the truth.
Our elected Dems and candidates should be pushing the President relentlessly to raise the debt ceiling using the 14th amendment and nothing else. I haven't heard a peep on that score out of Rep. Martin Heinrich, Rep. Ben Ray Lujan, Sen. Jeff Bingman, Sen. Tom Udall, Senate candidate Hector Balderas or NM-01 candidate Marty Chavez. CD-1 candidate Eric Griego has been the only one pushing for the 14th amendment way out of this horror story. Bravo on that score.
Rep. Grijalva's powerful statement, released today:
I Will Not Support the Emerging Debt Deal
When a crisis faces our nation, and decisions have to be made, we look to our elected officials to provide the guidance and direction that will help us persevere. In the face of this manufactured debt ceiling crisis, many Members of Congress have failed to lead and are willing to substantially weaken many of the programs that make our nation great.
I will not support the emerging debt deal
I will have no part of a deal that cuts Social Security, Medicare and Medicaid to appease the farthest reaches of the right wing of the Republican Party. It is unconscionable to put these programs on the chopping block and ignore the voices and beliefs of the millions of Americans who trust us to lead while continuing to give handouts to the ultra wealthy and the largest corporations. There is no human decency in that.
Rather than fly the standard of the working Americans who voted them into office, some Members of Congress are content to raise the white flag and call it "bipartisanship" or a "grand bargain". Many elected officials yearn to be leaders, but this debt deal shows that too many of them settle for being politicians.
We Progressives have stood strong against the GOP's shameless political maneuverings and disastrous ideas. When the GOP introduced the Ryan Plan to cut taxes for the rich and kill Medicare while adding $6 trillion in new debt over the next decade, we stood strong against their irrational and irresponsible plans. We offered another path and introduced the People's Budget, a straightforward and realistic plan to address our nation's short- and long-term economic needs without placing the burden on the backs of working Americans. It would balance the budget by 2021, protect the social safety net, end the wars in Iraq and Afghanistan, and importantly, put Americans back to work.
We have made our position clear for months: any deal must balance cuts and revenue. It is morally unjust to ask those Americans who are hurting the most in this recession to shoulder the burden of the GOP's irresponsible fiscal policies. Today, Progressives and everyone we represent were thrown under the bus. Rather than upholding the commitments made to our seniors and working families, this deal allows the wealthy and big corporations to keep their expensive federal handouts while cutting aid to the families who need it most.
My Progressive colleagues and I pressed Democratic leadership and the Obama administration to join us in opposing cuts to Social Security, Medicare and Medicaid. To accept this deal is to weaken the credibility of the Democratic Party. If we do not stand up for working Americans now, who will be their voice? If we do not stand up for working Americans now, will they ever trust us to again?
I reject this deal, and the American people reject this deal. The only thing we have left to do is repair the damage the GOP has done to our nation as soon as possible.
July 31, 2011 at 06:48 PM in Children and Families, Corporatism, Democratic Party, Economy, Populism, Eric Griego, Hector Balderas, NM Congressional Delegation, Obama Administration, Rep. Ben Ray Lujan (NM-03), Rep. Martin Heinrich (NM-01), Right Wing, Sen. Jeff Bingaman, Sen. Tom Udall, Senior Citizens, Taxes | Permalink | Comments (8)
There Are No Good Jobs There Are No Good Jobs There Are No Good Jobs
I say again, there are no good jobs. And in many places there are no jobs period. Even where there are jobs, paychecks are stagnant or falling and benefits are going the way of ye olde pension plans, while the safety net for the poor, the sick, the elderly, the workers, the middle class, the retired is being demolished, along with unions, education, you name it. We need jobs and we need to get the economy working for people other than the investor class. Period. We need to invest in our people and our future. We have to stop rewarding the people and entities that got us into this jam in the first place and who intend to keep us there. And we need to end THE WARS right now.
You've heard the baloney coming from "our side" -- we ALL have to sacrifice, we have to compromise in the face of economic blackmail perpetrated by the GOP/Wall Street/banking/financial cabal. Excuse me, but Ameircan workers, middle class families and the downtrodden have already done more than their part in sacrificing down to the bone and sometimes beyond. Excuse me, but rolling over for extortionists used to be considered the most effective way to encourage more blackmail -- and was considered to be the path of pathetic cowards and appeasers.
We now have an allegedly Democratic President and way too many Dem 'leaders" insisting that the only positive way to end this manufactured "debt crisis" is to entirely capitulate to irrational forces that can only be defined, at this point, as economic insurrectionists. Our president and DC Dems appear to be joining forces with the worst of America to subject our already ruinous economy to massive cuts, and to target those cuts at anything and everything that in any way, shape or form helps ordinary people or serves to create jobs, improve our infrastructure or invest in a better future for ordinary Americans. And nobody better touch the extravagant tax loopholes, subsidies and incredibly low taxation rates of the rich and powerful, whether individuals, hedge funds or globally irresponsible corporate entities.
Yes, our President and Congress are now solely concerned with "deficit reduction" -- cutting spending that A) helps people who have no jobs and B) helps create jobs. A cardinal rule in dealing with recessions (or whatever this "jobless recovery" actually is) has always been that cutting spending during economic downturns is a no-no -- because it's economic suicide. Yet this is the priority of Republicans, most DC Democrats and certainly our President, who appears to be a member of the plutocrat/oligarch/Wall Street Party despite all his huffing and puffing during the campaign about change we can believe in. Community organizer my ass. This man is now trying to out right wing the right wingers. It's that bad. 
I can only hope that this response will continue and grow: Black Leaders Rebuke Obama. Excerpt:
Rep. John Conyers (D-Detroit), a 24-term congressmember who is highly revered in the African-American community, is openly dissatisfied with the president's handling of the self-inflicted debt ceiling crisis. Speaking of concessions the president is willing to make to avoid a default if the debt ceiling is not raised, Conyers told a reporter that he was angry.

"We've got to march on him," Conyers said. "We want him to know from this day forward that we've had it. We want him to come out on our side and advocate, not to watch and wait to see what [lawmakers] are doing in the House and Senate. We're suffering." Conyers and other leaders respected by the African-American community are voicing concern over the impact of the decisions of Obama's Administration. They say the concessions the president put on the table will have the greatest impact on the most vulnerable in our society. Conyers and others are particularly concerned about the President's apparent willingness during debt ceiling negotiations to make entitlement cuts and his lack of action on job creation.

"We've got to educate the American people at the same time we educate the President of the United States." Conyers told a reporter this week. The Congressmember pointed out that the Republican leadership — neither Speaker Boehner nor Majority Leader Cantor — called for Social Security cuts in the budget deal. Says Conyers, "The President of the United States called for that, and my response to him is to mass thousands of people in front of the White House to protest this." [emphasis added]
Take heed, think-inside-the-box campaign strategists, advisers and presidential enablers:
"The activist liberal base will support Obama because they're terrified of the right wing," said Robert L. Borosage, co-director of the liberal group Campaign for America's Future. [I'm not so sure of that myself.]

But he said, "I believe that the voting base of the Democratic Party — young people, single women, African-Americans, Latinos — are going to be so discouraged by this economy and so dismayed unless the president starts to champion a jobs program and take on the Republican Congress that the ability of labor to turn out its vote, the ability of activists to mobilize that vote, is going to be dramatically reduced."
No More Excuses for Obama's Damaging Behavior
This needs to stop and ordinary people need to step up to the plate and stop it -- and stop making excuses for it because the man perpetrating these horrors is Barack Obama. We need to start treating him like any other servant of the plutocrats and oligarchs on the scene:
No matter how the immediate issue is resolved, Mr. Obama, in his failed effort for greater deficit reduction, has put on the table far more in reductions for future years' spending, including Medicare, Medicaid and Social Security, than he did in new revenue from the wealthy and corporations. He proposed fewer cuts in military spending and more in health care than a bipartisan Senate group that includes one of the chamber's most conservative Republicans.

To win approval of the essential increase in the nation's $14.3 trillion borrowing ceiling, Mr. Obama sought more in deficit reduction than Republicans did ... despite unemployment lingering at its highest level in decades, Mr. Obama has not fought this year for a big jobs program with billions of dollars for public-works projects, which liberals in his party have clamored for. Instead, he wants to extend a temporary payroll tax cut for everyone, since Republicans will support tax cuts, despite studies showing that spending programs are generally the more effective stimulus.
Um, does it really have to be pointed out to the President that the few dollars in payroll tax cuts instituted during his previous capitulations to the GOP don't help people without jobs because they aren't on any payroll? Again, take heed, Democratic establishment:
"The president's proposing cuts to Social Security and Medicare has the potential to sap the energy of the Democratic base — among older voters because of Medicare and Medicaid and younger voters because of the lack of jobs," said Damon A. Silvers, policy director of the A.F.L.-C.I.O. "And second, all these fiscal austerity proposals on the table will make the economy worse."
This should make every Democrat retch:
"Democrats created Social Security and Medicare, and we have fought for decades against Republican attempts to end these programs," said Dan Pfeiffer, Mr. Obama's communications director. "And President Obama believes that now is the time for Democrats to be the ones to step up and save Social Security and Medicare."
Yeah right, save them -- using a right-wing frame, right-wing approach and right-wing policies. 
14th Amendment Now!
As John Judis writes in his excellent article arguing that Obama, who is always comparing himself to Lincoln, doesn't understand the essence and approach of Lincoln whatsoever:
I am not an expert on Lincoln, but I have a pretty good idea what he would say if he were to suddenly appear on the scene. He would reject the Republican majority's attempt to blackmail the rest of the government and the nation. If, because of Republican intransigence, the Congress were unable to raise the debt ceiling by August 2nd, I suspect he would follow Bill Clinton's advice and raise the debt ceiling unilaterally on the grounds of the fourteenth amendment, which says that "the validity of the public debt … shall not be questioned."

That's certainly a risky move. If Obama were to do it, he could eventually face a hostile Supreme Court majority, just as Lincoln's suspension of habeas corpus aroused the ire of Chief Justice Roger Taney in 1861. But, given the dangerous game that the Republican Party is playing, that's a risk worth taking.
Bottom line: If Democrats don't push back hard -- right now -- against the corporatism and anti-working and middle class positions of Obama, who will? Are you going to continue to be a sucker for Obama's corporatist hoodwinking, or will you finally see the light, stop the denial, admit to the realities and start fighting and pushing back with all your might?
I ask the same question of every single Democrat running in 2012 for any position up and down the ticket. Are you with the people or with the powerful moneyed interests? You're either on the bus or off the bus at this point. No more hiding out behind platitudes, pretending the President is for working people and American families. Speak up now -- speak truth to power -- or get out of the way to make room for those who will.
July 31, 2011 at 04:21 AM in 2012 Presidential Race, Corporatism, Democratic Party, Economy, Populism, Jobs, Labor, Obama Administration, Right Wing, Social Security, Taxes | Permalink | Comments (11)
Friday, July 22, 2011
Quote of the Month: Everything (and Everyone) Is A Commodity Ripe for Exploitation
Got 'HOPE'? Something to ponder as we watch Obama and other corporatists of both parties concoct a "bipartisan" plan to support their Wall Street and global financial masters -- a plan that completely guts the core principles of the Democratic Party. As Sen. Bernie Sanders points out, "If there was ever a time in the modern history of America that the American people should become engaged in what's going on here in Washington, now is that time."
"The bankrupt corporate power elite, who continue to serve the dead ideas of unfettered corporate capitalism, globalization, profligate consumption and an economy dependent on fossil fuels, as well as endless war, have proven incapable of radically shifting course or responding to our altered reality. They react to the great unraveling by pretending it is not happening. They are desperately trying to maintain a doomed system of corporate capitalism. And the worse it gets the more they embrace, and seek to make us embrace, magical thinking.
"Dozens of members of Congress in the United States have announced that climate change does not exist and evolution is a hoax. They chant the mantra that the marketplace should determine human behavior, even as the unfettered and unregulated marketplace threw the global economy into a seizure and evaporated some $40 trillion in worldwide wealth. The corporate media retreats as swiftly from reality into endless mini-dramas revolving around celebrities or long discussions about the inane comments of a Donald Trump or a Sarah Palin. The real world –- the one imploding in our faces –- is ignored.
"The deadly convergence of environmental and economic catastrophe is not coincidental. Corporations turn everything, from human beings to the natural world, into commodities they ruthlessly exploit until exhaustion or death. The race of doom is now between environmental collapse and global economic collapse. Which will get us first? Or will they get us at the same time?" -- Chris Hedges (click to read the rest)
July 22, 2011 at 11:29 AM in Corporatism, Economy, Populism, Environment, Healthcare, Obama Administration, Right Wing | Permalink | Comments (1)
Wednesday, June 29, 2011
Media Matters: Rep. Steve Pearce Lies to Elderly Constituent on Medicare Cuts in GOP Budget Plan
In a post on its Political Correction blog, national media watchdog group Media Matters reports that GOP Rep. Steve Pearce (NM-02) lied when an elderly constituent at a town hall meeting in his district asked him about the fact that Medicare privatization in the GOP budget plan "primarily affects women and the poor." In his response to the question, Pearce claimed there were no Medicare cuts in GOP Rep. Ryan's budget and that, in fact, only the health care reform law has cuts to Medicare:
CONSTITUENT: Medicare privatization and cuts in Social Security primarily affect women and the poor and I was wondering if there is any way that that can be addressed so that everybody feels some of the pain.

PEARCE: You bet, right now there is a lot of discussion going on about Medicare and all that was suggested. Frankly, under the Ryan plan, you can like it or dislike it, but under that plan there were no cuts proposed for Medicare at all. And then under -- there was no other plan suggested, the Democrats haven't suggested one, so right now there haven't been cuts. Now the health care bill that was passed last year, had 500 billion cuts to Medicare so you still want to be aware of that, Medicare Part A or part -- anyway Medicare Advantage is where the cuts were coming out of. So right now, I don't see any cuts at all for Medicare especially for people 55 and older. Again, those things are kind of lost in all the discussion, but nobody is suggesting we change the program for people who are in it.
Watch:
Rep. Pearce either didn't read the budget he voted for or he's lying to his constituents. The House-passed GOP budget calls for the repeal of the Patient Protection and Affordable Care Act, but keeps the $500 billion reduction in Medicare Advantage spending growth that Republicans decry as "cuts."
But the budget also goes much further. Contrary to Rep. Pearce's assertion that nobody over 55 would be affected, the GOP budget would reopen the Medicare "donut hole," cut Medicaid (which nine million poor seniors also qualify for), and almost double the cost that seniors have to pay out of pocket by 2022, eventually rising to a 68 percent increase in out-of-pocket costs. All that, and it only reduces the deficit by $155 billion because of increased tax cuts for the wealthy. As Rep. Pearce's constituent points out, and rightly so, the GOP budget does not spread the burden around, but instead focuses it squarely on current and future senior citizens. (h/t OLE)
Bottom Line: Rep. Pearce apparently believes it's OK to lie to his constituents in order to hide the fact that Republicans are dead set on cutting Medicare benefits. Is he ashamed of the policies he and his Party are supporting? If not, why isn't he telling the truth about the real consequences of the GOP budget plan?
June 29, 2011 at 09:33 AM in Healthcare, Republican Party, Right Wing, Steve Pearce | Permalink | Comments (0)
Thursday, April 07, 2011
Latest on Federal Budget "Negotiations"

It's hard to know what to call the goings-on in Washington about the FY 2011 budget. They're not exactly "negotiations" because Rep. John Boehner and his GOP allies have so far refused to compromise on anything at all. All the give in what should be a two-sided give-and-take process has been on the side of President Obama and Democrats.
Pundits keep saying that Boehner wants to make a deal but can't because of irrational pressure on him coming from the tea party contingent, some of whom have gone on the record as wanting a government shutdown no matter what. "Shut 'er down," has become a right-wing mantra in the last few days -- regardless of the negative impacts such action would create. This is zealotry, pure and simple, on the part of the extremists who increasingly seem to be in charge of the entire Republican party.
After a late-night meeting yesterday with Senator Majority Leader Harry Reid and House Speaker John Boehner, the President said that while no final deal had been reached, both sides had narrowed the differences between their positions. However, we still haven't heard about any concession the GOP is willing to make to seal a deal.
GOP Offers Another Unreasonable Continuing Resolution
The federal government will close at midnight on Friday unless the two sides agree on a budget, or another continuing resolution is passed to keep things going on a temporary basis. That second alternative seems highly unlikely as of this morning, when President Obama rejected the latest attempt by House Republicans to pass one. The GOP, via H.R. 1363, offered to fund the Defense Department for the remainder of the fiscal year and the rest of the government for one more week -- at a price of $12 billion in additional cuts to domestic spending. Although the measure would no doubt pass the House, the GOP knows it would never pass the Senate.
Regardless, President Obama vowed today that he'd veto H.R. 1363 because he sees it as a distraction from the current negotiations. The message: Enough is enough. It's time for Republicans to stop playing political games with a government shutdown. Families and taxpayers across our country will pay the price -- in jobs lost and vital services denied. Here's the Obama administration's statement on that score issued by the Executive Office of the President, Office of Management and Budget:
The Administration strongly opposes House passage of H.R. 1363, making appropriations for the Department of Defense for the fiscal year ending September 30, 2011, and for other purposes. As the President stated on April 5, 2011, if negotiations are making significant progress, the Administration would support a short-term, clean Continuing Resolution to allow for enactment of a final bill.

For the past several weeks, the Administration has worked diligently and in good faith to find common ground on the shared goal of cutting spending. After giving the Congress more time by signing short-term extensions into law, the President believes that we need to put politics aside and work out our differences for a bill that covers the rest of the fiscal year. This bill is a distraction from the real work that would bring us closer to a reasonable compromise for funding the remainder of Fiscal Year 2011 and avert a disruptive Federal Government shutdown that would put the Nation's economic recovery in jeopardy. The Administration will continue to work with the Congress to arrive at a compromise that will fund the Government for the remainder of the fiscal year in a way that does not undermine future growth and job creation and that averts a costly Government shutdown. It is critical that the Congress send a final bill to the President's desk that provides certainty to our men and women in military uniform, their families, small businesses, homeowners, taxpayers, and all Americans. H.R. 1363 simply delays that critical final outcome.

If presented with this bill, the President will veto it.
According to the New York Times, House Democrats asked instead for passage of a one-week extension free of any further spending cuts or policy restrictions. Although the President said he'd agree to that, Republicans again said no way. "We don't accept the status quo," said Representative Eric Cantor, the majority leader. The Republican stance: My way or the highway, and to hell with what a government shutdown would cause or cost.
GOP Keeps Moving the Goalposts
One of the main obstacles to an agreement is that the Republicans keep moving the goalposts on what would be acceptable to them. As noted in The Progress Report, Senate Dems and the White House agreed to a compromise last week that would cut $33 billion from current spending levels. Even though the original GOP cut request was only $32 billion, the compromise was rejected when tea party extremists and conservative Republicans raised hell about the proposal. Instead, GOP leaders suddently insisted they would need a cut of at least $61 billion.
Wedge Issue Demands
Another major sticking point is that Repubs are insisting on using the budget situation to pump a variety of pet political causes that are tea party favorities, demanding that any funding bill include around 40 "policy riders," including provisions to prohibit funding for Planned Parenthood, the EPA's enforcement of climate change rules and implementation of the Affordable Care Act. As Obama said Tuesday, "What we can't be doing is using last year's budget process to have arguments about abortion, to have arguments about the Environmental Protection Agency, to try to use this budget negotiation as a vehicle for every ideological or political difference between the two parties."
Right-Wingers Excited About Shutdown
The Republicans clearly aren't listening. They want a shutdown if Democrats don't concede to virtually everything Republicans want. At a closed-door meeting of House Republicans late Monday night, the caucus reportedly gave Boehner "an ovation when he informed them that he was advising the House Administration Committee to begin preparing for a possible shutdown." What would that mean?
... it is clear that "a shutdown would have real effects on everyday Americans," as the President said last night, and federal agencies have already prepared contingency plans in case one occurs. Nearly all "non-essential" government functions -- those that don't directly protect life or property -- would be shutdown, furloughing some 800,000 federal workers (out of 2.1 million). "The cost of back pay for furloughed government workers would be $174 million for each day the government is closed," according to a Bloomberg Government analysis.
There's even reason to believe that the troops in Afghanistan and Iraq wouldn't get paid. While the Pentagon could pay one week's worth of work, "all uniformed military personnel would continue to work but would stop receiving paychecks" after that. Speaking to troops in Iraq today, Defense Secretary Robert Gates said an interruption in pay would hurt military families, many of whom now live paycheck to paycheck. "I hope this thing doesn't happen."
Boehner and Reid will back back at the White House this afternoon for another meeting with President Obama. Expect more of the same obstructionism on the part of Boehner, who now seems to be functioning primarily as the messenger boy for tea party fanatics who want to make political points and don't care who gets damaged in the process.
April 7, 2011 at 11:53 AM in Democratic Party, Economy, Populism, Government, Obama Administration, Republican Party, Right Wing | Permalink | Comments (4)
Monday, March 28, 2011
Senate Hopeful John Sanchez: Positioning Himself as Steve Pearce By Another Name

It's being leaked all over the internet that our current lieutenant governor, right-winger John Sanchez, intends to announce his entry into the U.S. Senate race in New Mexico in the very near future. In fact, the word is Sanchez may formally announce on April 15 -- tax day -- in order to get the Tea Party peeps all excited. There have been recent pieces on Politico, The Hill (here and here) and the National Journal -- mostly generated by a visit by Sanchez to Washington for a convention with other LGs around the country. The right-wing blog, The Daily Caller, even touts Sanchez as "the next Marco Rubio," the new Senator from Florida who's a Tea Party pet, as well as a fave of the conservative Republican establishment.
Yes, the guy without a college degree who used to work as an airline steward and made his money running a roofing company seems to be gaining traction as THE go-to guy to run against former U.S. Rep. (and Rhodes Scholar) Heather Wilson and others for the Republican Senate nomination -- and a chance at the seat being vacated by Dem Sen. Jeff Bingaman. Why? He's positioning himself as to the right of the right, and he has an Hispanic surname -- a combo that brought his superior, Susana Martinez, to the governor's office despite her lack of appropriate experience in government or politics.
Sanchez mentioned the Hispanic advantage in his interview with The Daily Caller:
Sanchez notes census figures show the Hispanic population in New Mexico is rapidly increasing, and that he and Governor Martinez garnered nearly 40 percent of the Hispanic vote. He believes conservative Hispanics can be a key part of a winning coalition. "We're not going to concede the Hispanic vote to the Democratic Party," he tells me.
Hispanics Using Immigration as a Wedge Issue
It can be rather confusing to follow how the Hispanic factor enters into the Susana Martinez win and the coming Sanchez Senate campaign. Martinez used immigration as a wedge issue in both her electoral campaign and what seems to be a form of never-ending campaigning she employed during the just-ended New Mexico legislative session. She has banged the anti-immigrant drum loudly in using the repeal of driver's licenses for foreign nationals as a divisive and corrosive mainstay of her attacks on Dems in the legislature. She has also issued an executive order requiring state law enforcement officers to check immigration status, and has suggested she doesn't support comprehensive immigration reform.
In the wider Hispanic/Latino political environment, Arizona-style anti-immigrant rhetoric and attacks are generally viewed in a very negative light by those of Hispanic descent. Here in New Mexico, however, the political calculation by Martinez and Sanchez seems to be that immigration can be used to divide Hispanics, as well as Anglos, into two camps -- those who identify with the plight of Mexican immigrants, including hardworking undocumented workers, and those who apparently look down on them as evil criminals.
Having It Both Ways
It's as if Martinez and Sanchez are positioning themselves to attract Hispanic voters with their surnames and ethnicity, while also adopting the often racist, anti-immigrant mantle of the Tea Party. They clearly think they can have it both ways.
As Sanchez told The Hill, he believes he has
the "political courage" to tackle immigration reform, despite the controversial nature of the issue for many GOP primary voters.

"I think what we're lacking in the U.S. Senate are people who are willing to have the political courage to take on the issue of immigration reform. Coming from a border state, being an Hispanic, I think provides a great perspective [on] it.
Well, one that seems to match the perspective of the far right, anyway. It's hard to tell how many New Mexicans are willing to follow him down that path. Although Sanchez is telling reporters about his "his willingness to crack down on illegal immigrants," he has refused so far to be specific about what that means in terms of things like the Dream Act or anything else.
It's also difficult to see how Sanchez could be a leader in the immigration reform battles. If he wins a Senate seat, he will have zero seniority and almost no clout.
Sanchez: A Thin Resume for a Senate Candidate
Perhaps Sanchez doesn't yet have a clear understanding of how the U.S. Senate operates. His political experience consists of one-year stints as a trustee and councilman for the Village of Los Ranchos, a few months on the job as the current lieutenant governor and a two-year stint in the New Mexico House, from 2000-2002. He left the House for a failed run against Bill Richardson for governor, losing 55.5% to 39.1%. He also was the Southwest Regional Chair for the George W. Bush Presidential Campaign in 2004 -- essentially a money-raising post.
In essence, the latest version of John Sanchez is an ideological clone of U.S. Rep. Steve Pearce, albeit with an Hispanic surname, less education and a dearth of applicable experience. The militantly right-wing Pearce lost in a landslide in his 2008 Senate race against Dem Tom Udall, after vanquishing former U.S. Rep. Heather Wilson in the GOP primary. Now Sanchez is making the same noise about Wilson that Pearce did -- attacking her as being old hat and "too moderate." Back when he served in the NM House, however, Sanchez wasn't quite so right-wing. For example, according to Project Vote Smart, he supported the interests of the NM Federal of Labor, AFL-CIO 71% of the time in 2002 and 58% of the time in 2001.
Sanchez Says Heather's Too Moderate
This time out, though, he's following Steve Pearce's path to a Senate nomination, aligning himself with the extreme right-wingers of the Tea Party era, and defining Heather Wilson as a relative lefty. As Sanchez told The Hill:
"I think Heather served honorably. But if we consider the choices that were made by former establishment candidates, I think it's clear the choices will be very easy for the people of New Mexico.

"Do they want a return back to the days of moderate-type leaders [whose] conservative compasses [weren't] pointed in the right direction? Or are they looking for somebody who doesn't have to reinvent himself?" he said. "I think the choice for U.S. Senate is abundantly clear."
This past Sunday, Sanchez was in Moriarty kissing the arses of 100 "Tea Party faithful," explaining how his views on taxation matched theirs, and claiming he has a track record of "understanding conservative values." Of course Heather Wilson -- who used to make a big deal about her allegedly "moderate" views -- was also at that gathering, claiming she, too, has a lot of Tea Party support. Many in the right-wing echo chamber seem to be siding with Sanchez early on. As noted on the conservative website, Human Events:
The same party activists who helped conservative Rep. Steve Pearce defeat then-Rep. Wilson in the '08 Republican Senate primary have been making it clear they are not ready to just hand over the GOP Senate nod in 2012 to someone they regard as not sufficiently conservative. Cultural conservatives recall Wilson 's pro-abortion position and the Club for Growth has long been critical of her support for Troubled Asset Relief Program (TARP) funding ... He is strongly pro-life (the then-state Rep. Sanchez was a leader behind parental notification legislation) and has taken the lead on conservative issues, notably right-to-work measures in his state.
Mimicking Steve Pearce
Human Events also noted the rather odd and problematical tensions created when an Hispanic candidate takes a very hard line on immigration issues (just like Anglo Steve Pearce did and does):
Does a hard-line manifesto on immigration alienate Hispanic voters? Although there is a case for this, Sanchez believes this is changing "among second-generation Hispanics, people who are in business and must see the economic damage caused by illegal immigration." He noted that he and Martinez minced no words on this issue and won the statehouse (the two ran as a team) by garnering nearly 40% of the Hispanic vote.
I'm sure we'll all be waiting to see documentation of Sanchez's claim that immigrants are causing economic damage to second-generation Hispanic business people. It will also be fascinating to follow him as he holds fast to the extremely conservative views of former Senate loser Steve Pearce while, at the same time, touting himself as a candidate who is attractive to Hispanic voters in the state.
Will New Mexico's voters be willing to swallow the mixed messaging that Sanchez is both a strong Hispanic candidate and one who mouths the same "tough talk" about immigration and other issues that has long been a staple of the lily white denizens of the Republican right wing? It's a conundrum alright, trying to fit two identities into one suit and expecting to get away with it.
Although the right-wing ideologues who dominate the New Mexico Repub Party picked Pearce over Wilson in the GOP Senate primary last time -- will they do the same thing in 2012? After all, Pearce and his radical-right views were big losers with general election voters 2008. Will staking out the far right boundaries of the GOP ensure the same fate for Sanchez, despite his Hispanic surname? Will Heather Wilson prevail despite grumbling from the NM GOP base? Or, will Steve Pearce, himself, decide to jump into the race? Regardless, it should be an enlightening primary season on the right side of the aisle, and one the national media will no doubt be following closely.
March 28, 2011 at 05:34 PM in 2012 NM Senate Race, Border Issues, Heather Wilson, Hispanic Issues, Immigration, Lt. Gov. John Sanchez, Republican Party, Right Wing | Permalink | Comments (5)
Friday, March 25, 2011
Stephen Jones: The New Mercantilists
This is a post by contributing writer, Stephen Jones, of Las Cruces.
As the current recession has dragged on, the national debate seems to have turned to slashing national investment and eliminating national debt at all cost, while, at the same time, backing dirty, failing and outdated industries, rather than growing our way out of bad economic times. Instead of engaging in sound market-based solutions and working toward the sound public investment that supports innovation, leaders of both parties seem intent on abandoning any semblance of sound classical economic policy for the all-out support of an outdated policy of neo-mercantilism.    
Mercantilism was a theory of economic development that held that there was a finite amount of wealth in the world, and that national treasuries were entirely dependent on the monopoly trade in, and the extraction of, that fixed wealth. The mercantilist age was based on increasing debt in protected commercial combinations, supported by massive militarist states, whose national blood and treasure was spent in maintaining those protected monopolies. Mercantile traders used their accumulated wealth to buy control of governments, who in turn spent the treasuries of those nations to maintain the mercantile monopolies. The mercantile epoch is best remembered for galleons filled with Mesoamerican gold, Indian cotton and southeast Asian spices plying the ocean waves to feed Europe's little addictions.
For most of four centuries, up until the end of the 1800's, European mercantilists stacked their gold and silver bullion and forced their home kingdoms deep into debt, engaged primarily in maintaining colonial supply lines including, most notoriously, the Atlantic triangular trade. This trade involved moving raw materials extracted from the Americas to Europe, sending manufactured goods back to the the Americas and to Africa and turning human beings into commodities. The human commodities were traded as slaves, and most perished working in the sugar cane fields of the Western Hemisphere, the cash crop of the colonial powers of mercantile Europe.
Adam Smith, War and Revolution
By the time of the enlightenment era of the mid-eighteenth century, the radical thinkers of Europe had mustered the courage to speak up against the mercantilist masters of that continent. Among the seditious, Adam Smith, the Scottish economist and philosopher wrote, "A great empire has been established for the sole purpose of raising up a nation of customers who should be obliged to buy from the shops of our different producers all the goods with which these could supply them. For the sake of that little enhancement of price which this monopoly might afford our producers, the home-consumers have been burdened with the whole expense of maintaining and defending that empire."
It would be comforting to believe that the old mercantilist age came apart merely through the superior economic and political arguments of enlightened spokespersons like Adam Smith. In fact, however, the old order collapsed in decades of war and revolution, including a thirty-years-long world war between Britain and France that finally hurled both of those empires and their allies from the Western Hemisphere. It should be little wonder why the framers of the United States Constitution were so suspicious of national trade monopolies and standing armies. Two-and-a-half centuries on, we seem to find ourselves right back at square one.
A New Incarnation of the Mercantilists
Over the last few years, our Republican and libertarian friends would have us believe that they are the great defenders of Adam Smith's economic orthodoxy, champions of the "invisible hand" of the market, condemners of the large national debt and the defenders of enlightened economic growth, working to get us back to basics. Unfortunately, nothing could be further from the truth. In fact they are just a new incarnation of the old mercantilist hoodoo.
Like medieval burgesses in their counting-houses, the Republican leadership puts the defense of monopoly trade combinations ahead of support for competitive small businesses, backs obsolete and dirty extractive industries over green technologies, opposes infrastructure development, whether it be rail, smart-grid energy, or rural broadband, and holds an outdated military-industrial complex sacrosanct, and all the enormous national debt that goes with it, at all costs. They place corporate protection ahead of innovation; they place government policing of individual "lifestyle" ahead of education, and military expenditures ahead of infrastructure, education, health and human resource development. Above all they defend tax breaks for oil companies over everything else. Drill here, drill now!
The Facts on Debt and Deficits
The inconvenient facts are readily available. Most of our national debt has been piled up almost entirely by Republican Administrations. Prior to sometime last year, when they got some kind of economic religion, the GOP told us, in the words of Dick Cheney, that "deficits don't matter." Ronald Reagan began his first term with a total debt of only $930 million and increased that total debt to $2.7 trillion, more than all the presidential administrations before him combined, including the "New Deal" of Roosevelt and "Great Society" of LBJ. The first Bush Administration expanded the national debt to over $4 trillion, and then George W. Bush nearly doubled the debt from $5.6 trillion to more than $10 trillion. Rather than calling for shared sacrifice, the second Bush fought two unfunded wars, while slashing the tax rates for the wealthiest Americans, and told the rest of us to just "go shopping."
Most of our deficits come from support of one industry, of course, and that is maintaining the endless international supply lines of the oil industry.
A Right-Wing Prescription for Failure
Instead of addressing the real cause of all that debt, the Republican Party takes aim at everything that has nothing to do with the deficits, including Social Security. Instead of moving us away from our oil addiction, the GOP moves to protect that one industry against any competition. As gas and food prices rise and national capital cash flows remain sluggish, Republican leaders take aim at everyone and everything other than the root causes of all that debt -- particularly education, health, infrastructure and services to the poor -- and instead pump cash into the coffers of central bankers, falsely believing such transfusions will somehow cure capital-flow problems.
In Wisconsin, the GOP's Governor Scott Walker attacks collective bargaining instead of building on that state's strong education facilities. In Michigan, Governor Rick Snyder seeks to cut corporate taxes by 86%, while raising individual income taxes and hatching a dubious scheme that would allow him to install un-elected corporate managers over elected local governments. New Jersey Governor Chris Christie calls for raising that state's estate tax exemption from $675,000 to $1 million, while eliminating New Jersey's earned income tax credit. Maine Governor Paul LePage, a Tea Party favorite, has introduced a tax package that would raise the state's estate tax exemption from $1 million to $2 million -- allowing four hundred of the state's wealthiest estates to escape taxation -- while hiking property taxes to make up the difference.
New Mexico Governor Susana Martinez wants to slash funds for public education while blowing away any regulatory oversight of dirty extractive industries or her pet campaign contributors like Doña Ana County's dirty factory-dairy industry. Former Governor Gary Johnson, launching his vanity presidential campaign from a Taos-area ski slope, and looking to stoke the heart-strings of the so-called libertarian flock, tells us we should just go ahead and eliminate the whole national debt by next Thursday.
These schemes are not a recipe for recovery; they are a prescription for failure. They place protection for favored trade combinations ahead of innovation or sound market investment.
The Real Adam Smith
Even old Adam Smith, usually cited for his pure market orthodoxy, understood the need for public investment to public support the marketplace. Smith frequently called for government infusion of funds for key areas of development, including infrastructure and public education. Far from backing the unchecked support of corporate interests, Adam Smith was frequently among big business's greatest critics, especially when they worked with government partners to support old trade combinations and stifle small-market innovation. "Businessmen," Smith wrote in the Wealth of Nations, "are an order of men whose is never exactly the same with that of the public, who have generally an interest to deceive and even oppress the public, and who have, upon many occasions, both deceived and oppressed it."
The time is now for the government and the marketplace to invest in the future and oppose the policies of the new mercantilists, both those of the Republican Party and the corporatists in the Democratic Party, and to get back to basics and build for the future. 
To see more posts by Stephen, visit our archive.
March 25, 2011 at 09:35 AM in By Stephen Jones, Contributing Writer, Corporatism, Economy, Populism, Finance, Investments, History, Republican Party, Right Wing, Trade | Permalink | Comments (2)
Wednesday, March 23, 2011
Stuart Heady Guest Blog: Stupefying Ray Aimed At Earth

This is a guest blog by Stuart Heady, a freelance writer and political activist who lives in Albuquerque.
The title of this post is a wisecrack that I think of whenever someone in public life says or does something so stupid that nothing else seems to really explain it. Doesn't it seem like there has been a lot of this lately?
What better explanation can there be for the rise of purely emotional folks who seem to have unplugged their brains? What explains the Tea Party and the anger that fuels it? People like Glenn Beck? Evidence abounds! Call the National Enquirer! We have a story!
When you think about it seriously, it is easier for those who simply respond to things emotionally to get worked up than it is to figure out how an intelligent, complex and persistent approach to the future can be agreed on. That is way hard. Most people who are engaged in efforts that will ultimately be taken for granted as forming the walls, the floor and ceiling of our 22nd century lives, are not nearly as likely to be heard from or to become sensations in the media.
But, are we in danger of turning into a society that is dominated and run by the yahoos that Jonathan Swift described centuries ago? What are the more deliberate and competent among us to do?
Given the present media environment, that is a deadly serious question.
Sound Bites and Databases
Now should be the time, after the legislative session is past and when the next election is the farthest away that it can be, to step back and think about why things are the way they are and what could be done to more effectively address this condition that we are in, looking ahead into the second decade of the 21st century and beyond.
I used to spend a lot of time thinking about how to deliver messages through direct mail or grassroots handouts of various kinds. After thinking about this situation for a long time, some thoughts and insight into this have begun to form.
It all boils down to sound bites and databases.
Broadcast media has set up a circumstance, combined with a huge population, in which what is valued the most is quick, on-your-feet immediate thinking, encapsulated in the sound bite. Everyone in communication, on way or another, finds themselves addressing this constraint.
Databases have a powerful, but much less obvious influence on our thinking. When we learn how to use databases, we master the art of thinking in categories in a mechanical way. Things have to be reduced to their simplest terms, actually a math equation, in order for their to be "power" in a database. It is a useuful way to think, as it disciplines a tendency to be satisfied with speculation and vagueness into a sharp focus.
These twin gods have banished the ability to think more deeply and to value long and persistent contemplationg about the larger picture.
We get trapped in the short term without a perspective. We cannot analyze our situation truly, but instead are driven to do better, to work harder to make what we already have been given as a given work. However, in the long run, say over a twenty-year period, one can observe that the advantage in a system that is based on sound bites and short-term thinking goes to the manipulators of emotional mobs. That is what we are seeing now.
As usual, seeing a problem is way easier than figuring out how to address it, especially if it is a condition of the landscape.
Looking at all the various communication methods for manipulation that the large-scale corporate special interests have instituted over the past 40 years or so, it is a pretty daunting picture. Tens of millions of dollars are spent every year on shaping every aspect of public information and education. Many of the best college graduates with majors in advertising, public relations, journalism or English are attracted into the world of corporate PR, where a good number of people are employed by the tens of millions a year that the right wing is being advantaged by.
This goes way beyond the question of framing, and way beyond the tried and true GOTV campaign strategy that has become crucial over the past thirty five years.
An even larger factor that constrains the way the environment treats political communication is that no one has time -- the suburban swing voter, least of all. Whatever information gets processed into votes has to be taken at a glance in passing most of the time by people on the run. Long meetings with very informative, fact-based, deliberative substance are mostly out of the question. That is why the short sound bite synopsis has become so dominant. That is why database-driven systems, with their tendency to reinforce as well as serve the short attention span, always provide the practical backstop.
Untapped Potential
There has to be a way out of this conundrum.
The place to start is with this computer screen and this keyboard. The potential of it has barely been tapped. A lot of the time it is seen in terms of the experience of the past, not in terms of needs that could be served and how innovation towards meeting those needs might be accomplished.
The difference is precisely in the way it is viewed. Our participation in the medium is presently limited in various ways. Especially in rural areas, the connectivity is sparse. A lot of people don't like sharing their thoughts with strangers, especially when there is a prospect for disagreement which can seem insulting. The logic of the medium represents a waste of time to quite a few people.
Yet, here it is -- the product of trillions of dollars and over a century and a half of innovation by people anywhere and everywhere. Moore's law (that computer chip capacity doubles every eighteen months) has yet to reach its limit and, as long as it has not, the internet will continue to increase in capacity over the coming years, offering new avenues and expanded options.
To actualize the potential for better deliberation at large and thus, a better chance that stupidity won't rule the future, thinking has to be taken to a new level, by each person with a computer who might be inspired to see value a future in this. Networking could become more of an active verb. All that is really required is the imagination and persistence of intellect to keep trying to figure it out.
A simple thing to contemplate, but perhaps a pretty tough challenge.
If the purpose is not really just to exhibit one's ego, but to find a way to reach others and create some sort of cooperation in an effort to use the medium as a basis for organizing, for furthering the reach of the work that we are all trying to engage in, then it begins to move forward incrementally. One could look at it as an undeveloped distributed think tank that awaits any engagement that might have any energy at all.
Selling anything, whether it be a book or a policy approach requiring voter approval, requires the same thing: The assumption that a skeptical but open buyer can be persuaded with the right approach.
If the skeptical buyer is the swing voter, the problem is to develop a dialogue that creates either a sale or an acceptable compromise. That is a process that requires more than a lot of thought and communication. This becomes a permanent effort and the definition of citizenship over a lifetime.
If a real dialogue about what is real can supercede the soundbite oversimplification and sensational manipulation that now dominate, then it could do a lot more than just win an election. It could revitalize the American political system and renew its capacity for addressing what really needs to be addressed in the 21st century, looking ahead to the 22nd.
This is a guest blog by Stuart Heady. If you'd like to submit a piece for consideration as a guest blog, contact me by clicking on the Email Me link at the upper left-hand corner of the page.
March 23, 2011 at 01:58 PM in Guest Blogger, Journalism, Media, Progressivism, Right Wing, Weblogs | Permalink | Comments (2)